At a glance
Product
Western Digital My Cloud (DL2100) [Website]
Summary
Two-bay Intel Atom powered business NAS with personal cloud, media serving & business features
Pros
• Dual Gigabit Ethernet ports
• USB 3.0
• Remote access without port forwarding
• 10 licenses for Smartware Pro backup software
• Dual-power option
Cons
• Rsync backup not supported
• Relatively expensive
• Can't schedule backup to external devices
Typical Price: $314 Buy From Amazon
Introduction
Our recent review of WD's four-bay My Cloud DL4100 business class NAS found a solid NAS that should attract many buyers seeking comfort in a brand known for storage prowess. I'm doing a separate review of the two-bay My Cloud DL2100 because it uses a different Intel Atom CPU.
Other than the processor swap, the DL2100 is cut from the same cloth as the DL4100, with a few minor differences. Both have dual aggregatable Gigabit Ethernet ports and two DC power sockets (1 AC adapter included). The DL2100 keeps two USB 3.0 ports but doesn't have the DL4100's single USB 2.0. It also has 1 GB of DDR3 RAM expandable to 5 GB total vs. the DL4100's 2 GB that is expandable to 8 GB total.
WD sent a 12 TB (Model WDBBAZ0120JBK ) that lists for $849.99. The DL2100 is also available with the following storage capacities:
8TB (2 X 4 TB – $649.99) Model WDBBAZ0080JBK
4 TB (2 X 2 TB – $529.99) Model WDBBAZ0040JBK
0TB (Diskless – $349.99) Model WDBBAZ0000NBK
We tested the 12 TB DL2100 model, but entered the 0 TB model in our Charts and Ranker database so you can more easily compare it to other diskless products. For SKUs that ship with storage, WD uses its Red series of NAS-optimized hard drives and, of course, recommends them for the BYOD models.
The DL2100 uses a chassis design similar to the DL4100's. There are two tool-less drive bays for 3.5" SATA drives, USB 3.0 port and copy button on the front and dual power ports on the rear.
WD My Cloud DL2100 front panel callout
You can get complete charts for LED status (front and rear panel) from the User Manual. Hit the DL4100 review if you'd like more construction / feature details.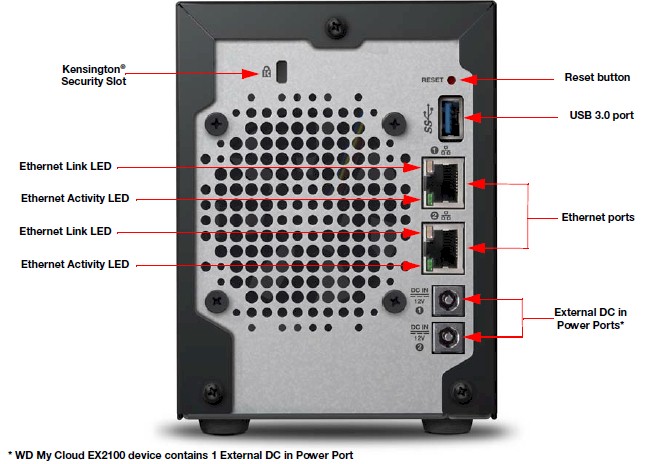 WD My Cloud DL2100 rear panel callout
Inside
The DL2100 is powered by an Intel dual-core Atom C2350 clocked at 1.7 GHz. Other key components are summarized in Table 1, alongside the DL4100. I had the flash capacity wrong on the DL4100 review; it has been corrected to agree with what's shown below.
WD DL2100
WD DL4100
CPU
Intel dual-core Atom C2350 @ 1.7 GHz
Intel dual-core Atom C2338 @ 1.7 GHz
RAM
1 GB DDR3 (Nanya NT5CC128M8FN-DI x8 on board) upgradeable to 5 GB total via DIMM
2 GB DDR3 (Micron MT41K256M8DA x8 on board) upgradeable to 6 GB total via SoDIMM DDR3 1600MHz
Flash
512 MB Micron 29F4G08ABAEA
8 MB Winbond 25Q64FVIG
512 MB Micron 29F4G08ABAEA
8 MB Winbond 25Q64FVIG
Ethernet
Marvell 88E1512 (x2)
Marvell 88E1512 (x2)
SATA
In CPU
In CPU
USB 3.0
Asmedia ASM1042A
Asmedia ASM1042A
uC
STM32F030 32-bit ARM Cortex MCU @ 48 MHz
STM32F030 32-bit ARM Cortex MCU @ 48 MHz
Table 1: Component summary comparison
Kudos to the WD designers for how easy they made it to take the DL2100 apart. Remove the cover, then four inner screws and it separates easily into two parts. The board half shown below reveals easy access to the full-sized DIMM slot for RAM expansion. It takes a 1x 4 GB DDR3, 1333 or 1600MHz, CL11, 1.5V Unbuffered DIMM vs. the SoDIMM on the DL4100.

WD My Cloud DL2100 board
The other side holds the drive bay mechanics and backplane. Nice and clean.

WD My Cloud DL2100 drive bays
Fan and drive noise was rated very low. Power consumption for the external "brick" power supply was measured at 19 W (active) and 8 W (power save) with two 6 TB WD Red drives. The only time I heard the fan was when it temporarily spun up to full roar during boot.

Features
The DL2100 has the same administration user interface as the DL4100.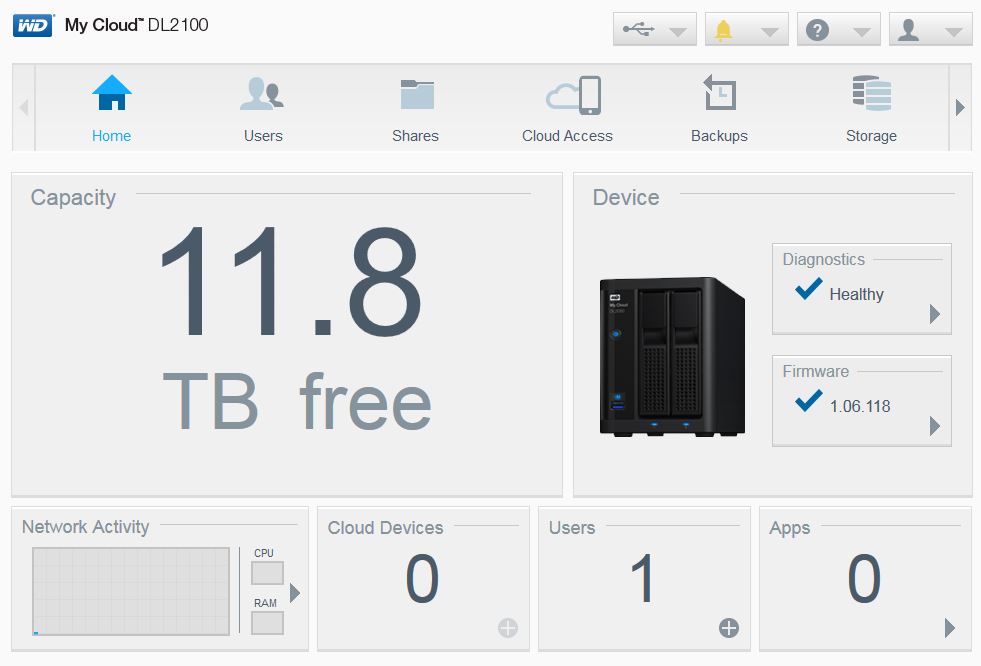 Home page
The DL4100 review covers the DL2100's features, too. The only difference is that only JBOD, span, RAID 0 and 1 are supported because of the two-drive limit. Since WD's use of JBOD is a bit different, I showed the screens for it and Spanning modes below.

JBOD and Spanning definitions
A full list of specifications can be found on the DL2100 product page.
I'm happy to report that the flaky behavior of the WD My Cloud remote access features via the My Cloud apps seems to have vanished. I had no problem with the apps finding both my office single-drive My Book Live and the DL2100. I was able to access them via an Android tablet connected to my WLAN and a Moto X Android phone via cell connection.
Performance
The DL2100 was tested with 1.06.118 firmware using our Revision 5 NAS test process. The DL2100 tests used two drives configured in single RAID 0 and 1 volumes. All tests were run using Western Digital Red 6 TB (WD60EFRX) drives (x2 factory installed).
The Benchmark Summary shows the Intel Atom does a pretty good job of making the most of a single Gigabit Ethernet connection. But there is one hiccup. Windows File Copy results are consistent between RAID 0 and 1, but the NASPT RAID 1 File Copy from NAS (read) benchmark is much slower than write at 74 MB/s vs. 105 MB/s.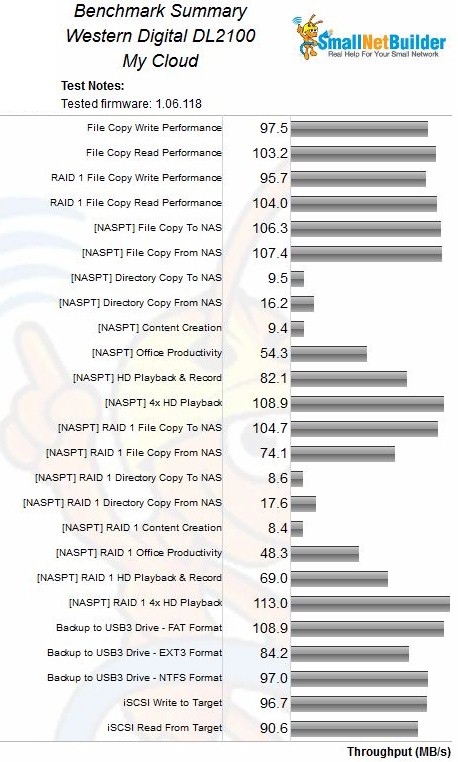 WD My Cloud DL2100 Benchmark Summary
Our published results are based on the average of three test runs. Checking the data I found the first NASPT RAID 1 File Copy from NAS test run could not read the test file so returned a 0 result, which brought down the three-test average. I repeated the benchmark run three times and this behavior was consistent. The other two test runs yielded throughput of 111.4 and 111.0 MB/s.
The NAS Ranker slots the DL2100 in fourth place, behind the QNAP TS-251 and TS-253 Pro tied for third and ahead of ASUSTOR's AS-302T ranked #5. Sorting by ascending price, the diskless DL2100 ties with the #2 ranked AS5002T at $350.
RAID5 NAS Ranking
Comparing NAS Ranker performance summaries for the two equally priced products shows the ASUSTOR with generally higher write performance, about equal for read and much better for mixed video record / playback, iSCSI and backup. So the ASUSTOR's dual-core, 2.4 GHz Intel J1800 Celeron seems to make a significant performance difference.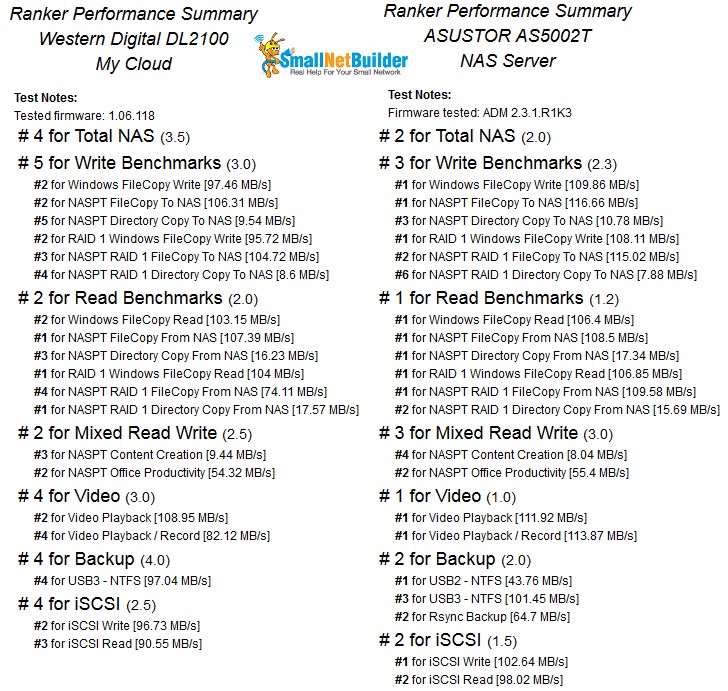 Ranker Performance Summary comparison
Closing Thoughts
The My Cloud DL2100, like the My Cloud DL4100, has a combination of performance, features and brand-name recognition that should move a lot of NASes off the shelves. But lesser known (at least among average consumers) QNAP and ASUSTOR products offer better value. WD still rates highest in my book for easy to use remote access / personal cloud use, however.
Buy My Cloud from Amazon