Introduction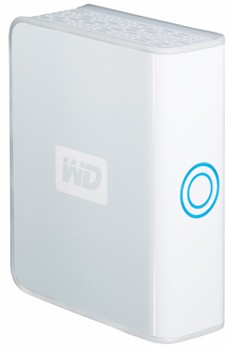 At a Glance
Product
Western Digital My Book World Edition (WDG1NC5000)
Summary
Single drive NAS bundled with remote access service
Pros
• Simple Setup
• Quiet operation
• Built-in remote access host software (Mionet)
Cons
• Poor performance
• No alerting or logging
• Added subscription required for "premium" WD Access Anywhere (Mionet) features
• Reliability issues with WD Access Anywhere during testing
If you're a manufacturer of NAS devices, you face a lot of competition. With declining costs of storage, manufacturers have to seek ways to differentiate their products in what's increasingly becoming a commodity market. Synology, for example, has loaded up their Cube Station CS407 with a plethora of servers. Similarly, D-Link's DNS-323 and Buffalo Technology's LinkStation Live have built-in DLNA UPnP AV servers.
Western Digital's My Book World Edition differentiates itself from its competition by offering, as its name implies, remote access from anywhere in the world. Powered by technology from its recent acquisition of Mionet, the World Edition includes an embedded host that makes it securely available on the Internet—even if no other computers on your network are turned on.
Western Digital ships two versions of the World Edition. The single drive version is simply called the World Edition. The World Edition II is a two-drive device that, in addition to the features of the single drive model, features RAID 1 mirroring for data redundancy. Unlike the single drive model, the World Edition II is designed for easy access for the user to replace a drive if necessary. Here's a chart of the available capacities (capacities shown for World Edition II are for RAID 0 configuration) and pricing:
| Model | Capacity | MSRP |
| --- | --- | --- |
| World Edition | 500GB | $249.99 |
| World Edition | 750GB | $349.99 |
| World Edition II | 1.0TB | $449.99 |
| World Edition II | 1.5TB | $699.99 |
| World Edition II | 2.0TB | $799.99 |
Product Tour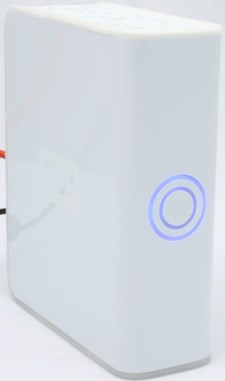 Figure 1: My Book World Edition front view
My test unit was the 500 GB single drive World Edition. As its name implies, it does indeed look like a book. The glossy white plastic case, measuring 6.78" X 5.63" X 2.23" complements any office décor. On the front panel (Figure 1), there's a power switch that is surrounded by two blue rings of LEDs. The outer ring indicates power and activity. The inner ring is a capacity gauge that indicates the approximate amount of space used. Each segment of the inner ring represents approximately 1/6 of the drive's capacity.
Product Tour – more
For the World Edition II, combinations of flashing and rotating lights indicate RAID rebuild or that the RAID is operating in a degraded condition. If both rings flash simultaneously, it indicates that the device is overheating and you should shut it down. There is no auto-shutdown or email notification of any kind.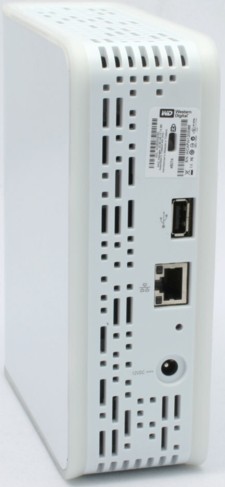 Figure 2: My Book World Edition Rear
The rear of the World Edition (Figure 2) has a jack for power, a reset switch, a 10/100/1000 Ethernet port and a single USB 2.0 port that can be used to add an external hard drive. It does not function as a print server, however, nor can you monitor a UPS on the USB port. There's also a Kensington security slot so that you can physically secure your World Edition with a Kensington or other compatible cable lock.
Noticeably absent is a cooling fan. My single drive unit didn't have a fan, and based on the photos in the instruction manual, I'm assuming that the World Edition II also lacks a fan. This makes the device a good acoustical office mate, but I did note that the drive was quite warm when I disassembled the case. Still, in more than two weeks of continuous running it didn't overheat.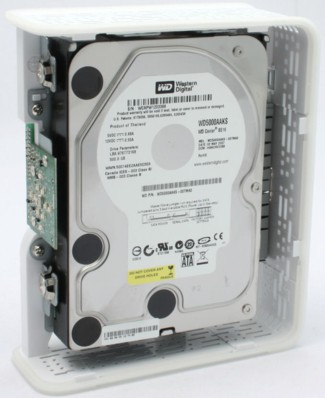 Figure 3: My Book World Edition showing drive and LED display board
Though the instruction manual includes extensive instructions for disassembling and replacing a drive in the World Edition II model, the World Edition really wasn't designed to be consumer accessible. I was able to remove the case (it's a bit tricky) to reveal the view shown above in Figure 3. Removal of a few more screws and the SATA power/data cable header let me lift off the drive and its mounting plate to get a view of the main board (Figure 4).
Figure 4: My Book World board
The heart of the WE is an Oxford Semiconductor OXE800DSE Ethernet to dual SATA NAS controller with encryption—the first time we've seen this used in a NAS. This part has an ARM926 processor, three USB host ports, dual SATA host controllers and a hardware RAID engine supporting RAID 0, 1 and disk spanning.
A VIA VT6122 Gigabit Ethernet Controller provides the single 10/100/1000 LAN port and there's a single Samsung K4H561638 16M x 16 DDR chip on the back of the board providing 32 MB of memory. There's not a flash chip to be found on the board and there is no flash in the Oxford chip. Therefore, the entire OS must reside on the drive.
Power consumption was measured at 15W—right on the nose for our NAS power rule-of-thumb. Note that there are no power-saving features, however.
Setup
You have the option of setting up the World Edition either for remote access, or as a traditional NAS. To set it up as a traditional NAS, you just enter "mybookworld" into your browser's address bar. This takes you to the "Shared Storage Manager" web-based admin page for the NAS. Upon first access, you are prompted to run a simple setup wizard that prompts you to change the admin password and set the time/time zone. By default, the public share is available to all users.
Figure 5: My Book World Edition Shared Storage Manager Interface
The user interface is quite simple with only four tabs—only three of which contain any configurable items. The home tab, shown above in Figure 5, summarizes the options for each tab. The configuration options are quite limited. You can create, delete, or rename shares, and create users (Figure 6). You can assign rights to users for each share, but the World Edition doesn't support group rights.
Management is likewise sparse. You can't set drive idle times, nor is there any provision for logging or email notification of system errors. It was designed to be simple, and to that end, it achieves its goal.
Figure 6: File Sharing Permission setup on the My Book World Edition
Remote Access
The key selling point of the World Edition NAS is remote access. When you insert the supplied CD, you are prompted to install WD Anywhere Access. As mentioned, Western Digital recently acquired Mionet, and WD Anywhere Access is essentially Mionet with a WD skin (Figure 7). As part of the installation procedure, you create an account on Mionet with the computer used to install the software. Once the account has been created, you can access the World Edition NAS either through a web browser or through the Mionet interface.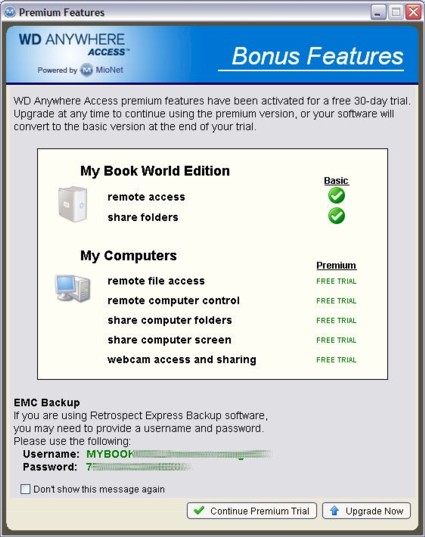 Figure 7: My Book World Edition includes a 30 free trial to Mionet's premium services
The World Edition NAS is supplied with a license for only basic remote access. If you really want to leverage remote access as well as remote control, you'll need to subscribe to Mionet. For $49.95/year, you can license up to five computers. Each computer running the Mionet software and logged into your Mionet account will have complete access to the local resources on all of the other logged in computers.
For example, in my tests, I installed Mionet on three computers. Each of my two notebooks' disks is partitioned into two drives. With Mionet running on each of my two notebooks, their two drives each appeared as mapped drive letters on the third computer. Similarly, the World Edition NAS appears as a drive letter with each of the shares appearing as a folder. It's important to note that only local resources, including attached USB drives, are available via Mionet. Mapped network drives are not available via Mionet.
In addition to having access to local drives of computers in your Mionet network, you can also share folders with non-Mionet members, share your webcam, or have remote control of any of your licensed computers. The remote control feature is very similar to remote control offered by products such as GoToMyPC or LogMeIn. However, each of these remote control subscription services is more robust than the remote control offered by Mionet. Mionet's remote control lacks support for remote printing, and you can't transfer files from within the remote control interface.
Remote Access Woes
I installed Mionet on a total of three computers, with mixed results. Initially, I had complete access, using the included 30-day trial of Mionet's premium features, to the local resources of each of my computers. Remote control and folder sharing also worked as advertised.
However, during my testing, Mionet experienced some type of database corruption on their server that caused me to lose remote access to all of my Mionet-enabled computers. At Mionet's suggestion, I uninstalled the client from each computer and reset the Mionet client in the World Edition NAS, created a new account, and re-installed Mionet on all three computers. I had reliable access to two of the three computers, but the third computer dropped offline.
Perhaps it's reviewer's bad luck, but this morning as I was writing this review, I received an email from Mionet indicating that their network was down. Indeed, it was down, and none of my Mionet resources were available. Approximately 23 hours later, I received another email indicating that Mionet was back up. Unfortunately, to restore access, each computer required a reboot (actually you could stop and restart the Mionet service) in addition to a reboot of the World Edition. Since I was working on the road, without remote control, I couldn't reboot my test computers at my office.
While I like the features offered by Mionet, from my limited experience with it, it's not reliable enough for me to count on. Fortunately, Mionet offers a 30 day free trial to anyone, so even if you don't buy the World Edition, you can evaluate it for yourself. I realize that my experience is a "snapshot" in time, and hopefully, Mionet, with WD's resources behind it, will improve.
Performance
The My Book World Edition turned in disappointing performance. I filtered the results of SmallNetBuilder's NAS performance charts to look at single drive products. The World Editions have gigabit Ethernet interfaces, but based on the performance charts, the throughput of the World Edition isn't evem limited by a 100 Mbps connection.
On the large file 1000 Mbps write tests (Figure 8), the World Edition turned in the lowest average score of any single drive gigabit-enabled NAS. The average write throughput of 4.9 MB/s was less than half of the Buffalo LinkStation Live's and a third of the LinkStation Pro's.
Figure 8: 1000 Mbps Average Write Performance for single Drive NASs
Similarly, the World Edition turned in relatively low average performance numbers on the 1000 Mbps read tests (Figure 9). The average throughput of 6.1 MB/s was only about 25% of the LinkStation Pro's.
Figure 9: 1000 Mbps Average Read Performance for single Drive NASs
Final Thoughts
As a road warrior, I like the idea of having access to my files as well as remote control of my office computers. The My Book World Edition NASs offers those features, but at an additional cost of $50/year for the premium service. Since the price includes licenses for up to five computers, it can be a good deal for some users, but not for those with only a single computer to access.
However, no matter what the price, if the service doesn't work, you'll just be wasting your money. In my week and a half of testing with WD Access Anywhere, much of it from a remote location, I had mixed success. Perhaps my problems were just a fluke, but since remote access is one of the key features of the product, I would have hoped to experience no problems whatsoever.
With performance that doesn't live up to the promise of its gigabit Ethernet port, no UPnP media, FTP or print services, and an iffy remote-access option, the My Book World Edition doesn't have a lot to recommend it.