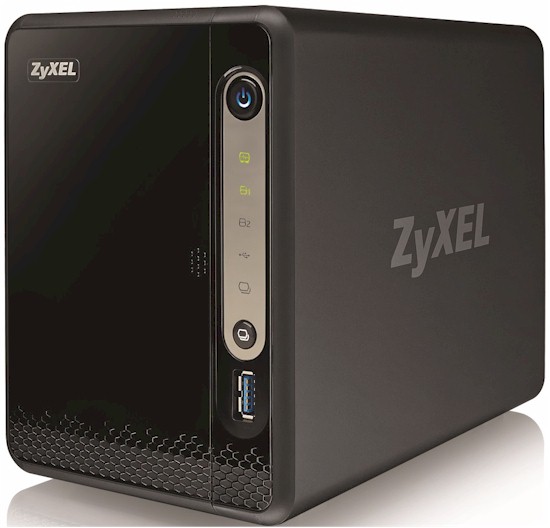 At a glance
Product
Zyxel 2-Bay Power Plus Media Server (NSA325 v2) [Website]
Summary
Updated version of dual-drive Marvell-based NAS with USB 3.0 port, lots of upload/download options and support for add-in modules.
Pros
• Lots of features – highly configurable via packages
• Quiet and Eco friendly
• Time Machine support
• USB 3.0 port
Cons
• No front panel indication of degraded RAID
• Drives not hot swappable
• New firmware has some backward steps in performance
Typical Price: $144 Buy From Amazon
Introduction
ZyXEL's NSA325 has been a popular choice for buyers looking for an inexpensive two-bay NAS with decent performance and a surprisingly broad feature set. So when someone in the Forums flagged a new version of it, I asked ZyXEL to send one for a look-see.
It turns out the v2 has the same hardware as the original, with some minor cosmetic changes and a new drive tray that enables use of both 2.5" and 3.5" SATA hard or solid state drives (the verified drive list has only 3.5" hard drives).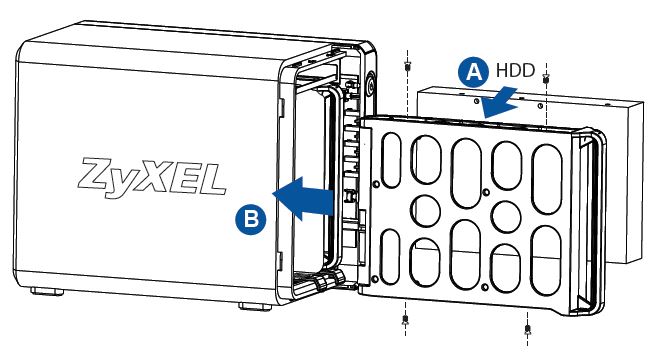 ZyXEL NSA325 v2 new drive tray
Since the v2 is so similar to the original NSA325, this will be a relatively short review. Craig has a pretty complete walkthrough of the NSA's feature set in his review.
The front and rear panel callouts and the product photo above show the v2's more muted look. The case is still black plastic, but the front cover has dropped the wavy lines and sports a mirrored bezel to highlight the buttons and indicators. The port complement is still the same–—one Gigabit Ethernet, two USB 2.0 and one USB 3.0.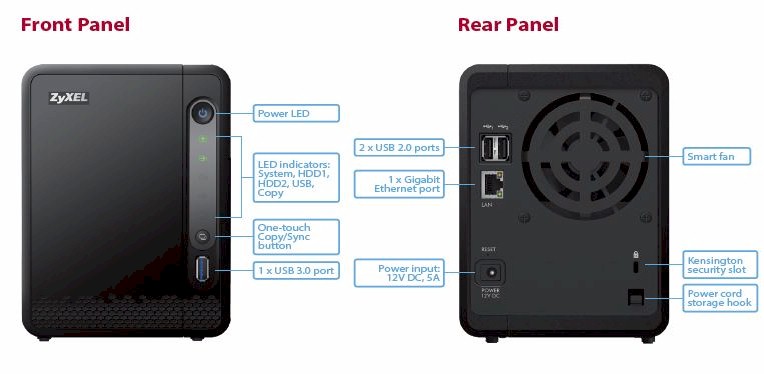 ZyXEL NSA 325 front and rear panel layout.
The figure below describes the color and states of each status indicator.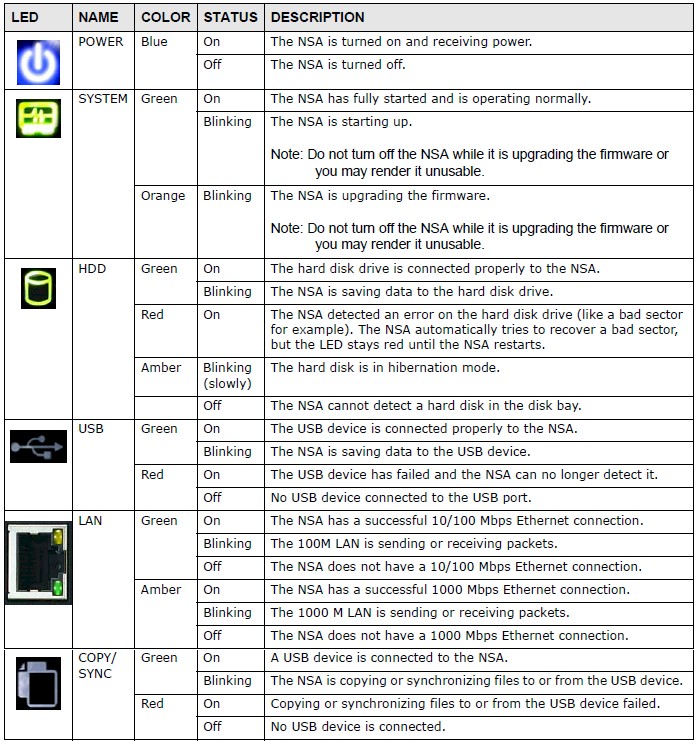 ZyXEL NSA325 v2 LED status indicator description
Inside
ZyXEL told me the v2's hardware has not changed from the original, so I'm reusing the board shot from the original review below.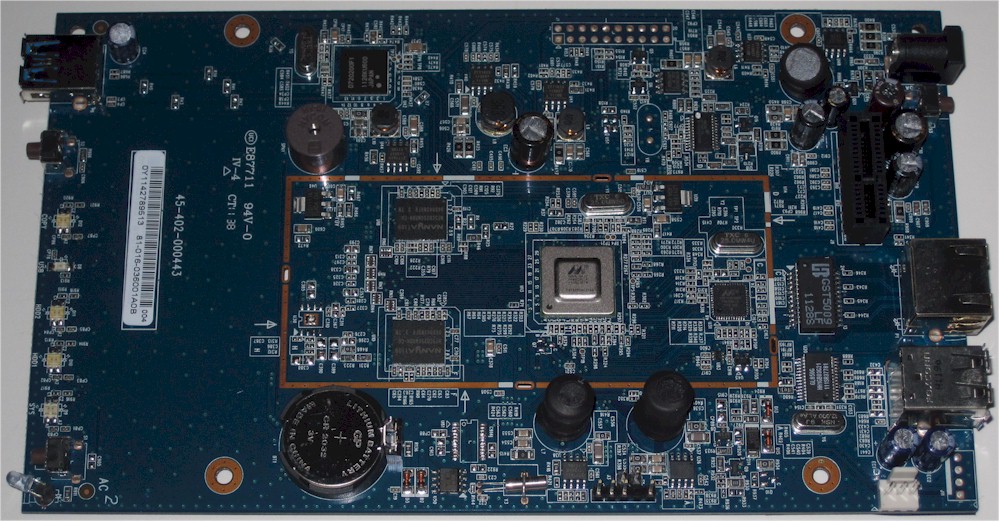 NSA 325 circuit board – top view
The key components are summarized in Table 1 alongside QNAP's TS-220 for comparison, since it uses the same Marvell SoC and RAM amount.
| | ZyXEL NSA325 v2 (and v1) | QNAP TS-220 |
| --- | --- | --- |
| CPU | Marvell 88F6282 Kirkwood SoC @ 1.6 GHz | Marvell 88F6282 Kirkwood SoC @ 1.6 GHz |
| RAM | 512 MB DDR3 | 512 MB DDR3 |
| Flash | 128 MB | 16 MB |
| Ethernet | Marvell 88E1318 | Marvell 88E1318 |
| USB 3.0 | NEC D72022F | Etron Tech EJ168A |
Table 1: Key component summary and comparison
The v2 drew 15 W with two WD RED WD30EFRX 3 TB drives I supplied for testing. The NAS drives properly spun down after the programmed idle time was reached, with power consumption dropping to 7 W.
Differences
Although the v2 is very similar to the v1, there are a few differences in the V4.70(AALS.0) firmware (which is also available for the original NSA325).
The Home page has been rearranged from a linear to a "C" shaped format. Clicking on each icon brings it to the front and shows its title. Since some of the icons aren't obvious, I wish the titles appeared in a tooltip when moused over.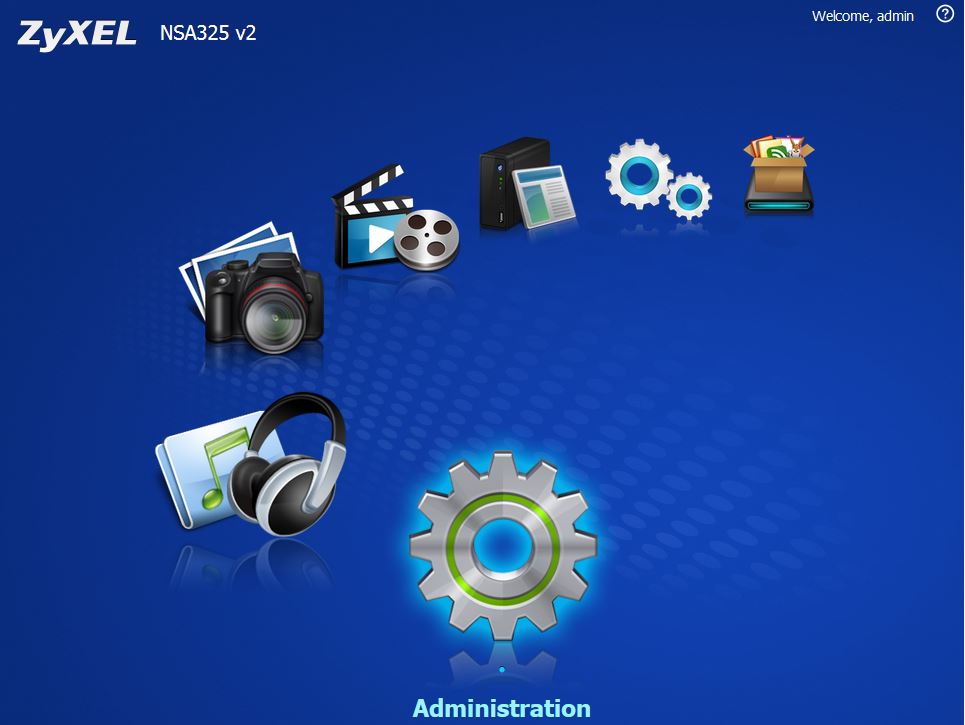 NSA325 v2 Home Page
The admin interface has the same look and feel as before, as illustrated in the screenshot.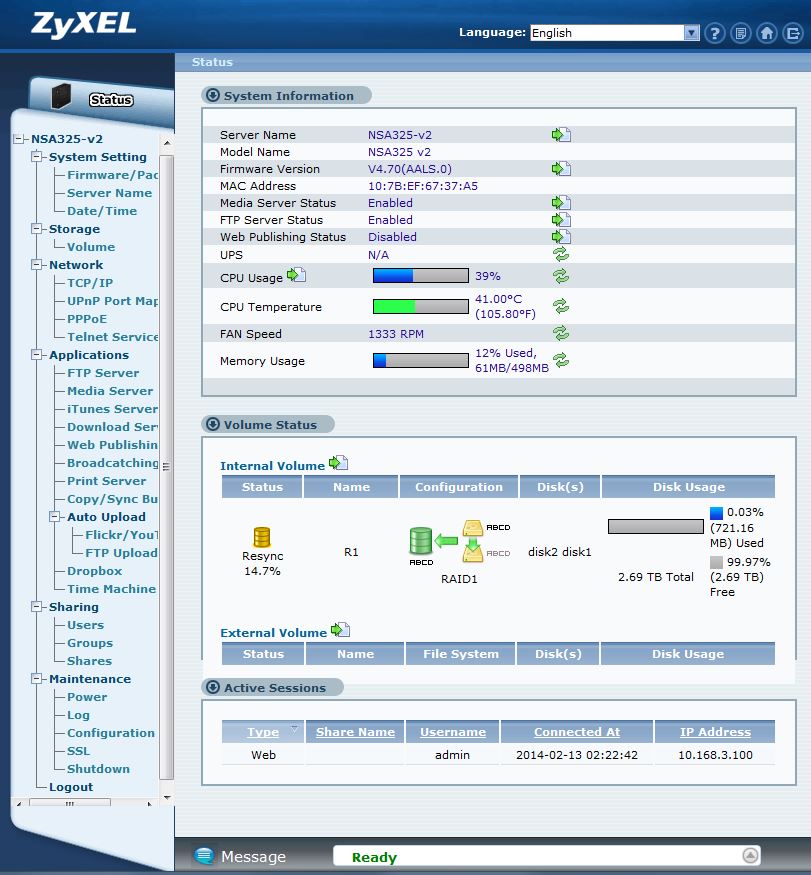 NSA325 v2 Status
I found one other important difference when checking to see if more installable packages had been added (they have). The Package menu has been moved from the Applications section to a tab on the System Setting > Firmware page. There are now seventeen packages / apps that can be downloaded and installed. All are shown in the following two screenshots.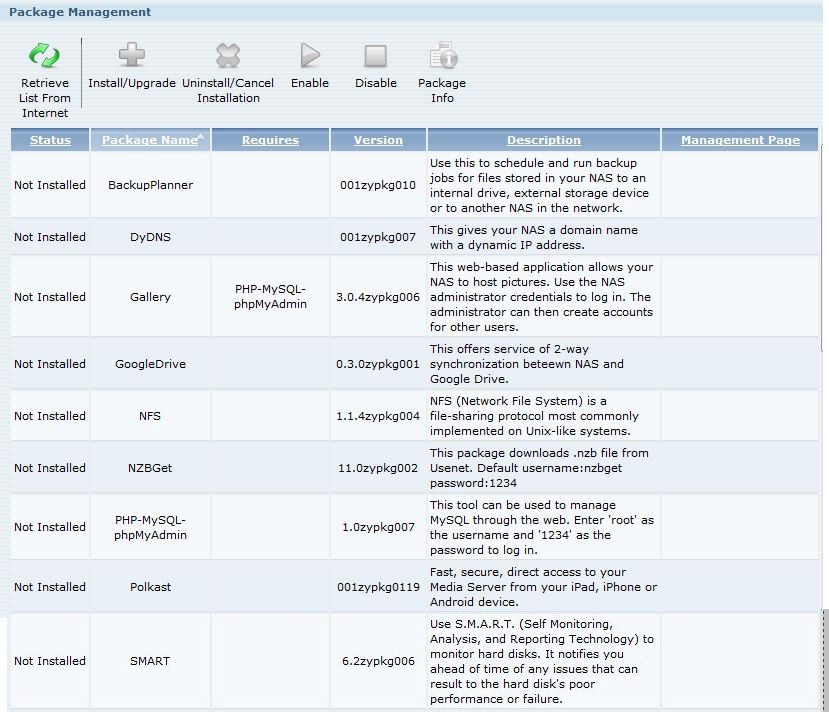 NSA325v2 Packages – part 1
These are in addition to the default installed features that include:
Flickr / YouTube/ FTP uploaders, Dropbox
FTP server
Twonky UPnP/DLNA media server
iTunes server
HTTP / FTP / Torrent downloader
Basic webserver ("Web Publishing")
"Broadcatching" downloader for media with RSS feeds
Print server
Dropbox support
Apple Time Machine backup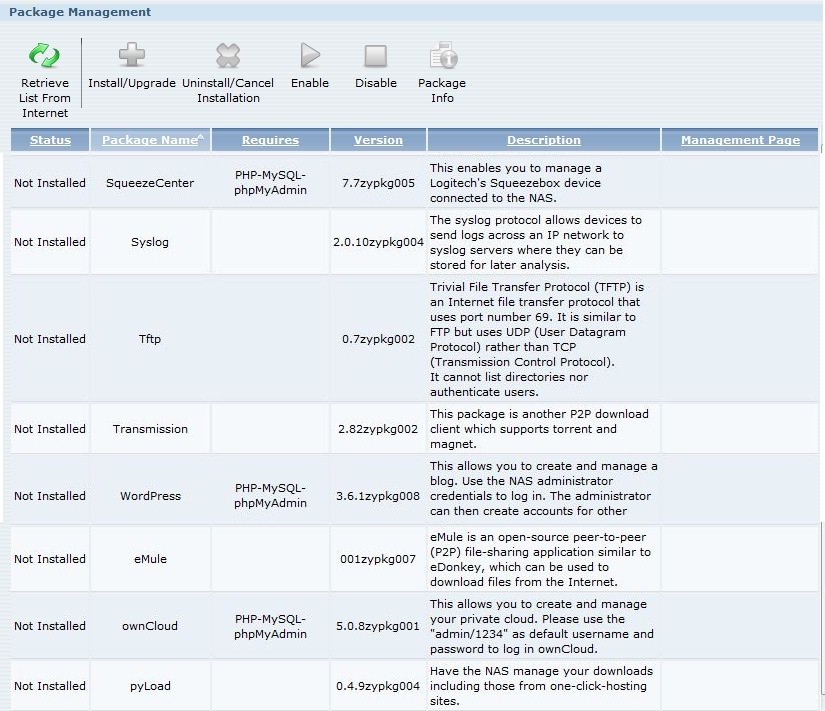 NSA325v2 Packages – part 2
For a feature-by-feature walkthrough, check Craig's review.

Performance
The NSA325 v2 was tested with V4.70(AALS.0) firmware using our standard NAS test process. You can't do this automatically in the Charts, but I cut-and-pasted Benchmark Summaries for the original and v2 and put them side-by-side below. The highlighted benchmarks show large differences. Since the hardware is the same, the difference must be in the new firmware.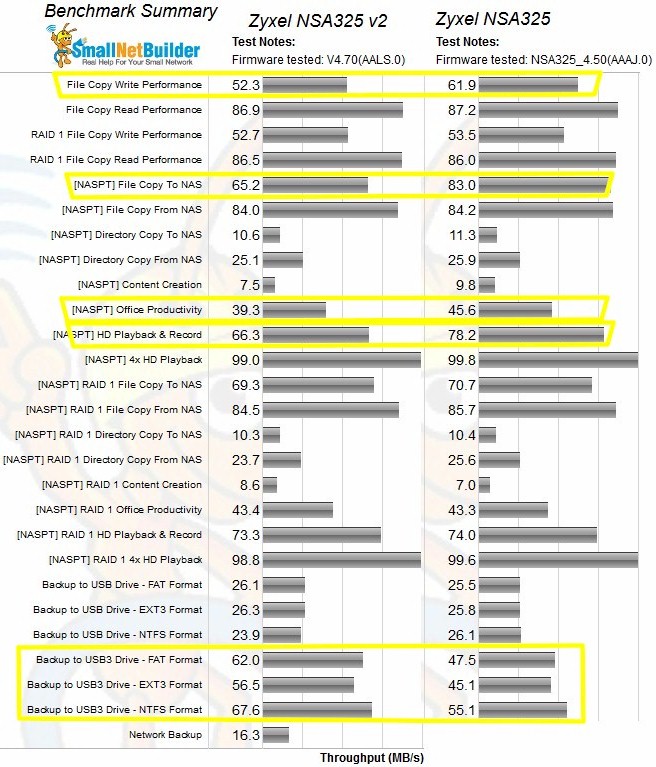 ZyXEL NSA325 Benchmark Summary
Taking a quick tour through the file copy benchmarks shows you won't take a performance hit if you opt to use RAID 1. The NASPT File Copy benchmarks show write throughput in the mid-to-high 60 MB/s range and read around 85 MB/s. Although this NAS can't fully use a Gigabit link's bandwidth, its performance is in line with what we've come to expect from Kirkwood based NASes.
It looks like the new firmware gooses USB 3.0 attached backup results a bit, with best throughput of 68 MB/s obtained with an NTFS formatted drive. I was pleased to find that ZyXEL now allows rsync backup to standard rsync servers, lifting the previous restriction of supporting backup only to other ZyXEL NASes. The 16 MB/s rsync throughput is again about par for the course for this class NAS.
The NSA325 v2 still doesn't support iSCSI, so there are no benchmarks shown for that test.
Closing Thoughts
The NAS Ranker provides the best way to get a relative performance ranking based on all benchmarks measured. Filtering the ranker for single-core SoC processors and two drives reveals the original NSA325 v2 in third place behind Buffalo LinkStation 420 and ioSafe's N2, which is a Synology DS213 in a disaster-proofed enclosure. The original NSA325 has been archived, so no longer appears in the NAS Ranker. Like all archived products, however, you can still opt to see it in the charts using the Achived Products switch.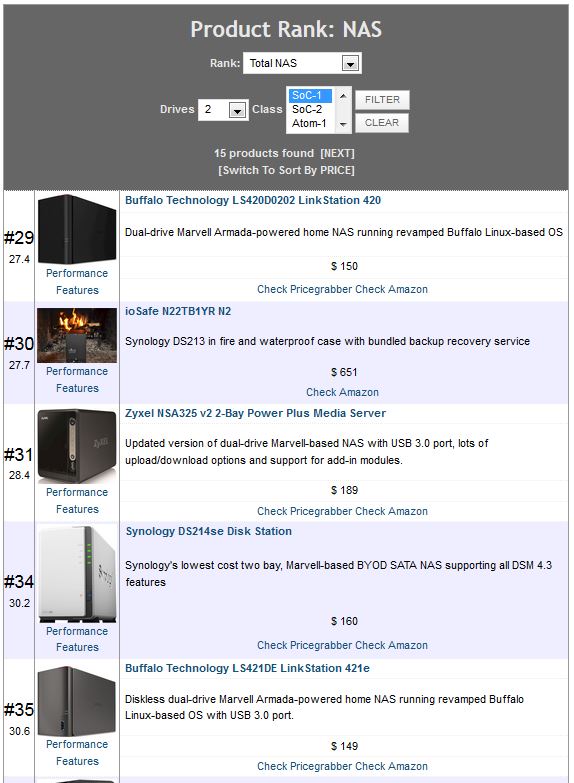 RAID 1 File Copy Write Performance – the ZyXEL NSA325 was 1.76 times faster than the D-Link DNS-325
Sorting the filtered view by ascending price is interesting. The v2's current $189 price actually makes it relatively expensive among dual-bay single-core processor SoC NASes. The Buffalo LinkStation 420 is both less expensive and slightly higher ranked for performance. But it has nowhere near the feature set of the ZyXEL.
In all, it still looks like ZyXEL's NSA325 in its new v2 form should be on your short list if you are looking for the most features you can get, as well as decent performance, in a dual-bay NAS that won't totally empty your wallet.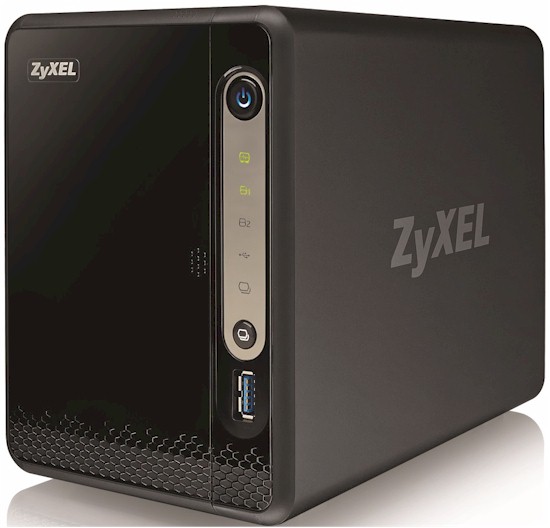 Buy 2-Bay Power Plus Media Server from Amazon