This article is the second in a series addressing some thoughts about ATAs. The first dealt with cordless phones and can be found here.
I'm not a big fan of analog terminal adapters (a.k.a. ATAs). If you're not familiar with them, these are the devices, like the Linksys example pictured below, provided by companies like Vonage et al. that convert your plain old telephone into a broadband phone, bridging the old analog world into the digital realm.
I accept that these devices have been the lifeblood of the residential VoIP provider world. That's only logical since they're cheap and easy to deploy. As a general rule, however, I find that for small offices and even home offices I almost always prefer SIP hard phones over ATAs in combination with analog phones. There are a lot of reasons for this. But the focus of this article is to shine a light on an exception to my rule that might prove interesting for some.
What I am about to describe pertains to the most entry-level small office phone systems, where cost is critical consideration. I'll begin by recalling my own early experience with home office telephony.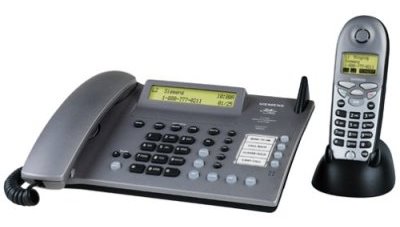 Back in 1999, I went out and bought a Siemens Gigaset 2420 two line phone system. It was the first of its kind available in the US. It was the precursor to the model pictured above and served me well for a few years.
The system combined a traditional desk phone with a cordless extension, two line capability, voice mail and a handful of additional features. In general, it was a really well-considered device, and at around $200 not overly expensive. The system was expandable; additional cordless handsets were only about $90 each and I actually had four.
My only complaint was that because it was very capable, the phone had quite an elaborate menu structure which was awkward to navigate on the two-line LCD display on the base phone. And it was even more difficult on the handsets themselves.

When my needs outgrew the Siemens phone (or it died—I truly can't recall which) I migrated to a Panasonic KX-TG4000 system (shown above.) This was very similar in many ways. It was expandable and built around a base phone with cordless extensions. Panasonic very wisely offered extensions in both portable and desktop form factors. We had the base, three cordless handsets and one cordless desk phone in total.
This system was eventually replaced by the KX-TG4500 model, which uses 5.8 GHz radios instead of the older 2.4 GHz standard. That's great, because they no longer interfere with wireless LAN access provided over the common 2.4 GHz Wi-Fi standards.
This Panasonic phone system provides four separate lines and up to eight extensions. It has modestly sophisticated internal features, providing simple voice menus (IVR), separate voice mail per extension, 3-way conferencing, transfers between extensions, etc. It even has built-in battery backup (including the desktop phones) so that the system stays running during power-outages. In short, it has just about everything that a small office might need, but it was not innately VoIP-capable.
For a time, we used this phone in conjunction with Sprint's ill-fated ION DSL service. This gave us four analog lines that we ran into the base phone, although we really had no POTS lines at all. Everything traveled on the DSL circuit.
This arrangement was in many ways ideal. We had one DSL drop from Sprint providing all of our phone and Internet access. The KX-TG4000 provided all the telephony features that we needed with the possible exception of music-on-hold.
Flash forward several years to today. The KX-TG4500 is still available and sells for around $420 for the base and one cordless handset. Additional cordless handsets are still around $100 each.
Instead of Sprint's DSL service, we have something else entirely. However, that doesn't matter if we mate the base phone to an FXS type gateway device. This provides the analog lines that phone needs, but passes the calls to an ITSP such as Nuvio, VoicePulse, Nufone or Junction Networks.
Presto, chango, easy, instant multi-line, VoIP capable small-office phone system.
Actually, you'd have some flexibility to split your calling between locally sources POTS lines and IP-based providers. Some might like this for the ability to always have locally sourced 411 and 911 service, although there are ITSPs who provide this as well.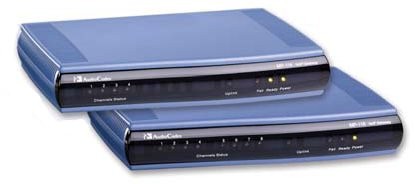 Four port FXS gateways, like the AudioCodes MediaPack 114 pictured above), run from $200-500. Two port models, like the Linksys SPA2102, are generally $40-90. The AudioCodes product also provides access to one local analog failover line, which is nice.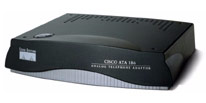 As an aside, it's curious that one- and two-port analog interface devices of this sort are usually called ATAs after the Cisco ATA-186 (shown left), which was the pioneering device of its kind. Beyond two ports, they are usually called "analog VoIP gateways".
If we presume that a small office might need 4 lines and 6-8 extensions, then the combination of the Panasonic phone and the interface device would be around $1500. That's really a very good price considering the capabilities delivered. It's one case where the combination of the analog phone system and a VoIP gateway can truly deliver both features and value.
Delivery of features is based upon the fact that they are built into the phone system. It provides all the basic features that a small office might desire, but there's no dial plan to program. It's simple, easily set up and has essentially zero maintenance.
The use of the gateway device opens up the world of VoIP to the user. They can use accounts with different ITSPs and control long distance calls, for example, by making overseas calls on the outbound line that registers with the cheapest provider to their intended destination. They can get DIDs in various cities, assigning one to each line on the Panasonic phone.
The capital cost of the purchase is low. The operating cost could be very low as well. ITSPs offer a wide variety of pricing plans, from unlimited calling for a fixed monthly fee to no monthly fee at all, but pay-per-minute of use. It's possible to find a plan that matches your usage and your resulting monthly bill from the ITSP can be less than the cost of simply having four analog lines from your local ILEC, with no long distance included.
Yes, there are hard limits to what this combination can do. A real IP-PBX will be more flexible and powerful, but also more costly to buy and complex to configure and maintain. In small offices where cost and simplicity are paramount, this combination can deliver a solid solution.
This article originally appeared on Graves on SOHO VoIP.
© 2008 Michael Graves