What I've Been Up To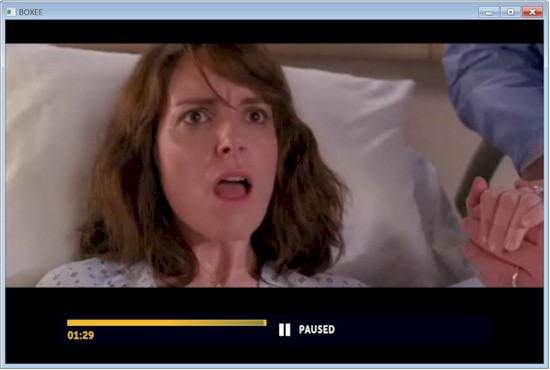 We feel the same way about the quality of some Internet TV playback methods!
I know I said after my look at Boxee that we'd be checking out Windows Media Center this time. But in the past week or so, Ms. SmallNetBuilder and I have been watching a bit of Internet TV.
Because I haven't settled on a platform choice, I've been doing most of the driving when we switch off the DirecTV DVR and try our luck at Internet-based content. But it turns out that there is one alternative that the lovely Ms. SNB is already comfortable with, which I'll reveal shortly.
Since the last installment, the Acer Revo 3610 has come in to replace the bargain-priced Acer Revo 1600. The 3610 runs 64 bit Win 7 Home Premium, so comes with Windows Media Center that includes some Internet TV selections. It also has an app for the near-ubiquitous Netflix, which should also be announcing a version for your microwave oven any time now.
There has been a long-running flame war over on the Boxee forums as to whether the Acer 3610 has enough horsepower to handle full-screen HD playback. So, to give the 3610 the best shot possible at showing its stuff, I copied Paul Roberts' setup.
His configuration includes uninstalling the factory Flash version and loading Flash Beta 10.1.1p and matching Nvidia Ion driver, among other things. I didn't do any Bios tweaks or play with video memory allocation, nor did I increase RAM over the 2 GB that came installed. But I did remove all of the crapware that Acer had loaded.
I've also brought a Logitech Harmony One
remote into the mix, to ease the pain of switching between entertainment choices. I was sucked in by the lure of its fancy programmable LCD touch screen. But after some time living with the One, I've found that I should have opted for the less expensive Harmony 700
.
I find the One's touch screen too sensitive to finger angle-of-attack and often end up triggering the wrong function when I try to hit an icon using only one hand. The 700 still has a customizable LCD screen, but uses real buttons that should be more forgiving of a finger coming in at an angle other than 90 degrees to the screen surface.
I haven't yet added IR capability to the 3610, instead opting for an assortment of iPhone / iPod Touch apps to handle remote duties via Wi-Fi. The Boxee app and collect3's XBMC app handle duties for those players and I'm making do with studio WildCat's RemoteX app to run Windows Media Center.
I haven't yet dragged out the Logitech diNovo Mini
to bring a compact Bluetooth-based keyboard and touchpad into the fray. But I might soon, since the RemoteX app isn't the best thing when it comes to cursor control and button clicks. I don't really want to get used to having to rely on a keyboard and mouse, though, since I don't think it will help the long-term WAF.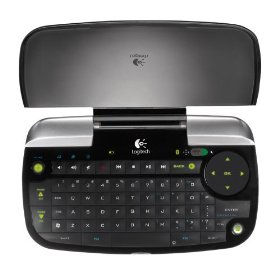 Logitech diNovo Mini
The other thing I've done is sprung for a copy of MediaMall Technologies' PlayOn media server. I downloaded the 14 day trial, mainly to add more online TV options to XBMC and Windows Media Center and for general experimentation with dedicated media players. I decided to take advantage of the $10 off special that Mediamall sent out when my trial license expired, so ended up paying only $30.
The Experiment
This past weekend, I brought the newly-configured 3610 upstairs and connected it into our main entertainment center, which includes a 50" Panasonic plasma. Since many of the programs we like to watch are on break, I thought I'd try to see what alternatives the 'net could provide.
We also ended up missing an episode of ABC's Castle, due to a DVR setting mixup. Never fear, I said to Ms. SmallNetBuilder, we should be able to use the magic of the Internet to watch it! [Aside: I tried checking DirectTV's "Beta" OnDemand feature, first. But I got so disgusted after wrestling with its "new and improved" brain-dead search function, that I've vowed never to go there again!]
Since I didn't want to get sucked up in the ongoing games between Hulu and Boxee, I decided to use Hulu Desktop to watch the show. But the quality was significantly less than what we've gotten used to using our Roku HD Netflix box
, which sets the standard for Internet-based viewing, as far as I'm concerned.
The whole show suffered from low frame rate and glitches during fast action scenes and even quick camera pans. We managed to get through the whole show and then wanted to watch another older episode. But since I didn't want to subject our eyes to the same experience again, I took a shot and fired up Boxee.
Imagine my surprise when I found that the picture from Boxee (via Hulu) was perfectly watchable, although a tad softer, with none of the slow-frame-rate we'd seen on Hulu desktop! I even switched back to Hulu Desktop and loaded up the same new program to make sure that it wasn't a fluke. But, sure enough, Hulu Desktop once again showed the same problems with the new program. So I switched back to Boxee and we watched a few more episodes using it.
Given this experience, I thought I'd run an experiment. I watched the same show via as many methods as I could conjure up without going too crazy. I chose a current-season episode of 30 Rock, since NBC seems to be making it available on multiple platforms. Table 1 shows the results:
Player
Result
CPU %
Hulu Desktop
– Low frame rate
– Horizontal glitches during fast pans and quick scene changes
60-70
Boxee – NBC
("Recommended" source)
– Soft picture
– Low frame rate
– Occasional blurs
– Horizontal glitches during fast pans and quick scene changes

35-40
Boxee – Hulu
– Occasional jerkiness
– Horizontal glitches during fast pans and quick scene changes
70-80
Boxee – Netflix
(Had to use different program since Season 4 not yet available)
– Occasional jerkiness

– Horizontal glitches during fast pans and quick scene changes
40-50
Windows
Media Center
– Netflix
(Had to use different program since Season 4 not yet available)
– Occasional jerkiness

– Horizontal glitches during fast pans and quick scene changes
20-30
XBMC – Hulu
via PlayOn on same system
– Soft picture
– Video noise band at bottom of screen
– Frequent stutters
– Occasional blurs
90 – 95
XBMC – Hulu
via PlayOn on Acer 1810T
– Slightly sharper picture
– Video noise band at bottom of screen
25 – 30
Roku HD – Netflix
(HD quality stream)
+ Clear, crisp picture
+ Proper frame rate
+ No glitches
+ No jerkiness
N/A
Table 1: Video play test results
The biggest surprise from this experiment was the poor quality of the Hulu Desktop playback. Given that they are the authorized online distributor of NBC Universal programming, I expected much better.
It's clear that the winner so far for both picture quality and ease of use is Netflix via the Roku HD box. And it has high WAF since I've found that Ms. SmallNetBuilder already knows how to switch to the Roku box using the Harmony One, navigate to Netflix, choose her content and start watching.
Picture quality is excellent and so glitch free that we forget that we're watching Internet-streamed content. And it seems that Netflix has done some codec tuning, since we now frequently get HD-quality streams on our 3 Mbps down connection, where we got only "four-dot" plays before.
The only drawback is that you can't browse all Netflix "Watch Instantly" selections with the Roku box—you need to go to the Netflix website and put the selections in your Queue. If only Roku could update the box so that it behaved more like the Netflix apps on Boxee and WMC. But I suspect memory limitations will prevent that from ever happening on the current hardware platform.
As far as I'm concerned, Netflix and TV content providers should stop screwing around and get licensing terms worked out ASAP. Netflix has excellent compression and delivery technology that provide the best (and most glitch-free) picture that I've seen on any Internet-streaming platform so far. Its customers already pay for the service (so don't have to be convinced of the value of pay vs. "free") and its player is available on just about any entertainment device that has a network connection. The little ol' Roku boxes could kill the Boxee box (and anything that Apple is thinking of doing with AppleTV or its replacement) before it even hits the streets. C'mon folks. Let's get this party started!