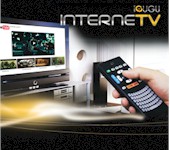 iGUGU said it has started shipping two products aimed at making it easy to display Internet video on your TV.
iGUGU InterneTV is a cable / satellite TV replacement system that uses a Windows application to aggregate Internet video content.
iGUGU InterneTV Basic provides connectivity from PC to TV via a six-foot VGA or HDMI cable and includes a wireless USB adapter to connect a wireless remote with the Windows PC running the InterneTV application.
iGUGU InterneTV Wireless uses an "802.11g-compliant adapter" on the PC side that connects to a TV-connected base with VGA and HDMI outputs.
Both versions support 480p and 720p video at resolutions of 640 x 480, 800 x 600, and 1024 x 768 and audio via separate connection or HDMI.
MSRPs are $129 for the cabled version and $249 for the wireless. Both include an RF remote with full QWERTY keyboard.
Both versions are available now direct from iGUGU.