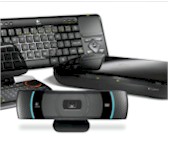 The next-to-last shoe dropped today in this year's Internet media player competition with the official reveal of Logitech's Revue with Google TV.
Logitech announced the base product ($299.99 MSRP), which includes the console and not-so-portable-keyboard shown below, as well as a smaller keyboard controller and HD camera.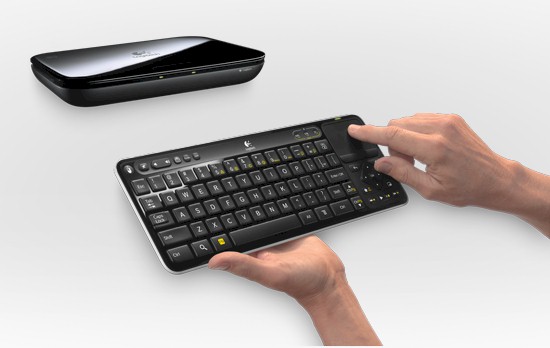 The set top box connects to your LAN via 10/100 Ethernet or built-in dual-band 802.11a/b/g/n. Other ports include two Logitech Harmony Link IR blasters, two USB 2.0 ports, HDMI in and out (both 1080p/60fps, 1.3a w/ CEC) and S/PDIF Audio optical out. Logitech throws one HDMI cable and IR blaster into the box.

The two accessories announced are a Mini Controller ($129.99 MSRP), which looks like a re-purposed diNovo mini and TV Cam ($149.99 MSRP). The TV Cam connects via USB 2.0 and supports 720p HD video with 5x digital zoom, auto focus and stereo audio mics.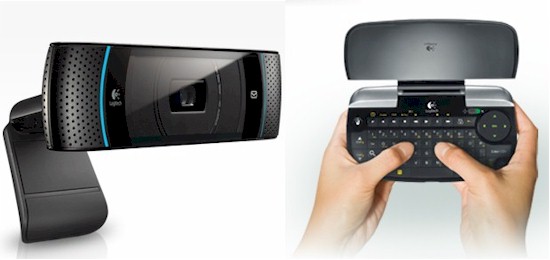 The TV Cam will work with Logitech Vid account holders as long as they have an Internet connection with 1 Mbps up / down bandwidth.
The Revue is an apps-based box and will come with apps loaded for Logitech Vid HD, Netflix, Pandora, Napster, CNBC and Twitter. Also bundled is the Logitech Media Player, which will play local photos, music and video from either an attached USB drive or networked DLNA server.
Logitech will also be putting up free Harmony Apps for iPhone and Android so that iOS and Android devices can be used as alternate controllers. The apps won't provide remote access to content, however.
Everything is available for pre-order today on Logitech.com, Amazon.com and BestBuy.com. If you need a spare of the keyboard controller that comes bundled with the box, you'll be able to buy one soon for $99.99 (MSRP).
Logitech also announced a deal to provide the Revue to existing and new Dish TV customers for $179.99.
The real question is the content that you'll be able to access using Google TV. Finding stuff on the Internet is nice. But if content owners block Google TV powered devices (as Hulu is reported to be doing now), you won't be getting a lot for your $300.
And don't think that having browser support will save the day. Boxee has had a built-in web browser for a few beta revisions now and I've never been able to get it to work. Guess we'll just have to pre-order one and see what it really does when it ships.