The Polycom VVX 1500 is a full-featured six-line SIP telephone with 7" color touchscreen incorporating video-conferencing, Polycom's HD Voice technology, open API and microbrowser for real-time delivery of personalized Web content. It supports the same SIP feature set as Polycom's SoundPoint desktop and conference phone lines.
The videoconferencing feature supports H.263, H.263+ and H.264 codecs with 352×288 or 352×240 resolutions at up to 30 FPS using a 2 MP fixed-focus camera. Other phone features include 802.3af PoE, two-port Gigabit Ethernet switch and USB 2.0 port. Power consumption is around 11W active and 6W in power save mode with the LCD screen off.
The VVX 1500 will be available this month at an MSRP of $1,099.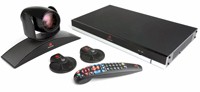 Also introduced was the QDX 6000 video conferencing system aimed at small-business users. Polycom said it provides "DVD-quality" 30 FPS video while requiring only 384 Kbps of bandwidth.
The package includes a QDX pan/tilt/zoom camera with 12x zoom, two microphones, cables, controller and remote control. Both native widescreen (16:9) and standard (4:3) video formats are supported. Other features include dual monitor support, five video inputs and two-port 10/100 switch.
The QDX 6000 is available now at an MSRP of $3,999.
Polycom also announced enhancements for its RealPresence Experience (RPX) and Telepresence Experience (TPX) immersive telepresence products with support for 1080p and broadcast-quality 720p (60 frames per second) high definition (HD) video quality.
The company also announced that it has licensed the right to distribute Microsoft's RoundTable video conferencing device. Starting April 13, it will be available as the Polycom CX5000 Unified Conference Station.