Updated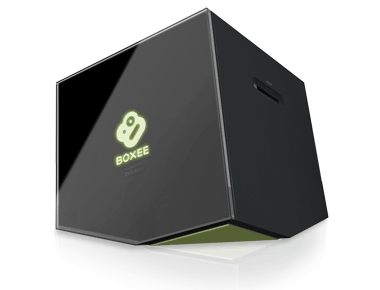 The Boxee Box by D-Link is lopsided and so is its content selection
I thought my review of the Boxee Box by D-Link (hereafter refered to as the Box) was going to be pretty short. After all, just two days ago I downloaded the latest Windows Boxee install and was pleasantly surprised by the amount of content available, particularly from Hulu.
So when FedEx dropped off my pre-order from Amazon a few hours ago, I expected to fire it up and start watching. But, once again, it is looking like the best way to watch Internet TV is still using any sort of PC.
Actually, from reading Engadget's coverage of last night's Boxee launch party and yesterday's Boxee Blog post, I knew I was in for some significant changes. The revamped Home page is cleaner, with larger icons. But at least half the area (the lower half) is still taken up with stuff that you have little control over, or in Boxee's words "content or apps we believe are worth checking out".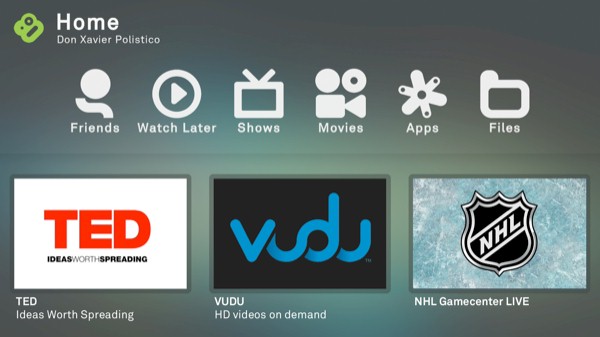 New Boxee Box UI
Some folks already have their shorts in a knot about the Photos and Music icons being moved off the home page, into one of the many nested menus.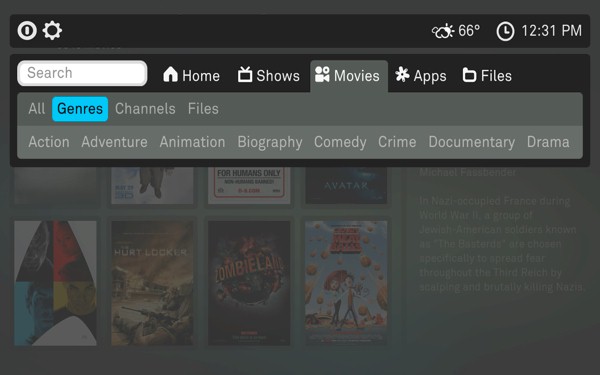 New Boxee Box menu system
The Boxee Blog post describes all the other wonderful techie goodness packed into the new Boxee Box code. The big news is the support for HTML5, all the better to leverage off stuff being developed for Google TV and Apple iOS devices.
Search
But the more immediate and noticeable changes to us consumers are in Search and the web browser. It looks like Boxee has stepped up its game in response to Google TV. Boxee has zagged to Google's zig and adopted a simple all-encompassing Search feature. The screenshot below shows what happens when I entered "tbs" into the Search box that's on every menu screen.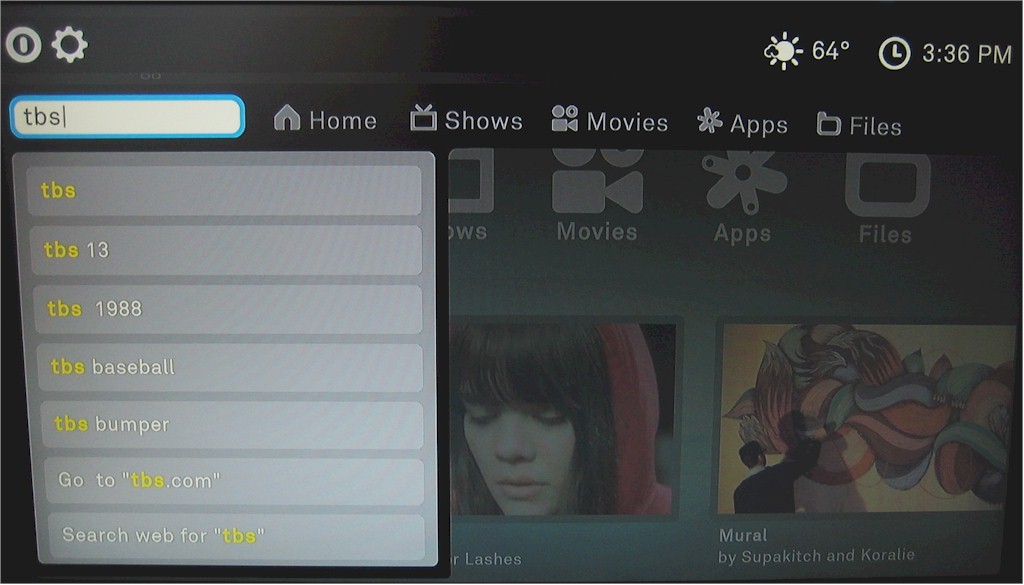 New search feature
If you've used Google TV, you'll recognize this type of behavior. So Boxee has already "me too'd" the keystone of Google TV, integrated local and web search for content. And who is Boxee using for search? Well, take a look at what came up when I searched for "castle"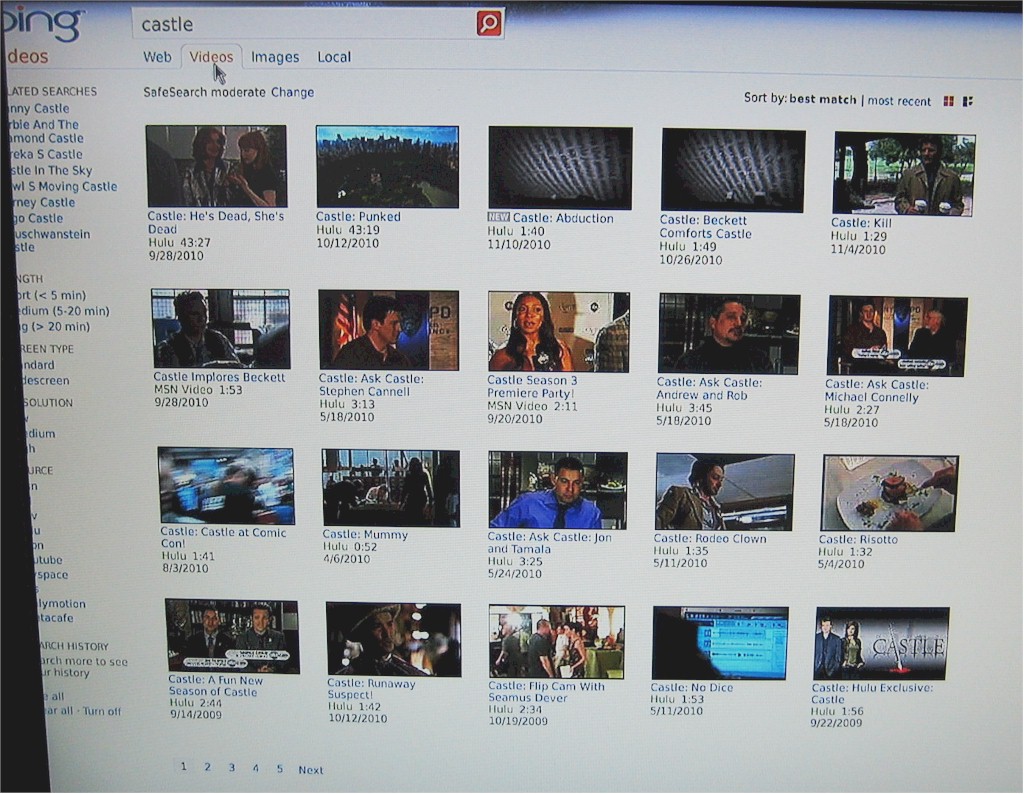 Bing, not Google for search
I guess I can't blame Boxee for dumping Google in favor of Bing for web search. Boxee has also partnered with VideoSurf for, uh, video search. I was able to get see the VideoSurf logo occasionally on search results—it's all handled in the background.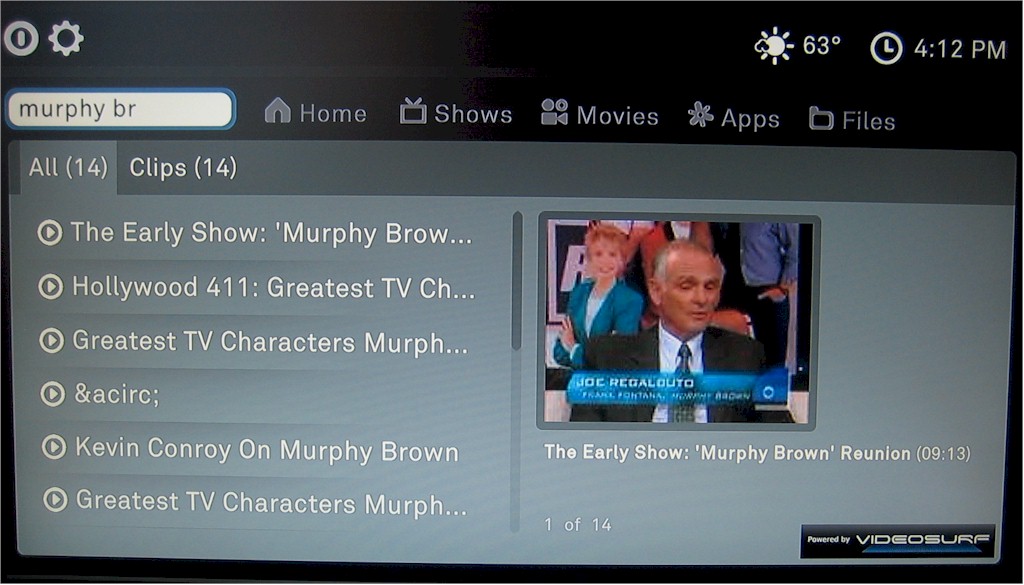 VideoSurf helped with this search
By the way, I've been able to consistently lose the ability to select anything in the Menu after doing a search while in the Shows section. Sure would have been nice to have a Home button on the remote to recover from situations like these (I ended up power cycling).
Browser
With the switch to an Intel Atom platform came a switch to a Webkit-based browser. The one thing I liked about Google TV was its much more functional browser and now, it seems, Boxee has also taken that advantage away from Google. Like Google TV, the browser doesn't show the address box, which is accessed via the Search menu instead.
The browser in general is much more functional than the one in 0.9X Boxee and you can move the cursor and click on links using the Boxee remote. I found I often had to hold down a direction key to find the cursor, which was somewhere off-screen. You'll even get a fuller (and sometimes more annoying experience) when visiting TV network websites from the auto-playing Flash videos that are actually played instead of being blue-boxed a la Apple.
The brower is no speed-demon though. Complex pages with Flash take 10+ seconds to load. Pages do seem to work, though, once they load up.
Speaking of the Remote, its nice and annoying in equal parts. The nice part is the built-in QWERTY keyboard, which eliminates the hassle of on-screen "keyboarding". The annoying parts are the all-one-size rubberized keys, which are not backlit.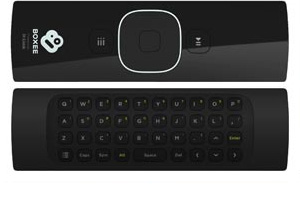 Boxee remote
You'll need to be careful when typing since the keys are so small. And also careful how you hold it, lest you click the select button on the other side before you're done typing.
Two Big Steps Backwards
The real buzzkill on the Boxee Box, however, is that Boxee has had to take away content that you can still get if you use one of its "DIY" installs. I'm sitting here with my Acer 3610 loaded with the Windows 0.9.23.15885 version I downloaded the other day. It's happily playing a Castle episode from Comcast's Fancast. But you can't get Castle (or any other show) from Hulu, Fancast, Clicker or anyplace other than the Boxee Shows section.
Boxee has reached an agreement with Hulu that brings HuluPlus to Boxee. That's the good (?) news. The bad news is that there is no time frame for this wondrous event, probably due to some exclusivity deal that Hulu struck with Roku, which still hasn't made HuluPlus live yet.
The other step back is that there is no Netflix! I mean, c'mon folks. I don't care how wonderful the whizzy new version is that you're cooking up "before the end of the year" is. Why can't we have the old crappy interface that we can get now on just about every other media player with a network jack on it? And I don't care about Vudu. I already have a Netflix subscription. I don't need another pay-to-view opportunity.
Updated 11/12/2010: You'll note in the User Review comments below that someone said the reason for Netflix not being included is that the Windows Boxee Netflix app uses Microsoft Silverlight, which is not supported on non-Windows systems.

Ok, fine. But since other (and cheaper) non-Windows network players support Netflix, there is no technical barrier to the Boxee Box supporting it too. I'd rather temporarily have Netflix with the old, crappy Instant Queue only interface than no Netflix at all.

And note that Vudu is also "coming soon".
So, contratulations Boxee and D-Link. You've successfully cooled my enthusiasm for your long-delayed creation. Yes, it's finally shipped and even on a new Atom platform. But you're still selling futures and worse, have moved backwards from the ability to play content that cheapskates who are using your "DIY" option can play quite nicely.
So what's the return policy on this thing? No sense tying up my $200 while you guys finish it.