At a glance
Product
NETGEAR Arlo Q 1080p HD Security Camera with Audio (VMC3040) [Website]
Summary
1080p Cloud Camera with Night vision and 2-way Audio
Pros
• Sharp video
• Easy setup
• Diverse motion detection options
• Audio detection, as well as motion detection
Cons
• Can't be integrated with other systems
• More expensive than Nest Cam
• Motion detection is a set duration vs. when motion stops
• Still no pre-event capture
Typical Price: $69 Buy From Amazon
Introduction
NETGEAR's original battery-powered Arlo [reviewed] wireless cloud camera won a lot of fans with its small size and unique put-it-anywhere design. But its no-wires design required an expensive wireless base station and limited recording to motion-triggered events only.
Enter the Arlo Q. It's still wireless for network communication, sporting a N600 class dual-band Wi-Fi radio. But Arlo Q gets its power via a cabled wall-wart supply. Gone is the proprietary base station that Arlo cameras used for wireless communication. But that's also going away for original Arlo, too, as soon as NETGEAR releases firmware announced at CES 2016 for some of its Nighthawk routers.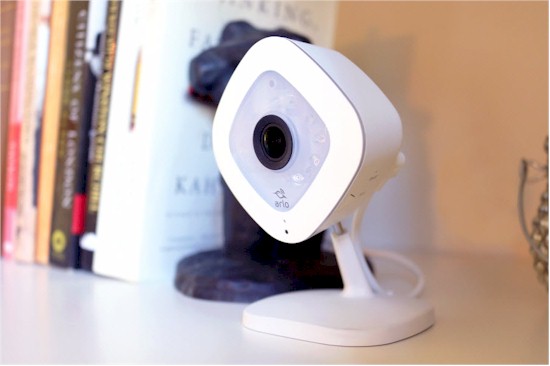 NETGEAR Arlo Q
The new Arlo Q's form factor is more Nest Cam-like vs. the little pod shape of Arlo. Arlo Q is also not weatherproof and intended for indoor use only. In a lot of ways, Arlo Q is a completely different camera. When I first hooked up the Arlo Q, I was blown away by the sharp video quality, and that comes from someone who has worked with lots of surveillance cameras.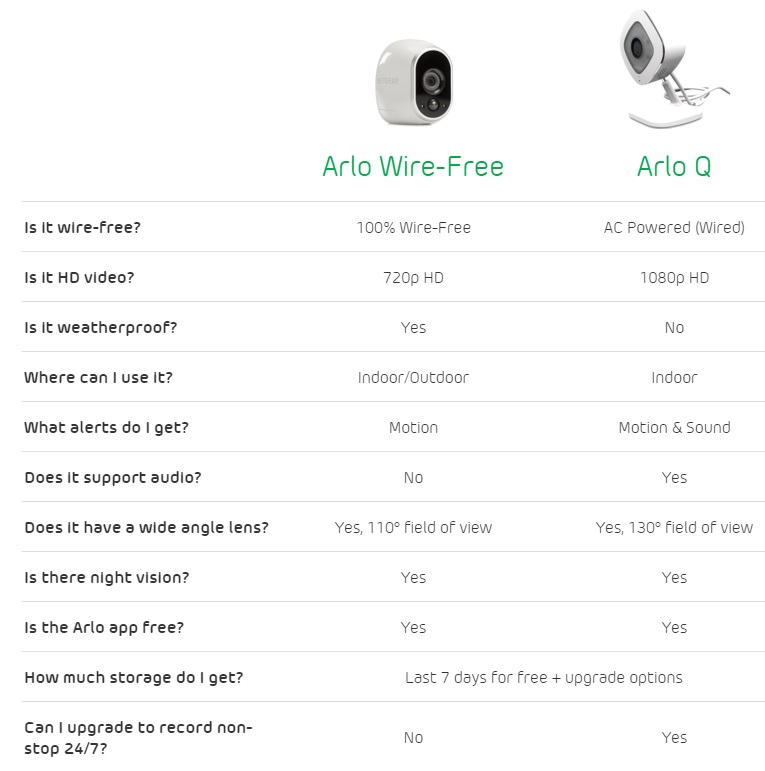 Arlo vs. Arlo Q
I went to grab the FCC pictures of the Arlo Q's innards, but NETGEAR's short-term confidentiality period hasn't yet expired. I didn't have the proper Torx driver to open the case either, so Arlo Q's insides will remain a secret for awhile longer.
Included in the box is the camera, a window sticker so you can tell the bad guys that Arlo is watching them, a wall mount plate, 4 mounting screws and the Quick Start Guide. Arlo Q's is magnetic for easy mounting and moving.
I've included the Arlo Q's specs below with specs for the original Arlo, Nest Cam and Foscam C2, which I see as Arlo Q's closest competitors. Note that I haven't reviewed the C2, although we have taken a look at the Foscam C1, a 720p version. I am basing my assumptions of the C2 being a competitor based on the findings of the C1 we reviewed. The table below shows the key information I collect for cameras; blanks mean the info wasn't available.
Arlo
Arlo Q
Nest Cam
Foscam C2

Price
$159.99
1 camera
$219
$199
$119.99
FCC ID
PY314200265
PY315200316
ZQANC11
Resolution
1280×720
1920×1080
1920×1080
1920×1080
Megapixel
3
Lens
f:2.8mm,F:2.6
Compression
H.264
H.264
H.264
H.264
Horizontal field of view
110deg
130deg
130deg
110deg
Vertical field of view
Audio
No
Two-way
Two-way
Two-way
Night vision?
Yes
Yes
Yes
Yes
Number of IR LED's
12
10
8
Record to SD card
No
No
No
Yes
Record to network share
No
No
No
Yes
Record to cloud
Yes
Yes
Yes
Yes, not
as polished
Wireless
Proprietary, 2.4 GHz 802.11n
N600 dual-band
N150 dual-band
802.11b/g/n
Ethernet
Only on base station
No
No
Yes
POE
No
No
No
No
Pan/tilt/zoom
Digital
8x Digital
Digital
Digital
Can integrate w/ other systems
Only other
Arlo cameras
Only other
Arlo cameras
Sort of
Yes
Table 1: Feature Comparison
Setup
Setting up the Arlo Q was fairly easy, although different than other cameras I've tested. The Foscam C1 and Nest Cam had a QR code on the camera that was scanned by a companion app for connection. With the Arlo Q, I entered my connection info into the app and the app then provided a QR code. From there I held my phone, with the QR code showing, in front of the camera until it connected.
Since I already have an Arlo account from testing the original Arlo, the app just added the Arlo Q to my existing account.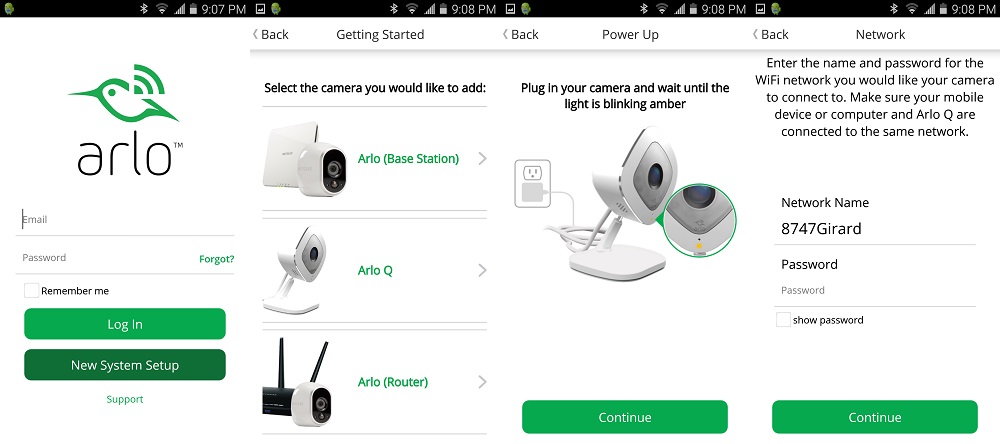 Arlo Q setup screens 1
The screenshots above and below show some of the setup screens (in order, left to right).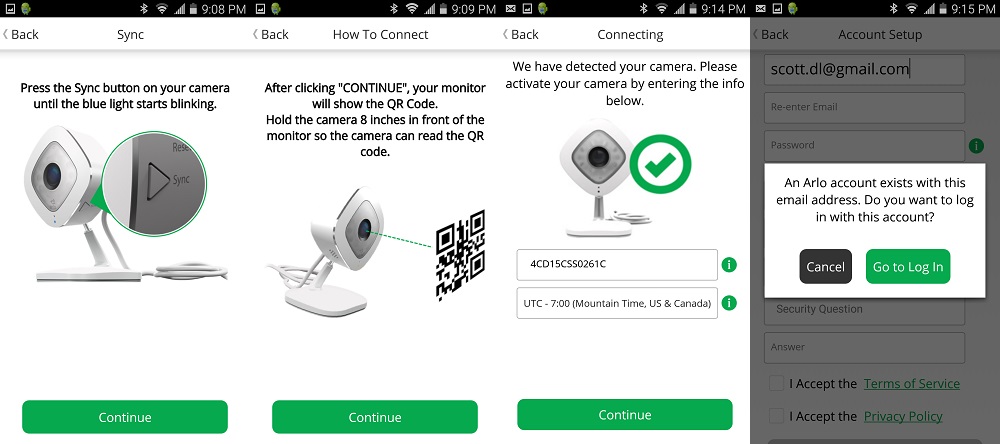 Arlo Q setup screens 2
Once set up, live and recorded video can be accessed via the Arlo app on iOS, Android, FireOS or any web browser. On the cloud side, strong passwords are required. Authentication happens over an HTTPS connection and login attempts are limited to 5 attempts over 5 minutes. If you are familiar with the original Arlo, this is exactly the same, as it uses the same app.
Cloud Storage Pricing
Out of the box, the Arlo Q gives you 7 days of FREE event-triggered cloud recordings, video or audio. Like its competitor Nest Aware, continuous recording can be purchased. Pricing plans for Arlo Q and Arlo are different, because Arlo can't record 24/7 without quickly draining its batteries. The image below shows the current pricing structure for the Arlo Q.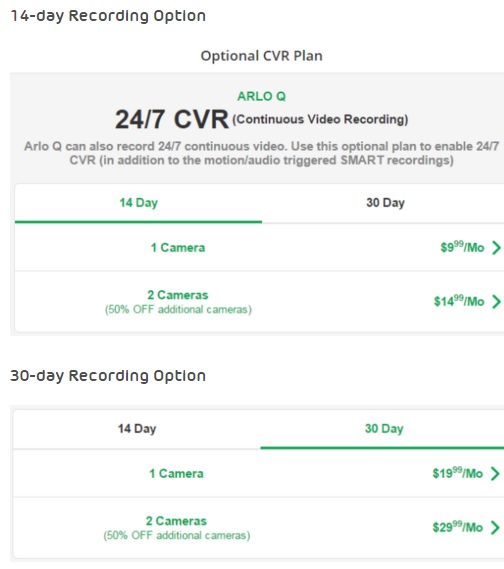 Arlo Q CVR pricing plans
How does this compare to Nest Aware? If you remember from our Nest Cam review, Nest Aware pricing gets a little convoluted, so I'll sum it up. With Arlo Q, one camera and 14 days of continuous recording is $9.99 a month, with two cameras it's $14.99. The closest comparable Nest Aware plan is 10 days of comparable recording for one camera for $10 a month, and $15 a month for two. Nest Aware starts adding different prices if the cameras are in different homes, I saw no such stipulation for Arlo Q CVR, so there could be potential savings if you have more than one residence.
30 days of continuous recording with one Arlo Q is $19.99 a month and $29.99 for two. Nest Aware is $30 a month for one, and $45 for two at the same residence. Arlo Q for the win here.
Product
Time
Price / mo.
Arlo Q
14 days
$10
30 days
$20
Nest Cam
10 days
$20
30 days
$30
Table 2: Recording plan comparison – single camera
Nest Aware does have some great features that I could not compare to Arlo CVR, as I did not have the premium option. But on the surface, Arlo Q is significantly cheaper for a month of continuous recording. Arlo Q's plan states "50% off additional cameras" under the 2 camera option, so one can assume a third camera would be approximately $19.99 a month total for 14 days and $39.99 for 30 days.
Features
The Arlo app has several different features, first of which is the Library view. The Library view is the event timeline you see with all surveillance solutions. It has dates on the calendar and previews of the clips in the window. Clips are categorized as motion, audio or manual depending on how they came about populating the view. Those same clips can be selected and viewed, shared, favorited, downloaded and deleted. The image below shows Arlo's Library view on an Android phone, the view varies slightly when viewed in a browser.
Arlo Q Library view
The Cameras tab (below) shows a Live View of any camera you have in your Arlo account. Features include immediate recording, taking a snapshot, changing brightness, two-way audio and shutting sound off. Using the app felt ok, although at times certain features weren't very intuitive. For example, I could not remove the old returned Arlo cameras for the life of me. Even after a visit to the Support FAQ which instructed me to remove them under Devices, the cameras persisted. The app also felt a bit sluggish to me. I see at least an expected 1-3 second delay with all of the cloud camera apps, but with the Arlo app sometimes I would see "Please wait…" with a spinning circle for a significant amount of time.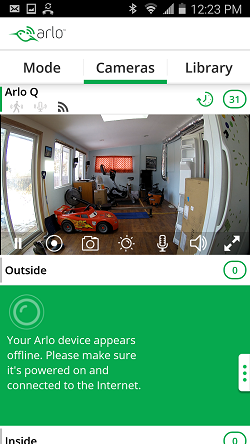 Arlo Q Live view
Arlo Q does event/motion detection, as well as audio detection which can be viewed in the Arlo app. Motion detection does not let you set any pre-event buffer, which you'll see on the Indoor Day Motion video below. So essentially you could miss the first part of a motion event while the camera senses motion and starts recording.
Arlo Q adds audio detection though. I found that the two together would often start the clip before motion started, effectively taking the place of a pre-event buffer. But that brought up another issue. Within the motion rules, event durations can be set anywhere from 15 sec. to 2 min., with a 15 second default. Some cameras will start recording on motion and continue as long as motion exists, or at the very least, start a new clip if maximum time is consumed. Arlo Q starts a clip on motion or audio, runs the set duration and shuts off. On the flip side, if duration is set for 2 min, it will start recording on any motion and record for 2 min regardless of motion continuing to occur. At the default 15 sec. with motion and audio detection the clip would often start on audio detection and end just after real motion started.
Motion detection settings are improved over the last time I looked at the Arlo app. Different zones can now be set so you can exclude areas that have "noise". The image below shows the motion detection zones screen.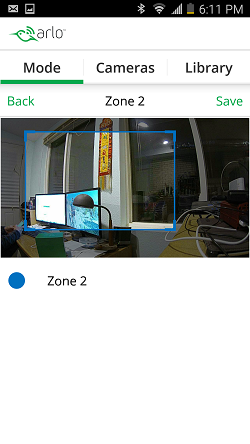 Arlo Q Motion Zone Definition
Since the Arlo Q has both motion and audio detection, the number of different combinations of rules you could potentially create are vast. The image below shows you can take a snapshot, record video, push it to a device, or email the alert. Additionally you can do those actions on motion, audio or both. (Screen was rearranged; it's actually one long screen.)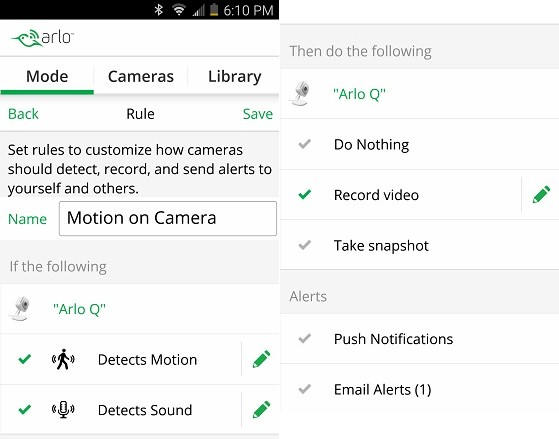 Arlo Q Motion Options
Video and Image Quality
Now for my favorite part, video and image quality. Arlo Q is set to 1280×720 resolution by default; I changed video to 1920×1080 for all of my motion detection footage. Uplink bandwidth use seemed to max out at around 1 Mbps for HD video. I would expect your results could be a bit more or less than that depending on what is in the complete picture and how much motion the camera is seeing.
A big note here. While the Arlo Q has good night vision, even compared to its competitors, my outdoor night (and day) footage isn't an apples to apples comparison with other cameras. I had to take video with snow on the ground and not on a new moon.
For daytime video these conditions upset white balance. For night video, it provides more light and reflective material for the IR-LEDs than footage from other cameras would have had. Luckily we also have indoor footage to compare. Let's look at some indoor stillshots first. Arlo Q shows me nice and clear at 25 feet.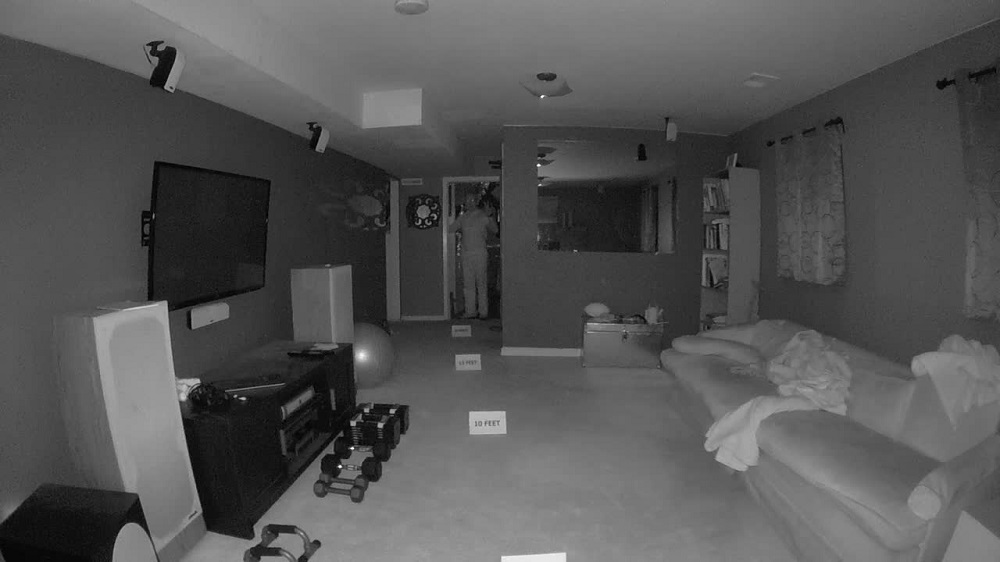 Arlo Q Night Vision
The Foscam C1 is just about as good as the Arlo Q.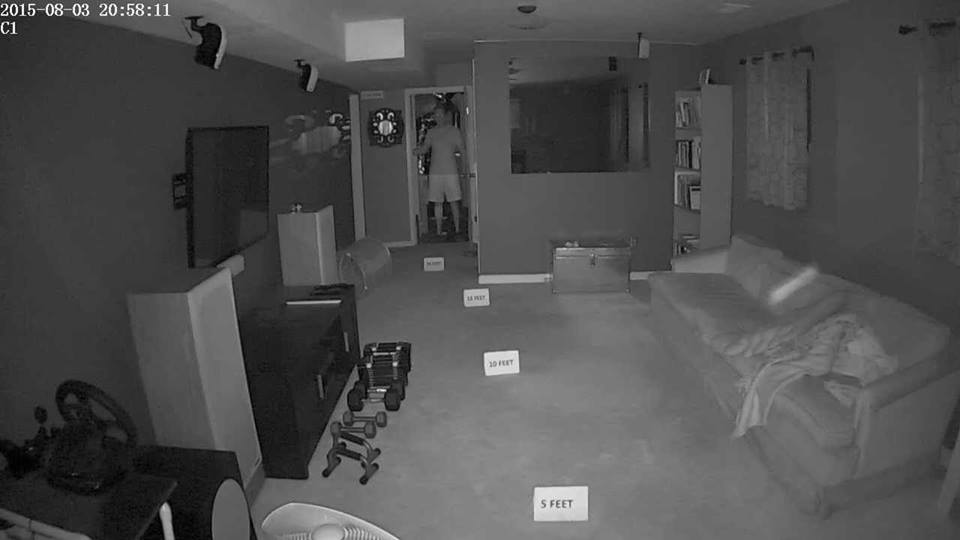 Foscam C1 Night Vision with me at 25 feet
The Logi Circle's picture is not as clear.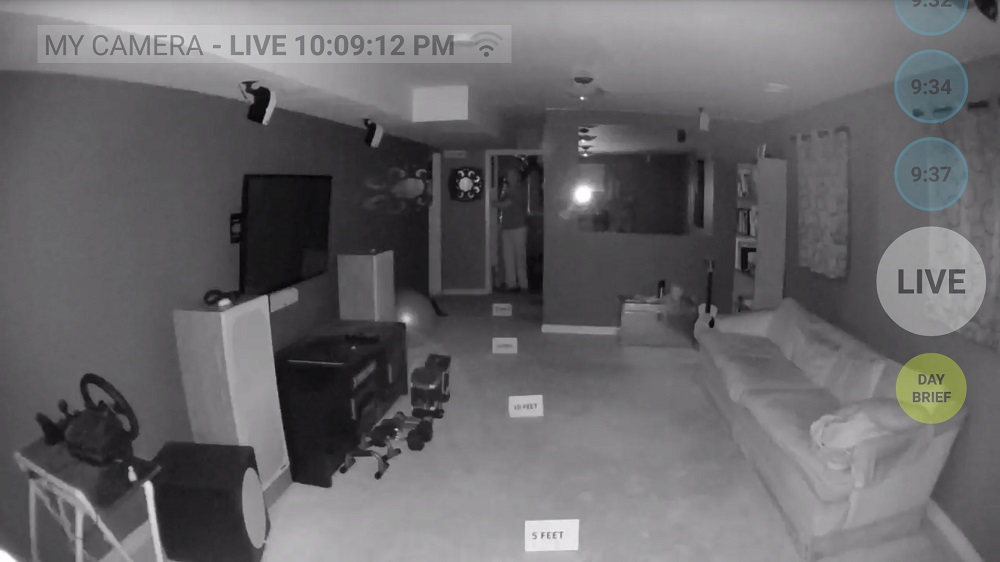 Logi Circle Night Vision with me at 25 feet
Nest Cam's image is grainy and also not as clear as Arlo Q's.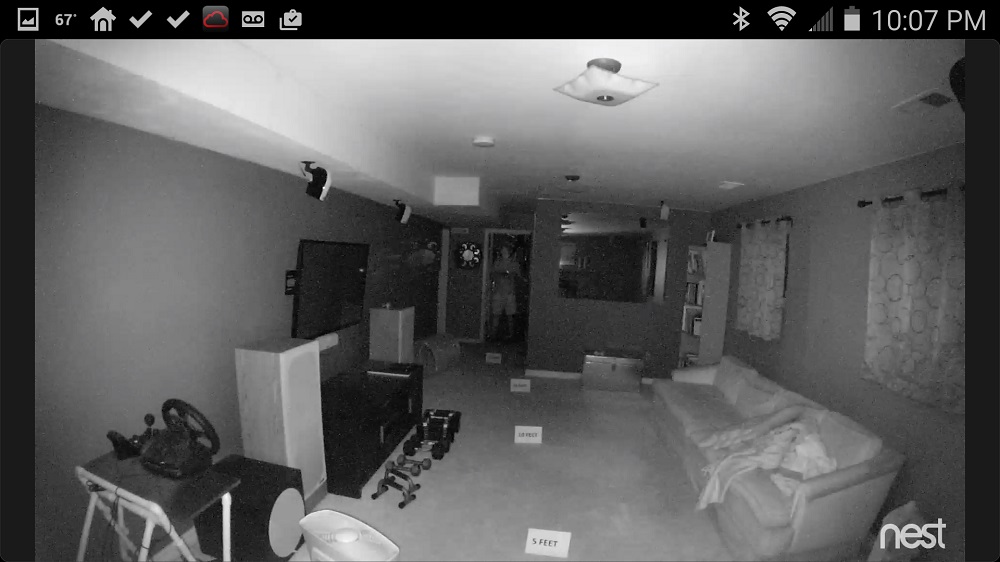 Nest Cam Night Vision with me at 25 feet
Now for motion. We'll start with the Arlo Q.
Arlo Q – Indoor Night
Let's compare that to Nest Cam and Logi Circle. Try to pause each of the videos when my face is most distinguishable and draw your own conclusions on which is better.
Nest Cam- Indoor Night
Logi Circle – Indoor Night
You can see Arlo Q's night video quality is fairly good. The scene is well lit and motion is not too blurred. I feel Nest Cam has a slight edge in these videos because my face is most discernible, but it's a close. You might also notice Arlo Q's recording started long before I entered the scene, the result of adding audio detection. With the 15 second recording duration setting, you can also see the clip stopped while I was still walking around!
I also took some video outside and inside during the day to see how the camera reacts to bright light, even though we need to remember this is an indoor-only camera. The quality is very good on the outside video, even with all the snow on the ground adding glare.
Arlo Q – Outdoor Day
The inside video shows some strange artifacts as recording starts, but clears up nicely. I say "Arlo Q" as I near the camera allowing you to hear the great sound quality of the Arlo Q. There is no microphone feedback like some cameras have.
Arlo Q – Indoor Day
Lastly, let's take a look at some outside night videos. The snow is helping the Arlo Q (indoor-only) out here by reflecting some light, how much I'll never know. My impression is that the night vision on the Arlo Q is pretty good. Note I hit the 15sec duration limit before my little walk was complete.
Arlo Q – Outdoor Night
Outdoor at night looks pretty good, you can see to the playground equipment easily, but it felt like a "bright" night. Even so, it's easily as good as the Logi Circle below.
Logi Circle – Outdoor Night
To really compare the Arlo Q against any of the other cameras I've looked at, feel free to check out my YouTube channel that includes footage of various cameras in similiar conditions.
Closing Thoughts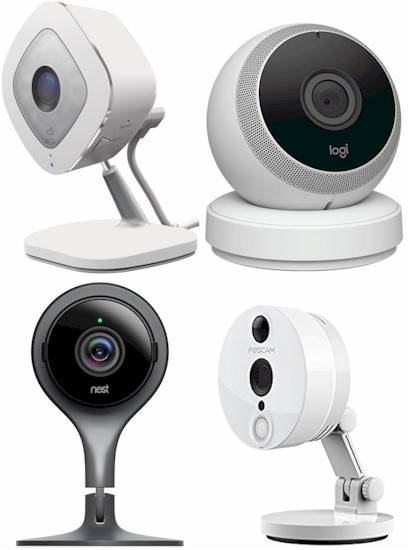 Competitors – Arlo Q, Logi Circle, Nest Cam, Foscam C2
The Arlo Q has some appealing qualities. Motion detection is much improved and image quality and night vision are probably among the best I have seen to date. And continuous video recording is cost-effective compared to competitors, most notably Nest Cam.
But Arlo Q's biggest negatives are in its triggered recordings. Frankly, I see no reason why Arlo Q can't have pre-trigger recording and variable length clips, now that conserving battery life isn't an issue.
While it's not perfect, NETGEAR's Arlo Q is more than good enough for shoppers looking for a Nest Cam alternative. You'll pay $20 more up front, but save in the long run if you need to store a lot of video in the cloud.

Buy Arlo Q 1080p HD Security Camera with Audio from Amazon