Introduction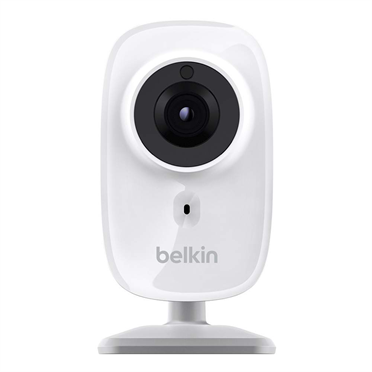 At a Glance
Product
Belkin F7D7602 NetCam HD Wi-Fi Camera with Night Vision [Website]
Summary
Cloud-enabled Wi-Fi only camera with 8 IR LEDs for night vision
Pros
• Nice long power cord
• Great wireless range
• Solid construction
Cons
• Lack of local interface means no integration with other surveillance apps
• Essentially unusable night vision
• Not many features
• Crude motion detection setup
• Some features not available via browser, i.e. app only
Belkin has just started shipping its NetCam series of cameras. The Belkin NetCam HD Wi-Fi Camera, which we'll be looking at today, is positioned for home use to keep an eye on kids, pets and grandparents via easy cloud access and HD quality. It supports 720p resolution via a wide angle lens, has infrared night vision and a built-in microphone for audio. The camera is 2.4 GHz wireless only.
Inside
I didn't pull the NetCam HD apart because the FCC ID site had great and detailed pictures. The main processor, which also handles the 802.11 b/g/n wireless functions, is the popular Ralink RT5350F wireless SoC. Dual Winbond W9825G6JH-6 256 Mbit SDRAM chips bring the DRAM to 64 MB. And a single Winbond 25Q128FVSG chip provides 16 MB for flash. The image below shows the front and back of the NetCam HD's board.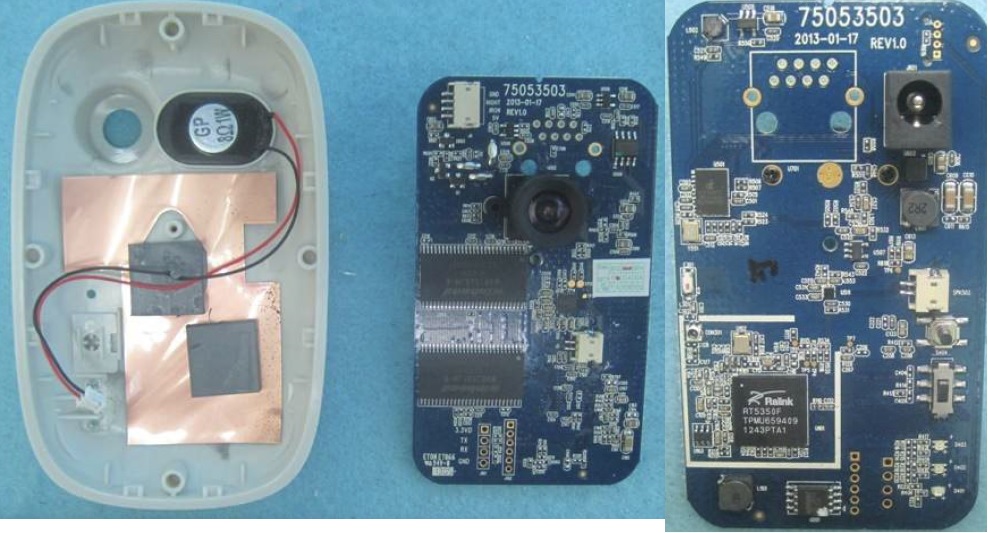 Belkin NetCam HD Board Views
On the camera side, eight IR LEDs provide night vision spec'd at up to 8 M, which is just over 26 feet. I was excited to test this as most of the cameras I've tested lately have less in the way of IR LEDs.
The lens has a 78° horizontal viewing angle and a 45° vertical viewing angle. Looking at some of the other cameras we've reviewed, 78° is a nice wide lens which allows for a wider viewing range in a static location. On the outside, the camera features are meager, but functional. The front side has the light sensor, a microphone, the LEDs and the lens as you can see in the image below.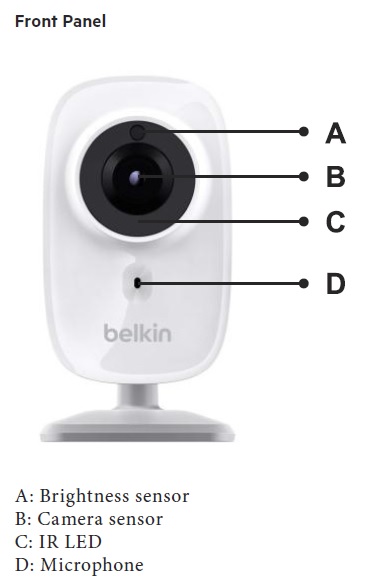 Belkin NetCam HD Front Panel
On the rear there is simply a switch for Setup Mode, which I'll talk about later, and a Reset button. You can see these two features in the image below.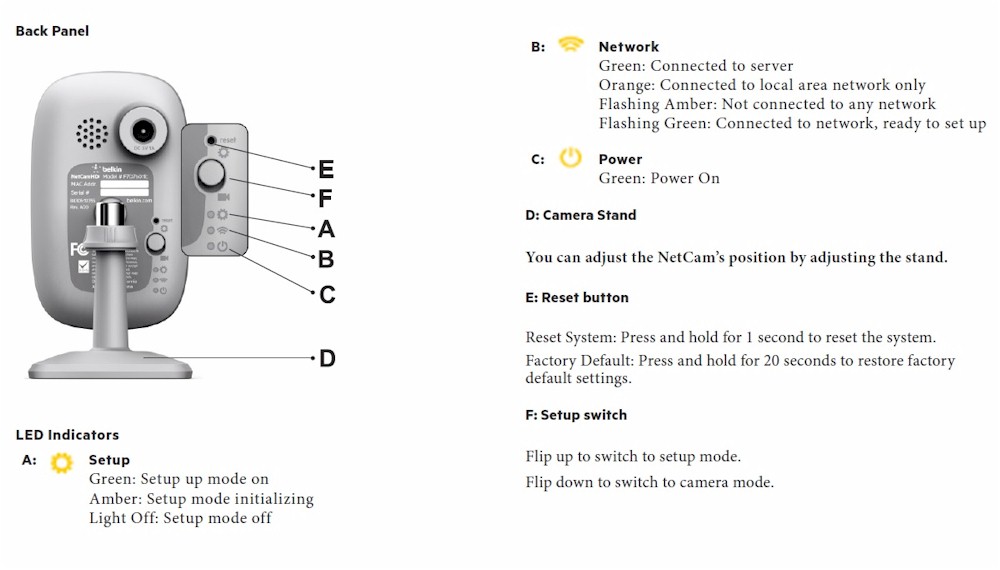 Belkin NetCam HD Rear Panel
Lastly, since I criticized the D-Link DCS-942L camera for having a cheap soft plastic ball and socket joint, I feel it's relevant to mention the NetCam HD has metal ball and socket joint as you can see in the image below. For an inexpensive camera, it feels very solid overall.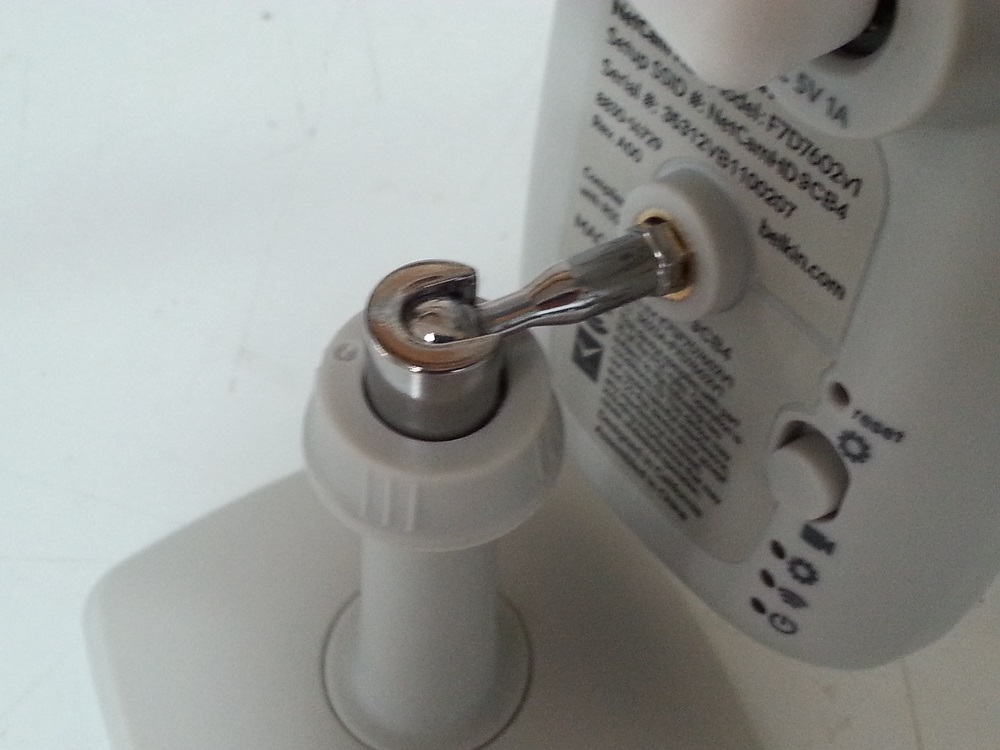 Belkin NetCam HD Metal Ball and Socket
Setup
In the box came the NetCam HD camera, a quick install guide, mounting hardware and a very long power cord, which I very much appreciate. I've done way too much soldering of additional lengths to power cords when a camera only comes with about 4 feet. Throughout all my testing it was more than enough power cord to reach each test location.
Belkin's marketing literature mentions that no computer is necessary for setting up the NetCam HD, so I put that to the test. The NetCam HD is wireless only, so there is no plugging it in to the network and letting it set itself up by DHCP. Instead the NetCam HD has a setup switch on the rear, which as the name would indicate, puts the camera into Setup Mode.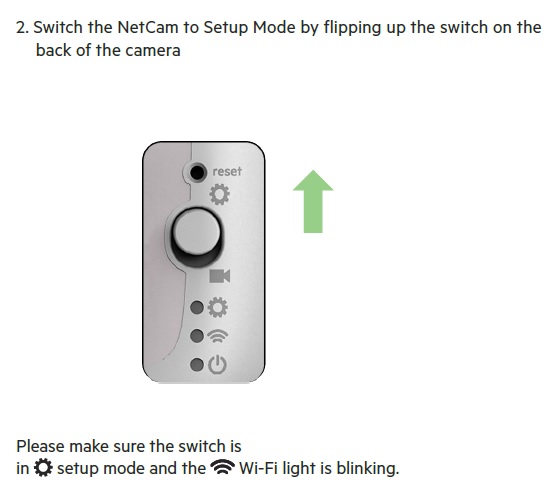 Belkin NetCam HD Setup Mode switch
In Setup Mode, the camera serves as a wireless access point that you access from any wireless client. Once connected to the camera's wireless network, you use the NetCam app for Android or iOS. A message indicates a new camera is found and you are walked through the setup process that connects to your home or business wireless network, gets you set up on the NetCam cloud and then disables the camera's own wireless network.
Belkin is marketing this as a camera to watch over the house when you're not there. But the mischievious side of me wondered what would happen if I flipped the switch to put the camera back into Setup Mode once I'd already set it up and connected it to an account, so that's just what I did. To my surprise, accessing the app simply said, "I see a new NetCam HD. Would you like to set it up?". Walking through the setup let me choose a different wireless network and different Belkin account. As a home camera I guess that is ok, but I wouldn't be comfortable with that in a business security situation. It also made me wonder what exactly the reset button was for if Setup Mode brought you back to ground zero. Beyond my mischief, the camera set up quickly and easily and I was ready to go.
Features
The feature set of the NetCam HD is meager, but adequate for home use. I used Belkin's NetCam site and the NetCam app for all of my testing. In the NetCam app, I noticed the Zyxel IPC-4605N I reviewed last year at this time was populated. The reason for this is the NetCam app appears to use the Seedonk iSecurity+ technology just like the Zyxel did.
As you would suspect, the iSecurity+ app also works for the Belkin camera, with similiar, but slightly different features. Port 80 is open on the NetCam HD, and connecting to it does give you a login which can be accessed using admin:admin. But once authenticated, I got nowhere. The User Guide does not indicate local administration is a possibility either. This means the NetCam HD can't be used with software such as Blue Iris, the Surveillance Station software on popular NAS or Android/iOS apps such as IP Cam Viewer.
As a one camera system, or in place with other cameras using iSecurity+, I guess that isn't a problem. But it means you're stuck using whatever app is given to you vs. integrating with something providing more features. You also don't have the option of recording to a network share, FTP or an SD card. Both the Belkin NetCam app and iSecurity+ give you the option to take snapshots, record video and enable audio. I was surprised to see only the audio function available when accessing the camera via browser. I did not see a way to take a snapshot or record video via browser, which I felt to be a big oversight. The image below shows the camera screen of the Belkin NetCam site.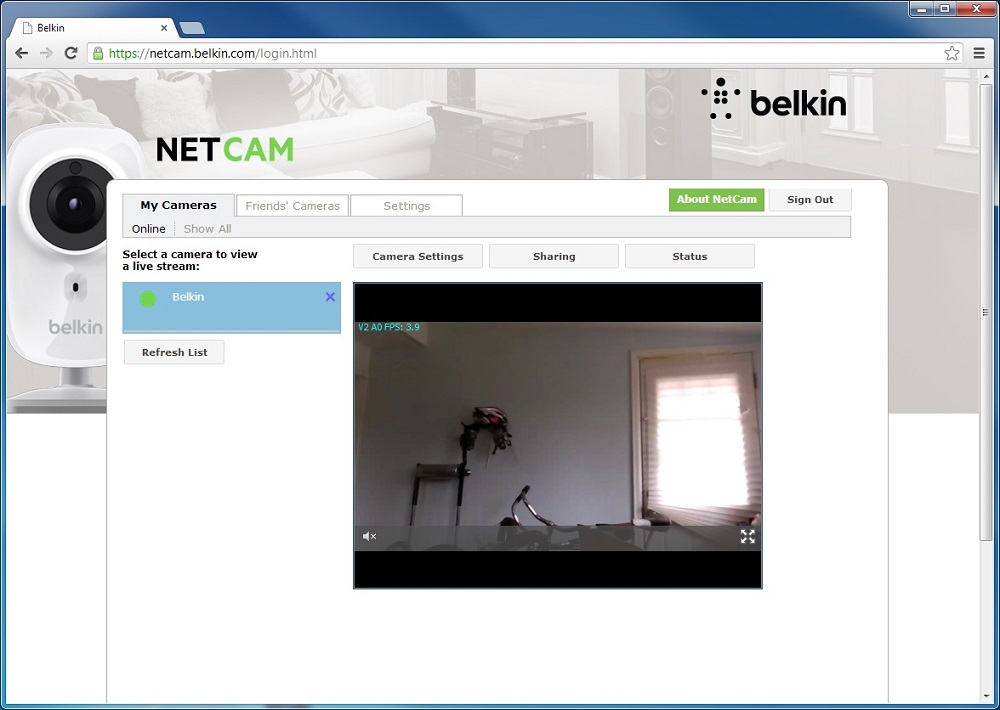 Belkin Cloud Main Page
The camera settings screen in the cloud gives you access to a few key camera features, which you can see below.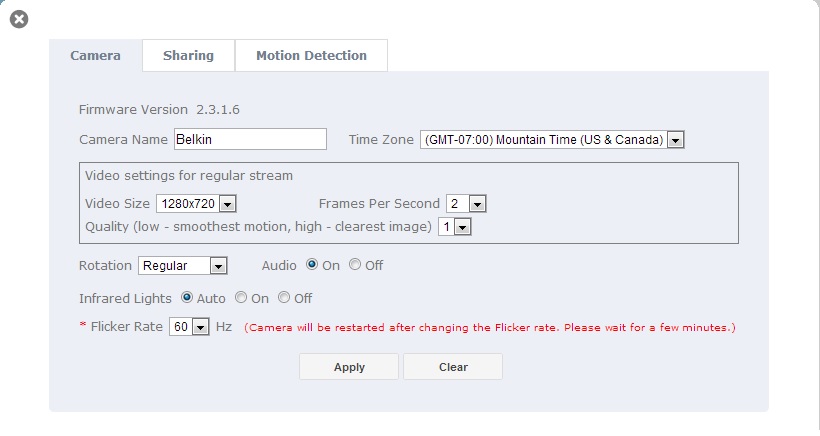 Belkin Cloud Camera Settings
Motion detection in the cloud lets you set sensitivity, which you can also set on the NetCam app. Motion detection is all trial and error, with no indication of what "tripped the threshold" as some cameras have. The app does attempt to guide you to making the right selection with options such as "only when large movements occur" and "for a lot of motion". I found motion detection to work ok, although Gmail did flag the emails, which came from Belkin by way of amazonses.com, as spam. Motion detection is still image only, no recording of video.

Belkin Cloud Motion Detection Settings
Since the camera is wireless only, its wireless range has to be considered. In my testing, I found the camera to have great wireless range, fortunately. The outdoor images that follow were captured while connected to our main access point on the opposite side of the house from where the camera was. My laptop often has trouble in this location due to the two exterior walls (one being brick) and several interior walls, so the camera working fine there was very impressive.
One last item to note. I log all of my DHCP requests as a weak form of intrusion detection. I noticed that about every 20 seconds the NetCam HD was sending out a DHCP renewal request. As these requests are broadcast messages, I did see a noticeable decrease in wireless performance from other devices on my network. I sent a note off to Belkin to get clarification and to see why this was possibly happening. I haven't yet received a response, but will update this article if I do get one.
Image Quality
I ran the camera through my typical test procedures, which involve standard day and night indoor and outdoor images. Because of some questions I had while running these tests, I ran some additional images on our main floor at night.The image below is the daytime control picture from our Nikon D5000 DSLR, which I reused from an old review and did not take new.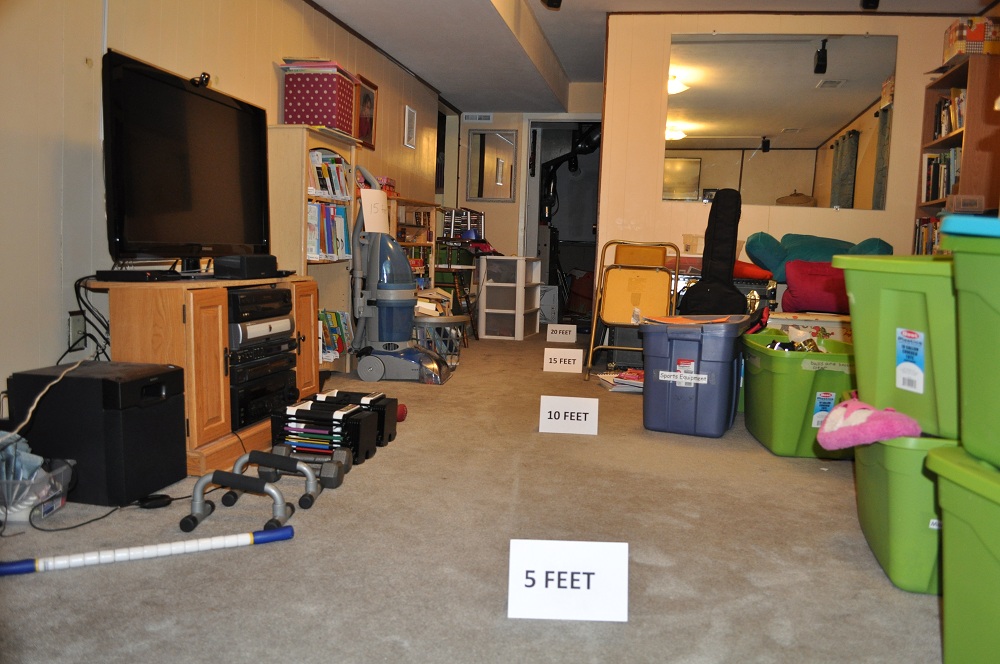 Nikon D5000 DSLR Indoor Day Control Image
Now let's look at the NetCam HD indoor day image.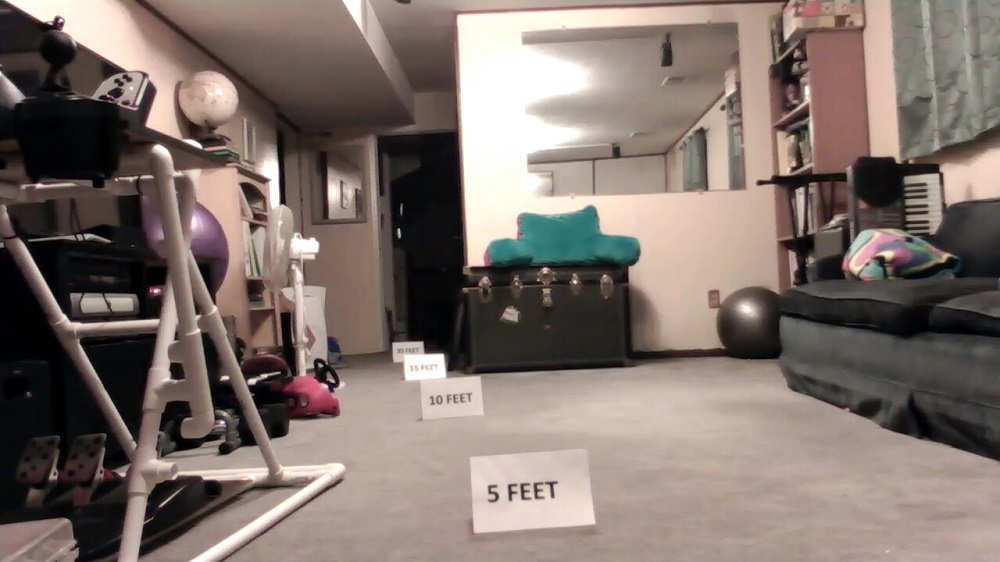 Belkin NetCam HD Indoor Day Image
For comparison's sake, let's compare that to the TRENDnet TV-IP572PI since they are both roughly the same price. The TV-IP572PI is still one of my favorites. Both images are fairly comparable, with a little bit better sharpness on the TV-IP572PI image.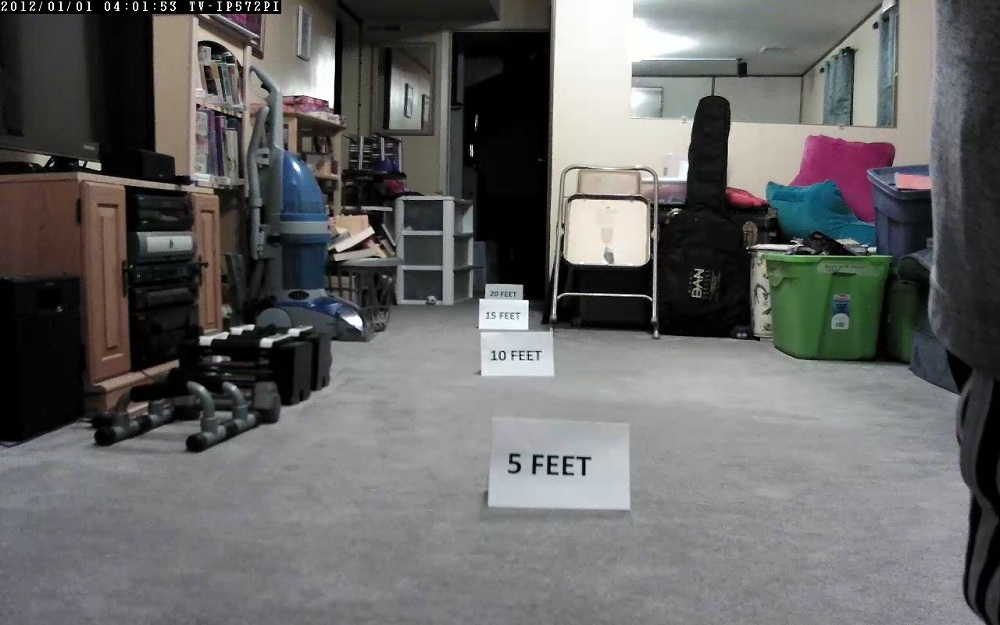 TRENDnet TV-IP572PI Indoor Day Image
Image Quality – Night
Now let's look at indoor night images, first the NetCam HD. Remember, the 8 IR LEDs are stated to illuminate 8 M (26 feet). My cue cards are set up at 5, 10, 15 and 20 feet.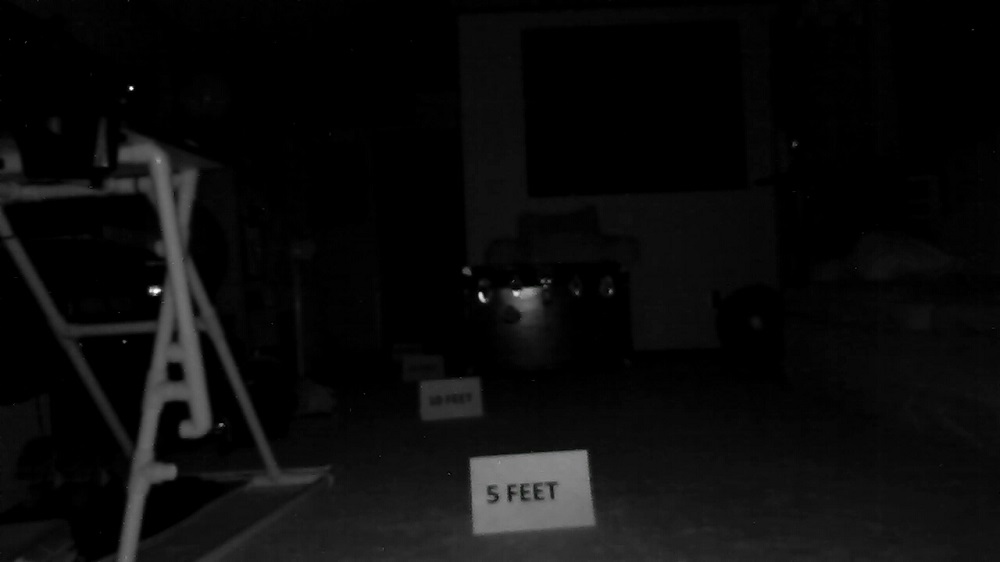 Belkin NetCam HD Indoor Night Image
Compare that to the TV-IP572PI.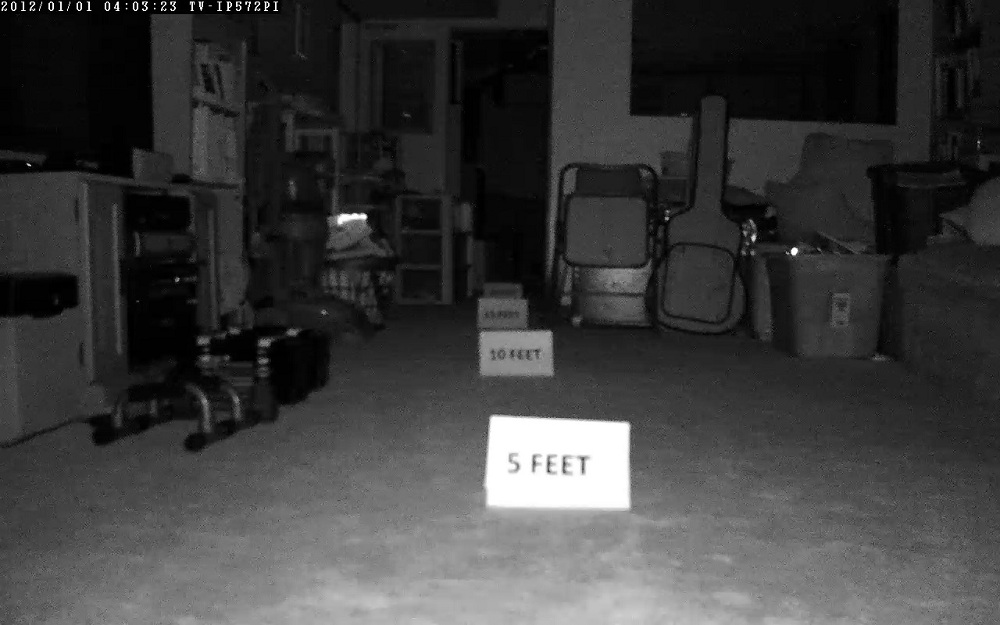 TRENDnet TV-IP572PI Indoor Night Image
I think it probably doesn't need to be said how unimpressive the NetCam HD image is, especially for having 8 IR LEDs. Just for fun, I decided to stand right at the 20 foot marker, 6 feet short of the 26 feet given for the IR LED specs. In the image that follows, I'm standing at 20 feet.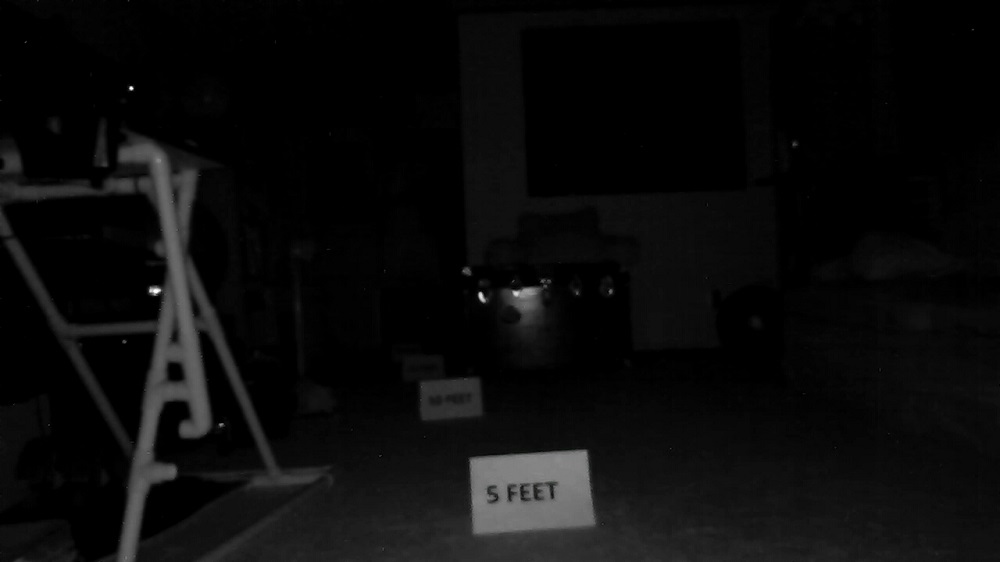 Belkin NetCam HD night image with me standing at 20feet
It's very hard to see me there if you can at all. 8 meters is definitely a stretch for illumination specs for this camera. I then ran a night outdoor image. I never expect anything great here. The vast emptiness of the outdoors makes it very hard for the IR LEDs to reflect any light back at all. In this case the camera performed exactly as expected and was really no better or no worse than others I've tested.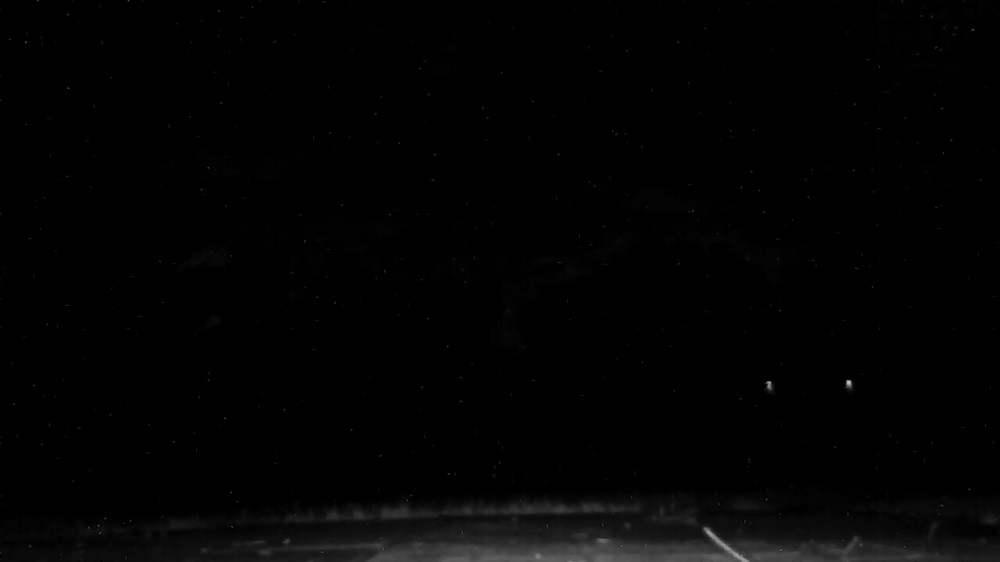 Belkin NetCam HD Outdoor Night Image
The daylight outdoor image with this camera looks better though. It does pretty well during the daytime.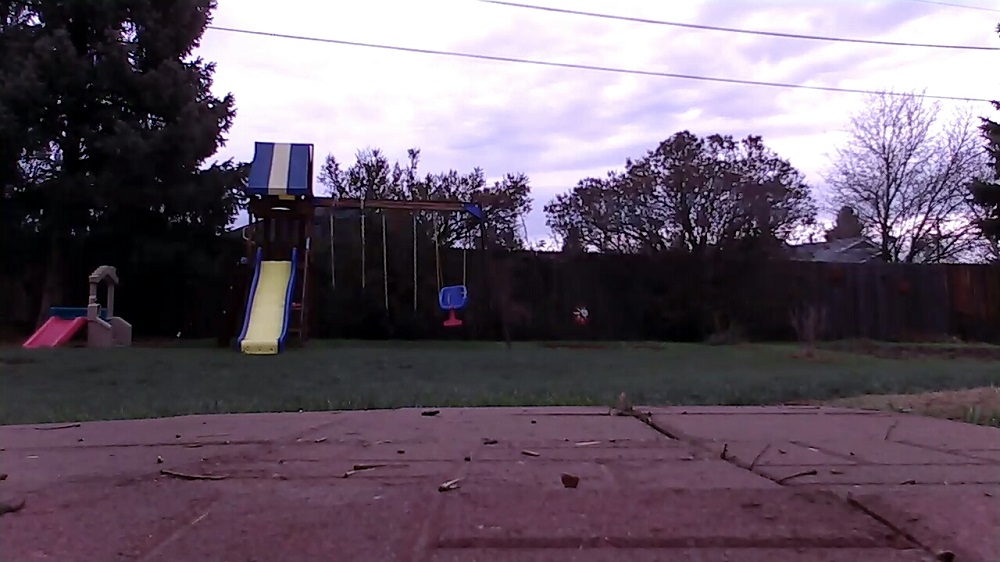 78° horizontal field of view of the NetCam HD
Compare that to the TV-IP572PI and remember that testing was done on different days, it's much cloudier on the day for the NetCam HD image.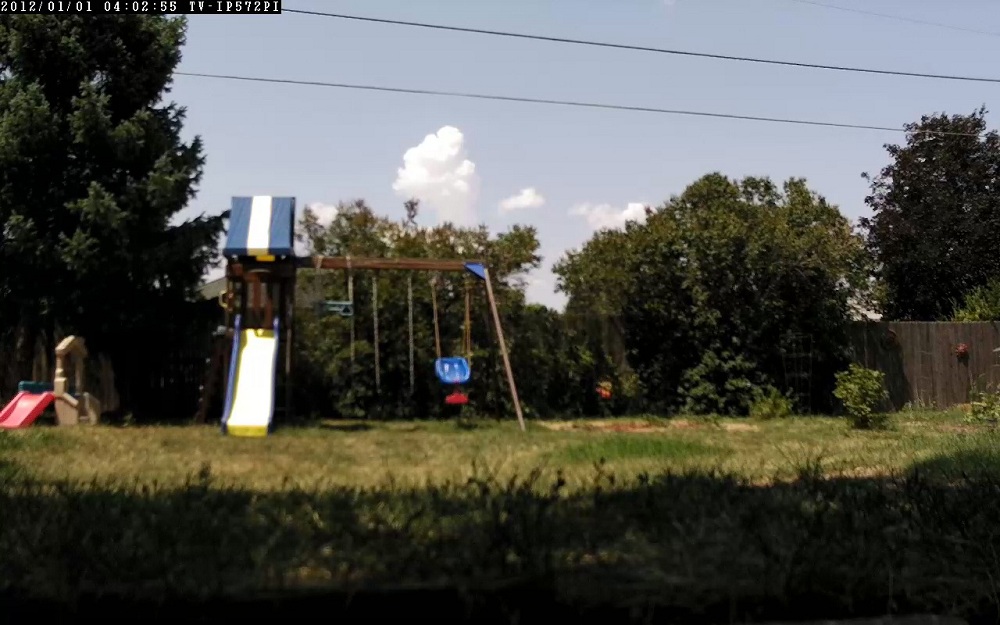 51.8deg horizontal field of view of the TRENDnet TV-IP572PI
Lastly, since I still have the TRENDnet TV-IP572PI, I decided to run both it and the Belkin NetCam HD to our main level to get some night comparisons. The main level is a big open space from the living room to the stairs to the dining room.
First the NetCam HD.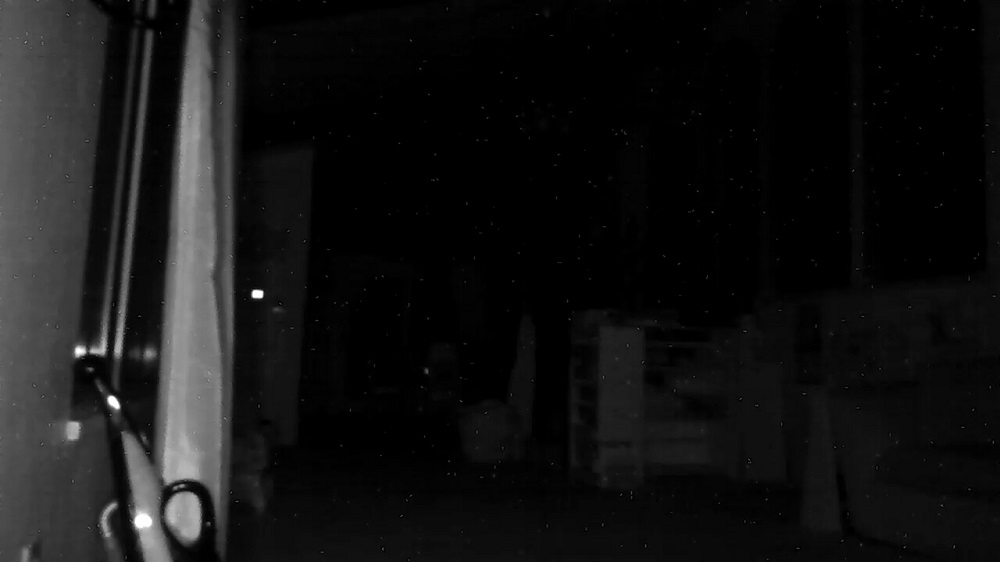 Belkin NetCam HD Main floor night image
Now the TV-IP572PI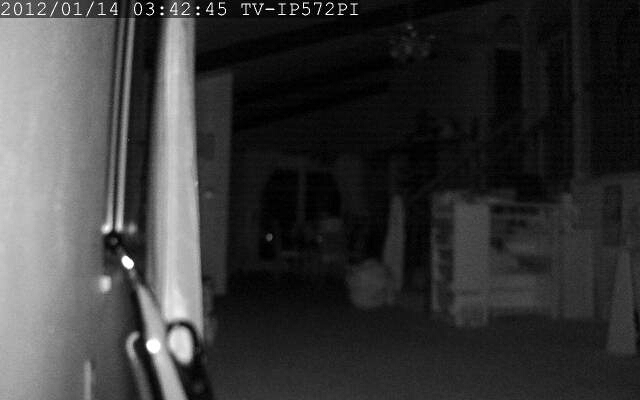 TRENDnet TV-IP572PI Main floor night image
It's clear to see the "winner" here. The TV-IP572PI lights up the cabinets by the stairs and even the doors to the sunroom are visible. The NetCam HD hardly sees the stairs. For having 8 IR LEDs I was really disappointed with the night vision of this camera.
Closing Thoughts
There are some things this camera does well. Not needing a computer for setup is a big plus. The cloud functions also work very well, as does motion detection once you find your sweet spot. Daylight images are also great. It's also very inexpensive.
On the bad side, night vision is not good at all. In fact, it's so poor I wondered if something was wrong with the camera. Security is also a concern if someone can just flip the switch on the camera and reconfigure it. Not being able to use it with any other surveillance software is a real bummer as well.
To sum it all up, if you need a camera that works well in the cloud viewing from mobile devices, your viewing is going to be mostly during the daytime and you don't want to spend a lot, then this camera might be for you. If you need to use it at night or in a place where it could be tampered with, then you should look elsewhere.