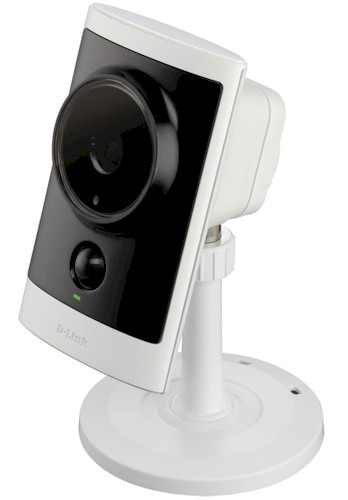 At a Glance
Product
D-Link DCS-2310L Cloud Camera 2300 Outdoor HD Day/Night Network Camera with mydlink [Website]
Summary
Outdoor HD IP camera
Pros
• IP65 weather-resistant housing
• 802.3af PoE support
• Records to onboard SD card
• Remote access via mydlink cloud
Cons
• Mediocre night vision
• Seems expensive for what you get
• No wireless option
Introduction
D-Link continues to expand its mydlink line of products. At the time of this writing, the list includes nine cloud cameras, four cloud routers and two cloud NASes. D-Link sent me the DCS-2310L HD PoE Outdoor Cube Network Camera for review and I put it through its paces.
The rear of the DCS-2310L looks pretty plain. The Ethernet and power wires, although easily cut, are very tamper-resistant otherwise. The housing looks so complete I didn't realize the wires were removable until I read the manual. The image below shows the rear callouts of the camera.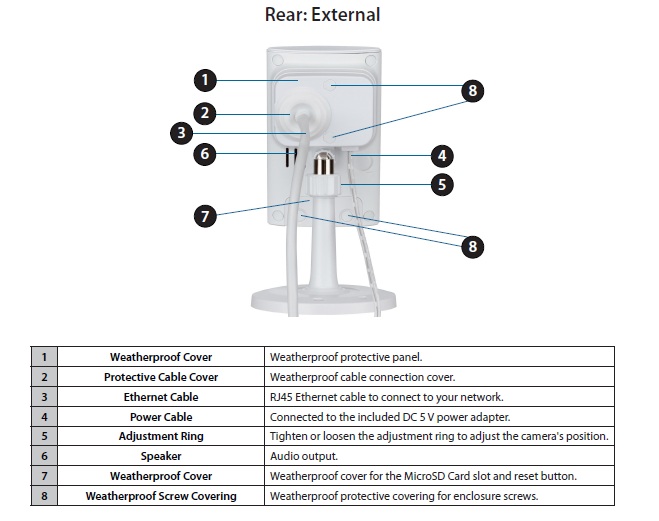 D-Link DCS-2310L rear callouts
The front of the camera is a little more detailed. In the image below you can see the different callouts of the camera's front. Notice it only mentions what appears to be one IR LED. I tried to clarify this was indeed the case, but could not. We'll see in the night image comparisons later how well it does.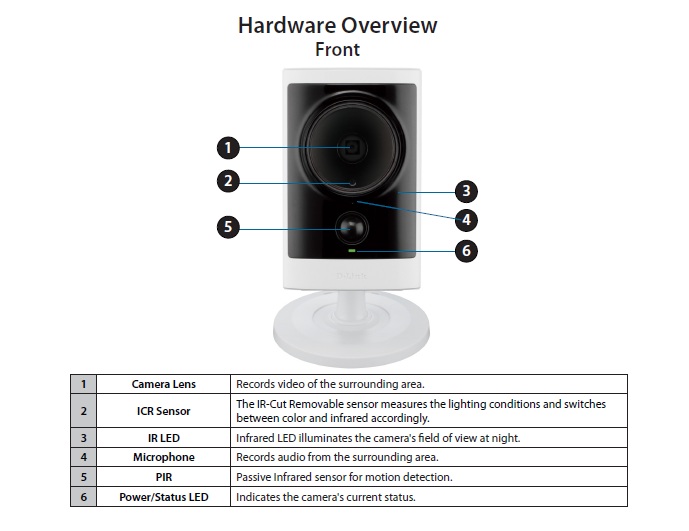 D-Link DCS-2310L front callouts
The housing that we previewed in the pictures above is an IP65 compliant weatherproof housing. While that might not sound familiar, it's a two-digit number established by the International Electrotechnical Commission (IEC). It is used to provide an Ingress Protection rating to a piece of electronic equipment or to an enclosure for electronic equipment.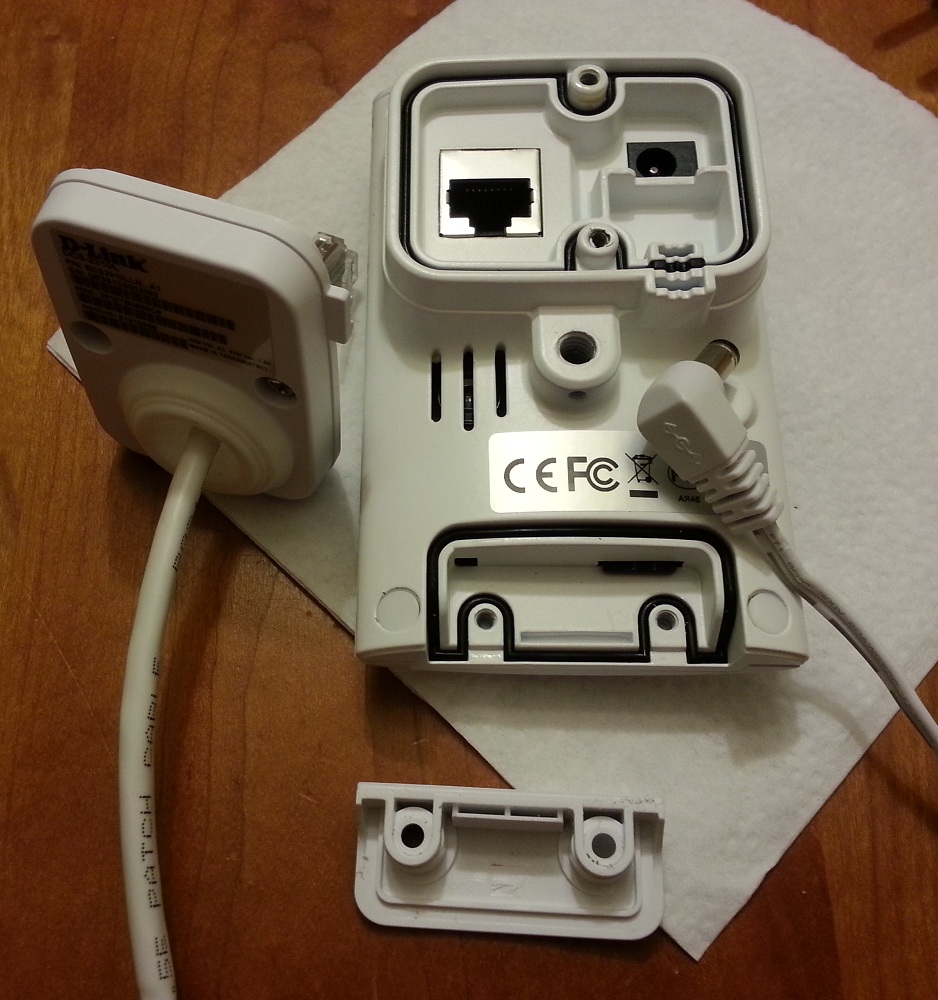 D-Link DCS-2310L with covers removed
The two digits represent different forms of environmental influence. The first digit represents protection against ingress of solid objects. The second digit represents protection against ingress of liquids. In the case of IP65, the 6 means it is totally protected against dust. The 5 means it is protected against low pressure water from any direction, although limited ingress is permitted.
The SD card has a tamper and weather-resistant O-ringed cover and the Ethernet and power cables also have a separate cover. In the image above, I've disassembled those covers.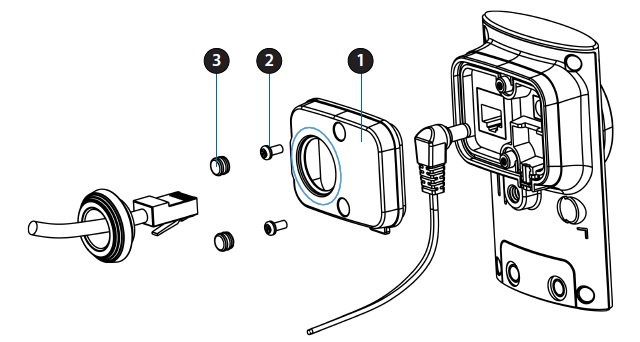 D-Link DCS-2310L Ethernet and power cover
I have also included some illustrations to show how they come apart. Although they were a pain while reviewing, these were nice touches compared to some of the other cameras I've looked at.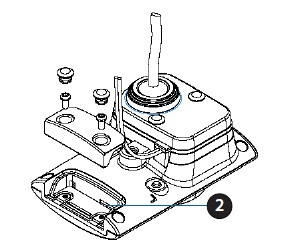 D-Link DCS-2310L SD card cover
When I reviewed the indoor DCS-942L last March, I didn't like that the camera had a cheap-feeling plastic ball and socket. I'm happy to report that the DCS- 2310L had a nice metal ball and socket and felt much sturdier.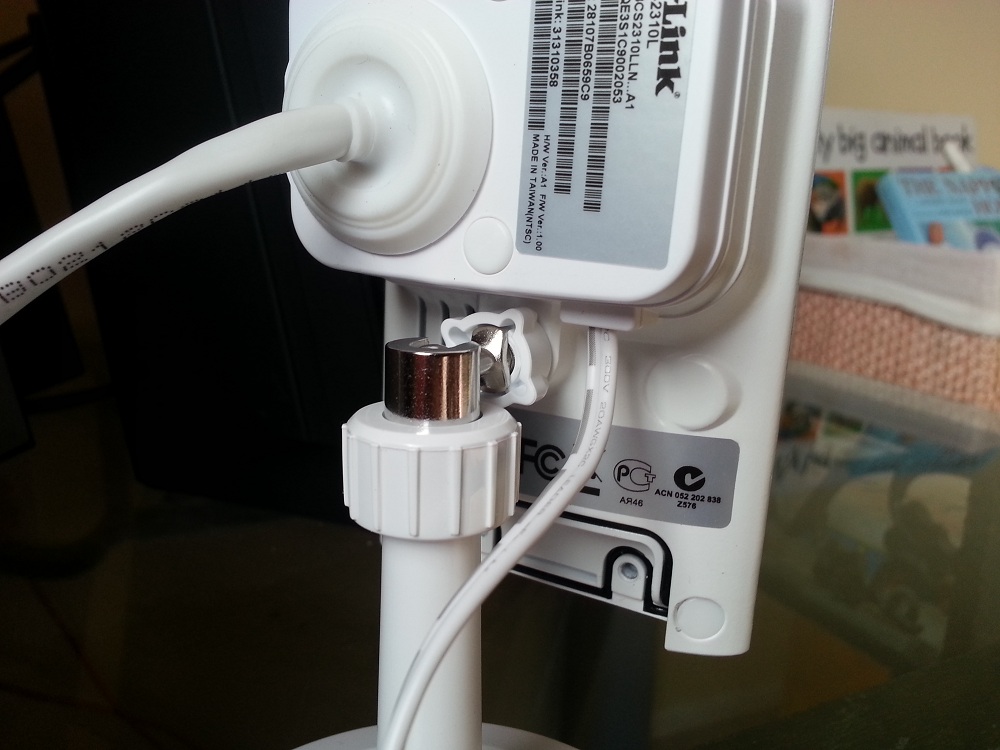 D-Link DCS-2310L Metal ball and socket
Inside
It took me a little effort to disassemble the DCS-2310L. It wasn't until I read the manual that I realized the housing covering the Ethernet jack and power cord was removable. I'll show the disassembly of the housing shortly. Once I got the screws out that a 500 pound gorilla tightened at the factory, I found a nice O-ringed metal case that was covered in plastic.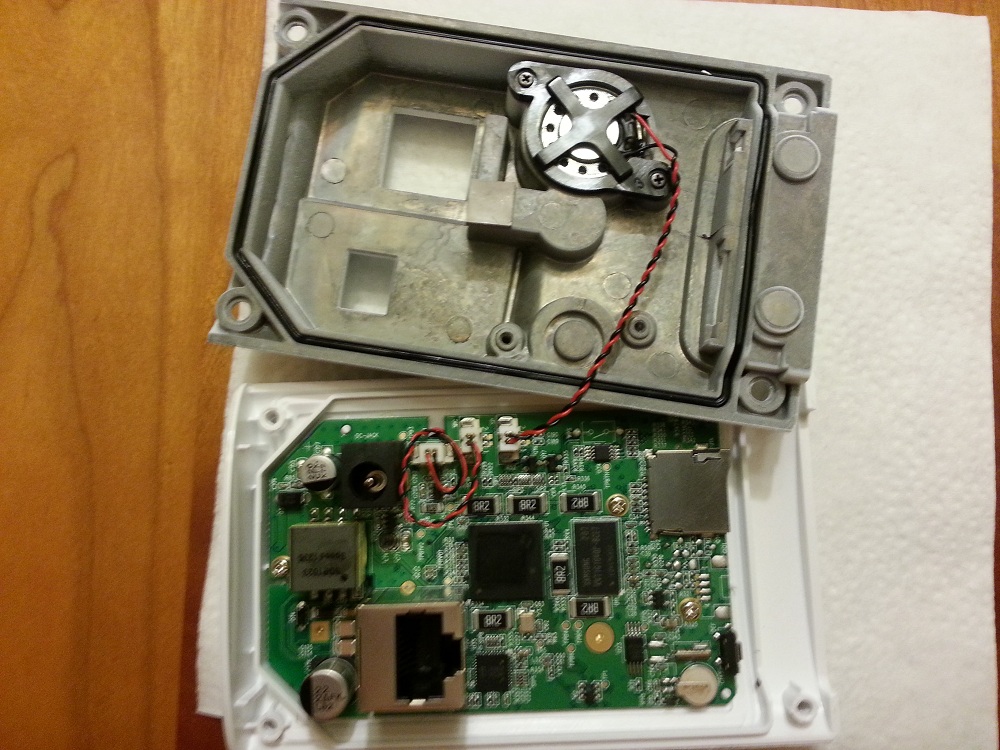 D-Link DCS-2310L housing disassembled, showing metal case
Getting the board itself freed up proved to be a little problematic and I decided to stop while I was ahead vs. potentially damaging the camera. From the side that was visible to me, I was able to identify 128 MB of Samsung DDR2 SDRAM (k41g164qf-bce7). But the processor and flash proved resistant to my disassembly.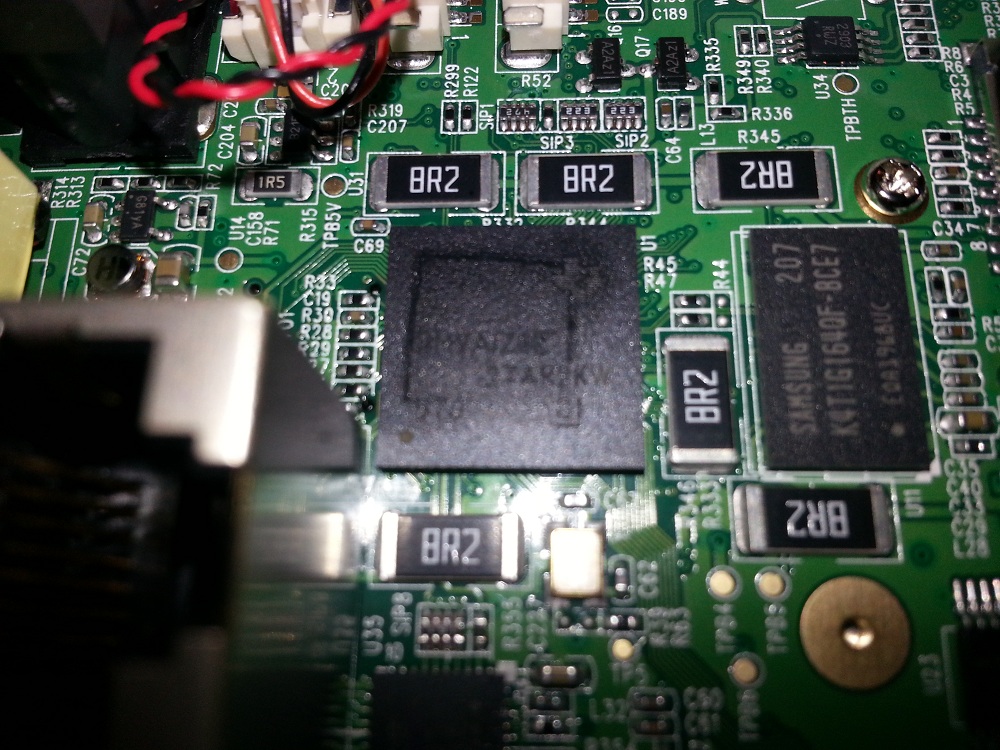 Samsung 128MB DDR2 SDRAM
The DCS-2310L is listed as a IEEE 802.3af PoE camera at mydlink.com and in its datasheet. However, I could not find anything about PoE in the User guide. I don't have a PoE enabled switch, so I couldn't verify PoE support. The camera also has a built-in mic and speaker, nice things to have, considering the product's price.
Setup
Setup of the camera was very easy with the mydlink setup wizard. The camera acquired an IP address via DHCP, the wizard detected it, had me set up a password and passed me on to mydlink.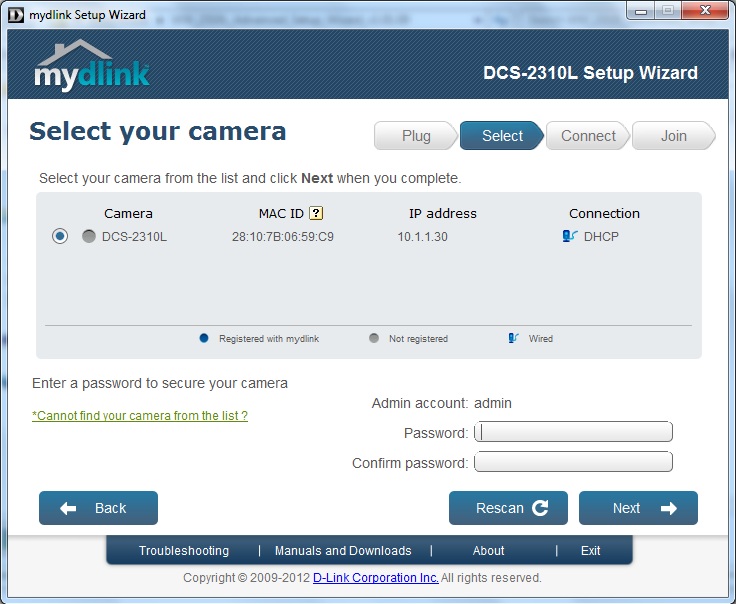 D-Link DCS-2310L Setup Wizard
I had already had a mydlink account from the DCS-942L review, so I simply entered that and was on my way. Tim reviewed mydlink, which is D-Link's portal for its cloud-enabled products, last March. Rather than rehash mydlink, I'll just point you to his review.
D-Link DCS-2310L mydlink setup screen
Once the wizard completed, I was ready to log into mydlink or to manage the camera from its own local admin interface. I did most of my testing via the admin interface vs. mydlink.com.
In Use
The admin interface of the DCS-2310L firmware version 1.00.03 is much like that of the DCS-942L, with a few notable exceptions.
The DCS-942L seemed to have trouble figuring out the transition from day to night, often staying in night mode in a lighted room. Other cameras also have this problem, often clicking back and forth between mode and sounding like an annoying bug while doing it.
The DCS-2310L puts some measures in place to circumvent those problems as seen in the image below.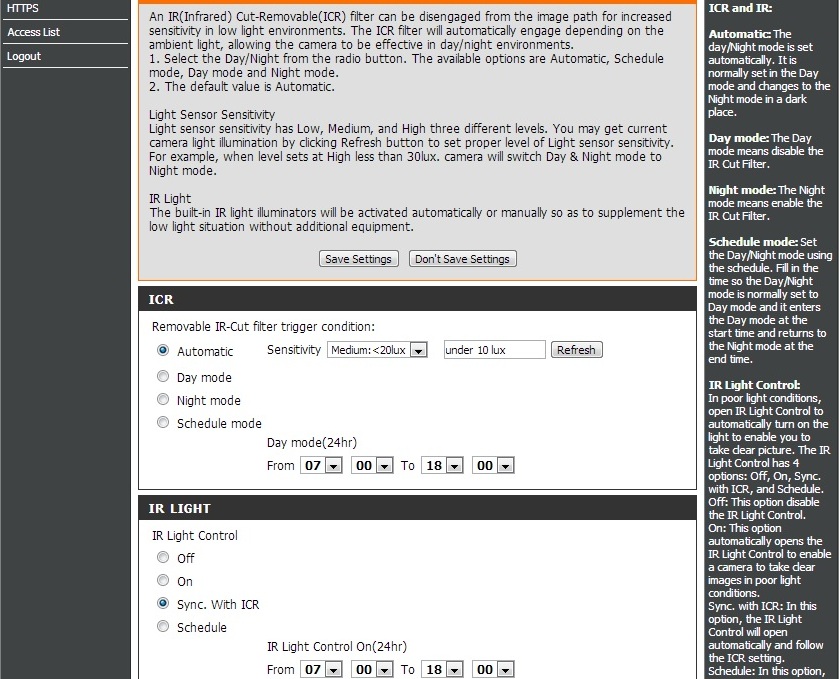 D-Link DCS-2310L Light settings tab
Day and night mode can be scheduled, which many other cameras also support. However, you can also adjust the sensitivity with three presets. A very nice feature is that clicking Refresh actually takes the current room light and sets it as the threshold. In testing, I did not need to change anything from the default settings and it worked well.
In Use – more
Motion detection settings also work the same as the DCS-942L's. Motion areas can be drawn to include some or all of the screen. Sensitivity can be adjusted from 0-100% and a percentage of the motion window filled with motion can also be adjusted from 0-100%. However, Tthere is no real-time feedback to let you know if you trip your threshold; it's all trial and error.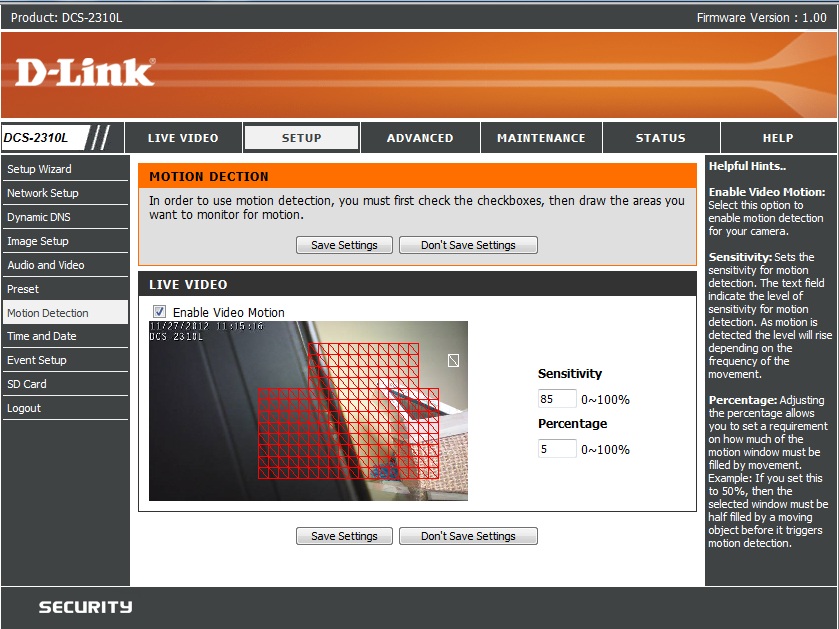 D-Link DCS-2310L Motion Detection draw area
Events can be set up with a multitude of options, including full-time recording, motion recording and recording with the PIR sensor in darkness. A quick snapshot can be captured or entire videos with pre and post buffering. Destinations for events include FTP, SD card, network storage and mail.
I tested all settings except FTP and all worked well. You'll notice network storage has an IP address rather than a hostname. I could not get hostname to work despite acquiring DNS entries by DHCP. The network storage setup had an option for WINS server. I have no WINS server so I could not test if that was my missing link.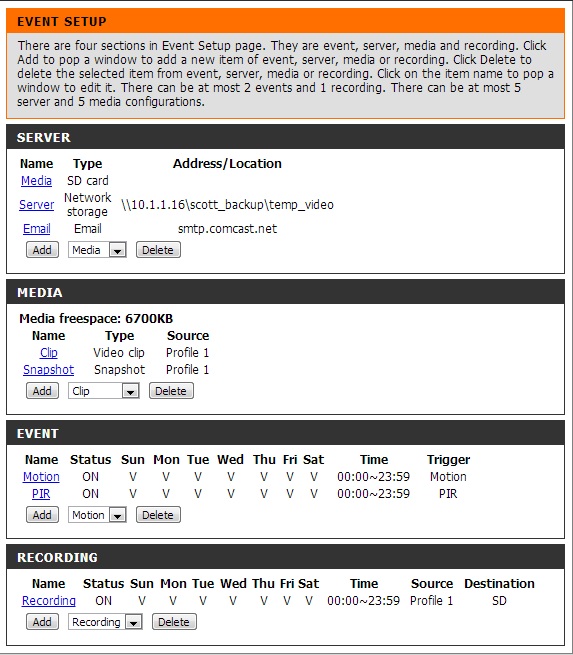 D-Link DCS-2310L Event setup
Recording to the micro SD card
works well. With the testing I did, I would recommend setting an event to record to the SD card only on the Network Lost option as shown in the image below. The files quickly ate up my 2 GB microSD card while testing.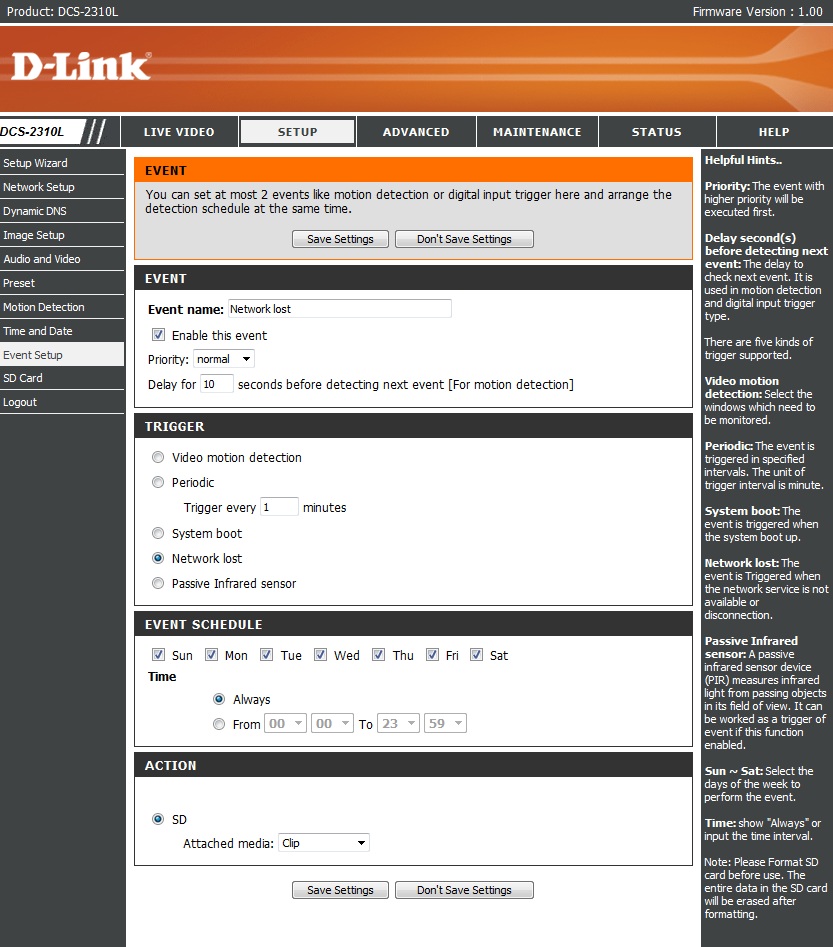 D-Link DCS-2310L Network Lost configuration
As an example, I left my video stream at 800 x 450 (not the maximum resolution of the camera) and maximum framerate, which ended up being about 30fps. I set the event to create a new file whenever the file reached 10 MB and set it to continuously record. My 10 MB files ended up being about 24 seconds of video each.
Doing the math, that would have filled my 2 GB SD card in a mere 81 minutes! Motion recording or lower resolution would take longer to fill the space, but you want good resolution. If you've ever fiddled with getting motion detection properly set up, you know how easy it is to fill up drive space with HD resolutions. (I could not find a spec for the largest supported microSD card.)
Note that specifications on the product's mydlink page, which is different than its page on the dlink.com site, lists one digital input and one output. Despite references to digital I/O in the DCS-2310L user guide, the camera does not have digital I/O. This was confirmed by my camera's admin interface not showing the digital IO icon shown in the user guide, which should be changed to eliminate this confusion.
I've included more admin interface screenshots within the gallery below.
Settings to allow filtering by IP
Quality of Service and Class of Service settings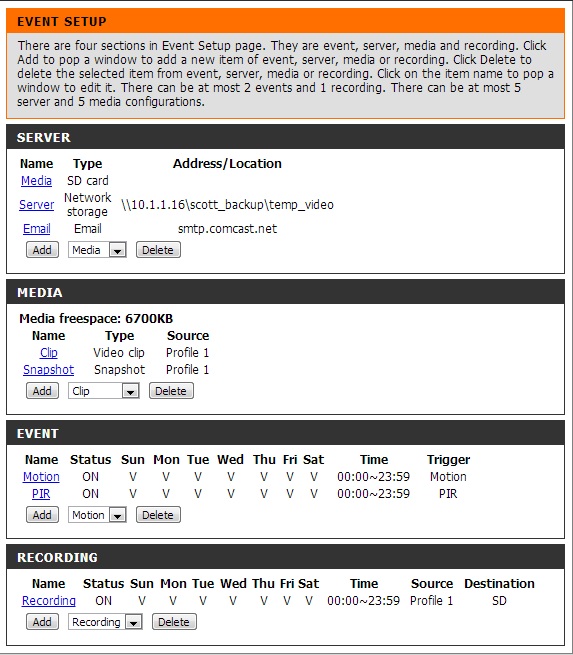 Some examples of event setup
HTTPS is an option for connection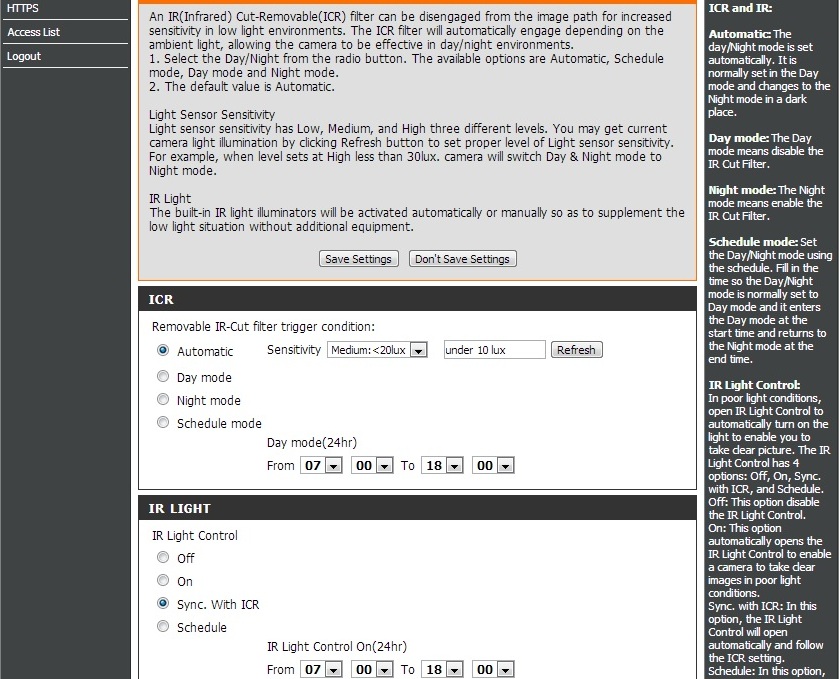 Settings to adjust sensitivity of light for the IR LED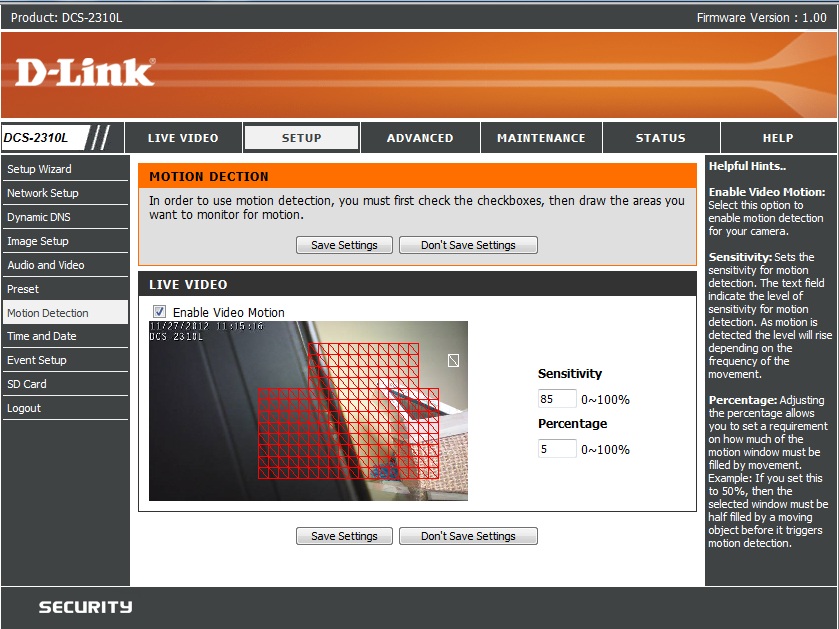 An example of the Motion Detection screen
Options for multicast streaming
Image Quality – Indoor Day
The DCS-2310L is a 720p HD camera with a 57.8° horizontal field of view capable of 30fps, which I verified in Blue Iris. I expected daytime pictures to be very crisp and clear, but I was a little skeptical of the 5Mmeter (16.4 feet) IR illumination distance at night.
For image comparisons I did my standard indoor day and night tests and also my outdoor daylight image. Since this is an outdoor camera, I also added nighttime outdoor image. Since I've never included an outdoor night image before, the only comparison I have for this is a Foscam FI8904W which I've set up as a "weather cam" for my retired father. It's not really an apples to apples comparison, because the Foscam has 24 IR LEDs and the night visibility is spec'd at up to 20 meters. Then again the Foscam sells for only $95 vss $300 for the DCS-2310L.
The junk room control was done with an image from our Nikon D5000 DSLR. I didn't take a new picture for this, but instead linked it from a past review.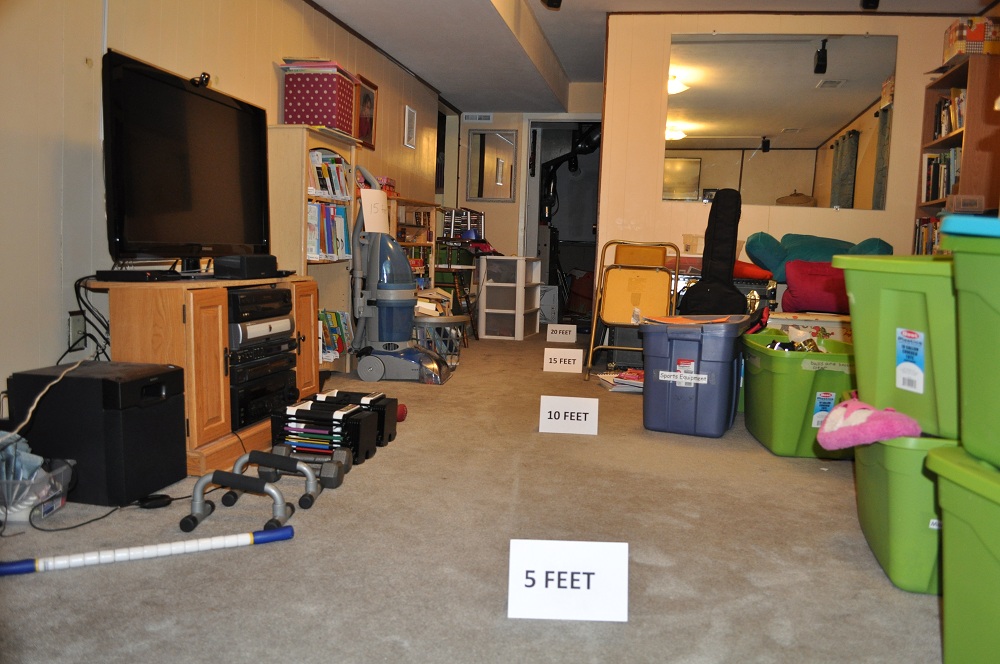 Control image from the Nikon D5000 DSLR
Next we've got the day image from the DCS-2310L.
D-Link DCS-2310L day indoor image
For comparison's sake I wanted to show several comparable HD cameras we've reviewed. Let's look at the AXIS M1054.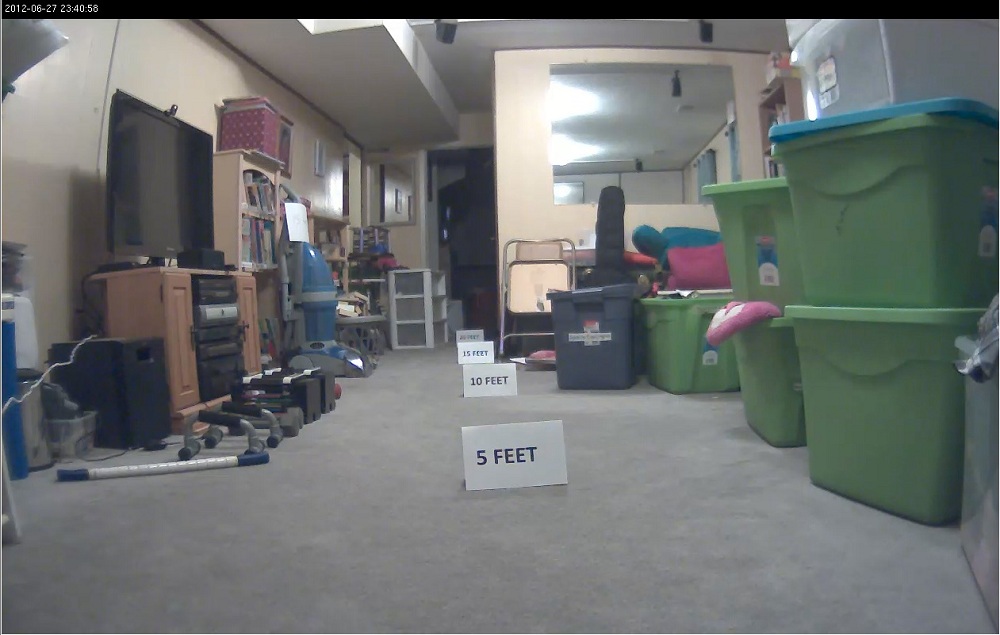 Comparison Day image from the Axis M1054
Now, the ZyXEL IPC-4605N for daylight comparison.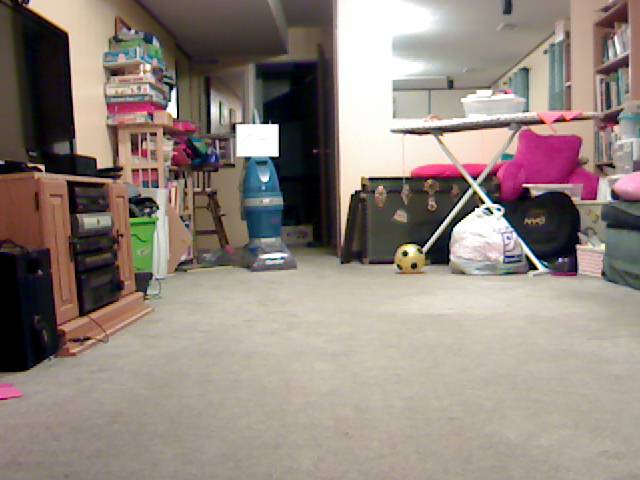 Comparison day image from the ZyXEL IPC-4605N
It's all in what you prefer, but the DCS-2310L has what I feel to be the best picture of the three. The colors are more vibrant with the ZyXEL IPC- 4605N, but the ZyXEL's image is also a little washed out.
Image Quality – Indoor Night
Next, let's look at the night indoor picture. Bear in mind that the DCS-2310L is an outdoor camera. As such, the IR LED dispersion becomes more rapid outdoors. It would be an easy conclusion to draw that the interior night picture of the DCS-2310L should be very good.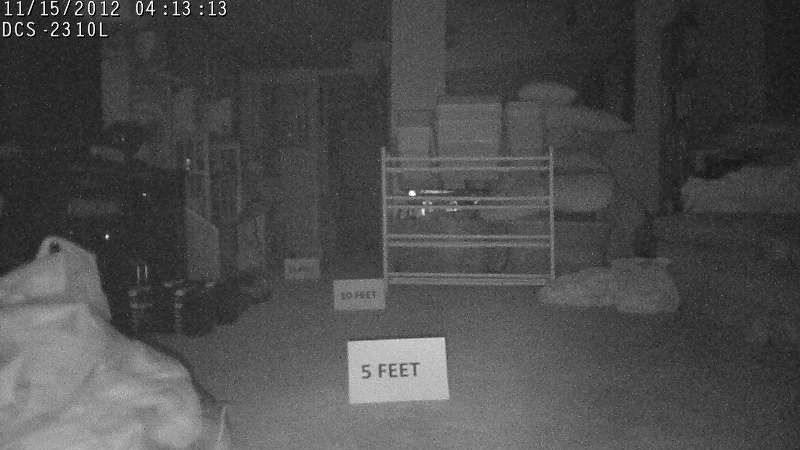 D-Link DCS-2310L night indoor image
But the indoor night image is not all that impressive. It gets even less impressive when we test the 5 meter illumination claim. See if you can tell the difference between the last image and the one below.
D-Link DCS-2310L Can you see what is different?
I'm sure you can when you look long enough, I'm standing right at about 16 feet, twisted sideways holding my laptop out of light view. My face and body are slightly illuminated by the laptop, but I think anyone would have a hard time positively identifying someone from that image.
Since the AXIS M1054 does not have any IR LEDs, I'll include a night image from the ZyXEL again.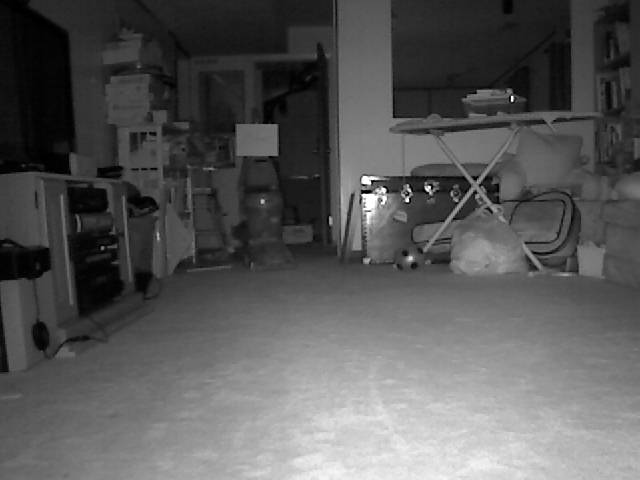 Comparison night image from the ZyXEL IPC-4605N
And one from the TRENDnet TV- IP572PI this time. Keep that in mind that the TV-IP572PI is a much cheaper camera.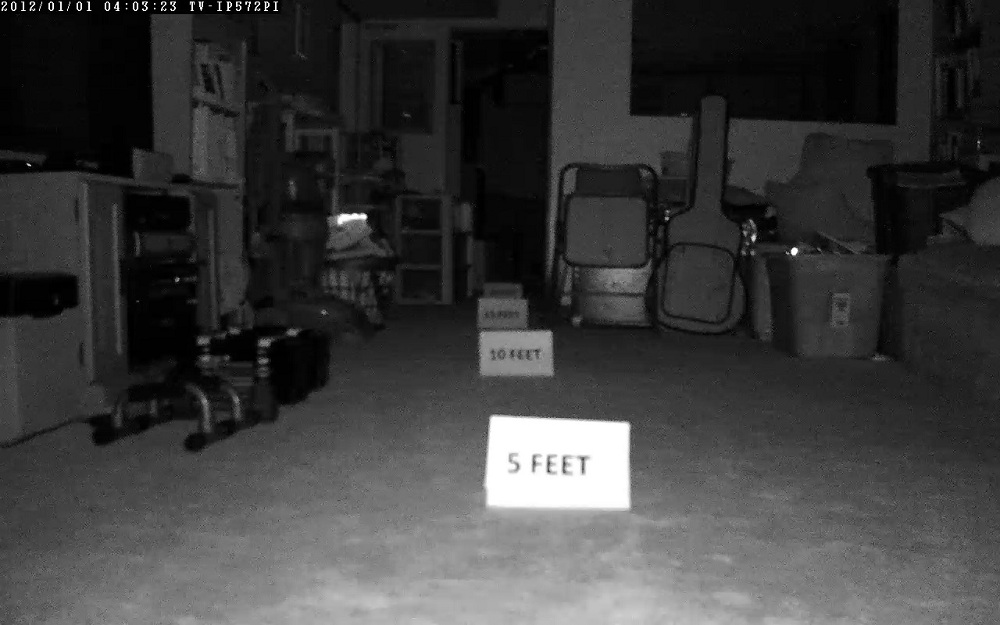 Comparison night image from the TRENDnet TV-IP572PI
It's clear that the ZyXEL is the easy winner here. It has 12 IR LEDs vs. the TRENDnet's 4. It's harder to make a call between the DCS-2310L and the TRENDnet. The DCS-2310L images seems a bit little more illuminated, but it's also more grainy. Neither really see back into the furnace room.
Image Quality – Outdoor Day
Moving on to outdoor day images. We'll compare the DCS-2310L…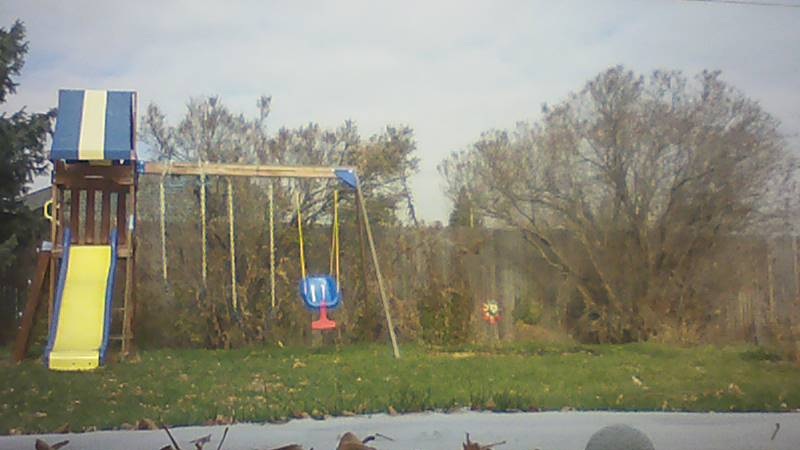 57.8° Field of View from the D-Link DCS-2310L
to the TRENDnet TV-IP572PI…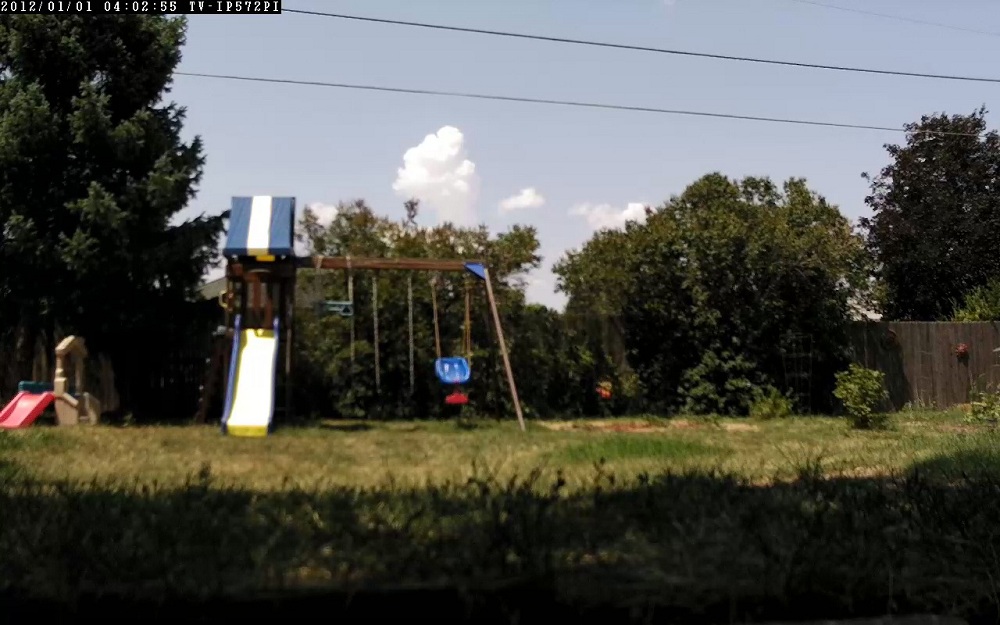 51.8° Field of View from the TRENDnet TV-IP572PI
and AXIS M1054 again.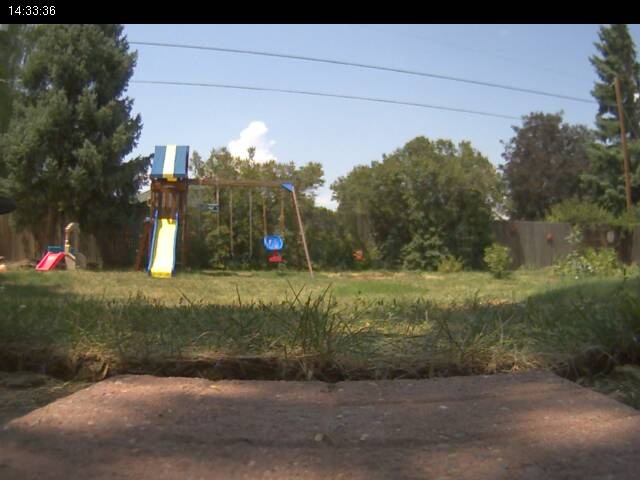 84° Field of View from the Axis M1054
The seasons have changed a bit since our comparison pictures, so it's hard to draw a good comparison here. The DCS-2310L had a hazy overcast fall day, whereas the other two cameras had a sunny summer day. The horizontal field of view is a good thing to note here, however. The AXIS M1054 image definitely shows a much broader field of view when you take note of the miniature slide and fence decorations.
Image Quality – Outdoor Night
Lastly, the night outdoor images. The Foscam FI8904W is the only comparison here, as I have not done this comparison previously. I had the Foscam inside for awhile and was amazed at how little it illuminated outside, but provided great night images inside. Knowing that, I expected the DCS-2310L to not be very impressive outdoors, either.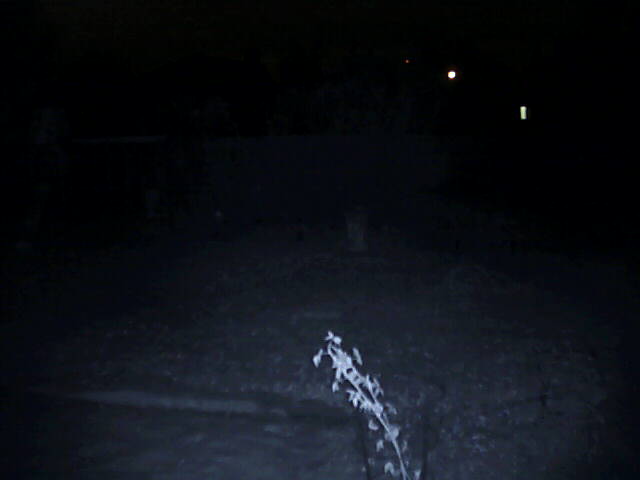 Foscam night outdoor image
I need to mention that I could not get exact same positioning for the two cameras, since the DCS-2310L is not wireless and the Foscam location is very remote.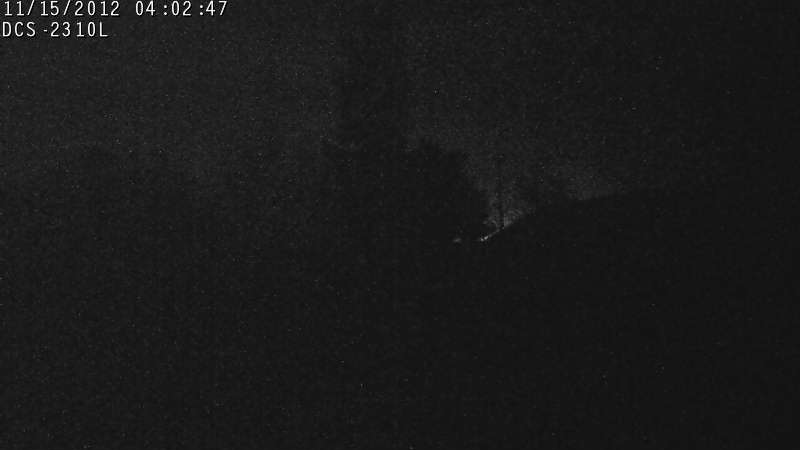 D-Link DCS-2310L night outdoor image
Neither image is all that impressive. The Foscam image shows a blackberry bush about 7 feet out. The DCS-2310L has faint outlines in the image, but nothing really discernible. At the time of testing, there was snow on the ground and I was limping around on a broken foot, so my testing was done rather quickly. Given more time and different conditions I'd like to set up the 5 foot markers outdoors for better comparisons.
Closing Thoughts
The daytime quality of the DCS-2310L is very nice and the customizable options for the image streams provide a lot of value. When it comes to night imaging however, this camera just doesn't illuminate outdoor night areas very well.
Having browser and app (iOS and Android) remote camera access via mydlink is a nice touch. But the feature set is still very basic and options and screens aren't much different from those I saw when I reviewed the DCS-942L back in March. It looks like D-Link has added the ability to notify by email on mydlink.com when motion is detected, though. But you have to specify your own mail server settings, which can be a hassle.
There are still no DVR-type features and all you can really do is watch live video and manually control recording. But it is nice that you can view your camera's live stream over the internet with no router configuration.
Part of D-Link's justification for its $300 price tag is probably the mydlink cloud features and weatherproof housing. But if you're looking for an HD-capable outdoor camera that provides clear images both day and night, the DCS-2310L is not the camera for you.