At a glance
Product
D-Link Komfy (DKZ-201S) [Website]
Summary
Wall switchbox mounted 1080p cloud camera with night vision and 130° wide angle lens
Pros
• Has air quality, temperature and humidity sensors
• Can control two light switches (or outlets)
• Can record to SD card
• Audio and motion detection
Cons
• No Android app, yet. Setup requires iOS device w/ Bluetooth 4.0
• Motion detection has very few customizable attributes
• Tight fit in many switch boxes
• Switchbox only mounting may not provide the view you want
Typical Price: $270 Buy From Amazon
Introduction
The Komfy Switch with Camera by D-Link is definitely different than any network camera I have looked to date. It's designed to replace one or two single pole light switches (sorry, no 3-way switch support), adding video surveillance to supplement the original switch functions.
Komfy comes in white (model DKZ-201S/W) and black (model DKZ-201S/D). The pads above and below the camera are push on / push off switches that replace up to two toggle light switches, so you still have manual control of the switches. But you'll have to retrain yourself to the new above / below switch positions vs. the original side-by-side.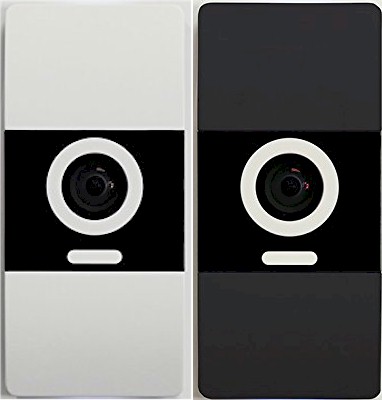 Komfy – Two colors
There is a microSD card, which is only accessible with the faceplate removed. Other than that, the design is pretty clean looking, but definitely obvious that it contains a camera.
Komfy callouts
Included in the box is the camera itself, a wall mount plate, switch covers, 4 screws, 5 wire nuts, labels for your home wiring, and the Quick Start Guide that shows you how to wire it into AC mains power.
I've included the specs for the Komfy below. I decided not to list anything with it because, well, no other cameras directly compete with it. The table below shows the key information I collect for cameras, left blank if the info wasn't available.
| | |
| --- | --- |
| Price | $249.99 |
| FCC ID | KA2KZ201SA1 |
| Resolution | 1080p auto-adjusted, all my videos downloaded in 1280×720 |
| Megapixel | 3 |
| Lens | |
| Compression | H.264 |
| Horizontal field of view | 130° |
| Vertical field of view | 64.6° |
| Audio | One-way |
| Night vision? | Yes |
| Number of IR LED's | 6 |
| Record to SD card | Yes |
| Record to network share | No |
| Record to cloud | Yes |
| Wireless | 802.11g/n wireless (2.4 GHz only) |
| Ethernet | No |
| POE | No |
| Pan/tilt/zoom | 2x Digital |
| Can integrate w/ other systems | No |
Table 1: Feature Summary
I went to grab the FCC pictures of the Komfy components, but D-Link's short-term confidentiality period has not yet expired. I'll leave disassembly and component identification for another time.
Setup
Setting up Komfy was interesting. When looking to replace some light switches with a camera-mounted light switch, the first problem you run into is a limited selection of places to install it. In my case, a very limited selection.
Turns out most of the switches in my house face adjacent walls, which would make for very uninteresting video. Bedrooms tended to have more open switches, but mounting a cloud-enabled camera in the bedroom was not something I wanted to do. The image below shows a typical light switch in my home facing a wall 3 feet away.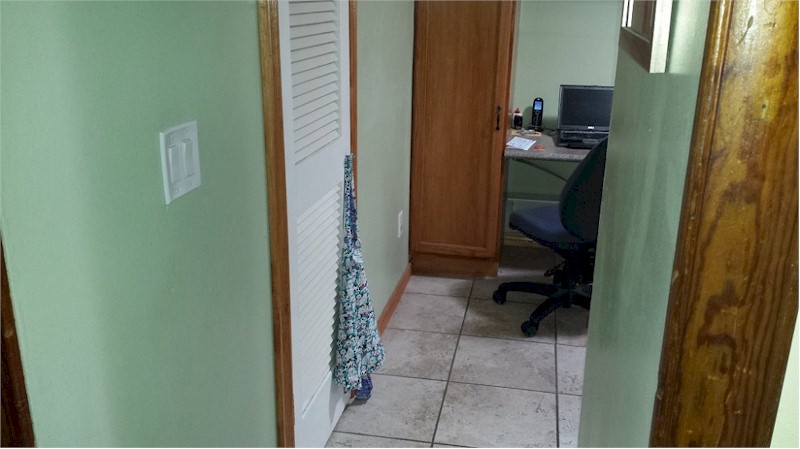 Challenges faced installing the Komfy switch
I finally settled on a single-gang switch box that faced out to my dining and living room. Armed with wiring instructions (image below) I cut power and got to work.
Komfy wiring instructions in the QuickStart guide
Wiring up Komfy was easy enough, at least with only one switch. Even so, by the time I was done I had all of the wire from the wall connected to Komfy with 5 wire nuts that somehow had to all go back in to the box. The image below shows Komfy (not so) ready to go back into the switch box.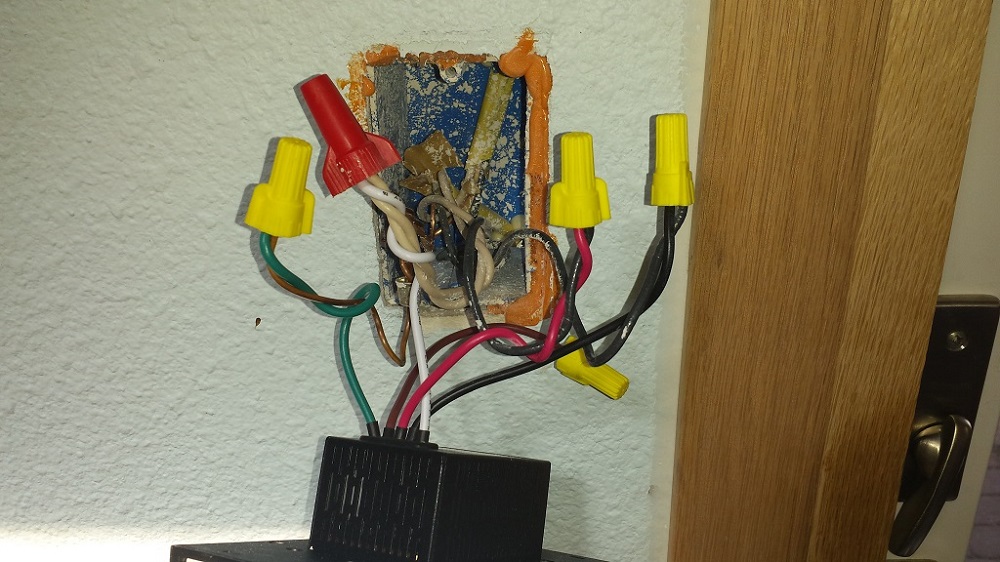 The Komfy switch ready to go back into the wall
I'm no electrician, but have installed my share of light switches and Komfy was not going back into that single-gang switch box. D-Link mentions the electrical box should be at least 3″H x 2″W x 2″D. I got out my tape and measured my box at 2 3/8″D, which should be enough right? Not so much.
For a better comparison take a look at the image below of a 3″D extended box. I've put lines at 2″D and 2 3/8″D with a sharpie. The solid section on Komfy is 1 5/16″D all by itself. In a 2″D box that would give you just over half an inch to stuff 5 wire nuts, all of Komfy's wires and your home's wires. It ain't happenin' without some magic and a whole lot of luck!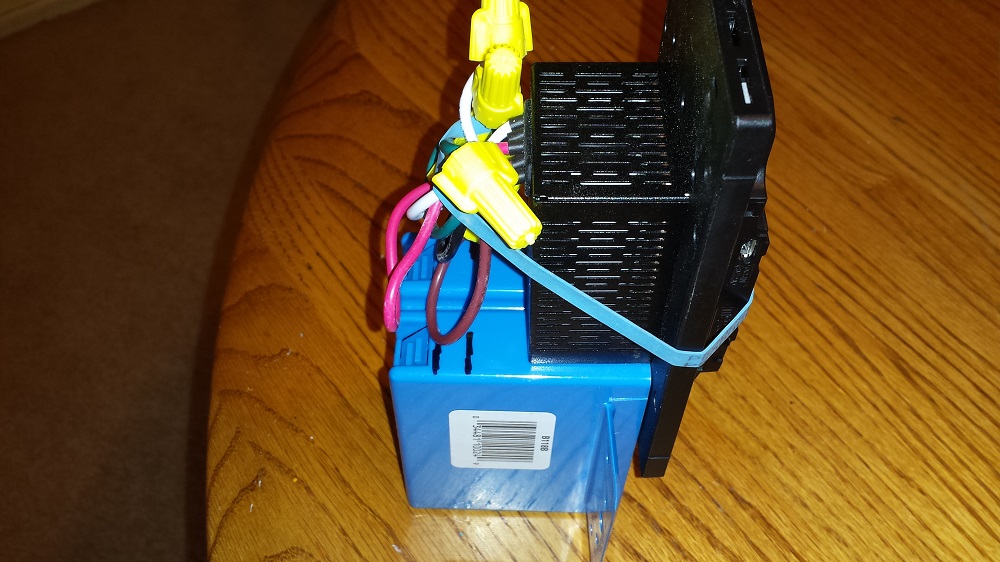 Depth of the Komfy switch
Luckily, Komfy can also replace 2-gang switches. In my opinion that's where you'd want to install it. I made a trip to my local hardware store and purchased a 2-gang box, 1-gang box, extension cord and outlet for my testing, which you see in the image below. I simply cut the end of the extension cord and ran it into the box so I could move Komfy wherever I wanted to.
I wired the outlet to the Komfy switch wires so I could test the different features in the app, as well as IFTTT. I noted that Komfy also has a Micro-USB power jack on the left side by the SD card, so I might have been able to power it that way, but didn't try. Note D-Link's specs don't mention the Micro-USB jack.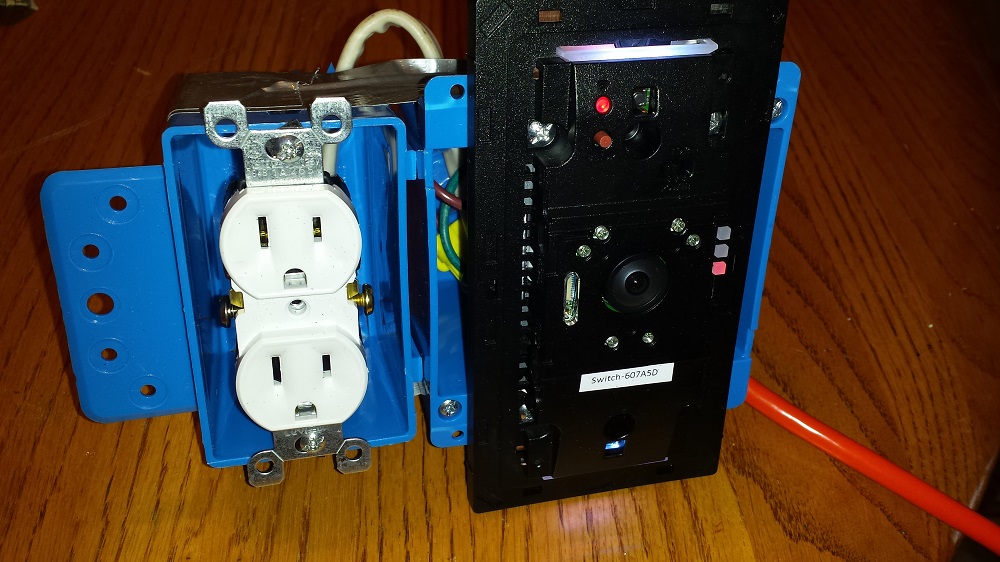 My Komfy test setup
Even with Komfy sitting out in the open air in its test box, I could feel the box Komfy was installed in was warmer to the touch than the outlet box beside it. I grabbed my infrared thermometer and checked both boxes. In my 70° room, the outlet side measured 70°, vs. the outside of the 2-gang box where Komfy was installed measured just around 100° near the top. This isn't something to be alarmed about, but could result in Komfy getting fairly toasty when mounted in a wall box.
The extra heat did not seem to affect Komfy's temperature sensor, which remained consistent with the thermometer I had set beside it. Even if it had, Komfy's settings allow you to calibrate the temperature sensor as shown below.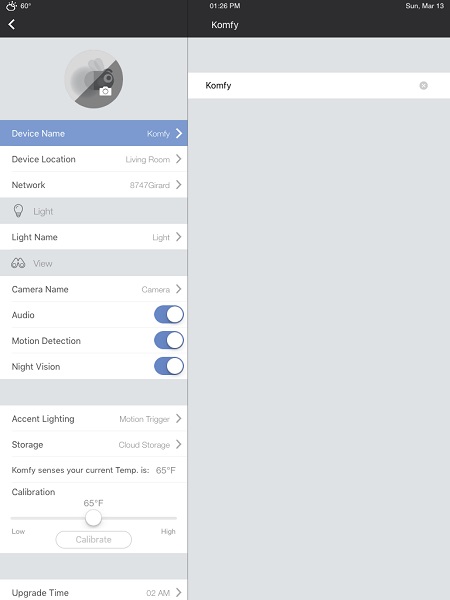 Komfy settings
Back to the setup, I was finally wired up and ready to start using Komfy! Step 10 of the Quick Install Guide says "Download the Komfy App and sign up for a Komfy account." The install guide doesn't mention a specific platform, and I found no app in the Google Play store. D-Link's site mentions presently only iOS is supported and setup requires a Bluetooth 4.0 device, although you can use any iPhone 4s/iPad 2 or later iOS device after set up. I reached out to D-Link for availability of the Android app; D-Link is targeting late Q2 for an Android app.
Note to older iOS users (iPad 2 mainly), if you need to borrow a newer Bluetooth 4.0 device for setup, don't create an account on your older iOS device before setting up Komfy. I only have an iPad 2 (BT 2.1) so I figured I'd borrow my neighbor's iPad and setup Komfy. Wanting to save time once I borrowed their iPad, I decided to set up an account on my iPad2 first so I could breeze through setup and get their iPad back to them. Turns out that was a bad idea.
Komfy has an access list to make who can see the camera more secure (a truly notable quality which makes one feel much better about having a light switch on the Internet of Things). Security is via 2-way SSL authentication based on PKI (Public Key Infrastructure) and 2048 bit key length WSS Protocol (WebSocket Secure), with the Access list as a nice bonus.
Once a device is set up you can accept and remove devices from the Access List menu. But the Access List menu is not available until a device is installed, which I couldn't do with the iPad2 where I had created my account. Essentially, I was stuck at the image below.
Don't setup an account on a non-BT 4.0 device before installing one Komfy or No Access for you!
There is an account reset link, but all it does is reset the password, not the Access List. Finally I gave up, abandoned my original account, and created a new account on the newer iPad. After that it was truly smooth sailing through the rest of the setup.
Features
Komfy isn't integrated into D-Link's mydlink ecosystem, so isn't supported by the mydlink Home app. It comes with a wealth of features, but most felt pretty basic. Like Canary, Komfy has sensors for temperature, humidity and CO2, but the alerts for the sensors are not customizable. Komfy warns you if the temp gets above 83F or below 71F, if humidity gets over 65%, or below 30%, and if CO2 gets above 1500ppm.
In my home in Colorado that means I'm getting warned a lot, because overnight humidity will easily drop below 30% and I usually keep my house around 66°. Komfy would have much more value with the ability to customize these alerts. It would also open the door to more opportunities if it were to integrate with Nest or other thermostats as a remote set of inputs.
Komfy's main viewing screen is very nice, you can see it in the image below. The screen supports live viewing along with the ability to turn sound on or off, control the light switch(es), take snapshots, record video and look at the Gallery. It also shows the temperature, humidity and CO2 (Air Quality) sensors. There is a lot going on in this screen, but it's laid out nicely and about the best looking screen I've seen with this much information.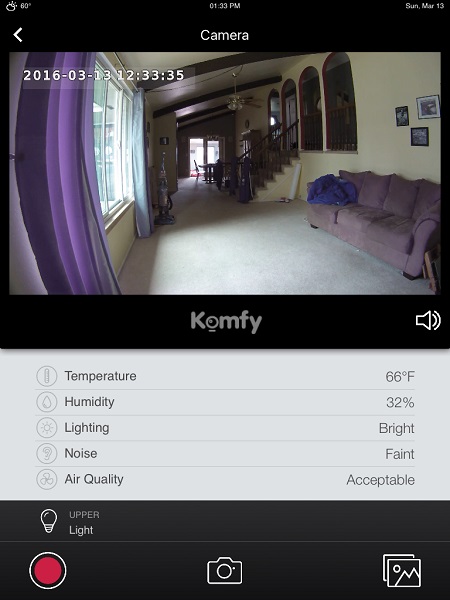 Komfy main screen
Komfy also alerts on motion and audio. I found the motion settings to be very basic and not as customizable as I would have liked. For instance, my ceiling fan constantly sets off Komfy motion alerts. But since there are no settings for motion zones, or even sensitivity, I'm stuck with Komfy's defaults. And changing camera position isn't an option.
The camera is spec'd at 1080p, but I noticed all videos downloaded in 1280×720 (720p). According to D-Link, Komfy automatically adjusts resolution based on bandwidth, so you don't really have control over resolution. At testing time, I measured my bandwidth at 60 Mbps down / 8 Mbps up, which should be plenty for 1080p. So I question the 1080p spec.
Komfy has schedules, but only for shutting lights connected to it on and off. I was hoping there would be schedules to set Komfy to Away or Home mode to control motion detection, but this isn't supported. You have to manually One-Click Komfy's mode, choosing from the options shown below. Each mode controls motion detection and switch options.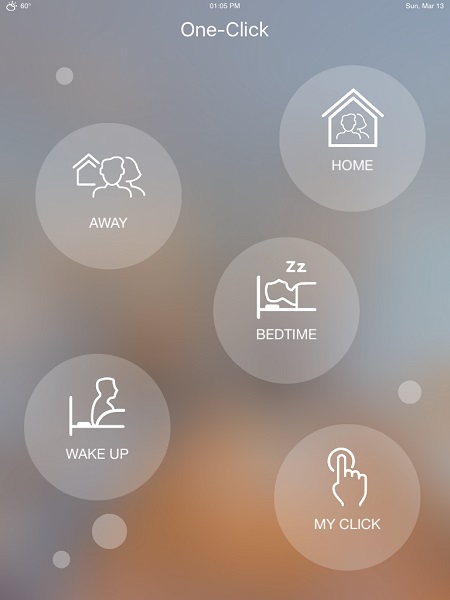 Komfy One-Click modes for motion and audio detection
Komfy has cloud recording, which supports first-in, first-out motion-triggered recording for 8 days. The Komfy app simply said "Beta Trial" and "Expires until the official launch of the premium service", which D-Link hasn't fleshed out for timing or features yet. At least you have the option of recording to Komfy's SD card. The image below shows the cloud plan, as well as the different recording options.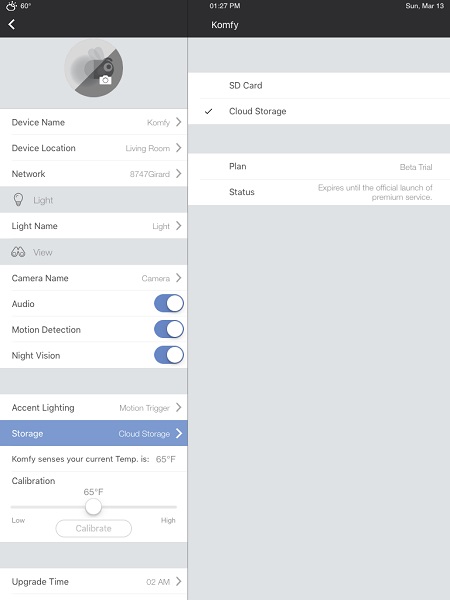 Komfy cloud Beta Trial and recording options
A neat Komfy feature is"Memoir". It's a time-compressed video of all the motion clips taken during a day, similar to Logi Circle's Day Brief. It was nice to be able to see all of the motion detection footage caught during the day in one big clip. It also made me realize just how much footage Komfy actually missed during the day as well. Entire periods where my kids were playing in front of the camera never got picked up. Unlike normal motion detection footage, I didn't see where I could download the Memoir videos; they appear to be viewable only via the app.
Probably one of the best features of Komfy is its integration with the Komfy IFTTT channel. You can see some of the many recipes for Komfy below. I had to laugh that you could turn a light on "You've got mail" style when you receive a Gmail. However there are other very useful items, like posting a snapshot of motion to Facebook, or turning lights on/off at sunrise/sunset. Komfy can also email you if CO2 level gets too high.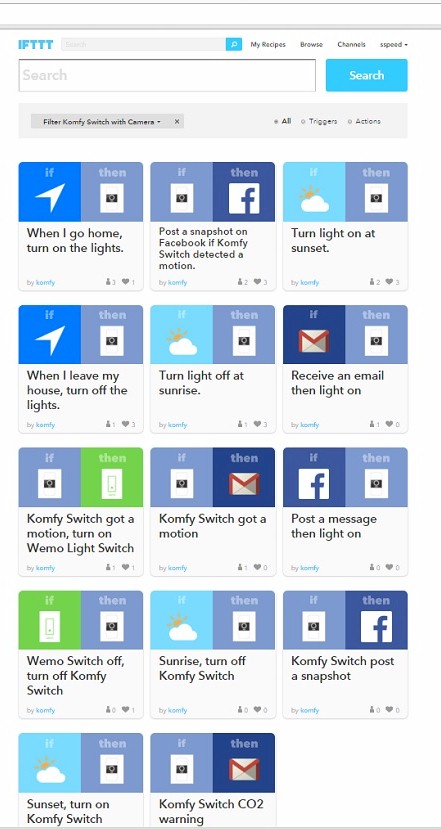 Komfy IFTT channel recipes
Video and Image Quality
As noted earlier, Komfy recorded at 1280×720, not at its full 1080p advertised resolution. Let's take a look at a still snapshot at night from Komfy.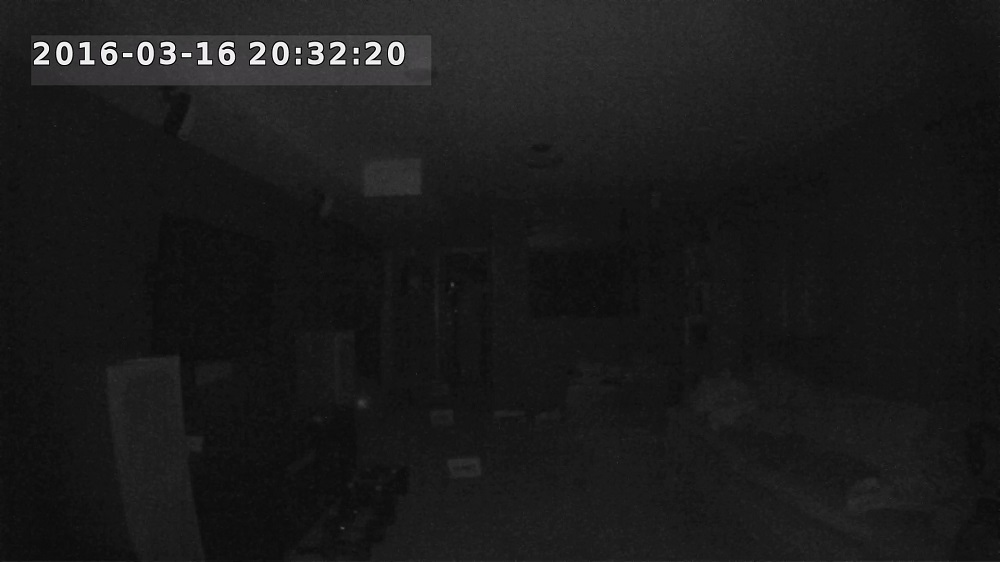 Komfy Night Vision with me at 25 feet
For comparison's sake, let's take a look at the same view with NETGEAR's Arlo Q, the last camera I reviewed.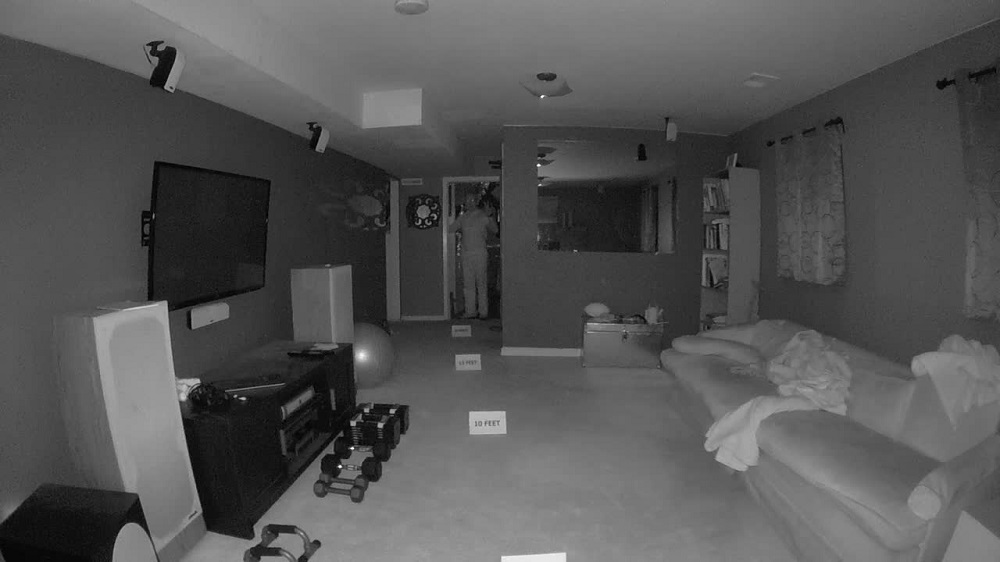 Arlo Q Night Vision with me at 25 feet
Quite a difference, eh? Now a Canary night shot.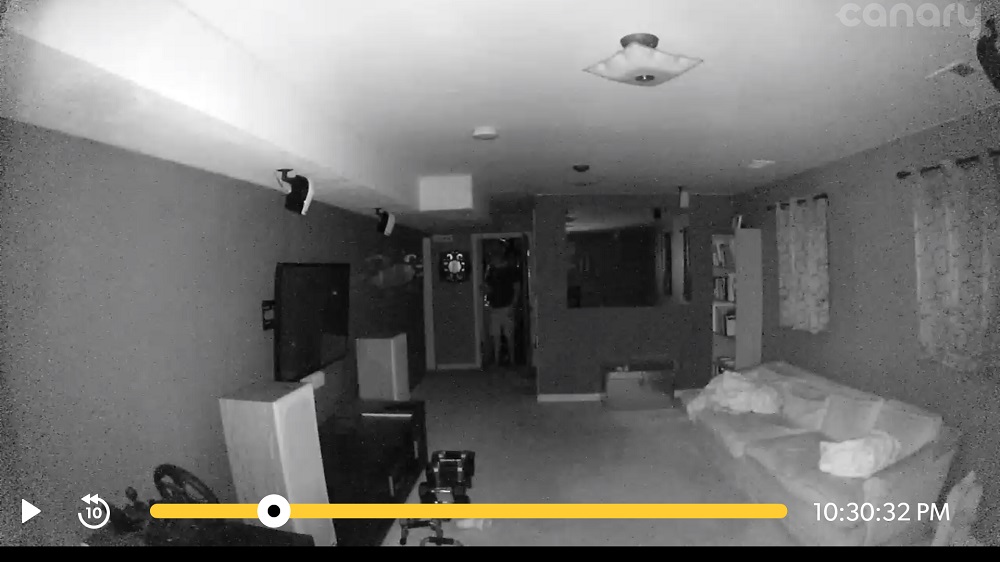 Canary Night Vision with me at 25 feet
Need I say more?. Let's take a look at indoor night vision video.
Let's compare that to Canary. Try to pause each of the videos when my face is most distinguishable.
You can see the room isn't very well lit with Komfy. You can kind of make out a person walking in murky darkness, but can't really see me until I am right up on the camera, at which point the facial recognition is pretty good. But you probably won't get that lucky in actual use.
I also took some video outside and inside during the day to see how the camera reacts to bright light, even though we need to remember this is an indoor-only camera.

The quality is very good on the outside video. The inside video looks a bit grainy to me, but not bad overall. I say "Komfy switch" as I near the camera allowing you to hear the sound quality of the Komfy. There is no microphone feedback like some cameras have.

One thing you might notice is that the videos don't cut off like some of the other videos I've taken. Komfy has a maximum 50 second recording duration that easily captured all of my movement. In situations where motion continued beyond 50 seconds, Komfy would sometimes start a new video, other times it appeared to not record at all. I was satisfied with the duration of the video, but a bit frustrated with how Komfy sometimes did not record at all. To be fair, I've seen that with many other cameras in its class.

Lastly, let's take a look at some outside night videos, bearing in mind that Komfy is not an outdoor camera.

Outdoor at night just isn't very good, you can see detail right near the camera, but everything disappears within a few feet of it. For comparison, look at the Logi Circle below (also not an outdoor camera) and notice the playground equipment in the background, as well as other detail.

To really compare the Komfy against any of the other cameras I've looked at, feel free to check out the YouTube channel, which includes footage of a lot of different cameras in similiar conditions.
Closing Thoughts
Komfy is a unique product that is going to have a limited pool of potential buyers. The look and feel of Komfy are nice; it can replace two light switches seamlessly in about any decor. And the temperature, humidity and CO2 sensors are a nice touch. But its negatives outweigh these pluses.
First, you'll need a switch box (preferably 2-gang with single pole switches) with a good view of the area you want to monitor, which could be more challenging to find than you think. You'll also need to be comfortable wiring into your home's mains power.
If you get past those barriers, Komfy's very poor night vision could stop you from pressing that Buy button. And even if you're prepared to live will all those downsides, you'll need to accept no control over motion detection triggering, undefined cloud recording storage service plans and an a feature set that has some growing up to do.
D-Link probably senses it has a problem with Komfy, given the "Promo" price of $299.99 vs. the "Regular" price of $369.99 on its website. Even more telling, however, is the $50 coupon on Amazon that currently lets you bring home a Komfy for $200. Given all Komfy's negatives, however, many buyers are likely to instead opt for Canary, and save $20 more in the process.
Buy Komfy from Amazon