At a glance
Product
Logitech Logi Circle 720p HD Camera (961-000393) [Website]
Summary
Cloud-based wireless camera with night vision, two-way audio and "Day Briefs"
Pros
• Very easy Bluetooth Smart setup
• Great audio quality, no microphone noise
• Very good night vision
• Support via phone and email
Cons
• Same price as Nest Cam with less features
• No cloud storage optional plans
• App documentation hard to find
• No configurable motion detection zones
• Short battery life when used off the base
• Meh support quality
Typical Price: $0 Buy From Amazon
Introduction
I've been looking at a lot of cloud cameras recently. Most walk a line between being security cameras and more of a "check in on the dog" type of camera. The Logi Circle is probably more of the latter.
You might think the Logi name seems familiar and you would be right. Logi is a new brand for Logitech, dropping "tech" from the name for a new line of products. Logitech's, err, Logi's press release states, "Building on its heritage as a technology company, Logitech has placed design at its core. It is crafting a portfolio of products that go beyond PC peripherals, to products that have a place in every aspect of your daily life. This brand reflects the company's reinvention, with a colorful new attitude and a re-imagined logo. You'll even see a new label for our latest product categories: Logi."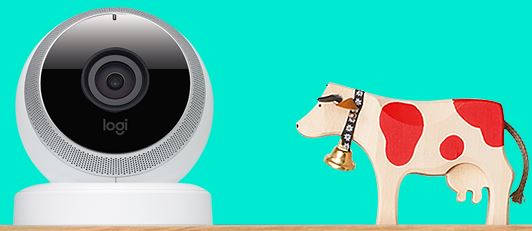 So let's review the new Logi Circle. The Logi Circle is a 720p HD cloud-connected camera, like the Nest Cam, available in white (model 961-000393) and black (model 961-000392) versions. It couples magnetically to its base, which can be wall-mounted, and manually tilted up, down and rotated. The Circle can be removed from its base, which also serves as a charger and run on its rechargeable non-user replaceable 1600mAh 3.7V battery that Logitech says can last for up to 12 hours. As I found out in testing, "up to" is most definitely the key phrase here.
The image below shows the Logi Circle callouts. Hidden near the lens are 6 IR LEDs (3 on either side), and the speaker and microphone, which support two-way audio.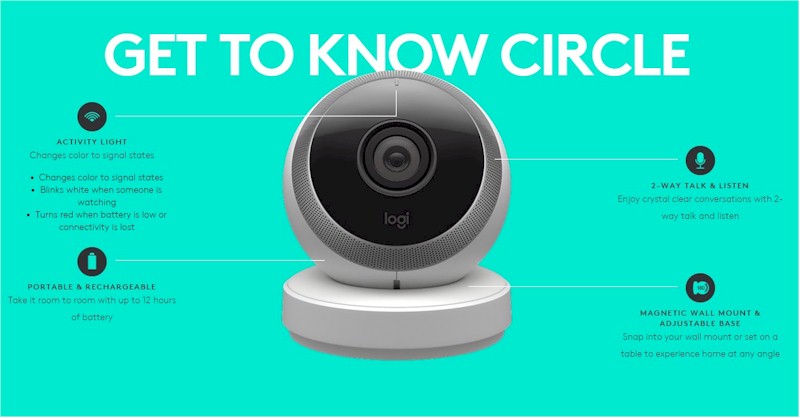 Logi Circle callouts
I collected all the information I could about the Logi Circle from Logitech's specs into the table below. I've also included the Nest Cam specs for reference.
| | Logi Circle | Nest Cam |
| --- | --- | --- |
| FCC ID | JNZVR0005 | ZQANC11 |
| Resolution | 1280×720 | 1920×1080 |
| Megapixel | ? | 3 |
| Lens | ? | ? |
| Compression | ? | H.264 |
| Horizontal field of view | 135° | 130° |
| Vertical field of view | ? | ? |
| Audio | Two-way | Two-way |
| Night vision? | Yes | Yes |
| Number of IR LED's | 6 | 8 |
| Record to SD card | No | No |
| Record to network share | No | No |
| Record to cloud | Yes | Yes |
| Wireless | N150 class dual-band | N150 class dual-band |
| Bluetooth | Yes | Yes |
| Ethernet | No | No |
| Battery backup | Yes | No |
| POE | No | No |
| Pan/tilt/zoom | Zoom, digital | Zoom, digital |
| Can integrate w/ other systems | No | Sort of |
Specification summary and comparison
As the table states, the Logi Circle is a 720p HD camera. I confirmed the videos downloaded by the Circle app were at 1280×720 resolution. The Circle connects by 2.4 or 5 GHz Wi-Fi; there is no Ethernet connection option.
Inside
Not wanting to mess up the Circle, I relied on the FCC photos, which were very good. The image below shows how the Circle comes apart. On the far left is the IR LED module, three from the left is the lens, then the main board and on the far right is the batttery.

Logi Circle components
Going deeper in to the configuration we see the AP6330 WiFi+Bluetooth module. The datasheet block diagram indicates the module uses a Broadcom SoC containing 1×1 a/b/g/n Wi-Fi (N150 class) and Bluetooth 4.0 + Low Energy radios.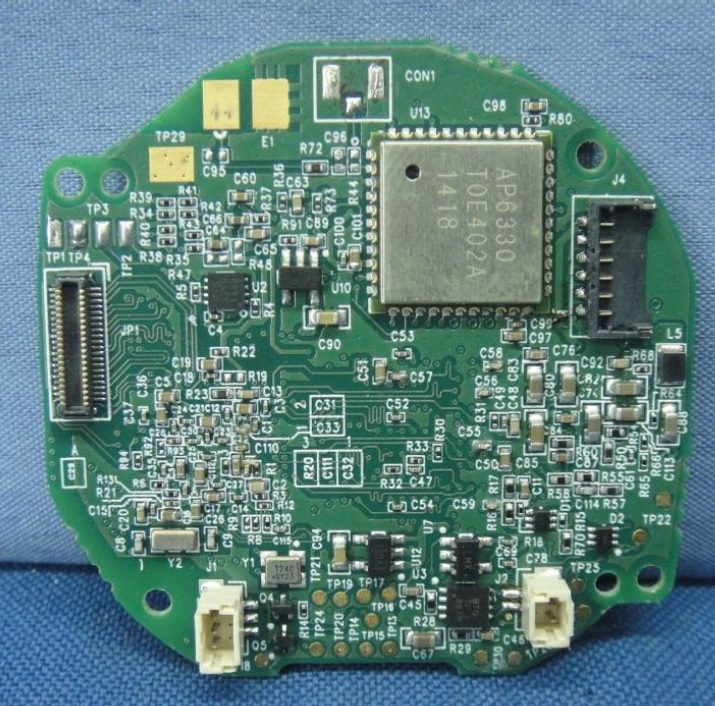 Logi Circle board showing the AP6330 WiFi+Bluetooth chip
On the other side of the board is a Samsung KLM8G1WEMB-B031 8 GB eMMC flash, as well as an AIT8428G, which I assume to be the image processor, but was unable to find any information regarding it.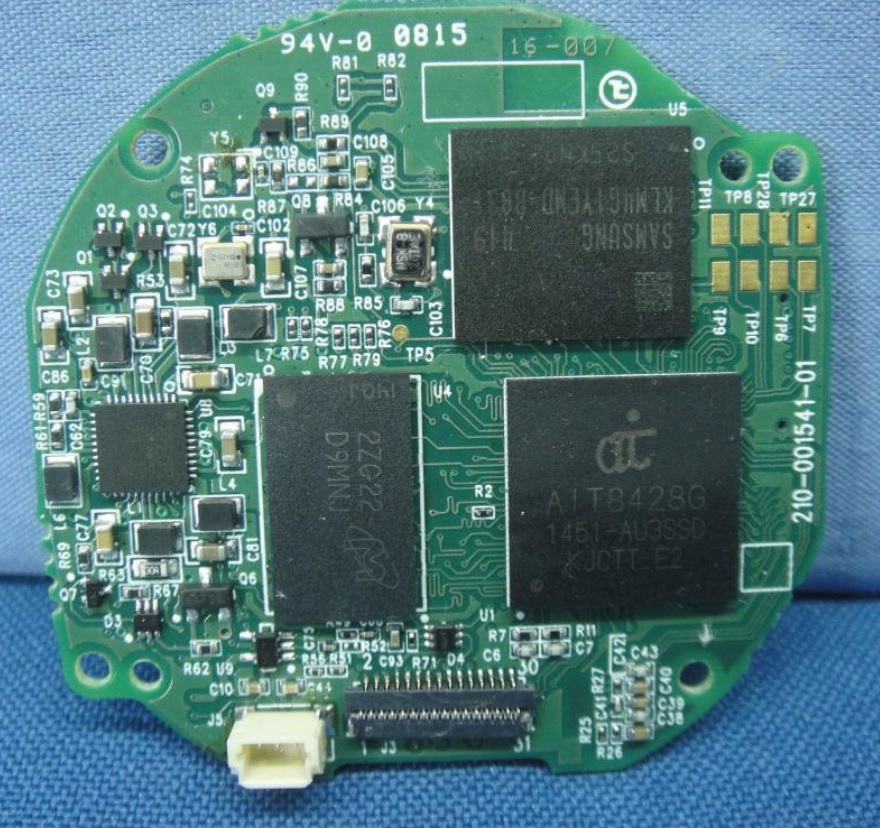 Logi Circle board showing the Samsung KLM8G1WEMB-B031 8GB eMMC
Lastly we see the Li-Polymer 1600mAh 3.7V battery that Logitech says provides "up to" 12 hours of battery life.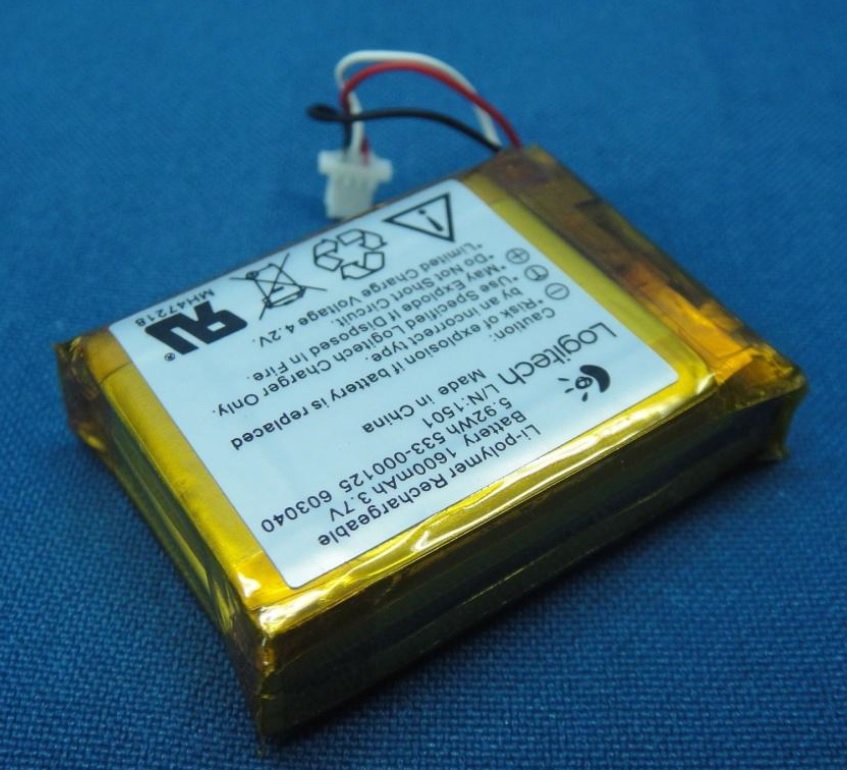 Logi Circle 1600mAh 3.7V battery
Setup
Setting up the Logi Circle was very easy, just as easy as the Nest Cam and Foscam C1. Setup was accomplished using the Logi Circle app connecting via Bluetooth Smart, just as Nest Cam does. Your device must support Bluetooth Smart to set up the Logi Circle; there are no other options. Included in the list of devices that support Bluetooth Smart are the iPhone 4s or later, the 3rd Gen iPad or later, 5th gen iPod Touch or later, any iPad Mini and a whole slew of Android devices. If you want to see if your device would work, check out Logitech's supported list.
The image below shows the relevant steps from plugging in the camera to being online. The app first connected to the camera via Bluetooth Smart, set up the Wi-Fi settings, pulled an image from the camera, then allowed me to set up an account. I left the Bluetooth connection screen out because all it said was "Got It", but it would be the second screen if it were included.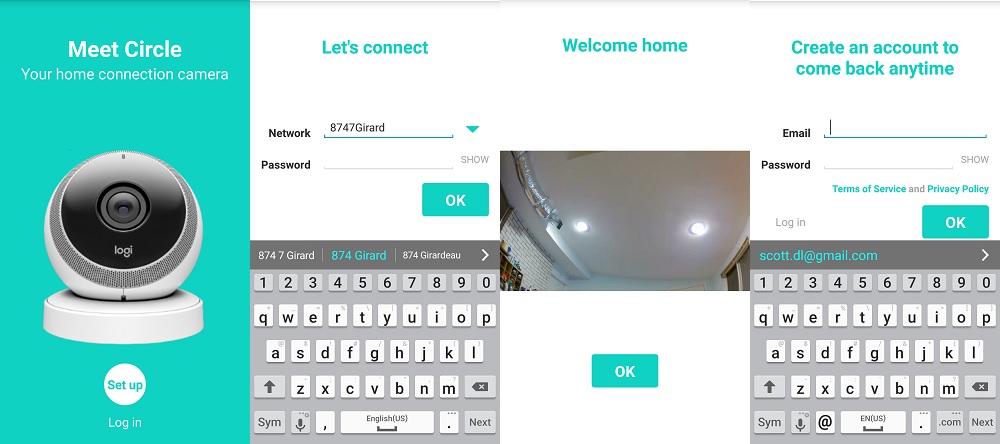 Logi Circle relevant setup screens
Once set up, live video can be accessed via the Android or iOS app, which you see below with my other security device.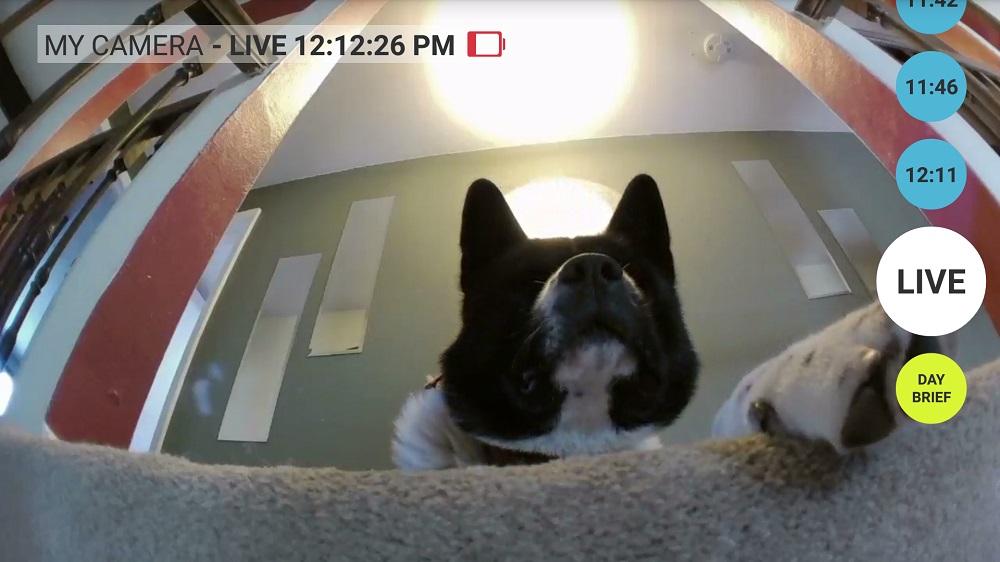 Logi Circle entry screen
Features
While most other cameras in its class offer free and premium storage options, so far Logi Circle does not. The product page mentiona premium features are"coming soon", but as I write this, the free option is the only plan available. The free version provides only 24 hours of motion event recording storage, and is laid out nicely as you see above, with a time bubble for any time motion occured. I was never able to confirm the maximum length of motion detection clips, even from Logitech support, but they seemed quite long. As I was attempting to capture motion detection footage, the camera would often continue recording a rather long clip.
You can add as many Circles to your network as your bandwidth allows; there is no limit. This is different than most other cloud cameras we've looked at, which have a hard limit. From the main screen you can also tap and get the two-way audio button to appear.
The Circle app does not have configurable motion detection settings like Nest Aware. Logitech's "Scene Ituition" is said to adapt to your home to "identify and record interesting activity" and filter out ambient motion. I believe I started to see traces of this happening as I was trying to capture motion clips. I placed the Circle in a position where a spinning ceiling fan would take up most of the screen so I could try to make a very long clip. But Circle quit recording after a few seconds. A feature such as this is helpful in instances where a fan or night light is in a room where the Circle would be recording. But to be honest, I'd rather be able to set zones manually.
The Circle has a Settings screen to change options on the camera such as Microphone levels, 180° rotation, night vision on/off, LED on/off, Power Save on/off and Notifications. It took a call to Support to find this screen. Logitech's support site mentions what the icons are, but falls short of saying how to get to them.
I'm used to getting to Settings screens such as this by using the Android Menu button, but support told me to swipe left. When it didn't work, I was told "maybe they were updating the app". After I hung up and experimented a bit, I found swiping left from the very edge is what needed to be done to get the screen to appear. Besides turning Notifications on and off , most people probably won't go to the Settings screens much.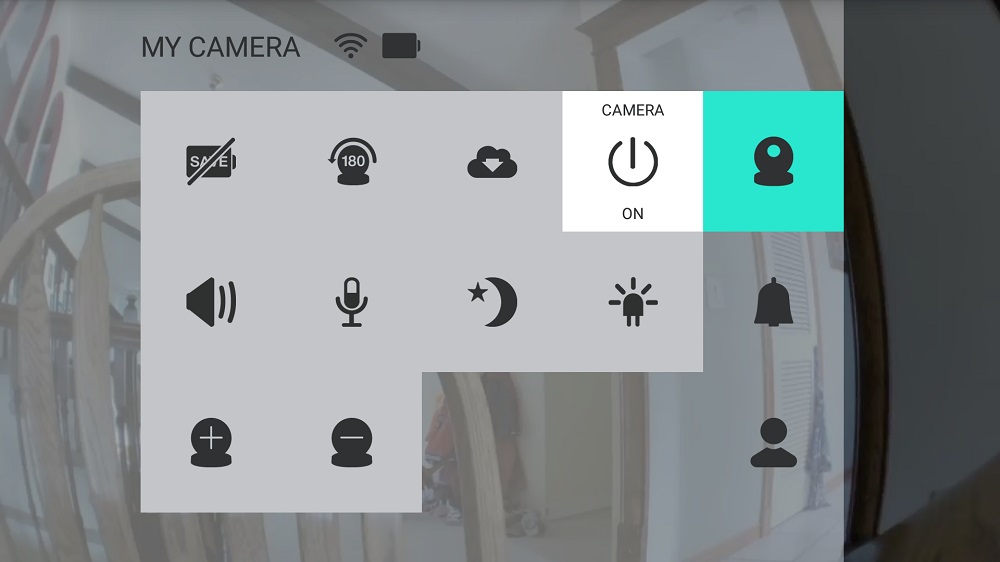 Logi Circle Settings screen
The final app feature I really enjoyed was the "Day Brief" option. Nest Cam also includes a similiar feature, although it's laid-out for easier access in the Circle app. Basically with a tap on the "Day Brief" button, the app creates a time-lapse video of all the motion that occured throughout the day. I found this entertaining and could be especially interesting if you were keeping an eye on the dog or your yard. The video below shows an example Day Brief.
Logi Circle Day Brief
Let's talk about mounting options and battery life. As I mentioned above, the Logi Circle has a permanent mount with a magnetic base, a charging ring and then the camera. The versatile mounting options let you take the camera down and move it temporarily to any location for recording. Logitech says battery life is up to 12 hours. Granted I did not have it on Battery Save, but I found the battery life was more like 2-4 hours if I were using it at all. While I think the battery is a neat option, I'm not sure of its usefulness. I don't consider Nest Cam immobile due to lack of a battery option, and the magnetic base makes the Circle easy for someone to grab even when mounted permanently.
Video and Image Quality
For video and image quality I'm going to compare the Circle primarily to Nest Cam, but I'll throw in some Arlo just for the fun of it. Even though the Logi Circle is an indoor-only camera, I felt its portability could be compared to Arlo, so I took it outside for comparisons as well. First, let's look at the indoor motion detection video during the day.
Logi Circle motion indoor day
Nest Cam motion indoor day
Both daylight videos look very good, you see a little pixelation at the start of the Logi Circle video, but it clears up. The Circle has a slightly wider field of view and it's rather hard to distinguish more or less resolution from either video. Colors are nice, motion is very fluid and you could easily do a snapshot of the "burglar's" face if you needed to. I said the camera name in the Circle video so you can see how good the microphone really is. I wish I'd done that in older videos, but I'll do it going forward.
Let's look at some outside video during the day. Sometimes outdoor video will wash out on indoor cameras, so I don't often take the indoor cameras outside, but I decided to take some outdoor video with the Circle primarily due to its battery backup and the fact it will probably make its way outside at some point. For comparison sake we'll compare it the Edimax IC-9110W, an outdoor camera. For fairness I'll note the Edimax IC-9110W is in the $150 range whereas the Logi Circle is $199.99.
Logi Circle motion outdoor day
Edimax IC-9110W motion outdoor day
Overall both of these videos look really good, but the Circle has the sharper image. Neither is washed out from the outdoor light and both adjust well with motion.
Video Quality – Night
On to the night vision. Most cameras look fairly good during the day, but at night is where a camera can excel or be left in the dust. First, let's take a look at a static image on the Logi Circle with me standing at 25 feet.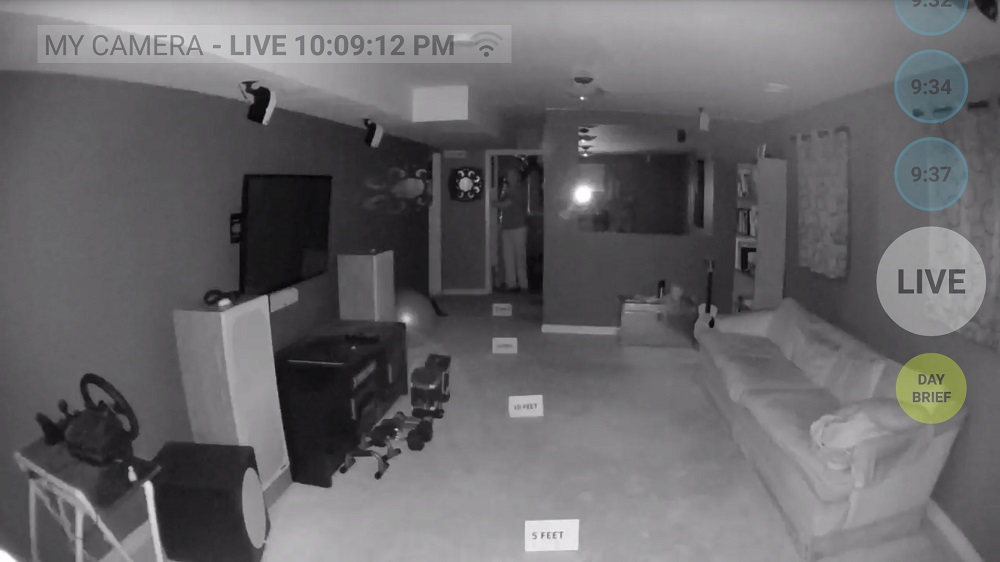 Logi Circle Indoor Night Vision snapshot
Let's see how it compares to Nest Cam…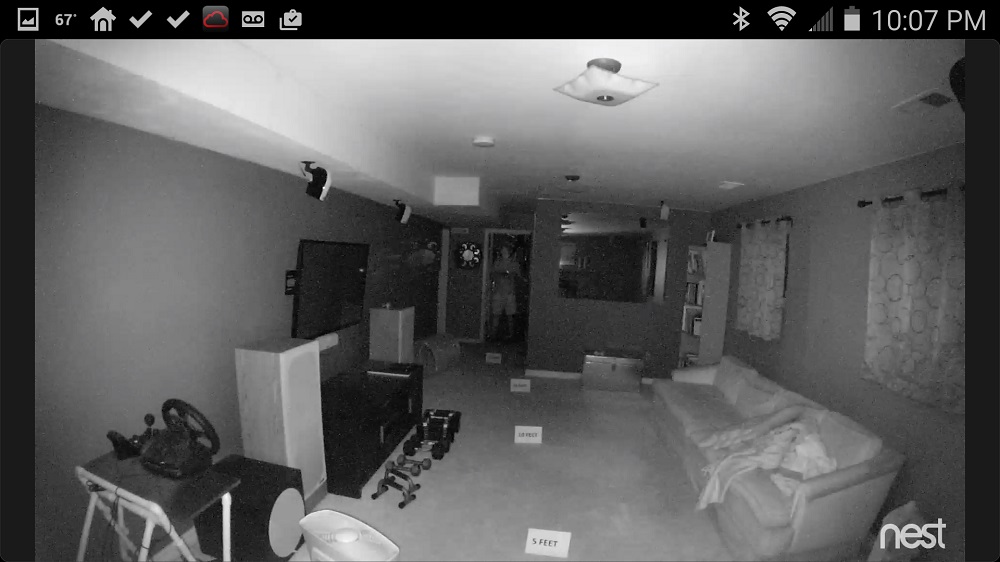 Nest Cam Indoor Night Vision snapshot
…and NETGEAR's Arlo?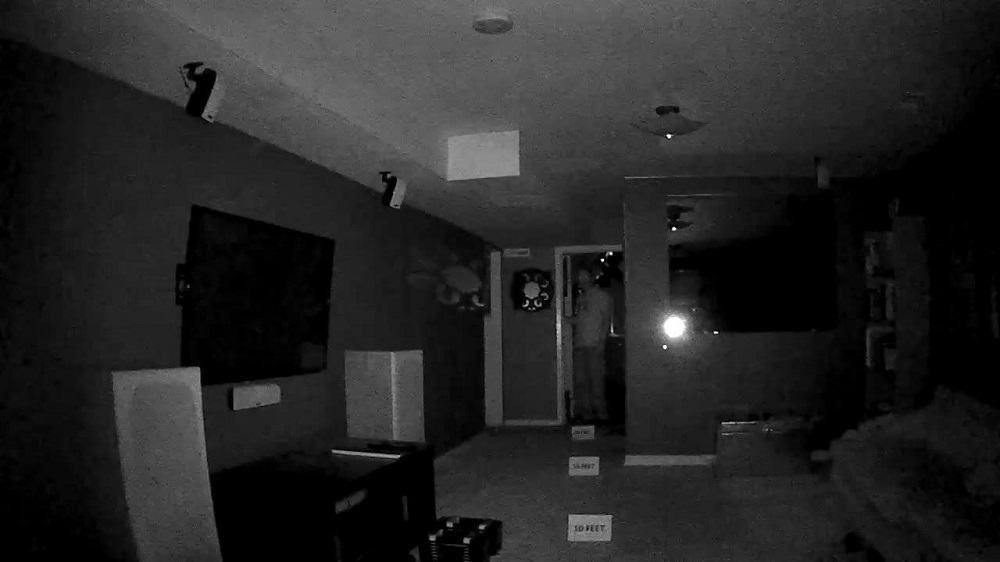 NETGEAR Arlo Night Vision snapshot
I like how crisp and clear the Logi Circle is here. You can read the 5 and 10 foot markers easily and make out a figure in the doorway quite well. The room is also very lit up. The Logi Circle is also the least grainy of all three. I saw a few other reviews that mentioned the Circle's night vision was not as good as Arlo, but these snapshots don't tell that story. Now let's see it with motion.
Logi Circle motion indoor night
Nest Cam motion indoor night
NETGEAR Arlo motion indoor night
My face is easily distinguishable on any of these 3 videos, but the Circle and Nest Cam clearly have the better night vision video. Arlo is rather grainy whereas Nest Cam and Circle are very sharp. I become almost ghost-like and transparent in the Nest Cam video as I move away from the camera.
Even though Circle isn't an outdoor camera, let's look at some outside night videos, since that's where cameras really just look like they are lost in a sea of darkness. Here I chose Arlo again and the Edimax IC-9110W, a dedicated outdoor camera.

Logi Circle motion outdoor night
NETGEAR Arlo motion outdoor night
Edimax IC-9110W motion outdoor night
Again, let me state that the Circle is not an outdoor camera. That said, the Edimax IC-9110W, which is an outdoor camera, produces very poor night images. The IR LEDs create a tunnel of sorts that shows light only in the direct path of the IR LEDs vs. the entire viewing range. As far as lighting up the scene, the Logi Circle is worlds ahead of both Arlo and the IC-9110W; you can see the entire playset and beyond in the background.
The Circle does seem to have a problem with light saturation reflecting off my shirt as I pass the camera, however. Much of the scene is also rather pixelated outdoors, something we didn't see on the indoor video. That said, Circle captures the whole motion event while Arlo shuts off as I approach the camera. It's hard to choose a clear outdoor winner; both give up some key things. Circle gives up some picture clarity, Arlo doesn't capture the entire event and Edimax's picture quality is poor.
Closing Thoughts
So is the Logi Circle worth buying? On the plus side, it has some endearing features and has better quality than competitors for night video. But it's the same price as Nest Cam and it lacks features such as configurable motion detection zones, continuous recording and premium storage options. Circle also records in a lower resolution than Nest Cam (720 vs. 1080p), although I hardly noticed this.
Although Circle has a battery, its life is so short as to make it useful only in very specific situations. I wonder if Logitech should have omitted that feature and gone with a lower price point.
Finally, Logitech's site promises more subscription options and app features "coming soon", which makes my Spidey-sense tingle. There is no guarantee those features will ever materialize and a feature you hoped to have may have never been on the roadmap in the first place.
Depending on if Logitech delivers and what they come up with, Circle might become a Nest Cam competitor. But for now, Circle isn't. Nest Cam for the win here.

Buy Logi Circle 720p HD Camera from Amazon