Introduction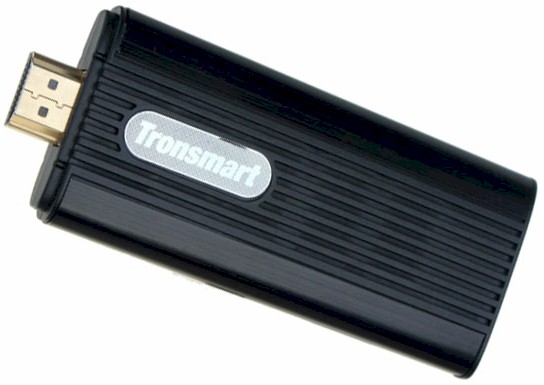 Over the last year, I've had the chance to take a look at several options that could potentially replace the HTPC as we know it. They ranged from expensive NASes doubling as an HTPC, to the much less expensive, but very promising Raspbmc option. They all had their pluses and minuses and some worked much better than others.
So when it came up as a request in the forums to take a look at some of the Android TV stick options, we said why not, let's see how it can do against all the others we've tested. After a little research, we settled on the Tronsmart T428, a quad-core ARM7 stick, which is what I'll be taking a look at today.
Setup
The Tronsmart T428 Android stick comes with a 5V/2A wall-wart USB power supply, a USB to microUSB cable, an HDMI extension cable and no instructions whatsoever. The last item bugged me a bit at first; even a quick install guide mentioning the recovery button would have been nice. But then this is an Android "computer". I don't expect new laptops to come with an owner's manual, either, I guess.
Notable exterior features are a male HDMI port, a USB port, microUSB port for power, microSD slot and a recovery button. There is no Ethernet port for the device and that ended up being the Achilles heel during my testing. I saw forum posts of USB Ethernet dongles working. But I couldn't get my old Linksys USB Ethernet dongle to be recognized.
Setup simply involved plugging the Android stick into the TV via the male HDMI connection and using a USB keyboard/mouse for control. Bluetooth is supported, but I ended up using a Logitech K400 RF keyboard/mouse combo for my testing as I didn't have a Bluetooth combo. Once you plug the stick into the TV, it simply boots up to a familiar Android screen and can operate just as any phone or tablet.
Inside
I wanted to tear the Tronsmart T428 apart to take a look inside. Initial attempts proved futile however. Luckily geekbuying.com had already done this for their product description page. You can see one of the images below.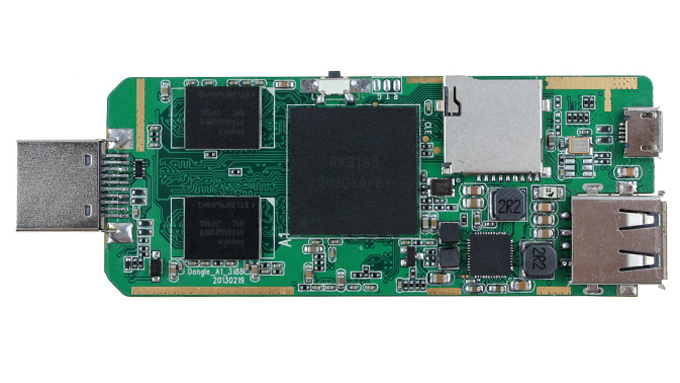 Tronsmart T428 board featuring the Rockchip RK3188
You can't make out a whole lot in the pictures, but you can see the SoC, which is a Rockchip RK3188, a quad core "up to" 1.8 GHz ARM7 chip. Also on the stick is a Mali-400MP4 GPU and 2 GB of Hynix DDR3 1333 MHz memory. Bluetooth and the 802.11b/g/n wireless LAN are handled by a Broadcom AP6330 chipset. Storage is 8 GB of built-in NAND flash with the microSD card slot capable of 32 GB of additional storage. The whole thing runs on Android 4.2.2.
Strangely enough, although the geekbuying product specs say 1.8 GHz, the benchmarks I ran list it as 1.6 GHz. Geekbuying's product page also confirms this with their Antutu benchmark screenshot (Frequency – 1608 MHz). Below you can see the screenshot of a benchmark I ran with system specifics.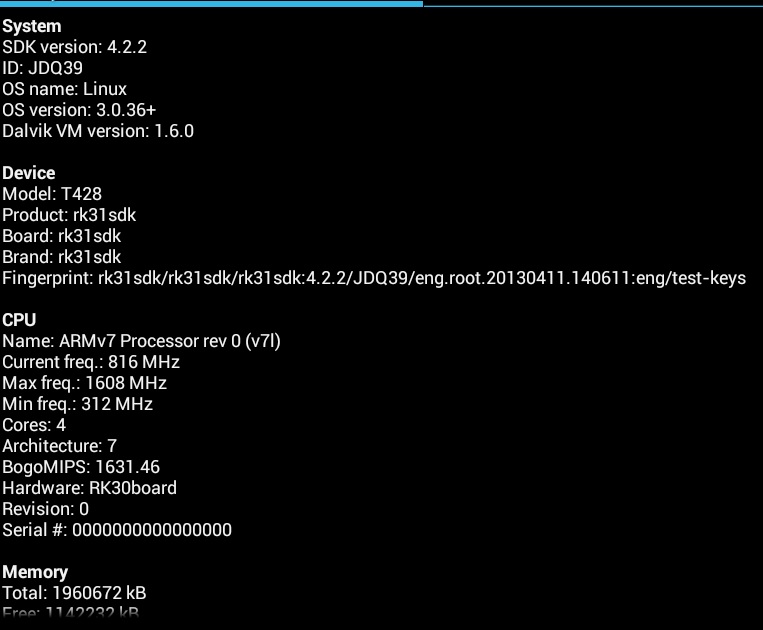 System Details
I ran both Antutu and Quadrant benchmarks against the Tronsmart T428. Antutu came back with a score of 15636, which they place just under that of a Samsung S3. I ran the same benchmark against my Samsung S3 for comparison and it came back with 11061. So it at least scores higher than my S3 in Antutu.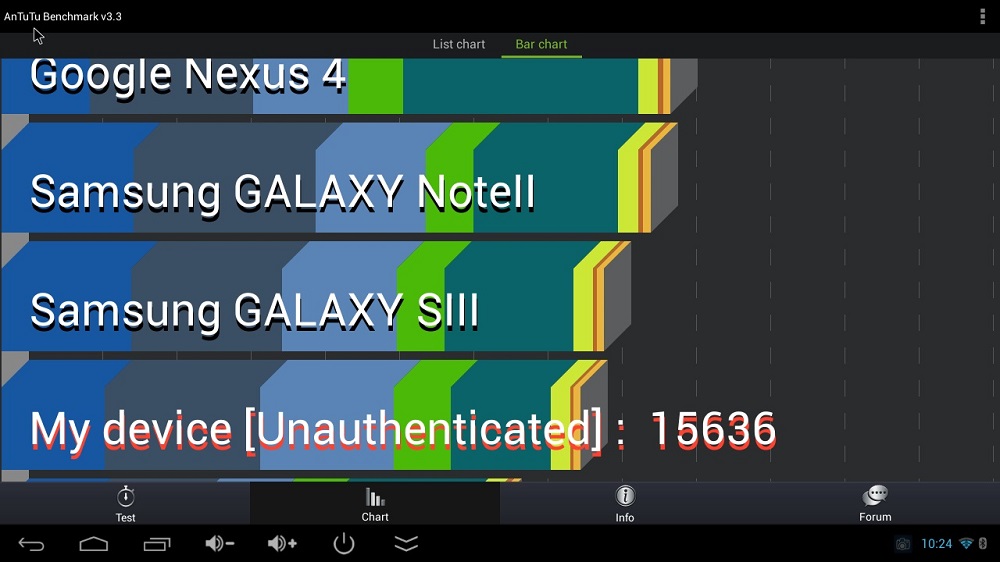 Tronsmart T428 Antutu Benchmark Results
The Quadrant benchmark registered 4778, just ahead of the HTC One X smartphone. Again for comparison my Samsung S3 registered a 5745 with Quadrant, this time besting the Tronsmart T428.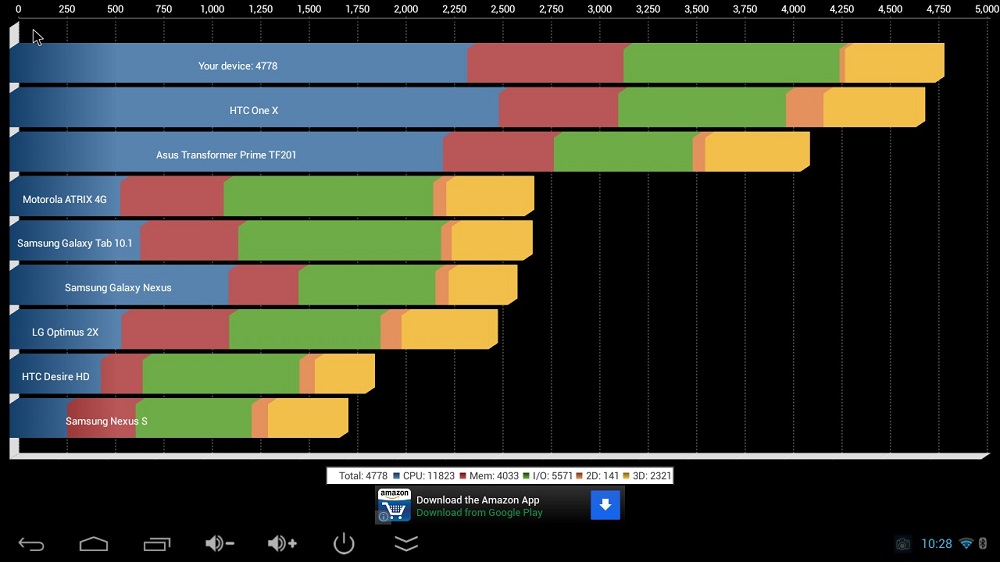 Tronsmart T428 Quadrant Benchmark Results
Lastly, I wanted to run a benchmark that I'd run against the NAS-as-HTPC options I've looked at, so I ran the SunSpider benchmark using Google Chrome. Lower scores are better for this benchmark as they are simply a measure of milliseconds taken for the webkit to finish. The Tronsmart T428 finished in 1830.3 ms. Not so terribly unexpectedly, this was about twice as long as it took the Atom NAS-as-HTPC options. Unfortunately I don't have figures for the Raspberry Pi, as I tested it as a standalone XBMC install. But you can see the comparisons with the NASes in the table below.
| Â | Low-power Atom server (1.8GHz D525) | Thecus N5550 (1.86GHz D2550) | QNAP TS-469L (2.13GHz D2700) | Tronsmart T428 Android stick |
| --- | --- | --- | --- | --- |
| SunSpider benchmark | 829.7ms (Firefox) | 932.8ms (Firefox) | 860.4ms (Chrome) | 1830.3ms (Chrome) |
Media Performance
My main focus on testing the Tronsmart T428 was using it to run XBMC. XBMC for Android is officially supported. But development is in the early stages and that means hardware decoding is not widely supported. The caveat here is it's likely XBMC performance will get better with time.
Some devices have specific manufacturer builds with hardware decoding functioning. But I could not find a specific one for the Tronsmart T428. I sent an email off to geekbuying for information, but received no response.
XBMC for Android is version 12.2 Frodo and works pretty well, although not as well as the less expensive Raspberry Pi. You can see the main XBMC screen below, it looks like XBMC always looks.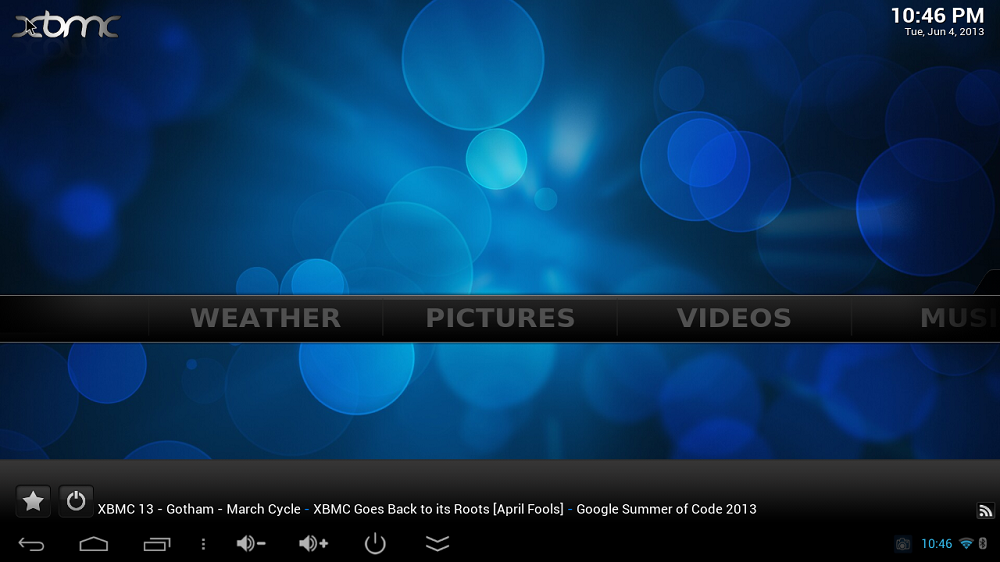 Tronsmart T428 v12.2 Frodo XBMC screen
I found that SD content, usually around the 5 Mbps mark, played well and you would have no complaints with it. However, my large 21 GB, 22 Mbps Blu-ray rip of Sherlock Holmes…not a chance. It stuttered and paused, which it does on almost every media player except our Samsung TV. Reduced bitrate HD files did play ok, however.
Within XBMC, I ran a couple of the Add-Ons, the first one being the Ironman 3 trailer on HD-trailers.net. 720p video ran rather slowly for me there. I also tried the 1080p Town of Ghosts video from Vimeo via the XBMC Add-On and found it stuttered badly.
I also ran the Youtube Add-On with a 720p video. Most 720p video played just fine. The probability that the couple of non-performers I experienced were due to my wireless connection vs. processing power of the T428 seems likely.
Throughout the course of my testing, I ended up uninstalling and reinstalling XBMC a total of 3 times. Each time I had no idea why it wasn't working, it simply stopped. Reboots wouldn't fix it, stopping other programs didn't fix it. I don't know why it would just stop running at times. This was frustrating to say the least.
Wanting to also give media performance a shot in the Chrome browser, I tested the same Ironman 3 trailer from hd-trailers.net. Going for broke I ran the 1080p version first. I was surprised to see it ran flawlessly!
I then tried running the Town of Ghosts video from Vimeo in the browser. I let it sit for about 3 minutes and it never did come up. However, Youtube in Chrome worked well, with 720p videos playing clear and smooth.
Throughout my media testing I'm sure it was something I was doing wrong, but I found the keyboard functionality frustrating at times. Sometimes the keyboard would work, other times the onscreen keyboard would pop up and it would be the only input device you could use. Still other times, I'd have to use a combination of both my physical keyboard and the onscreen keyboard, with only some of the keys working correctly.
Support
Support for the Tronsmart T428 is pretty much in the form of forum/blog support only. I did try a couple support requests through geekbuying.com, which seems to be the main support avenue, but none of my requests were returned. This isn't completely unexpected, but is a little unfortunate. It leaves the consumer in the "figure it out yourself" zone.
As an example of the unpolished nature of the support for the product, to take screenshots for the article, I needed to either root the Tronsmart T428 or run a USB helper program with it connected to the computer. Either one required USB drivers installed on my PC. I found the drivers almost right away, but I then spent two hours modifying inf files and trying various types of reboots (Recovery button pressed, etc) to get the Tronsmart T428 installed correctly. Much of the troubleshooting I did was reading comment threads and following the leads of those who came before me. The Android stick is definitely a tinkerer's device at this point, it's not for someone wanting a turnkey solution.
Closing Thoughts
I'm not sold on the Android stick HTPC at this point. For SD content it works well. For streaming Youtube it works pretty well, minus the annoying keyboard anomalies. XBMC was ok, but it's not as polished as I found with the Raspbmc installation. Android sticks may get there at some point. But if the Tronsmart T428 is any indication, they are not there right now.
If I were to keep the T428 as my main HTPC, I'd definitely work harder on trying to get a USB Ethernet dongle installed and functioning. I think that may alleviate some of the issues I encountered with video buffering and stuttering.
On sale for $79.99 now the T428 competes with the Raspberry Pi once you figure in the extras you need for the Pi such as case, power supply, SD card, etc. It doesn't work quite as well as the Pi, but there's a chance it could get there as hardware decoding is developed further within XBMC for Android.
If flawless higher bitrate decoding is something you need immediately, you should look at other options. If you like tinkering and want something that works fairly well, then the Tronsmart T428 may be for you. It performs better than some of the NAS-as-HTPC options and is certainly less expensive.