At a Glance
Product
Polycom SoundPoint Desktop SIP Phones (IP550 / 650)
Summary
High quality, full-featured SIP desktop phones
Pros
• Excellent build quality
• Excellent audio quality
• Intuitive operation
• Best-of-class speakerphone
• Flexible provisioning
Cons
• Web admin interface requires too many reboots
• Reboots are slow
• Supports only wired headsets
• Relatively expensive
When I was asked several months ago about reviewing a pair of new Polycom desk phones, I simply could not believe my good fortune. It was a little like being asked if I'd like to have a Tesla roadster for a few weeks. But of course my good man! Where do I sign?
Then reality dawned. How could I come up with a fair and balanced review of two Polycom flagship IP phones? Not just a rave from a true believer but a real review? How much effort would be involved in fully exploring their potential? It might be a lot of work. Ah, but the process could be enjoyable, and I might learn something along the way.
In the interest of full disclosure, I am responsible for a small fleet of Polycom SoundPoint IP phones deployed across the US. And an IP 600 has occupied a position on my desk since my earliest involvement with VOIP back in 2003. I have also tried numerous makes and models of SIP hard phones over the years. Some were good, many not so good and a few were truly excellent. All the while, the IP600 has remained my primary desk phone. So I am a self-admitted proponent of Polycom and their products.
Product Tour
Polycom sent both a SoundPoint IP 650 and a SoundPoint IP 550. These were the two top models in the SoundPoint IP line, although the newly-introduced SoundPoint IP 670 is now the top of the line. Both are multi-line SIP desktop phones (the 550 supports four lines, the 650 six) that support G.722 (wideband), G.711 µ/A, and G.729A (Annex B) codecs. Both also have a 320 x 160 backlit grayscale LCD with four "soft" and 24 or 26 dedicated "hard" keys.
Core telephony features are easily accessible, often by both dedicated buttons and soft keys around the LCD. Figure 1 shows the IP 650's controls; the IP 550 looks the same except it has four line / speed dial buttons (to the left of the LCD screen).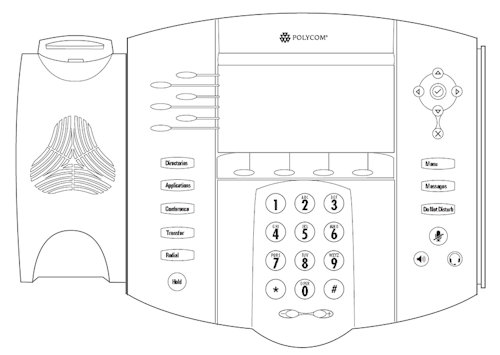 Figure 1: Phone controls and display
Dual 10/100 switched LAN ports with 802.3af PoE support let you add the phone and reconnect the computer that was probably using the single LAN drop (Figure 2). There is also an RJ11 jack for a wired headset.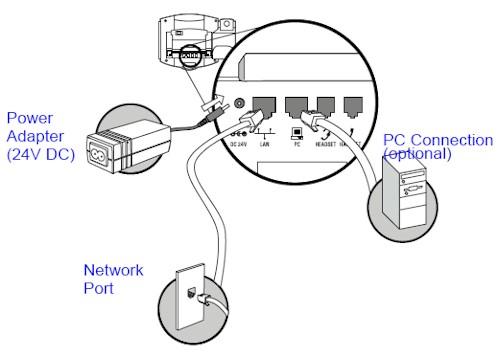 Figure 2: Rear ports
While I was not able to measure the power drawn from each phone, a search online revealed that both phones draw just 6 W. The IP650 draws 12 W with three optional sidecar modules attached. Both draws are within the 802.3af spec of 14.5 W maximum per device, so standard PoE-equipped switches will handle them just fine.
It's also worth noting that the phones come with a small universal AC adapter. Since I administer phones both in the U.S. and U.K., this saves me the hassle of dealing with different power adapters, should I not be able to provide POE in a small U.K. office.
Both models offer a long list of call handling features, much more than I could possibly address here. But here are a few:
Shared call / bridged line appearance
Flexible line appearance (one or more line keys can be assigned for each line extension)
Busy Lamp Field (BLF)
Distinctive incoming call treatment / call waiting
Call timer
Call transfer, hold, divert (forward), pickup
Called, calling, connected party information
Local conferencing
One-touch speed dial, redial
Call waiting
Remote missed call notification
Intercom
Automatic off-hook call placement
Do not disturb function
For a more complete list of features, download the product data sheets: IP550, IP650.
Differences
The main difference between the phones is in line handling capability. The IP550 provides four call appearances, each of which can be a separate line, multiple instances of the same line, or speed-dials. With many PBX systems, the various line buttons can be set up to work like a "busy lamp field" (aka BLF) indicating when a line is in use, just like on an old-style small business key system.
The IP650 takes this a lot further supporting six lines directly on the phone. Adding an Expansion Module expands support up to 12 separate lines and 24 concurrent calls. Each Module provides 14 programmable keys, each with its own LCD label. These keys can be defined as a combination of additional lines, BLF, direct access to extensions or speed-dials. This expansion capability makes the IP650 ideally suited as a receptionist's phone.
Other Features
Whether CEO or cubicle dweller, speakerphones are a must for busy people. With a raft of related patents to their credit, Polycom's phones excel in the area. So the 550 and 650 feature excellent speakerphones with superb echo cancellation capability.
As noted above professional-style wired headsets can be connected via an RJ11 jack on the back of the phone. The phones store separate user-defined volume preferences for each type of call: handset, headset and speakerphone. This is handy when moving repeatedly to/from speakerphone during long conference calls.
One of my greatest frustrations with my old IP600—all the older models for that matter—was the lack of a backlight in the LCD display. If you like to work in a dimly lit office as I do, then an unlit screen can be difficult to read. So I was very happy to see that both the IP550 and IP650 feature backlit grayscale LCD displays (Figure 3).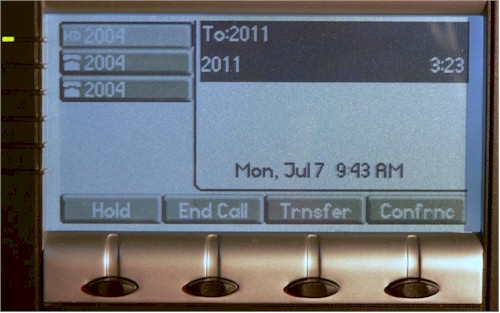 Figure 3: Backlit LCD screen
The display brightness is easily user adjustable. Further, the phones can be set to display a default image, making it a simple matter to brand them with your company logo.
Both phones also feature a novel XHTML browser that's accessible via the "applications" hard key. This feature can be used to let the user interact with simple XHTML applications using the phone's LCD display.
A quick search on www.voip-info.org returned an example XHTML application that displays a weather forecast based on a ZIP code entered at the phone. Polycom also provides a downloadable example including the automatic display of stock prices.
The micro-browser can have myriad applications, but they tend to be custom implementations driven by the needs of a specific company. For example, the phone's micro-browser can perform airline database queries for flight status details (Figure 4). Such a convenience leverages existing infrastructure, while easing the burden on staff and call centers.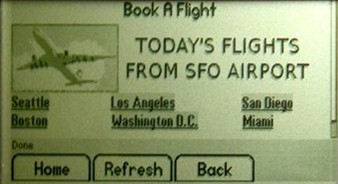 Figure 4: Micro-browser flight schedule application
Implementers of XHTML applications need to deal with varying display capability, however. The IP501, IP601, IP550, IP560 and IP650 models all feature 320 x 160 pixel LCD displays. Other phones provide much smaller LCD displays, making XHTML applications more difficult to design and deploy.
Productivity Suite
With the release of v3.0 firmware, Polycom has also started to offer an optional software bundle called the Productivity Suite for SoundPoint IP Phones. This software, which costs around $12 per phone, provides five applications to enhance the phones' basic capabilities.
Visual Conference Management
Local Call Recording
Corporate Directory Access (LDAP)
Third Party Call Control
Voice Quality Monitoring
Most business class phones can perform an on-phone three-way conference, combining two remote parties and yourself. However, the 550 and 650 can perform four-way conferences (you plus three remote callers). This apparently simple extension of the phones' capabilities is significant, since larger conferences can be handled before you need to use an external conference bridge.
The Visual Conference Management application provides a very intuitive way to establish conferences and add a third or fourth party to an existing call. It can also drop a caller from a conference, and mute or unmute each party. Throughout the conference, the LCD display indicates the status of each caller in a simple, easily understood manner (Figure 5).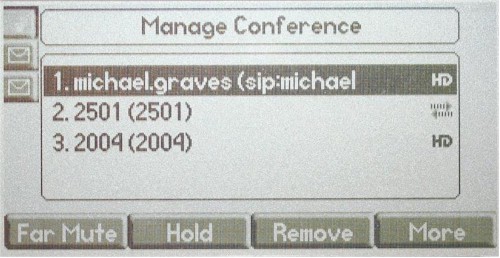 Figure 5: Three way conference using Visual Conference Management
Over the review period, the Local Call Recording feature on the IP650 (not available on the 550) also proved very handy. Upon insertion of a USB key, the phone acknowledges the key then adds a display to indicate the amount of record time available (Figure 6). I could record the current call or conference to a WAV file with only two button presses.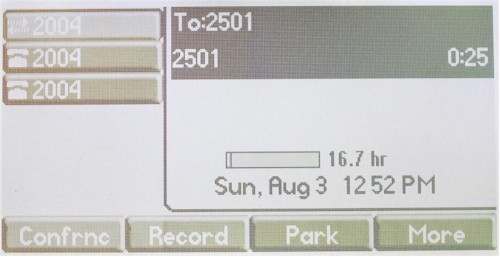 Figure 6: Call recording feature activated
Even for home office use, this feature alone can justify the cost of the IP650. For example, if you are a podcaster conducting telephone interviews, then the ability to easily record a call to a USB stick in a readily accessible format is simply outstanding. The phone did prove to be picky about the USB keys it would accept. But Polycom has a listing of known compatible USB memory keys.
While extremely convenient, this call recording feature should be used with care as recording a conversation without the other parties knowledge is illegal in many jurisdictions.
The Corporate Directory Access (LDAP) feature supports integration with a master corporate contact directory, including Microsoft Active Directory. When the LDAP directory is used, the domain administrator can define the contacts that are exposed to each user.
The Third Party Call Control feature allows external systems to interrogate the phone for its state, and invoke various functions via the uaCSTA protocol. This allows the phones to be integrated into unified communications solutions, including Microsoft's Office Communication Server.
Though the productivity suite is offered for all models in the SoundPoint range, not all of the productivity applications are available on every model. For example, local call recording is only supported on the IP650 since only that model has the required USB port.
HD Voice
So how do they sound? Polycom phones have always sounded good, but these two models take things up a notch offering dramatically enhanced sound through Polycom's "HD Voice" technologies.
It was long ago decided in the traditional phone system that 3 kHz was the highest frequency required to convey the human voice. This was the defining factor in the sound of a typical phone call. Even as telephony moved into the digital age, everything was built around an 8 kHz digital sampling rate. This again produced an upper frequency limit of around 3 kHz with both the G.711 and G.729 codecs most commonly used in VOIP systems.
HD Voice leverages G.722, one of a family of newer codecs specifically designed to provide broader frequency response without increasing required bandwidth. G.722 supports a sample rate of 14 kHz, delivering audio up to 7 kHz. However, the codec uses advanced data compression so that a call requires only the 64 kbps per call leg (80 kbps with IP overhead), typical of an old-style G.711 encoded call.
Codec selection isn't the only factor involved in HD Voice. The phones themselves are designed around conveying wideband audio. That means better transducers: the microphones, earpieces and speakers. Even the chassis of the phone is significantly enhanced to provide richer, fuller sound without rattles and vibrations.
The difference in sound quality with HD Voice is astonishing and truly must be experienced to be appreciated. Even music-on-hold is more enjoyable; more like listening to the radio. Decide for yourself with this sample of a call over a typical SIP phone and another over an HD Voice connection using an IP650.
Some may ask "why bother?" as business is adequately transacted by phone already. There are many cases where improved intelligibility is beneficial. Consider conducting conference calls internationally with people of profoundly varying accents. Or perhaps consider someone with a mild amount of hearing damage. In both of these cases the additional high-frequency detail truly makes it easier to understand what is being said.
The downside to HD Voice is that both ends of the call must have wideband capable phones and the call must be handled via IP end-to-end. If the call passes over the regular public switched telephone network (PSTN) at any point, then the call will be negotiated down to the more common G.711 codec. Even so, call quality will still be improved, just not as dramatically.
Companies with multiple locations connected via IP can take immediate advantage of the improved quality for inter-office calls. In my case, this was most useful during staff meetings conducted by conference service.
Provisioning
There are numerous methods for provisioning Polycom phones. For a home office or business with only a couple of phones, you can do it right from the phone's LCD display since all the core settings are available. Entering long strings can be a bit tedious, but for just a few phones it works well enough.
You can also set up a phone via a built-in web-based interface (Figure 7), which provides access to all basic settings. This method can be a little frustrating, however, because you need to click a Submit button to save the settings on each screen. Each Submit forces a reboot of the phone, so provisioning via the web interface can be slow.
Figure 7: SIP server web configuration
The alternative, more scalable approach is to use a central provisioning server and have the phone load its firmware and settings from that server at boot time. The phones support a variety of provisioning servers including TFTP, FTP, SFTP, HTTP and HTTPS. The basic network settings must still be defined locally, but just enough to get them on the network and point them to the provisioning server.
Your provisioning server need not be local to the phones. In fact, the phones that I administer, while spread across the US & UK, all load their firmware and settings from a central FTP server. This makes programming the phones and pushing out firmware updates a relatively simple matter, even for a large number of phones.
A set of XML configuration files on the provisioning server define everything about the behavior of the phone. The array of settings exposed is dramatically larger than those found in the web interface. Polycom's provisioning documentation includes a thorough set of examples and detailed explanations of every parameter.
Sometimes being the front-runner in a field has advantages. The long term stability and reliability of Polycom's provisioning scheme has enabled a trend towards the automatic provisioning of its phones with popular IP PBX systems. For typical installations, many businesses will find that the phones can be automatically configured when used with the following systems:
Asterisk Business Edition
AsteriskNOW
Switchvox
Digium's Asterisk Appliances
Jazinga
Voiceroute's Druid Unified Communication Server
ThirdLane PBX
Fonality's trixbox Pro
3COM Asterisk Solutions
TAA's VDEX-40
In Use
I initially installed both phones in my office, one replacing my aged IP600 and the other at a workbench. I had both phones register with a hosted PBX provider.
The initial setup was very easy, since I had been using Polycom phones already. I merely pointed the phones at my existing provisioning FTP server located in the UK. But in my haste to quickly get set up, it did not occur to me that they were loaded with v3.0 firmware; newer than my other phones were using. And so when I renamed an existing config file to assign it to the IP650, I accidentally reprovisioned it with v2.x firmware. Oops! My mistake.
A quick call to Polycom tech support got me the v3.0 firmware distribution and I uploaded it to a separate folder on my FTP server. From that point onward, the IP650 and IP550 were loaded with v3.02 again. Happily, the license key enabling the optional Polycom Productivity Suite is held in nonvolatile memory, so it survived the firmware transitions.
Once in operation, I found that the phones acted just like nicer versions of my old favorites. The message waiting indication worked correctly with the hosted PBX, which can be a problem witih some phones. Also the voicemail button worked to jump quickly into retrieving messages.
The only problem I encountered was when initially trying to use the local call recording feature on the IP650. It appeared that it was happy with a 2 GB SanDisk Cruzer Micro USB key that I had on hand. However, when it got far enough into recording a call that it needed to start writing to the memory key, the phone froze, then spontaneously rebooted a few seconds later. This turns out to be the result of not using a supported USB key. When I later acquired two approved USB keys, the call recording feature worked flawlessly.
Later in the review period, I sent the IP 550 to a co-worker in our LA area office, where it replaced an old IP 501 on his desk. With the two phones in different offices, the significance of HD Voice was readily apparent. Calls between these offices via our hosted PBX were impressively clear. We even discovered that our hosting provider was able to support HD Voice over its conference bridge, allowing us to have clearer staff meetings.
As for reliability, Polycom phones are amongst the most reliable computing devices I've ever encountered. These two new models carry on that trend. I encountered no problems at all during the months I spent with the phones, even though both were running the relatively new v3.02 firmware.
Closing Thoughts
It's not easy to directly compare IP phones without also considering a long list of possible features and the target users' exact requirements. However, there are a limited number of players that are common in SOHO and SMB VoIP installations.
Table 1 lists eight common SIP phones from four major manufacturers in the mid to high end of what might be considered for our target user. What becomes clear is that, advanced features aside, both the IP 650 and IP 550 are competitive on a purely a price basis.
| Manufacturer | Model | Price |
| --- | --- | --- |
| Aastra | 9480i | $192.99 |
| Snom | 360 | $219.99 |
| Aastra | 57i | $224.99 |
| Polycom | SoundPoint IP 550 | $246.99** |
| Polycom | SoundPoint IP 650 | $299.99** |
| Snom | 370 | $299.99 |
| Cisco | 7940G | $349.95* |
| Cisco | 7960G | $399.95* |
*Cisco prices include the required software licensing cost
**Polycom prices do not include optional Productivity Suite
Table 1: Comparable SIP phones
Cisco's phones tend to be considered the high end of the business IP phone market and they certainly are on price. Cisco gets top dollar for the hardware, then requires more money for the software license to actually use the phone. In contrast, the IP 550 and 650 are less expensive and don't have an additional licensing cost.
Both the IP 550 and 650 slid transparently into my operation, replacing less expensive older Polycom models that had been in service for a couple of years. My experience is that this is fairly typical; most SOHO/SMB VoIP installations use less expensive models as a means of cost control. But I now think that perhaps this is short sighted.
In an installation where there are only a small number of handsets, the cost of using phones like the IP 550 and 650 is likely to be small relative to the overall cost of the installation. Yet by using the better model, we bring into play numerous features and conveniences.
Further, for companies with several locations using IP to reduce toll costs between locations, the HD Voice capabilities can significantly enhance the call experience. In my case, this means understanding my UK associates a little better during staff meetings; catching vocal inflections that I would have otherwise missed and occasionally even getting their jokes.
The optional Productivity Suite seems like a complete no-brainer since any one of the features included could easily justify the small additional cost. In my case, the ability to record calls on the IP 650 was completely worth the cost of admission. On the strength of that feature alone, I will be ordering one of these for myself when the review units are returned. The additional applications in the Productivity Suite, all very useful, are for me just icing on the cake.
In the realm of telephony, you sometimes see phones referred to as "instruments." With many inexpensive IP phones the term seems overly formal. They just don't look or feel impressive. Design and build quality may have been sacrificed to create a volume product which will appeal to the cost-conscious buyer. In some cases, this creates a problem that goes further than just the look of the product, especially when performance is affected.
On the other hand, truly high-quality devices like the SoundPoints look and feel like design and engineering were the top priority of the manufacturer. When good looks and performance come together, then that is the kind of product that can make CEOs decide they need one on their desk, even if they seldom spend time on the phone.
In closing I'd like to return to an impression that I first had some years ago when I first started using IP phones. If you work for a small company, or in a home office, and live on the phone as much as I do, then life is just too short to get by with a marginal phone. You can't appreciate the difference between "good enough" and something that is truly exceptional to use without trying it for yourself. The difference in cost is not as much as you might expect. Once you have an understanding of the opportunity for real productivity gains, then it seems quite insignificant.