Introduction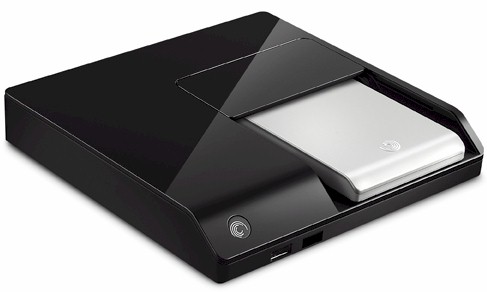 At a Glance
Product
Seagate FreeAgent Theater+ HD Media Player (STCEA201RK)
Summary
Inexpensive networked media player supporting many audio, video and image formats plus Netflix and assorted other Internet content
Pros
• Relatively inexpensive
• Can attach USB hub to attach more drives
• Many video formats supported
• 1080p support
• Silent
Cons
• Laggy UI response
• Limited Internet content
• Most Internet content not HD
• Doesn't use USB drive to buffer streamed content
I usually let Jim Buzbee have a run at networked media players, as he did most recently with Western Digital's WD TV Live, WD's direct competitor to the FreeAgent Theater+ HD, which we'll be calling the FAT+ for the rest of this review. But since I've been schooling myself in different ways to drop DirecTV and get most of my TV from the Internet, I thought I'd see what a little box that costs around $100 could do.
Since Seagate's main business is storage, the FAT+ is made to accept any of Seagate's FreeAgent Go portable drives into its front bay, as shown in the product photo above. But you can also use the front and rear ports shown in Figure 1 to add any other flavor of USB 2.0 drives.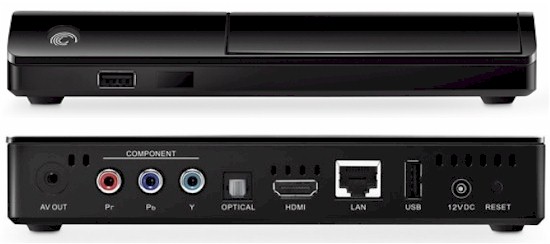 Figure 1: FAT+ Front and rear panels
Unlike the WD TV, you can add a hub. I plugged three thumb drives into a four-port hub connected to the FAT+ front panel port and each one appeared as a separate icon on the FAT+ home screen. All my drives were FAT formatted, but Seagate specs support for NTFS and HFS+, too.
This FAQ describes how to safely remove a drive. But I had no problem just pulling drives when they weren't playing content.
Figure 1 also shows the other ports available for your A/V connection pleasure, including HDMI 1.3, Component video and an AV Out port that provides Composite video and stereo analog audio outs via an included cable (Figure 2). Seagate also throws in an Ethernet patch cable, but neither USB nor HDMI cables. Seagate specs supported video resolutions as NTSC 480i/480p; PAL 576i/576p; 720p; 1080i and 1080p.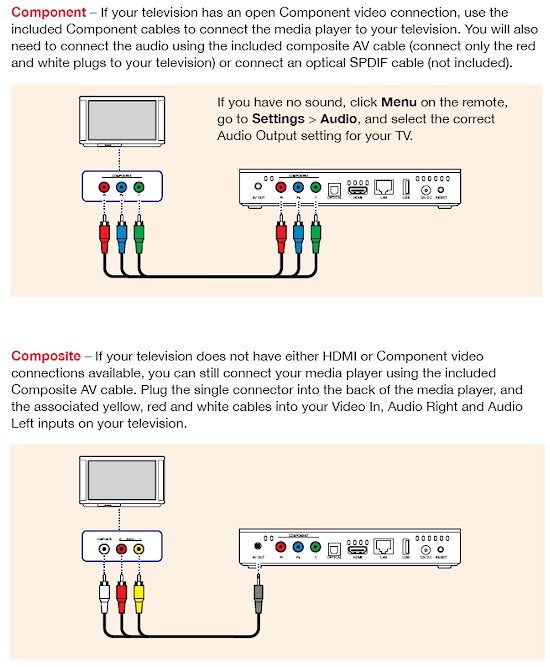 Figure 2: FAT+ Composite and Component hookups
Of course, you need an IR remote to drive the FAT+, and Seagate's (Figure 3) does a reasonable job.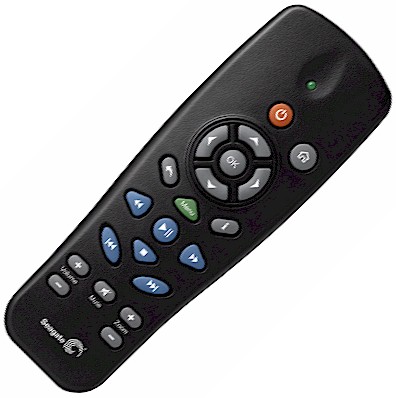 Figure 3: FAT+ Remote
But, like most remotes that come with inexpensive A/V gear, the FAT+ remote isn't backlit. Figure 4 provides more detail on the remote's buttons and what they do.
Figure 4: FAT+ remote detail
The remote shares the same beef that I have with every media player remote I've used: the separate Back button. Having been trained on DirecTV remotes, I much prefer using the left arrow key to go back. I also found that menu response was too often sluggish, with no visual feedback that the system had "heard" my command. So I often overshot menus due to multiple key presses and had to make my way back to where I wanted to be.
Inside Details
Figure 5 shows the FAT+ opened up, revealing a very clean layout. Note that I removed the ceramic slab heatsink on the main SoC before I snapped this picture.
Figure 5: FAT+ inside
Where the WD TVs use a Sigma Designs SMP8635LF, Figure 6 reveals that the FAT+ runs on a Realtek RT1073MD HD MPEG1/2/4, H.264, VC1, RM/RMVB Decoder with Ethernet and HDMI (whew!).
Figure 6: FAT+ board
The only other devices on the top side of the board are a Nanya 128 MB RAM chip and Genesys Logic GL850G USB 2.0 Hub. I suspect there's a flash device hiding on the bottom of the board.
Seagate offers the optional 802.11B/G/N USB wireless adapter shown in Figure 7. It uses a Realtek RTL8191SU 1T, 2R wireless SoC. So it has a maximum link rate of 150 Mbps for transmit and 300 Mbps for receive. In other words, it will let the FAT+ receive twice as fast as it can transmit. But since a media player doesn't do much transmitting, the lopsided bandwidth is just fine.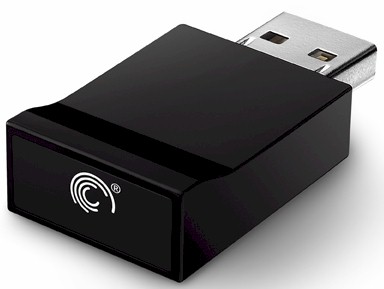 Figure 7: Seagate FAT+ wireless adapter
Since wireless isn't a good way to go for HD streaming, I didn't use the wireless adapter for any testing. The built-in 10/100 Ethernet port was my choice of network connection.
Feature Tour
Seagate kicked the FAT+ loose last fall, but recently released version 1.55 firmware that includes numerous tweaks and some new features. Here's the list, courtesy of my Seagate PR person:
Added YouTube, Mediafly, vTuner support
UPnP/DLNA compliance
Interoperability with PlayOn media server software, making it easy and affordable to watch Internet video on FreeAgent Theater+ — including Hulu, Netflix, YouTube, Amazon VOD and more — on the TV
DivX Plus™ HD Certification, playing all DivX video up to 1080p HD, including DivX Plus HD video (MKV/H.264)– even HD files downloaded from the Internet.
Improved Theater+ status messaging when indexing content, updates available, connected devices
Improved MP3 cover art tagging
Added Motion JPEG and multi-compression PNG file support
Improved User Interface and Additional Features including:
o Redesigned homepage view and better access to internet applications, connected devices, network, and media servers
o Redesigned thumbnail view for easier browsing of movies, pictures and music
o Skip forward option when watching videos to jump forward by 20 minute intervals
o Ability to create screensavers using personal photos
o UTF 16 character support
o Ability to scroll faster allowing to skip 1000 items at a time
o WMA Pro audio support, latest and most flexible Windows Media audio codec available
Seagate actually gave me this list back in February. But it took until a few weeks ago to finally get the new firmware posted. It appears that the delay was due to the addition of Netflix support, as you can see in the Home page shot below in Figure 8. (I apologize for the quality of the screen shots, which had to be taken with a camera.)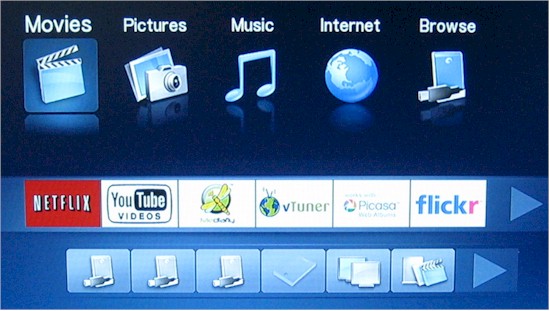 Figure 8: FAT+ Home screen
The FAT+ User Interface isn't the worst I've seen. But it pales next to offerings like XBMC, Boxee and even Windows Media Center. Some of the color choices aren't helpful (most notably the on-screen volume indication) and there is a distinct lack of, uh, pizazz.
The three areas of the screen are Links to the main screens (Movies, Pictures, Music, Internet, and Browse), shortcuts to Internet services and shortcuts to the devices that are connected to your media player directly or via your network.
There is also a Main Menu that is opened via the remote's Menu button that also provides shortcuts to the main screens. The Menu button will also show context-sensitive submenus for some screens, as shown in Figure 9.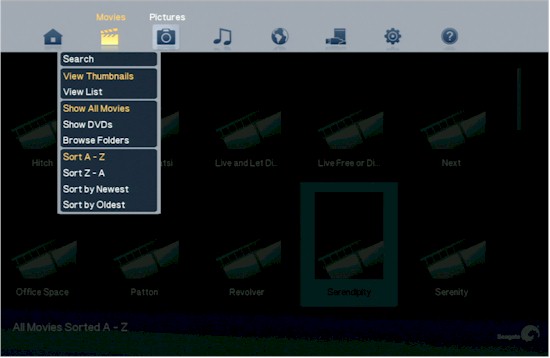 Figure 9: Submenu summoned via Menu button
One important thing to know about the FAT+ UI is that it treats content on local (attached) drives and networked sources very differently. Seagate provided the driveless version of the FAT+ for review. So I started to check it out using media stored on a QNAP TS-109.
I quickly found that none of the network-sourced content could be found under the Movies, Pictures or Music main screen selections. The only content you'll find under those menus must be located on local drives, which will be indexed automatically when they are attached.
I assume that re-indexing also happens automatically when local content is changed, since I could find nothing in the Settings menu to control this. And while you do get an on-screen indication that indexing is running, it's not a progress indicator. So if you have a lot of content on your drive(s), indexing could take quite a while, but you'd have no idea how long.
You can start to browse the local and network filesystems by clicking the Browse icon on the Home screen, which will bring you to the screen shown in Figure 10.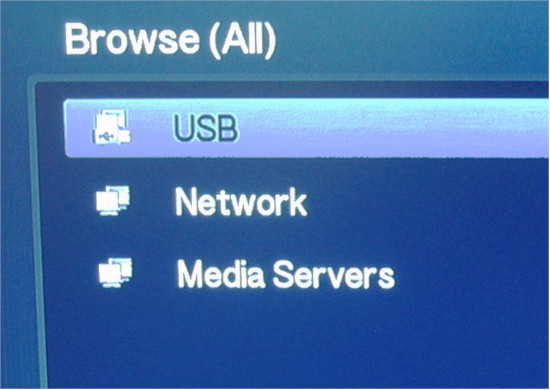 Figure 10: First Browse screen
Or you can instead go right to SMB network shares or UPnP AV / DLNA media servers via the two right-most icons in the bottom row of the Home screen. The ability to directly browse network shares is a plus, since UPnP AV / DLNA implementations vary widely. So if you find that the FAT+ doesn't play nicely with your NAS' media server, you can still get to the content.
Figure 11 shows the top-level screen for the TwonkyMedia UPnP AV server on the QNAP.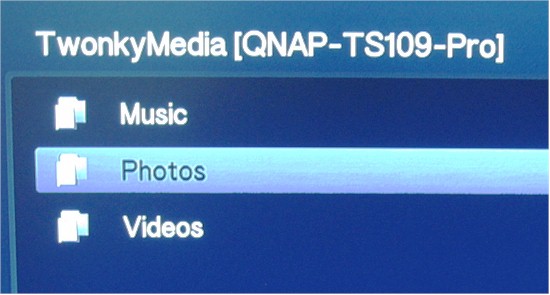 Figure 11: Media server top browse screen
Unlike the WD TV boxes, the FAT+ doesn't allow you to perform any file management duties while browsing, i.e. you can look, but not add or delete files.
Pictures
The Pictures feature by default ignores folders and displays auto-generated thumbnails for everything that it finds on local drives (Figure 12). You can change the view via the options shown by pressing the Menu button. But selecting Browse Folders dumped me at the top level of the local file browser. And since I had three thumb drives attached (unhelpfully labeled C: D: and F:) it took me awhile to find my way to the desired folder.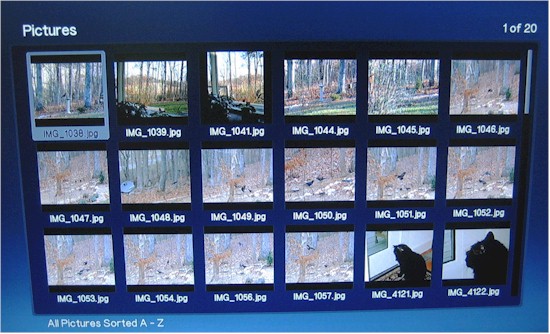 Figure 12: Thumbnail view for locally stored Pictures
You can change the default A-Z sort and the FAT+ will remember it. But I wasn't able to change the default-to-all-thumbnails view.
If you have your photos on a NAS or other network share, you can't get a thumbnail view. Instead, you just get the list view shown in Figure 13. Note that the complete path to the current folder is shown at the bottom of the screen.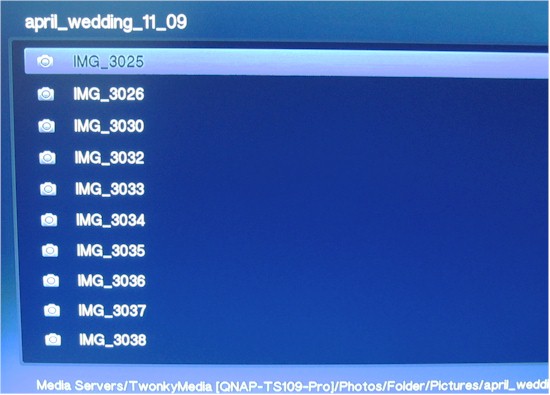 Figure 13: List view only for networked pictures
The FAT+ handled auto-rotation of images just fine and you don't need to access the submenus to zoom in and pan around pictures, since there are handy buttons on the remote for that.
If you need to rotate a photo, change the slideshow timing, transition effect or loop mode, though, the options are there via the Menu button. You can choose among seven slideshow transition effects or an eighth All Effect Shuffle mode. Most everything except the Crossfade Effect wasn't my taste, however. I only looked at JPG files, but Seagate says the FAT+ handles BMP, JPEG (up to 20 megapixels) PNG, GIF and TIFF formats.
Maybe it's me, but I have a hell of a time starting slideshows on media players and the FAT+ was no exception. Clicking on a picture displayed a Play arrow icon, so you'd think that the slideshow would be underway. But after staring at the same picture for more than the two minute maxium slideshow timing, I decided to press the Play button on the remote. This, of course, flashed a Pause icon, which was news to me that I'd been watching a slideshow.
A trip to the submenu and selecting a 2 second slide timing seemed to get things going, however (after an additional press of the Play button). But I found that if I changed my mind and hit the Back arrow on the remote while in the Slide Timing menu, I got thrown back to the thumbnail view and not the point in the "slideshow" that I had been at. My slide timing didn't appear to be remembered after I left the slideshow, either.
You can have music with your slideshow if you like. But only if you start the music before starting the slideshow.
Music
The FAT+ Music feature is similar to Pictures in the way it treats local and network files. The default view dumps all of your music into a single view, with cover art shown for each song. If you change to a more useful Album listing, you lose the cover art and get generic icons instead (Figure 14).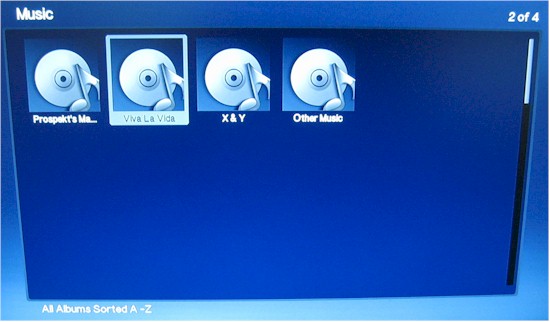 Figure 14: Music Album view for local files
Figure 15 shows the rather plain Album view when browsed to files served up by the TwonkyMedia server on the QNAP NAS.
Figure 15: Music Album view for Media server
PLS, and M3U playlist formats are supported, neither of which I tried. AAC, MP3, Dolby Digital, DTS, ASF, FLAC, WMA, LPCM, ADPCM, WAV and OGG formats are supported. I tried only no-DRM M4A iTunes and MP3 files, both of which played fine.
Figure 16 shows the Music play screen for a local file. Playback from a SMB share or UPnP AV / DLNA server would look the same, but with a generic icon in place of the cover art.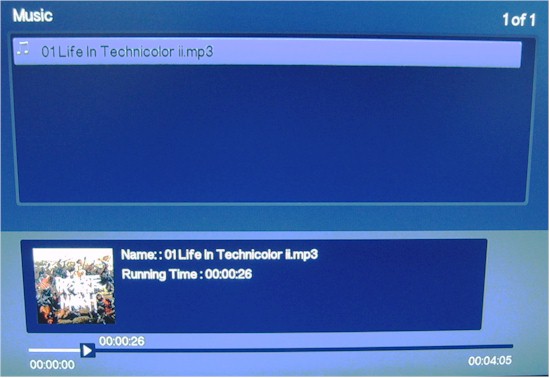 Figure 15: Music file playing
If you have a plasma flatscreen, you might need to be careful with extended music sessions, since the screensaver never kicked in and you don't get any synchronized lightshow effects as you do with more sophisticated media players.
Movies
My real hope for the FAT+ was as a video player, both for the little M-JPEG videos I've started to shoot with my Canon digicam and, more importantly, Internet content. My first disappointment, however, was that the FAT+ doesn't use its attached drives for buffering.
I really appreciated this feature on the much-more-expensive NETGEAR EVA9150, which could produce smooth HD video with even the crappiest wireless connection. With so many people not having an Ethernet connection next to their entertainment centers and having to rely on wireless, powerline and even MoCA networking, you would think that manufacturers would wise up. But the the EVA9150 is the only player I've seen that has smart and effective buffering, that is, besides Roku's great little players
. And Roku's players don't even need an attached hard drive!
Movies navigation works mostly the same as for Pictures and Music. But you can't get a thumbnail or poster art for either local or network-based files. All you get are generic icons as shown in Figure 16.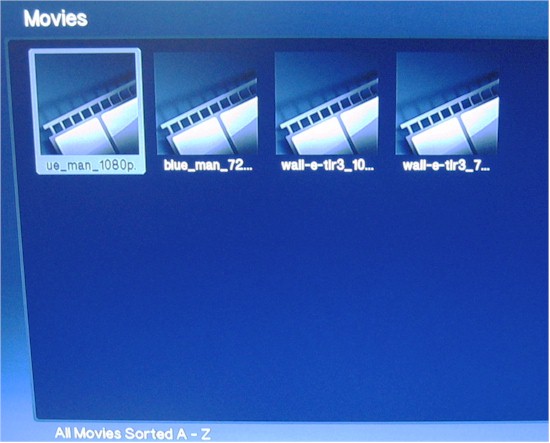 Figure 16: No eye candy for movie files
Seagate says the FAT+ will play this impressive list of formats: MKV; AVI; DivX; DivX HD; RMVB Real Media; WMV9; VC-1; MPEG-1; MPEG-2 (VOB/ISO); MPEG-4 (Xvid); Xvid HD; MOV; AVC HD; H.264; M2TS and TS/TP/M2T. But as anyone who has mucked with media players knows, the only way to really know whether a player will play is to try it.
My video file collection consists mainly of 720p and 1080p Quicktime movie trailers, M-JPEG / AVI files from a Canon digicam and a few other test format files. Two much more expensive NETGEAR players (EVA8000 and EVA9150) that I tried were not able to play the M-JPEG files. But I'm happy to report that the FAT+ had no problems with them. Note that Jim Buzbee reported that the WD TV players could not play his M-JPEG files.
The FAT+ isn't perfect, however, and had trouble playing 1080p files. The screenshots in Figures 17 and 18 show the same downloaded Apple movie trailer, played from the QNAP NAS.
Figure 17: Quicktime movie trailer @ 720p
There is no pixelation in Figure 17, but there is in Figure 18. I also tried this experiment with the files played from an attached drive, with the same results. So it seems that if you want flawless HD playback, you'll need to stick with 720p / 1080i files.
Figure 18: Quicktime movie trailer @ 1080p
"Trick" modes (fast forward and reverse) worked well enough. Fast forward up to 2x still keeps the audio track on, but it's muted after that up to the 32X max. Reverse didn't work as smoothly, however, most times jumping all the way back to the start after briefly moving jerkily backward. Slo-mo forward and reverse is also available if you use the fast foward / reverse remote buttons when paused. If you stop playback, then later restart, the FAT+ picks up from where you left off. But if you want to set a "bookmark" yourself, there is no way to do it.
I have a test DVD ripped to a folder, so I loaded that up to see that the FAT+ would do. With the folder on a USB drive, selecting Movies showed only .IFO files. When I clicked on VIDEO_TS.IFO, I got the usual FBI warnings and then found myself at the DVD top menu, where I could select content to play.
Pressing the Menu key during DVD play paused the video and showed DVD Menu, Subtitle and Audio options, which all seemed to work. So it looks like you can play ripped DVD's. But selecting Show DVDs from the submenu you get after selecting Movies didn't show the DVD in my ripped folder. And the User Manual provides no guidance on the format to use for a ripped DVD to get it to properly display when using the Show DVDs option.
There's one other oddity that I ran into that you should know about, the Browse feature's file type modality, with the mode being very sticky. I found this out when I at one point used the Browse Folders submenu option when looking for music to play. When I later went to test video play, none of the video files would show whether I browsed Media servers or network shares.
I finally clued to what was going on when I noticed (Music) on the initial Browse menu, instead of (All) as shown in Figure 10. Once I accessed the submenu on that screen and selected Show All Media, I was able to find my video files again! Note that neither pressing the rear panel Reset button or using the Reset to Defaults menu option reset the mode. But I don't think either of these methods really work, since my Netflix access was also not reset after either action.
Internet
Most inexpensive media players now come with access to a (mostly unwatchable) smattering of Internet-based content and the FAT+ is no exception. Its saving grace is that it now can play Netflix Watch Instantly content, but I'll get to that shortly. Figure 19 shows what's available.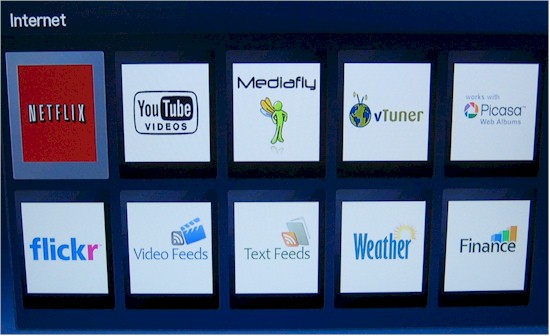 Figure 19: FAT+ Internet content options
Figure 20 shows what browsing these content providers is like, using Mediafly as an example. You don't get anything other than the left hand menu when first clicking into most of these services. You have to go a few menu selections in to get anything remotely interesting and, even then, it's usually in the form of text links. flickr is the exception, which provides a random selection of images to browse through.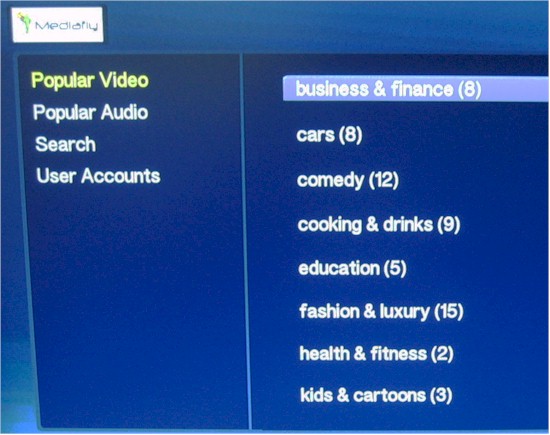 Figure 20: Browsing Mediafly
The Weather app (image here) isn't particularly visually interesting and comes with preset "favorites" for a few major U.S. cities, along with the ability to add your own. The Finance app (Figure 21) is interesting in that it refreshes all of the prices every five seconds. I was surprised to see that Seagate hadn't already entered their stock symbol as a favorite!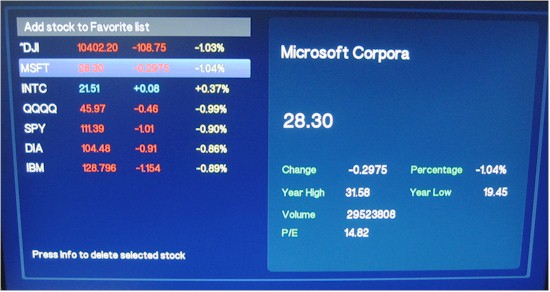 Figure 21: Finance app
The Video Feeds app has the most interesting content. The selections in the Business & Technology section are shown in Figure 22 and include some of the usual Revision3 content that seems to be included on all players I've seen lately.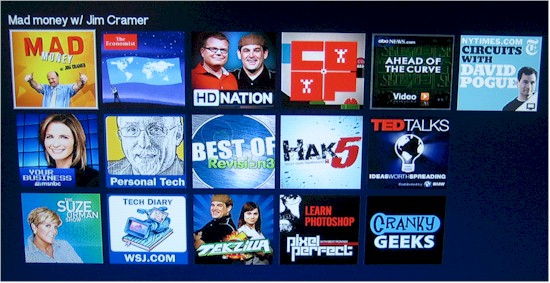 Figure 22: Video Feeds – Business & Technology
But I was surprised to find evening newscasts from Fox, NBC, CBS and ABC in the US News section along with other programs from these sources. On the other hand, the World News section was sparse, with lots of German content and no BBC.
Also disappointing is that there is no way to add your own feeds to either this or the RSS Text feeds. Pickin's are slim in the latter, with only three links for CNN, NPR and BBC.
Video quality varied. Network newscasts were particularly crappy, but Revision 3 programs were clear and very watchable. I'm so spoiled by Netflix' Watch Now quality on even standard-def content, that I find it hard to watch fuzzy, YouTube quality stuff.
By the way, the only HD content in the Video Feeds are Earth-Touch.com marine and wildlife video podcasts. But neither could play without constantly hesitating. I also asked Seagate about this, and was told this is a known problem that will be fixed in an upcoming firmware update (release date unknown).
Note that when navigating through all the Internet apps, you need to go slowly because there is no on-screen or audible indication that tells you that the FAT+ has "heard" your command.
Netflix
Speaking of Netflix, the FAT+ has the same interface as Roku's players currently do, where you can only browse and watch content that you have put into your Watch Instantly queue by visiting the Netflix site (Figure 23). But since Roku's Netflix players will be getting an upgrade before the end of this month that will allow browsing and playing all Watch Instantly content, the FAT+ interface will shortly need a similar update to compete.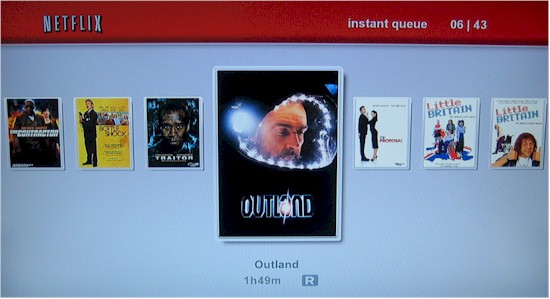 Figure 23: Netflix queue
Given the FAT+' ability to play 720p content, I expected to be able to watch Netflix HD content in its full "HD" mode, as I do on my Roku box. But the best I was able to get the FAT+ Netflix app to do was three dots (out of four), using an Ethernet connection.
When I saw only three dots, I immediately queued up the same content (a 30 Rock episode) on the Roku player and got an HD stream. But when I restarted the stream multiple times on the FAT+, the best I ever got was the three dot stream. I asked Seagate about this and when I hear back, I'll update this.
Internet TV
Since the FAT+ has no built-in Internet TV access, I thought I'd pair it with MediaMall Technologies' PlayOn. PlayOn is a combination of Internet content aggregator and media server that should be able to work with any media player that can access a UPnP AV / DLNA server.
I have PlayOn running on an Acer Aspire 1810T netbook, which, according to PlayOn's built-in metrics can has enough processing oomph to provide the highest-quality video that PlayOn can produce.
I haven't yet found a media player that takes PlayOn's content indicies and processes them into anything remotely as attractive or useful as what Boxee or Windows Media Center produces. Instead, you have to navigate level after level of folders until you finally ferret out the content you're seeking.
If you have accounts set up with Hulu, anything you've subscribed to there will show up in PlayOn's User Queue folder. But otherwise, it's a slow slog through folder after nested folder.
Once I got to the desired content, play quality was generally not bad—softer than OTA / cable / satellite HD, but sharper than most of the FAT+' built-in Internet content (Figure 24).
Figure 24: PlayOn example
So if you have a networked Windows machine with enough processing power to render video at PlayOn's highest quality level and are willing to pay PlayOn a yearly fee, the FAT+ can bring a lot of professionally-produced Internet video and movie content to the comfort of your living room.
Closing Thoughts
The FAT+ is by no means perfect, but it's a hell of a media player for only around $100. It's certainly better behaved and easier to use than the NETGEAR EVA8000 that took up way too much space in my media center cabinet for a year or so.
Folks who insist on watching HD video in its full 1080p glory will want to take a pass, since the FAT+ doesn't seem quite up to the task. But if Internet quality / 720p / 1080i HD is more your speed, then the FAT+ should serve your video-watching (and photo slideshow and music-listening) needs quite nicely if you're on a limited budget.