Introduction

At a Glance
Product
UEBO Wi-Fi Media Player (M400)
Summary
HD networked media player with extensive format support and user-installable hard drive
Pros
• Low cost
• User-installable drive
• Large feature set
• Wide video format support
Cons
• Buggy in spots
• No native Netflix support
• Noisy fan
• Spotty metadata handling
If you're looking to bring digital music, movies or photos into the living room, you've got a lot of choices when you're shopping for a player. Compared to just a few years ago, these little multimedia boxes are getting popular, powerful and more reasonably priced.
In this review, I'm going to check out one these players, the M400 from UEBO. This little box, retailing in the $175 range, promises to play anything you throw at it, including HD video, ripped DVDs, numerous audio formats and more. And it advertises the ability go online for even more content including favorites such as YouTube, Internet radio stations, photo-sharing sites, video podcasts and anything you can view with its own on-TV web browser. And if that's not enough content, you can purchase a subscription to PlayOn, install a server on your local Windows system and this box will give you access to biggies such as ESPN, CNN, NetFlix, Hulu and more.
Setup
Figure 1 is the back panel of the M400 where you can see the various options you'll have for hooking it up to a TV.

Figure 1: uebo M400 Back Panel
HDMI, component and composite connections are shown on the left along with standard RCA analog stereo audio jacks. For digital audio, in addition to the HDMI you can choose between optical and coax. Along with the Wi-Fi antenna (802.11g) you'll also notice a Gigabit Ethernet port for wired use.
At the far right, you can see the opening for a fairly large fan. Unfortunately when in use, the fan was noisy enough that I noticed myself turning the volume up on the TV to mask it. You can't see it in this photo, but on the right side there are two USB 2.0 ports, one USB 3.0 port, plus a slot for an SD card. If you are going to use your own external drive, formats of FAT, FAT32, NTFS, EXT3 are documented as supported, but I also found an HFS drive formatted for use on my Mac also worked fine.
For internal storage, the M400 has the ability to use a dedicated user-supplied SATA drive for content. Figure 2 shows the bottom opened up for drive installation.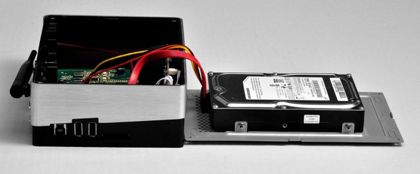 Figure 2: uebo M400 Drive Installation
Looks easy enough, but it was a bit of a pain getting the screws back in place as metal shields inside slide around, and the white cables shown above on the right of the box leave very little room for the drive to move into its proper position.
Figure 3 shows the remote for the unit.

Figure 3: uebo M400 Remote
The remote worked well enough, but it's not backlit. So if you plan on using it in a darkened, room you might have problems.
When the device was up and running, I measured the power usage with no internal drive installed as 7 W vs. 14 W with an internal drive in use. When powered off, the unit shut all the way down so there was no measurable power usage and the fan was finally silent.
Besides the annoyance with getting a drive installed, setup for this box was fairly straightforward. I connected it to my TV, plugged in an Ethernet cable, powered it up and was presented with the top level menu as shown in Figure 4.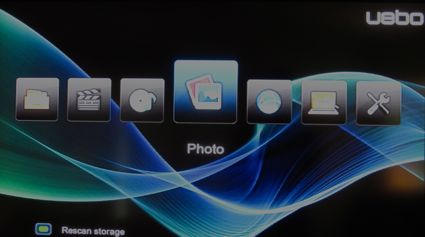 Figure 4: uebo M400 Main Menu
In general, the user interface for the box was well done with attractive graphics and fluid interactions. But there were warts. The M400 has a number of on-screen messages that display on top of the UI. These messages look more like engineering debugging messages rather than relevant consumer information message.
For example, when fetching content across the network, I'd always get a "Testing Network Speed" message followed by a speed readout in "Kbits/sec". And every time the box powered on, I'd see a "Starting NAS" message followed by a "Restart NAS" message. These are interesting to me as a techie, but likely not relevant to most users.
Feature Tour
To get going with the M400, the first item I checked out was the system setup menu to see what options were available. Figure 5 shows the Setup menu.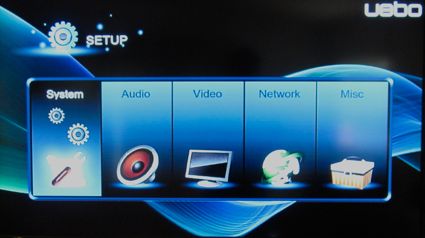 Figure 5: uebo M400 Setup
There are a lot of options available in these menus and I won't cover them all, but I'll touch on a few significant ones. As expected, you have the ability to set up the standard network parameters, configure the menu language, format the internal drive, set a drive spin-down time, etc.
The M400 has a very nice screensaver that can be configured in the setup menu. Where most of these products just resort to bouncing around a logo (and that's the default for the M400 too), uebo gives you the ability to select a photo directory for random playback with cross-fade between photos along with a zooming Ken Burns Effect. If you're not satisfied with the look of the background image seen in the images above, you can also use the setup menus to select your own image.
These menus are also where you'll configure the wireless capabilities if you don't have Ethernet handy in your entertainment center. I found setting this straightforward as well. Figure 6 shows the result of a wireless site survey the M400 performed during setup.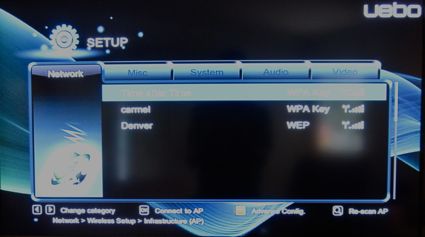 Figure 6: uebo M400 Wireless Site Survey
After the M400 performed the site survey, I selected my access point, entered my password, let the box verify it and I was online. The only painful part of the process was using the remote to enter my password via an on-screen keyboard display. The M400's 802.11 b/g/n (2.4 GHz band only) radio supports WEP, WPA and WPA2 wireless security as well as Wi-Fi Protected Setup (WPS).
A few other interesting configuration items in the menus include turning on a FTP server, a Windows file server, and a UPnP A/V server so you can serve content to other devices on your network.
I played with the file-serving capabilities a bit just to move content over to the M400. It worked well enough from my Mac and a test Windows box. I could mount and copy files to both the internal drive and a USB drive I had plugged in. But you probably won't use the M400 as a full-time network file server because when you hit the power button on the remote, you'll be taking the file server down too.
The FTP server worked as expected for moving files around, although it seemed to require having an internal drive installed and not just a USB drive. I also played a bit with the UPnP A/V server by using my Android Cell phone as a client. Figure 7 shows a screen-dump while I was streaming music from the M400 to my phone.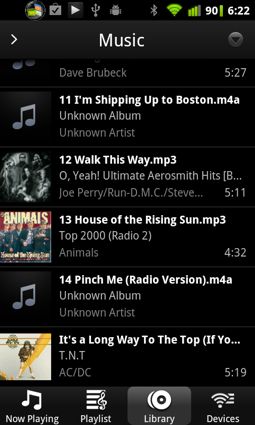 Figure 7: uebo M400 UPNP Client on Android Phone
This worked well enough, but much of the experience will be dependent on the capabilities of your UPnP client. My Son's PS3 was compatible with the server on the M400. It automatically found the device on the network and he was able to view movies that it was serving up.
If you're starting to get the idea that this little box has a lot of features, you're right. I haven't even left the setup menu yet!
Music
In general, the way the M400 works is that upon startup, all available drives are scanned and cataloged for music, movie and photo files. Figure 8 shows the Music submenu after it has cataloged a handful of music files that I put on the system.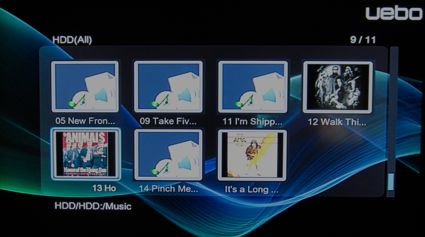 Figure 8: uebo M400 Music Menu
As you can see, recognition of album artwork (and the rest of the music info such as artists, album etc) related to songs is spotty. On my Mac where these files originated, everything shows up with artwork and metadata. As far as support for music, a wide range of file formats are advertised: MP3, OGG, WMA, WAV, AAC, and FLAC. In my case, I tested MP3 and AAC and had no playback issues. Figure 9 shows the display while music is being played.
Figure 9: uebo M400 Music Playback Menu
Of course, no files with DRM restrictions will be playable.
Photos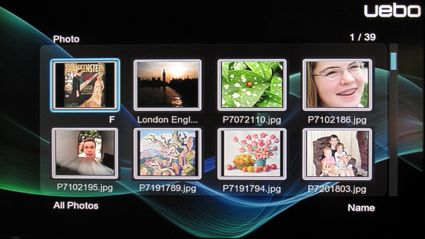 Figure 10: uebo M400 Photo Selection
Photo support is basic and done well with various slide-show options including time to display, transition style, and background music to play while the slideshow is in progress. Formats of JPG, BMP, GIF, TIF, PNG are supported.
Video
Figure 11 shows the Video selection screen after I had selected "Movies" from the top-level menu.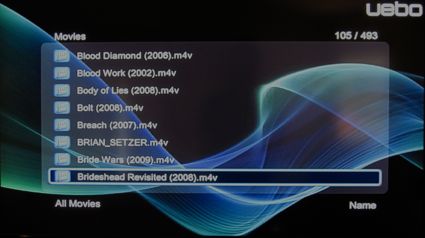 Figure 11: uebo M400 Video Selection
In this case, I had changed the display format from "Thumbnails" as seen in the previous menus to "List" as all of my movies were showing up with just a default icon rather than anything meaningful, and it was is a lot slower to scroll through the thumbnail menu rather than the list menu. If you have an image file with the same base name as the movie file, it will be used as the Thumbnail so you can pretty up the display a bit if you don't mind the slowdown.
There's also a third option for menu display, "Preview". In this mode, pausing on a title causes the movie itself to start playing in a little window by the side of the list. This wasn't very useful as it was too slow to start up and then depending on the movie, it often took 30 seconds or more to get past the opening title sequence and credits to actually see a preview of my movie.
What you won't get in any of the menu styles is what I miss most when using the majority of these boxes: metadata. There's no info such as title, actors, year, genre, synopsis, director, etc. Instead you're limited to browsing a flat list of filenames, so hopefully you have recognizable names for your movie files. If you navigate into your movies via the top-level "Files Manager" menu instead of the "Movies" menu, you'll maintain your original directory structure so you can arrange collections of movies yourself to help menu navigation.
So how well did the M400 do playing video and did it live up to its billing of being able to play everything? Almost. I had a few playback failures with old MPEG1 files and a MJPEG video from an old camera also failed. One time I had a playback failure that caused a complete reboot of the box. But for the files that I really cared about, it did fine.
I was impressed that it was able to play a 1080p m2ts Blu-Ray rip including extras such as alternate audio and subtitles. And it was also able to play ripped DVDs with full menu support. All of my recent H.264 rips played without a hitch as did older mpeg2, DivX, XviD and WMV files. I will note that I got poor playback trying to play the same Blu-Ray rip when accessing it across a wireless network via a CIFS share (accessed from the "Files Manager" menu). No real surprise there, as it was a huge, high-resolution file weighing in at a hefty 24GB.
And what about "trick modes" such as fast-forward and reverse? This was a bit of a mixed bag. Like most of these boxes, reverse play is more of a jump backward instead of the smooth scroll you're used to seeing on a DVD. Fast forward worked well until anything above 4X and then it started having to do a combination of scroll forward followed by a jump to catch up. This made it a bit hard to navigate to a particular place in a movie. Once while playing with the trick modes heavily, I got the box in a state where the movie would refuse to un-pause forcing me to stop and restart. Fortunately, the M400 has a nice feature that remembers where you left off and gives you the option of resuming.
Online Features
If you're interested in accessing online content, the M400 has a nice set of features. Figure 12 shows the Internet Media with content options.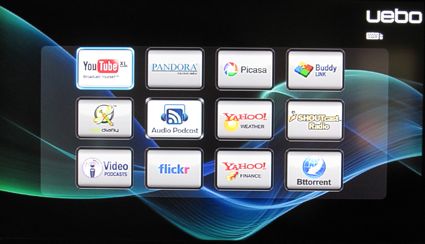 Figure 12: uebo M400 Internet Media Menu
From this menu you can see various services that can be accessed from the M400. I won't go into them all, but will touch on a few and note that most seemed to be pretty well done and appear to be custom applications rather than just a web-interface to an online server.
The YouTube feature worked well. Figure 13 shows a YouTube playback.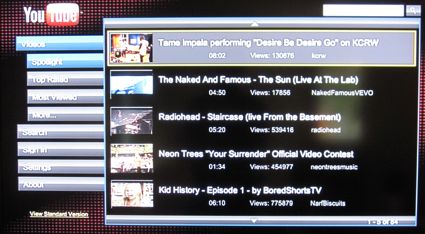 Figure 13: uebo M400 YouTube
For whatever reason, I couldn't seem to get logged into my Pandora account, but I did play a bit with the Picasa capabilities. Figure 14 shows the Picasa menu after I had logged in to my account.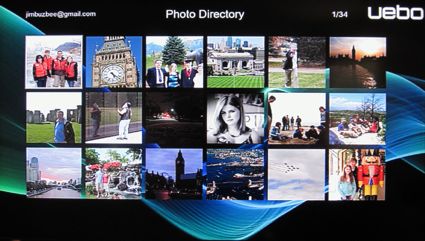 Figure 14: uebo M400 Picassa Support
Picasa photo display worked the same as the standard photo display including photo transitions and background music. And speaking of music, the Shoutcast feature worked well and let you listen to Internet radio stations. The flickr application was similar to Picasa, except there was no user login. So you either searched for photos or just viewed featured photos. I did note at one point that the screensaver failed to appear while I was in one of the online menus, so be aware if you have a TV that is susceptible to burn-in.
It's not found in the Online menu, but one specifically advertised feature of this box is the inclusion of a web browser so you can browse the web on your TV. I've seen other boxes with this feature and it's always been kind of lost on me. It works, but trying to operate a web browser using just a remote is so awkward that you'd only really use it as a last resort. Figure 15 shows viewing of SmallNetBuilder.com on the M400 web browser.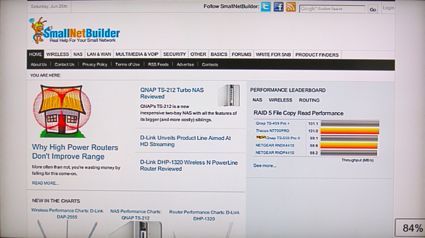 Figure 15: uebo M400 Web Browser on the TV
Rendering of this page doesn't look too bad. I didn't spend a lot of time with the browser specifically because it was awkward to use and it was also quite slow. I'll note that I did try to use a USB keyboard to ease the typing of URLs, but it only partially worked. It appears as if many of the regular keys had been mapped to some other function so trying to type started bringing up random M400 menus and navigating the box away from the browser. If you do want to use the browser a lot, you can save your favorites for easier access.
One glaring omission from the Internet Media menu is a feature that a lot of competing multimedia playing boxes have: Netflix. You can get Netflix content on your M400, but you'll have to take a roundabout way to get there by utilizing PlayOn.
PlayOn
PlayOn is a commercial subscription service that is designed to allow you to view "premium" content on your multimedia device. To get it going, you'll need to install a server on a co-located Windows PC (sorry Mac users!) and then that server will stream content to your M400.
Once this is up and going, you can view your Netflix content and Hulu, CBS, ESPN, Netflix, CNN plus a couple of dozen others. Prices for Playon start at $5 a month. Figure 16 shows the main Playon screen as seen from M400.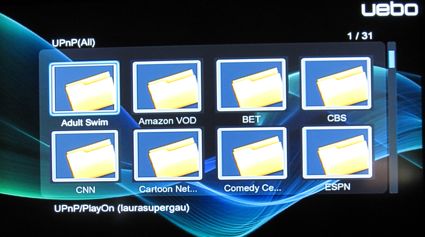 Figure 17: uebo M400 PlayOn Menu
If you look closely at the menu, you can see that the PlayOn content is served up through the UPnP capabilities of the box. And like other UPnP sources, navigation through the tree of content was usable, but a bit cumbersome when you're trying to find a particular movie or episode of a TV show.
As far as content, it was a bit hit and miss with only select episodes available from the various providers. This type of service might be the future, but just like Tim, I don't think I'll be canceling my TV service just yet.
Under the Covers
If you're interested in seeing what powers this box, we'll have to dig in a bit. Figure 17 shows the mainboard of the M400.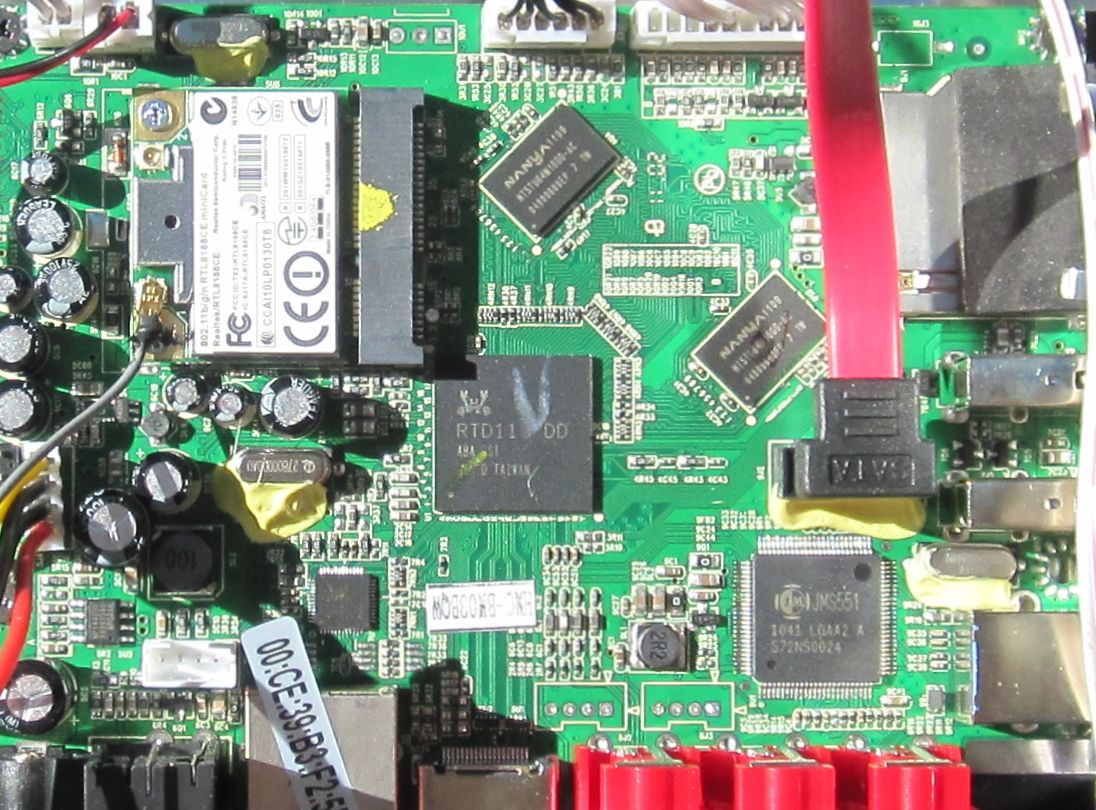 The main processor is a highly integrated SoC by RealTek in the RTD11 family. You can also see that the WIFI support is provided by a RealTek in the form of a RTL8188CE 802.11 b/g/n (2.4 GHz band only) mini card.
To see what software was running on the box, I had to do a little bit of investigation. One of the first things I do when I get a new device on my network is scan for open ports. In the case of the M400, one I noticed off the bat was a Telnet port.
I first tried and failed to log in using the account I had set up for FTP access. Since this known account didn't work, I wasn't sure how I would get in. But then I tried the obvious "root" account, and got it – no password required. Oops. If you're worried about protecting your content on the M400, be aware as the root user can read and write anything.
Once I logged in and started poking around, I found a fairly typical embedded box. The M400 was running a Linux 2.6.12.6 kernel. The Linux kernel reported the device system-type to be a "Realtek DMP/Jupiter" with a MIPS processor. There was 256 MB of RAM installed and the basic utilities were based on busybox. The UPnP server was MediaTomb.
Closing Thoughts
If you want to take the plunge and invest in a networked media player for your home, the M400 isn't a bad choice. I appreciated its ability to play both ripped DVDs and Blu-rays with support for the extras such as alternate audio and subtitles. I enjoyed the nice slideshow capabilities and could see myself turning it loose on a big directory full of photos while simultaneously playing a carefully chosen music soundtrack.
For connectivity, the built-in 802.11 b/g/n Wi-Fi will be appreciated for those people who don't have Ethernet handy in their entertainment centers. And the many supported file transfer protocols will ensure that you can get your content to the box some way.
But as noted in the review, there are downsides. The noisy fan was a definite problem for me and the metadata problems would make easing this box into the family room a tough sell to your non-technically inclined significant-others. Given the popularity of Netfix streaming, a deal-breaker for many people is going to be the lack of a native client. If you're into Netflix, and want to use the M400, be prepared to run a separate server and pony up some cash for PlayOn on top of what you're already paying Netflix. This is in contrast to a similarly-priced multimedia player I reviewed awhile back, the WD TV Live Hub.
Comparing the two, along with the native Netflix client, the WD TV Live Hub also included a 1TB drive. Wi-Fi for the WD was an add-on, however. So depending on your needs, the prices could even out. Another plus for the WD was better support for metadata. For sure, there were definite flaws in the WD's implementation. But at least there was an attempt to bring in movie artwork and additional data such as synopsis, actors, director, etc.
In the end, neither of these players were terribly polished. But given my own usage patterns, if I had to choose between the two, the WD Live Hub would be the one sitting in my entertainment center.