This article is sponsored by NETGEAR.
---
Wi-Fi extenders have come a long way since the days of low speed, single band models that were hard to set up and often didn't get the job done. Today's products like NETGEAR's EX7300 Nighthawk X4 WiFi Range Extender cover both 2.4 and 5 GHz bands, use 802.11ac technology for Gigabit speed and support MU-MIMO that enables simultaneous streaming to multiple devices.
However, even the best of today's Wi-Fi extenders suffer from a common limitation, the need to share the extender's radios between connecting back to the router being shared and out to the devices the extender is trying to reach. The resulting competition for bandwidth often results in devices getting lower-than-expected speed, especially when extending today's high-bandwidth fiber and cable internet connections.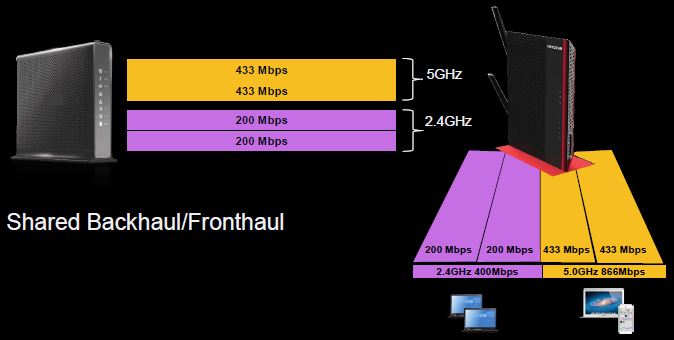 But no more.
NETGEAR has taken the Tri-band technology in its award-winning, best-selling Orbi Wi-Fi Systems and created the EX8000 Nighthawk X6S AC3000 Tri-Band WiFi Range Extender. The EX8000's advanced FastLane3 technology uses a dedicated high-bandwidth link between router and extender to create the world's fastest WiFi extender that works with any router. So if you're happy with your current router or can't change it, you can still use the EX8000 to improve Wi-Fi coverage and speed.
The EX8000's dedicated 4×4 5 GHz radio automatically adapts to any router's 5 GHz capabilities, from entry-level 2×2 AC1200 up to top-of-line Tri-band 4×4 AC5400. It extends your current network, whether it uses a single network name (SSID) or one for each band, and helps devices seamlessly move, or roam, between router and extender. The EX8000's One WiFi Name feature works with any router to provide a seamless, single SSID network.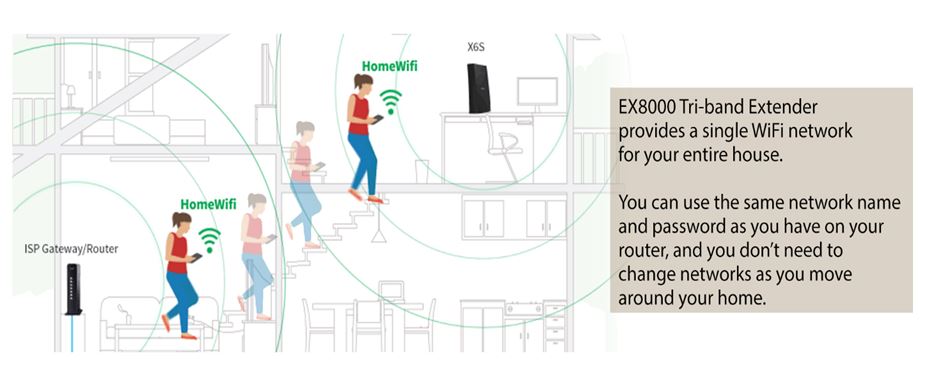 Smart-Connect band-steering monitors signal level and activity on both bands and guides dual-band devices to the best connection. If a device supports IEEE 802.11k, the EX8000 does too, sharing information with the client so it can make an even better decision about the best connection.
Although the EX8000 works best with Tri-band routers that can dedicate a 5 GHz band to the extender, it works great with dual-band routers, too. It automatically senses channel congestion on the extender link and ramps down available bandwidth so traffic is balanced between router and extender.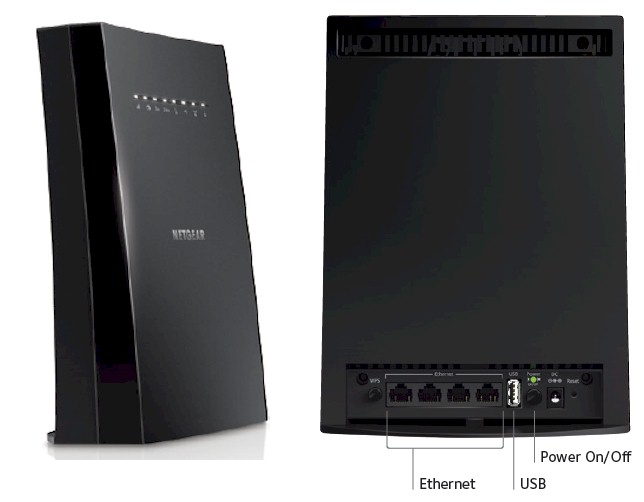 As you would expect from NETGEAR, the EX8000 also has best-in-class features including MU-MIMO support, four Gigabit Ethernet ports, Wi-Fi Protected Setup (WPS) for push-button quick secure connections and a USB 2.0 port supporting NETGEAR's ReadyShare Print.
And if you already have Ethernet where you want it, the EX8000 can be switched into access point mode to use all three radios to provide up to 400 Mbps on 2.4 GHz, 866 Mbps on 5 GHz low band and 1733 Mbps on 5 GHz high band for device connection. If you don't have Ethernet, that's ok, too. Just connect the Nighhawk X6S to a LAN port on your old router, shut off its radios and get an instant upgrade to the latest in Wi-Fi technology. The EX8000 can bring tri-band, band steering and seamless roaming with single SSID to any router you have!
Learn more about the revolutionary NETGEAR EX8000 Nighthawk X6S AC3000 Tri-Band Wifi Range Extender, right now!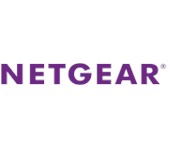 Read more about NETGEAR.