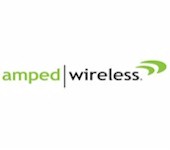 Amped Wireless has announced a simultaneous dual-band 802.11n repeater.
The SR20000G High Power Wireless-N 600mW Gigabit Dual Band Repeater bundles 2.4 and 5 GHz band repeaters into one product to extend wireless networks in both frequency bands at the same time.
Like other of Amped's top-of-line products, the SR20000G has 600mW 2.4 GHz amplifiers, dual 5.0 GHz amplifiers and two dual-band high gain 5dBi antennas.
Amped Wireless R20000G
The Extender has five Gigabit Ethernet ports for connecting devices to either the 2.4 or 5 GHz wireless LAN. A single USB 2.0 port is provided to share attached USB drives to any wireless or wired LAN devices.
Other features include four guest SSIDs per band, Wi-Fi Protected Setup, WPA / WPA2 wireless security, transmit power adjust, scheduled wireless access, MAC address filtering and detachable, upgradeable antennas (RP-SMA connector).
The SR20000G is available from Amped today for $179.99 with free shipping, one year limited warranty and 30 day money-back return guarantee.