D-Link has announced a compact wall-plugged wireless range extender.
The DAP-1320 Wireless Range Extender is a 2.4 GHz "N300" wireless repeater that works with all routers and access points, not just those supporting WDS repeating.
The extender is roughly a two inch cube with built-in power supply that can be plugged right into a wall outlet.
It supports 802.11bgn devices and features easy WPA/WPA2 wireless security setup via push-button Wi-Fi Protected Setup (WPS). It has no Ethernet port, so cannot be used as an access point.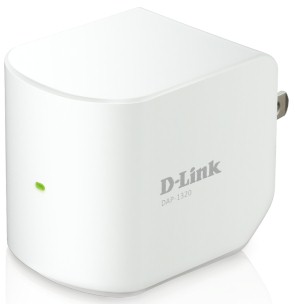 D-Link DAP-1320
The DAP-1320 is available now for $49.99 MSRP.