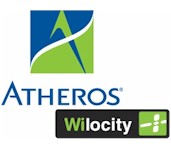 Wilocity and Atheros today announced their collaboration to build "tri-band" WiGig / Wi-Fi devices.
Atheros and Wilocity said they are jointly developing tri-band solutions (2.4 GHz, 5 GHz and 60 GHz) based on both the IEEE 802.11n standard and the new WiGig multi-gigabit wireless specification.
The first joint tri-band solutions from Atheros and Wilocity are expected to sample in the first half of 2011, with volume shipments following in the second half of next year.