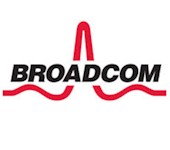 Broadcom introduced a 4×4 MU-MIMO version of its XStream Wi-Fi platform at Computex 2015.
This week's Computex 2015 show in Taipei is a forum where a lot of deals get done with the OEM and ODMs that manufacture most of the consumer networking gear you buy from better known companies like Linksys, NETGEAR and D-Link. Chipmakers want to be designed into those new products, so they typically trot out new devices at the show.
Broadcom took the opportunity to debut its 8-Stream 5G WiFi XStream MU-MIMO platform. The new platform was actually revealed at CES 2015 in the form of D-Link's DIR-895L/R AC5300 ULTRA Wi-Fi Router. D-Link may need to rename that router soon, since Broadcom's release specs a "5.4 Gbps aggregate PHY rate".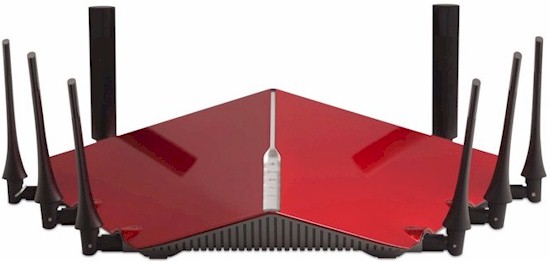 D-Link DIR-895L/R
This is not an 8×8 solution, but basically a 4×4 MU-MIMO enabled version of Broadcom's "tri-band" XStream architecture that has two 5 GHz radios, one 2.4 GHz and "Smart Connect" logic to steer low and high "speed" clients to appropriate radios to optimize total throughput.
To keep things interesting, the company also threw in non-standard "1024 NitroQAM", i.e. 1024-QAM modulation support, to push maximum 5 GHz link rates up to 2165 Mbps and 2.4 GHz to 1000 Mbps. The quoted 5.4 Gbps PHY rate comes from 2165 Mbps +2165 Mbps +1000 Mbps = 5330 Mbps with a generous rounding up to the 5400 Mbps total. There's no magic here that will achieve a 5.4 Gbps maximum link rate in any single Wi-Fi connection.
All these big numbers are intended to impress, but you won't be able to achieve them with any actual clients other than a matching router in bridge mode. Broadcom didn't announce any 4×4 1024 NitroQAM enabled client devices, not is it likely to ever do so. Mobile devices simply don't have the room or power budget to support them.
Like the original XStream announcement, today's release likes to refer to total numbers to make things look larger. The "pentacore" processor (singular) is actually a BCM47094 1.4 GHz Dual core ARM Cortex-A9 host processor plus an 800 MHz A7 CPU in each of three BCM4366 4×4 radios.
The "eight stream capability at 5 GHz" is the total of the two 4-stream 5 GHz radios. And one wonders what device will use the "4 stream capability at 2.4 GHz". At least Broadcom didn't claim MU-MIMO operation in 2.4 GHz, but that may not be far behind.
The most practical aspect of this new architecture is that it provides two methods of optimizing total wireless throughput: Smart Connect and MU-MIMO. Smart Connect can help boost total throughput today because it works with any Wi-Fi device, while MU-MIMO can help once MU-MIMO enabled devices become more widely available later this year.
Broadcom said the new devices are sampling now. But with D-Link's router already announced and nice words from NETGEAR and ASUS in today's press release, more AC5300/AC5400 routers won't be far behind. In fact, Broadcom's announcement included a "Powering routers available in Q3 2015" bullet.