Is the new wireless company an ISP, router maker or both?
It's not often a new wireless router gets big coverage from mainstream business publications and gadget sites. But yesterday's exit from stealth mode for Starry managed to do just that.
The main reason for all the coverage is that Starry is brought to you by the Chet Kanojia, the guy whose plans to beam OTA HDTV via thousands of tiny antennas by his startup Aereo were crushed by the Supreme Court in concert with cable and satellite TV providers. Mr. Kanojia has once again rounded up a pile of money to tilt at another windmill in the form of fixed wireless internet.
If routers are your hobby, Starry has a new expensive router for you to throw $350 at. The Starry Station pictured below takes a simplied approach similar to Google OnHub. Starry will handle all the nasty details of Wi-Fi and firewall configuration, displaying the results via its color touchscreen or iOS app. (The spec says an Android app and Web UI are "coming soon".)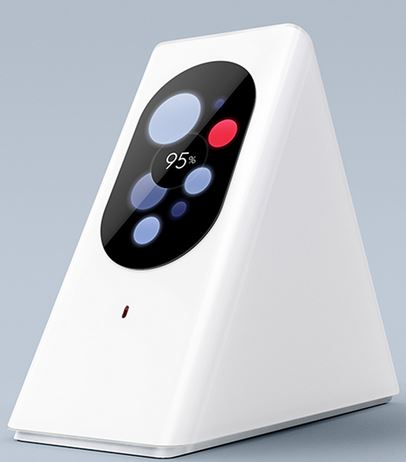 Starry Station
Starry Station's front panel seems mainly aimed at keeping you updated on the "health" of your internet connection and devices. You can also control how much internet access time devices receive.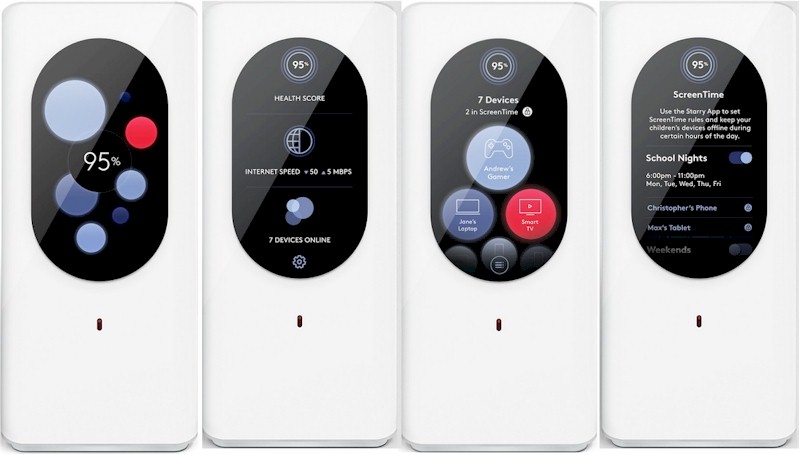 Starry Station screens
The router specs describe a "dual-band, concurrent 4×4:3 MIMO 802.11ac Wi-Fi radios" design, which I translate to AC1750 or AC1900 class, without MU-MIMO support. I checked to see if the FCC ID filings provided any information, but there are no filings yet. To me, this casts doubt on whether the Station really will ship in March, as the router reservation form promises.
Other specs include dual-core network and display processor(s), 1.5 GB of RAM and 8 GB flash, one WAN and one LAN Gigabit Ethernet ports, speaker and microphone, proximity sensor and "dual radio 802.15 ready". Since there are no USB ports to support a radio dongle, the IoT radios must be built in, waiting to be awakened, like those in the Google OnHubs. Of course the Station depends on the Cloud at least for administration and authentication, which could be a deal killer from the get-go for paranoid types.
But if you're interested in watching a company take another run at becoming a wireless broadband provider, well, Starry plans to do that, too. If you are looking for an alternative to your current nasty ISP, you'll need to live in a city; Boston first, then eventually 15 cities, including Seattle, Denver, Los Angeles, San Francisco, Detroit, and Washington, D.C.
You also need to hope Starry installs a MetroNode / Starry Beam within line-of-sight of the window where you'll need to install the SubNode / Starry Point beta pictured below. From the picture, folks with anything other than double-hung windows will need to get creative when installing the device, which is said to be user-installable.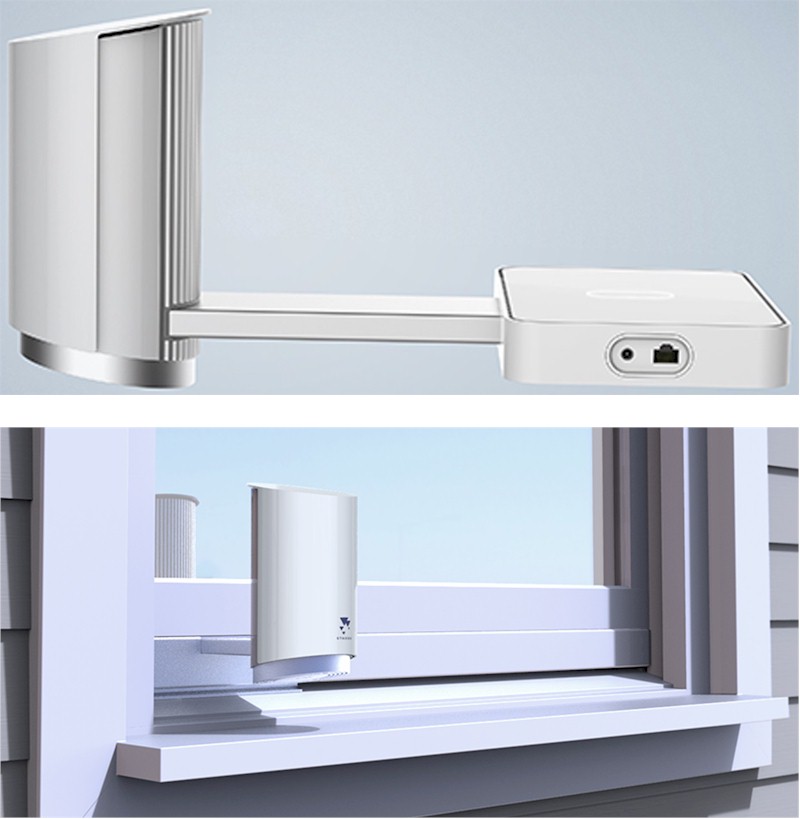 Starry Point
The Starry Beam / Starry Point pair connect via millimeter-wave wireless, which Wikipedia describes as the Extremely High Frequency (EHF) band, between 30 and 300 GHz. Starry hopes to mitigate the limited range and susceptibility to bad weather of this technology with phased antenna arrays, among other techniques.
In October, the FCC proposed new rules for spectrum use above 24 GHz. According to FierceWirelessTech, the bands in play include the 27.5 to 28.35 GHz, aka 28 GHz band, the 37 to 38.6 GHz band, aka 37 GHz band; 38.6 to 40 GHz, aka 39 GHz band; and the 64-71 GHz band (what, no aka?).
Pricing for Starry's internet service hasn't been set yet. But Joshua Brustein's Bloomberg Business piece hints at it being less than the $70 / month many of us pay now for internet service. The article also covers the obstacles ahead and history of fixed wireless internet, which has yet to find a large market.
Best of luck to ya, Starry. You're gonna need it!