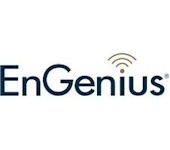 Updated – EnGenius has released four circular-format 802.11n routers.
The EnGenius ESR900, ESR600, ESR350, and ESR300 Wireless-N Pod Routers all have the same round "pod" form factor that make them look like ceiling-mount access points.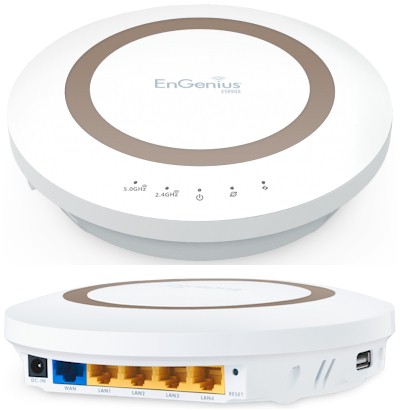 EnGenius "Pod" Wireless-N Router
Three of the four models have Gigabit Ethernet WAN and LAN ports and all have USB 2.0 ports for storage sharing.

Product
Class
Band
(GHz)
Ports
USB
MSRP
ESR300
N300
2.4
10/100
Yes
$39.99
ESR350
N300
2.4
Gigabit
Yes
$59.99
ESR600
N600
2.4 / 5
Gigabit
Yes
$79.99
ESR900
N900
2.4 / 5
Gigabit
Yes
$129.99
EnGenius Pod Router models
Other features include intelligent QoS, SPI firewall, MAC address and URL filtering and multiple SSID support.
The company also announced the ESG1005 five-port Gigabit Ethernet switch with the same circular form-factor. MSRP is $39.99 but availability is uncertain, since the switch is marked as "coming soon" on its product page.
All models are covered by a one-year warranty and should be available soon.