Updated – Google has decided to jump into the wireless router game.
Google is partnering with TP-LINK to produce its first router, dubbed OnHub. Google's blog post trumpets that it has "replaced unruly cords and blinking lights with internal antennas and subtle, useful lighting" and designed it to be put out in the open. It even comes in matte blue and black to optimize spousal approval.
Once you get past the fact that it's from Google, there isn't a lot here that hasn't been tried before when it comes to trying to make routers more appealing to women and easier to use.
Cisco tried appealing directly to women with its pastel-colored, dumbed-down Valet routers and D-Link produced a whole slew of routers whose upright cylinder format with internal antennas was supposed to optimize signal performance. And most wireless router makers have been focusing on making their products easier to install and use by simplifying installation, providing companion apps and even shipping routers with color-coded cables plugged into WAN and LAN ports.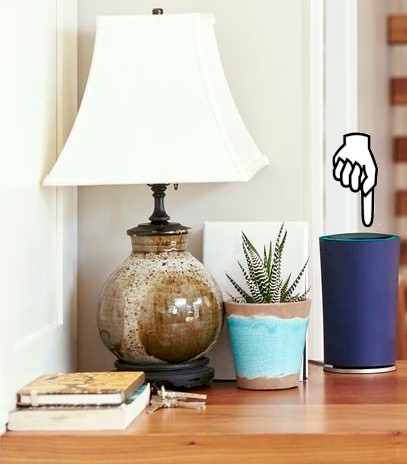 Google OnHub
But Google is trying some innovation, too, including Bluetooth 4.0 and ZigBee/Thread radios and ambient light sensor that could enable future Smart Home features, a 1×1 802.11a/b/g/n/ac radio dedicated to "congestion sensing" and "specialized reflector" for the 2.4 GHz radio to provide directional range boost.
OnHub also includes a speaker that, for the time being, is limited to performing audio-based wireless setup with Android devices. There's no microphone, however, so although OnHub looks like Amazon's Echo, you won't be able to voice control anything with it.
Once you strip away all the hoo-hah, you have a expensive ($200) AC1900 class router with Gigabit Ethernet WAN and LAN ports, but only one of the latter. If you need more LAN ports, you'll need to add a switch. There's a single USB 3.0 port, but no mention of it supporting storage or printer sharing as most other AC1900 routers do.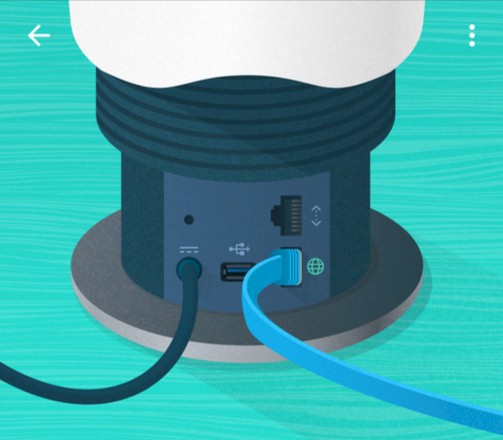 Google OnHub rear
According to OnHub's specs, the TGR1900 (TP-LINK's model number) is based on a Qualcomm 1.4GHz dual-core IPQ8064 processor backed by 1 GB of DDR3 RAM and 4 GB of flash. There's a QCA8337 Gigabit switch that provides the PHYs for the WAN and LAN ports.
The radios aren't called out in OnHub's specs and the FCC ID docs are suppressed for six months. But it's reasonable to guess that QCA 3×3 radios are used, too. Note the Google Store specs for OnHub describe the Bluetooth, 802.15.4 (ZigBee) and Weave features as "ready" aka not working right now.
Before you rush to click the pre-order button, pause a moment to ponder the other "features" that come with Google products. There is no help via phone, email, chat or smoke signal from Google itself. Only fellow frustrated users like yourself, complaining into the void and hoping some kind soul will answer.
Update 8/19/15: A helpful reader pointed out this note added to the OnHub Support page:
Customer support will be available 24/7 starting Aug 31. Check back for details!
Google will also be collecting "data such as Wi-Fi channel, signal strength, and device types that are relevant to optimize your Wi-Fi performance", but nothing about websites you visit (Google's cookies already do that just fine) or "the content of any traffic on your network". If you're concerned about this, better check this OnHub help page.
If all this sounds great to you, then by all means go pre-order one right now. Oh, never mind, since both blue and black models are already showing as sold out. Maybe you should just wait for the ASUS version coming later this year.