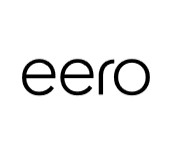 Startup eero has unveiled a home Wi-Fi mesh system.
eero's basic approach is something designers of enterprise Wi-Fi networks have used for years, i.e. using multiple access points that are coordinated to distribute network load and provide consistently strong signal levels throughout a covered area. But eero wants to use wireless mesh to build its network.
Mesh wireless isn't new. Ruckus Wireless, Meraki and others offer enterprise mesh wireless systems that require expensive controllers and use older and slower 802.11n technology. But enterprise wireless systems have largely abandoned mesh as a primary technology and moved to using Ethernet backbones, with a single cable providing reliable high-bandwidth data and power (via PoE) to each AP.
eero's system requires only one of its smallish off-white boxes connected via Ethernet to your broadband modem or router. This base node then links via 802.11ac Wi-Fi to other eeros placed throughout your home, with installation guided by a smartphone app.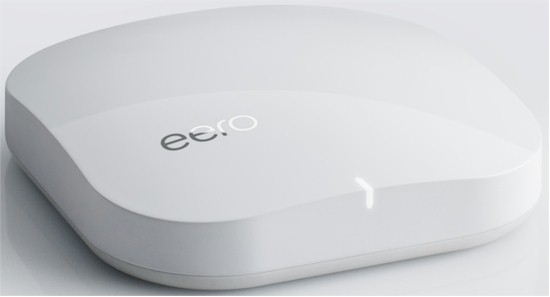 eero Wi-Fi mesh node
Like some current-generation wireless extenders, the two radios in each eero (one 2.4 GHz, one 5 GHz) are switched between handling backhaul (eero-to-eero) and client (eero-to-device) traffic as needed. CNET reports that eeros are built on a Qualcomm-based hardware platform with eero's OS. The hardware base uses a 1.0 GHz dual-core CPU with 512 MB RAM, 1 GB of flash, dual Gigabit Ethernet ports, a single USB 2.0 port and built-in Bluetooth 4.0 BLE.
CNET also said eero considered using powerline networking as part of the backhaul mesh, but didn't take that route.
This is the first Wi-Fi mesh attempt for most of the 15 person company. Only the primary hardware design manager, James Howarth, formerly of power grid networking systems maker Silver Spring Networks, has mesh network experience.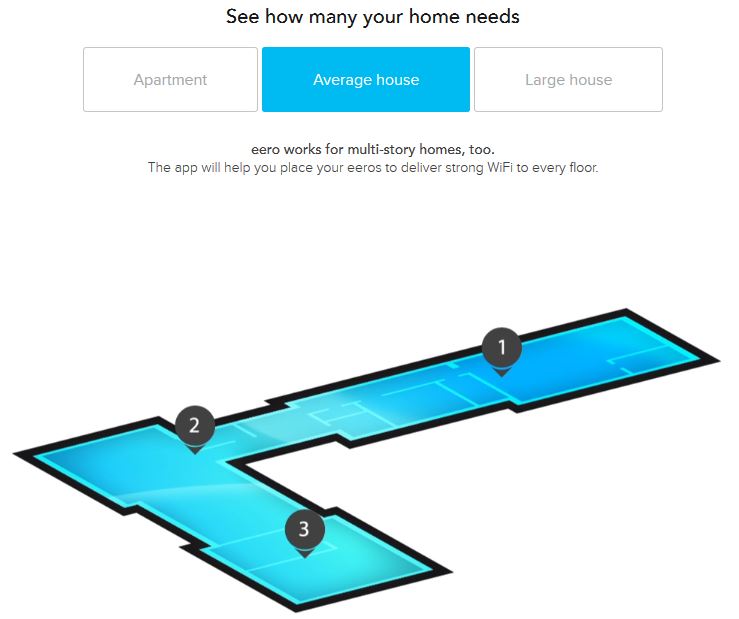 eero average house plan
The team may have some heavy lifting ahead to move people away from the one big honkin' router mindset that consumer network product makers have drilled into consumers. But with current top-end routers priced around $300, an approach that provides three eeros for $299–enough for an "average" home– might not be as tough a sell as you'd think. But when that pre-order pricing switches to normal MSRPs of $125 and $499 for one and three eeros, eero's approach will be truly tested.
We won't get to see how this all works until this summer, when pre-orders are said to start shipping.