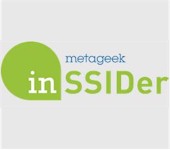 MetaGeek has introduced a trial for its new licensed version of inSSIDer.
The company has responded to some of the criticism around its recent decision to move to a pay-only version of its popular Wi-Fi network analysis tool.
MetaGeek realized that there was a need to let prospective buyers see if the new version of inSSIDer offers enough of an advantage over the free versions that will continue to be available from other sources, including Amped Wireless' branded version.
There is now a form at the bottom of the inSSIDer.com home page that requests only a name and email address in return for emailing a 3-day trial license key.
The license fee for inSSIDer 4 remains at $19.99.