Motorola and Ruckus Wireless today announced small wall-mount 802.11n AP / switches designed for large multi-room installations.
Both vendors are targeting hotel, hospital and other installations looking to easily add wireless coverage to current wired infrastructure or converge separate IP networks.
Motorola's AP 6511 802.11n WallPlate Access Point is designed to mount to a standard wall outlet box and has a dual-band 2×2 802.11n radio with integrated dual 3.5 dBi antennas, powered via 802.3af Power over Etherent. It incorporates Motorola's "Smart RF" technology to automatically adjust transmit power and channel use. A field-installable snap-on Ethernet module adds three switched 10/100 Ethernet ports to support wired devices.
Multiple management and service options are supported. Up to 25 devices can be deployed without an external controller and larger installations can be managed by Motorola's family of RFS wireless controllers.
The AP 6511 will be available in Q410. Pricing was not announced.
Ruckus' ZoneFlex 7025 Wi-Fi Wall Switch takes a different approach, with more of a focus on wired features.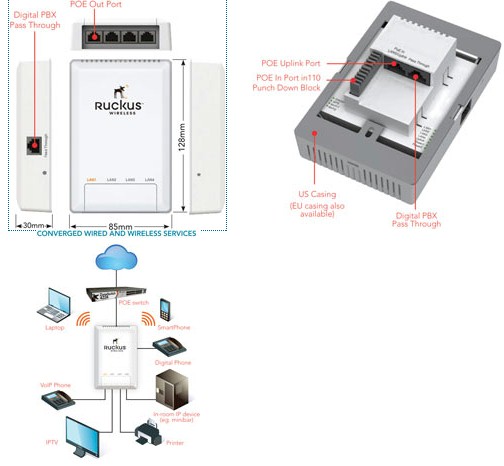 The product can accept a 10/100 Mbps 802.3af-compliant Ethernet drop via RJ45 jack or 110 punch-down block and has a 10/100 pass-through port for daisy-chaining. One of the integrated 10/100 switch's four ports is PoE enabled, supplying up to 15.4 W of power. The switch supports 802.1Q and port-based VLANs and priority-based QoS.
The Wi-Fi portion of the 7025 is a single-band 2.4 GHz single-stream 802.11n radio supporting a 150 Mbps maximum wireless link rate. Other features include 8 SSID support and WEP, WPA-TKIP and WPA2/AES wireless security.
Authentication options include: 802.1x, MAC-based, captive portal, LDAP, RADIUS, Active Directory and through an internal user database. Management options include standalone web or central management via Ruckus' ZoneDirector or FlexMaster Wi-Fi system management platforms.
To support the ZoneFlex 7025, Ruckus also introduced its ZoneSwitch 4000 series fully-managed, rack-mountable, Layer 2, 24-port 10/100/1000 Mbps Ethernet POE switches. Each ZoneSwitch offers security, QoS and other management features and includes four dual-personality ports that support pluggable fiber transceivers for network uplink.
The ZoneSwitch 4224 can supply 375 watts of PoE via 12 concurrent IEEE 802.3at or 24 concurrent 802.3af connections across all ports. The ZoneSwitch 4124 provides 180 watts of PoE through 12 concurrent IEEE 802.3af connections across all ports. Both switches can be centrally managed through Ruckus' FlexMaster system.
Available in the fourth quarter of this year, the Ruckus ZoneFlex 7025 Wi-Fi Wall Switch is priced at US $249. The Ruckus ZoneSwitch 4224 and 4124, available in the third quarter of this year, are priced at US $1,999 and US $1,399 respectively.