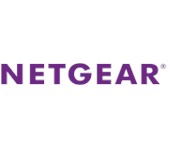 NETGEAR has added a new wireless controller and AP to its business-class wireless line.
The ProSAFE WC7600 Premium Wireless Controller is focused on mid-sized business applications such as small to medium sized hotels / motels, schools and assisted living centers. It supports centralized management for all NETGEAR's current business-grade ProSAFE Managed Access Points and will support 802.11ac APs as they become available.
The controller handles access point discovery, Layer 2 and Layer 3 fast roaming, captive portal for guest access and automatic 2.4 / 5 GHz load balancing. Each WC7600 can control up to 50 access points and three can be stacked to support up to 6,000 concurrent wireless users.
The WC7600 requires a license for each controlled AP and comes with two licenses. Additional licenses are available in increments of 10 for a one-time fee.

NETGEAR WC7000 & WN370
NETGEAR also announced the ProSAFE WN370 Wall Mount Access Point with Power over Ethernet (PoE). It's an N300 class 2.4 GHz only access point designed to mount on an existing wall duplex box. It has a Gigabit uplink port, built-in four-port 10/100 switch and is powered via 802.3af PoE.
Both the WC7600 and WN370 are available now at pricing shown below.
· ProSAFE WC7600 Premium Wireless Controller with 2 basic access point licenses: $3,079 MSRP
· ProSAFE WC10APL 10 Access Point License: $1,056 MSRP
· ProSAFE WN370 Single Band 2.4GHz Wireless-N Wall Mount Access Point: $219 MSRP