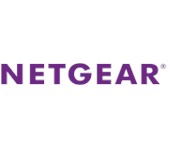 NETGEAR now has two MU-MIMO routers; one announced, one not.
NETGEAR finally got into the MU-MIMO router game today with the announcement of its R8500 Nighthawk X8. This is the first AC5300 class router to ship, beating D-Link's DIR-895L/R AC5300 ULTRA Wi-Fi Router that was announced at January's CES 2015, as well as ASUS' RT-AC5300U announced last month at IFA 2015.
The X8 uses a 4×4 version of Broadcom's AC3200 class XStream technology, including a BCM47094 1.4 GHz Dual core ARM Cortex-A9 host processor and three BCM4366 4×4 MU-MIMO capable radios.
NETGEAR says the X8 will support its same conservative implemtation of Smart Connect, assigning devices to radios only once when they connect. Dynamic radio assignment is still too flaky for NETGEAR to enable.
The new radios support 1024 QAM, which if devices supporting it ever appear, will produce maximum link rates of 1000 Mbps in 2.4 GHz and 2165 Mbps for each of the two 5 GHz radios. For now, as with all other 4×4 routers, you'll need to buy two and use one as a wireless bridge to achieve the top speeds.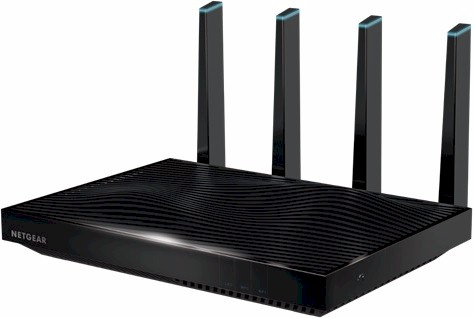 NETGEAR Nighthawk X8
The X8 brings two other unique features to help justify its $400 MSRP (aka $399.99). NETGEAR decided that eight external antennas was a bit much and instead connected the 2.4 GHz and one of the 5 GHz radios to four external "Active Antennas". The other 5 GHz radio connects to four internal antennas.
The concept of active antennas is so simple it makes you wonder why it hasn't been done before now; moving the receive low noise amplifiers (LNAs) from the main board out to the antenna bodies. Although this means the antennas aren't removable, NETGEAR says this should help increase performance since main board noise won't be amplified along with the received signal.
The other unique feature is the six Gigabit Ethernet LAN ports, two of which support link aggregation. There is still, however, only one Gigabit WAN port. The link aggregation feature will be of the most use to connect a fast dual-port NAS to remove the 125 MB/s limit of a single Gigabit Ethernet port.
Remember, however, aggregation increases available bandwidth only with multiple clients simultaneously hitting the NAS; it doesn't increase bandwidth for single devices. If you'd rather attach a USB drive, you can use the USB 2.0 and 3.0 ports provided.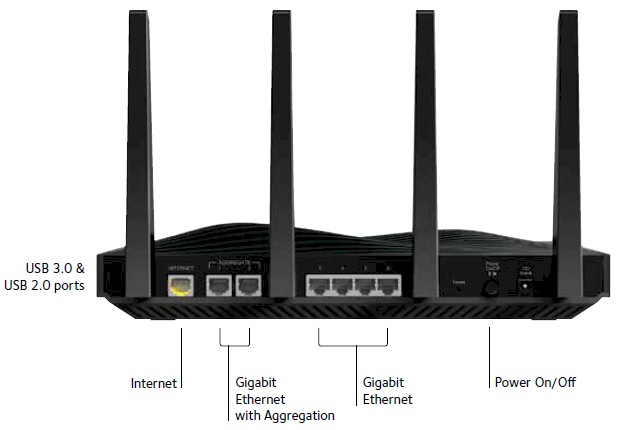 NETGEAR Nighthawk X8 rear view
The X8 supports all the NETGEAR Genie OS features you've come to love including dynamic QoS, ReadyCloud USB, ReadySHARE Vault, DLNA server, OpenDNS based Parental Controls, NETGEAR genie app and OpenVPN server.
The one dark shadow over the X8 is the MU-MIMO "capable" line in the product spec. Here's the disclaimer:
MU-MIMO feature requires firmware upgrade. MU-MIMO firmware upgrade not currently available for this product, but currently anticipated to be released before the end of 2015. MU-MIMO capability requires both router and client device to support MU-MIMO. Please see www.netgear.com/mumimo for more details.
(Don't bother hitting that link above. It just takes you back to the X8 product page.)
Will Broadcom / NETGEAR ship MU-MIMO before the end of the year? Or will this turn into a repeat of the Quantenna MU-MIMO debacle?
Which brings us to NETGEAR's unannounced MU-MIMO introduction: the R7500v2 Nighthawk X4. The v2 confirms rumors heard earlier this year that some router makers were removing Quantenna from their 4×4 designs and putting in the only working MU-MIMO solution to date: Qualcomm Atheros'.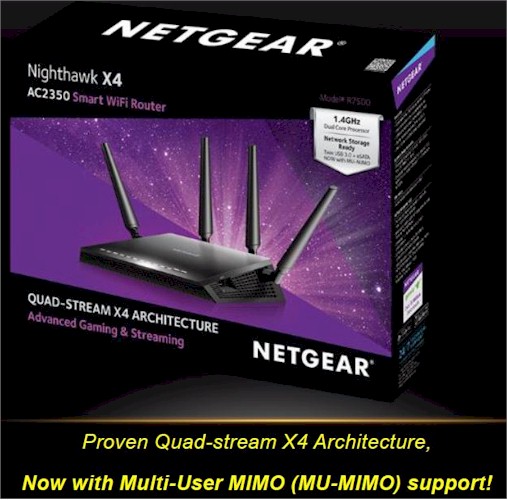 NETGEAR R7500v2 Nighthawk X4
In fact, that's what NETGEAR has done.
The R7500v2 will replace the R7500 as stock is exhausted (aka "sold through"). We don't know yet whether etailers will list the product as v2. But if you buy in stores, NETGEAR says v2 is clearly indicated on the box. Features stay the same. MSRP stays the same at $249.99.