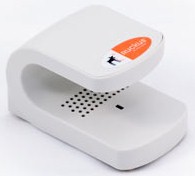 The
adapter uses a standard 802.11g radio coupled to Ruckus' patent-pending BeamFlex smart antenna technology. It is designed to work with the Ruckus MediaFlex router and be marketed primarily to service providers.
Motorola's VIP1700 series is the first IPTV set-top to successfully integrate with the dongle and is completely plug-and-play. USB drivers are being made available for other popular set-top boxes.
Available immediately for integration with set top box suppliers, the Ruckus MediaFlex USB Dongle is list priced at $59.00.