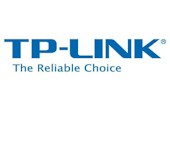 Updated2 – TP-LINK has started to ship its first AC1750 class wireless router, based on Qualcomm devices.
The new router is christened the "Archer C7" AC1750 Wireless Dual Band Gigabit Router and takes its place at the top-end of TP-LINK's wireless router lineup. It's a simultaneous dual-band design supporting link rates up to 450 Mbps in 2.4 GHz and 1300 Mbps in 5 GHz.
The design and features are similar to other AC1750 designs, including Gigabit WAN (1) and switched LAN (4) ports and dual USB 2.0 ports for printer and storage sharing. The lack of USB 3.0 ports indicates the Archer C7 is likely uses Broadcom's previous generation BCM4706 processor vs. the newer dual-core BCM4708 appearing in many of this year's crop of draft 11ac router designs.
This Hardware.info report from CeBIT indicates that the Archer C7 is based on Qualcomm's late-to-market VIVE draft 802.11ac chipset. This would likely include the QCA9558 dual-band, 3-stream 802.11n system-on-chip (SoC), the QCA9880 3-stream 802.11ac radio solution and AR8327 Gigabit Ethernet switch.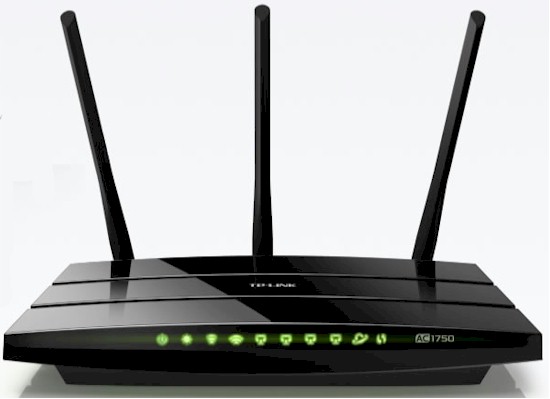 TP-LINK Archer C7 AC1750 wireless router
This would make TP-Link first to market with a StreamBoost based router. StreamBoost is based on Bigfoot Networks technology, a company Qualcomm purchased in 2011.
Updated 6/27/13 Qualcomm Atheros let us know that StreamBoost is an optional VIVE feature and that the Archer C7 does not include StreamBoost. So D-Link's DGL-5500 will be the first StreamBoost router.
The router features separate antennas for each band, with the 5 GHz external antennas attached via RP-SMA connectors for easy upgrading. Other key features include IPv6 support, wireless guest networks, media and FTP servers, live parental controls and "IP-based bandwidth controls".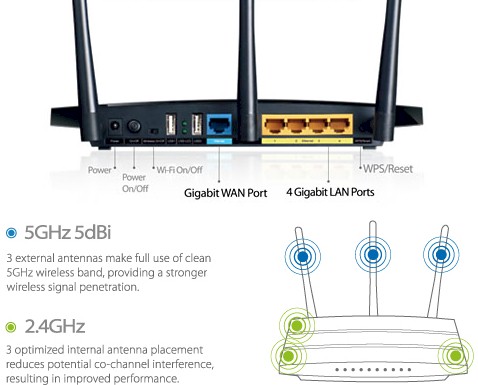 TP-LINK Archer C7 AC1750 details
The TP-LINK Archer C7 is shipping now and lists at an aggressive $149.99.