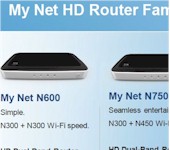 Western Digital today announced a line of home routers optimized for distributing wireless content.
The My Net family are all simultaneous dual-band and come in "N600", "N750", "N900" and "N900" plus embedded storage flavors.
All are designed with QoS features aimed at prioritizing Internet-based streaming media and gaming traffic over email, file transfer and other non time sensitive data.
The My Net N600 and N750 include what WD has dubbed FasTrack technology that comes with six services pre-programmed and 21 QoS rule sets available for user configuration. The top-end My Net N900 and My Net N900 Central models get FasTrack Plus and use Ubicom SoCs, which employ Ubicom's StreamEngine automatic QoS technology that doesn't require user configuration.
All models except the entry-level My Net N600 have Gigabit WAN and LAN ports. Buyers looking for the elusive 8 port router will be attracted to the N900, which has seven switched Gigabit Ethernet ports.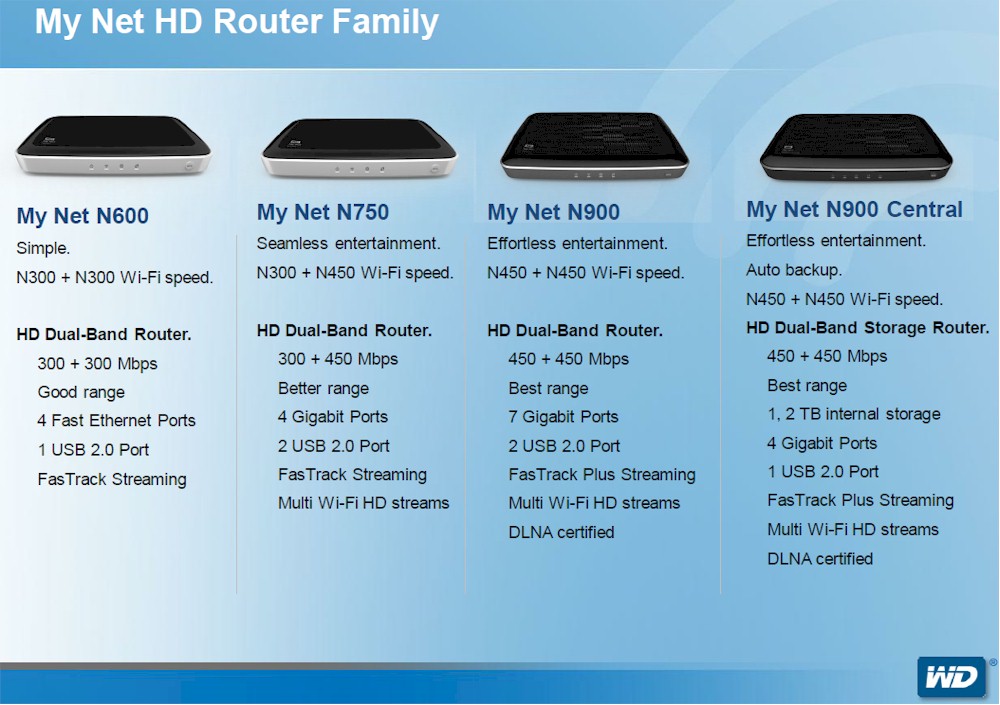 Sadly, the top-end My Net N900 Central drops back to the four ports found on all the other models, but makes amends by including a 1 or 2 TB internal hard drive to feed its DLNA media server with local media content.
All models include USB 2.0 ports for attached storage sharing and UPnP/DLNA media serving. But only the N900 models have DLNA certified media servers.
Other features common to all models include IPv6 support, Wi-Fi Protected Setup (WPS), WPA/WPA2 wireless security and SPI-based firewall.
WD also introduced its 8 port Gigabit Ethernet My Net Switch. Following along with the traffic prioritization theme of the My Net family, the Switch has color coded ports that are hard coded for high, medium and low traffic priority.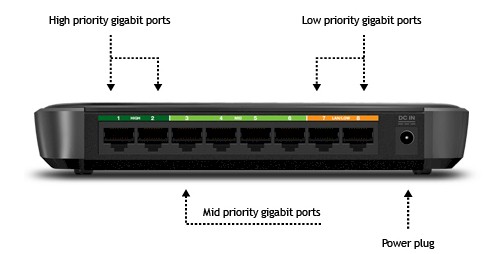 WD My Net Switch ports
My Net N900 ($179.99), My Net N750 ($119.99), My Net N600 ($79.99) and My Net Switch ($69.99) will be available starting today at "select" U.S. retailers and online at wdstore.com. My Net N900 Central will be available "next quarter" (Q3) at MSRPs of $299.99 for 1 TB and $349.99 for 2 TB of internal storage.