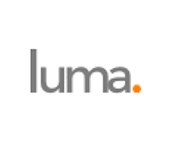 A second consumer Wi-Fi mesh router company has surfaced.
Atlanta-based Luma emerged from stealth yesterday with a product and pitch very similar to San Francisco-based eero, which debuted in February. Both are promising to deliver mesh-based Wi-Fi systems next year, eero by February (after two delays) and Luma in "spring 2016".
Pricing for both is the same; one for $199 and a three-pack for $499. Like eero, Luma is offering a limited time half-off pricing of $99 for one and $249 for three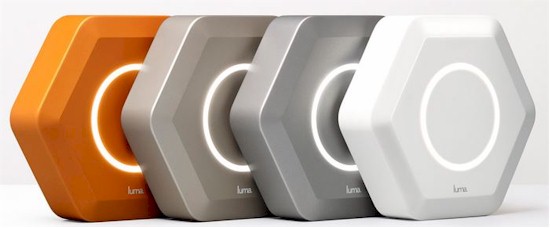 Hardware-wise, both products are very similar with simultaneous dual-band AC class radios (we're guessing 2×2) and Bluetooth 4.0 LE for setup. Both use wireless mesh so that only one Luma needs to be connected to your home router via Ethernet, while the others use Wi-Fi to link back to the wired Luma.
Luma
eero
Wi-Fi
802.11a/b/g/n/ac
802.11a/b/g/n/ac
Bluetooth
4.0 w/ L.E.
4.0 w/ L.E.
Ethernet
Gigabit; 1 WAN; 1 LAN
Gigabit; 1 WAN; 1 LAN
Processor
Quad-core
1 GHz Dual-core
USB
One USB 2.0
One USB 2.0
Size
Form
Orientation
4.6" x 4.1" x 1.2"
Hexagonal
Vertical
4.75" x 4.75" x ~1"
Square
Horizontal
Price
$199 for one
$499 for three
$199 for one
$499 for three
Table 1: Component summary
According to one report, Luma's device will support MU-MIMO, which will be interesting if they can pull it off. As reported yesterday, the FCC ID test report for eero's device says 802.11ac beamforming is not supported, which means no MU-MIMO either.
Both companies are obviously after people who have money to throw at the possibility of better Wi-Fi and just want it to work. Luma's "Surround WiFi" tagline and even its physical design seem designed to appeal to the Nest / Dropcam / Apple crowd, while eero's "Wi-Fi system" and "Blanket your home…" pitches seem aimed at slightly more tech-savvy customers.
Marketing messages aside, Luma is promising to deliver more security than eero, with parental controls that include the ability to monitor network users in "real time" and set per-user internet use limits and content level policies. Luma even says it will monitor the network for viruses and perform intrusion detection.
The focus on security is a reflection of Luma's serial-entrepreneur founders Paul Judge and Mike Van Bruinisse, who co-founded CipherTrust (acquired by Secure Computing) and Purewire (acquired by Barracuda). The Luma team includes former Barracuda Networks colleagues Daniel Peck and Paul Royal, according to a blog post yesterday by Judge. While all have extensive background in networking security, none have experience in mesh Wi-Fi or consumer networking product design.
Luma currently has raised about $3.5M and has 12 employees according to the Atlanta Business Chronicle. This puts it behind eero, who on Wednesday announced it has a $40M of VC funding and 50 employees. The mismatch in person-power, funding and product complexity kinda makes me wonder whether Luma will hit its spring 2016 promised ship.
I just ordered my three-pack (as I did with eero) and you can still order yours at the 50% off price. Contrary to some reports, Luma isn't up on Amazon Launchpad yet.