At a glance
Product
ASUS Lyra Home Wi-Fi System (MAP-AC2200) [Website]
Summary
Qualcomm-based three-radio mesh Wi-Fi system with many routing features.
Pros
• Web interface with many standard ASUS routing features
• Has PPTP and OpenVPN servers
Cons
• DHCP server seems flaky
• Poor mesh capacity and Wi-Fi performance
Typical Price: $144 Buy From Amazon
Introduction
If you're an ASUS fan and have been itching to see what all the mesh/system Wi-Fi noise is about, your time has come. The Lyra Home Wi-Fi System (MAP-AC2200) is the company's entry into the Wi-Fi router market segment currently dominated by NETGEAR's Orbi.
When you're late to market, it helps to have a hook to draw in buyers. ASUS' grabber is similar to Orbi's in that you get a web interface as well as Android and iOS apps to set up and tweak the system. But Lyra's web interface provides access to more features than Orbi's, including PPTP and OpenVPN servers and the Adaptive QoS and Trend Micro-powered AiProtection security features found on its RT series routers.
Let's first, however, cover the basics. With a diameter of 5.5 inches, a Lyra mesh node (photo top right) is larger than its TP-Link, Google and eero (gen 2) competition shown below.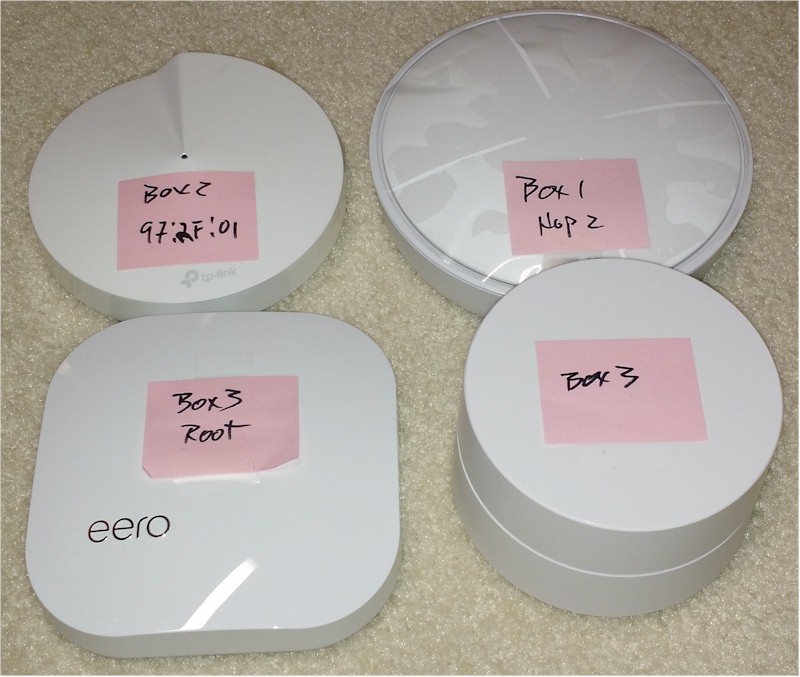 ASUS Lyra and friends
There are two gigabit Ethernet ports and a power port on the rear, but no USB port to lure you into thinking Lyra will some day support storage or printer sharing. Not shown are a reset button and screw slots for wall mounting on the bottom and a Pairing button on the left side. I'm not sure why the Pairing button is there; the app-guided setup process doesn't use it.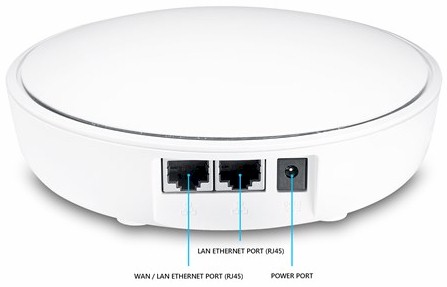 Lyra rear panel
Lyra's top has a multi-color LED beneath that changes to indicate status.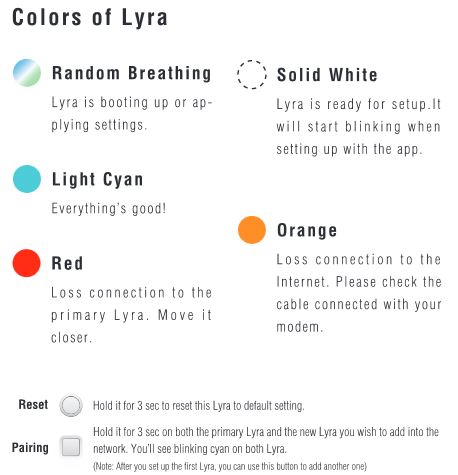 Lyra LED colors
Inside
ASUS didn't delay release of the FCC inside photos, which have nice closeups for component identification. What we find is another design based on Qualcomm's quad-core IPQ4019 2×2 802.11ac SoC. The four smaller 5 GHz and two larger 2.4 GHz antennas are clearly visible in the photo below. Antennas for the two (!) Bluetooth radios are etched onto the circuit board.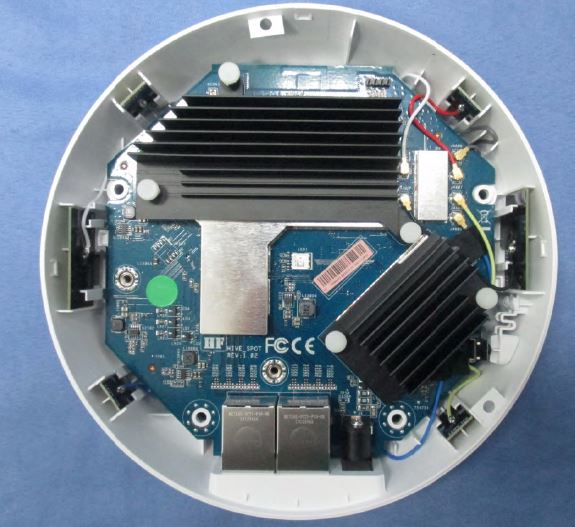 ASUS Lyra inside
The next photo, with heatsinks and RF can tops removed, isn't clear enough to identify components. But you can see the switch near the two Ethernet connectors, main SoC with outboard RF amplifiers and 5 GHz filters below it. The second 5 GHz radio is at photo upper left. RAM, flash and two Bluetooth radios are on the other side of the board.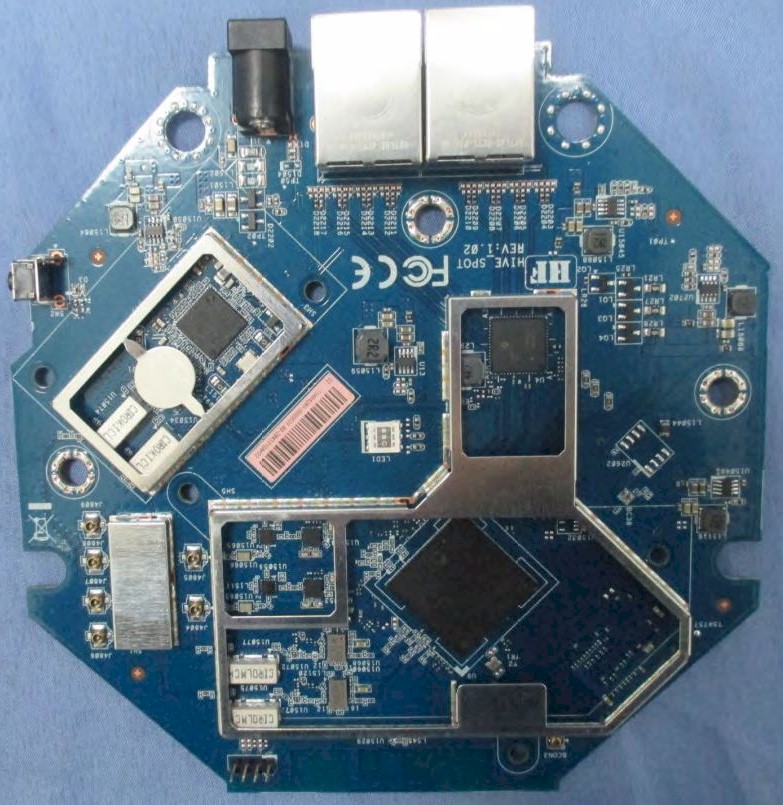 ASUS Lyra board
The FCC document has other photos showing many of the key components, which are summarized in the table below with Google Wi-Fi, eero gen 2 and TP-Link Deco M5. The radio power amplifier components came from WikiDevi; the flash capacity came from an ASUS reviewer's guide. It's pretty clear Qualcomm dominates the Wi-Fi System market segment right now. I haven't seen a Wi-Fi system yet with anyone else's chipset inside.
ASUS Lyra
Google Wifi
eero gen2
TP-Link Deco M5
CPU
Qualcomm IPQ4019 quad-core Wave2 2×2 a/b/g/n/ac SoC
– Qualcomm IPQ4019
– STM32F072 32 bit ARM Cortex-M0
– Infineon STM9615 Trusted Platform Module
Qualcomm IPQ4019
Qualcomm IPQ4019
Switch
QCA8072
QCA8075
QCA8072
QCA8072
RAM
256 MB
512 MB
256 MB
256 MB
Flash
128 MB
– 4 GB eMMC (IF5055?)
-4 MB Winbond 25Q64FV
32 MB
32 MB
2.4 GHz Radio
– In IPQ4019
– Skyworks SKY2623L 2.4 GHz power amp (x2)
– In IPQ4019
– Skyworks SKY8530 2.4 GHz front end (x2)
– In IPQ4019
-Skyworks 85331-11 2 GHz front end (x2)
– In IPQ4019
– Skyworks 85303-11 2.4 GHz Front End (x2)
5 GHz Radio
– In IPQ4019
– RFMD RFPA5542 5 GHz power amp (x2)
– In IPQ4019
– Skyworks SKY85717-11 5 GHz front end (x2)
– In IPQ4019
– Quorvo QPF4518 5 GHz front end (x2)
– In IPQ4019
– Qorvo PA5542 5 GHz power amp (x2)
http://www.qorvo.com/products/p/RFPA5542
5 GHz Radio #2
– QCA9886 2×2 802.11ac radio SoC
– RFMD RFPA5542 5 GHz power amp (x2)
N/A
– QCA9886 Single-Band 2×2 5 GHz SoC
– Skyworks 85736-11 5 GHz front end (x2)
N/A
Bluetooth
– Atheros AR3012 Bluetooth 4.0
– ISSC IS1678 Bluetooth Dual-Mode SoC
Qualcomm 3003-CL3D (CSR102x?)
Atheros AR3012 Bluetooth 4.0 SoC
CSR 8811 Bluetooth 4.1
ZigBee
N/A
– Silicon Labs EM3581 ZigBee / Thread SoC
– Skyworks SKY66109-11 2.4 GHz ZigBee front end
N/A
N/A
Table 1: Component summary and comparison
Features
Lyra appears to be a self-contained system that does not rely on a companion cloud service. As mentioned earlier, it has both app and web interfaces, which provide a disjointed administration experience. Not all features are available in both interfaces and the web interface does not contain all the features you find in the app.
I used the app for setup and it wasn't a silky smooth experience. The "onboarding" process relies on Bluetooth to make the initial connection and at some point switches back to Wi-Fi once network name and password are set. This process didn't seem as smooth as I've experienced with other Wi-Fi System apps, but it eventually got the job done.
I think I created a problem by having a LAN device and internet plugged into the root node Ethernet connectors during setup; Lyra couldn't sort out which one to use for internet. I also found Lyra's DHCP server kind of flaky. It assigned IP addresses all over the place and seemed to not like it when I moved a test computer from node to node for the backhaul tests. Once I gave that computer a static IP address in Lyra's 192.168.72.X range, I was able to run the test.
The first app screenshot trio shows the Network map, connected devices and detail of one of the nodes. Lyra is the first product that clearly and correctly shows backhaul connection topology of the system. But the app provides no other information about the connections or channel or band use in general.
ASUS Lyra app – Network map
Tapping the hamburger menu exposes the submenus in the left panel below. Screens for the first two options are shown. Guest Access can be enabled for 3,6,12,24 or unlimited hours and has its own SSID and password. Share this Wi-Fi sends network credentials via email, text, Android beam or whatever other communication options your mobile device has.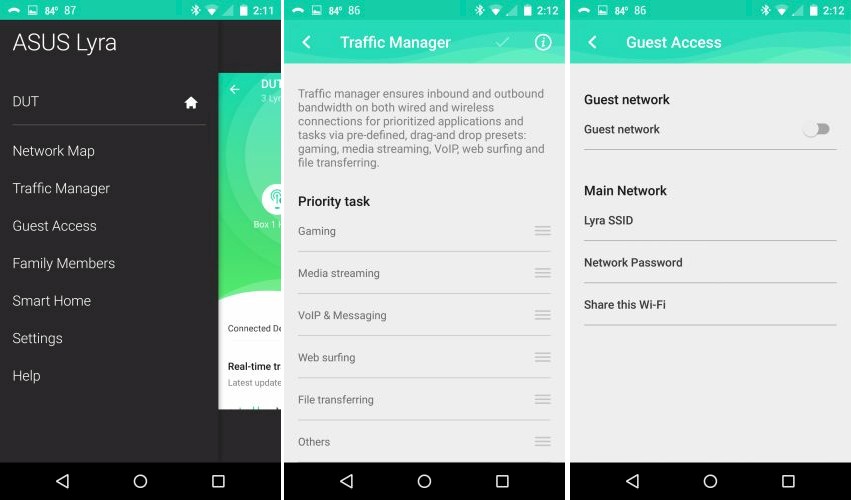 ASUS Lyra app – Network map
Traffic Manager is the first place you may run into a collision between app and web GUI settings. This menu sets priority by traffic type by dragging them to change order. But the web GUI provides access to a familar-looking (to ASUS router owners) Adaptive QoS screen where you can set device priority.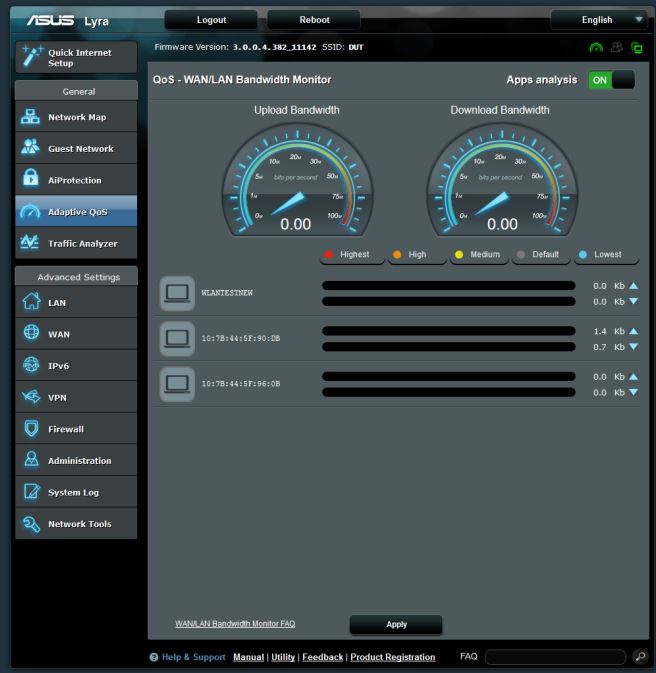 ASUS Lyra web GUI – Adaptive QoS
The second instance isn't really a collision, but a distribution of features. The app Family Members menu is used to create user profiles and assign devices to them.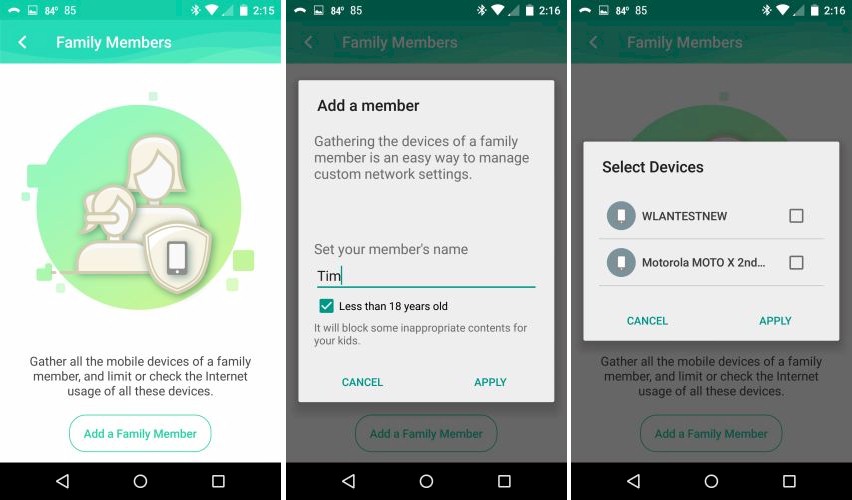 ASUS Lyra app – Family Member
Content and internet access blocks can them be applied to each family member.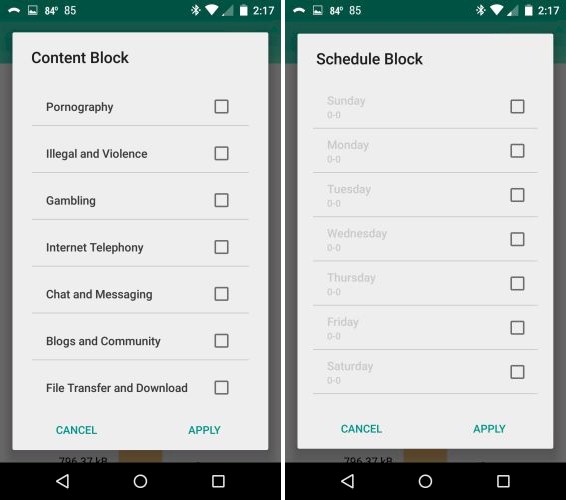 ASUS Lyra app – User blocks
Various statistics can then be pulled up for each family member.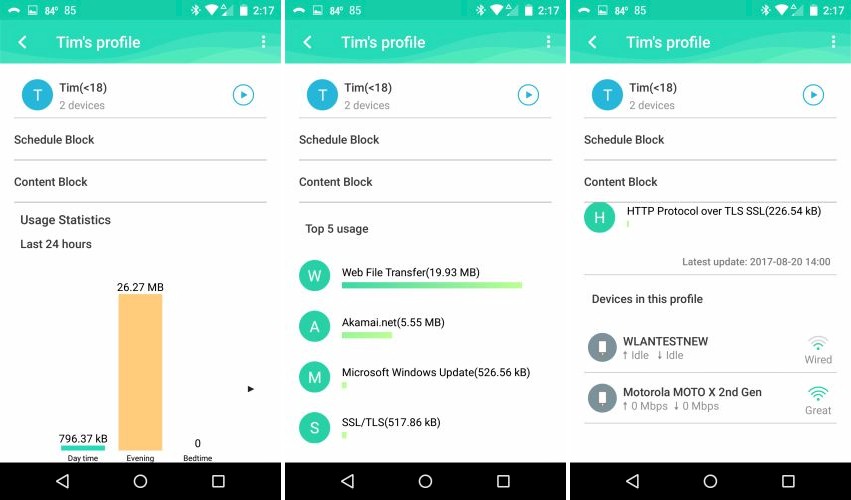 ASUS Lyra app – User statistics
The web GUI does not have the web filters shown above, but instead provides the Trend Micro based AiProtection feature found on ASUS' RT series routers. Note that both AiProtection and Adaptive QoS are enabled by default. I found during router throughput testing this reduces both up and downlink routing throughput.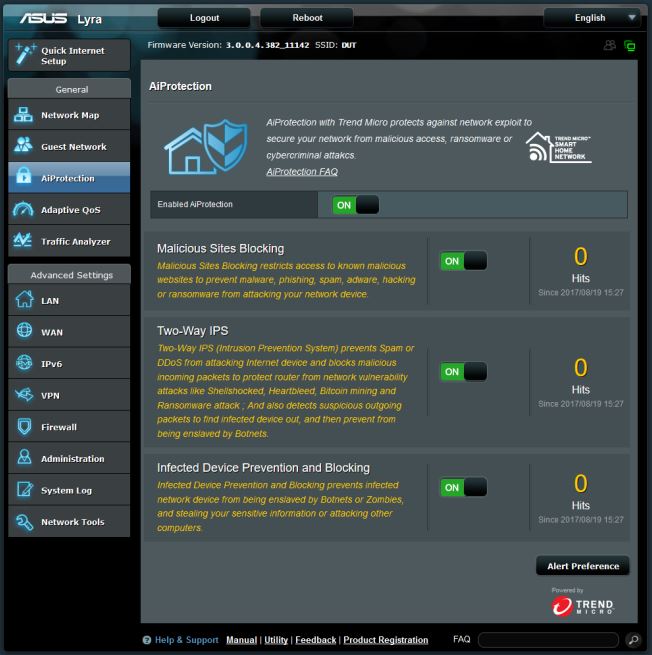 ASUS Lyra web GUI – AiProtection
The app Settings screen is pretty long, but I captured all the options in the composite screenshot below.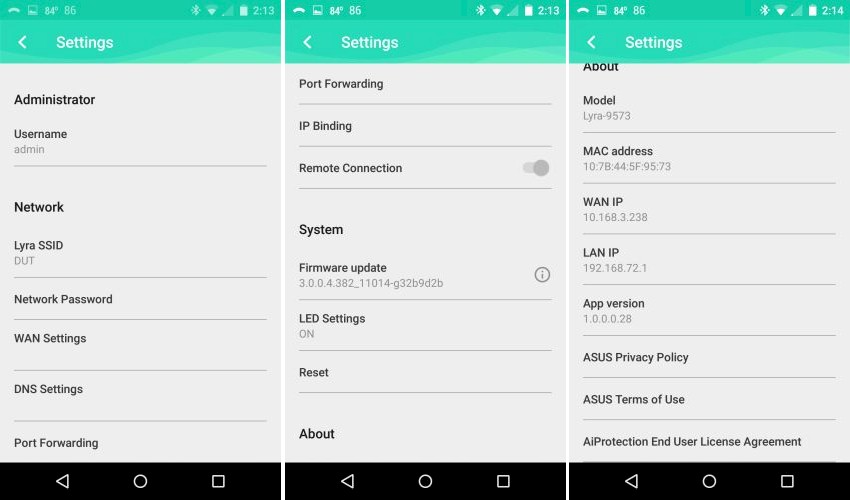 ASUS Lyra app – Adaptive QoS
There are no controls for Wi-Fi settings in either the app or web GUI, other than to set a single SSID and password for the main and guest networks. But the web GUI Wireless Log shows channel usage for the three radios.
ASUS Lyra web GUI – Wireless Log
I've tried to include most Wi-Fi system features of highest interest in the Finder database, so here they are: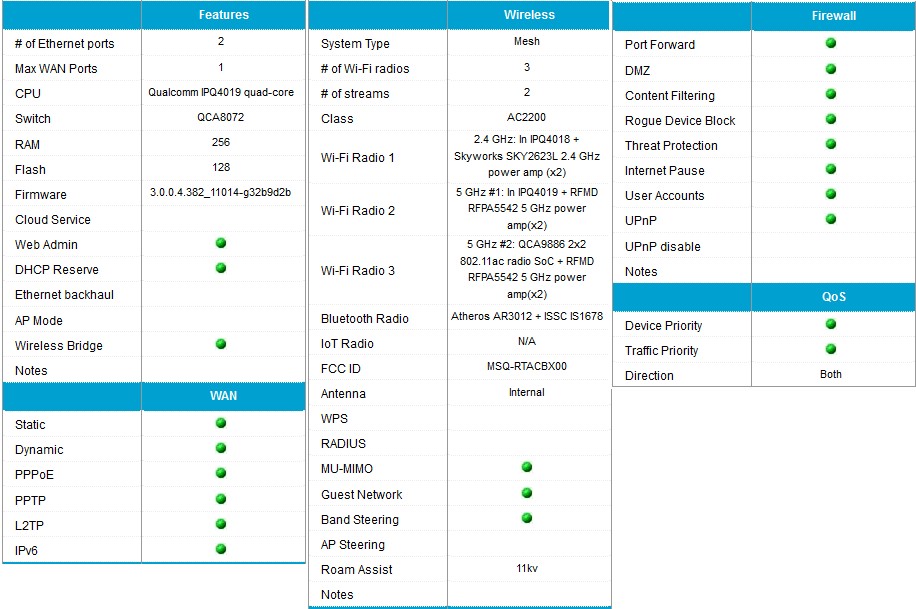 ASUS Lyra feature summary
You'll node Ethernet backhaul and AP mode are not checked (green dot) above. ASUS says they are working on adding both features.
I'm not going to step through the web GUI options since they are found in most ASUS routers. The web GUI gives Lyra the most comprehensive set of routing options found in any Wi-Fi system yet. The web GUI is accessed at http://192.168.72.1 with your browser; it will redirect to http://router.asus.com. Even though each leaf node Lyra has its own IP address, attempting to access any node other than root gets you redirected to http://router.asus.com.
Routing Performance
All performance tests were done with 3.0.0.4.382_11014-g32b9d2b firmware and 1.0.0.0.28 Android app using select tests from the Version 10 Router process.
The simple iperf3 WAN to LAN and LAN to WAN throughput tests came in at a surprisingly low 523 and 529 Mbps, respectively. I suspected AiProtection and Adaptive QoS could be causing lower throughput, so I disabled both and reran the tests. This raised WAN to LAN throughput up to 638 Mbps and LAN to WAN to 614 Mbps. So if you have a gigabit internet connection, you'll need to give Lyra a pass, at least until ASUS implements AP mode and you can use another router.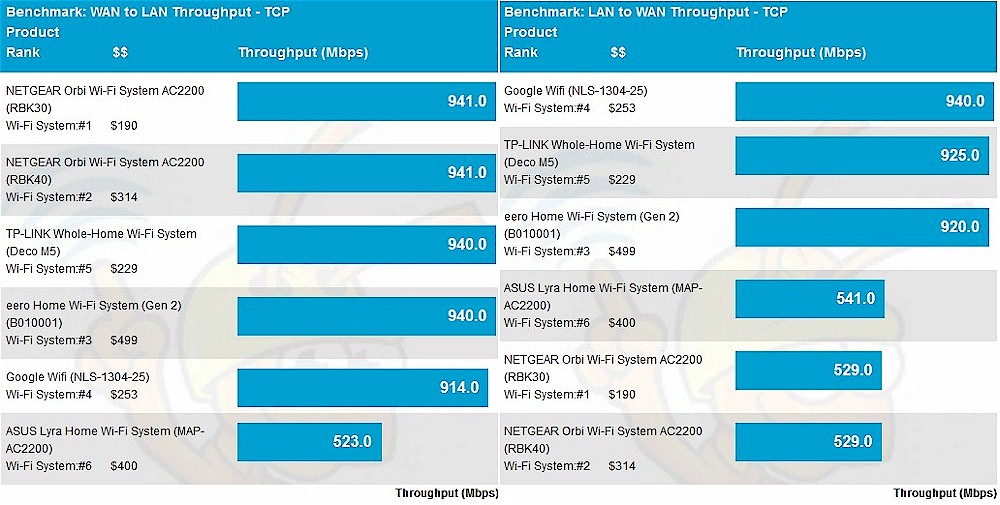 Routing throughput – iperf3 method
The HTTP test method is better at showing performance differences under load, downloading four different size image files with 2K concurrent connections. The plot below compares Lyra with eero Gen 2, Orbi "mini" and Google Wi-Fi. Lyra doesn't do well in any of the test cases. Shutting off AiProtection and Adaptive QoS improved things considerably, yielding scores of 12%, 24%, 65% and 88% for 2KB, 10KB, 108KB and 759KB file sizes, respectively.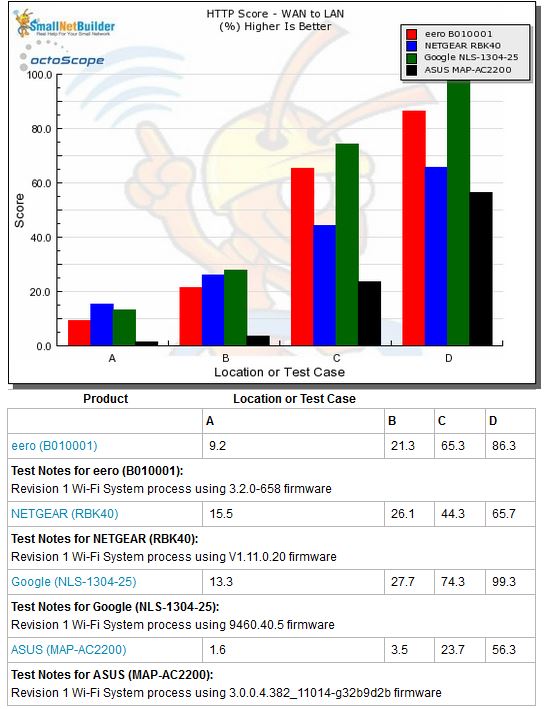 Routing throughput – HTTP Score comparison – WAN to LAN
Plot key file size: [A] 2 KB, [B] 10 KB, [C] 108 KB and [D] 759 KB file
Results are very similar for uplink. Disabling AiProtection and Adaptive QoS raised scores to 13%, 30%, 69% and 91%.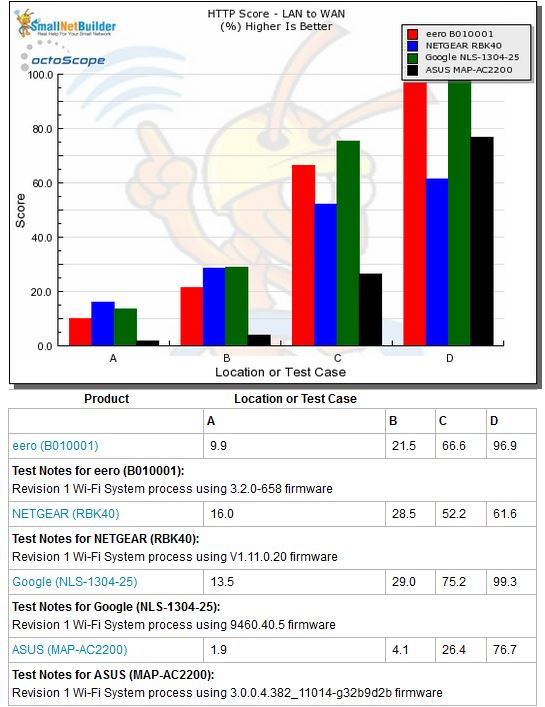 Routing throughput – HTTP Score comparison – LAN to WAN
Wi-Fi Performance
Lyra was run through our new Wi-Fi System test process, letting Lyra use whichever channels and bandwidth it chose. Here's what Lyra looked like in the octoBox 18" test chamber. Because Lyra's three-radio design is most similar to eero Gen 2 and its pricing is closest, I'm going to focus comparisons to these two products.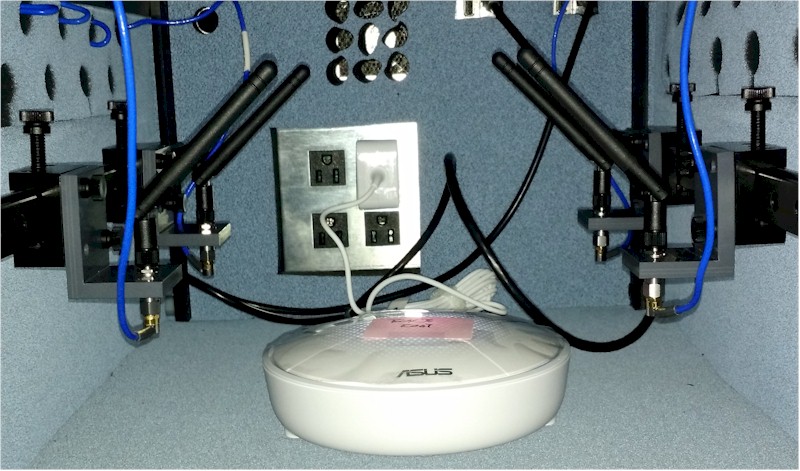 ASUS Lyra in test chamber
Throughput vs. Attenuation (RvR)
The Rate vs. Range or RvR benchmarks look at how throughput varies with decreasing signal. This test is done on the root node, so is a best-case view and does not include any effects from backhaul links.
The 2.4 GHz downlink plot shows eero and Lyra tracking pretty closely. Both ran with 40 MHz bandwidth and reached full 400 Mbps maximum link rate at the beginning of the plot.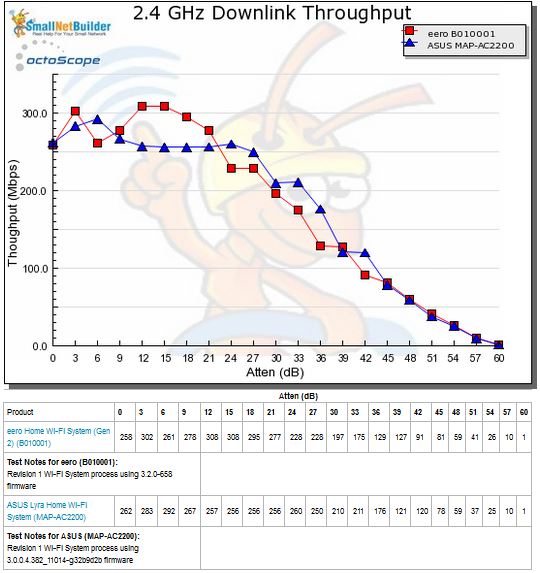 Throughput vs. Attenuation – 2.4 GHz downlink
2.4 GHz uplink, again shows similar performance for both products, except for a dip in eero's throughput at the stronger signal levels at the start of the plot.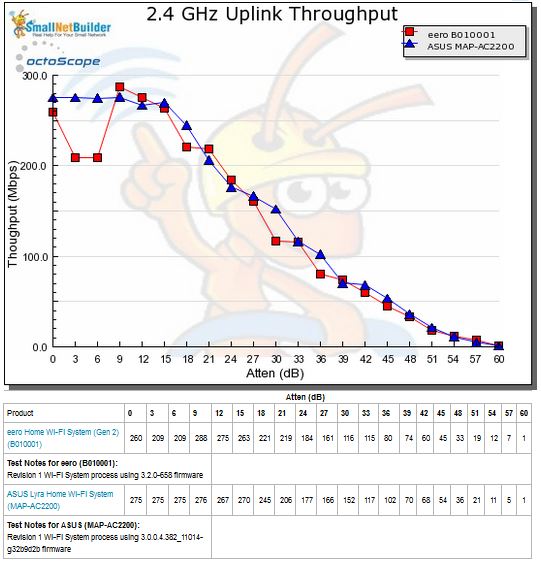 Throughput vs. Attenuation – 2.4 GHz uplink
The two products diverge on the 5 GHz downlink benchmark, with Lyra showing a much faster throughput decline than eero.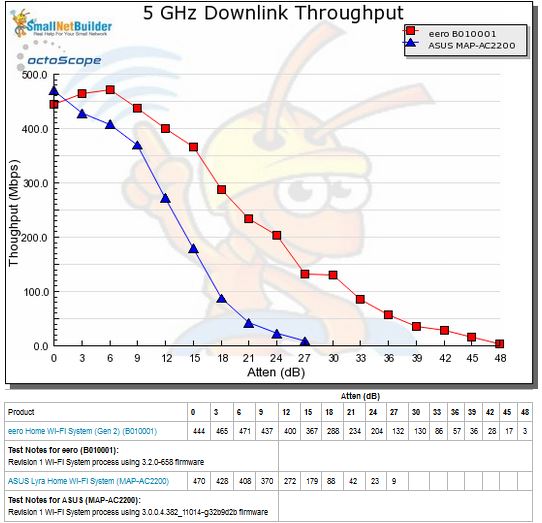 Throughput vs. Attenuation – 5 GHz downlink
5 GHz uplink shows a similar result. These results would seem to indicate eero would have better 5 GHz range than Lyra. Of course, since both operate in a multi-node mesh, the difference might not be immediately obvious. In fact, just as in multi-AP systems, long range in mesh systems isn't necessarily an advantage. If nodes overlap too much, devices will have a difficult time figuring out when to roam and where to roam to.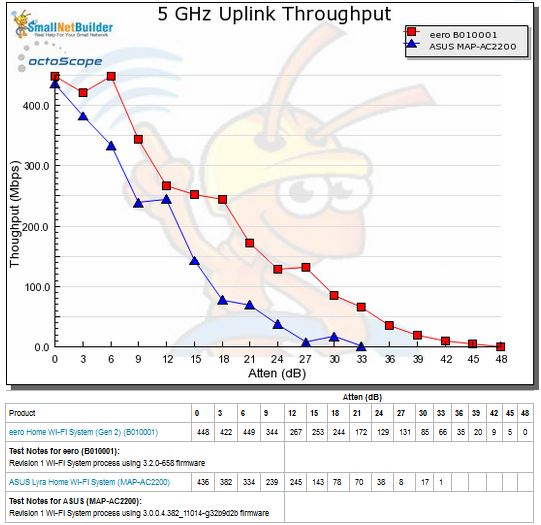 Throughput vs. Attenuation – 5 GHz uplink
On the other hand, since mesh systems lean heavily on 5 GHz for backhaul, you'd want as much 5 GHz range as you can get. It's not an easy tradeoff for system designers.
Wi-Fi System
These benchmarks measure up and downlink 2.4 and 5 GHz throughput at each system node, by "walking" the octoScope Pal dual-band test client from node to node. Since tests are made with 0 dB attenuation between the Pal test client and each system node, all measurements are best case. As signal levels between system node and client drop (i.e. distance increases), throughput will decrease proportionate to the RvR curves above.
These tests provide a good indication of what's happening in the backhaul in each node. Focus on the 5 GHz results in particular, since from the RvR results, we know Lyra can deliver at least 400 Mbps on the root node with no backhaul involved.
The 2.4 GHz downlink chart shows throughput measured at each node, with the A bars being the root node, B bars the Hop 1 node and C bars the Hop 2 node. Lyra's node throughput is comparable, although a bit lower than eero's. The gap between the two grows at Hop 1, but there's a marked difference at Hop 2. Lyra's much low Hop 2 (case C) throughput means its backhaul isn't passing through as much throughput as eero's, which hardly drops. Remember, both products have two 5 GHz radios.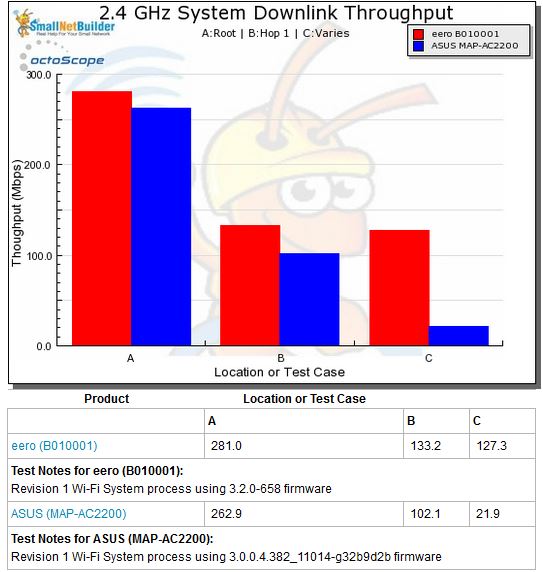 Wi-Fi System Performance – 2.4 GHz downlink
2.4 GHz uplink shows a slight advantage for Lyra at the root node, but inferior performance to eero for Hop 1 and 2. The Hop 2 node gets about 2X what it got on downlink, but about half what eero gets.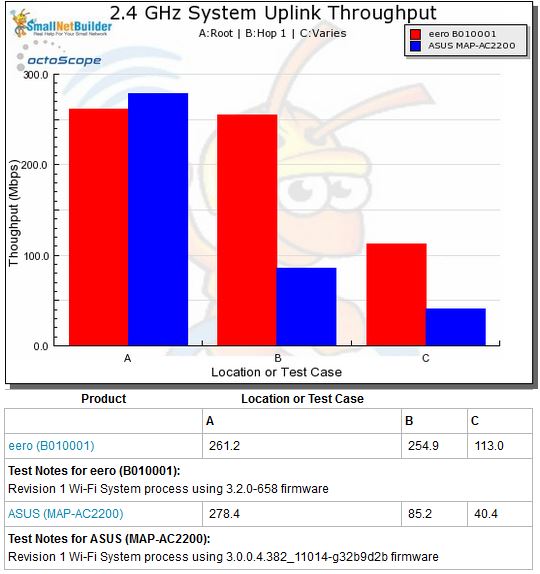 Wi-Fi System Performance – 2.4 GHz uplink
5 GHz downlink shows much lower througput at Hop 1 than for 2.4 GHz downlink. There really should be no reason for this, since Lyra has two 5 GHz radios and could use one for backhaul and the other for client devices.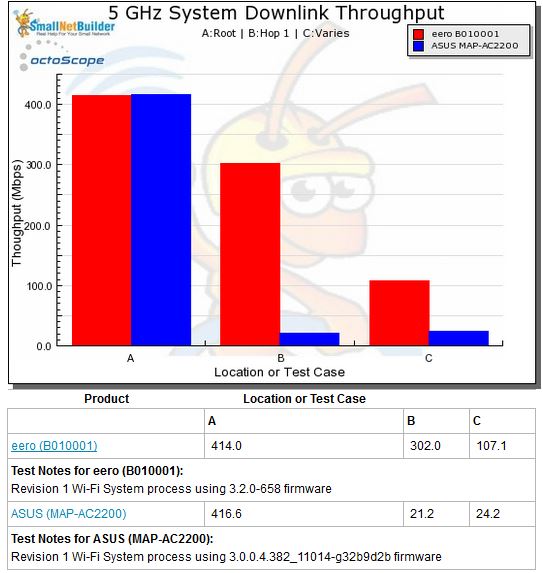 Wi-Fi System Performance – 5 GHz downlink
5 GHz uplink also shows disappointingly low throughput at both branch nodes (Hop 1 and 2).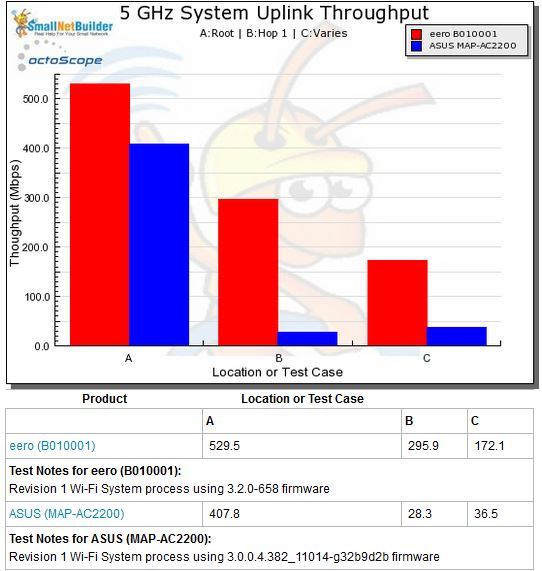 Wi-Fi System Performance – 5 GHz uplink
Backhaul
We also directly measure backhaul throughput. These tests run traffic between the root node LAN-side Ethernet port and mesh node Ethernet port. These benchmarks also show how much throughput is available to Ethernet devices you may wish to connect, using mesh nodes as wireless bridges. Here is Hop 1…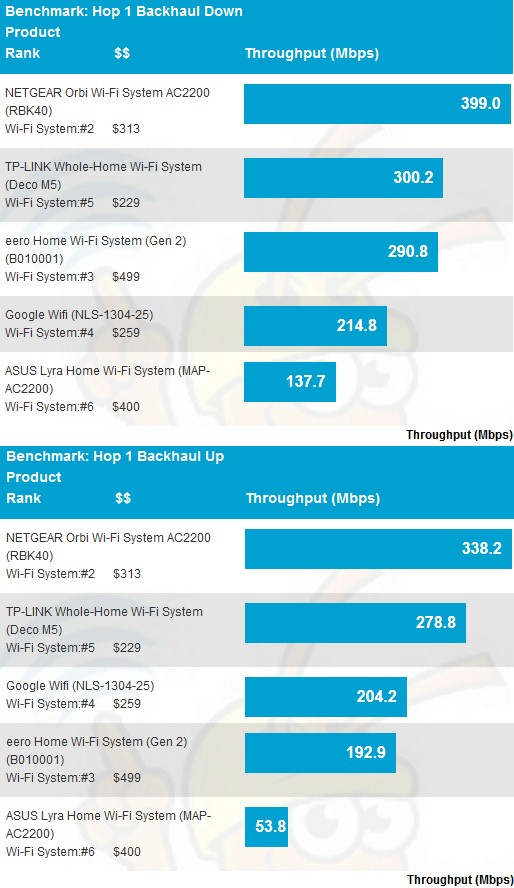 Wi-Fi System Backhaul – Hop 1
…and Hop 2. The results clearly show Lyra has a serious problem with backhaul management and why Hop 1 and 2 throughput was so low in the System tests above.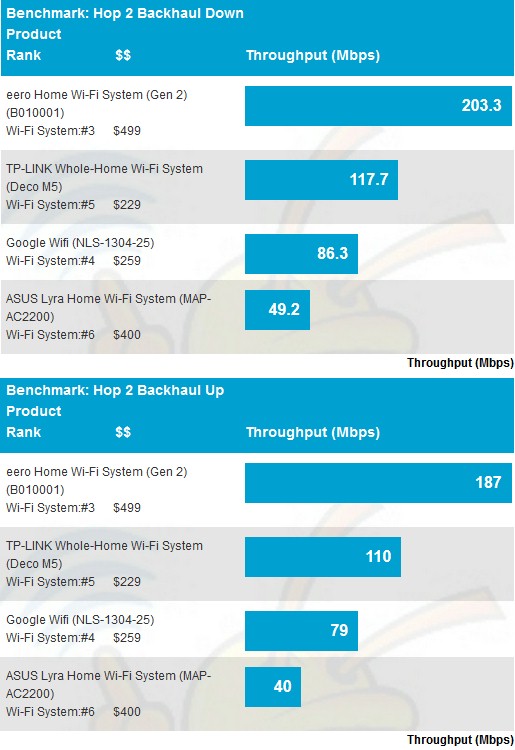 Wi-Fi System Backhaul – Hop 2
Capacity
Our Wi-Fi System capacity test uses three 2×2 AC clients, one connected to each node of three node systems. Traffic is then run to all three clients simultaneously and throughput measured for each traffic pair. A 2.4 GHz client is connected to the root node and 5 GHz to the others.
The Capacity bar chart shows total throughput for the three test clients in each direction. Since previous tests have shown low backhaul capacity, I wouldn't expect Lyra to do very well in this test and it doesn't. It came in dead last in both directions.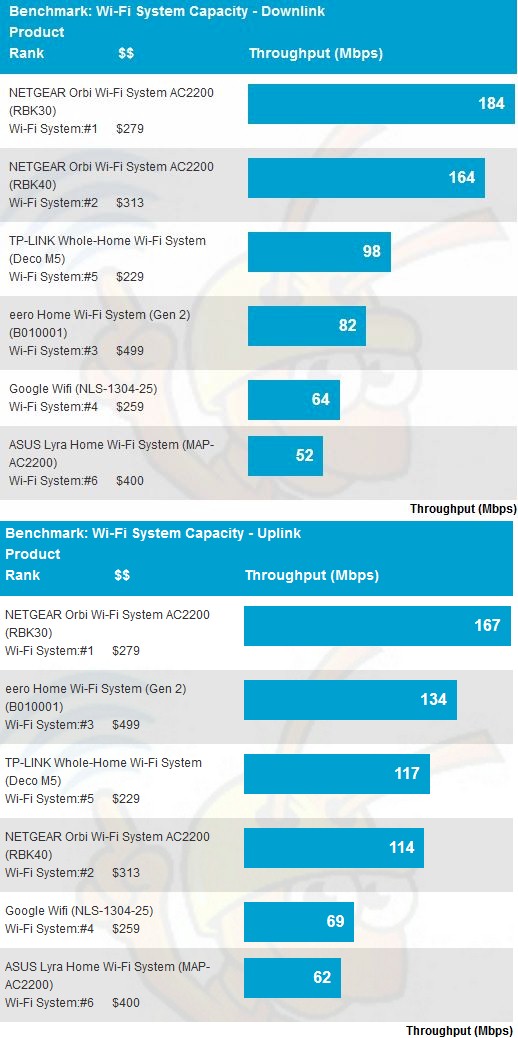 Wi-Fi System Capacity
In fact, Lyra struggled with this test and I had to run it multiple times. In the end, I failed to get a complete 30 minute run on either up or downlink tests.
The next plots compare Lyra and eero Gen 2 at each node. Neither product does as well as you might expect, given that they both have an extra 5 GHz radio for more backhaul flexibility. The low throughput at Hop 1 and 2 nodes is puzzling, since the root node is being loaded with only 2.4 GHz traffic.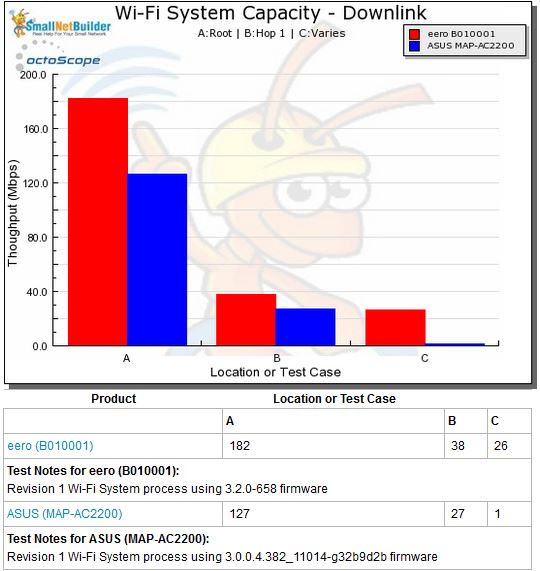 Wi-Fi System Capacity by Test Case – downlink
Uplink detail shows virtually no throughput available at the Hop 2. A trickle of traffic did flow, however. Otherwise the test would not have run.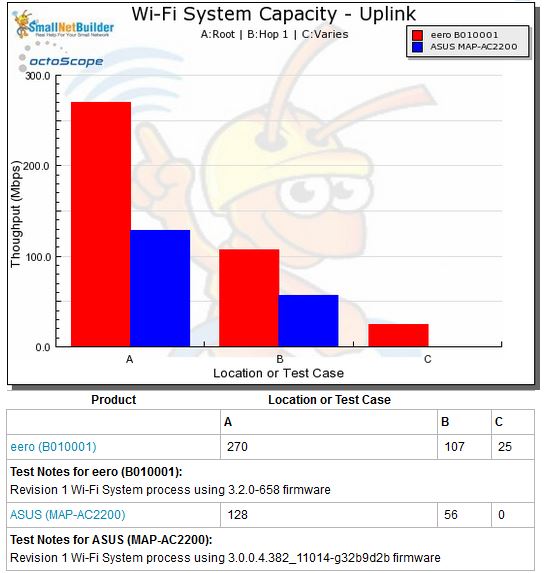 Wi-Fi System Capacity by Test Case – uplink
We can also see throughput changes over the course of the tests. Hop 1 throughput falls precipitously around 2 minutes into the test and never recovers and Hop 2 never gets much throughput at all. The octoScope Pal client reports RSSI and transmit and receive link rates for each test point and there is no obvious change seen there. So the drop must be due to a change in the backhaul link, whose statistics we can't monitor. Both Hop 1 and 2 throughput fall to zero at the end of the test run, so I can't tell which one is responsible for ending the test.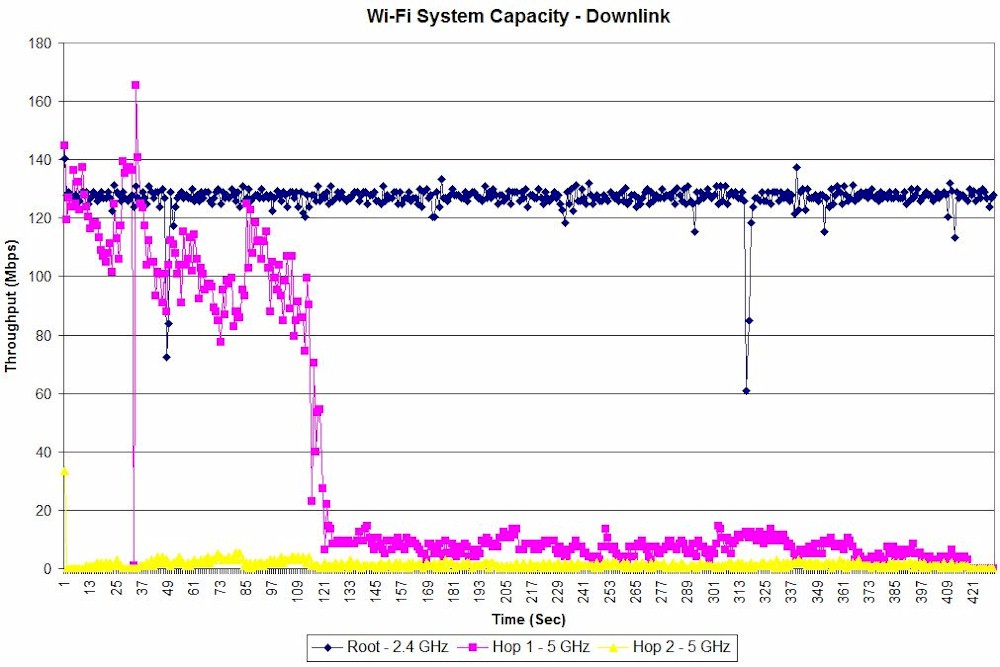 Wi-Fi System Capacity vs. time – Downlink
Uplink shows better Hop1 behavior until the end of the plot. Hop 2 again gets very little throughput. Note this test ran only just under 5 minutes.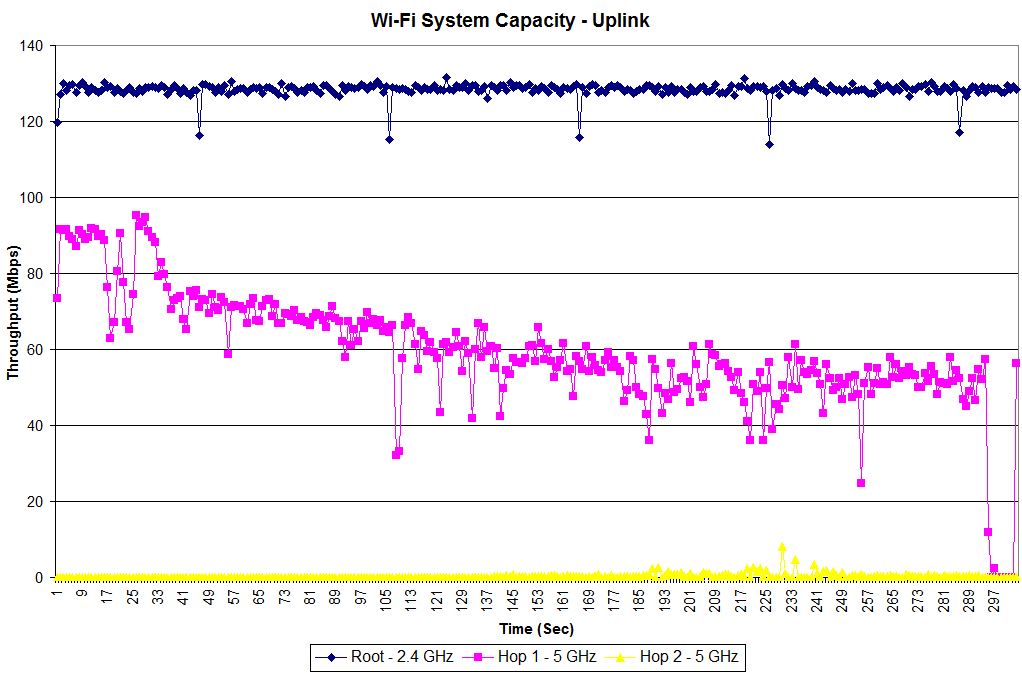 Wi-Fi System Capacity vs. time – Uplink
Closing Thoughts
It's not like the first Wi-Fi Systems sprang fully formed into the marketplace. They all had their growing pains as system designers learned how multi-node systems performed in the real world and tuned their software to improve system performance. But those first systems now have more than a year of experience behind them and market share positions have been staked out. So newcomers have to hit the ground running and deliver as good, if not better performance to win buyers.
The good news is ASUS chose to include a third radio in Lyra. Mesh-based Wi-Fi systems need all the flexibility they can get when it comes to managing backhaul and a third radio opens up more options. Unfortunately, ASUS hasn't endowed Lyra with the intelligence to effectively use all three radios to maximize throughput delivered to devices.
Even more curious is why ASUS would be trying to kill Lyra in the cradle by running a public beta test of its AMAS (ASUS Multiple Access-Point System).
ASUS is also taking its usual incremental approach with Lyra. If ASUS hews true to form, they will issue multiple firmware updates to fix bugs and try to improve performance. Some may help. Some may not. However, ASUS won't have metrics from systems in the field to help guide Wi-Fi management algorithm development.
Those who are paranoid about networking products that require companion cloud services may think Lyra is a better product for not having one. But when its competition like eero and Google do have cloud systems constantly monitoring system Wi-Fi metrics, they can have a big advantage in making informed decisions about what to tweak. If you want to learn about what can be learned from Wi-Fi system metrics, you should look at the lessons Google has learned.
In case you haven't figured out from the performance analysis above and last place ranking in the Wi-Fi System Ranker, I'm not recommending Lyra. I will revisit the product in a few months, however, to see if a firmware update or two (or three) turns my frown upside down.
Buy Lyra Home Wi-Fi System from Amazon