At a glance
Product
NETGEAR AC1200 WiFi Range Extender (EX6200) [Website]
Summary
Broadcom-based AC1200 wireless extender with Gigabit ports and USB 3.0 storage sharing
Pros
• Five Gigabit ports
• USB 3.0 storage & printer sharing
• Very easy setup
• 'FastLane' can increase available wireless throughput
Cons
• Multi-color indicators too dim to be helpful
• Can't use as access point
Typical Price: $140 Buy From Amazon
Introduction
We recently overcame our long-standing aversion to reviewing wireless extenders with two roundups. The Single Band Wireless Extender Roundup covered N300 class 2.4 GHz-only products, while the Dual Band Wireless Extender Roundup tested dual-band N600 products.
NETGEAR appears to be a true believer in the value (or at least the sales potential) of wireless extenders and announced two AC class models at CES in January: the wall-plugged EX6100 AC750 WiFi Range Extender; and the EX6200 AC1200 High Power WiFi Range Extender desktop model that is the focus of this review.
As its name implies, the EX6200 supports maximum link rates of 300 Mbps in the 2.4 GHz band and 867 Mbps in 5 GHz. Its two radios can extend your network in both bands simultaneously or use one radio as a "backhaul" to the router or AP being extended while the other is used to connect clients. NETGEAR calls this capability "FastLane", presumably because it avoids the 50% retransmission throughput penalty imposed by the basic wireless extension process.
NETGEAR has endowed the EX6200 with a nice assortment of status LEDs as described in the graphic below. Since proper extender placement is the key to success with these products, the Link Rate lights use color to indicate "optimum", "good" or "poor" connection between the extender and the base router / AP.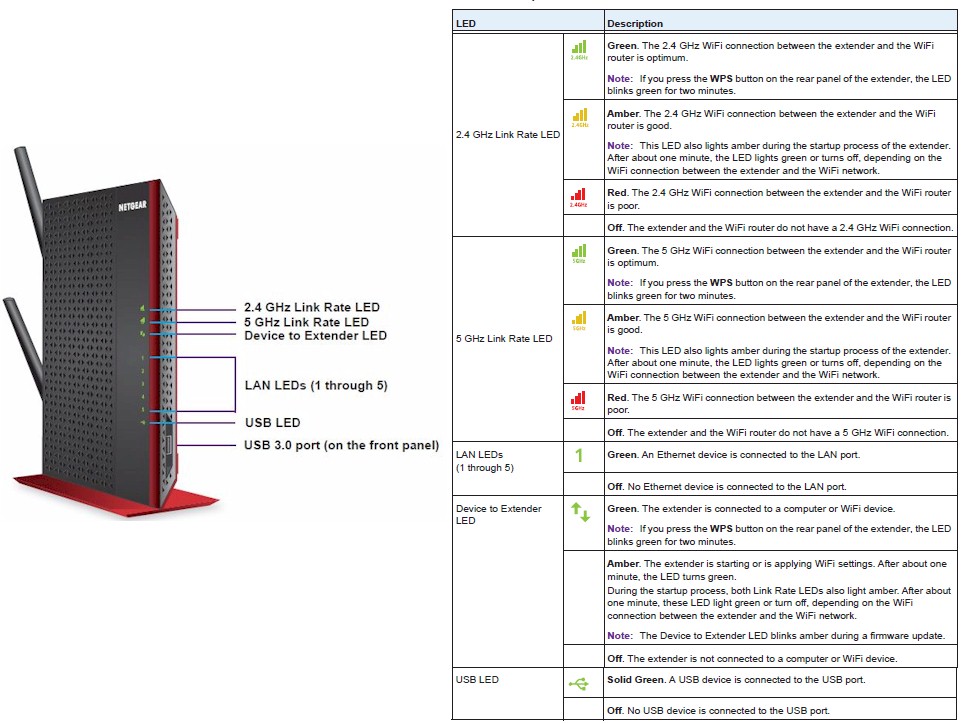 NETGEAR EX6200 front panel callouts
Since I am partially red / green color blind, I didn't pay any attention to the lights, whose colors were even more difficult to make out being behind a dark-tinted plastic panel. Although it would have cost a bit more, three separate LEDs for each indicator would have been more helpful.
The two dual-band 5dBi antennas are actually attached via RP-SMA connectors. But they are screwed on very tightly and you may need pliers to get them off, should you want to. Since the EX6200's design is likely very similar to that of an AC1200 router, the fifth Ethernet port that would normally serve as a WAN connection becomes another LAN port (all are Gigabit).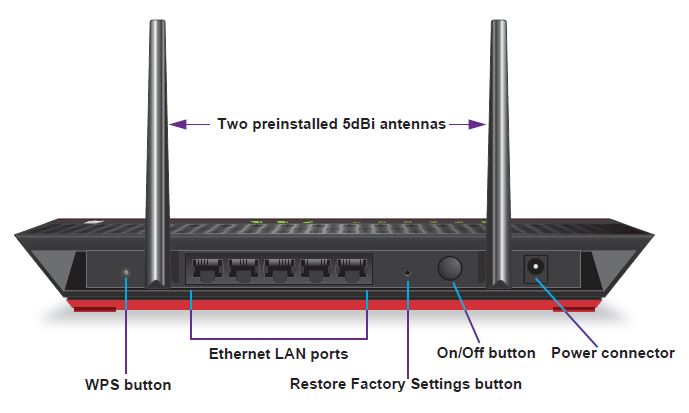 NETGEAR EX6200 rear panel callouts
There is also a single USB 3.0 port on the front panel of the router that supports NETGEAR's ReadySHARE USB storage and printer sharing.
Inside
NETGEAR is blocking the internal FCC doc photos until late May 2014, so I opened up the EX6200 after testing was completed. It's a Broadcom-based design with an interesting third internal antenna that I can't quite figure out how it is connected. Both the 2.4 and 5 GHz radios appear to have external power amplifiers.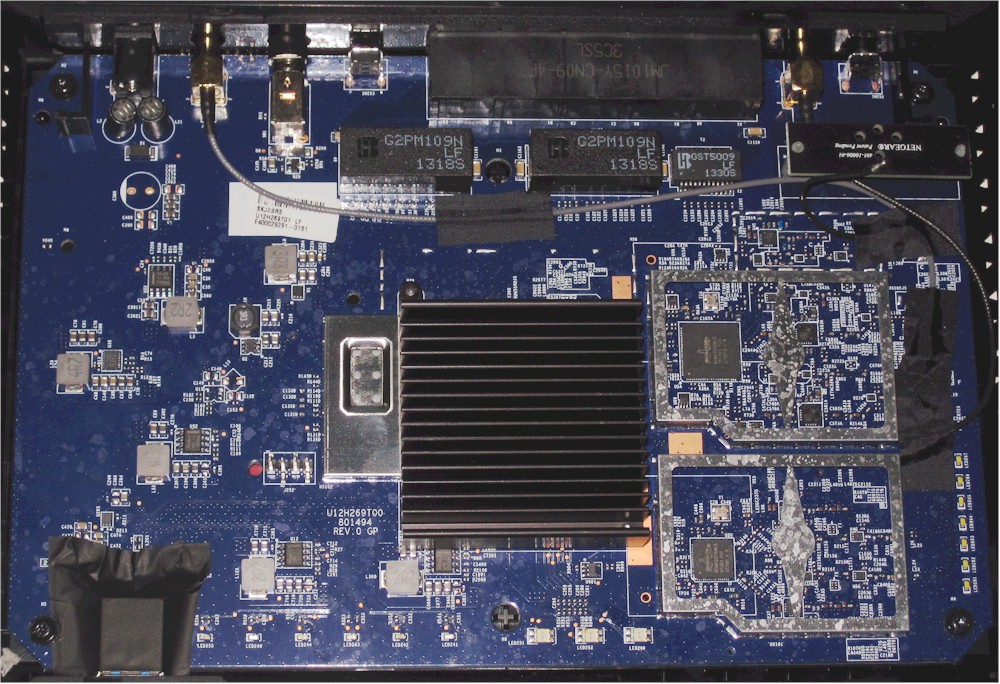 NETGEAR EX6200 board with RF shields removed
The processor and RAM are under the pinned-on heatsink. But given the space available and the absence of other visible components for USB 3.0 and switch, I'm guessing the main processor is a Broadcom BCM4708A or A1. I managed to find 8 MB of Macronix flash on the underside of the board.
EX6200
CPU
Broadcom BCM4708A or BCM4708A1 (guess)
Switch
In BCM4708A
RAM
?
Flash
8 MB
2.4 GHz Radio
Broadcom BCM43217 2×2 802.11b/g/n transceiver + unidentified 2.4 GHz
power amps (markings 088649E310)
5 GHz radio
Broadcom BCM4352KMLG + Skyworks SE5003L1 5 GHz, 23dBm Power Amplifier with Power Detector (x2)
Table 1: NETGEAR EX6200 key components
Features
Extenders have come a loooong way since Linksys' infamous WRE54G, which was so difficult to set up I had to write a separate article describing how to do it. Today's extenders have everything you need for a painless setup experience built right into their shiny plastic shells and the EX6200 is no exception.
All you need to do is connect to the default NETGEAR_EXT SSID (same for both bands) and follow the wizard. I've put a visual walkthrough of the process with commentary in the gallery below.
It is easy to get inside. But the processor is safely protected by a pinned heatsink.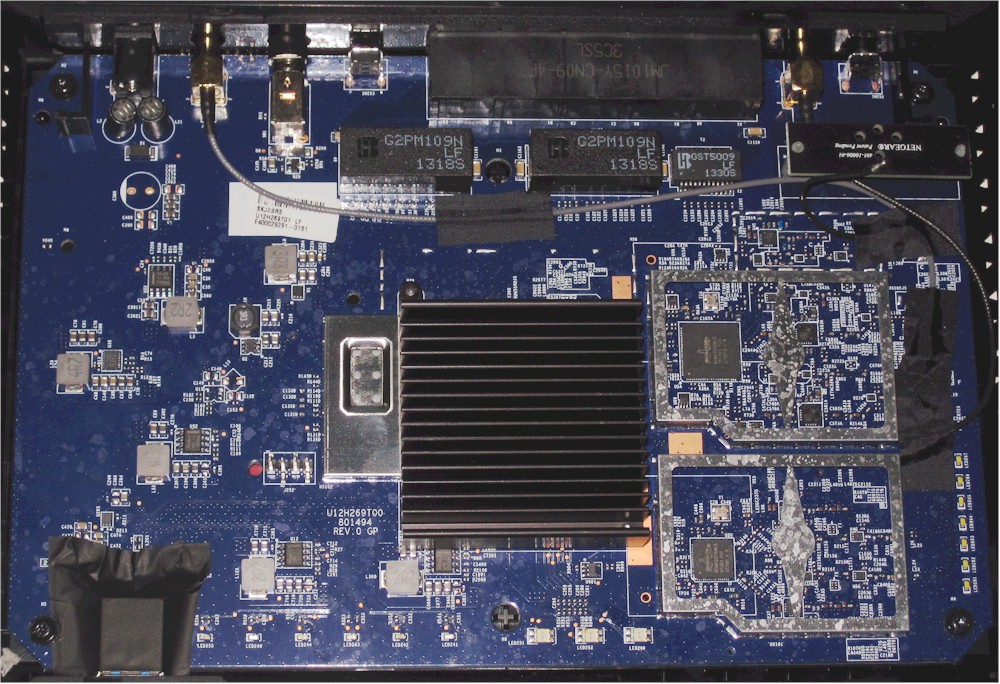 Removing the RF shields shows Broadcom 2.4 and 5 GHz radio devices.
The EX6200 setup wizard starts by searching for networks
It presents 2.4 GHz networks first
Enter the WPA key here
5 GHz network selection is next
Connection setup starts after networks are selected
Extended networks get unique SSID's assigned by default. But you can change them.
You can also set up different security for the extended networks
Applying changes
You must manually connect to the extended networks after setup
Being partially color-blind, I really appreciated this message!
The extender automatically follows the channel and bandwidth settings of the router / AP it is connected to. These settings can be adjusted only when using the FastLane feature and only for the radio connecting to clients.
This screen shows wired and wireless devices connected to the EX6200
Advanced wireless settings are pretty basic. There is no transmit power adjustment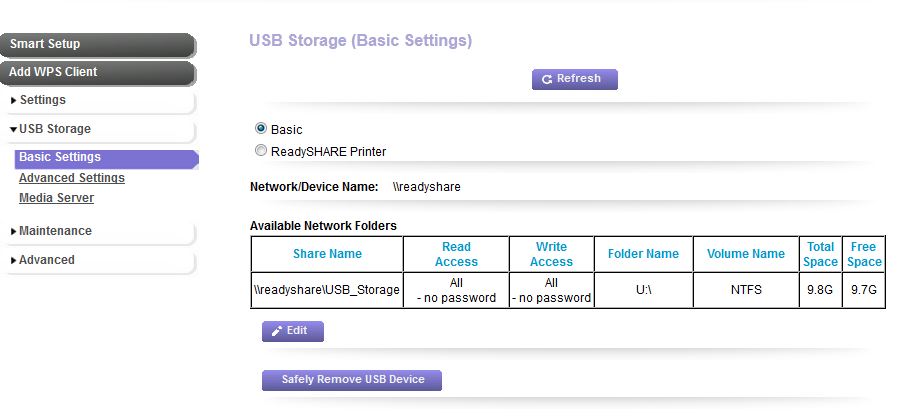 Basic ReadySHARE settings
More ReadySHARE settings. There is no HTTPS access and no dynamic DNS feature to support easy remote access.
The built-in DLNA server settings are very basic. You can't schedule content scans.
You can control the USB devices that can attach to the extender
After setup, you can log into the admin interface by pointing your browser at http://mywifiext.net, which takes you to the status page shown below. I was pleased to see link rate and signal strength readings for both links between the extender and base router / AP!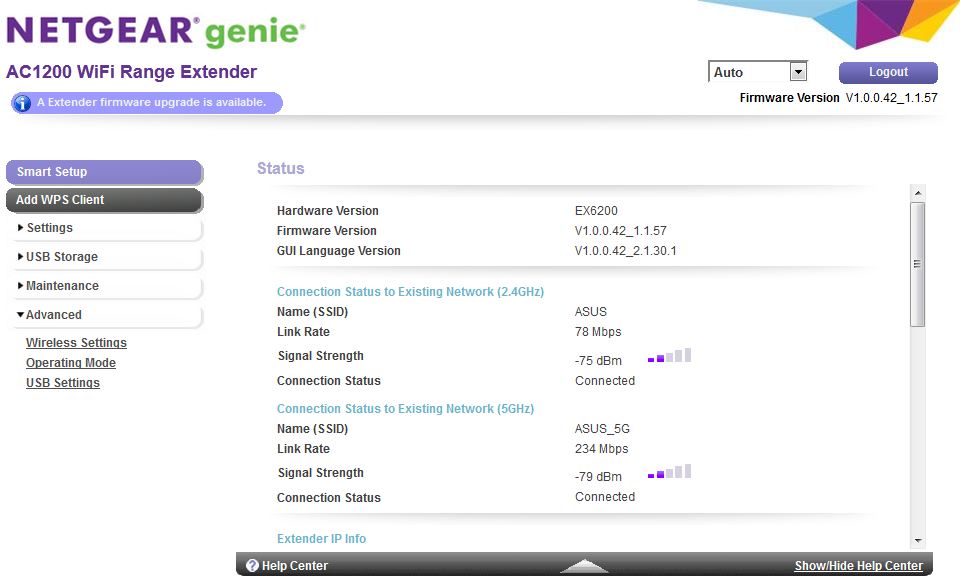 Hallelujah! Link Rates and Signal Strength Indicators
As noted above, NETGEAR has included visual setup aids in the form of link rate LEDs that use color to indicate the quality of the link between the EX6200 and the router / AP being extended. There is also a "Device to Extender" LED, but it doesn't provide the same link quality indication.
The User Manual also tries to do its part to get you set up right with simple diagrams like the one below and a section on how to position the extender.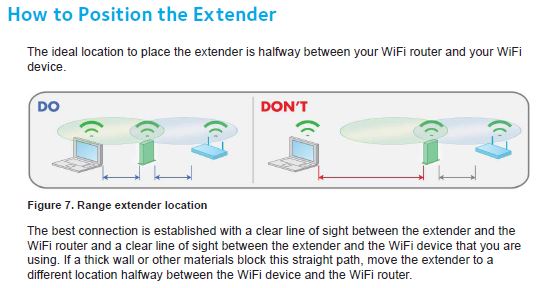 How To Position The Extender
ReadySHARE
NETGEAR has included more than a five-port Gigabit switch in the EX6200 to increase its appeal. The front-panel USB 3.0 port supports NETGEAR's ReadySHARE. ReadySHARE includes support for Apple Time Machine and DLNA and FTP servers and can even share a printer. But the EX6200's implementation does not support remote access via ReadySHARE Cloud or backup via ReadySHARE Vault.
Basic ReadySHARE settings are shown below. Other screenshots with commentary are in the gallery above.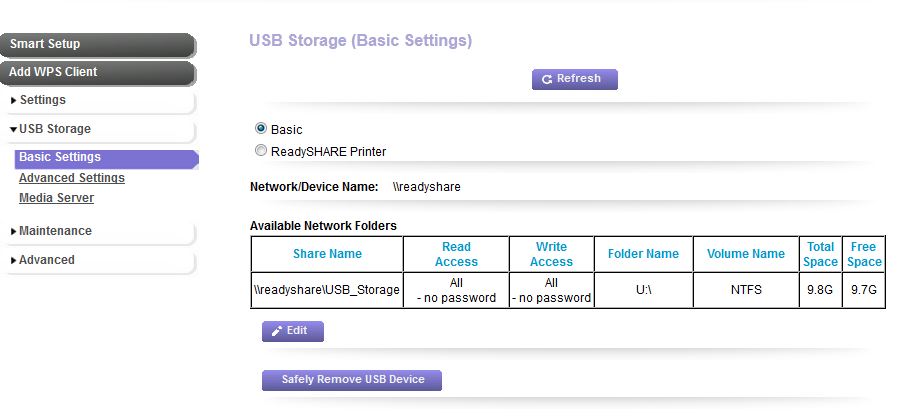 How To Position The Extender
I ran some quick file copy tests using our standard USB 3.0 backup drive formatted in FAT32 and NTFS. The results are very similar to what we measured with NETGEAR's R6250 AC1600 router. Note that you'll achieve this throughput only between Gigabit Ethernet devices connected to the EX6200's switch. Once you hit the wireless link, throughput will drop significantly, yes, even using the 5 GHz AC connection!
| Product | NETGEAR EX6200 | NETGEAR R6250 |
| --- | --- | --- |
| Processor | Broadcom BCM4708X? | Broadcom BCM47081A |
| FAT32 Write (MBytes/s) | 18.1 | 15.9 |
| FAT32 Read (MBytes/s) | 28.4 | 25.6 |
| NTFS Write (MBytes/s) | 19.8 | 17.6 |
| NTFS Read (MBytes/s) | 28.5 | 25.7 |
Table 2: File copy throughput – USB 3.0 (MBytes/sec)
Fast Lane
A key concept to keep in mind before you buy is that wireless extenders work best to bring a signal to where you can't get one at all or perhaps only an intermittent one. Extenders generally won't help make a good wireless connection better, because they start off by cutting the bandwidth they receive in half. The only way around this throughput penalty, which is due to a single radio receiving, then retransmitting each data packet, is to use two radios.
This is exactly what NETGEAR does with its "FastLane" feature, found in the Advanced > Operating Mode settings. The EX6200 comes set to "Internet Surfing" mode by default. As the graphic below indicates, this mode lets each radio extend the network in its band. Switching to FastLane provides the choice of using one of the radios as "backhaul", i.e. to connect the EX6200 back to the base router / AP, and the other to connect to clients.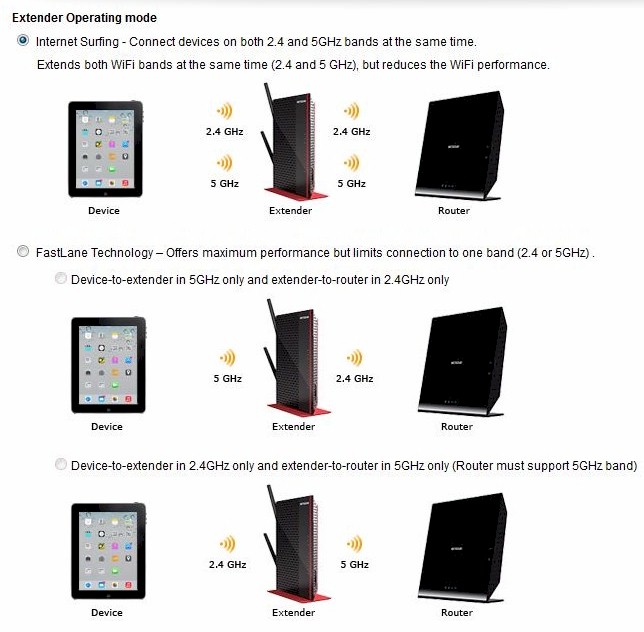 How To Position The Extender
Because each radio uses separate airtime to receive or transmit each packet, there is no 50% throughput penalty. But choosing which radio to use for what can make your head hurt, if your base router and clients support both bands. Otherwise, the choice will be dictated by the capabilities on each end of the EX6200. We'll explore both options when we look at performance.
One final feature note is that you can't use the EX6200 as an access point.
Performance
We developed a new test methodology for our initial wireless extender roundups that positioned the test client in a true "dead zone". As noted earlier, "lighting up" dead zones are what wireless extenders are intended to solve, so that's the way we test them. Since this is an AC class extender, we used a revised test procedure, which uses a different client. We also changed locations back to the SNB labs, since we have a much quieter wireless environment here.
The wireless results in the Benchmark Summary represent "extended" wireless throughput, i.e. from base router, through the EX6200 and to the test client laptop. The wired results are what we measured with the test laptop's wireless disabled and connected to the EX6200 Ethernet port.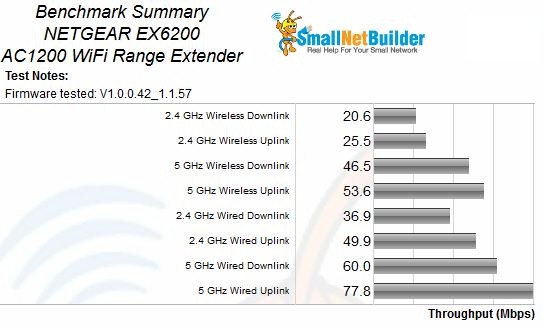 NETGEAR EX6200 Benchmark Summary
Following the 50% throughput reduction rule of thumb, we would expect the wireless results to be around half the wired throughput. This appears to be the case for 2.4 GHz, but not for 5 GHz. 5 GHz wireless downlink results are only 22% lower and uplink only 31% lower than the wired throughput available at the EX6200 Ethernet ports. Keep in mind that all these results were obtained with only "two bar" signal qualities and about half the maximum available link rates, as shown in the EX6200's status below.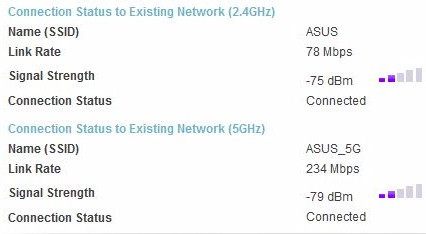 NETGEAR EX6200 Connection Status for Tests
For a look at how steady throughput is, we'll turn to the IxChariot plots. Each is a composite of the test plots for the wired test (extender_eth) and wireless (extended).
2.4 GHz downlink shows a good amount of throughput variation, but the expected 50% reduction in average throughput between wired and (extended) wireless results. The extended signal's link rate at the test laptop was a steady 144 Mbps, reflecting the fact we test 2.4 GHz in 20 MHz bandwidth mode.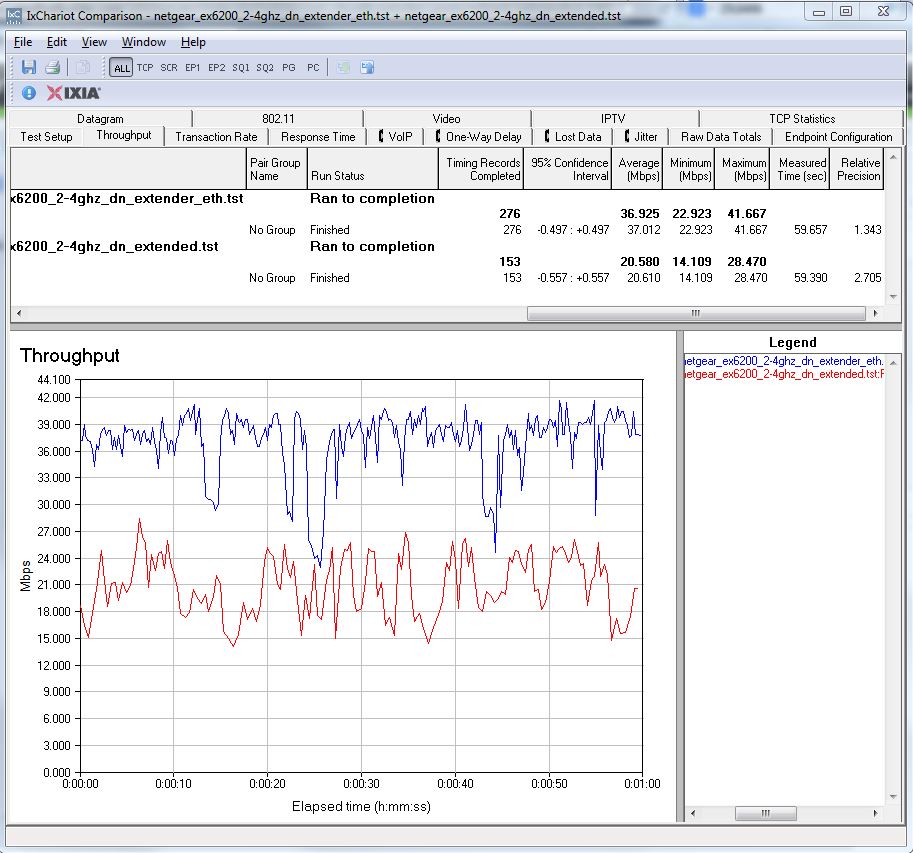 NETGEAR EX6200 throughput – 2.4 GHz down
2.4 GHz uplink throughput is a bit more steady, but also shows a 50% reduction in average throughput between wired and (extended) wireless results.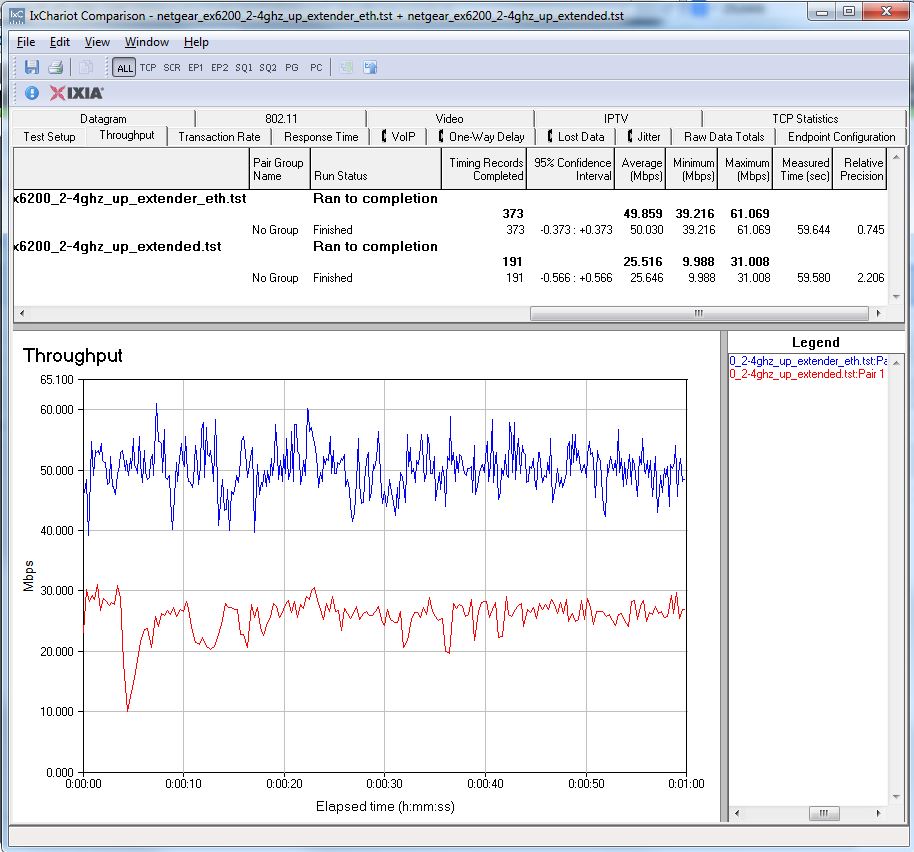 NETGEAR EX6200 throughput – 2.4 GHz up
5 GHz downlink shows quite a high amount of variation in the extended plot, which could indicate a lot of rate shifting taking place. I didn't see this reflected in the link rate shown by the Windows laptop, which remained quite steady at 585 Mbps.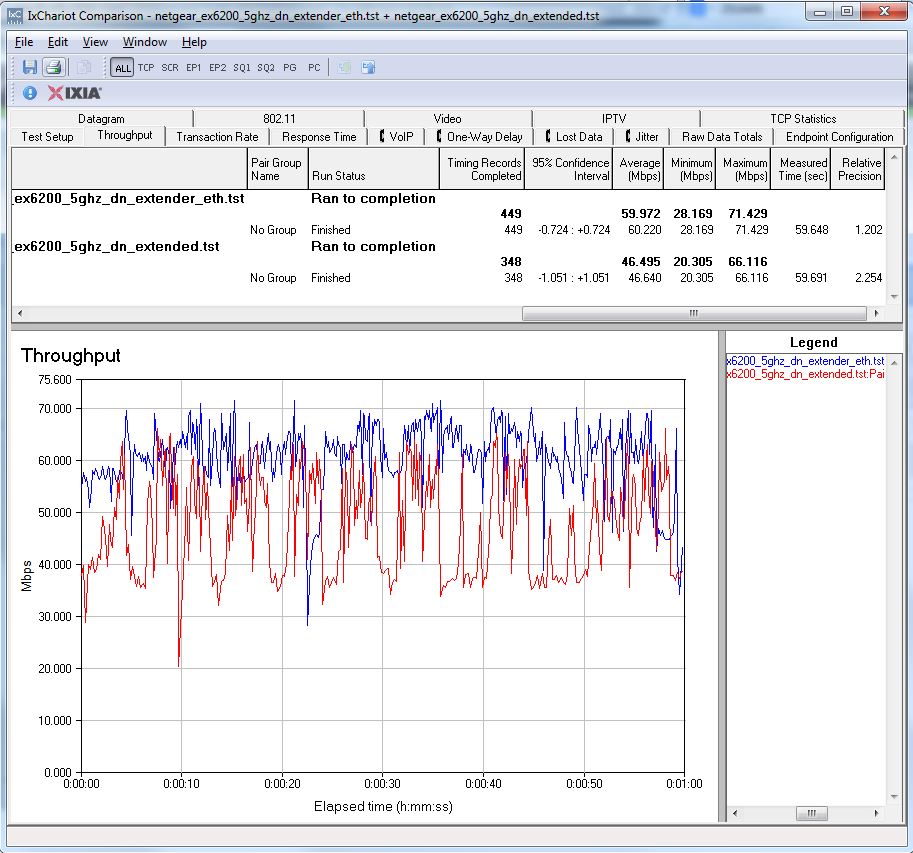 NETGEAR EX6200 throughput – 5 GHz down
5 GHz uplink show is also interesting because it shows high variation in the wired extender throughput and much steadier wireless extended throughput. If the extender throughput were steadier, extended throughput reduction probably would have been closer to the expected 50%.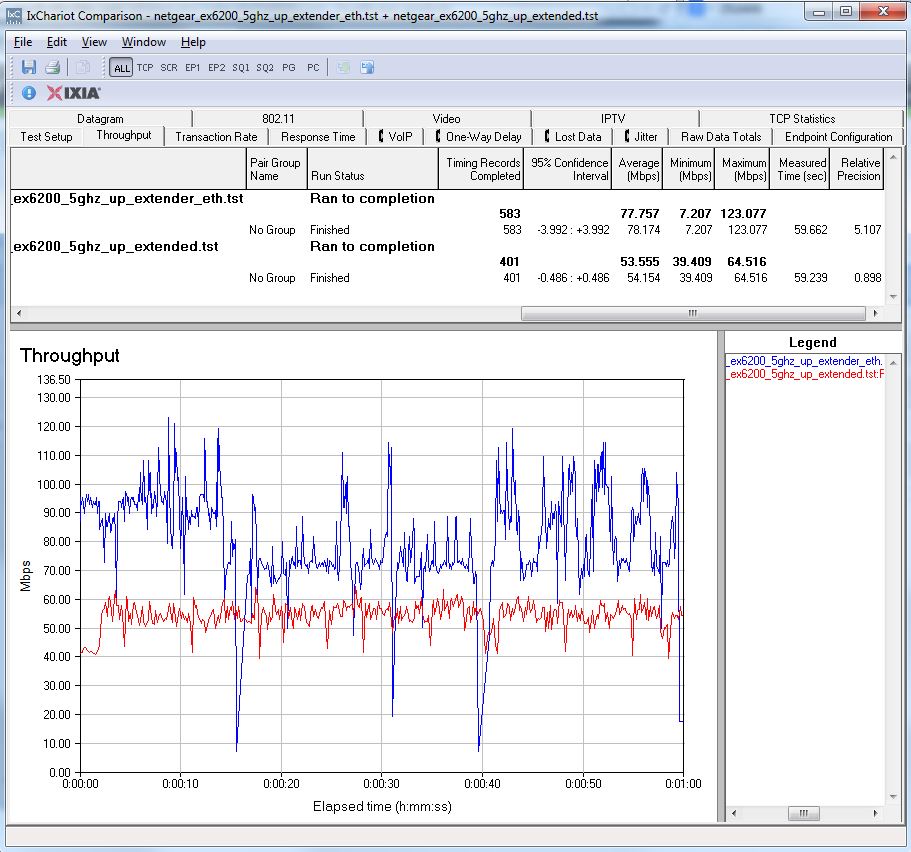 NETGEAR EX6200 throughput – 5 GHz up
FastLane Performance
I also tested the EX6200's "FastLane" feature in both modes with surprising results. The first plot shows extended wireless throughput using the 2.4 GHz radio to connect back to the base router and the 5 GHz radio to connect to the extended test client. Since I measured 47 Mbps down and 54 Mbps uplink using the straight 5 GHz repeated signal, it looks like this FastLane mode isn't the way to go.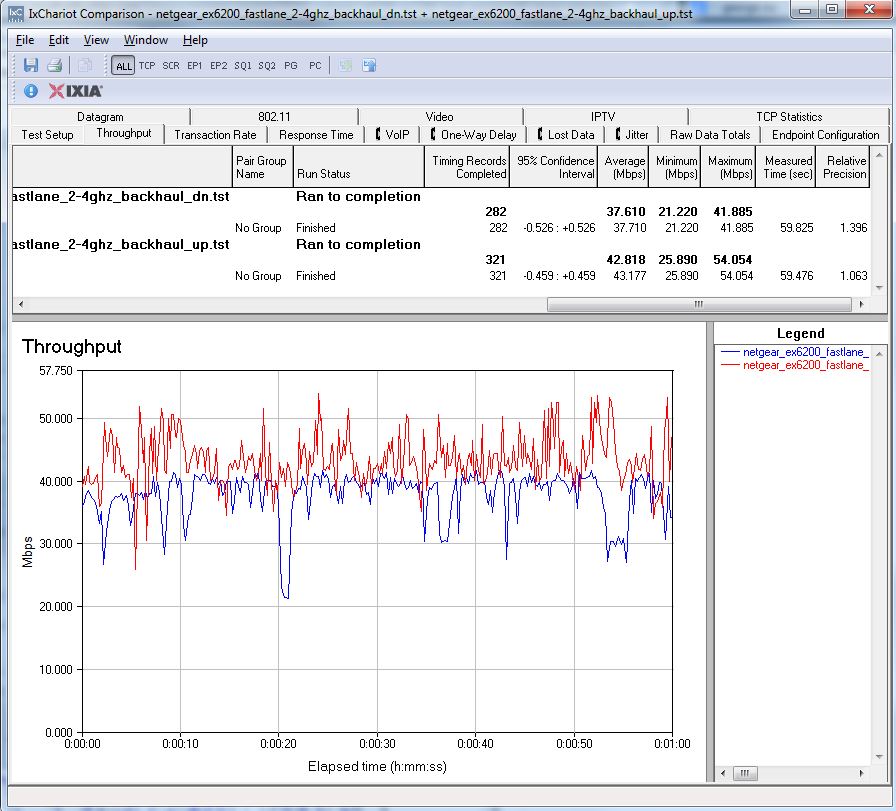 NETGEAR EX6200 extended throughput via FastLane w/ 2.4 GHz backhaul
Switching over to using a 5 GHz backhaul looks more promising. The straight 2.4 GHz extended signal provided only 21 Mbps down and 26 Mbps up, while the FastLane extended signal yielded three times more downlink and almost two times more uplink throughput! So if you had an AC1200 or higher class router serving mostly 2.4 GHz clients, it looks like the EX6200 could put the idle 5 GHz radio to good use.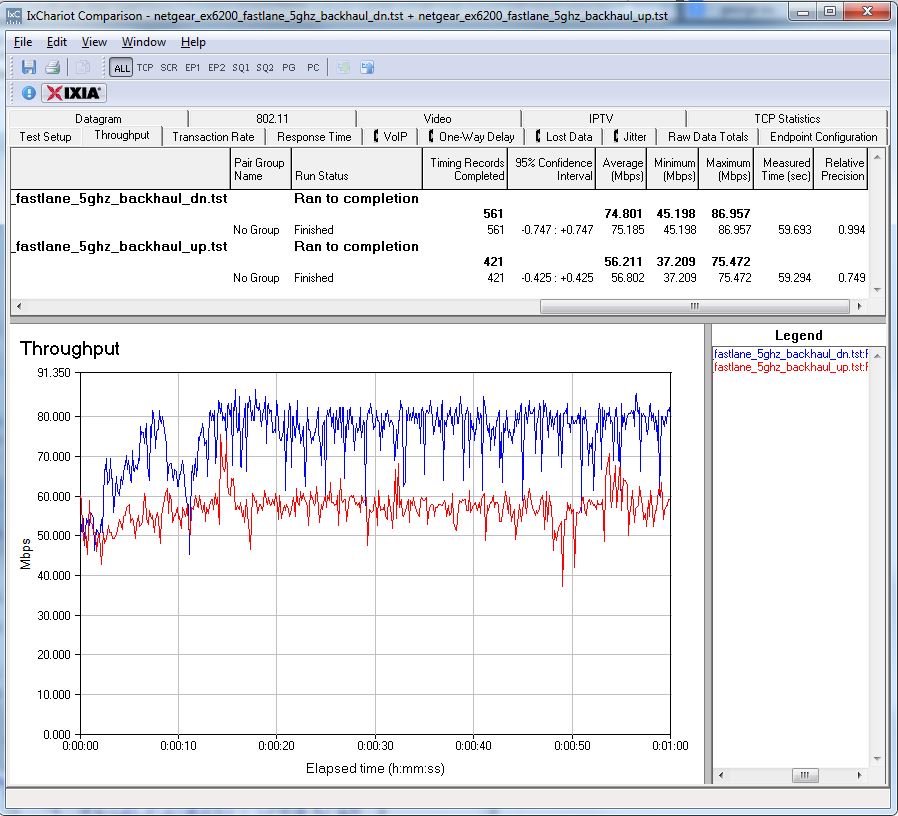 NETGEAR EX6200 extended throughput via FastLane w/ 5 GHz backhaul
Signal Boost
So how much did the EX6200 actually boost the signal in our test setup? Glad you asked, because I took inSSIDer measurements to show just that. The 2.4 GHz plot below shows the EX6200 took an intermittent -88 dBm signal and boosted it to a continuous -43 dBm average signal.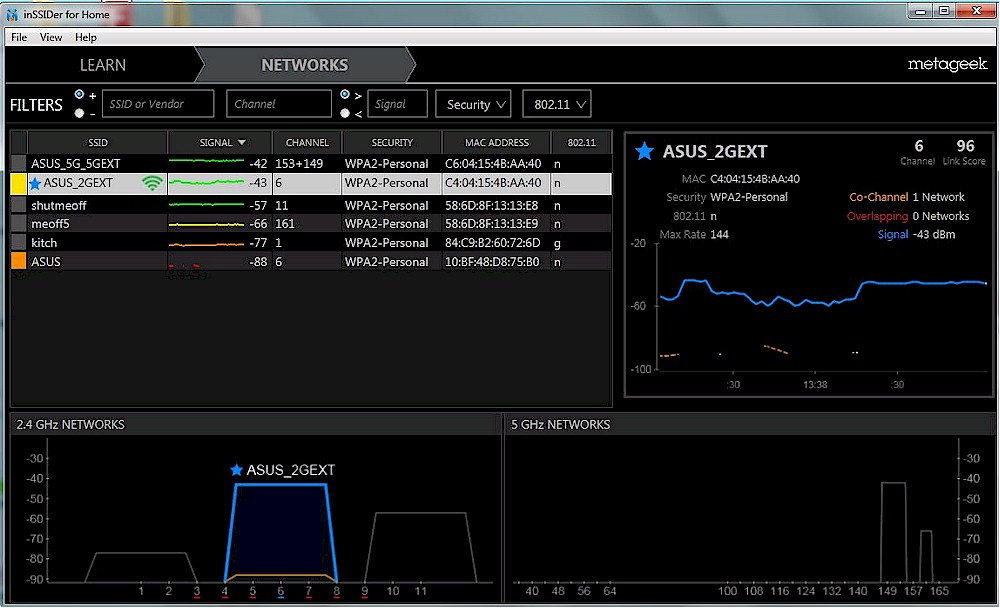 inSSIDer plot of 2.4 GHz signal difference
The 5 GHz plot shows a similar story, with an intermittent -86 dBm signal turned into a much more reliable -41 dBm.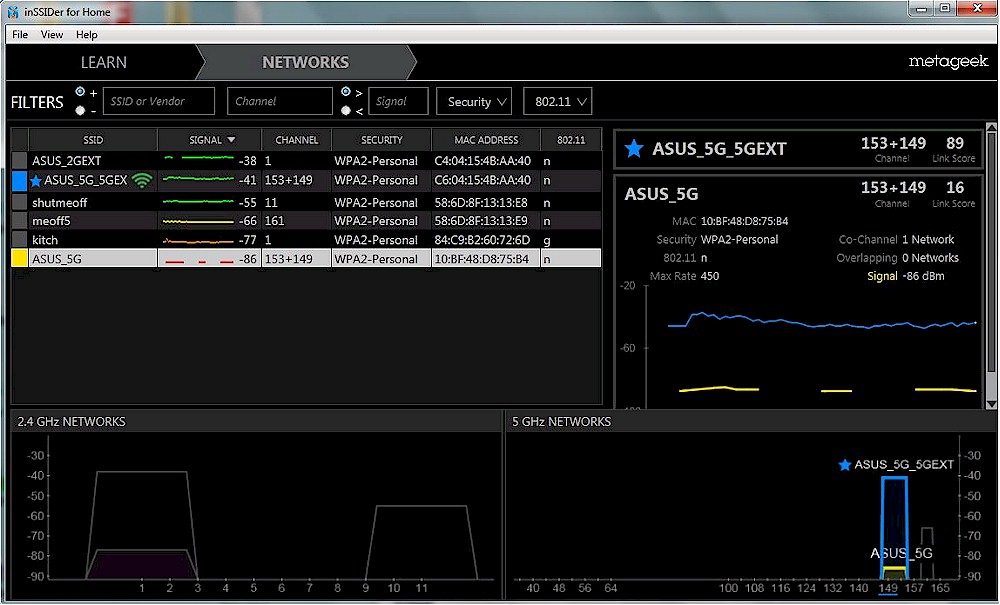 inSSIDer plot of 5 GHz signal difference
Closing Thoughts
There is still no substitute for the reliability and throughput that Ethernet-connected access points can provide for solving wireless coverage problems. But the EX6200 shows that the higher bandwidth afforded by 802.11ac technology can be a surprisingly good substitute. And much easier to set up, too!
While you can use the EX6200 with any router or AP, you'll get the best throughput by pairing it with an AC1200 or higher class router. As with any wireless extender, the more bandwidth it receives, the more it can pass along. For the EX6200, that "extended" bandwidth can be impressively high.
Buy AC1200 WiFi Range Extender from Amazon