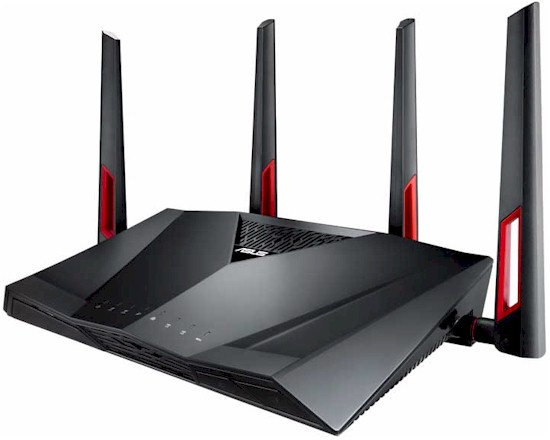 At a glance
Product
ASUS Dual-band Wireless-AC3100 Gigabit Router (RT-AC88U) [Website]
Summary
Broadcom-based AC3100 4×4 router. Same as RT-AC3100, but with 8 Gigabit LAN ports vs. 4
Pros
• Almost a Gigabit of wireless throughput when paired with another in bridge mode
Cons
• MU-MIMO not supported
• Meh USB 3.0 storage throughput
• Run with the pack wireless performance
Typical Price: $195 Buy From Amazon
Introduction
ASUS has gone all-in with Broadcom for its second try at 4×4 routers, with three models. The $400 MSRP for the top-of-line AC5300 class "tri-band" RT-AC5300 is testing the limits of Wi-Fi router buyers' willingness to throw money at the hope of better performance. The AC3100 class RT-AC3100 has the normal one radio each for 2.4 and 5 GHz and comes with a more reasonable $280 list price.
Finally, the AC3100 class RT-AC88U, which is the focus of today's review, asks only a $20 premium over the RT-AC3100 for the benefit of four additional Gigabit LAN ports (and some snazzy red accents for gamer bait).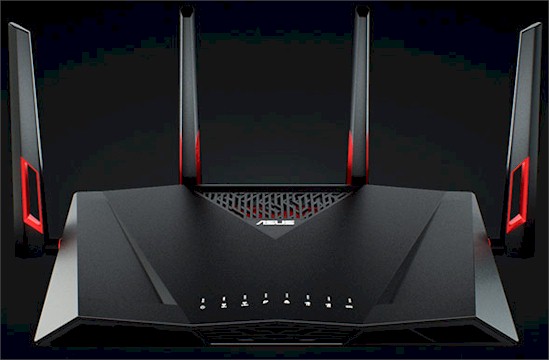 The AC88U's body footprint is only slightly larger than the AC87U's. But it will require about 4" more of width on your shelf or table (approx. 15.5" vs. 11.5") because of the move of two antennas from rear to side.
The AC88U's more angular styling succeeds in projecting a more aggressive image. But it also has a practical benefit of better ventilation. The top-side airflow through the large top grille positioned right over the internal heatsink is supplemented with smaller air-scoops lined up with the row of indicator lights and on the front edge. There are also vents along the top rear panel above the connectors. Bottom-side ventilation is very good, too, with the bottom cover full of ventilation slots.
The bottom also has two mounting screw slots revealed by removing their rubber plugs. The slots are toward the rear, which will point the connectors up if you hang the router on a wall.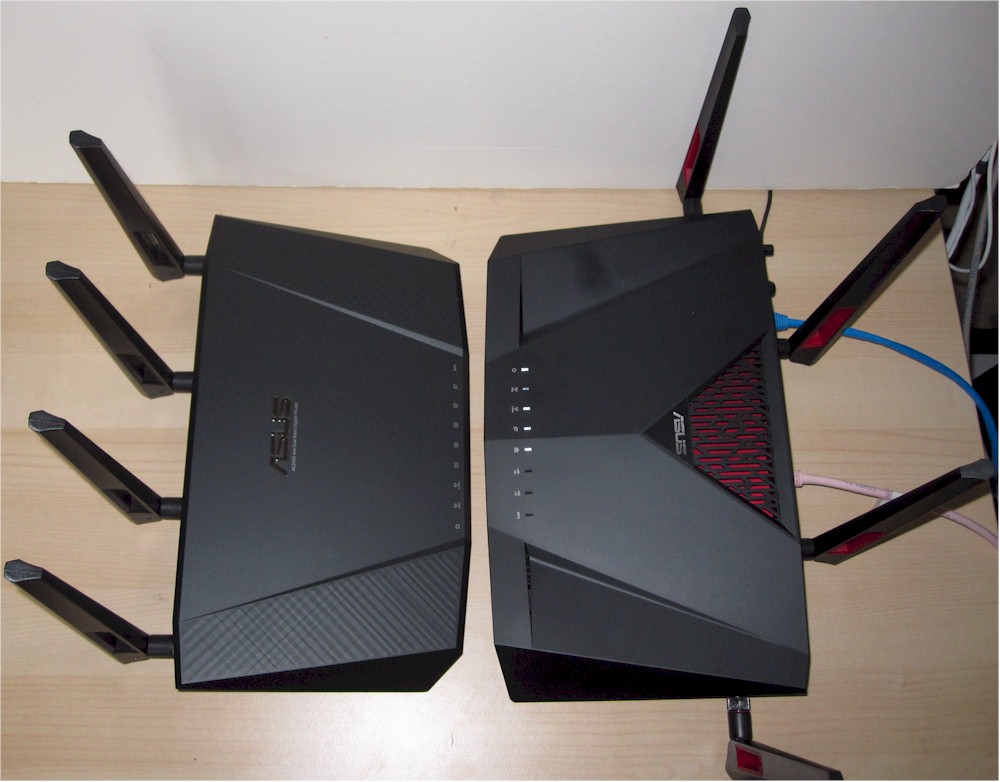 ASUS RT-AC87U and RT-AC88U
The callout graphic below shows all the ports, indicators and switches. Other reviewers have applauded the indicator lights' move to the top cover and I do, too. Now you can see them without ducking down or lifting up the front of the router.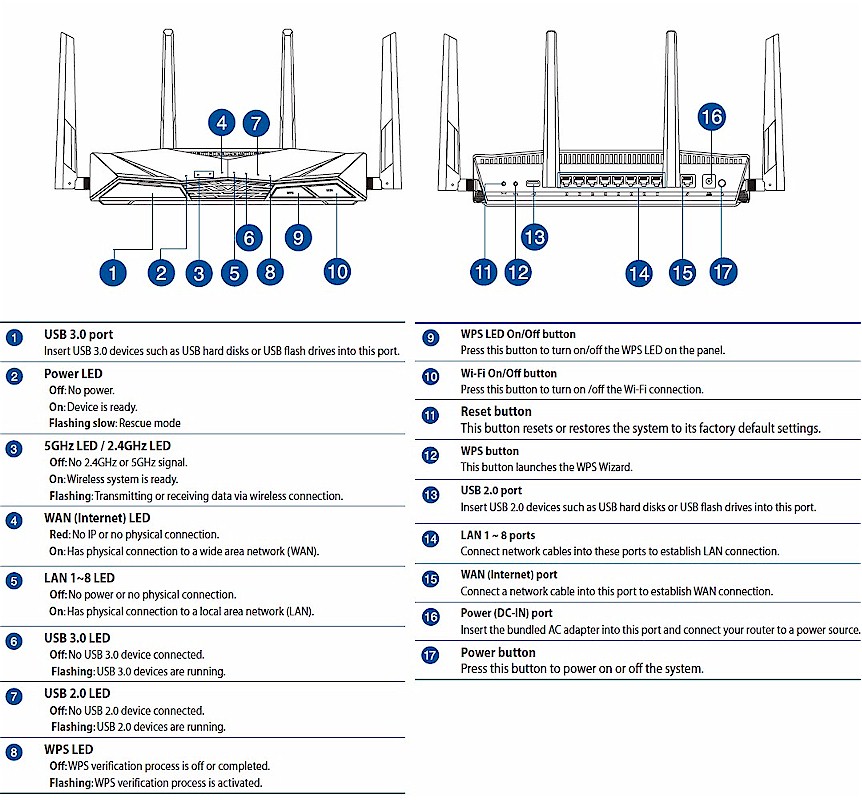 ASUS RT-AC88U callouts
Inside
The NETGEAR R8500 review contains all the background on Broadcom's 4×4 architecture, so I won't repeat it here. In sum, the RT-AC88U and its alternate versions are dual-band 4×4 AC3100 class routers using Broadcom's first 4×4 chipset. Although the BCM4366 4×4 radio is MU-MIMO capable, the AC88U does not currently support MU-MIMO.
The 3100 in AC3100 comes from:
1000 Mbps (2.4 GHz) + 2165 Mbps (5 GHz) = 3165 Mbps
Since AC3200 is already used by 3×3 three-radio (aka "tri-band") routers, manufacturers wisely rounded down to AC3100 to avoid confusion.
The disclaimer on the AC88U's product page says "MU-MIMO beta firmware will be available by the end of 2015". I asked my ASUS contact about this and received this reply forwarded from ASUS HQ:
MU-MIMO firmware will be put on support site in few days. This firmware will be marked as alpha firmware for MU-MIMO and add the limitations in release note.
If ASUS comes through, the RT-AC88U will be the first of the Broadcom 4×4 routers to get its MU-MIMO wings.
Table 1 summarizes the key components of the ASUS RT-AC88U and includes the NETGEAR R8500 for comparison. Note the R8500 has two 5 GHz radios. Also note BCM4709C0KFEBG = BCM47094.
ASUS RT-AC88U
NETGEAR R8500
CPU
Broadcom BCM4709C0KFEBG dual-core @ 1.4 GHz
Broadcom BCM4709C0KFEBG dual-core @ 1.4 GHz
Switch
4 ports in BCM4709C0KFEBG + four ports in Realtek RTL8365MB
in BCM4709C0KFEBG & BCM53125
RAM
512 MB
512 MB
Flash
128 MB
128 MB
2.4 GHZ Radio
– BCM4366 4×4 2.4/5G single chip 802.11ac SoC
– Skyworks SE2623L 2.4 GHz power amp (x4)
– Skyworks SKY85201-11 2.4 GHz SPDT switch w/ LNA (x4)
– BCM4366 4×4 2.4/5G single chip 802.11ac SoC
– Skyworks SE2623L 2.4 GHz power amp (x4)
5 GHz Radio
– BCM4366 4×4 2.4/5G single chip 802.11ac SoC
– RFMD RFPA5542 5 GHz PA module (x4)
– Skyworks SKY85605-11 5 GHz SPDT switch w/ LNA (x4)
– BCM4366 4×4 2.4/5G single chip 802.11ac SoC
– RFMD RFPA5542 5 GHz PA module (x4)
Table 1: Key components summary and comparison
The RT-AC88U, RT-AC88R and RT-AC3100 all share the same FCC ID (MSQ-RTGW00), so must have the same Wi-Fi performance characteristics. As noted previously, the only difference between the AC88 and AC3100 is the number of LAN ports. The way this is done is LAN ports 1 – 4 come from the Broadcom BCM4709C0KFEBG's internal Gigabit switch. The 88U/R ports 5 – 8 are supplied by a Realtek RTL8365MB Layer 2 Managed 4+1-Port 10/100/1000M Switch Controller on the bottom of the board.
The AC88U gets snazzy red heatsinks to match the red insets on its four antennas. I don't know why ASUS bothered, because the heatsink is barely visible through the top cover grille. The FCC photos are kind of fuzzy, so I took the shot below when I opened up one of the samples after testing.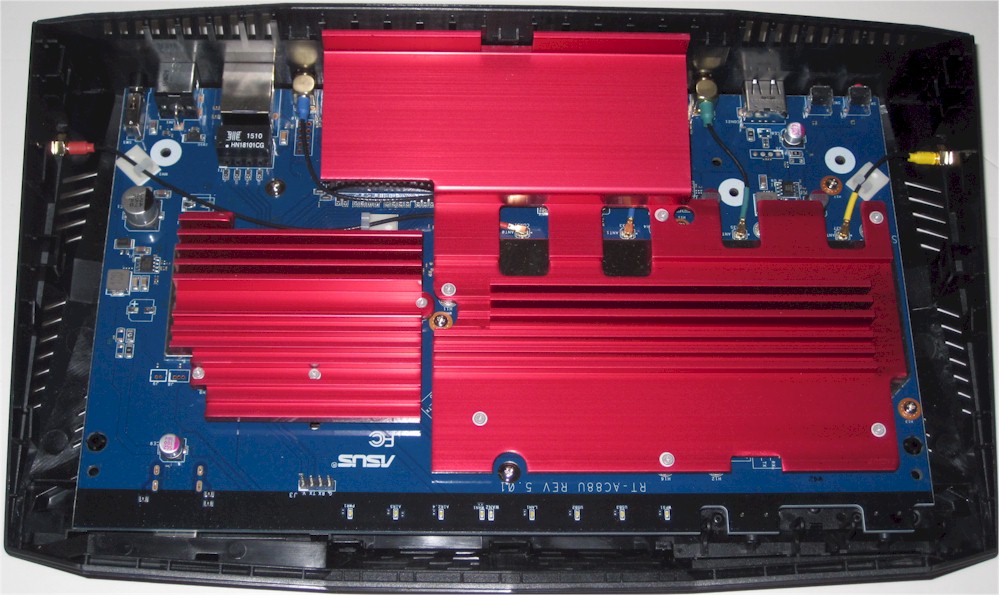 ASUS RT-AC88U inside
I went all the way and removed the heatsinks and RF can tops to identify the RF amplifiers. As we've seen in other designs, the 5 GHz and 2.4 GHz amplifier and associated switche sections are interleaved. The BCM4366 on the left is the 5 GHz radio; 2.4 GHz is to the right.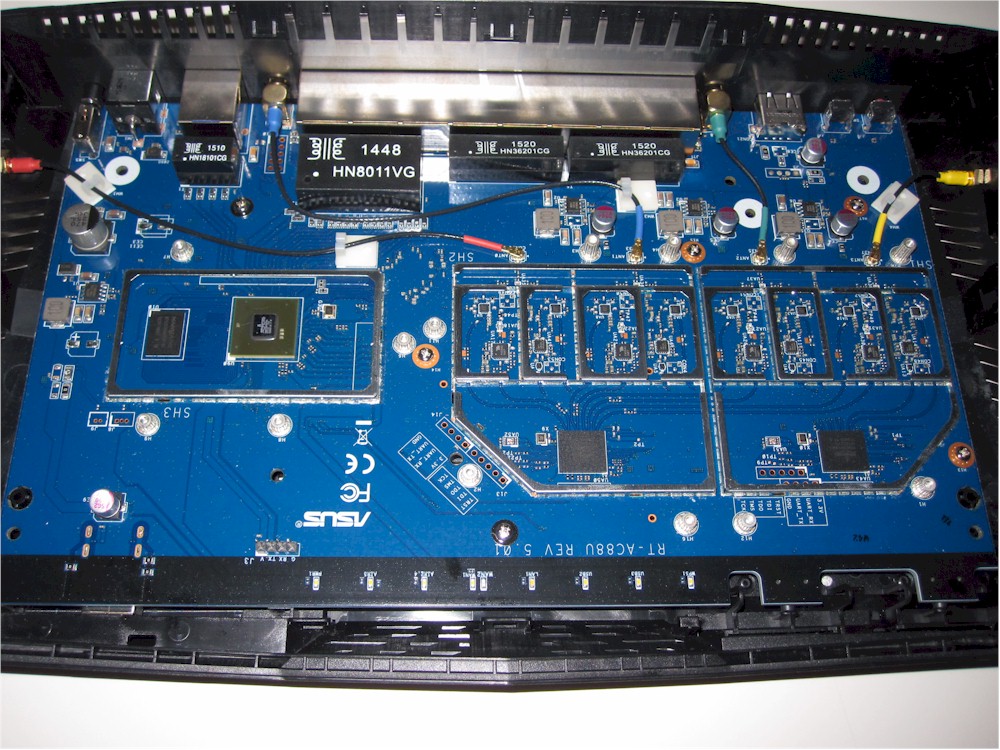 ASUS RT-AC88U board top
Here's an FCC photo of the board bottom side with 128 MB of flash and the Realtek switch.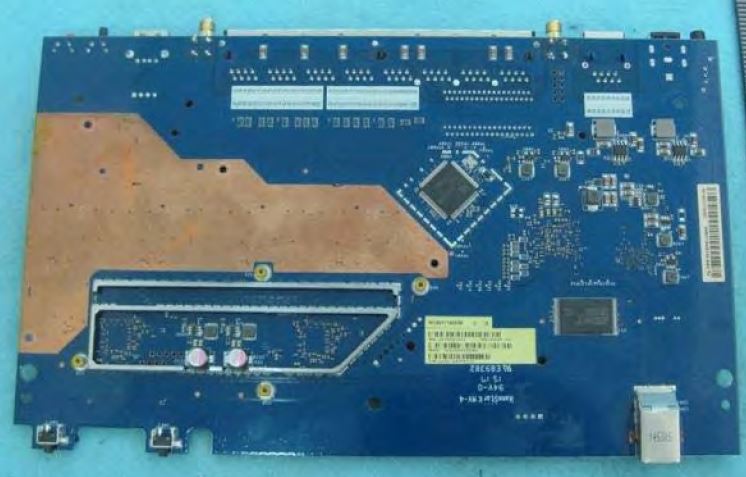 ASUS RT-AC88U board bottom
ASUS filed a Class II permissive change in November that made the changes shown below. I confirmed the highlighted increase in RAM was present in the samples ASUS sent.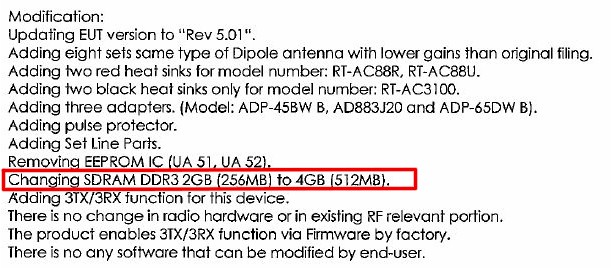 ASUS RT-AC88U FCC Class II changes
Features
The AC88U runs ASUS' ASUSWRT OS, so has a familiar look and supports its extensive feature set. What's new for the AC88U (and AC5300) is the Game Boost section that includes the new WTFast feature.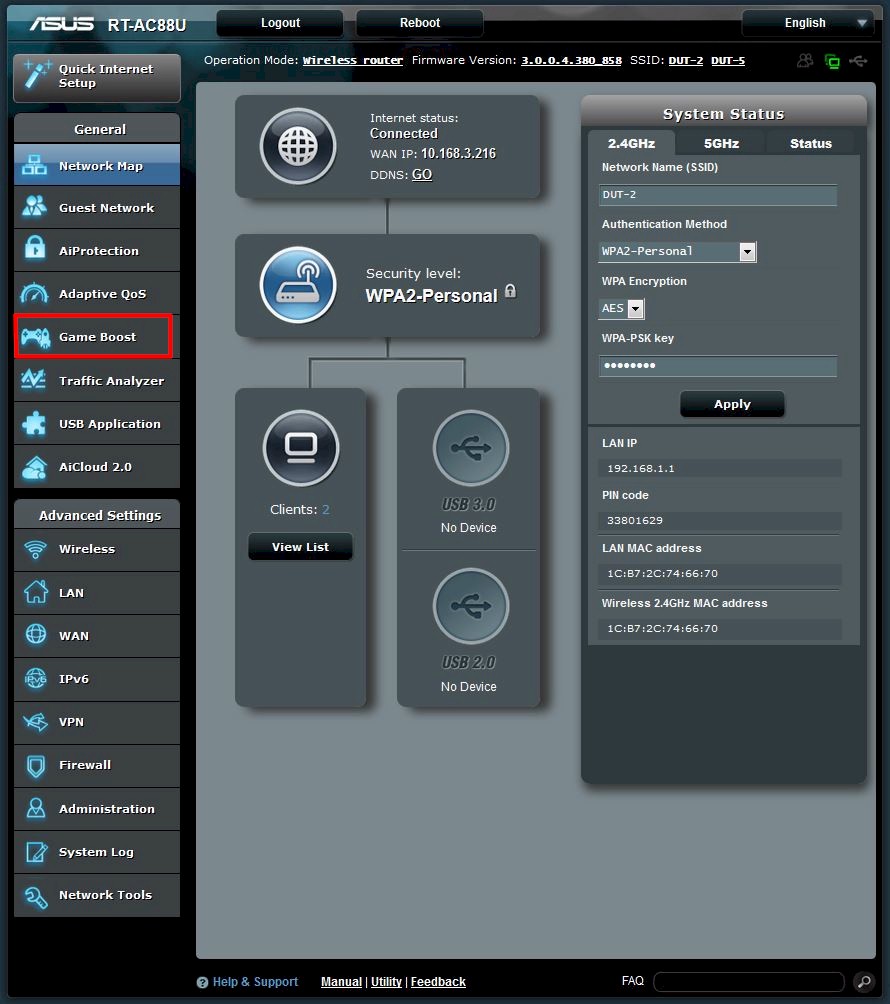 ASUS RT-AC88U Advanced landing page
You access WTFast via the Game Boost page, which also includes LAN Boost and Real-Time Network protection sections. LAN Boost is normally off (the screenshot shows a Firefox display problem). Turning it on just enables Adaptive QoS and applies the Game profile. The Real-Time Network Protection Go button just redirects you to the AiProtection section.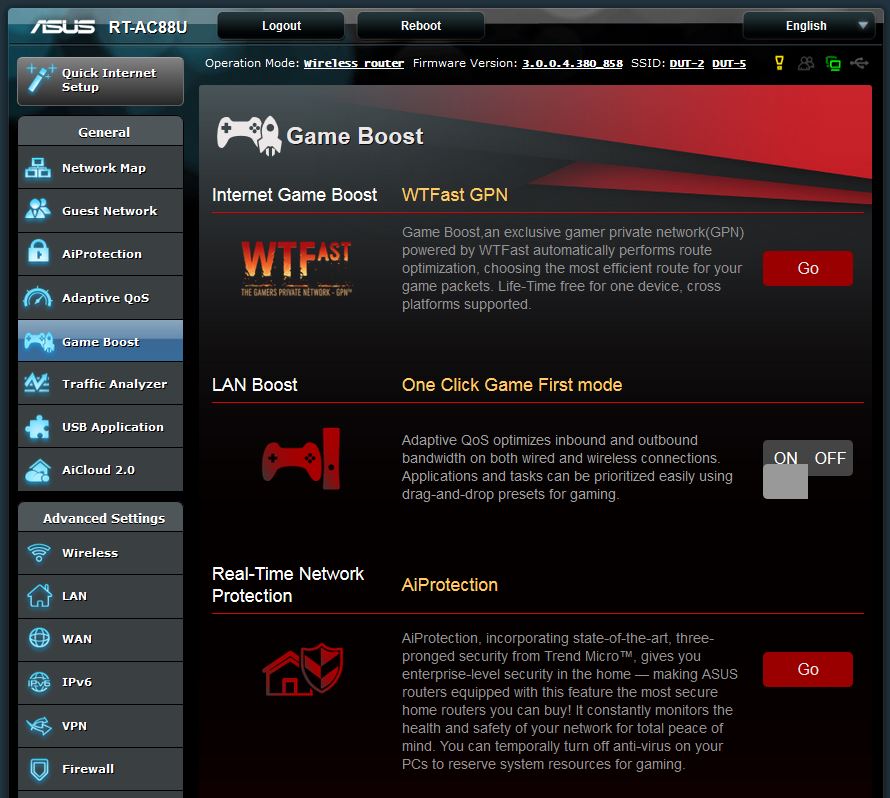 ASUS RT-AC88U Game Boost page
Judging from the discussion in the SNBForums and links to other information posted in the thread, it seems WTFast isn't well regarded. It works by routing game traffic through a WTFast's private network, which also acts as a VPN. This has caused some games to ban players using it. The other main negative is WTFast supports only Windows games (no console games).
WTFast is normally a paid service, but the partnering deal ASUS and WTFast have struck gives RT-AC88U and RT-AC5300 router owners a free account supporting one device, but with traffic caps.
If you're wondering whether you get Link Aggregation with all those ports, you apparently do, according to the GUI. There is no mention of this feature, or even the Switch Control tab at all, in the User manual. The direction to use LAN1 and LAN2 would seem to indicate aggregation is supported by the Broadcom processor SoC and not the Realtek switch. So aggregation should also be supported in the four port RT-AC3100.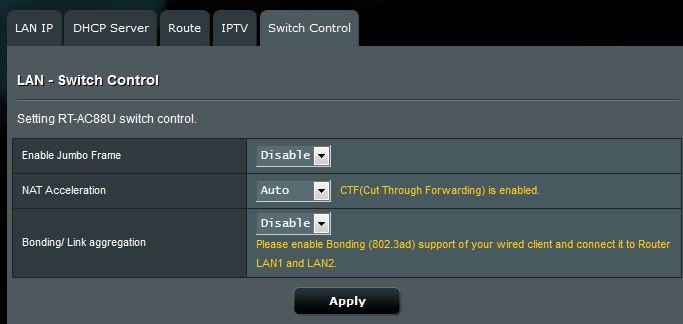 ASUS RT-AC88U LAN Switch Control
One of these days we need to review ASUSWRT, especially since we reviewed RMerlin's wildly popular ASUSWRT-Merlin alternative, albeit just about three years ago (!) as I write this. Until then, I'll just note that ASUS' router OS is the most feature-rich router firmware out there and doesn't require a smartphone app to provide complete access to some features.
Wireless Features
The AC88U's wireless feature set is pretty much the same as you've seen on ASUS' other routers. Wireless router, AP and Media Bridge (universal, no WDS required) modes are all supported. There is no Repeater mode. The General settings screen shows the defaults.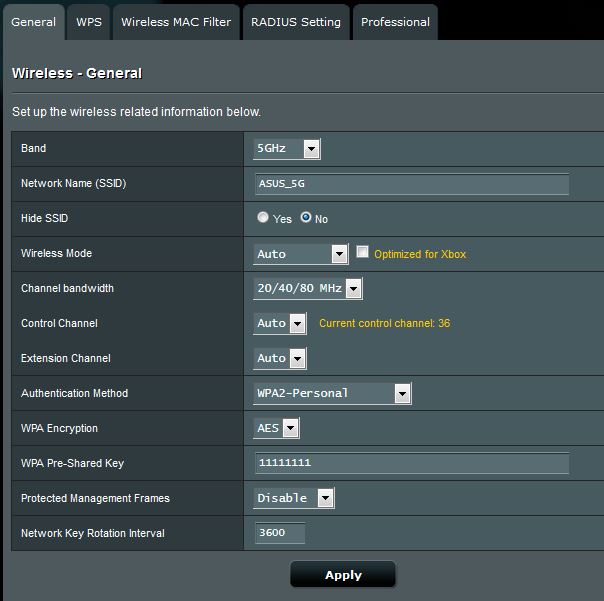 Wireless General Settings
Wireless Professional screens for 2.4 and 5 GHz offer more options including the wireless scheduler. Note Beamforming is supported on both bands and Airtime Fairness is enabled by default.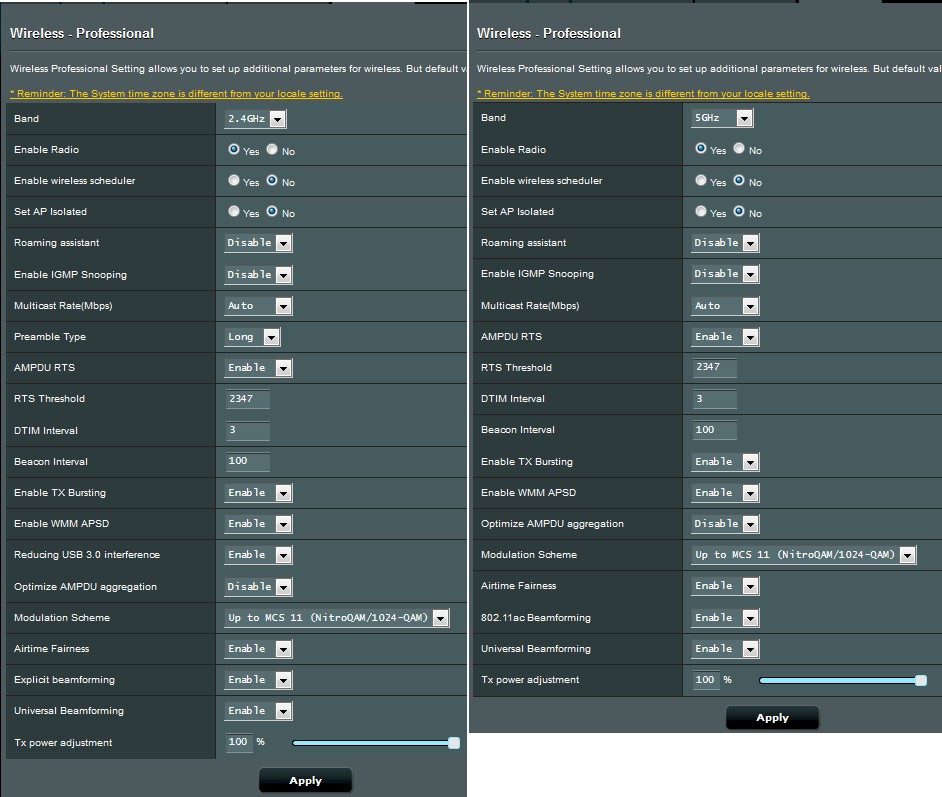 Wireless Professional Settings
Table 2 shows wireless settings options.
Setting
2.4 GHz
5 GHz
Channel
Auto [default], 1 – 11
Auto [default], 36, 40, 44, 48, 149, 153, 157, 161, 165
Wireless Mode
Auto [default]
N only
Legacy

Checkboxes:
b/g Protection [default checked]
Optimized for Xbox

Auto [default]
N only
N / AC mixed

Legacy
Checkboxes:
Optimized for Xbox

Security
Open System (WEP)
Shared Key (WEP)
WPA Personal
WPA2 Personal
WPA Auto Personal
WPA Enterprise
WPA2 Enterprise
WPA Auto Enterprise
Radius with 802.1x

Note: WEP and WPA options available only with Wireless Mode = Legacy
Table 2: Wireless settings options
Storage Performance
The Router Charts graphs below show the top end of the storage benchmark write and read charts using our standard procedure with USB 3.0 connections and NTFS drive format. I disabled the Reducing USB 3.0 interference setting in the 2.4 GHz Wireless Professional settings tab and also disabled iTunes, DLNA and FTP servers before running the tests.
The AC1900 class Linksys WRT1900ACS continues its hold on top place, with write throughput just shy of twice the 55 MB/s measured for the RT-AC88U. The gap between the Linksys and AC88U is smaller for read, with the ASUS measured at 88 MB/s and the Linksys at 106 MB/s. Note that NETGEAR's R8500 has elbowed its way into Linksys' dominance of the top of the read storage charts with 94 MB/s.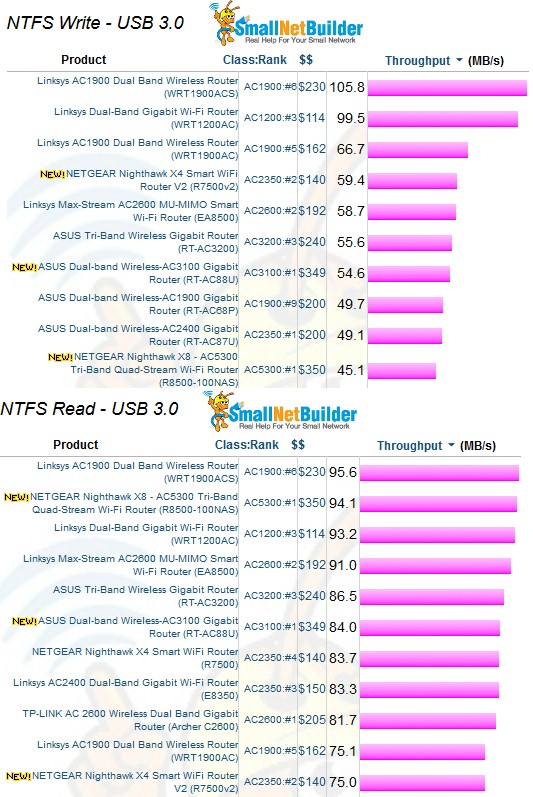 Storage Performance Comparison – USB 3.0 / NTFS
Routing Performance
Routing throughput was measured using our standard router test process with the router loaded with 3.0.0.4.380_858 firmware. Table 3 summarizes the results and includes the NETGEAR R8500 for comparison, since it uses the same Broadcom processor. The AC88U's 802 Mbps downlink (WAN-LAN) throughput bests the NETGEAR's by 40 Mbps while uplink is 20 Mbps lower than the NETGEAR. The ASUS lags behind the NETGEAR around 140 Mbps for the simultaneous up and downlink test.
| Test Description | ASUS RT-AC88U | NETGEAR R8500 |
| --- | --- | --- |
| WAN-LAN (Mbps) | 802 | 761 Mbps |
| LAN-WAN (Mbps) | 791 | 809 Mbps |
| Total Simultaneous (Mbps) | 1406 | 1546 Mbps |
| Maximum Simultaneous Connections | 35,938 | 38,424 |
| Firmware Version | 3.0.0.4.380_858 | V1.0.0.56_1.0.28 |
Table 3: Comparative routing performance
For the unidirectional tests, the IxChariot chart below is typical of what we see with other current-generation routers. Up and downlink throughput is evenly matched.
ASUS RT-AC88U routing throughput unidirectional summary
The start of the simultaneous bidirectional test shows the usual IxChariot quirk. But once things settle down after 10 seconds in, uplink throughput gains the upper hand. It's not clear what causes the downlink throughput drop at the 45 second mark.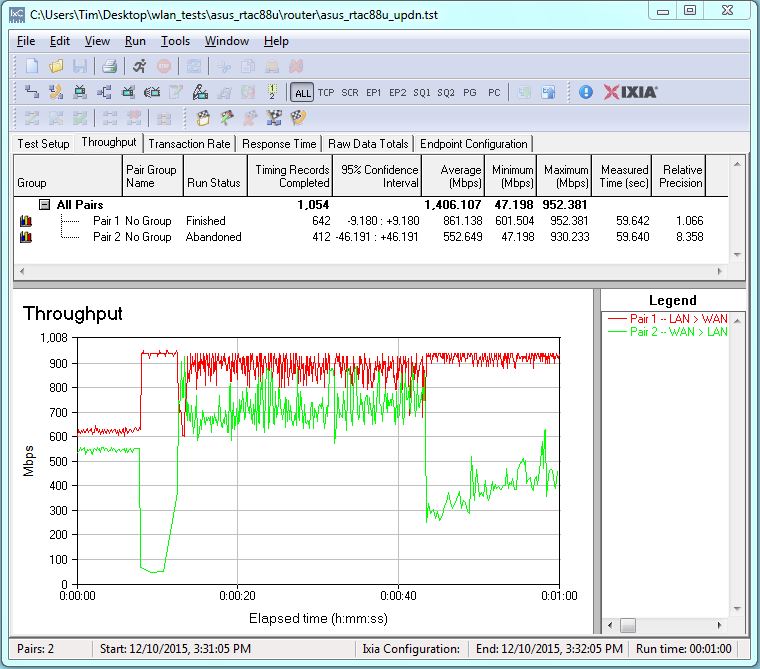 ASUS RT-AC88U routing throughput bidirectional summary
In all, the differences in routing throughput are relatively minor and shouldn't be the deciding factor in router selection.
Wireless Performance
The ASUS RT-AC88U was tested using our Version 8 Wireless test process with 3.0.0.4.380_858 firmware loaded. Our standard practice centers the router's antennas on the turntable, both front-to-back and side-to-side in the chamber. This method is intended to keep maximum distance between the router under test and chamber antennas as the router rotates during test. The photo below shows the AC88U in the test chamber.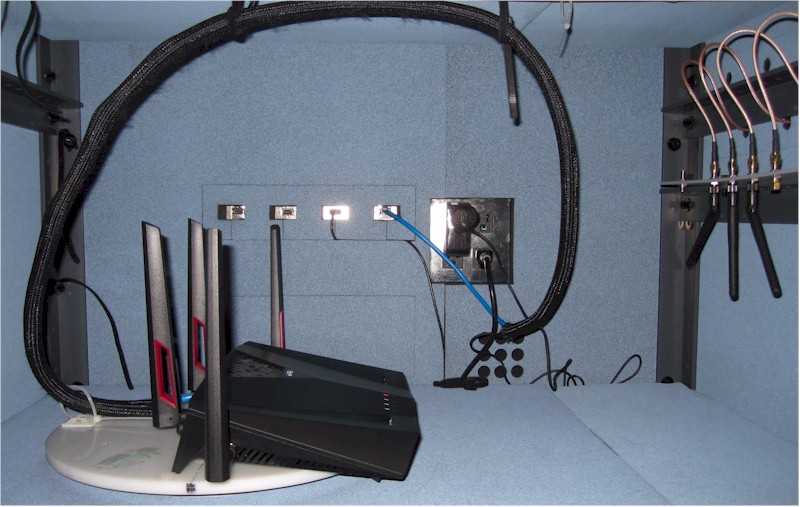 ASUS RT-AC88U in test chamber
I've decided to stop showing the Benchmark summary because it doesn't really add anything to the analysis. Instead, let's compare average wireless throughput for similar routers. I filtered the charts to show the 2.4 and 5 GHz down and uplink profile benchmarks for all 4×4 router classes, i.e. AC2350, AC2600, AC3100 and AC5300.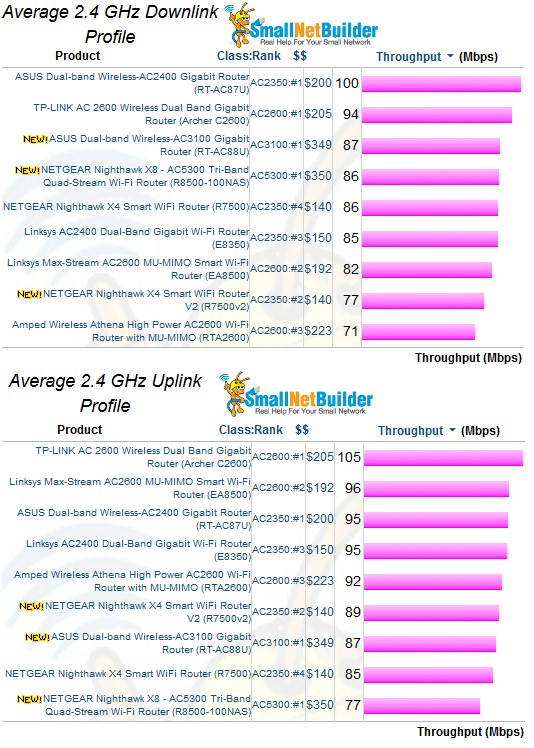 2.4 GHz average throughput comparison – all 4×4 router classes
It's clear there is no correlation between higher class and higher average performance for either band.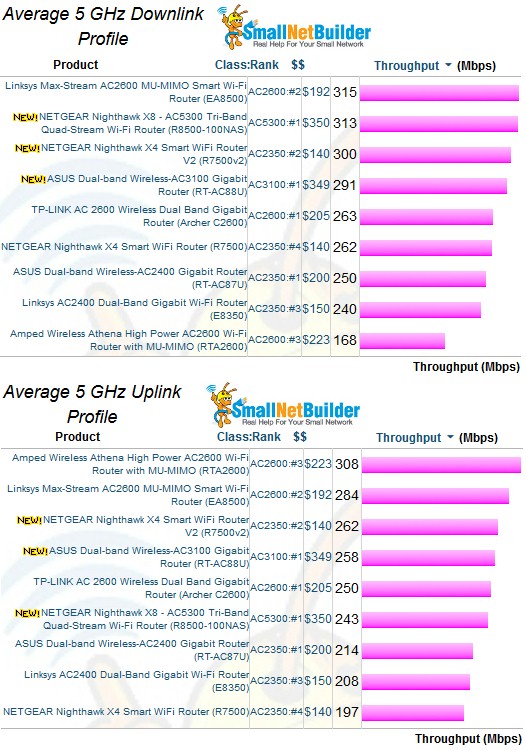 5 GHz average throughput comparison – all 4×4 router classes
Wireless Performance – more
For a more detailed look at wireless performance using throughput vs. attenuation plots, let's compare the AC88U with the only other Broadcom-based 4×4 product tested so far, NETGEAR's R8500. I also included the TP-LINK Archer C2600 top-ranked QCA-based 4×4 router. This is a fair comparison since the test client is AC1900.
For 2.4 GHz downlink, all three products are fairly evenly matched. The main difference is the ASUS has lower throughput than the other two at low attenuation (strong signal) levels and has a slight advantage over them from 36 dB attenuation onward.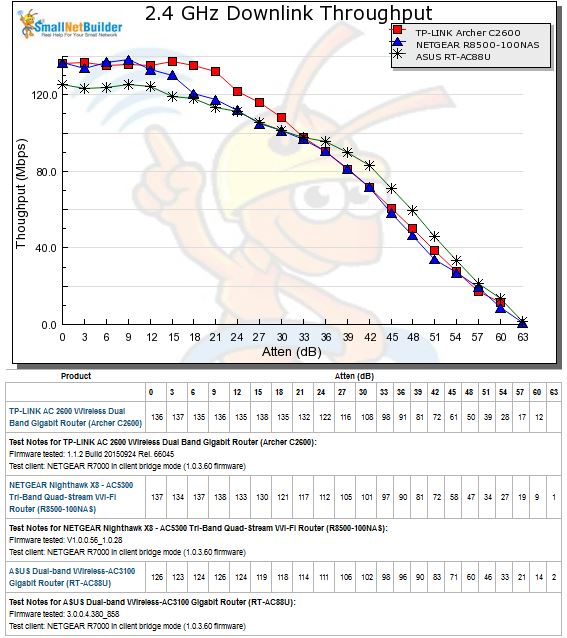 2.4 GHz Downlink Throughput vs. Attenuation
For 2.4 GHz Uplink, the TP-LINK C2600 has a clear advantage at lower levels of attenuation but joins the ASUS' plotline at 39 dB. The NETGEAR turns in the lowest results for this benchmark, staying below the other two plotline for all tests.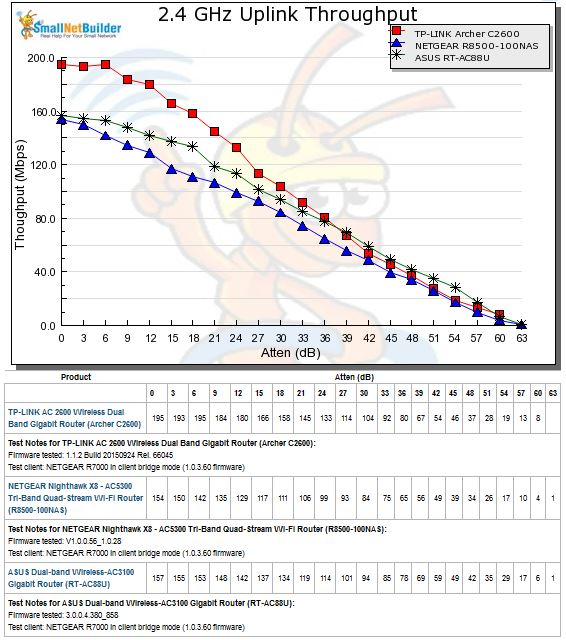 2.4 GHz Uplink Throughput vs. Attenuation
5 GHz downlink has all three produces relatively evenly matched up to the 12 dB test. After that, the NETGEAR takes the high road for the rest of the tested range. Note the ASUS disconnects 3 dB earlier than the other two routers, at 36 dB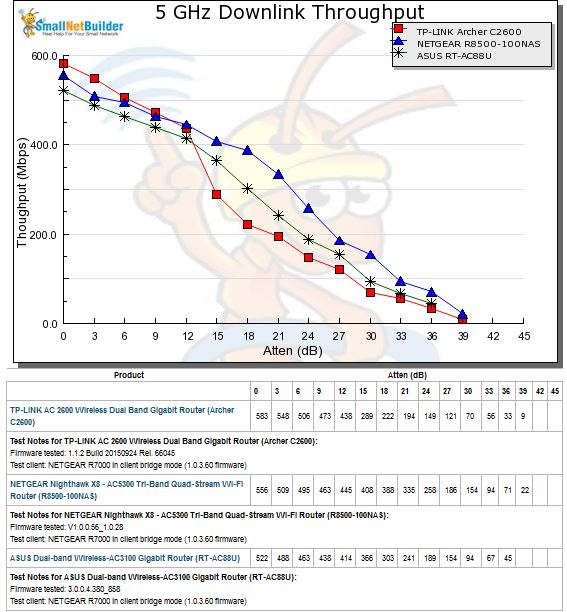 5 GHz Downlink Throughput vs. Attenuation
For 5 GHz uplink, the ASUS again has the middle ground, but with the TP-LINK and NETGEAR switching places.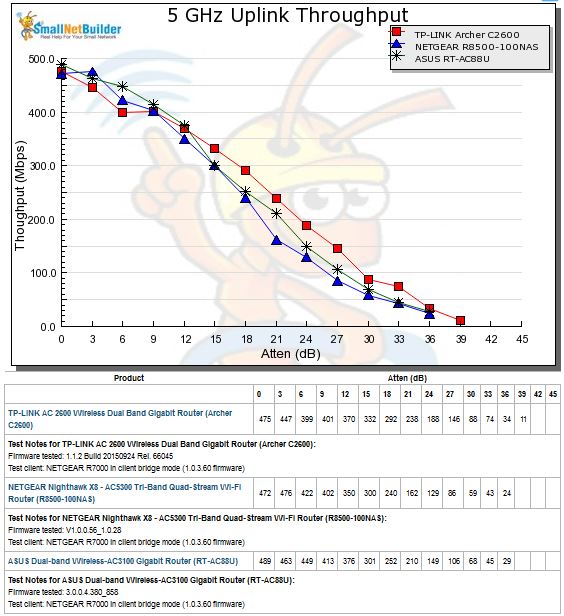 5 GHz Uplink Throughput vs. Attenuation
In all, except for the TP-LINK's significantly higher 2.4 GHz uplink throughput with strong signals, the wireless performance differences for these three products provide little reason to recommend one over another.
Four Stream Performance

ASUS supplied two RT-AC88U's so 4×4 thoughput could be tested. This is our second look at Broadcom's 4×4 chipset, so the same tests were run that were performed on NETGEAR's R8500.
For the test, two RT-AC88U's were set up in open air, eight feet apart, one as a normal router and the other in wireless bridge mode. The in-house 5 GHz network was idle and only beaconing (no traffic). Channel was set to 153, bandwidth mode to 80 MHz and everything else set to defaults.
Only one computer was connected via Gigabit Ethernet at each end of the bridge. Baseline tests using Ethernet between the two computers (both equipped with TP-LINK TG-3468 NICs) show the Ethernet link capable of a bit over 940 Mbps in both directions with each direction run separately. So the hardwired part of the link shouldn't be a limiting factor.
Running four simultaneous IxChariot connections downlink, yielded 912 Mbps total downlink throughput. The IxChariot plot below shows shockingly stable and equal throughput for all four connections once things settle down after 15 seconds into the test run. The test was rerun multiple times and I even unscrewed antennas from each router to be sure I was seeing wireless throughput and not Ethernet by accident. What the plot shows is really wireless performance! However, I still didn't see the maximum 2165 Mbps link rate; 1625 Mbps was reported during this test.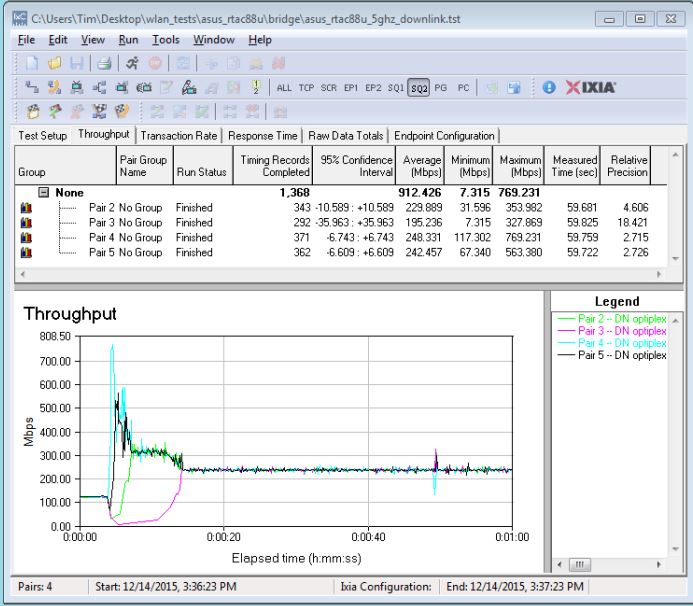 Four stream throughput – 5 GHz downlink
5 GHz uplink produced an almost equally good 896 Mbps total throughput, again with very low variation and even distribution among connections.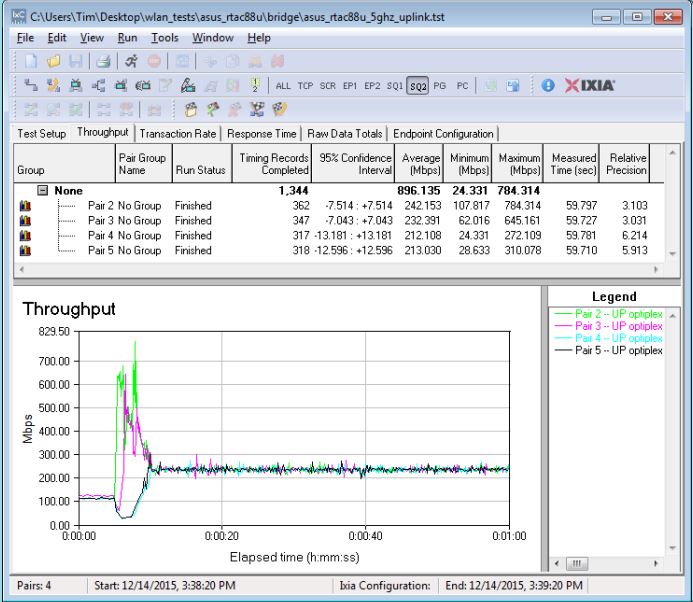 Four stream throughput – 5 GHz uplink
Since 1024-QAM is supposed to increase the maximum 2.4 GHz link rate to 1000 Mbps, the tests were run again with the 2.4 GHz radio set to Channel 6 and 40 MHz bandwidth mode. The reported link rate was 900 Mbps and the test yielded 580 Mbps of total downlink throughput. Throughput distribution isn't quite as even and it took longer for things to settle down.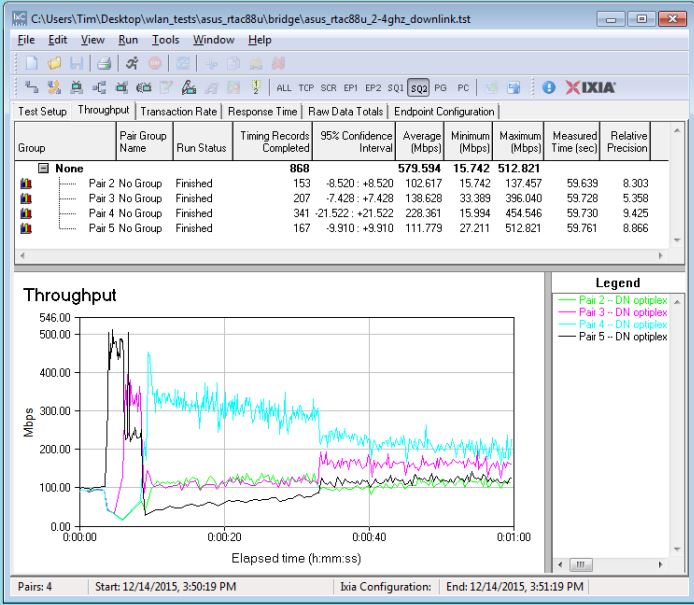 Four stream throughput – 2.4 GHz downlink
The 2.4 GHz uplink test produced 541 Mbps.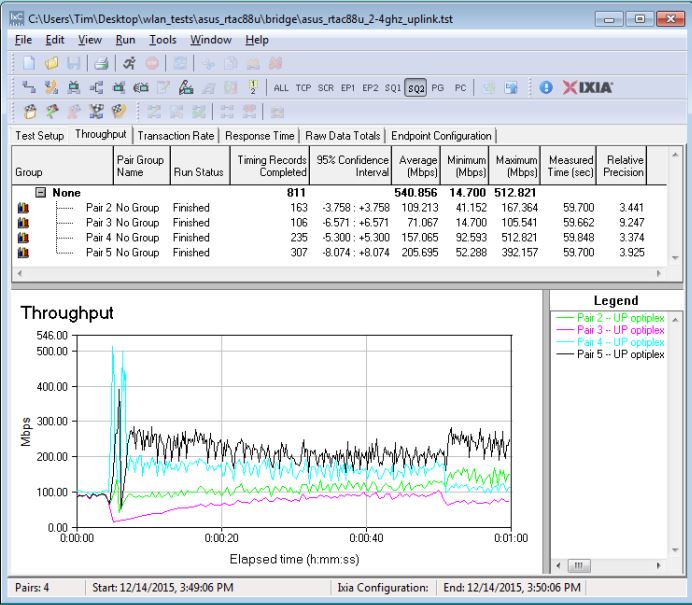 Four stream throughput – 2.4 GHz uplink
In general, the RT-AC88U did better than NETGEAR's R8500 on these tests.
| Test Description | ASUS RT-AC88U | NETGEAR R8500 |
| --- | --- | --- |
| 5 GHz downlink | 912 | 708 |
| 5 GHz uplink | 896 | 181 |
| 2.4 GHz downlink | 580 | 433 |
| 2.4 GHz uplink | 541 | 421 |
Table 4: Four stream wireless throughput comparison (Mbps)
Closing Thoughts
ASUS fanbois have been all worked up about the RT-AC88U, judging from SNBForums discussions. But neither our chamber nor real life tests provide reason for such excitement, at least on the basis of wireless performance. What Forum posters seem most excited about is that the router just works. To me, this is sad commentary on how low consumer expecatations for wireless routers have sunk.
I continue to be surprised at the number of people in the SmallNetBuilder Forums who are snapping up this new crop of expensive 4×4 routers based on Broadcom's first attempt at both a 4×4 radio design and the MU-MIMO technology they formerly pooh-poohed (when they didn't yet have a 4×4 solution). Surely, having been bitten by the RT-AC87U's 5 GHz problems caused by its Quantenna radio and by the failure of the promised MU-MIMO functionality to be enabled, buyers would be reluctant to buy another MU-MIMO router without working MU-MIMO. But, at least for ASUS fans, that seems to not be the case.
If you own an RT-AC87U and it hasn't been working out for you and you want to replace it with another ASUS 4×4 router, then, by all means, go for an RT-AC88U. If on the other hand you already have an AC router and it's working fine, there is no good reason to buy this or any other 4×4 router right now. If you just gotta have the latest in Wi-Fi router tech, well, just because, then at least cool your jets a few weeks until CES 2016 to see what new router science experiments await.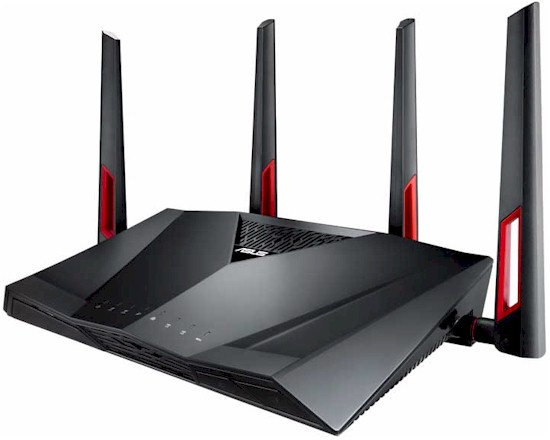 Buy Dual-band Wireless-AC3100 Gigabit Router from Amazon