At a glance
Product
Buffalo Technology AirStation Extreme AC 1750 Gigabit Dual Band Wireless Router (WZR-1750DHP) [Website]
Summary
Second-gen Broadcom CPU based AC1750 class router with USB 2.0 & 3.0 ports and good storage sharing
Pros
• Fast FAT32 storage throughput
• USB 3.0 port
• Easy QoS and Web filtering controls
Cons
• NTFS USB format not supported
• 5 GHz performance lags
Typical Price: $120 Buy From Amazon
Introduction
Buffalo sent us both its AC class routers to take a look at, the WZR-1750DHP and WZR-1166DHP. First up is a look at the Broadcom-based WZR-1750DHP.
The WZR-1750DHP has plenty of lights and ports with four Gigabit Ethernet LAN, one WAN and a USB 2.0 port and USB 3.0 port. Buttons include power, mode, and AP/bridge, but No wireless on/off.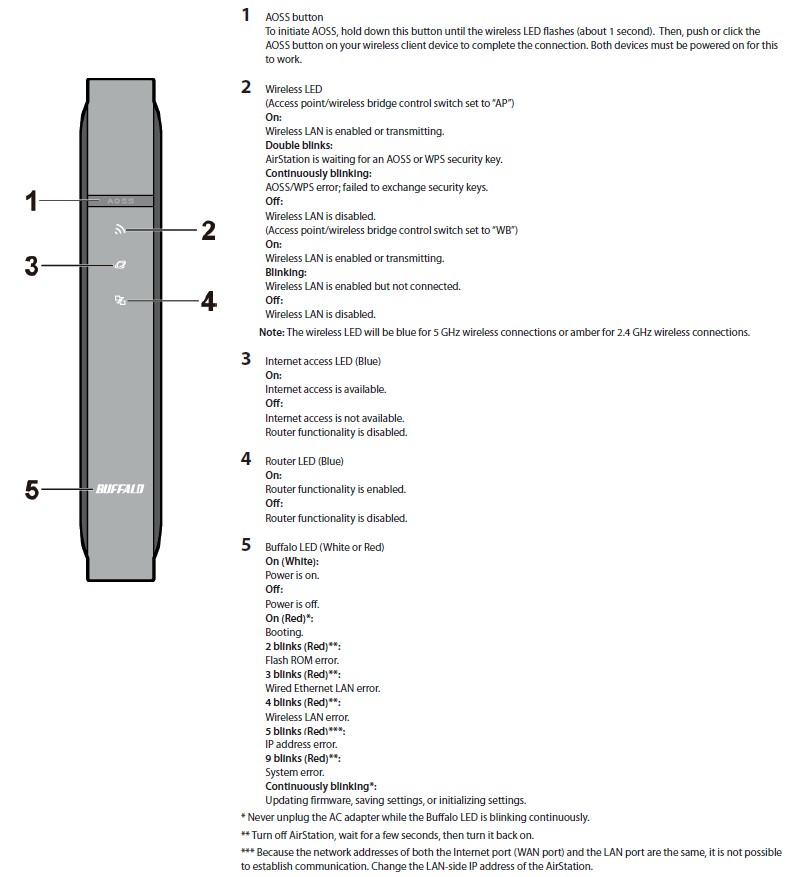 Buffalo WZR-1750DHP front panel callouts
The front panel "Buffalo" and rear-panel USB LEDs use color and blink codes, so keep the manual handy. The front and rear callouts can be seen on the images above and below.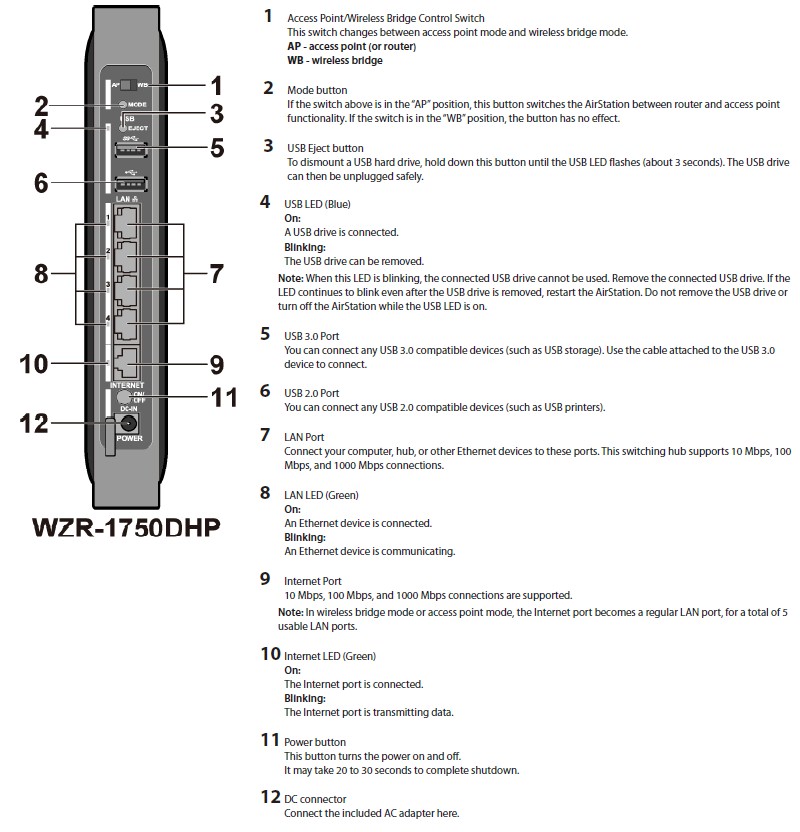 Buffalo WZR-1750DHP rear panel callouts
Inside
We didn't take apart the 1750DHP and instead relied on the FCC ID photos that had closeups of all the key components. The large plate in the top cover is a heat spreader that is thermally coupled to the ceramic heat spreader on top of the second-generation Broadcom BCM4708A SoC that forms the heart of the router. There is another plate on the other cover with thermal pads that serve as heatsinks for other components.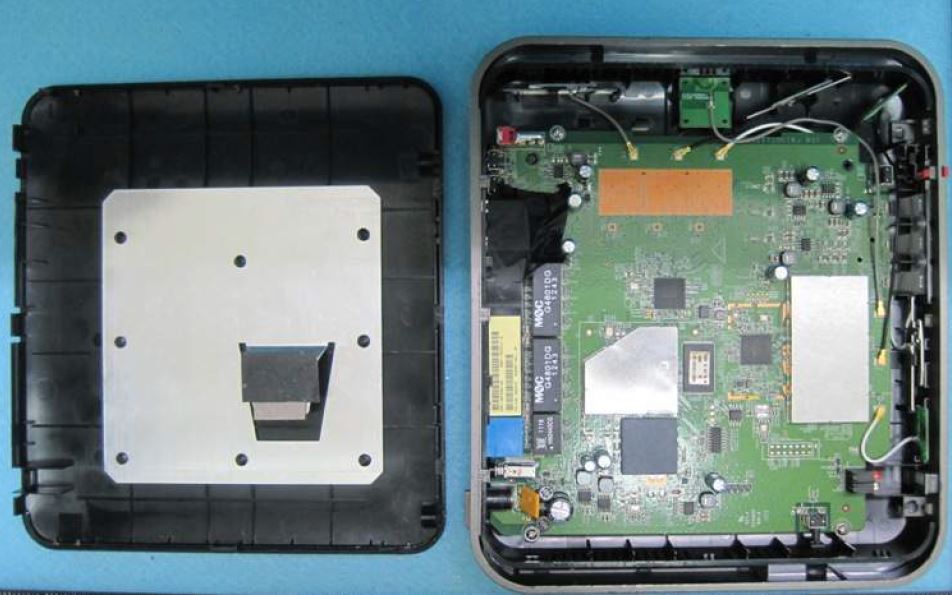 Buffalo WZR-1750DHP case and board
Removing the shielding reveals the key Broadcom devices.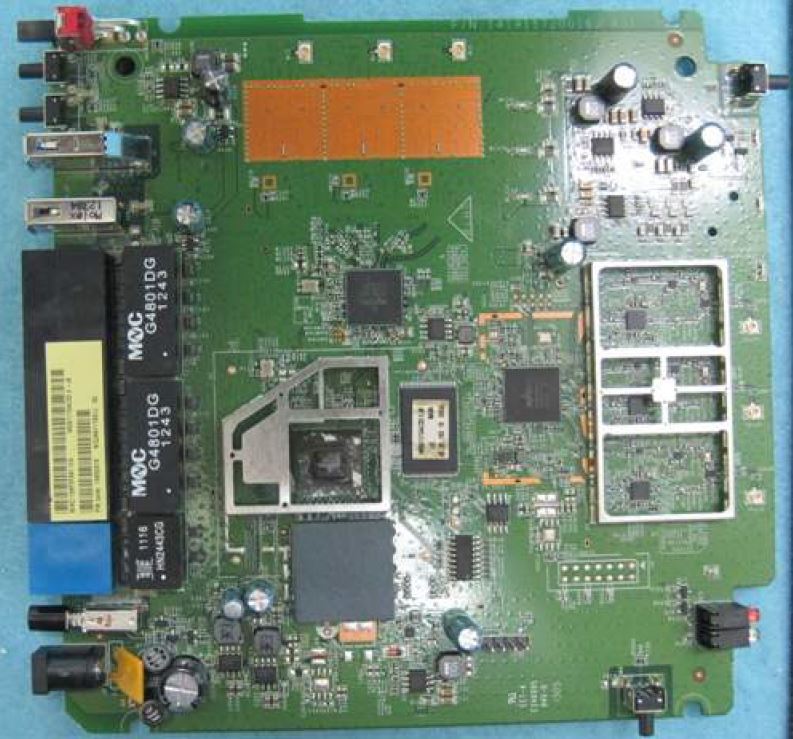 Buffalo WZR-1750DHP board
The WZR-1750DHP's key components are summarized in Table 1 beside the D-Link DIR-868L—the only other AC1750 class router we've reviewed so far using Broadcom's second-generation BCM4708A SoC. The designs are pretty much the same except for more RAM in the Buffalo.

Buffalo WZR-1750DHP
D-Link DIR-868L
CPU
Broadcom BCM4708A
Broadcom BCM4708X
Switch
in BCM4708A
In BCM4708X
RAM
512 MB
128 MB
Flash
128 MB
128 MB
2.4 GHz Radio
– Broadcom BCM4331
– SiGe (Skyworks) SE2605L 2.4 GHz High Power Wireless LAN Power Amplifier (x3)
– BCM4331
– Unidentified external power amplifier (x3)
5 GHz radio
– Broadcom BCM4360
– Skyworks SE5003L1 5 GHz, 23dBm Power Amplifier with Power Detector (x3)
– Broadcom BCM4360
– Unidentified power amplifier (x3)
Table 1: Component summary
Features
Like most consumer router makers, Buffalo has a standard feature set and admin GUI used across its line. Here's the rundown:
Routing / Firewall
Static and Dynamic IP, PPPoE and PPTP WAN connections
MTU Adjust on all connection types
DHCP Server, lease time setting, default domain and primary/secondary DNS
DHCP Client list
DHCP reservation
Port forwarding for single or multiple ports with separate local and remote ports and TCP, UDP or all protocols forwarded. Enable/disable for each entry. 10 preconfigured common service ports
DMZ Host
UPnP enable/disable
DDNS support for Dyndns (www.dyndns.org) and TZO (www.tzodns.com)
IPv6 support passthrough support
Firewall enable/disable
VPN Passthrough enable/disable for PPPoE, PPTP and IPv6
Application Layer Gateway enable/disable for FTP, TFPT, H323 and RTSP
Ignore Ping Packet from WAN port
Remote Management with user configurable port and SSL
Static routes
QoS
Enable/disable bandwidth control with four preset policies (Video, Voice, Gaming and Custom)
Access / Parental Control
Norton ConnectSafe with 3 preset filters
Ability to exclude websites from filter
Ability to exclude individual addresses from filter
Internet access scheduling per machine
USB features
SMB storage sharing
Network USB Print server
Media server
User accounts for SMB and FTP access. No per-user folders
Note that the WZR-1750DHP does not support NAT loopback.
Logging in brings you to the Easy Admin page that provides a simplified view of key router functions. This GUI is a new look for Buffalo routers and similar to the approach Buffalo is taking in its new LinkStation and TeraStation NASes. Clicking on any of the panels takes you to a simplified setttings page for that function. Clicking on the Advanced Settings panel takes you to a more familiar admin interface with sections running down the left side of the page.
GUI response is pretty quick, except for the times when a reboot is required to activate new settings. Reboots aren't required for every setting change, though.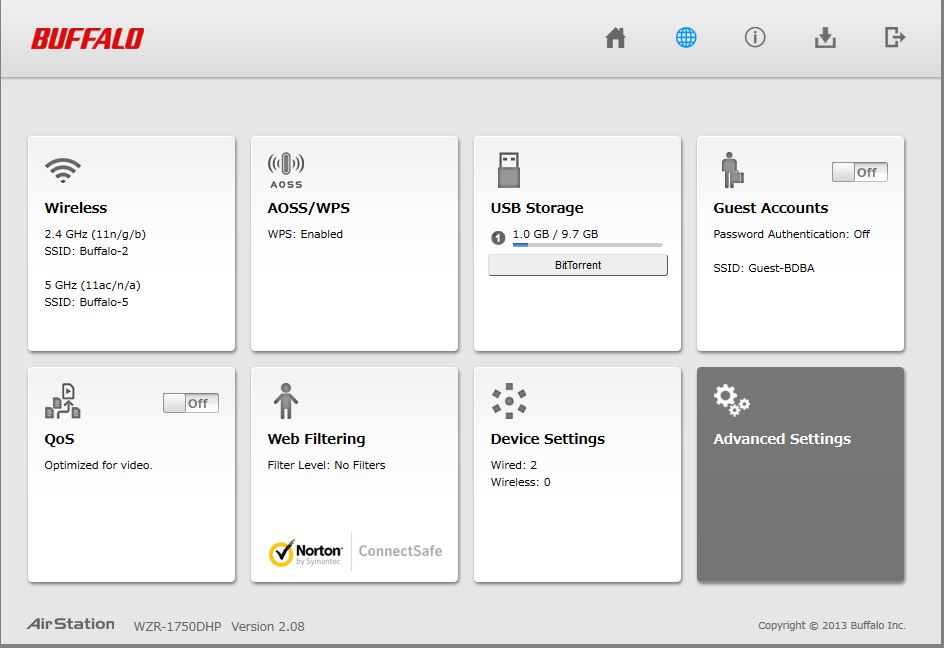 Buffalo WZR-1750DHP Easy Admin page
I've provided a gallery of the different admin interface features below. Check it out or continue on for a closer look at a few key features.
Here are just some of the wireless configuration options.
This is the initial device settings screen that shows all connected devices
This screen shows the current upload and download speeds of each device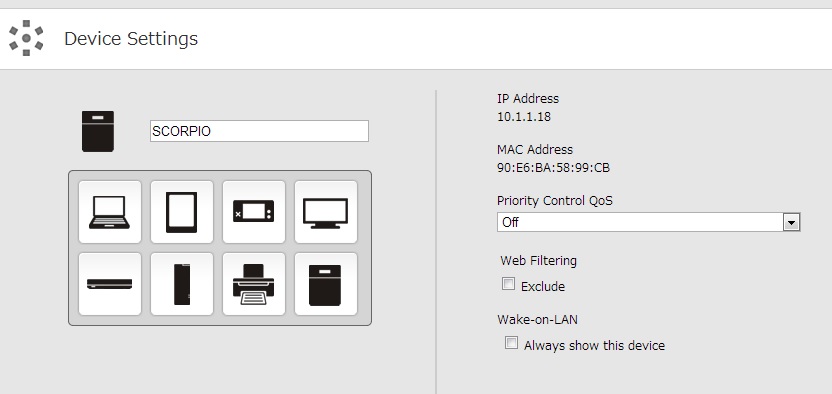 The individual screen shows information about each device such as MAC and IP. It also lets you set separate QoS policy and exclude it from web filters.
This screen allows configuration of the USB storage. NTFS format is not supported.
One neat feature is the ability to use a non-network multifunction printer over the network.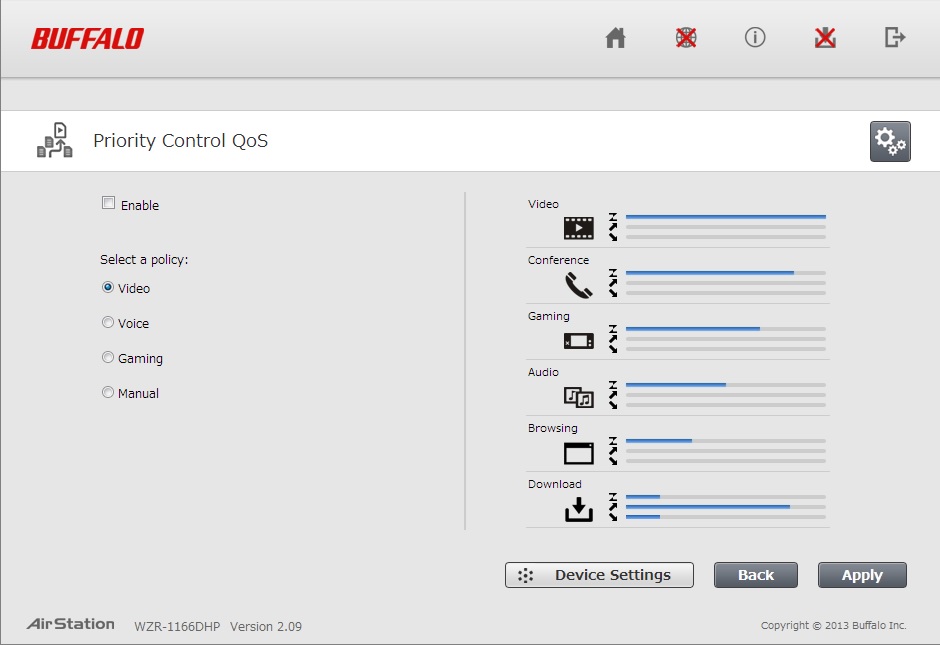 The main QoS screen showing the 4 different preset policies.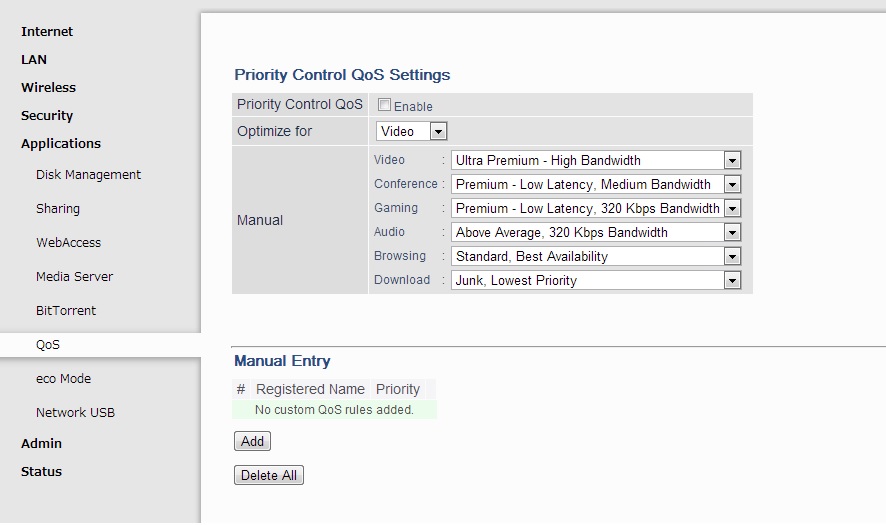 The more configurable QoS screen which lets you custom tailor your policy.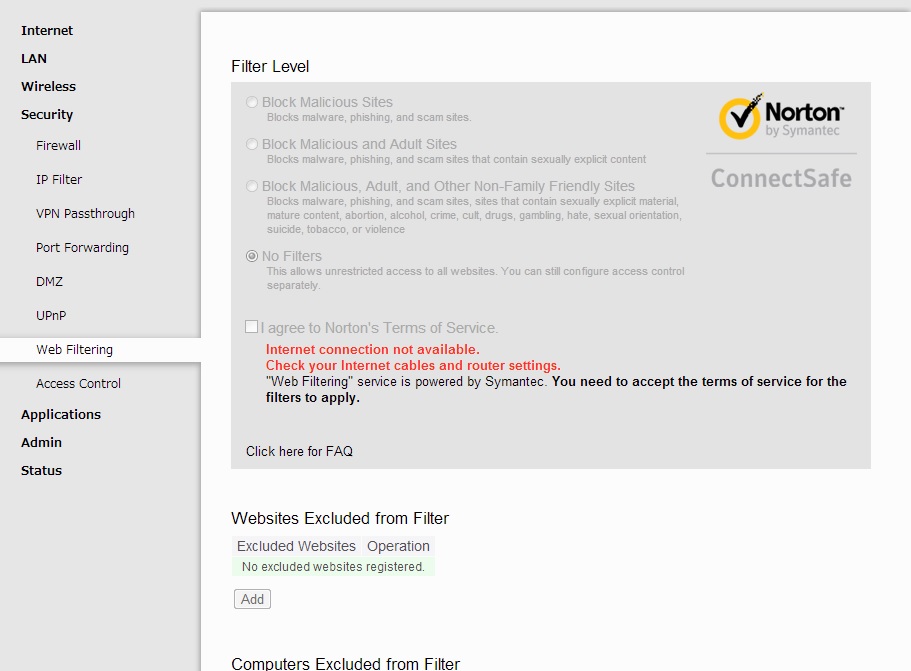 Web filtering is via Norton ConnectSafe and has several different policies and options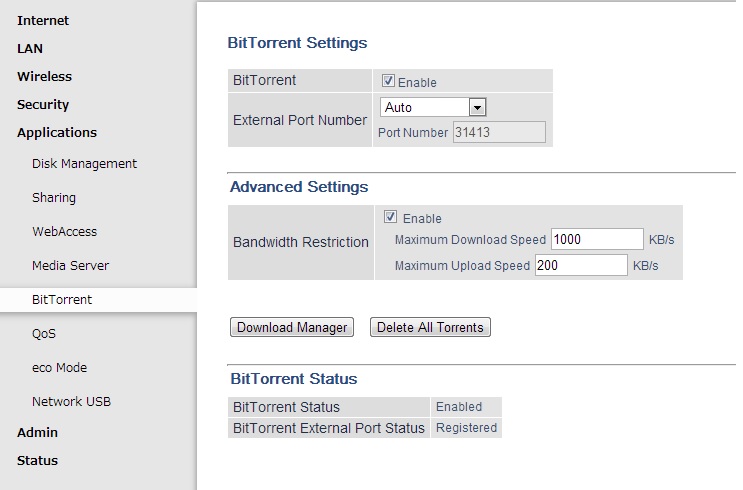 From this screen you can enable BitTorrents, set ports and bandwidth restrictions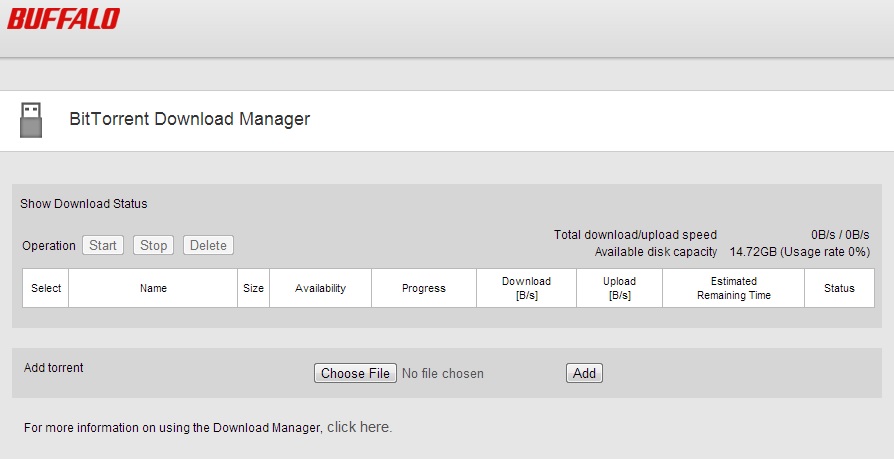 This is the BitTorrent Download Manager that shows all current connections.
QoS
Buffalo uses six-level priorty based QoS to control uplink bandwidth use only. The interface is simpler than others I've seen. Four default policies are provided (Video, Voice, Gaming and Manual) that you can see in the image below.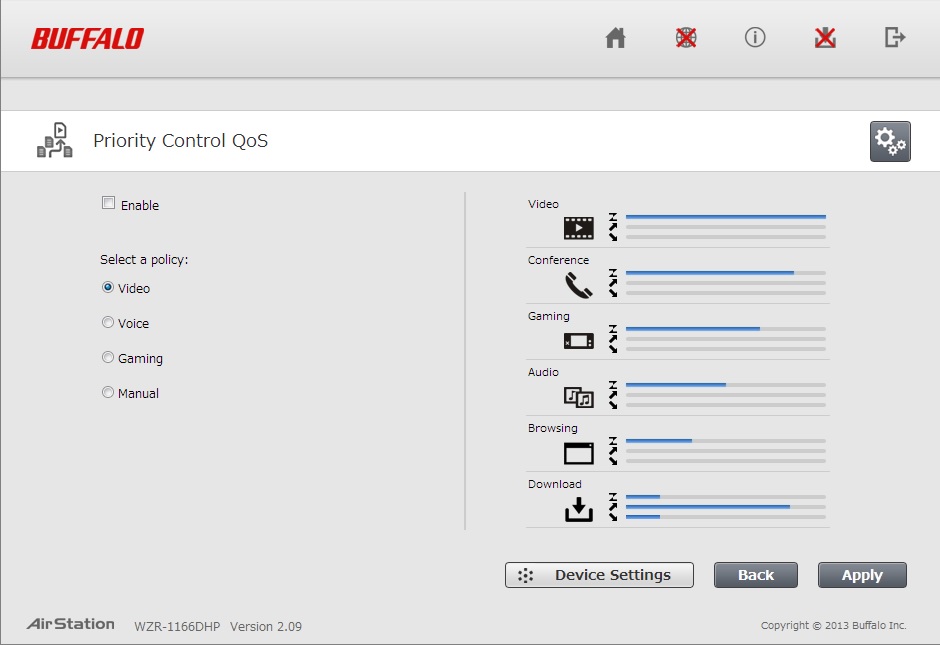 Buffalo WZR-1750DHP QoS entry page
The QoS Settings page allows you to set up a custom policy with simple dropdown boxes and limited, but adequate configuration options. The text of the different selections isn't terribly descriptive, but you can assume they are in hierarchial order and make your selections accordingly.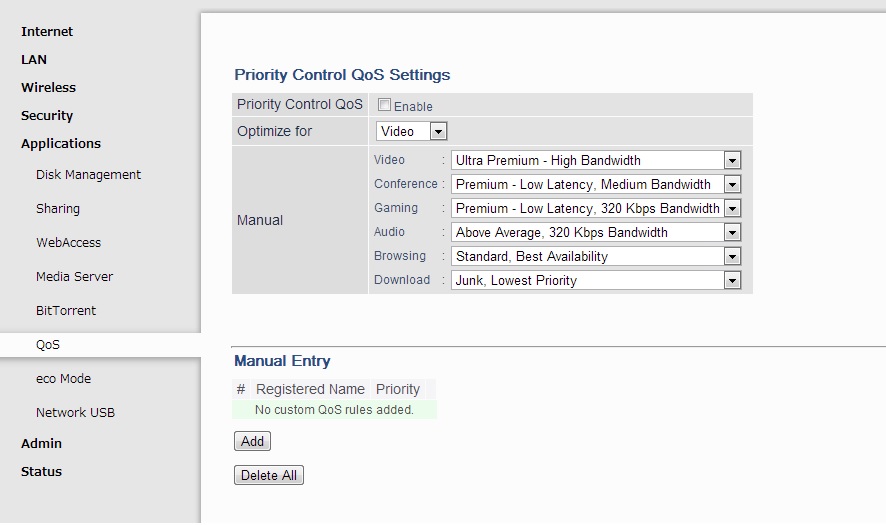 Buffalo WZR-1750DHP QoS Settings page
For further granularity, you can also go to an individual device under Device Settings and set the QoS policy per node. This is a really nice feature that could come in very useful for situations where a roommate or child is using all your bandwidth or where a media server should have highest priority for all uses.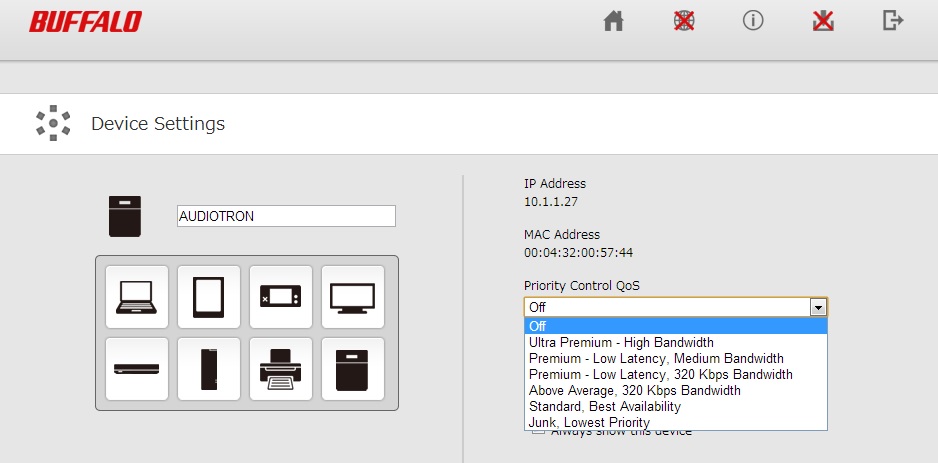 Buffalo WZR-1750DHP individual QoS Settings page
Web Filtering
Web filtering is provided via Norton ConnectSafe, which is a DNS-based service similar to OpenDNS. It provides four levels of varying security. The most open one is no filter and the most secure blocks a whole host of content simply described as "Blocks malware, phishing, and scam sites, sites that contain sexually explicit material, mature content, abortion, alcohol, crime, cult, drugs, gambling, hate, sexual orientation, suicide, tobacco, or violence" as you can see in the image below.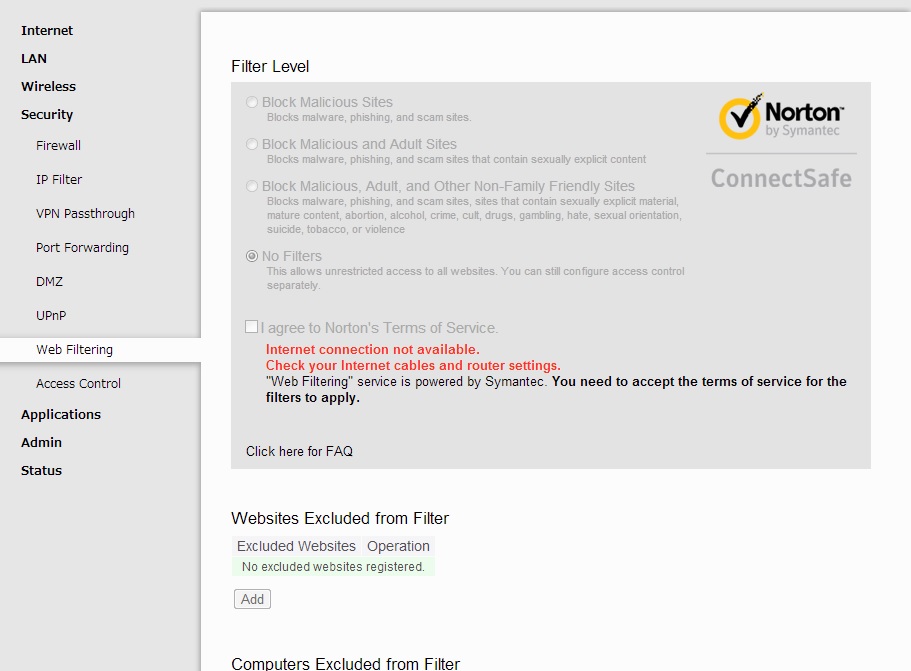 Buffalo WZR-1750DHP Web filtering page
Even with the most complex filter set, you can still exclude websites and individuals devices from the filter. The granulairty for exceptions is a very nice feature. Exclusions can be set at the Web filtering page or again at the Device Settings page as seen below.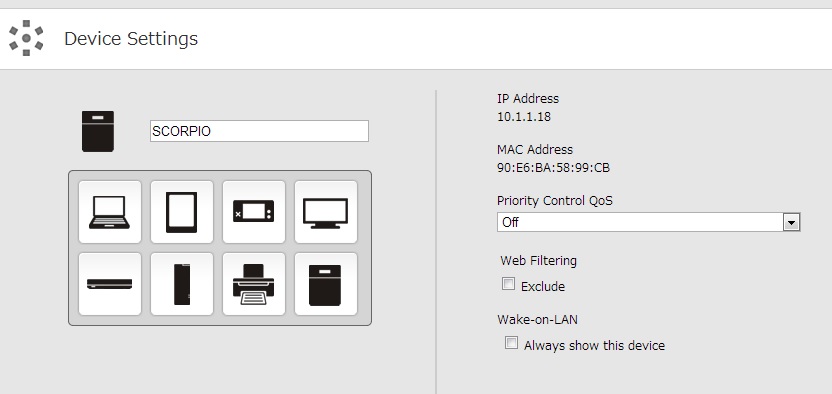 Buffalo WZR-1750DHP individual Web filtering page
BitTorrent
The WZR-1750DHP's BitTorrent feature may also come in handy. To enable it, simply insert a USB drive and click Enable. You can then select the external BitTorrent port and limit upload and download speeds as shown in the image below.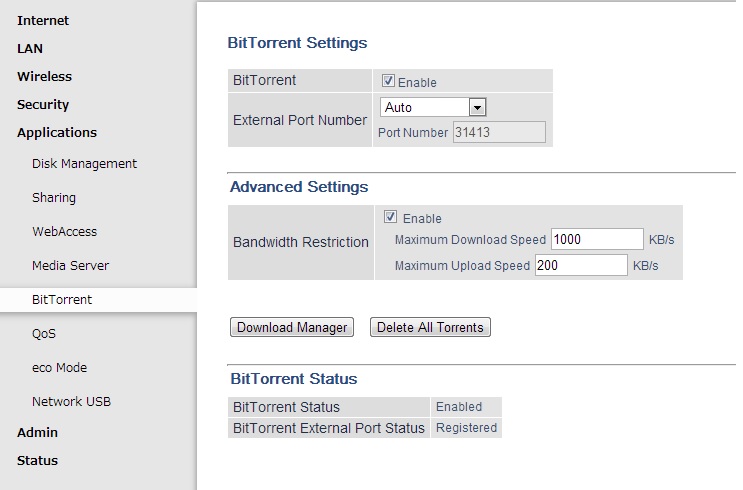 Buffalo WZR-1750DHP BitTorrent page
The Download Manager, which you see below, then shows all Torrents in progress, as well as the usual information one would expect from a BitTorrent client. The BitTorrent client is a nice feature and can free up leaving a PC running all the time.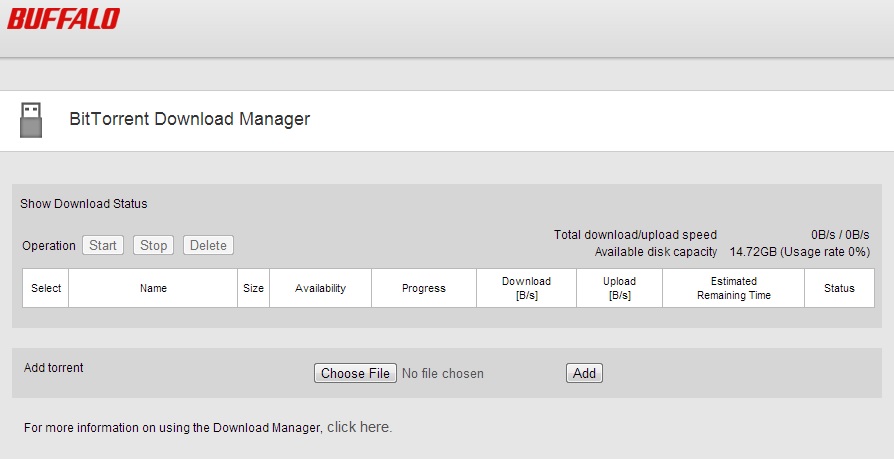 Buffalo WZR-1750DHP BitTorrent Download Manager
Wireless Features
The WZR-1750DHP has a pretty good set of wireless features:
WPA / WPA2 Personal support
Wi-Fi Protected Setup (WPS) support, pushbutton and PIN
Auto and manual channel set
SSID broadcast enable/disable
Enable/disable wireless
BSS BasicRateSet, Multicast Rate, 802.11n Protection, DTIM period, Wireless Client isolation adjusts
Wireless MAC address filtering (allow or deny based on MAC address)
WMM adjustments
25%, 50%, 75%, 100% transmit power adjust
Beacon period, RTS threshold, DTIM interval, Fragmentation Threshold adjusts
Scheduled wireless enable/disable
Guest network
Guest networks are available, but only when WPS is disabled. Key wireless settings are summarized in Table 2.
Setting
2.4 GHz
5 GHz
Channel
Auto [default]
1 – 11
Auto [default]
36, 40, 44, 48
149, 153, 157, 161, 165
Channel Width
20 MHz [default]
40 MHz
20 MHz
40 MHz
80 MHz [default]
Mode
11bgn mixed [default]
11a/n/ac mixed [default]
Security
None
WPA2-PSK
WPA-PSK
WPA/WPA2 Mixed-mode PSK
Table 2: Wireless settings summary
Storage Performance
Windows filecopy tests were run using the standard NAS testbed [NAS test details]. Only XFS and FAT32 formats are supported for write and read, so we ran tests with the USB drive formatted in FAT32 and connected via USB 2.0 and USB 3.0.
Note that the WZR-1750DHP would also not mount our standard USB 3.0 drive, so a WD MyPassport was used instead for USB 3.0 tests.

| | WZR-1750DHP | DIR-868L | DIR-857 | Linksys EA6300 | Linksys EA6500 |
| --- | --- | --- | --- | --- | --- |
| FAT32 Write | 21 | 16 | 13.9 | 11.2 | 4.8 |
| FAT32 Read | 38 | 27 | 30.9 | 17.4 | 10.7 |
| NTFS Write | NA | 11.5 | 7.7 | 9.8 | 7.7 |
| NTFS Read | NA | 13.8 | 16.1 | 17.2 | 9.5 |
Table 3: USB 3.0 file copy throughput – MBytes/sec
Table 3 shows the WZR-1750DHP's results along with other draft 11ac routers supporting USB 3.0. Note that the DIR-868L, EA6300 and WZR-1750DHP all use a Broadcom BCM4708 processor, but the Buffalo clearly smokes them all.
The 1750DHP also did pretty well with USB 2.0, achieving 15 MB/s writes and 23 MB/s reads.
Routing Performance
Routing performance for the WZR-1750DHP loaded with 2.08 firmware and using our standard test method is summarized in Table 4. The 4,096 Simultaneous Connections is very low compared to other current products, but the routing throughput is essentially Gigabit wire speed in both directions.
| Test Description | Buffalo WZR-1750DHP |
| --- | --- |
| WAN – LAN | 921 |
| LAN – WAN | 907 |
| Total Simultaneous | 979 |
| Maximum Simultaneous Connections | 4,096 |
| Firmware Version | 2.08 |
Table 4: Routing throughput
The IxChariot plot shows nice steady throughput in the unidirectional tests.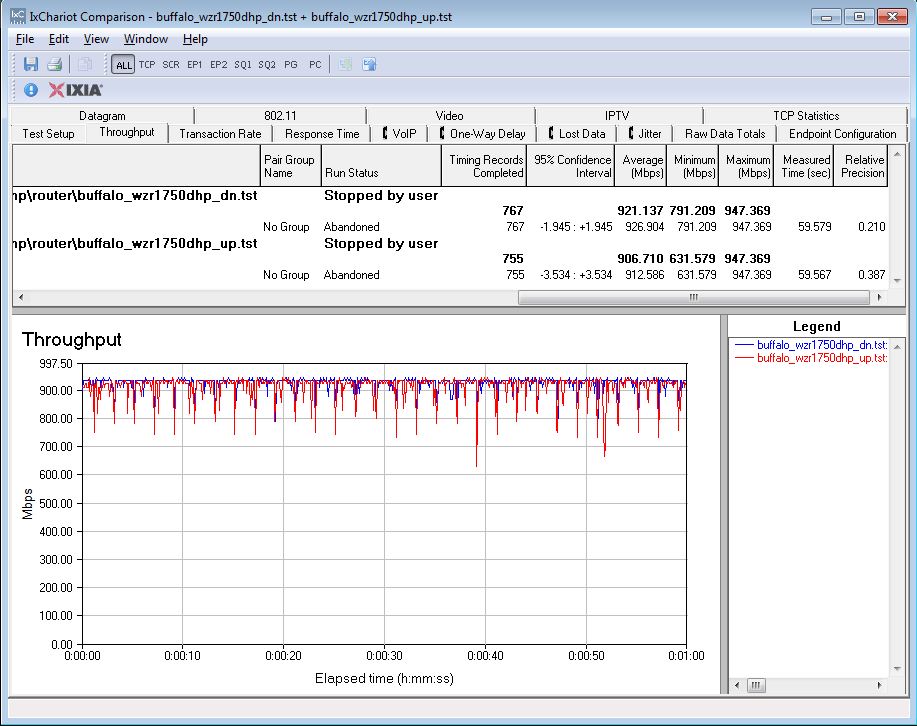 Buffalo WZR-1750DHP routing unidirectional throughput
Simultaneous up/downlink throughput showed very high variation as you can see in the image below. You can see that in most instances downlink was favored, although the two plots stay relatively close to each other.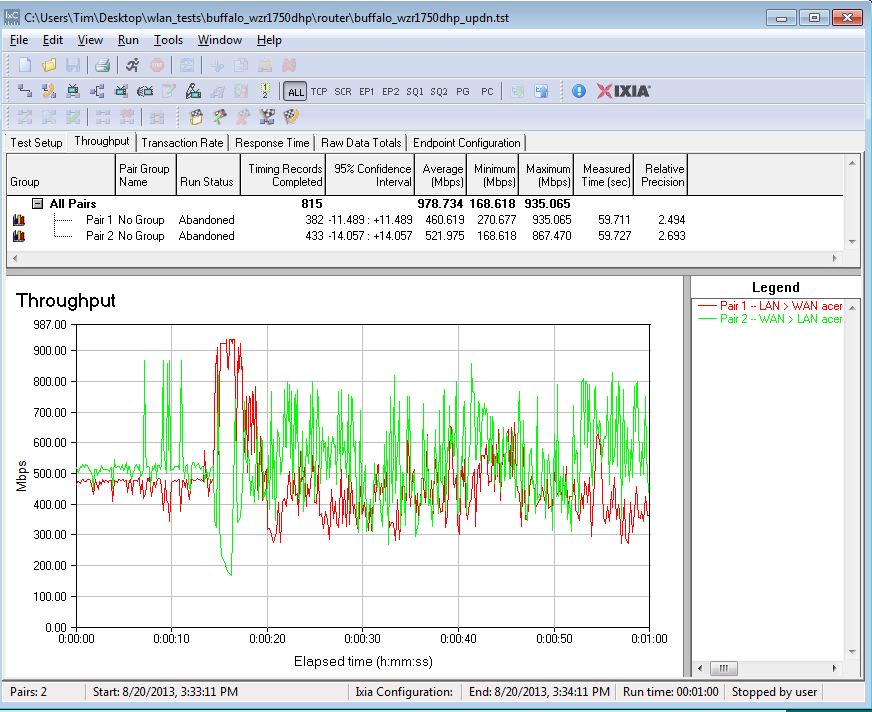 Buffalo WZR-1750DHP routing bidirectional throughput
Wireless Performance
The WZR-1750DHP is not Wi-Fi Certified. It defaulted to Auto channel mode on both 2.4 and 5 GHz radios upon power-up. The 2.4 GHz radio defaulted to 20 Mhz Channel width, while the 5 GHz radio defaulted to 80 MHz. So you won't be upsetting your neighbors if you leave the 2.4 GHz at its default bandwidth setting. The router comes with different 2.4 and 5 GHz SSIDs set, so you'll be able to connect to your desired band without having to change router settings.
WPS is enabled on both bands by default. But our Win 7 test client did not prompt for a PIN or pushbutton session on multiple attempts. However, during wireless testing and after we set WPA keys, we did see prompts for WPS pushbutton sessions when connecting.
Both 40 MHz Coexistence and Fat channel intolerant tests failed, with the WZR-1750DHP continuing to link at 40 MHz rates in both cases, instead of falling back to lower 20 MHz channel width rates.
For throughput testing, the router was first reset to factory defaults and Channel 6 was set for 2.4 GHz and Channel 153 for 5 GHz. 20 MHz B/W mode was set for 2.4 GHz and 5 GHz was set in 80 MHz bandwidth mode. The closest surface of the router was positioned 8″ from the chamber antennas in 0° and 180° test positions. The 0° position had the front of the router facing the chamber antennas.
The retest Benchmark Summary below shows the average of throughput measurements made in all test locations. The 2.4 GHz values in the summary correspond to 2.4 GHz values (20 MHz B/W) and the 5 GHz values correspond to the 80 MHz B/W – 3 stream values measured with the previous test methodology.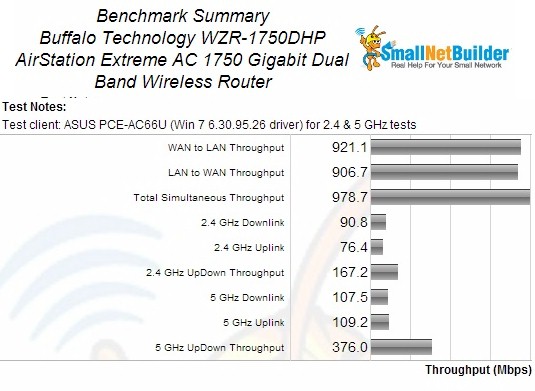 Benchmark Summary
Comparing average 2.4 GHz benchmark values with other AC1750 routers in the Charts, the WZR-1750DHP's 91 Mbps tops the Average 2.4 GHz downlink chart. But its 76 Mbps places fourth from the bottom on 2.4 GHz average uplink. Total throughput in the simultaneous up/downlink test measured 167 Mbps, sitting fairly close to the highest of 172 Mbps, which belongs to the ASUS RT-AC66U.
In the 5 GHz charts however, the WZR-1750DHP didn't do as well. Its 108 Mbps downlink average placed it at the bottom of all AC1750 class results and its 109 Mbps uplink average didn't fare much better at second to last place. The 5 GHz simultaneous up/downlink test yielded only 376 Mbps compared to the top-of-chart D-Link DIR-868L's 609 Mbps.
The Throughput vs. Attenuation plots provide better insight into comparative performance than the simple average benchmarks. I chose to compare the WZR-1750DHP with two other top-ranking Broadcom-based AC1750 class routers, the ASUS RT-AC66U and D-Link DIR-868L.
The 2.4 GHz downlink comparison below shows the WZR-1750DHP with steady throughput in the high to mid signal levels, with no dip in the early going like the ASUS. The odd anomaly is that around 39 dB of attentuation, the WZR-1750 actually has a jump in throughput, and then follows the rate of decline of both the ASUS and D-Link at around 45 dB.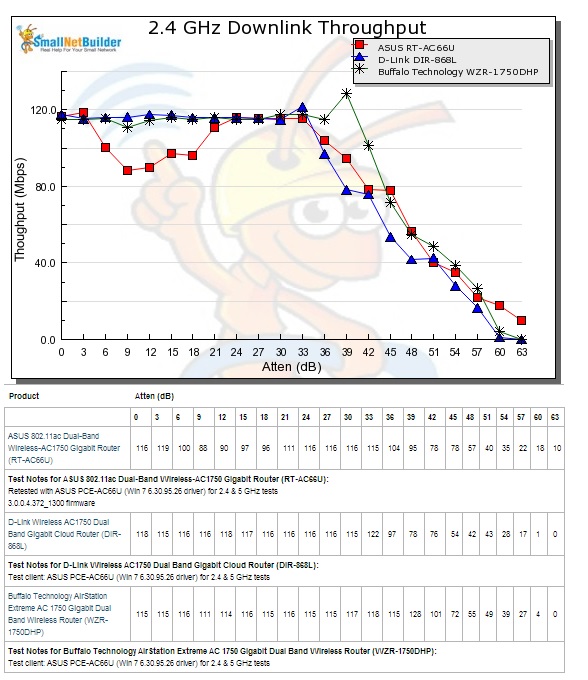 2.4 GHz Downlink Throughput vs. Attenuation
The 2.4 GHz uplink plot shows the Buffalo comparable with the two other products until 30 dB, at which point the RT-AC66U forges ahead while the DIR-868L has slightly lower throughput than the Buffalo, but not by much. The ASUS comes out the best in this comparison, keeping its steady throughput until after 39 dB.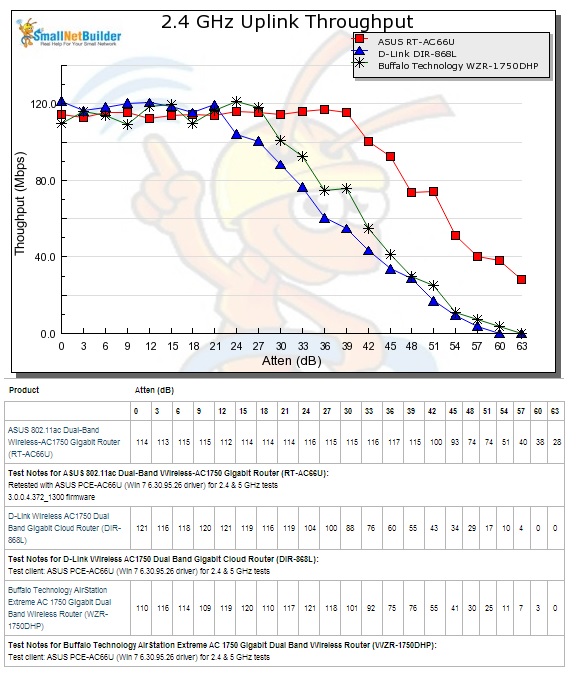 2.4 GHz Uplink Throughput vs. Attenuation
Wireless Performance – more
The 5 GHz results don't look very good for the WZR-1750DHP with nearly 50% lower throughput right out of the gate and staying below the other two routers throughout the tested range.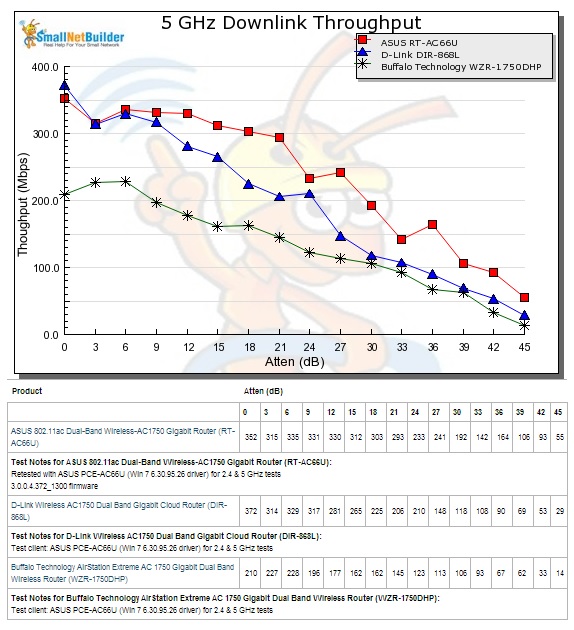 5 GHz Downlink Throughput vs. Attenuation
The 5 GHz uplink throughput profile is very similar to downlink.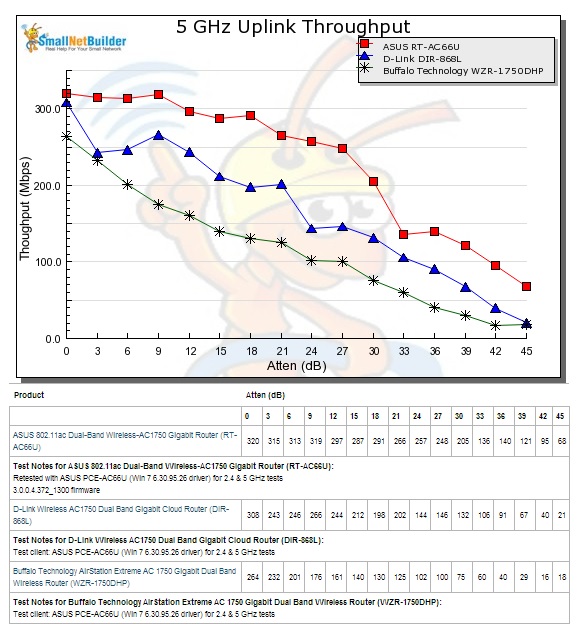 5 GHz Uplink Throughput vs. Attenuation
Closing Thoughts
The Router Ranker shows the Buffalo WZR-1750DHP in 5th place (out of ten) among AC1750 class routers. Sadly, it gets hit hardest in the areas which will matter most for many consumers, 5 GHz wireless performance. It ranks #10 in 5 GHz downlink throughput and #7 for 5 GHz downlink range. And while its 2.4 GHz results are somewhat better than 5 GHz, comparatively, they are not.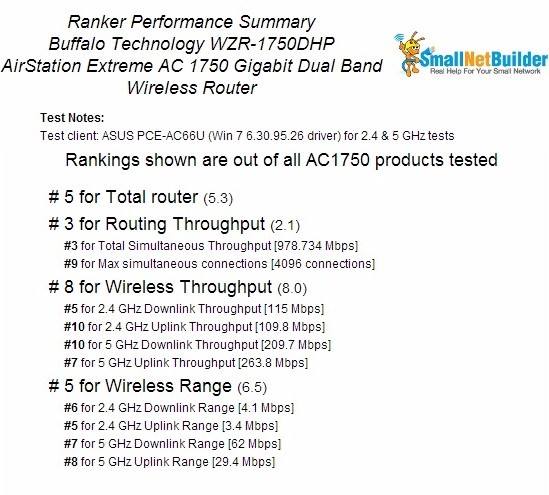 Buffalo WZR-1750DHP Ranking Performance Summary
It should also be noted that I set the router up for daily use during my review period. I ended up having to reboot the router two times in the span of a week and a half for internet slowdowns. I did a small amount of troubleshooting, including ensuring QoS was not enabled, but was never able to find the cause. I ended up switching back to my NETGEAR router to finish the review. I interacted a bit with Buffalo support, but didn't get to the bottom of the problem by the time it came to post this.
The Buffalo is priced competitively with other AC1750 routers, has fast storage throughput, a USB 3.0 port and decent 2.4 GHz performance. But for the main reason you would buy an AC1750 class routers, its 5 GHz AC performance, the WZR-1750DHP doesn't measure up.
Buy AirStation Extreme AC 1750 Gigabit Dual Band Wireless Router from Amazon