Introduction
Update 4/27/2012 – Edited to reflect 2.4 GHz, 40 MHz mode tests and linked to retest article
At a glance
Product
Linksys Gigabit Dual-Band Wireless N600 Router (EA2700) [Website]
Summary
Broadcom-based "app enabled" simultaneous dual-band N router with Gigabit ports
Pros
• Simultaneous dual band
• Gigabit ports
Cons
• Would not switch to 40 MHz mode in 2.4 GHz
• No WDS
• Guest SSID on 2.4 GHz band only
Typical Price: $88 Buy From Amazon
I've already covered Cisco's new "App Enabled" router line and reviewed the EA3500 in depth. So this focus of this review of the EA2700 Gigabit Dual-Band Wireless N600 Router is mainly on how it performs.
The EA2700 is the least expensive way to buy into Cisco's cloud-connected future. It is a simultaneous dual-band dual-stream (300 Mbps maximum link rate) router with no USB storage/printer sharing, sitting one step above the app-less E2500 and one below the EA3500. Your extra $10 over the E2500's cost (based on MSRP) buys you Gigabit ports in addition to the EA2700's future cloud features.
The EA2700's rear panel has the same ports, lights and switches as the EA3500 shown below, minus the USB 2.0 port.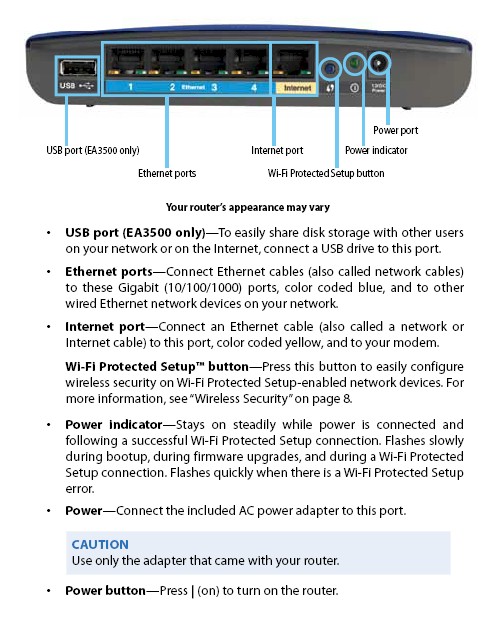 EA2700/EA3500 Rear panel
Inside
The complete story of the EA2700 and the rest of the new Linksys lineup is over in Inside Story: Cisco Linksys EA Series. But here's a summary comparison. Specwise, the EA2700 lies between the E2500 and discontinued E3200. It lacks the USB port of the E3200, but has Gigabit ports vs. the E2500's 10/100.
As Table 1 shows, however, its components have more in common with the E3200's. Note the EA2700 is currently the only Broadcom-based member of the new EA line.
E2500
EA2700
E3200
CPU
Broadcom BCM5358U
Broadcom BCM47186
Broadcom BCM47186
Switch
In BCM5358U
Broadcom BCM53125
Broadcom BCM53125
RAM
64 MB
64 MB
64 MB
Flash
8 MB
64 MB
16 MB
2.4 GHz Radio
– In BCM5358U
– No power amps
– In BCM47186
– No power amps
– In BCM47186
– Microsemi LX 5535 2.4 GHz power amps (x2)
5 GHz radio
– Broadcom BCM43236
– No power amps
– Broadcom BCM43236
– No power amps
– Broadcom BCM43236
– Microsemi LX 5530 5 GHz power amps (x2)
Table 1: E2500, EA2700, E3200 component comparison
Here's an inside shot of the EA2700 with its RF "cans" removed.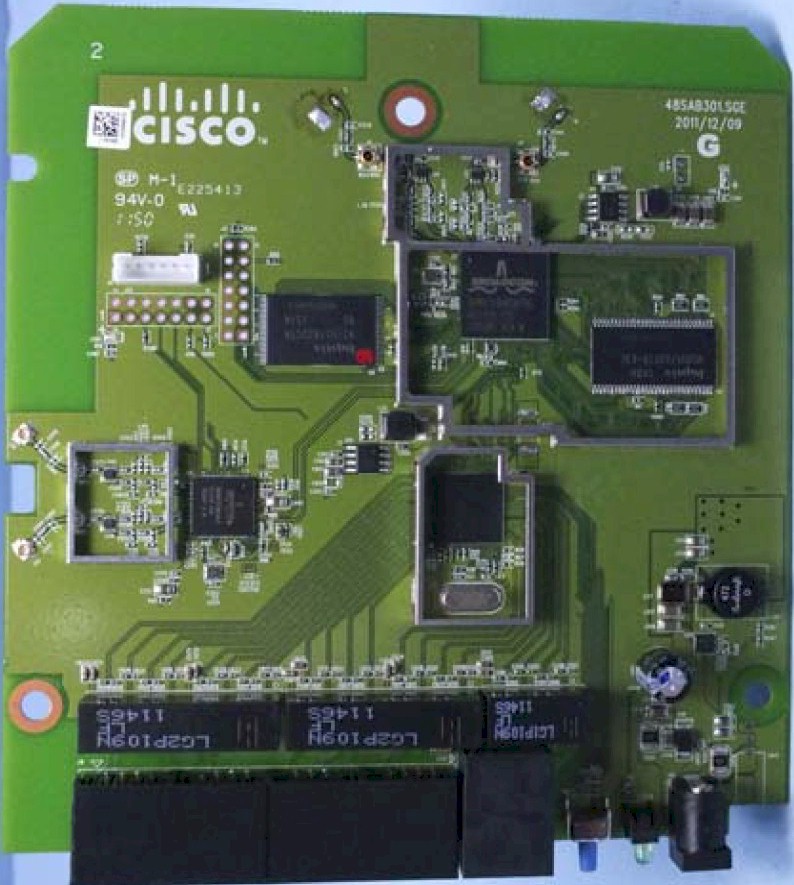 Linksys EA2700 board
Features
A full list of features can be found in the EA3500 review. The EA2700 has the same feature set, minus anything associated with USB drive sharing. I've put a shot of the Wireless Settings page below so you can see the basic set of controls provided.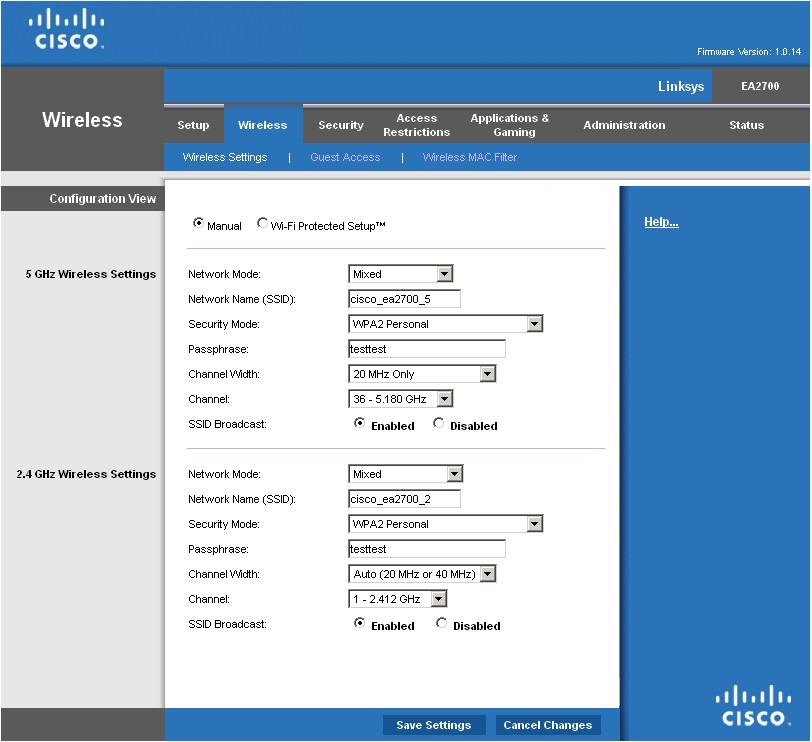 Linksys EA2700 Wireless Settings
As has become the new norm for Linksys routers, there is no "advanced" wireless settings page. I've summarized the options for each radio's settings in Table 2.
Setting
2.4 GHz options
5 GHz options
Network Mode
– Mixed (default)
– B/G only
– B only
– G only
– N only
– Disabled
– Mixed (default)
– A only
– N only
– Disabled
Security Mode
– WPA/WPA2 mixed
– WPA2 personal
– WPA personal
– WPA/WPA2 Enterprise Mixed
– WPA2 Enterprise
– WPA Enterprise
– WEP
– Disabled
– Same as 2.4 GHz
Channel Width
– Auto 20/40 (default)
– 20 MHz only
– Auto 20/40 (default)
– 20 MHz only
– 40 MHz only
Channel
1 – 11
36, 40, 44, 48, 149, 153, 157, 161
Table 2: Wireless Settings
Note that there is no 40 MHz only setting for the 2.4 GHz radio. The Marvell-based EA3500 and EA4500 also lack the same option. But you'll see shortly that the EA2700 takes its "auto" channel width duties perhaps a bit too seriously.
Routing Performance
Routing performance for the EA2700 using our standard test method and 1.0.14.129982 firmware is summarized in Table 3. The 300 – 400 Mbps routing throughput will be plenty to handle most any home or small office connection. Maximum simultaneous connections are fine and dandy, too, maxing out at our 34,925 session test limit.
Test Description
EA2700
Throughput – (Mbps)
WAN – LAN
341
LAN – WAN
412
Total Simultaneous
408
Maximum Simultaneous Connections
34925
Firmware Version
1.0.14.129982
Table 3: Routing throughput comparison
The composite IxChariot plot of the three routing tests below shows nice and steady routing throughput for the most part.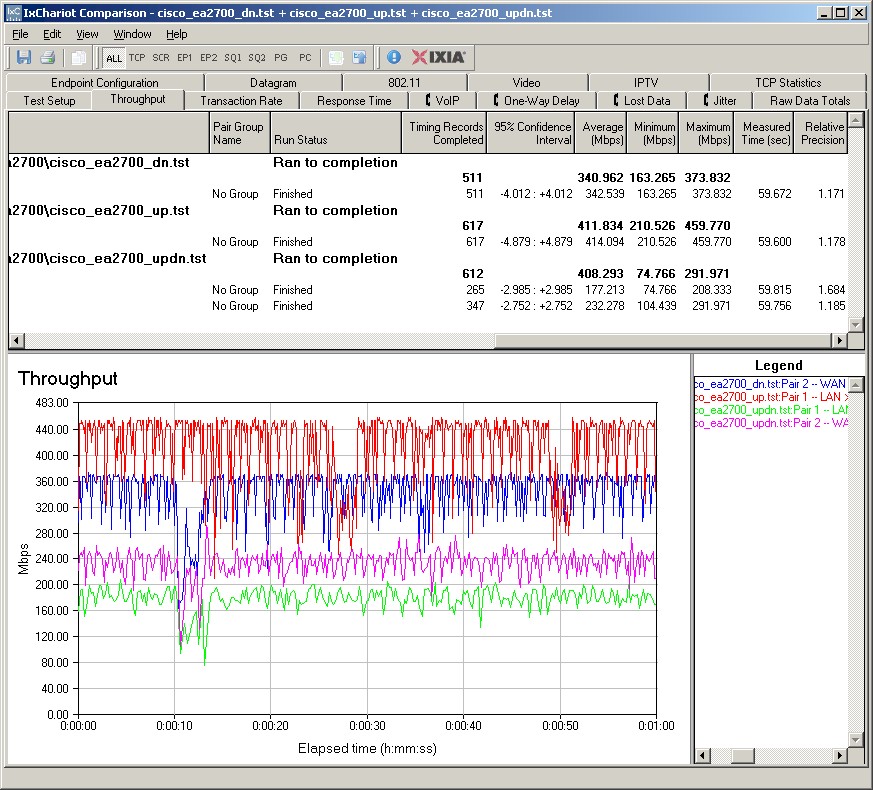 EA2700 routing throughput IxChariot plots
Use the Router Charts for more comparisons.
Wireless Performance
Updated 4/27/2012 – I was initially unable to get the EA2700 to link to the test client using 40 MHz bandwidth mode. But I have since discovered a work-around. Rather than have you click back and forth between reviews, I've moved the Wireless Performance and Closing Thoughts to a retest article.

Buy Gigabit Dual-Band Wireless N600 Router from Amazon