Introduction
Updated 4/17/2012: Marvell processor identified
At a glance
Product
Linksys Dual-Band N750 Router with Gigabit and USB (EA3500) [Website]
Summary
Marvell-based dual-band, dual-radio N router with Gigabit ports, USB drive and printer sharing and three-stream N (450 Mbps) support on 5 GHz band only.
Pros
• 20+ MB/s file sharing
• Gigabit ports
Cons
• Slow FAT32 file writes
• No media serving
• Can't block outbound service (port) access
Typical Price: $25 Buy From Amazon
D-Link and NETGEAR publicly revealed their "cloud router" plans during January's CES. Since then, D-Link has shipped its first cloud router, the DIR-605L, which, frankly isn't that impressive. And NETGEAR is still working on its "Smart Network", with no time frame for actual product.
With the announcement of its "App Enabled" routers and Cisco Connect Cloud, Cisco looks like it might have a chance to take a commanding lead in the next stage in the evolution of the home router, if they deliver the pieces that they are right now just selling futures on. The devil is always in the details, however, so let's dig in.
I'm choosing to review the EA3500 first, even though it is the middle member of the new EA lineup shown below. I passed on the EA4500, since it is just a rebadged E4200 v2, which has already been tested and reviewed. I won't be retesting the EA4500, but will write up a short piece on it later, basically pointing to the E4200 v2 review. And yes, I'll be testing the EA2700, since it also sports a new Broadcom-based hardware design.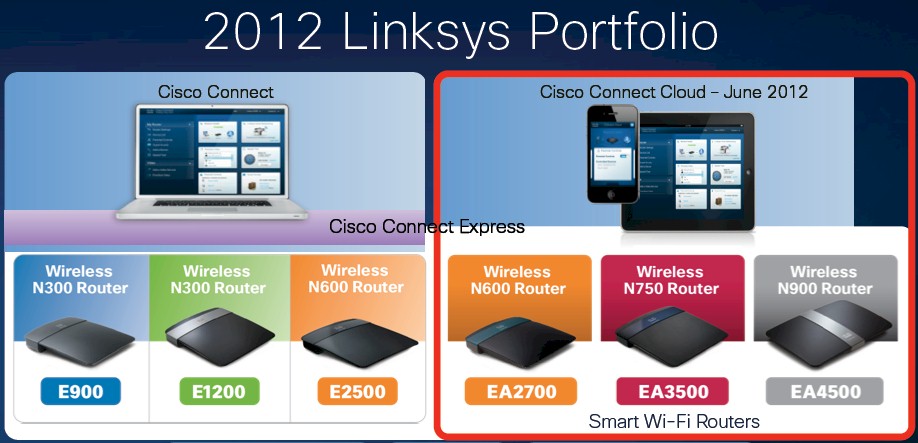 2012 Cisco Linksys Router Lineup
Sharp eyes may spy a new low-end member of the non-cloud Linksys line, the E900. The E900 ($49 MSRP) has essentially the same Broadcom-based design as the E1200 ($59 MSRP), on a smaller cost-reduced board. To justify that cheaper price, the E900 lacks Guest Access and Parental control features and doesn't support Cisco Connect or Cisco Connect Express mobile apps.
The EA3500's rear panel has the same ports, lights and switches as the E4200 v2, but with a different layout dictated by its new board. The reset switch is accessible via a hole on the bottom panel, which has no wall/ceiling mount screw slots.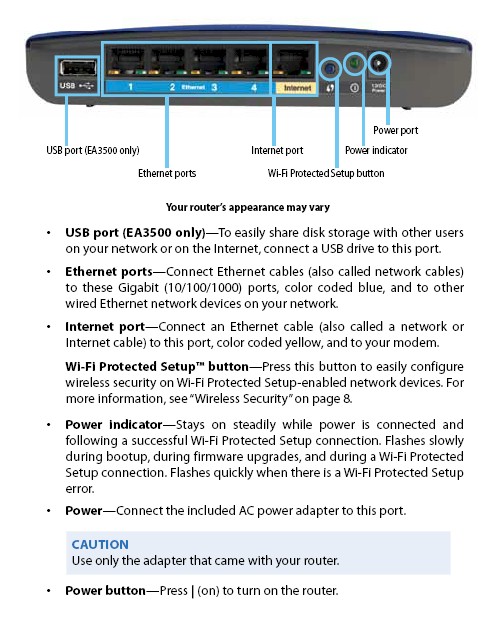 EA3500 Rear panel
Inside
Word of the EA actually was out a few weeks ago, when Walmart jumped the gun and put EA3500 and EA4500's on the shelf. Other posts have reported on the EA3500's Marvell-based design, which is very similar to the E4200 v2's as Table 1 summarizes. I've highlighted the key differences in bold red.

Updated 4/17/2012
One of my industry contacts helped me identify this mystery Marvell processor as a member of the ARMADA 300 family. The base part number is 88F6W01. Other members of this family include the 88F6282 and 88F6283. The key difference for the F6W01 is that it lacks the two SATA 2.0 ports that the other parts have.
EA3500
E4200V2
CPU
800 MHz Marvell Processor
(MRVL F6W01A1E TW1149AB C080)
1.2 GHz Marvell Processor
(MRVL F6101AW 1114AA C120)
Switch
Marvell 88E6171R
7 port Gigabit
Marvell 88E6171R
7 port Gigabit
RAM
64 MB
128 MB
Flash
64 MB
128 MB
2.4 GHz Radio
– Marvell 88W8063 / 88W8366
– SiGe SE2598L 2.4 GHz P.A. (x2)
– Marvell 88W8063 / 88W8366
– SiGe SE2598L 2.4 GHz P.A. (x3)
5 GHz radio
– Marvell 88W8063 / 88W8366
– SiGe SE2567L 5 GHz P.A. (x3)
– Marvell 88W8063 / 88W8366
– SiGe SE2567L 5 GHz P.A. (x3)
Table 1: Cisco Linksys EA3500 and E4200V2 component comparison
Like the original E4200, the EA3500 is an "N750" router, supporting dual-stream N (300 Mbps maximum link rate) on the 2.4 GHz band and three-stream N (450 Mbps maximum link rate) in 5 GHz. Design-wise, you can think of the EA3500 as an E4200 v2 with half the RAM and flash, less powerful CPU and one less power amplifier for the 2.4 GHz radio, packed into a more compact box.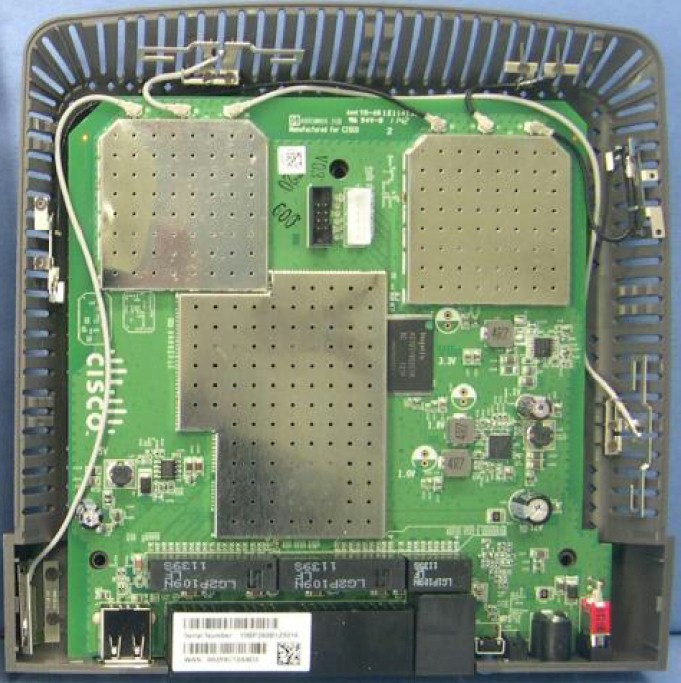 Linksys EA3500 inside view
The same two-device Marvell chipset (88W8063 Dual-band 3×3 MAC/BB and 88W8366 Dual-band 3×3 MIMO transceiver) is used for both radios, with the difference being the SiGe power amplifiers, which are different for each band. As with the original E4200, the 2.4 GHz radio has three antennas, with the third antenna used only to enhance receive gain. You can see the layout differences between the two products in the photos above and below.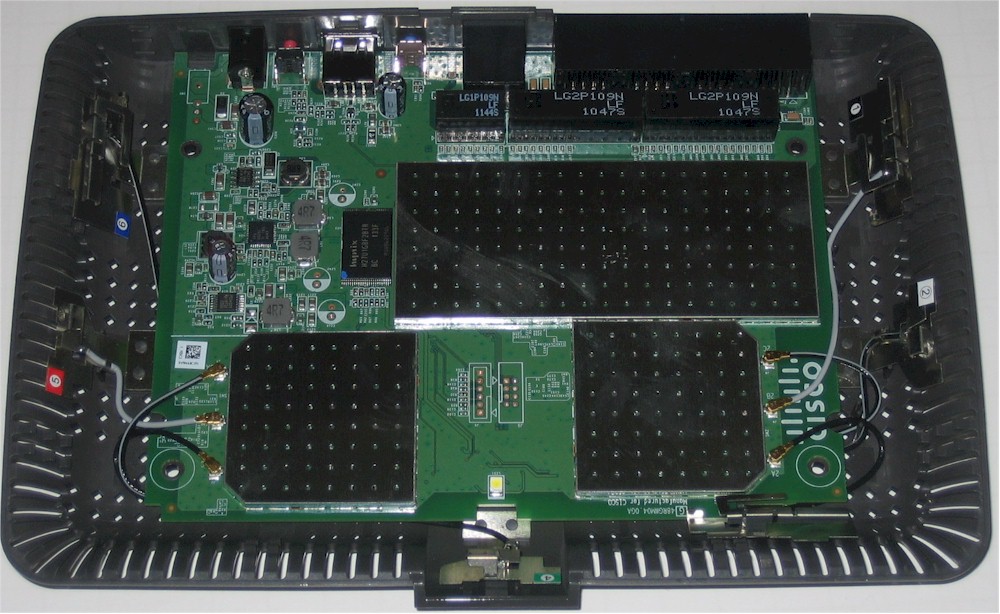 Linksys E4200V2 inside view
The FCC internal photos, which Cisco released without its customary delay, didn't have a good internal view of the EA3500 with the RF shields removed. So I pasted up the composite view below from the detail photos in the FCC document. You can see a thermal transfer pad on the processor in the EA3500 photo below.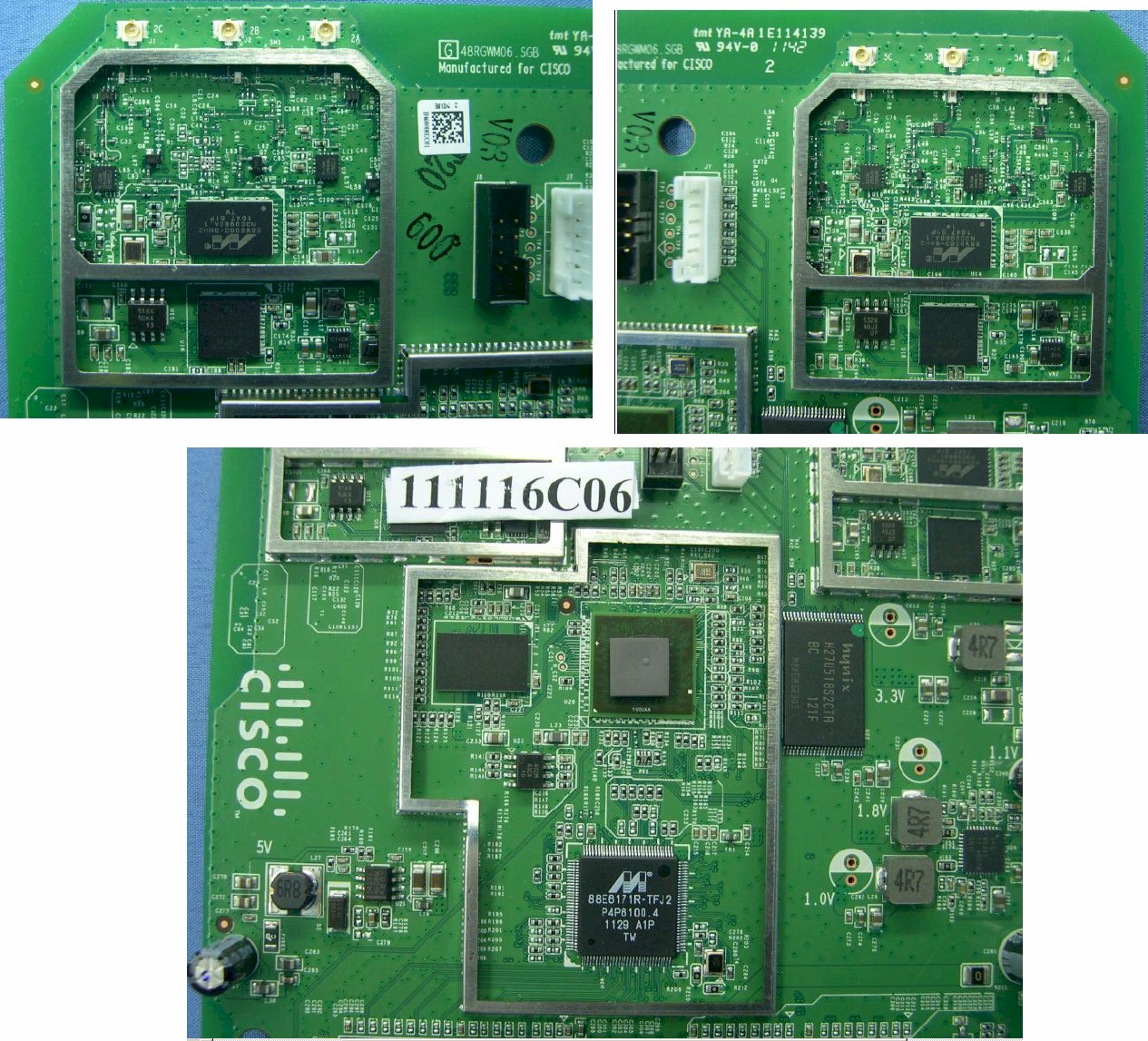 Linksys EA3500 board
When I opened up my EA3500 review sample after testing to identify the RAM and CPU, I found the RAM and switch also thermally coupled to the shield cover. Same goes for the 88W8366 BB/MAC under each of the radio shields. Here's a similar no-shield view of the E4200 v2 board.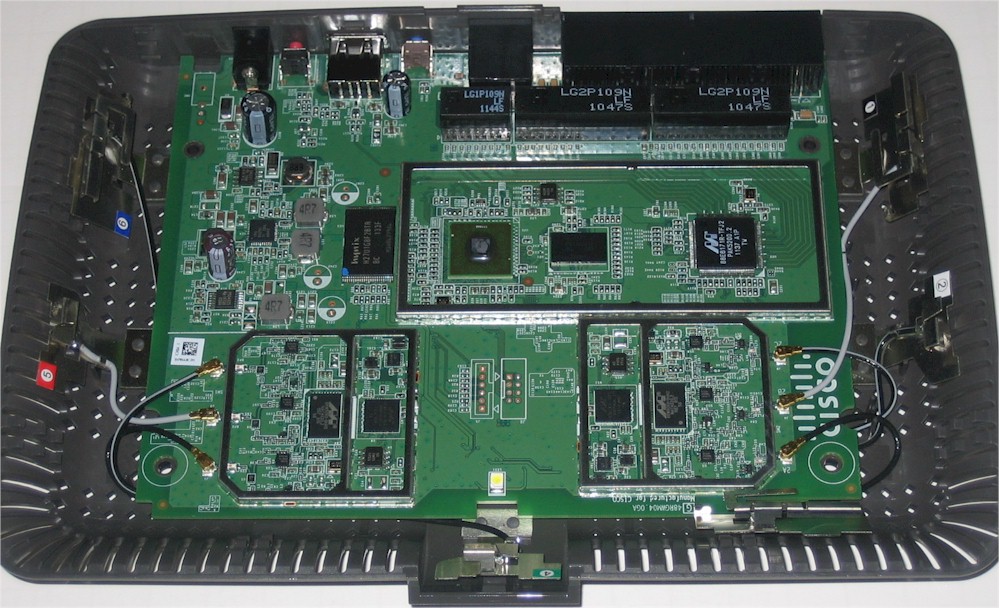 Linksys E4200V2 board
Features
Although the EA series will be "App Enabled", that enabling isn't going to happen until later this year. The slide below from the Cisco presentation I received shows the rough timeline. I cover in more detail how the EA series is supposed to evolve in this SmallCloudBuilder article.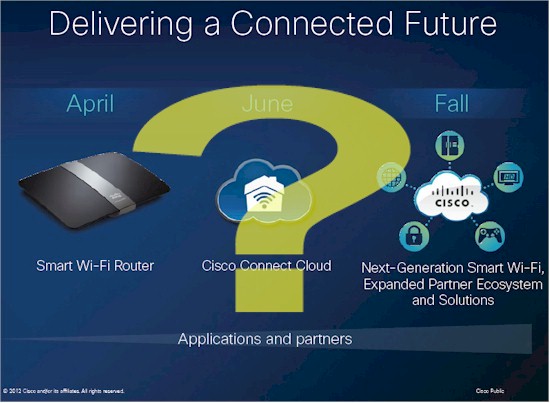 EA series feature schedule
For now, the EA3500's feature set is the same as the E4200 v2. Here's a quick summary:
Routing
DHCP, Static, PPPoE, PPTP, L2TP, Bridge WAN types
Built-in Dynamic DNS clients for TZO and DynDNS
Static and dynamic routing
SPI firewall disable (separate for IPv4 and IPv6), multicast, WAN ping and IDENT filtering, NAT redirection for IPv4 only
IPsec, PPTP and L2TP VPN passthrough (enabled by default)
Single port forwarding and Port Range forwarding with and without triggered ports. Single port forwards can specify external and internal ports
IPv6 port range forwarding
HTTPS admin access, remote management (HTTP / HTTPS) enable with IP range restriction and port setting
SIP ALG enable (default disable), UPnP enable and controls (default enable)
Incoming, outgoing, Security and DHCP onscreen log access with support for Linksys Logviewer recording
Parental Controls for 5 computers with eight blocked sites and "school night"/"weekend" internet access blocking
Uplink (LAN to WAN) only QoS with High, Medium, Normal or Low Priority that can be applied to specific applications (divided into Application, Online Game and Voice Device groups), physical switch ports or specific MAC addresses.
Ping / Traceroute diagnostics
Online upgrade option with automatic upgrade option (default enable)
Wireless
Wi-Fi Protected Setup (default) and Manual setup modes
Separate radio controls for 2.4 and 5 GHz radios
Auto channel set (default)
Home (PSK) and Enterprise (RADIUS) WPA/WPA2 modes
Individual radio disables, but no scheduled on/off
WMM (Wireless MultiMedia) (enabled by default)
Deny/allow MAC address filter
Guest access for 5-50 users (increments of five) for 2.4 GHz band only, no security
Sharing
SMB/CIFS file sharing, FTP access from attached FAT, NTFS or HFS+ formatted drive
USB printer/scanner sharing
Printer sharing has apparently been around since the original E4200, but I seem to have missed it. That's probably because it works only on computers where you have installed the Cisco Connect software, which I never do. So I can't vouch for how well printer sharing works. You may gain some insight, however, from this Cisco Home Community thread.
Access Restrictions are still very limited, with only rudimentary "Parental Controls" supported as shown in the screenshot below. This is the same complaint as I had with the E4200 v2 and a surprising weakness for high-end router.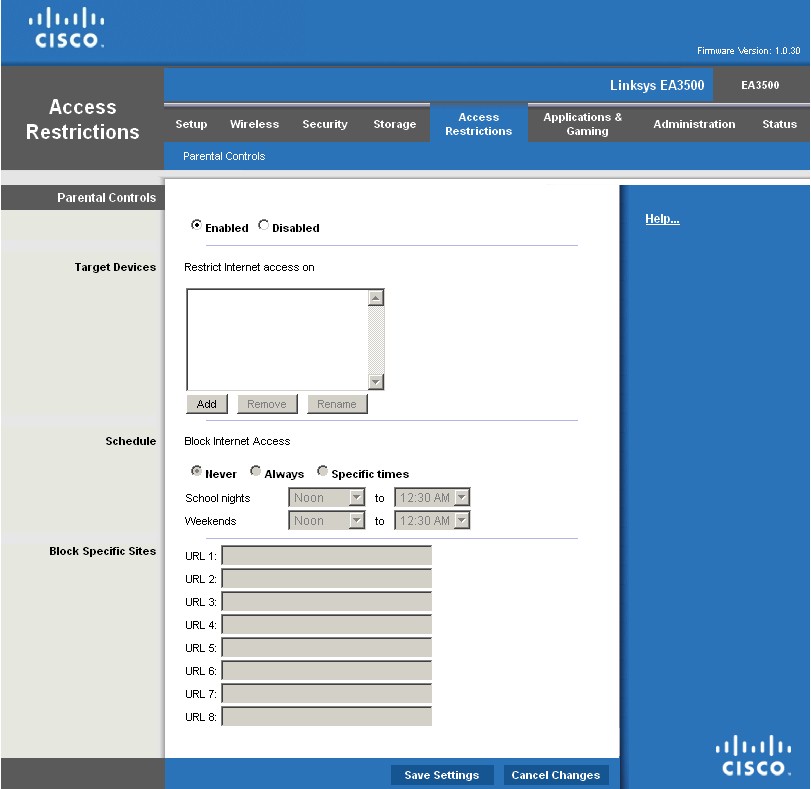 Linksys EA3500 Access Restrictions
Wireless features are the same as I found in the E4200 v2. Like the E4200 v2, the EA3500 defaults to Auto (20 or 40 MHz) bandwidth mode for both the 2.4 and 5 GHz band radios. This runs contrary to my understanding of the specs, so this time, I checked with the Wi-Fi Alliance to see if this meets Certification requirements.
I learned that the draft-N test plan, which was in effect from June 2007 to Sept 2009, 20 MHz channels were required "out of box" (OOB) in the 2.4 GHz band. In the current spec, however, the test plan requirements don't specify 20 or 40 MHz channel width OOB. So vendors may implement 40 MHz channels OOB in 2.4 GHz. But any devices doing this "must certify coexistence mechanisms to ensure good neighbor behavior", according to the Alliance
I sure hope those "coexistence mechanisms" work, because I have no way to check them. I'd rather see routers default to 20 MHz mode in the 2.4 GHz band, though, and will continue to note products that do not. If you want to ensure good neighbor behavior, you should change the 2.4 GHz radio to 20 MHz only mode manually.
While you're at it, you'll probably want to assign different SSIDs to each radio, because they both default to cisco. With the default, you won't be able to control which band dual-band devices use.
For other feature commentary, hit the E4200 v2 review.
Storage
Storage features are mostly unchanged from the E4200 v2, with one exception noted below. SMB file sharing and FTP are supported from FAT32, NTFS, and HFS+ formatted drives. There still is no support for iTunes serving, Torrent downloading, AFP or Time Machine backups.
I also noticed that the TwonkyMedia media server is gone. Media serving is supported only on the top-end EA4500.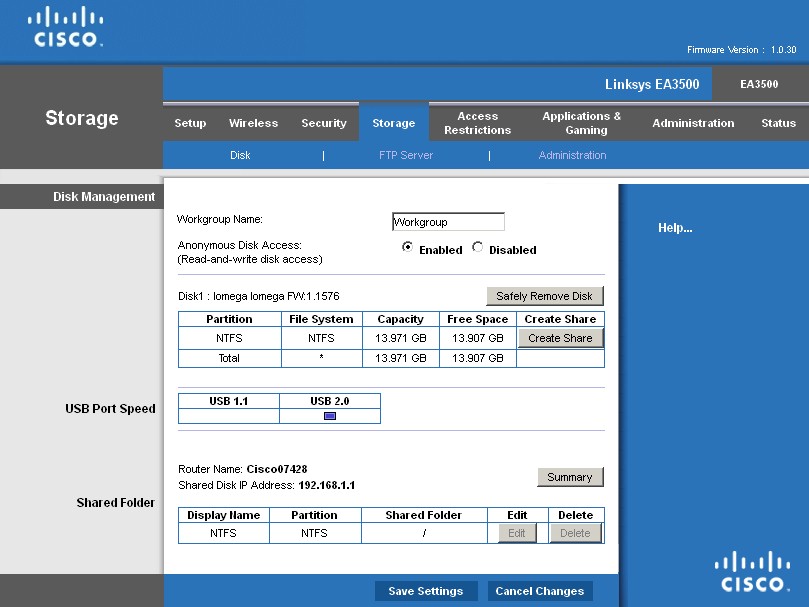 Storage settings
I tested Windows filecopy performance for both FAT and NTFS formatted drives, using our standard Iomega UltraMax Pro drive in RAID 0 and transferring the same ripped DVD folder used in our standard NAS testing. Table 2 compares the EA3500 and E4200 V2, showing essentially the same performance. Everything except writes to a FAT32 formatted drive measured over 20 MB/s!
| | EA3500 | E4200V2 |
| --- | --- | --- |
| FAT32 Write | 8.0 | 9.8 |
| FAT32 Read | 19.7 | 21.6 |
| NTFS Write | 17 | 20.1 |
| NTFS Read | 20.3 | 22.2 |
Table 2: EA3500 and E4200V2 Windows filecopy performance
Routing Performance
Routing performance for the EA3500 using our standard test method and 1.0.30.126544 firmware is summarized in Table 3 along with E4200V2 performance. Throughput appears comparable. But Simultaneous Sessions are much lower, topping out at 1042 sessions—the best out of three test runs.
Test Description
EA3500
Throughput – (Mbps)
E4200V2
Throughput – (Mbps)
WAN – LAN

223

254

LAN – WAN

218

235

Total Simultaneous

224

253

Maximum Simultaneous Connections
1042
8,192
Firmware Version

1.0.30.126544

2.0.26.124551
Table 3: Routing throughput comparison
As I've said many times before, this throughput is more than adequate for any home or small office environment where the EA3500 is likely to be installed.
The composite IxChariot plot of the three routing tests below shows nice and steady routing throughput, with an occasional spike/dropout during the simultaneous up/down test.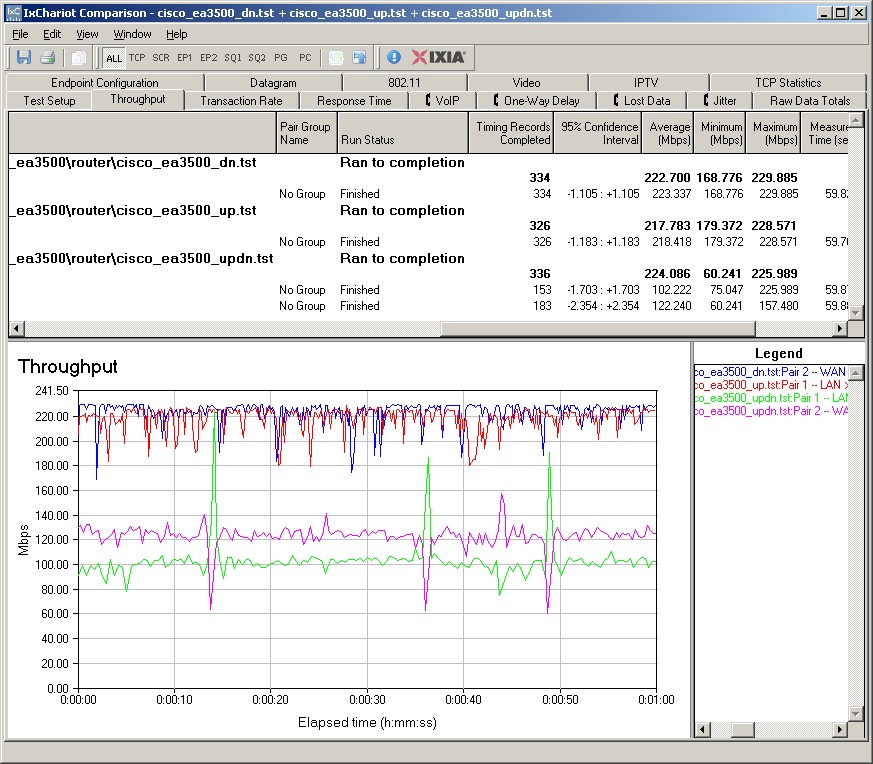 EA3500 routing throughput IxChariot plots
Use the Router Charts for more comparisons.
Wireless Performance – Overview
As is my practice with three-stream routers, I'll first summarize overall wireless performance test findings, then provide the details of each test set.
I used our standard test method to test the EA3500's wireless performance. Most testing was done with our standard Intel Centrino Ultimate-N 6300 test client in a Lenovo x220i Thinkpad running Win 7 Home Premium SP1 (64 bit). For two-stream tests on the 5 GHz band only, I used an Intel Centrino Advanced-N 6200 in a Acer Aspire 1810T notebook running Win 7 Home Premium SP1 (64 bit). As usual, I set the 2.4 GHz radio to Channel 1 and the 5 GHz radio to Channel 36. All tests were run with WPA2/AES security engaged.
I successfully ran a Wi-Fi Protected Setup (WPS) session with a Win 7 client by entering the WPS code found on the router's bottom label. The WPS session completed quickly and resulted in a WPA2/AES secured connection with the same WPA2 pre-shared key set for both radios. As noted earlier, both radios default to the same SSID, so I changed them to different values before beginning to test.
First look at the Benchmark Summary below. There is about a 30% gain in overall average throughput between two and three stream N on the 5 GHz band in 20 MHz bandwidth mode. This jumps to around 80% when comparing single direction averages in 40 MHz bandwidth mode. This is better than I've seen in previous two and three stream comparisons.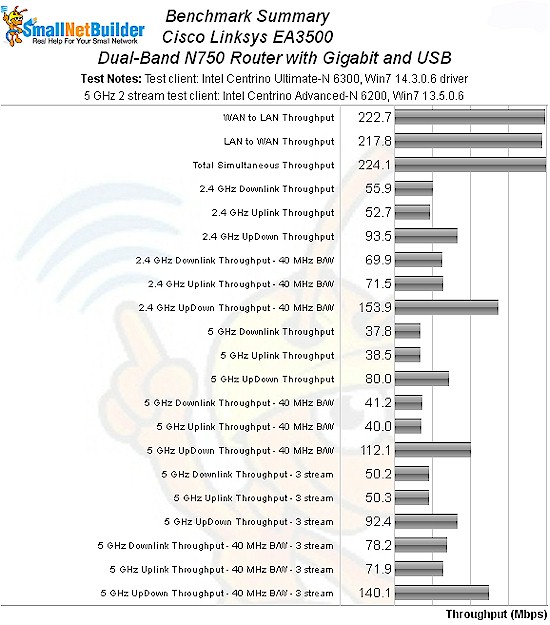 E4200V2 benchmark summary
Table 4 summarizes the highest wireless throughput measured out of all locations in the 20 MHz mode test runs. I'm not calling out the test locations where each best throughput was found because in this case, it was always Location A. Note that the Dn/Up result is the test where I run simultaneous up and downlink tests in Location A. This test usually shows higher throughput than unidirectional tests.
| Test Group | Max Dn (Mbps) | Max Up (Mbps) | Dn/Up (Mbps) |
| --- | --- | --- | --- |
| 2.4 GHz, 2 stream, 20 MHz | 78 | 76 | 93 |
| 5 GHz, 2 stream, 20 MHz | 64 | 56 | 80 |
| 5 GHz, 3 stream, 20 MHz | 71 | 74 | 92 |
Table 4: Highest Throughput, 20 MHz mode
The gains from two to three stream performance vary between 10 and 30%. For 40 MHz bandwidth modes the two-to-three stream performance gain is more significant, between 30 and 60%!
| Test Group | Max Dn (Mbps) | Max Up (Mbps) | Dn/Up (Mbps) |
| --- | --- | --- | --- |
| 2.4 GHz, 2 stream, 40 MHz | 114 | 131 | 154 |
| 5 GHz, 2 stream, 40 MHz | 81 | 76 | 112 |
| 5 GHz, 3 stream, 40 MHz | 105 | 121 | 140 |
Table 5: Highest Throughput, 40 MHz mode
I have to say I'm pleased, but surprised to see a significant difference between two and three stream performance, given previous testing. And I'm especially surprised to see the difference from products based on such similar hardware. Let's hope this trend continues!
Wireless Performance – 2.4 GHz
The 2.4 GHz radio is two-stream only, hence only this detail section. For performance comparison, I chose two other simultaneous dual-band "N750" routers with three-stream 5 GHz radios: the original Cisco Linksys E4200 and NETGEAR WNDR4000.
The comparison tables are large, so I'm going to provide links that will open them in a new window/tab to make things easier. Let's start with the Performance Table for 2.4 GHz. You can't really judge the winner in each benchmark by looking at the yellow-highlighted products because the two other routers were tested with our older process that used six test locations vs. the four-location test used on the EA3500.
Instead look at the location colums for each benchmark. You see significantly higher throughput in 40 MHz bandwidth modes and highest in throughput in Locations A, C and D in most 20 MHz mode benchmarks. The EA3500 doesn't seem to do as well as the original E4200 in the weakest signal test location F, however. So this could indicate reduced range compared to that product. But note also that the older routers were tested with an Intel 5300 adapter, which could also contribute to the performance difference.
The IxChariot plot summary below for 20 MHz mode downlink shows generally stable throughput.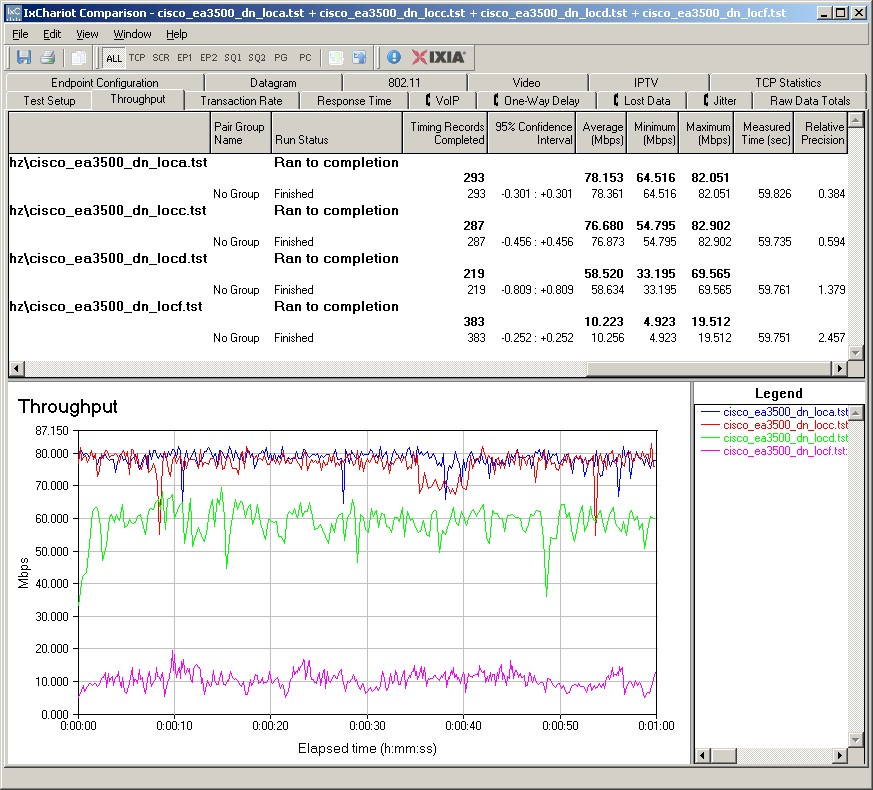 Cisco EA3500 IxChariot plot summary – 2.4 GHz, 20 MHz mode, downlink
Here are links to the other plots for your reference.
Wireless Performance – 5 GHz, Two Stream
Moving up to 5 GHz, here is the Performance Table for Two-Stream 5 GHz. The EA3500 doesn't stand out from the back in this comparison. But once again, a contributing factor could be the Intel 5300 adapter used with the previously-tested products. The larger performance difference seems to be in 40 MHz bandwidth mode and lower throughput in weaker signal test locations C and D.
The IxChariot plot summary for 5 GHz, 20 MHz mode downlink in two-stream mode is below and shows some throughput variation. Clicking through the other benchmark plots below pretty high variation in Location C, 40 MHz mode downlink, which I could not get rid of despite multiple test runs.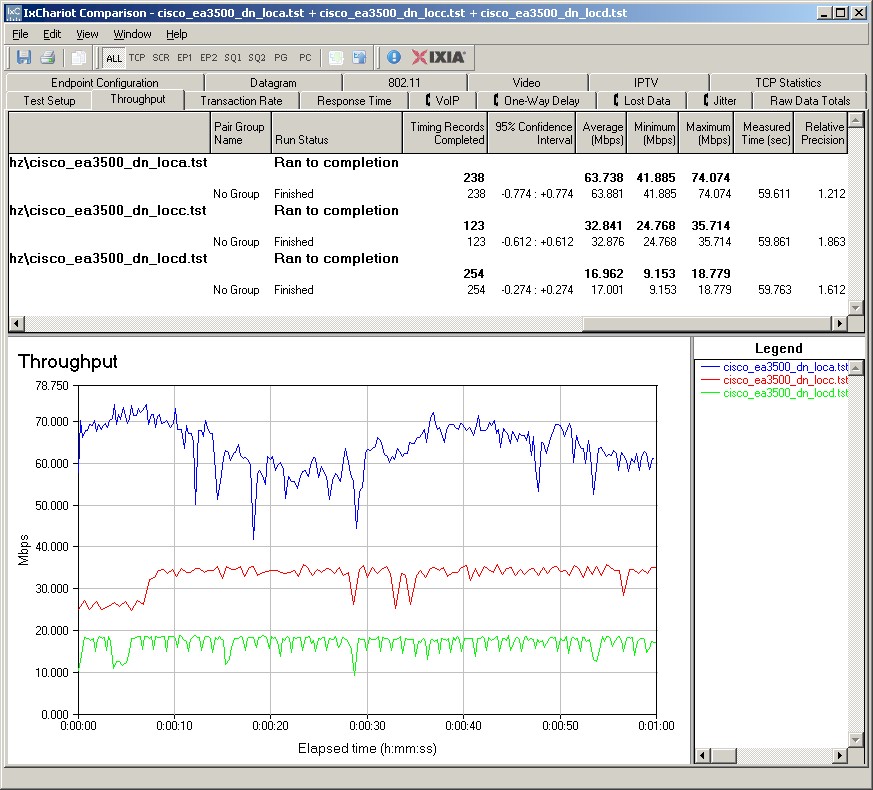 Cisco EA3500 IxChariot plot summary – 5 GHz, 20 MHz mode, downlink – 2 stream
Here are links to the other plots for your reference.
Wireless Performance – 5 GHz, Three Stream
Finally, we come to the Performance Table for Three-Stream 5 GHz. The EA3500 displays its best performance here, with significantly higher throughput both up and downlink in 40 MHz bandwidth mode. Bandwidth is also relatively high in Location D in both 20 and 40 MHz bandwidth modes.
Here are the IxChariot plots for 20 MHz mode downlink in three-stream mode. Throughput is again, generally well-behaved, but with occasional higher variation as shown in the plot below.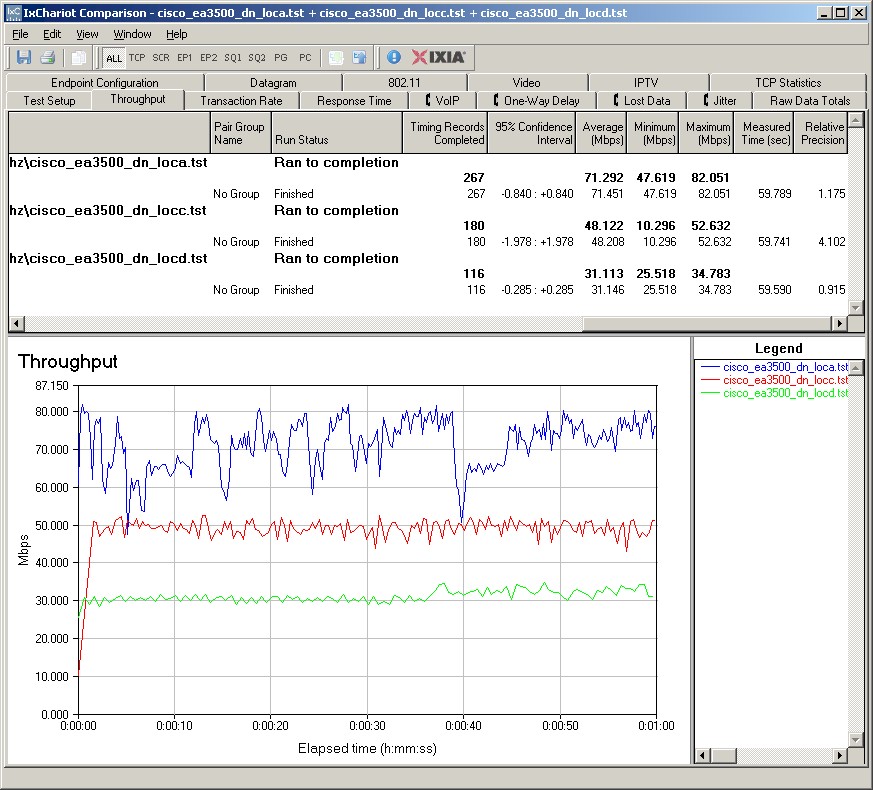 Cisco EA3500 IxChariot plot summary – 5 GHz, 20 MHz mode, downlink – 3 stream
Here are links to the other plots for your reference.
Closing Thoughts
Performance wise, Cisco hasn't made any great strides forward with the EA3500. If anything, when compared with Cisco's original "N750" router, the E4200, performance is a bit lower in some cases. But as it seems with many routers today, performance is close enough that it will probably be hard to see a clear improvement in speed or range under real-world conditions.
But the EA3500 and the other members of its family aren't really a performance play. Instead, their real "App Enabled" promise lies ahead and won't start to be fully realized until this fall. Only then will buyers be able to tell whether the extra money they paid for Cisco's vision of a "smart" router was worth it. We've all seen companies make promises that they don't keep and it remains to be seen where Cisco ends up in this latest quest.
We'll be watching and waiting along with you and look forward to getting our hands on Cisco's next step along its path, Cisco Connect Cloud. Read this SmallCloudBuilder article for more on that.
Buy Dual-Band N750 Router with Gigabit and USB from Amazon