At a glance
Product
D-Link Covr AC3900 Whole Home Wi-Fi System (COVR-3902) [Website]
Summary
Qualcomm-based four-stream router with two-stream extender system. Supports MU-MIMO
Pros
• Sets up with app or web browser
• Good routing feature set
• Supports storage sharing & UPnP media serving
Cons
• Router can't handle heavy load
• Storage features doesn't work
Typical Price: $188 Buy From Amazon
Introduction
There aren't many manufacturers taking the router/extender approach to Wi-Fi Systems. NETGEAR's original Orbi showed that extender-type Wi-Fi systems can be very effective at increasing Wi-Fi network capacity and coverage by using high-bandwidth dedicated 4×4 5 GHz backhaul. The company then more recently followed up with its "mini" Orbi RBK30 and RBK40 models that were also pretty effective, even with their dedicated backhaul reduced to 2×2.
D-Link's COVR-3902 AC3900 Whole Home Wi-Fi System (Covr from here out) is trying a different Wi-Fi System approach, pairing a 4×4 AC2600 class MU-MIMO router and 2×2 AC1300 class MU-MIMO extender. Add the two numbers up and you get the inflated "AC3900" in the product's moniker, which is in line with how many manufacturers are playing the numbers game with Wi-Fi systems. There is no dedicated backhaul in this design; the extender has only one 2.4 and one 5 GHz radio that must share client (fronthaul) and router (backhaul) connection duties.
The router is a straightforward four-stream design with gigabit Ethernet WAN (1) and switched LAN (4) ports. There's a USB 3.0 port on the front right that supports SMB file sharing and UPnP media serving. There are even screw mounting slots on the bottom that will point the rear panel toward the ceiling if you choose to wall mount it.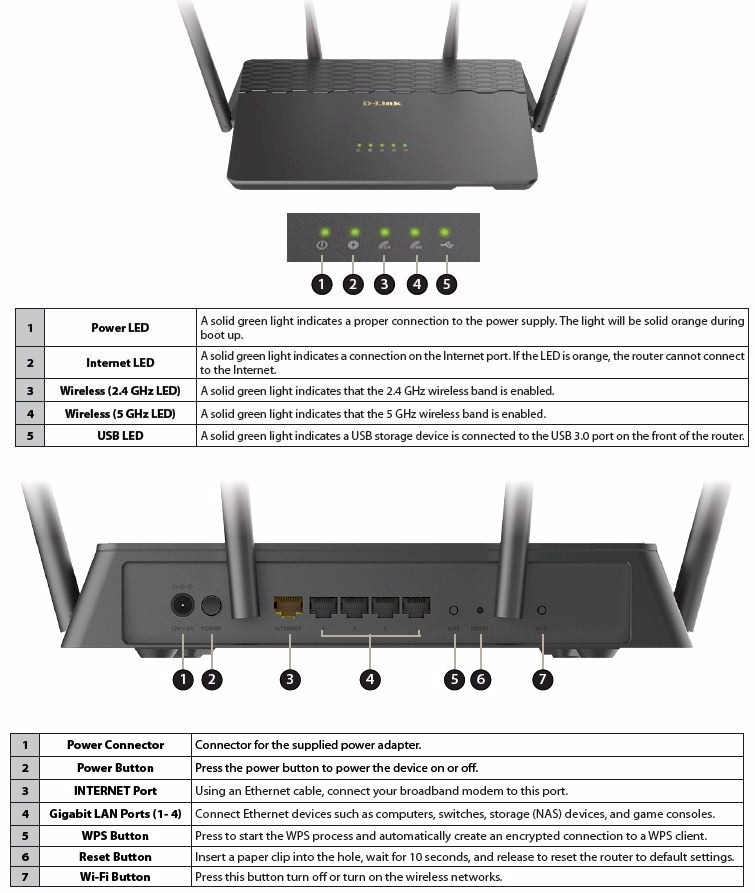 Covr router callouts
The extender is a simple beast that has no USB port, but comes with a two-port gigabit switch. It also has screw mounting slots on the bottom.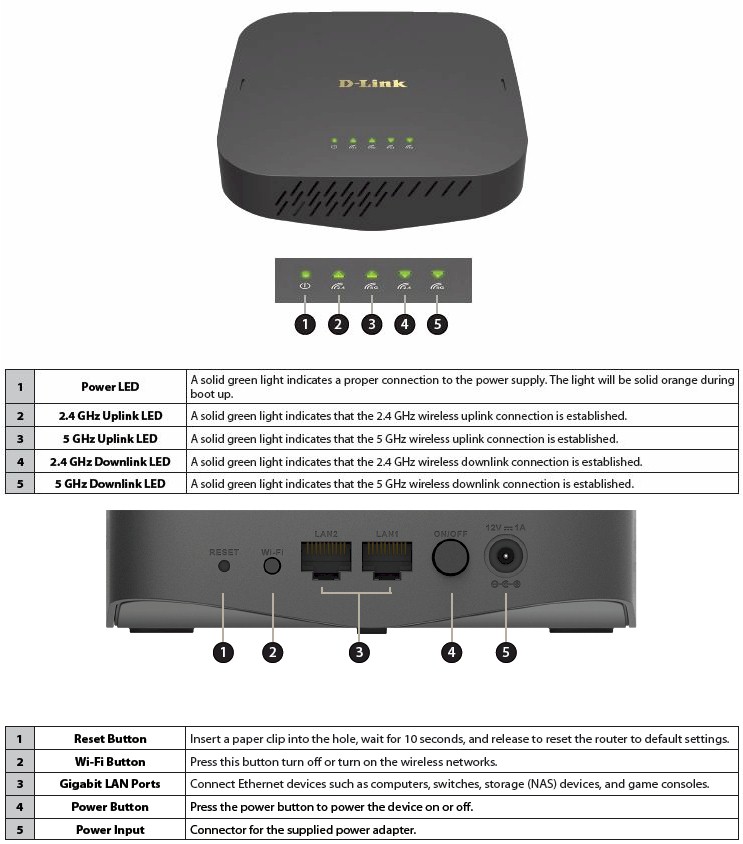 Covr extender callouts
Inside
Router and extender have their own part numbers—COVR-2600R, COVR-1300E—but were known at time of introduction as DIR-883 and DAP-1655. D-Link released the inside FCC ID photos, which provide enough closeups to identify all components except the external power amp/front ends.
The photo below with the top popped shows heatsink plates and wiring for the four dual-band external antennas that attach via RP-SMA connectors.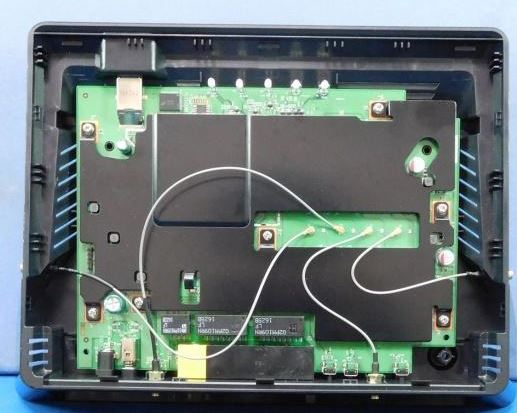 D-Link Covr router inside
The board photo with heatsinks and RF can tops removed shows where the major sections lie; switch at top, CPU and RAM below and radios at photo left.
D-Link Covr router board
The Extender board also has heatsink plates on top and bottom. This is the first time I've seen antennas mounted directly on a metal ground plane.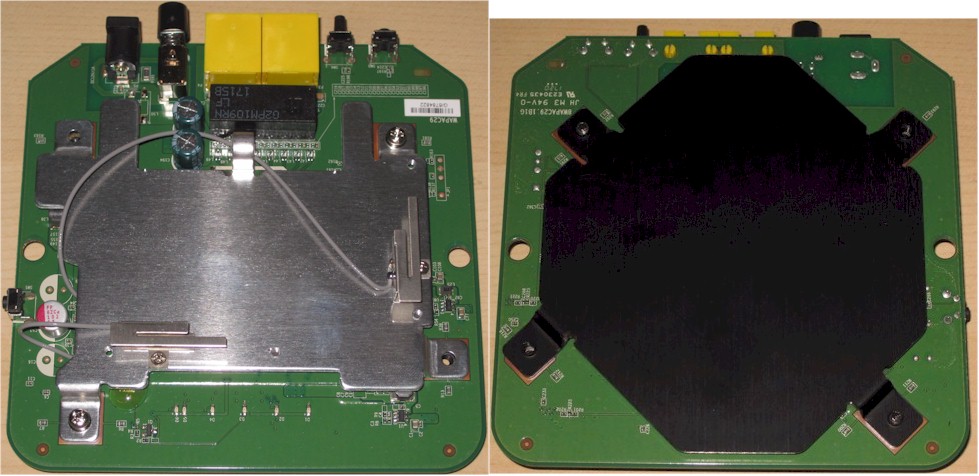 D-Link Covr extender assembly
Here's the naked extender board.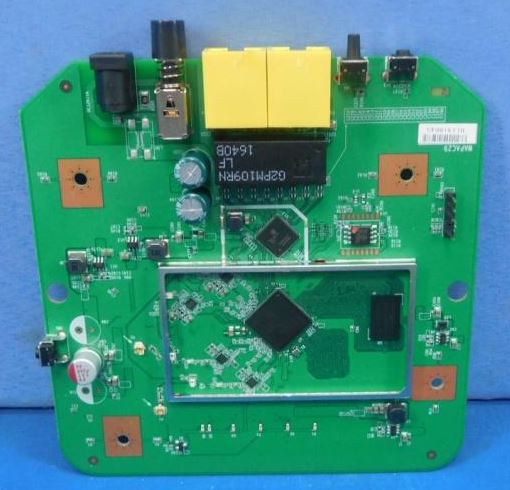 D-Link Covr extender board
The FCC document has other photos showing many of the key components, which are summarized in the table below with Orbi mini and TP-Link Deco M5 that I'll be comparing Covr with later. Still no sign of anyone else except Qualcomm at the heart of Wi-Fi systems.
D-Link Covr Router
D-Link Covr Extender
NETGEAR Orbi RBK40/30
TP-Link Deco M5
CPU
Qualcomm IPQ8065 quad-core network processor
Qualcomm IPQ4018 quad-core 2×2 11ac SoC
Qualcomm IPQ4019
Qualcomm IPQ4019
Switch
QCA8337
QCA8072
QCA8075
QCA8072
RAM
256 MB
256 MB
512 MB
256 MB
Flash
128 MB
128 MB
4 GB
32 MB
2.4 GHz Radio
– QCA9984 4×4 abgnac Wave 2 SoC
– unidentified 2.4 GHz power amps (x4)
– In IPQ4018
– Unidentified power amp / front end (x2)
– In IPQ4019
– Skyworks SKY2623L 2.4 GHz Power Amp (x2)
– In IPQ4019
– Skyworks 85303-11 2.4 GHz Front End (x2)
5 GHz Radio
– QCA998
– unidentified 5 GHz power amps (x4)
– In IPQ4018
– Unidentified power amp / front end (x2)
– In IPQ4019
– Quorvo QPF4518 5 GHz front end (x2)
– In IPQ4019
– Qorvo PA5542 5 GHz power amp (x2)
http://www.qorvo.com/products/p/RFPA5542
5 GHz Radio #2
N/A
N/A
– QCA9886 2×2 5 GHz a/n/ac SoC
– Quorvo QPF4518 5 GHz front end (x2)
N/A
Bluetooth
N/A
N/A
CSR8811 Bluetooth 4.1 SoC
CSR 8811 Bluetooth 4.1
ZigBee
N/A
N/A
N/A
N/A
Table 1: Component summary and comparison
Features
Covr is a self-contained system that does not rely on a companion cloud service. While you can set it up and run it from the D-Link Wi-Fi iOS or Android app, you don't have to. I installed the Android app, gave it a brief look and found it has a setup wizard. But since it provides access to only a subset of router features, I used the web interface for all my time with Covr.
Logging into the Covr router takes you to the Home screen shown below. The admin interface is similar to what we first encountered on the DIR-880L. The DIR-890L emulator is similar enough to get a feel for the features offered.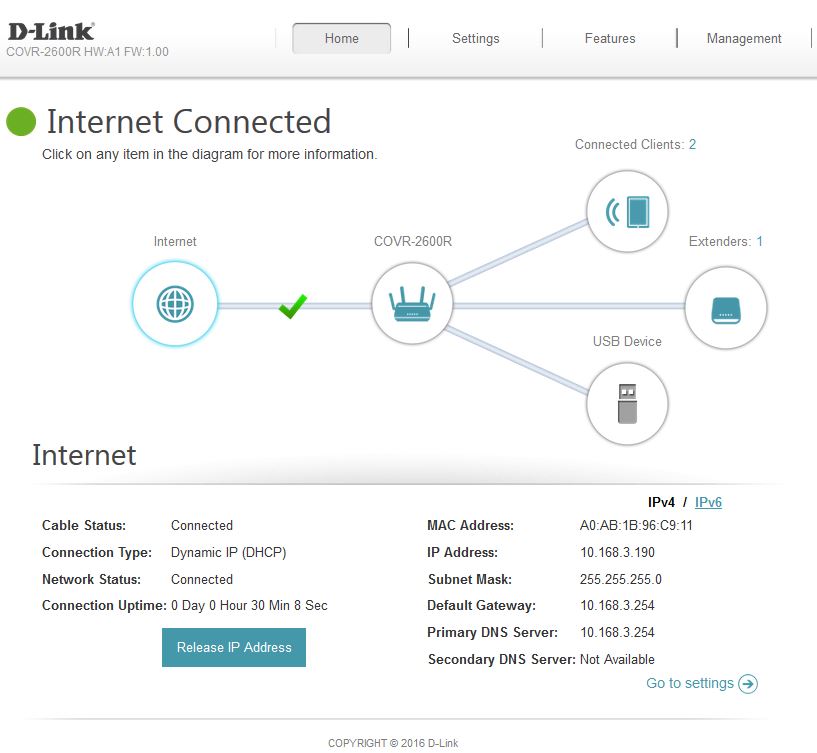 D-Link Covr web admin – Home
The Covr router could stand alone as a AC2600 class router, given its feature set. Here's a quick rundown.
WAN IPv4

DHCP (default)
Static
PPPoE
PPTP
L2TP
DS-Lite

WAN IPv6

Auto Detection
Static
Auto Config (SLAAC/DHCPv6)
PPPoE
IPv6 in IPv4 tunnel
6to4
6rd
Local only

DHCP reservations, range and lease time settings
IPv4 port forwarding (static single and port ranges, no triggered ports, schedulable rules)
UPnP disable (default enabled)
IPv4/IPv6 Multicast enable (default disabled)
DMZ
IPv4/IPv6 Firewall w/ schedulable access rules for each
Deny/allow URL filtering (not schedulable)
Dyndns,dlinkddns DDNS support
Static routes
Quick VPN server (L2TP over IPsec)
WAN port speed control
Priority based QoS: Highest (1 device); High: (2 devices); Medium (8 devices)
Guest network
But the wireless settings remind you that Covr is a Wi-Fi system that takes control of most wireless settings, as shown below. Although the specs say Covr supports Airtime Fairness, there are no controls for it. There are also no controls for "seamless" roaming, band steering and AP load balancing that are all supported. D-Link says Covr supports the full suite of IEEE roaming standards, 802.11k,v and r.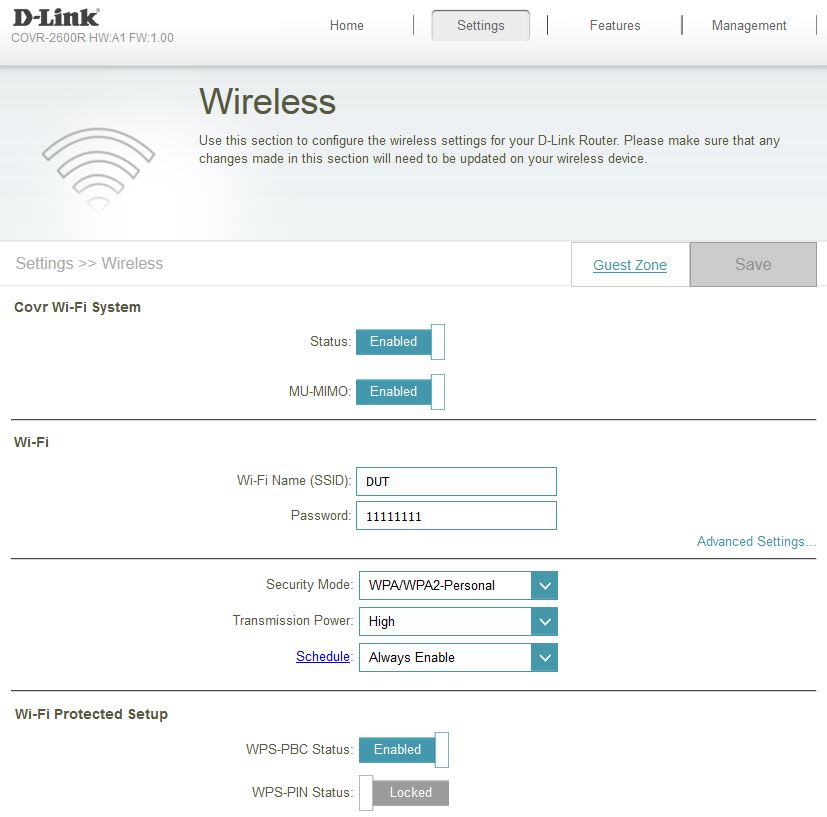 D-Link Covr web admin – Wireless
You can even log into the Covr Extender, but there is not much you can do.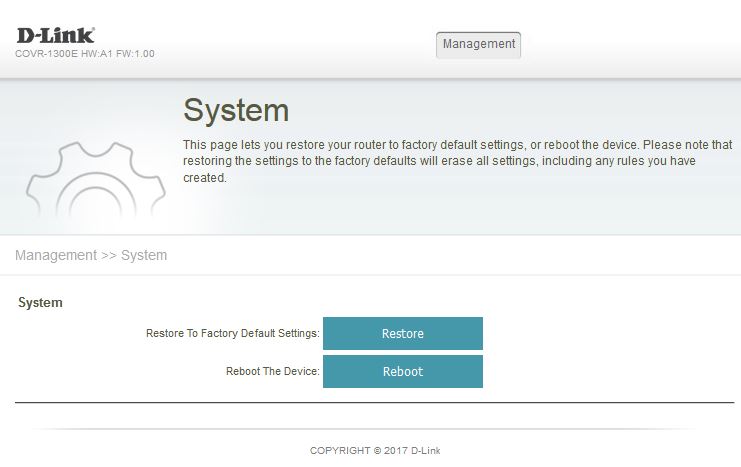 D-Link Covr extender admin
Covr is the only Wi-Fi System I've tested so far that supports USB storage sharing. It even includes a UPnP media server. Unfortunately, I could not get Covr to mount either my standard Startech USB 3.0 eSATA to SATA Hard Drive Docking Station (SATDOCKU3SEF) or a WD My Passport Ultra drive.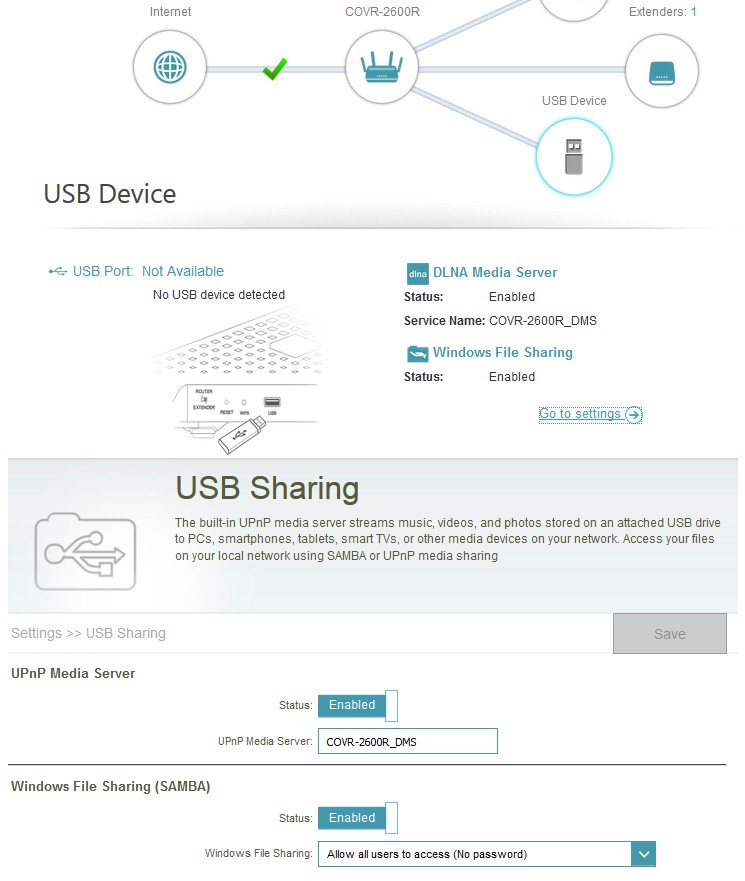 D-Link Covr USB support
The last two pieces of info you should know are Covr can't bypass its router and run as an AP system and it doesn't support Ethernet backhaul between router and extender. D-Link said it plans to support Ethernet backhaul in a future firmware release, but said nothing about AP only support.
Routing Performance
All performance tests were done with firmware 1.00B19 (router) 1.00B11 (extender) using select tests from the Version 10 Router process.
Covr did pretty well in the iperf3 tests, posting throughput of 929 Mbps and 941 Mbps for WAN to LAN and LAN to WAN respectively. This puts it in the upper tier of Wi-Fi systems.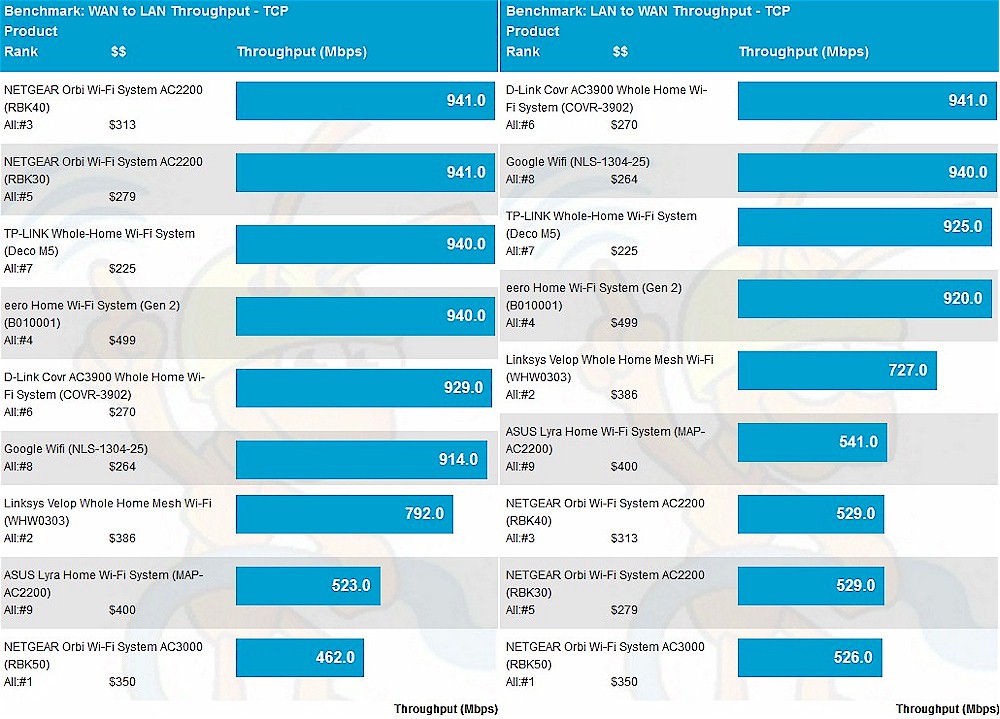 Routing throughput – iperf3 method
The HTTP test method is better at showing performance differences under load, downloading four different size image files with 2K concurrent connections. The plot below compares Covr with Orbi "mini" and TP-Link's Deco M5. It's pretty clear Covr doesn't handle concurrent HTTP traffic loads as well as the other two products.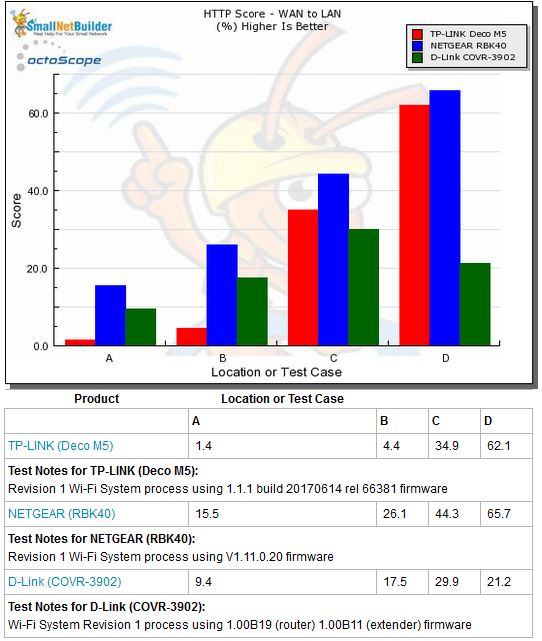 Routing throughput – HTTP Score comparison – WAN to LAN
Plot key file size: [A] 2 KB, [B] 10 KB, [C] 108 KB and [D] 759 KB file
Covr does a bit better on uplink. Reference throughput, i.e. 100%, is 918 Mbps. So the best Covr does with the largest filesize, which should produce the highest throughput, is around 25 Mbps down and 38 Mbps up.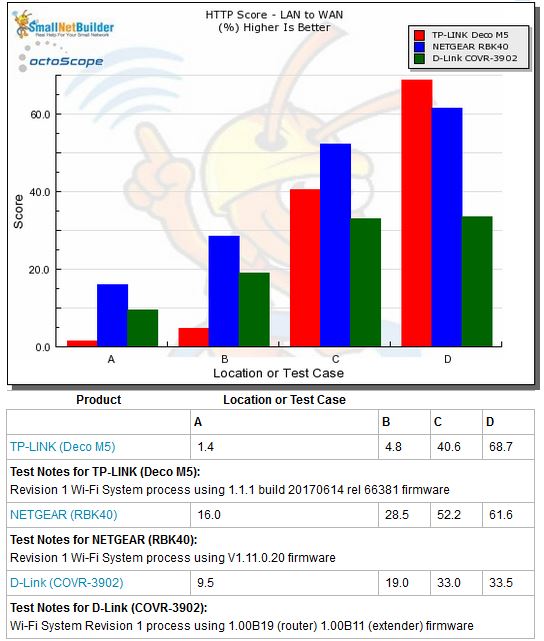 Routing throughput – HTTP Score comparison – LAN to WAN
Wi-Fi Performance
Covr was run through our new Wi-Fi System test process using with firmware 1.00B19 (router) 1.00B11 (extender). We let Covr use whichever channels and bandwidth it chose. The photo below shows Covr router was a tight fit in the octoBox-18 test chamber.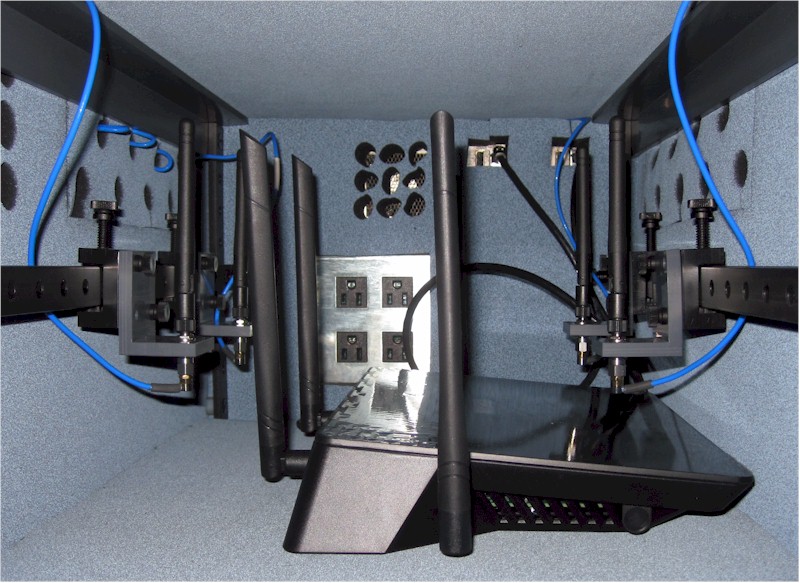 D-Link Covr router in test chamber
The Covr extender didn't fill the space as much.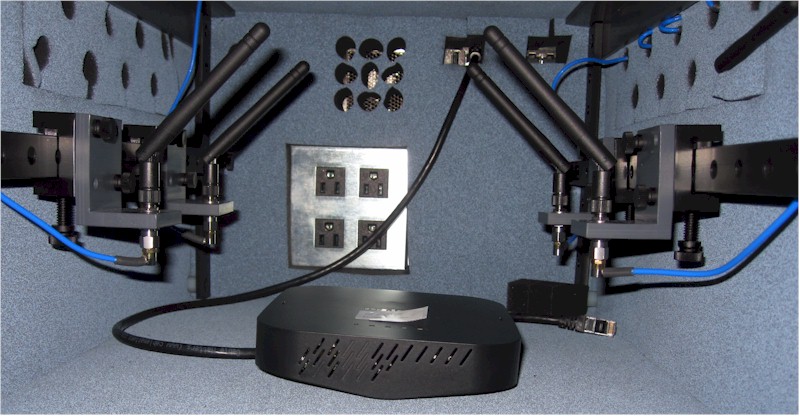 D-Link Covr extender in test chamber
I'll be comparing Covr with the wall-plugged satellite Orbi mini (RBK30) and TP-Link Deco M5. Since both Orbi mini and Covr and extender-type systems, they are more directly comparable. I'm including the three-node mesh-flavor TP-Link in the comparison mainly due to its low price.
Throughput vs. Attenuation (RvR)
The Rate vs. Range or RvR benchmarks look at how throughput varies with decreasing signal. This test is done on the root node, so is a best-case view and does not include any effects from backhaul links.
The 2.4 GHz downlink plot shows Covr holding its own with Orbi mini, except for a few dips in its curve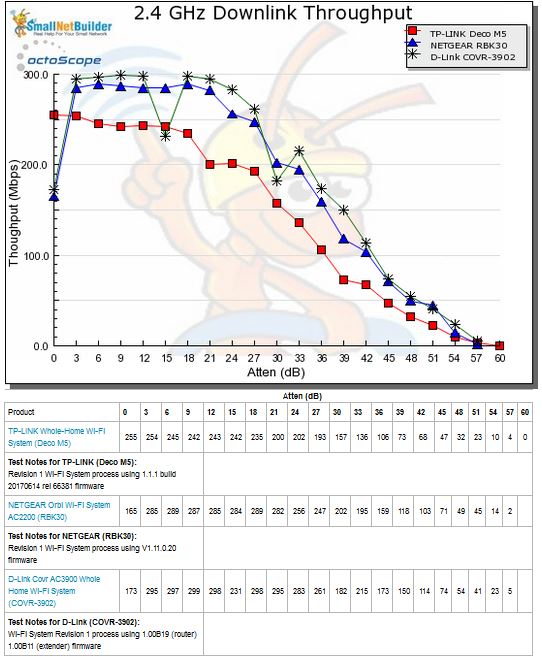 Throughput vs. Attenuation – 2.4 GHz downlink
2.4 GHz uplink shows Covr besting both TP-Link and NETGEAR until joining both at the 42 dB test onward.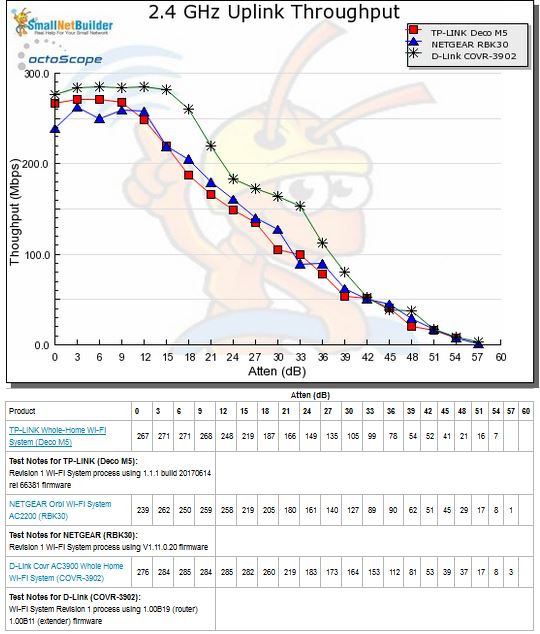 Throughput vs. Attenuation – 2.4 GHz uplink
5 GHz downlink shows Covr's peak throughput a good 150 Mbps lower than both Deco and Orbi mini, but going the full distance of the test range.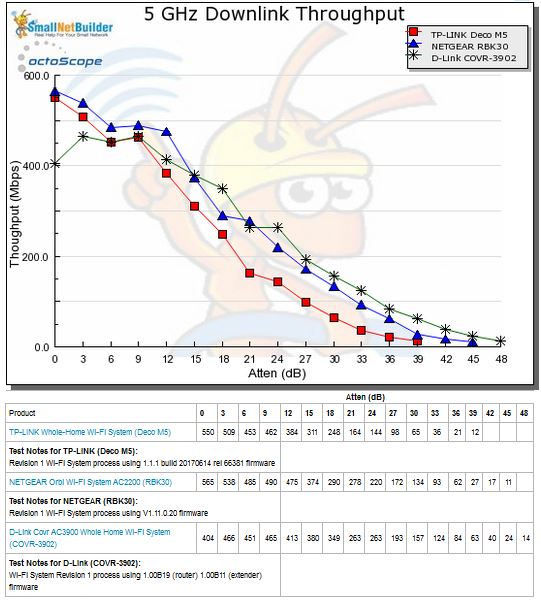 Throughput vs. Attenuation – 5 GHz downlink
5 GHz uplink shows Covr running well above Deco and Orbi mini for most all of its test range.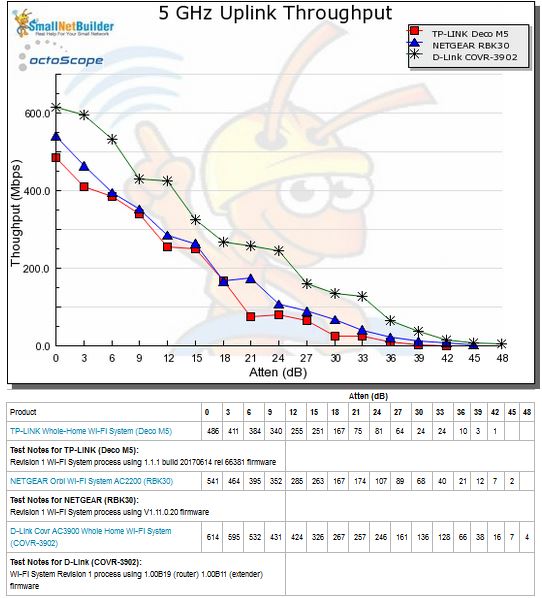 Throughput vs. Attenuation – 5 GHz uplink
Since Covr router is a four-stream platform vs. the two streams in all other Wi-Fi system products, it should have a slight edge on coverage. This means you should be able to place Cover extender a bit farther away from Covr router, still get decent throughput and perhaps a bit more range/coverage.
Backhaul
Backhaul throughput is key to the performance of Wi-Fi systems because it sets a cap on throughput available to be passed on to client devices at each node. Having a nice strong signal in a Wi-Fi system is not necessarily a reliable performance indicator. You could standing next to a mesh point that is getting only a trickle of throughput due to poor backhaul performance.
These tests run traffic between the root node LAN-side Ethernet port and mesh node Ethernet port. I'm showing only Hop 1 because that's all Covr has, due to its extender-based design. Although 270/300 Mbps ain't bad, it's not as good as what both big and mini Orbi and Linksys Velop have to play with.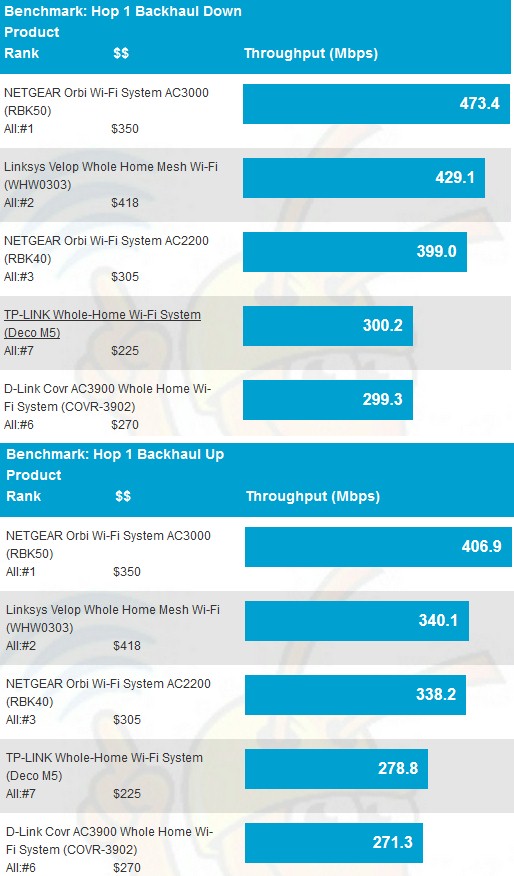 Wi-Fi System Backhaul – Hop 1
Wi-Fi System
These benchmarks measure up and downlink 2.4 and 5 GHz throughput at each system node, by "walking" the octoScope Pal dual-band test client from node to node. Since tests are made with 0 dB attenuation between the Pal test client and each system node, all measurements are best case. As signal levels between system node and client drop (i.e. distance increases), throughput will decrease proportionate to the RvR curves above.
The 2.4 GHz downlink chart shows throughput measured at each node, with the A bars being the root node and B bars the Hop 1 node. C bars represent the Hop 2 node for TP-Link Deco, but Hop 1 with 21 dB of attenuation applied between client and node (AP) for mini Orbi and Covr.
Covr does much better than Deco on the Hop 1 and 2 tests, but not quite as well as Orbi mini.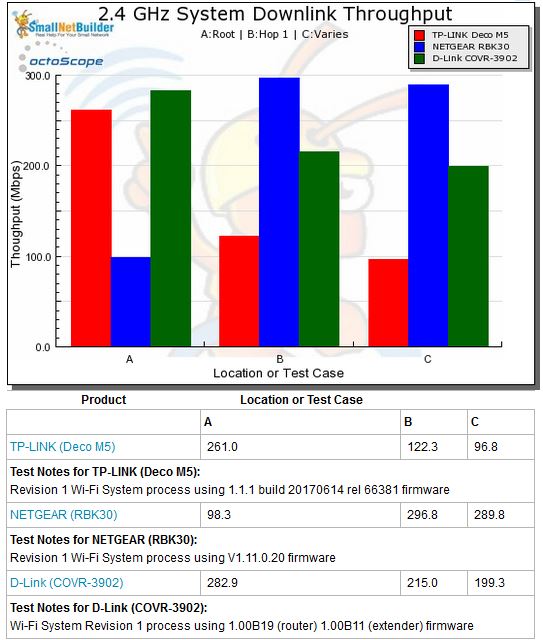 Wi-Fi System Performance – 2.4 GHz downlink
2.4 GHz uplink shows Covr running neck-and-neck with Orbi mini,
Wi-Fi System Performance – 2.4 GHz uplink
5 GHz downlink shows Covr not doing as well as the others at the Root node. But once backhaul throughput comes into play for Case B and C, Covr actually does quite well.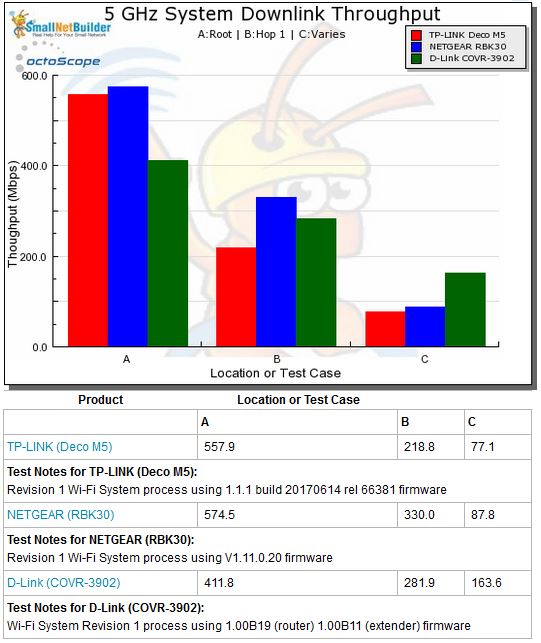 Wi-Fi System Performance – 5 GHz downlink
5 GHz uplink shows Cover again besting Deco for Case B and C, but running further behind Orbi mini than on downlink.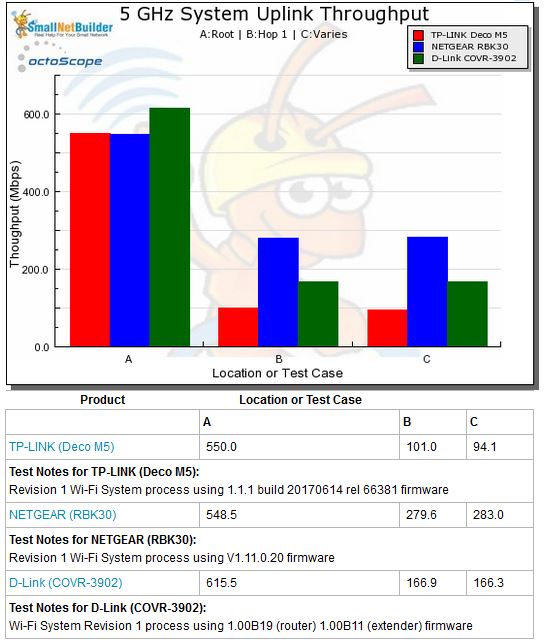 Wi-Fi System Performance – 5 GHz uplink
Capacity
Our Wi-Fi System capacity test uses three 2×2 AC clients, one connected to each node of three node systems. Traffic is then run to all three clients simultaneously and throughput measured for each traffic pair. A 2.4 GHz client is connected to the root node and 5 GHz to the others. For extender systems like Orbi and Covr, the 2.4 GHz STA is connected to the router and both 5 GHz STAs are connected to the extender/satellite.
The Capacity bar chart shows total throughput for the three test clients in each direction. Covr lands pretty much in the middle
Wi-Fi System Capacity
For the next plots, remember A is the 2.4 GHz client and B and C are 5 GHz. Remember also, both 5 GHz STAs are connected to the same node for Orbi mini and Covr. The downlink plot trading the lead between Case B and C and Deco basically dead on Case C.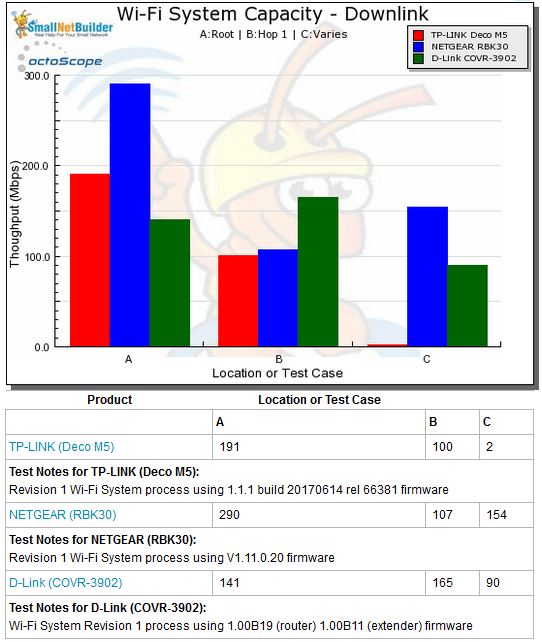 Wi-Fi System Capacity by Test Case – downlink
Uplink has Orbi mini doing better than Covr for both Case B and C.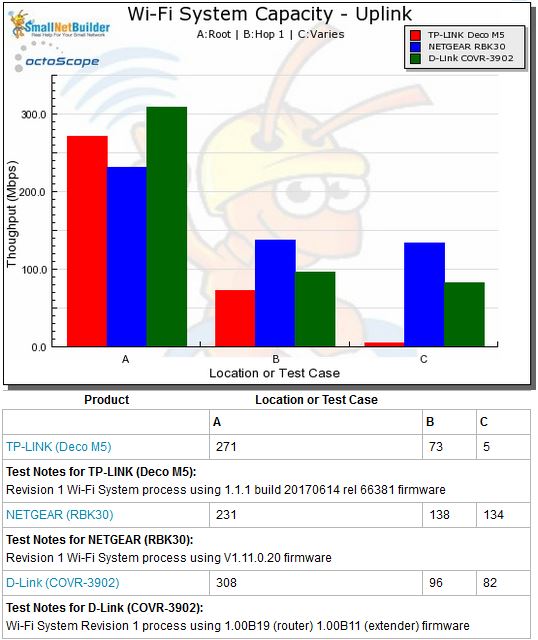 Wi-Fi System Capacity by Test Case – uplink
We can also see throughput changes over the course of the tests. All three cases show a good amount of throughput variation for all clients throughout the 30 minute test. But all three also hung in for the entire test, which not all products do.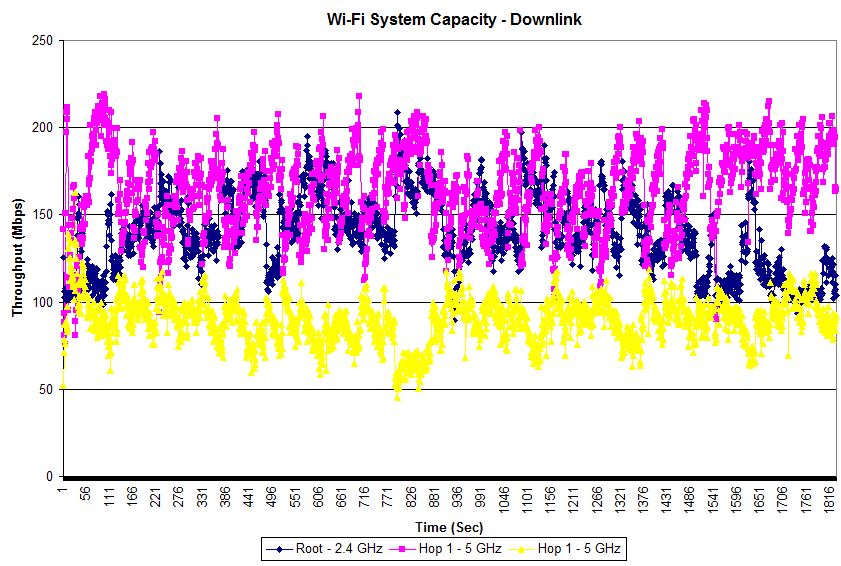 Wi-Fi System Capacity vs. time – Downlink
Because we can, courtesy of the octoScope Pal's statistics reporting, let's see what happens to link rate during the test. Receive rate hops around a wee bit, but nowhere hear as much as transmit rate does, which appears to be the culprit for high throughput variation. Why this is the case would require digging down into packet capture.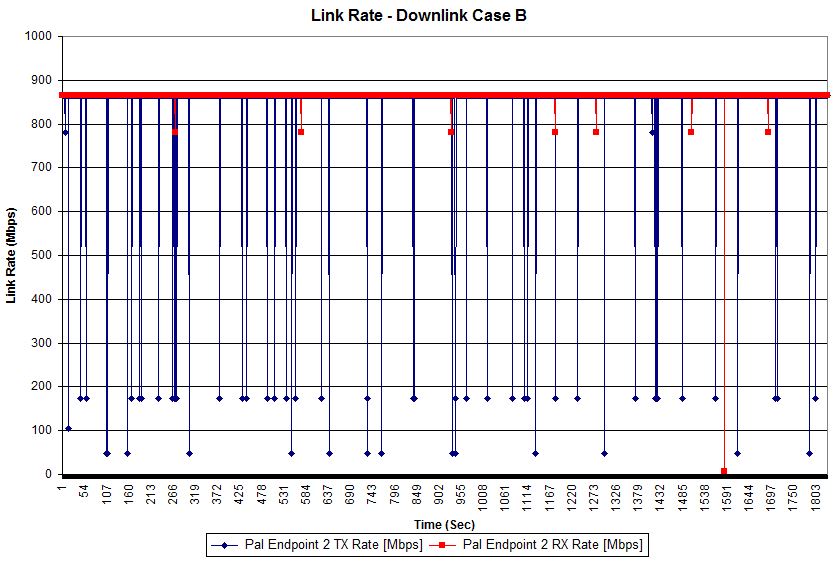 Link rate vs. time – Downlink
Uplink shows much lower throughput variation. Checking the link rate plot (not shown) for this test shows boring straight lines.
Wi-Fi System Capacity vs. time – Uplink
Closing Thoughts
I was more impressed with Covr than I thought I would be. Although it seems like a slapped together bundle of 4×4 AC2600 router and 2×2 AC1300 extender, Covr is better than that. It sets up as easily as any other Wi-Fi System and you don't have to mess with any router/satellite pairing. It just works. You also don't have to worry about D-Link discontinuing any cloud service (there isn't any) or making you register with them to get Covr running.
Performance was also pretty good, due to decent backhaul bandwidth, even without dedicated backhaul radios. Although it's not in the same league as original Orbi or Linksys Velop, Covr's also not as expensive as either, too.
Although it ranks 6 out of 9 Wi-Fi Systems tested so far, it's only one step below Orbi mini w/wall-plugged satellite (RBK30) and priced only around $20 more. If you've tried Orbi and found it didn't work out for you, you might want to give Covr a try.
Buy Covr AC3900 Whole Home Wi-Fi System from Amazon