Introduction
Router geeks have been champing at the bit to get their hands on the first Wi-Fi 6E router, ASUS' GT-AXE11000 ROG Rapture, which I'll be referring to as AXE for the remainder of this review. It's been tough to get, popping up occasionally on Amazon, only to be quickly sold out. Seems first-adopters can't wait to be parted from the $550 or so it takes to snag one of these. So is it worth it to be the first on the block to beta test the latest the Wi-Fi industry has to offer?
The Product
The AXE shares a similar dead-spider design with its GT-AX11000 sibling. Both have eight antennas, two on each of its four sides. Like the AX, four of the AXE's antennas are dual-band, covering 2.4 and 5 GHz. Unlike the AX, the AXE's other four antennas are 6 GHz designs vs. 5 GHz for the AX's "tri-band" (split 5 GHz band) design. I'm surprised the Wi-Fi marketeers have missed the opportunity to slap a bigger number on the box and are sticking with "tri-band" to describe 6E routers. But I suppose because you can choose only one 5 GHz channel, "tri-band" will have to do.
The callout diagram below shows the AXE's ports, switches and indicators. The 2.5 GbE port defaults to being a fifth LAN port, but can be switched to function as a WAN port. Not shown are the two USB 3.0 ports for sharing a drive.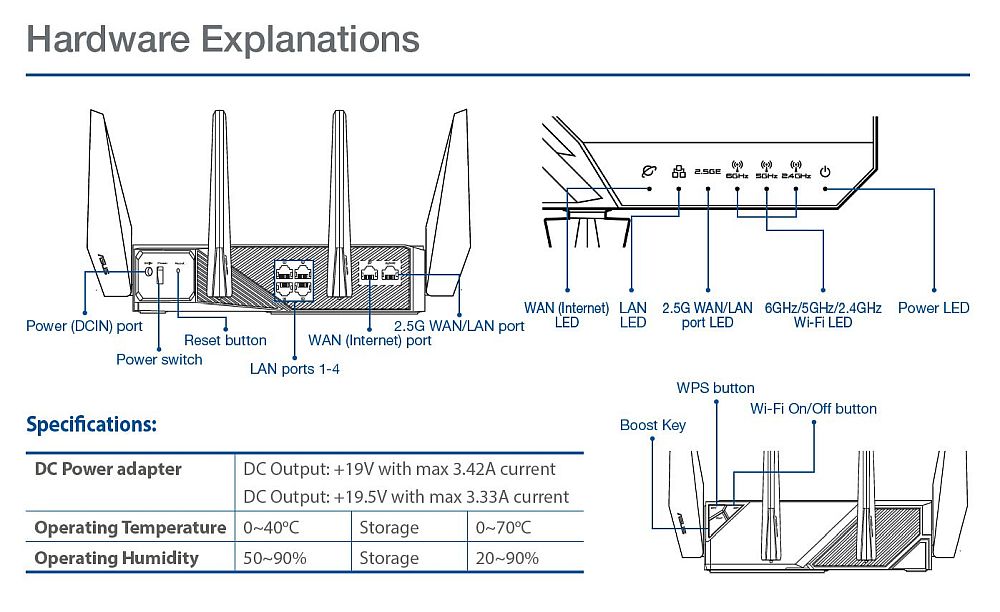 ASUS GT-AXE11000 callouts
Inside
Updated 8/3/2021: Corrected component information
Die-hard router geeks like to focus on increased processing power to justify spending top dollar for new routers. But that's not going to fly as a reason to buy the AXE. As the table below shows, it's basically a GT-AX11000, with a 2.5 GbE Broadcom BCM54991E PHY, third 6 GHz radio and new antennas to support the 6 GHz band. The AXE11000 also uses the gigabit switch built into the BCM4908 vs. the BCM53134 added in the AX11000
The table also shows the ASUS RT-AX88U with a very similar design, minus the third radio. The AX88U also has eight switched gigabit LAN ports, four built into the BCM49408 and four from the BCM53134 switch. Both the BCM4908 and BCM49408 have a 2.5 GbE port (but need an external PHY) and share the same compute core.
All three routers use the same BCM43684 a/b/g/n/ac/ax radio SoC for all radios. The AXE and AX88U use the same Skyworks 2.4 GHz power amp and LNA and 5 GHz front end. I think the AX11000 does, too, but the FCC photos aren't clear enough to say for sure. The AXE has its 6 GHz BCM43684 paired with four brandy-new Skyworks SKY85780 6 GHz front ends, one for each of its TX/RX chains.
ASUS GT-AXE11000
ASUS GT-AX11000
ASUS RT-AX88U
CPU
Broadcom BCM4908 64 bit quad-core @ 1.8 GHz
Broadcom BCM4908 64 bit quad-core @ 1.8 GHz
Broadcom BCM49408 64 bit quad-core @ 1.8 GHz
Switch
Switch: in BCM4908
2.5 GbE port: Broadcom BCM54991E
BCM53134
BCM84880 2.5 GbE transceiver
In CPU + BCM53134
RAM
1024 MB
1024 MB
1024 MB
Flash
256 MB
256 MB
256 MB
2.4 GHz Radio
– Broadcom BCM43684 4-stream an/ac/ax radio
– Skyworks SKY85216-11 2.4 GHz LNA (x4) ?
– Skyworks SKY85006-11 2.4 GHz PA (x4)
– Broadcom BCM43684 4-stream an/ac/ax radio
– Skyworks ? 2.4 GHz LNA (x4)
– Skyworks ? 2.4 GHz PA (x4)
– Broadcom BCM43684 4-stream an/ac/ax radio
– Skyworks SKY85216-11 2.4 GHz LNA (x4)
– Skyworks SKY85006-11 2.4 GHz PA (x4)
5 GHz radio
– Broadcom BCM43684 4 stream an/ac/ax radio
– Skyworks SKY85743-21 5 GHz front end (x4)
– Broadcom BCM43684 4 stream an/ac/ax radio
– Skyworks ? 5 GHz front end (x4)
– Broadcom BCM43684 4 stream an/ac/ax radio
– Skyworks SKY85743-21 5 GHz front end (x4)
6 GHz / 5 GHz radio #2
– Broadcom BCM43684 4 stream an/ac/ax radio
– Skyworks SKY85780 6 GHz front end (x4)
– Broadcom BCM43684 4 stream an/ac/ax radio
– Skyworks ? 5 GHz front end (x4)
N/A
Price
$550
$450
$300
Table 1: Component summary
I didn't have to open up the AXE to get a peek inside. The FCC short-term confidentiality term had expired, so I was able to use the internal photos for component identification. Here's the top view, with heatsinking in place. There is no sign of a fan.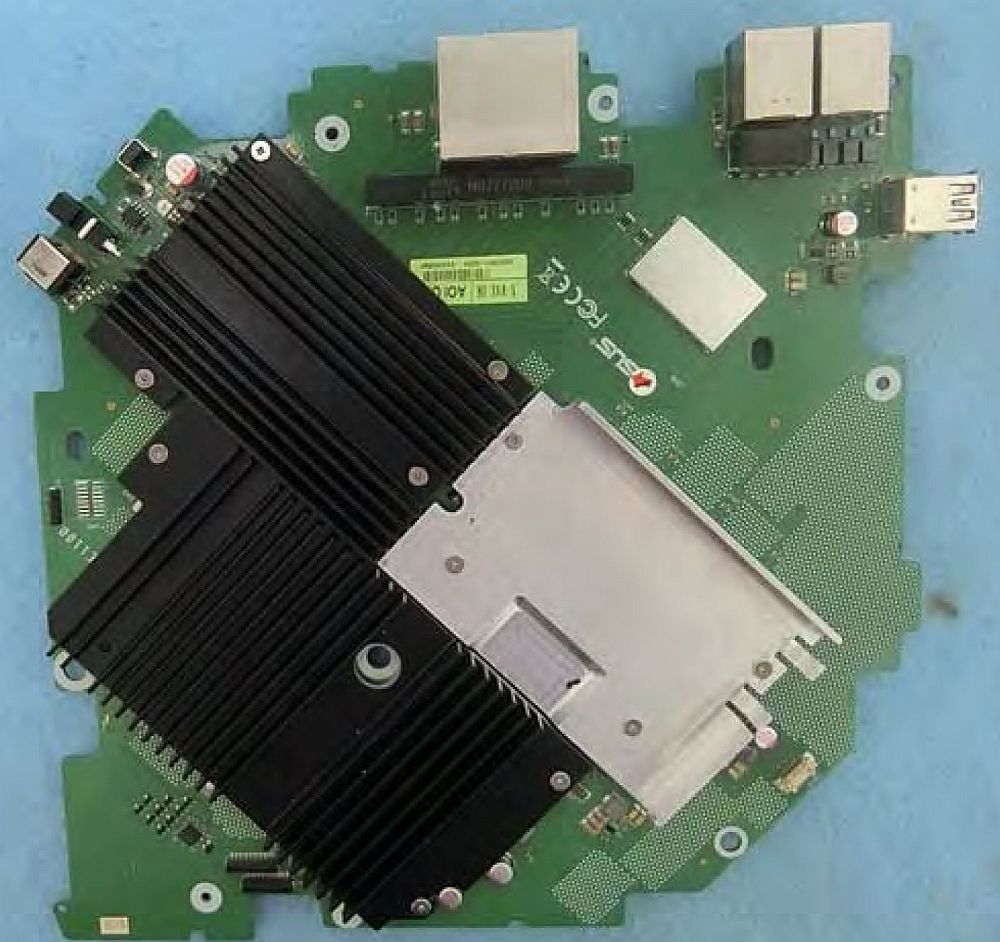 ASUS GT-AXE11000 top view with heatsinks
With the heatsinks and RF can tops removed, you can see the CPU at upper left, one of the radios for the 2.4/5 GHz section with its associated 2.4 GHz power amps and LNAs and 5 GHz front ends. The 6 GHz front ends are at the lower right of the photo. You can also see the two USB 3.0 ports up in the right corner near the WAN and 2.5 GbE ports.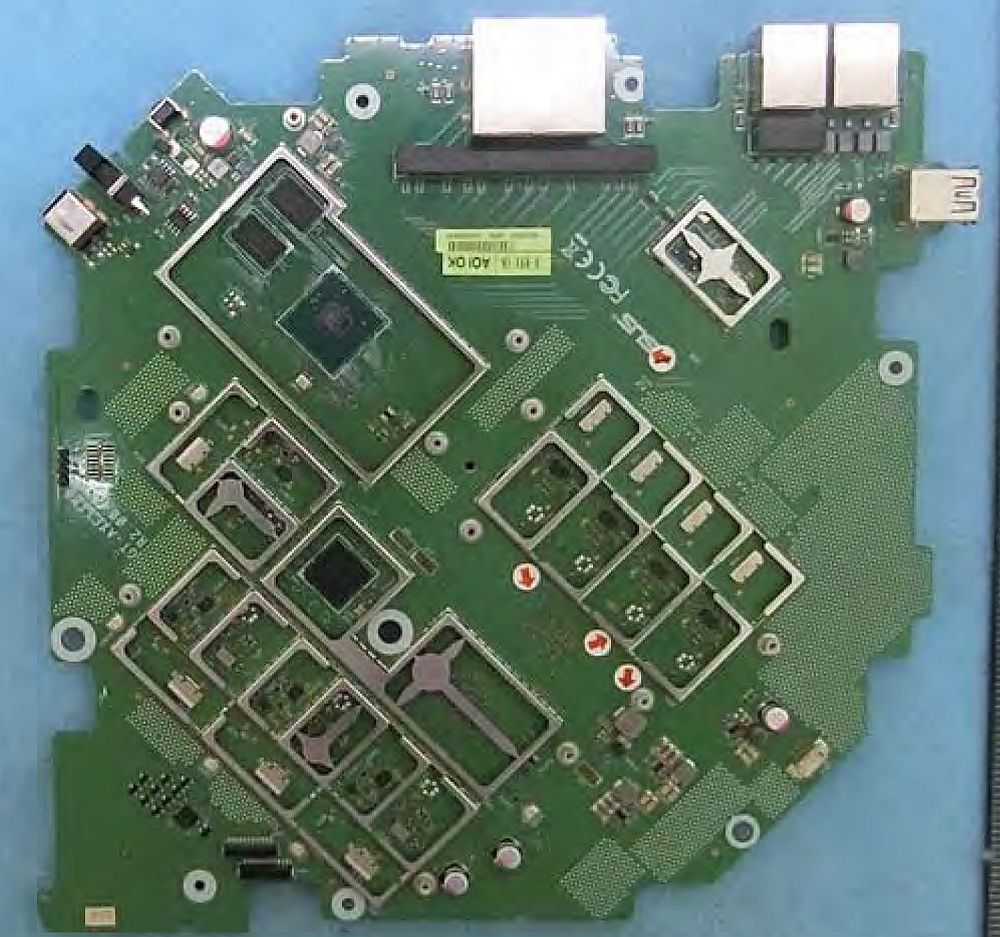 ASUS GT-AXE11000 top view stripped
Here are the other two BCM43684 SoCs on the bottom of the board, along with the flash memory.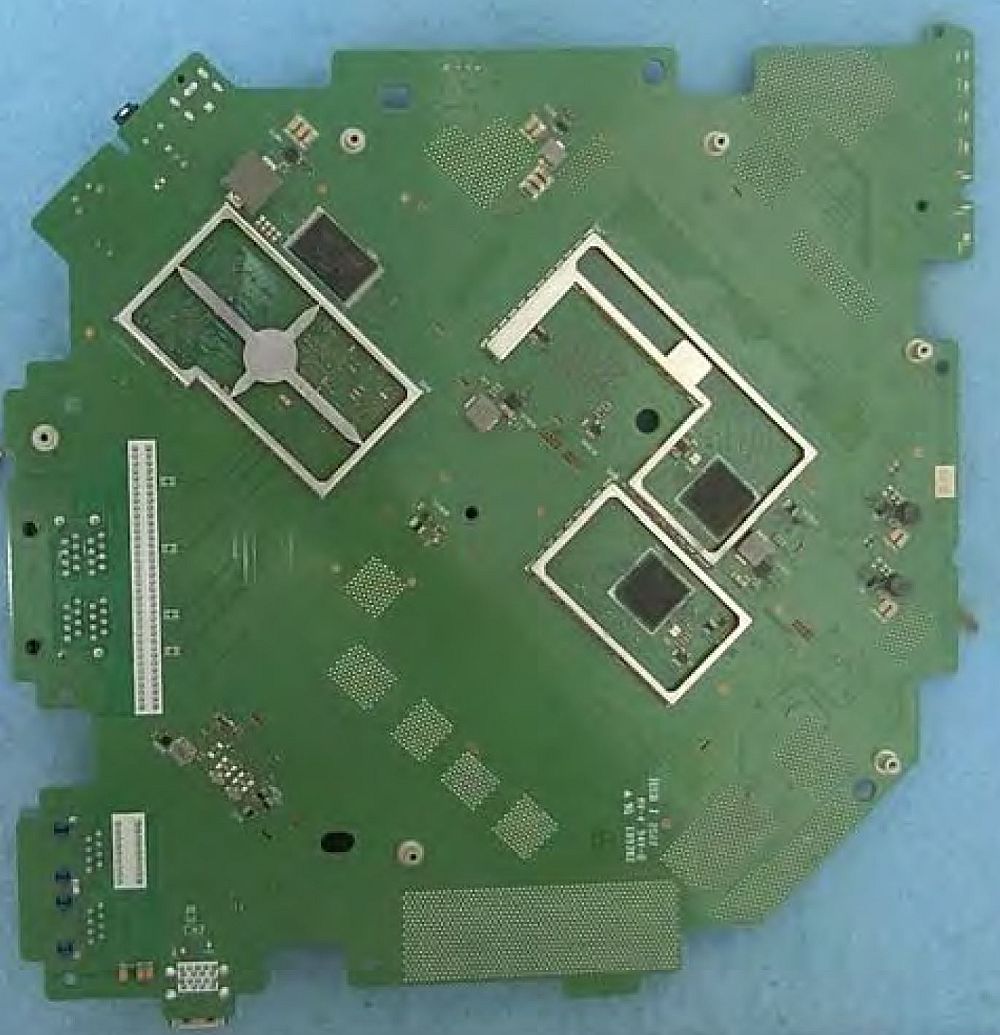 ASUS GT-AXE11000 bottom view stripped
For comparison, here's the AX11000 board. It obviously has a very different layout from the AXE's. It also sports antenna connectors; the AXE can't have those under the FCC rules for indoor 6 GHz designs.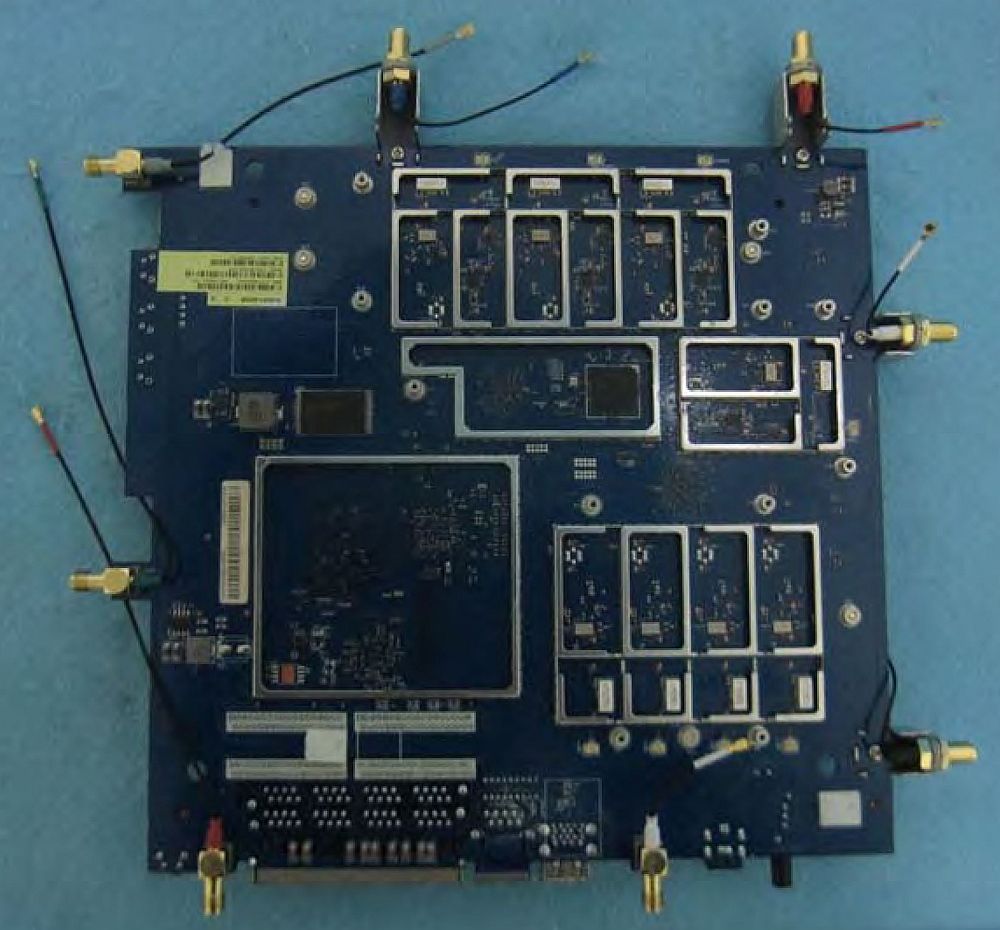 ASUS GT-AX11000 top view stripped
6 GHz Details
My reviews going forward are going to concentrate on performance. If you want lots of unboxing pictures and feature walk-throughs, there are plenty of other places you can go. That said, I thought it would be good to take a closer look at the 6 GHz radio features.
The look is a bit anti-climactic; the 6 GHz settings look a lot like the other radios'. Here is the 5 GHz Professional settings screen…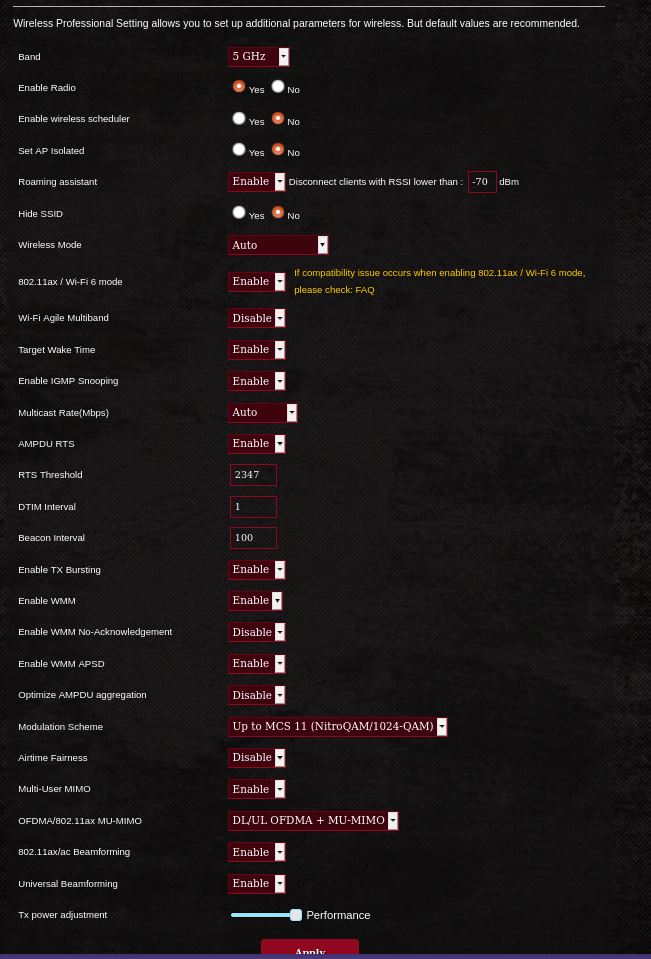 ASUS GT-AXE11000 5 GHz "Professional" settings
…and the 6 GHz. There is really no difference. However, I don't think the Wireless Mode and 802.11ax/Wi-Fi 6 mode settings make sense for the 6 GHz radio; only AX-capable STAs can connect to 6E channels.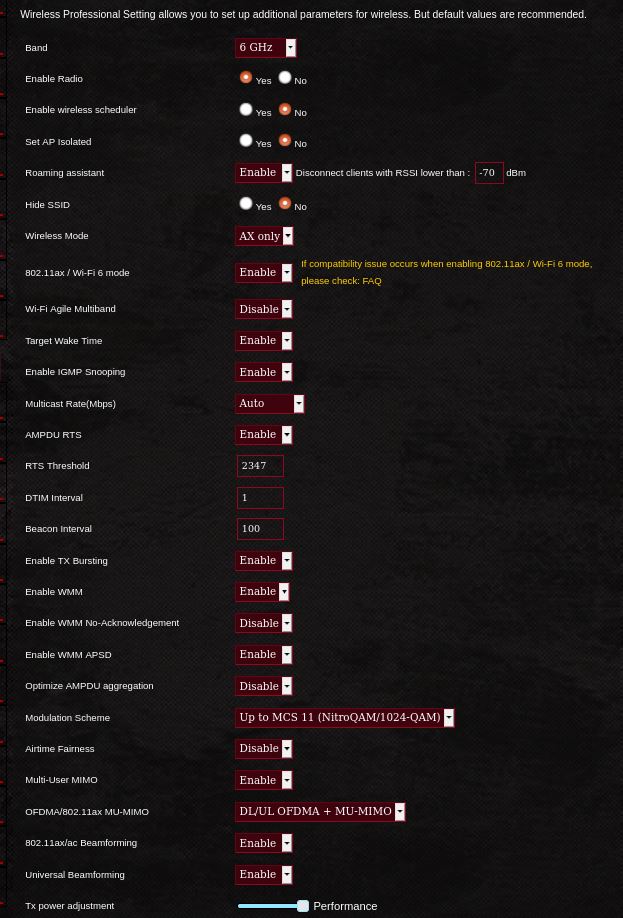 ASUS GT-AXE11000 6 GHz "Professional" settings
The Basic 6 GHz settings are actually where the noticable differences are. The only Authentication options are Opportunistic Wireless Encryption (OWE) and WPA3-Personal, with AES the only encryption method supported for either. For at least the Intel AX210 STA, only OWE works; WPA3-Personal will just leave your connection attempt hanging. My understanding is that the problem is with the AX210's driver, not with the AXE. If anyone has connected a Samsung S21 Ultra to 6 GHz, connecting with WPA3, let me know and I'll add that info here.
27 Feb 2021 Update: SNBForums user erick_e reports the Samsung S21 Ultra connects with WPA3.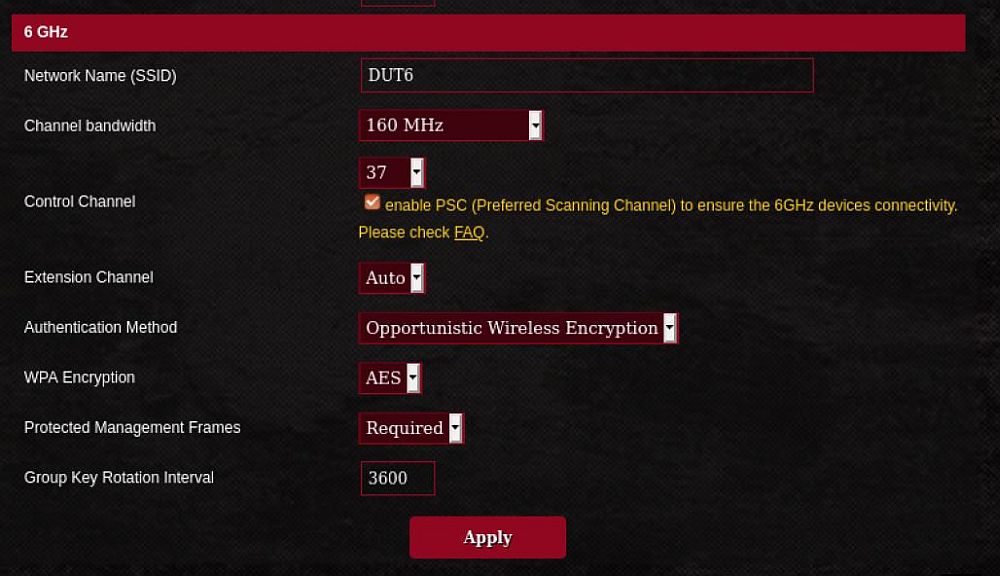 ASUS GT-AXE11000 6 GHz "Professional" settings
This was my first encounter with OWE and might be yours too. The short story is that connecting with OWE is like connecting to an open network, except your traffic is encrypted between device and router. Since there is no password or other credential required for OWE, there is no authentication, i.e. you can't control who connects.
The other part of the puzzle in getting the AX210 connected is that your Windows 10 machine must be updated to at least version 2004 (aka May 2020 update) or higher. Intel's latest Wi-Fi Driver installation includes the 22.30.0.11 driver you'll need. But you'll also need to do a registry edit. I posted instructions for all this over in this SNBForums thread.
The Wi-Fi 6E: The Basics article says there are 59 @ 20 MHz, 29 @ 40 MHz, 14 @ 80 MHz and 7 @ 160 MHz wide channels available. However, you won't see that many listed in the AXE. With PSC enabled, the lowest channel is 37 and with it off, it's 33. The graphic below shows all 6 GHz channels available in both PSC modes.

ASUS GT-AXE11000 6 GHz channel support
How We Tested
I'm still tuning my new benchmarks, so consider this a preview of the some of the methods that will be used. Testing was done on an octoScope top-of-line STACK-MAX test system generously loaned by the company. I'll have more details about the system when I publish the Revision 11 process description. Here's a shot of the AXE in the main test chamber.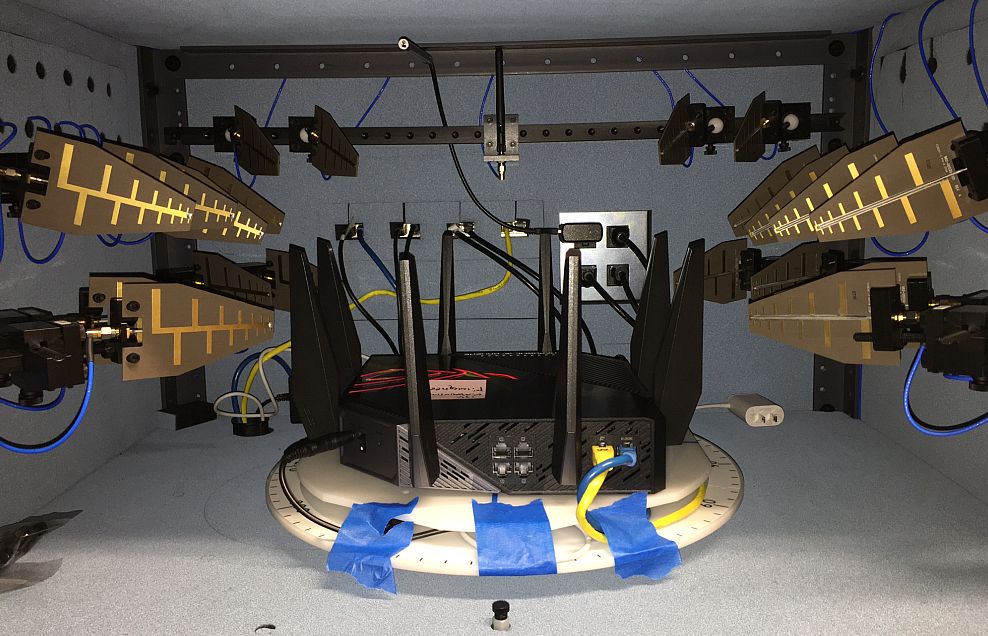 ASUS GT-AXE11000 in Test Chamber
The test clients are octoScope STApal devices. The STApal is based on the Intel AX200, a Wi-Fi 6 M.2 format adapter that supports both OFDMA and AX MU-MIMO. The STACK MAX has 20 of them; my benchmarks will use up to 16.
octoScope has a 6E version of STApal in development, but it is not yet generally available. So my 6 GHz tests were done using a single device using the same hardware platform as the STApal, running Windows 10 20H2 and Intel's latest 22.30.0.11 driver.
Test Results: 6 GHz
Let's cut to the chase and first answer the questions most of you have: how well does 6 GHz perform and how does it compare to 5 GHz?
Low vs. High Channels
We'll first see how much difference channel selection makes. The first plot shows 6 GHz downlink throughput with 160 MHz bandwidth, comparing lowest (37) and highest (213) available channels. First, it's nice to have a router with a 2.5 gigabit Ethernet port and it appears that the AX210 can take advantage of it.
The two curves seem to generally track until around 39 dB, then the channel 213 curve falls off more rapidly, hitting 0 about 3 dB earlier.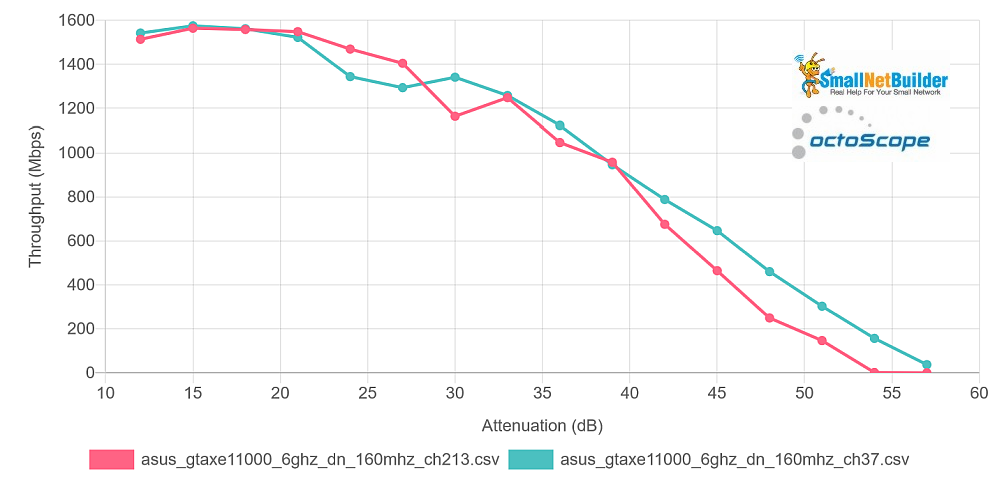 6 GHz, 160 MHz bandwidth, Channel 37 vs. 213 – downlink
Uplink throughput is significantly lower, with channel 213 starting a bit lower, but falling at about the same rate as channel 37.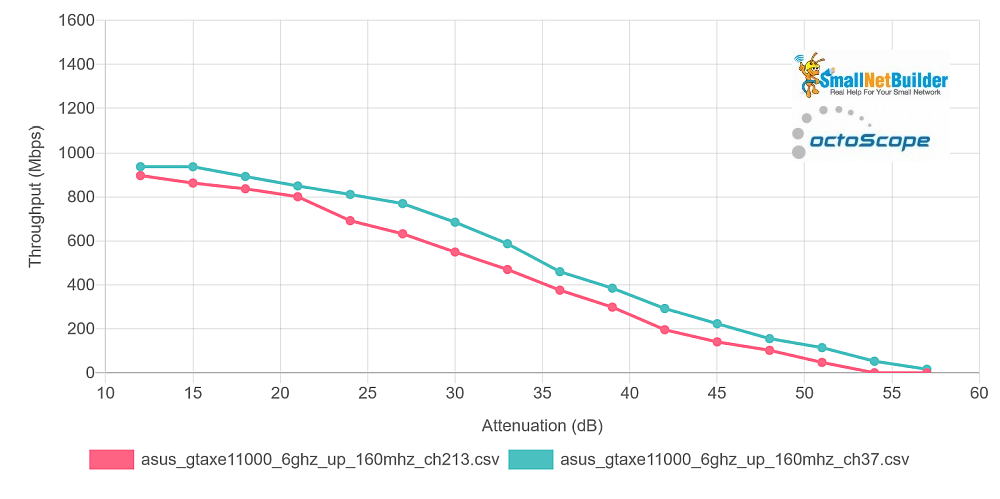 6 GHz, 160 MHz bandwidth, Channel 37 vs. 213 – uplink
Takeaway: There may be a slight penalty for using a higher channel, but it's doubtful you'd notice it in real world use.
80 vs. 160 Channel Width
Sticking with 6 GHz, let's see the difference when you use 80 MHz bandwidth; not that you have to when using 6 GHz. Since there is no DFS hassle, you should be able to run with the wider channel. But if you want to be kind and save some spectrum for your neighbors, let's see what you give up.
The downlink plot shows a significant bandwidth difference with a 160 MHz bandwidth peak throughput of 1575 Mbps vs. 910 Mbps for 80 MHz, 42% decrease.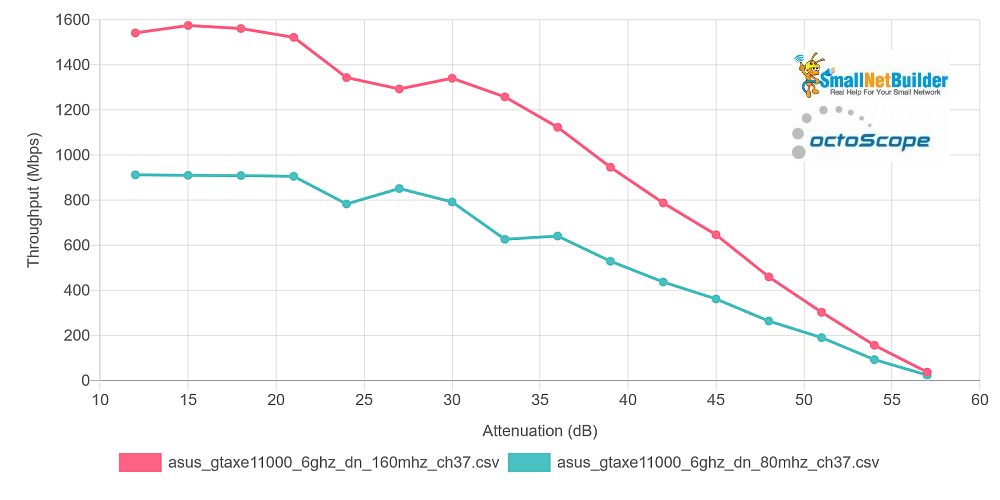 6 GHz, 80 vs. 160 MHz bandwidth – downlink
The difference running uplink is less, only 26%. But peak throughput is lower, too; 938 Mbps vs. 694.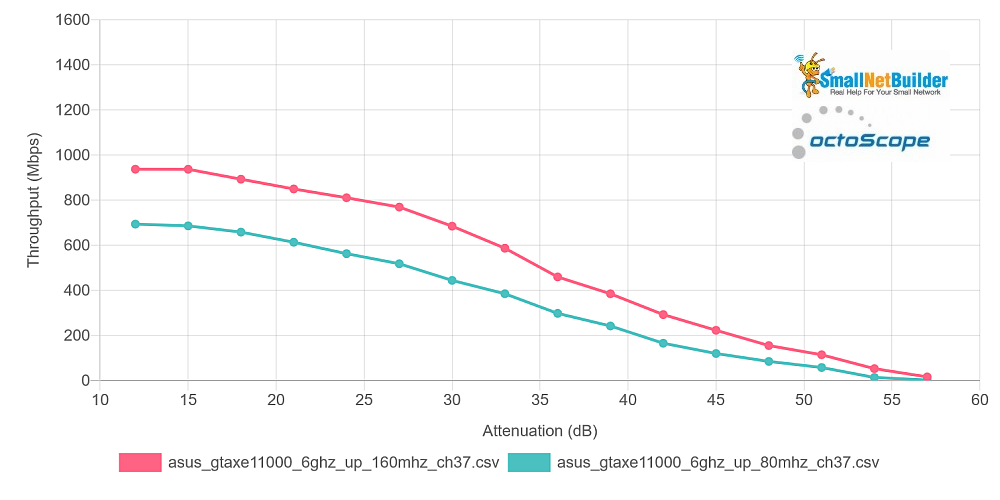 6 GHz, 80 vs. 160 MHz bandwidth – uplink
Takeaway: If you need > 1 Gbps throughput, 6E with a 160 MHz wide channel can deliver.
Test Results: 5 vs. 6 GHz
Now let's how 5 and 6 GHz compare. The first comparison limits both to 80 MHz bandwidth. The downlink plot shows both start out above 900 Mbps. But, as expected, 6 GHz throughput starts falling off more quickly. So 5 GHz coverage is definitely better than 6 GHz.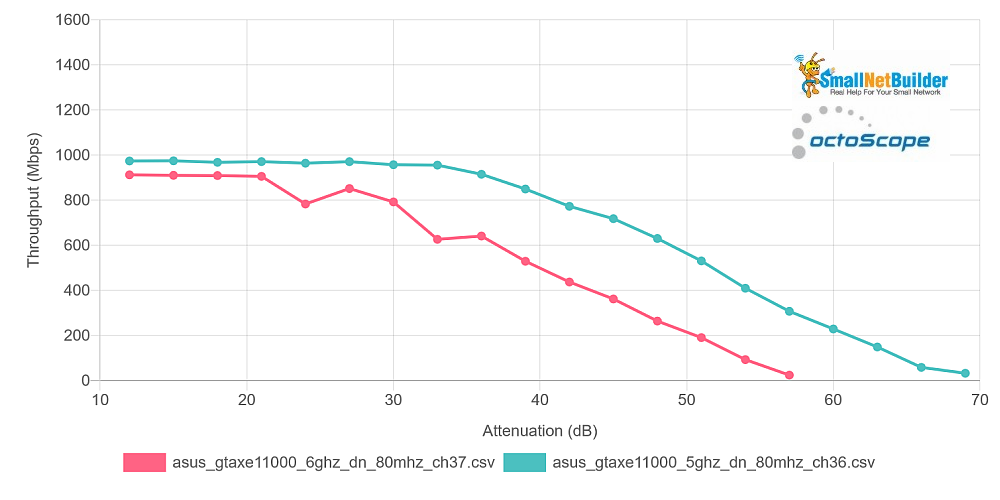 5 GHz vs. 6 GHz, 80 MHz bandwidth – downlink
Uplink shows a definite throughput advantage for 6 GHz at stronger signal levels that, however, quickly fades as signal levels drop. 5 GHz again has a significant range advantage.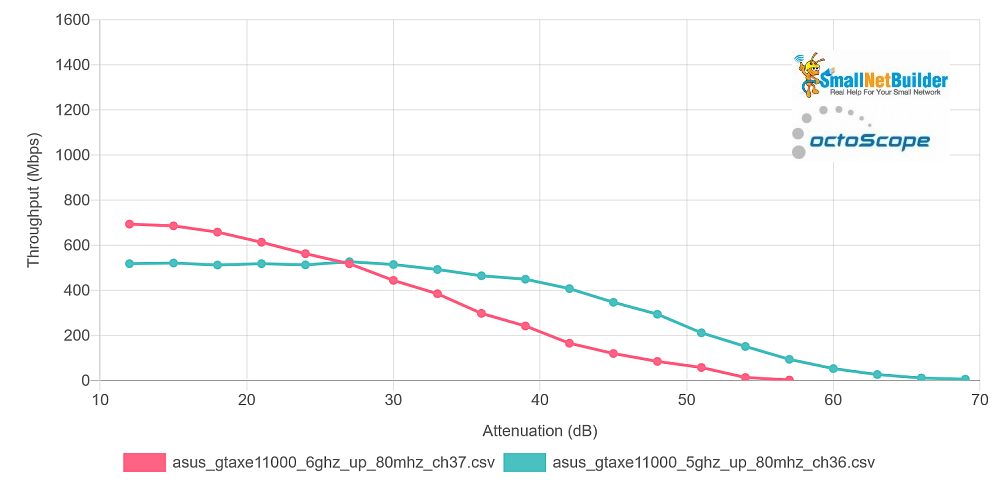 5 GHz vs. 6 GHz, 80 MHz bandwidth – uplink
Finally, let's look at how most people will experience a move from 5 GHz Wi-Fi 6 to 6 GHz Wi-Fi 6E. These plots compare 5 GHz @ 80 MHz bandwidth with 6 GHz @ 160 MHz. 6 GHz provides a very nice throughput advantage (61% at starting levels) through mid-range signal levels, but not at lower levels.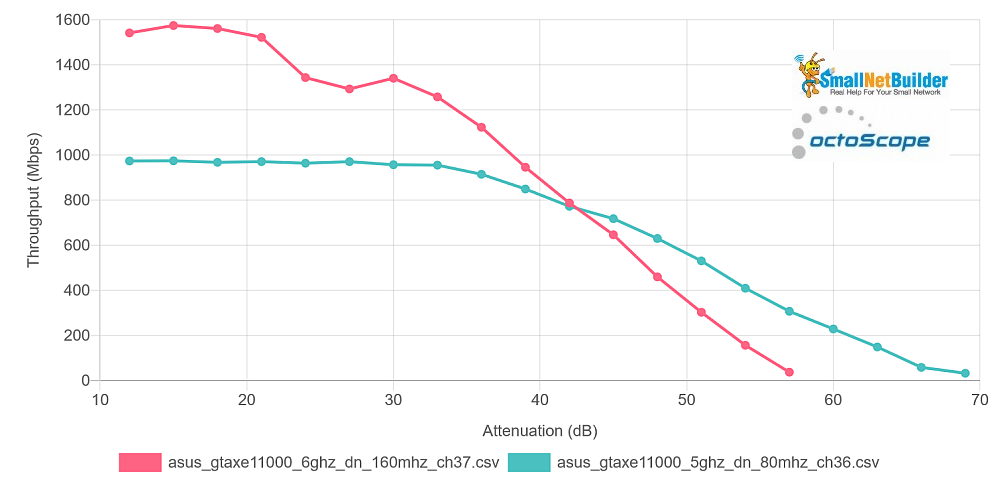 5 GHz @ 80 MHz vs. 6 GHz @ 160 MHz bandwidth – downlink
Uplink shows a higher percentage throughput gain (81% higher at starting levels) for 6 GHz over 5 GHz, but lower maximum throughput. The crossover point also comes sooner (36 vs. 42 dB attenuation), even though the endpoint is about the same.
5 GHz @ 80 MHz vs. 6 GHz @ 160 MHz bandwidth – uplink
Takeaway: You'll need to use 160 MHz bandwidth to see significant throughput improvement over 5 GHz. But even then, 6 GHz won't reach as far as 5 GHz.
Closing Thoughts
To me, Wi-Fi 6 hasn't provided any compelling reason to rush out and upgrade. OFDMA is, so far, another technology that works great on mobile networks with hundreds (thousands?) of devices connected to a tower, but doesn't provide benefit to the average consumer with maybe a handful of Wi-Fi 6 devices and lots of older stuff connected to their router. The only useful Wi-Fi 6 benefit is noticeably (up to 2X) higher speed in 2.4 GHz if you have a Wi-Fi 6 device and a relatively clear channel (good luck finding one of those).
6E, however, appears to finally deliver real-world benefit that doesn't require science-experiment technology to deliver the goods. It just accesses more 20 MHz non-overlapping channels and uses a bunch of 'em to create a wider channel that simply delivers more bandwidth. No beamforming or OFDMA required. And no hassling with getting booted off a channel because a radar signal gets first dibs.
My recommendation to folks wondering whether to make the jump to Wi-Fi 6 has been to wait for 6E. Now I've got the data to back up that advice. Unfortunately, you'll still have to wait a bit more. The usually over-eager consumer Wi-Fi manfs seem to be having trouble getting products on the shelves. And don't forget you'll need 6E devices, too, which also aren't common. At this point, the $550 that ASUS is asking for the GT-AXE11000 is to high a price to pay for getting your wireless network ready for 6E devices when they finally do appear.