At a glance
Product
D-Link Wireless AC1200 Dual Band Gigabit Cloud Router (DIR-860L) [Website]
Summary
Second generation Broadcom SoC-based AC1200 class router with IPv6 support, Gigabit & USB 3.0 port & beamforming
Pros
• Good routing feature set
• IPv6 support including firewall and routing conrols
• Fast file copy performance
• Good 2.4 GHz wireless range
Cons
• Poor handling of simultaneous up/down routed traffic
• No bridge mode
• Only two status lights/indicators
Typical Price: $91 Buy From Amazon
Overview
We're busy working our way through the new crop of AC1200 routers. Tim recently reviewed D-Link's DIR850L and NETGEAR's R6100 and Scott took a look the TRENDNet TEW-811DRU. This time, I'm looking at D-Link's DIR-860L.
D-Link has quite a few AC routers in its current lineup. Fortunately, if you dig around a little on D-Link's website, you 'll find a handy chart that helps differentiate their offerings.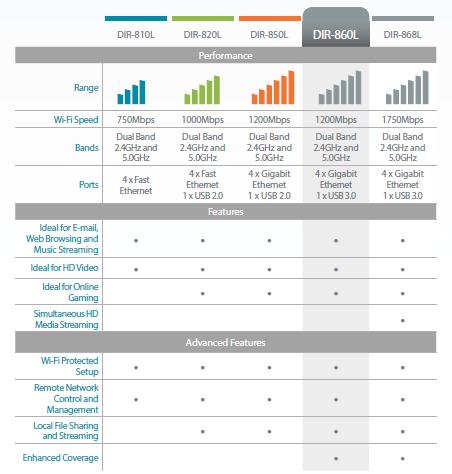 D-Link product line comparison
I was somewhat surprised that D-Link would have two AC1200 routers – especially since the feature set on the 860L is virtually identical to what you find on the 850L. Tim included a comparison chart in his review of the 850L that I'm updating here.
As you can see from the chart below, the major differences between the two products are:
USB port – the 860L has a USB 3.0 port; the 850L has one USB 2.0 port
AC Smartbeam – This is D-Link's marketingese for the beamforming option in the draft 802.11ac specification. Beamforming is supposed to provide a stronger signal to your client devices by focusing the wireless signal. The 860L has it; the 850L doesn't.
Price – D-Link lists the prices as: 850L – $104.99; 860L – $139.99. However, if you check Amazon's pricing, you'll find a much smaller difference in price. 850L – $92.15; 860L – $101.99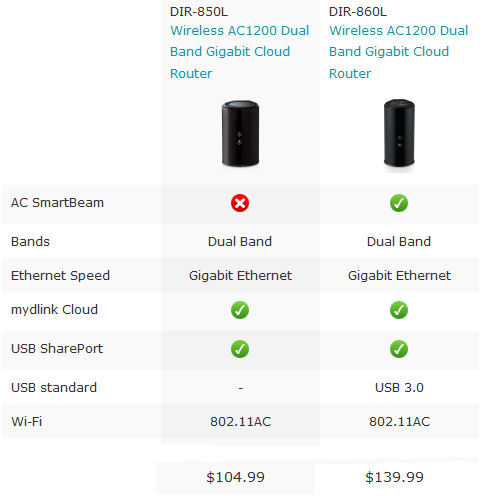 DIR-860L – DIR-850L Comparison
There are also a couple of differences that don't show up on this chart. First, and most importantly, the devices use different chipsets. We'll discuss those differences shortly. Second, the form factors, while similar, are different. While both routers have a truncated cylinder design – what I think of as a Quaker Oats Oatmeal container – the 860L is taller (7.5" vs. 5.7") and slightly wider in diameter.
The rear panel layout for the 860L, shown below, is quite similar to the rear panel on the 850L. The 860L is taller, so there's more space above the USB 3.0 port.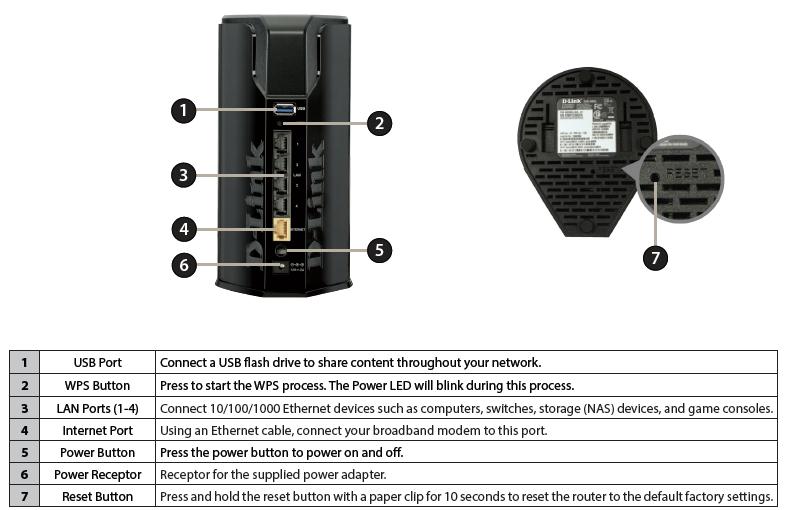 DIR-860L rear panel
Inside
As compared with the 850L, D-Link went with a different hardware component configuration in the DIR-860L. Whereas the 850L uses Realtek components for their CPU, Switch, 2.4 GHz and 5GHz radios, the 860L employs Broadcom chips for the corresponding components. Both routers feature 128 MB of RAM and 128 MB of Flash. However, the Gigabit switch as well as USB functions are built into the second generation dual-core Broadcom BCM47081A0 SoC.
Here's the table that Tim developed for the DIR-850L review that compares the components for the two devices:
DIR-850L
DIR-860L
CPU
Realtek RTL8197D
Broadcom BCM47081A0
Switch
Realtek RTL8367RB
In CPU
RAM
128 MB Spansion S34ML01G100TFI00 (x1)
128 MB Spansion S34ML01G100TFI00 (x1)
Flash
128 MB (Nanya NT5TU64M16CG-AC) (x1)
128 MB Micron MT47H64M16HR (x1)
2.4 GHz Radio
– Realtek RTL8192CE (2×2 bgn)
– No amplifiers
– Broadcom BCM43217
– No power amps
5 GHz radio
– Realtek RTL8812AR (2×2 agnac)
– Unidentified 5 GHz amps (x2)

– Broadcom BCM4352KMLG
– RF Micro Devices RFFM4501 802.11a/n/ac Front End Module (x2) (Radio is on mini PCIe module Alpha Networks WMC-A02)
Table 1: D-Link DIR-850L / DIR-960L key components
Here's a view of the component side of the main PCB with the heat sinks removed.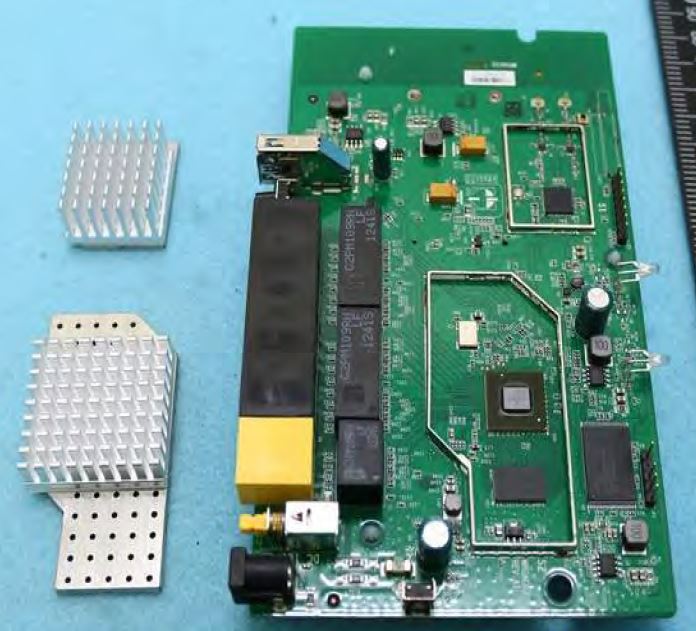 D-Link DIR-860L board naked
The image below shows the front of the case. Note the coaxial cables that attach the case-mounted PCB antennas to the radio modules. Although it's tough to see in this view, there are four antennas (two for each radio) mounted around the top of the router.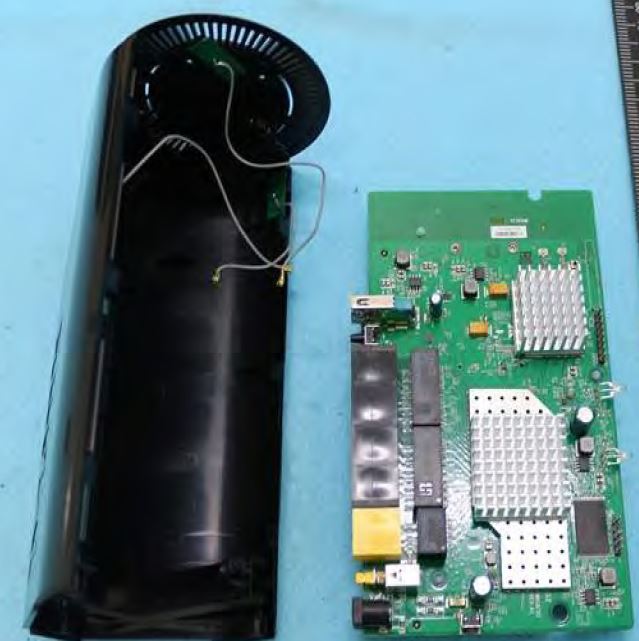 D-Link DIR-860 inside
Features
Like most D-Link routers, the DIR-860L shares a core set of standard features. Most of those features have been covered in previous reviews such as the DIR-868L. You can check the DIR-850L review for a bullet list of features.
Unfortunately, D-Link no longer provides UI emulators for every product, but the features in the products are close enough that you can get a good idea of the feature set by using the DIR-657 emulator. Some of the features that I particularly like on D-Link routers are:
DHCP Reservation – it's easy to set up reservation as the router provides a list of current host names and MAC addresses that you can just click to populate a DHCP reservation entry.
Excellent port forwarding, port range forwarding and triggered port forwarding. The virtual servers list is populated with a number of standard services and ports that you might want to forward.
Good QOS control – You can control QOS for ports, ranges of ports and set priority for a range of LAN IP addresses. This is very useful if you are setting up a cloud-based PBX VoiP phone system in a small office. Note QoS affects router uplink bandwidth only.
Storage
The 860L, like the 850L, supports D-Link's Shareport Plus drive and printer sharing feature with the same feature set as the DIR-868L. The router admin GUI has separate links for Storage and Media Server and the Media Server screen has separate DLNA and iTunes server enables.
Tim ran Windows filecopy tests using the standard NAS test bed to the 860L with SmallNetBuilder's USB standard drive (Startech USB 3.0 eSATA to SATA Hard Drive Docking Station (SATDOCKU3SEF) containing a WD Velociraptor WD3000HLFS 300 GB drive) formatted in FAT32 and NTFS.
D-Link DIR-860L
D-Link DIR-850L
TRENDnet
TEW-811DRU
NETGEAR R6100
TRENDnet
TEW-812DRU
Processor
Broadcom BCM47081A0
Realtek RTL8197D
Broadcom BCM47081A0
Atheros AR9344
Broadcom BCM4706
FAT32 Write (MBytes/s)
16.4
6.1
8.9
7.8
5.0
FAT32 Read (MBytes/s)
27.9
9.7
10.8
10.5
6.4
NTFS Write (MBytes/s)
18.8
5.3
3.6
9.9
2.2
NTFS Read (MBytes/s)
28.8
7.2
9.4
10.5
5.5
Table 3: File copy throughput
The results in Table 3 above are quite interesting because the file copy throughput for the 860L clearly outstrips the competition in every test category. It's especially interesting to compare the 860L with the TRENDnet TEW-812DRU that uses the same Broadcom SoC.
Routing Performance
Routing throughput was measured running 1.03 firmware, using our router test process. Table 4 summarizes the results.
| Test Description | DIR-860L |
| --- | --- |
| WAN – LAN | 770 |
| LAN – WAN | 901 |
| Total Simultaneous | 1044 |
| Maximum Simultaneous Connections | 32,049 |
| Firmware Version | 1.0.3 |
Table 4: Routing throughput (Mbps)
The IxChariot composite plot below shows relatively steady and essentially Gigabit wire-speed throughput in the LAN- WAN test. The WAN – LAN test also showed similar variances, but averaged only 769Mbps.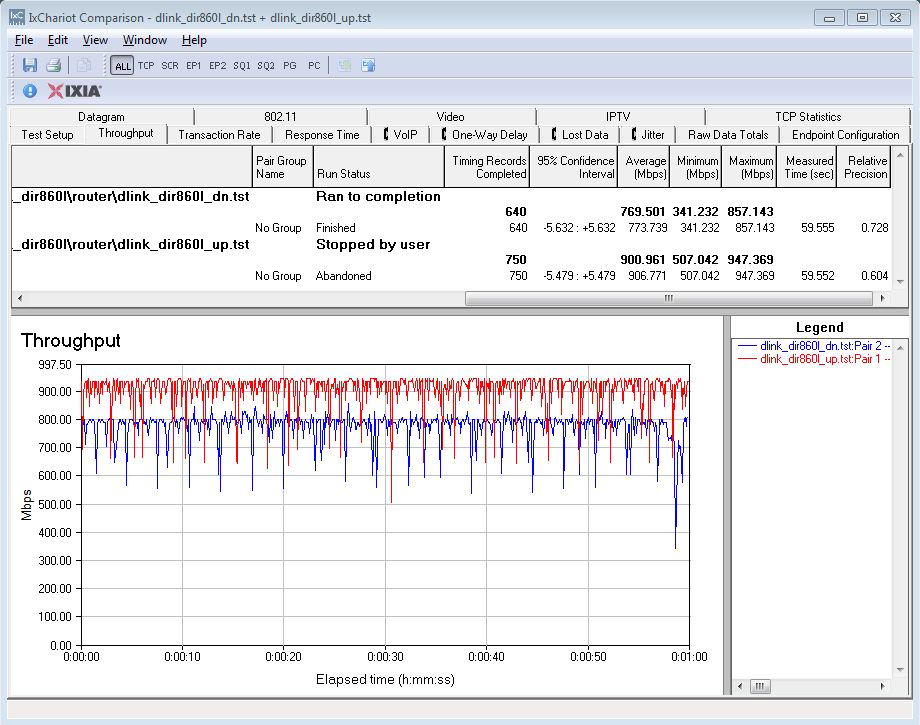 D-Link DIR-860L routing throughput unidirectional summary
The simultaneous up/downlink benchmark plot below shows some serious problems in balancing traffic loads in heavy use. The LAN – WAN varied from 947.4 to 192.6 Mbps, and the WAN-LAN performance ranged from 446.8 to 91.8 Mbps. Both of those are huge ranges but probably won't noticeably impact performance for most asymmetrical internet connections.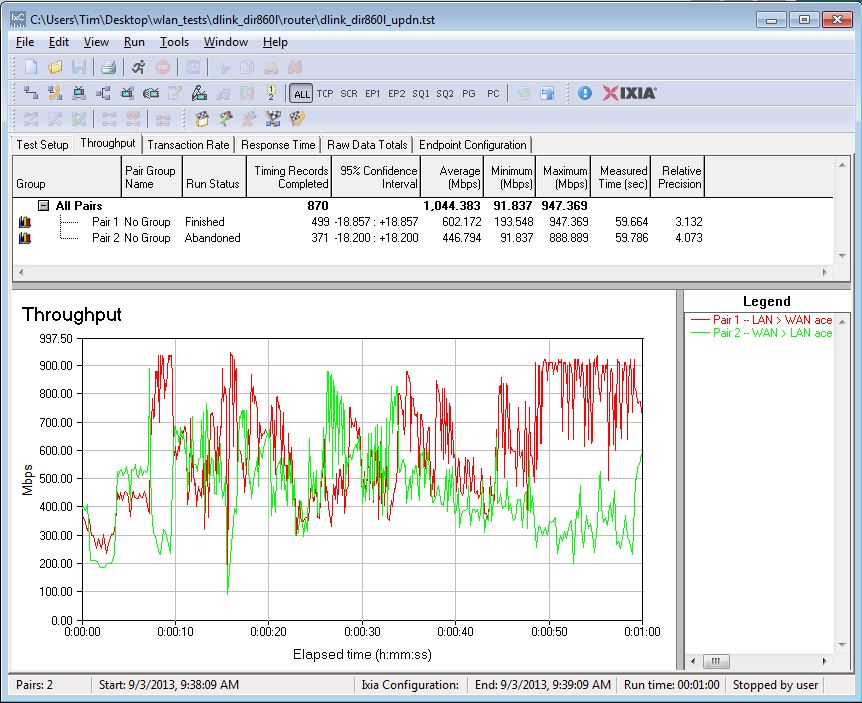 D-Link DIR-860L routing throughput bidirectional summary
Wireless Performance
The DIR-860L is Wi-Fi Certified for 802.11a/b/g/n (not ac) and defaulted to Auto 20/40 Channel Width on the 2.4 GHz radio and Auto 20/40/80 MHz bandwidth mode for the 5 GHz radio upon power-up. The router comes with different 2.4 and 5 GHz SSIDs set, so you'll be able to connect to your desired band without having to change router settings.
We successfully ran a pushbutton Wi-Fi Protected Setup (WPS) session with a Win 7 client connecting to the 2.4 GHz radio. The WPS session completed quickly and resulted in a WPA2/AES secured connection with the same WPA2 pre-shared key set for both radios. When we tried connecting to the 5 GHz radio, we did not see a WPS session prompt.
All tests were run using our new wireless test process and version 1.03 version firmware loaded. The router was first reset to factory defaults and Channel 6 was set for 2.4 GHz and Channel 153 for 5 GHz. 20 MHz bandwidth mode was set for 2.4 GHz and 80 MHz mode (to enable draft 802.11ac link rates) was set for 5 GHz. The test client was connected using WPA2/AES encryption.
The router was positioned 8″ from the chamber antennas in all test positions. The 0° position had the router front facing the chamber antennas. The benchmark Summary below shows the average of throughput measurements made in all test locations.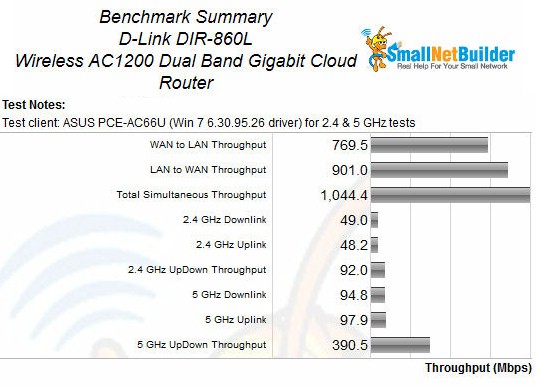 D-Link DIR-860L Benchmark Summary
The 49 Mbps 2.4 GHz downlink average was essentially the same as the DIR-850L's at 50 Mbps. The best AC1200 router for this benchmark was the NETGEAR R6100, which averaged 63 Mbps. 2.4 GHz uplink results again had the DIR-860L and 850L averaging about the same at 48 Mbps and the R6100 again producing the best-in-class average at 67 Mbps.
Switching over to 5 GHz, the 860L and 850L diverged with average downlink throughput of 95 and 76 Mbps, respectively. Best in class for this benchmark was TRENDnet's TEW-811DRU with 134 Mbps. 5 GHz uplink had the 860L averaging 98 Mbps, the 850L at 70 Mbps and the best in class this time being the tested, but not-yet-reviewed, Edimax BR-6478AC at 121 Mbps.
Wireless Performance – more
We're starting to have more benchmarked AC1200 class routers for comparison. I decided to select several of the products that we've already reviewed. For our charts, we'll be comparing the DIR-860L with its sibling, the DIR-850L and the TRENDnet TEW-811DRU. Of course, you can select up to four routers to make your own comparisons.
For the 2.4 GHz downlink test, you can see that the DIR-860L still maintained 20 Mbps of thorughput after the other two products lost their connection at 51 dB of attenuation. However, as we have sometimes seen with other products, the 860L had unexpectedly low throughput performance scores at low levels of attenuation. These poor scores undoubtedly helped pull down the 860L's overall throughput ranking in the Router Ranking chart shown at the end of the review.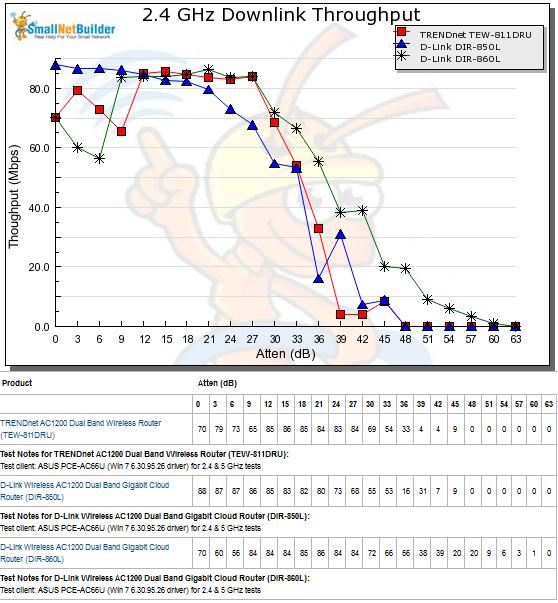 2.4 GHz Downlink Throughput vs. Attenuation
The 2.4 GHz uplink test yielded similar results with both D-Link routers still maintaining a connection after the TRENDnet router had lost a connection. Both D-Links tracked together throughput most of the tested attenuation range, diverging only after 45 dB. These results would indicate that the 860L should have better 2.4 GHz range than the 850L.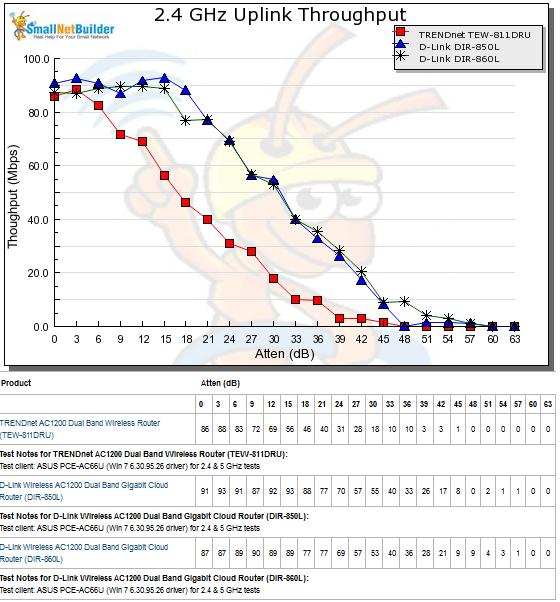 2.4 GHz Uplink Throughput vs. Attenuation
The 5 GHz downlink throughput test tells a completely different story. The TRENDnet TEW 811DRU handily beat both the 860L and the 850L. At low attenuation, the TRENDnet router was more than 50 Mbps faster than either of the D-Link routers. When the 850L dropped its connection at 42 dB, the TRENDnet was still had 55 Mbps of throughput as compared to the 860L's 3Mbps.
Both D-Link routers had lost their connections at 45 dB of attenuation, but the TRENDnet was still able to achieve 40 Mbps. For the most part, the 860L's performance line was between the lower performing 850L and the TEW-811DRU.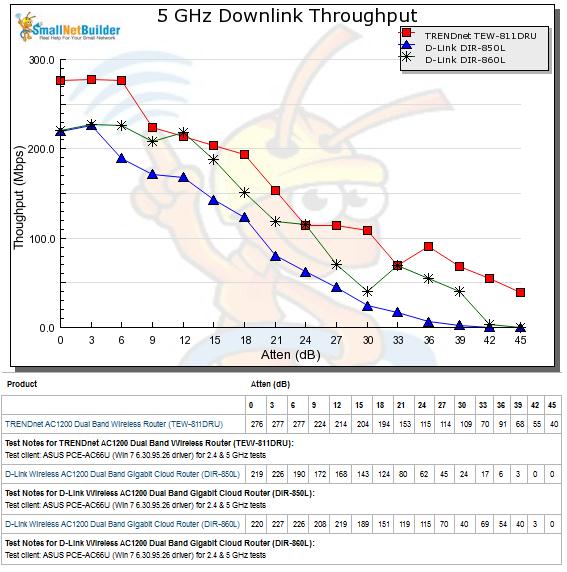 5 GHz Downlink Throughput vs. Attenuation
The 860L partially redeemed itself in the 5 GHz uplink throughput tests. At low attenuation levels, it bested both the TRENDnet and its sibling 850L by significant amounts. Again, throughout the attenuation range, the 850L came in third. At higher levels of attenuation, the TRENDnet router again outperformed both the D-Link routers. While D-Link routers had lost their connections at 45 dB of attenuation, the TRENDnet was still achievning 37 Mbps of uplink throughput.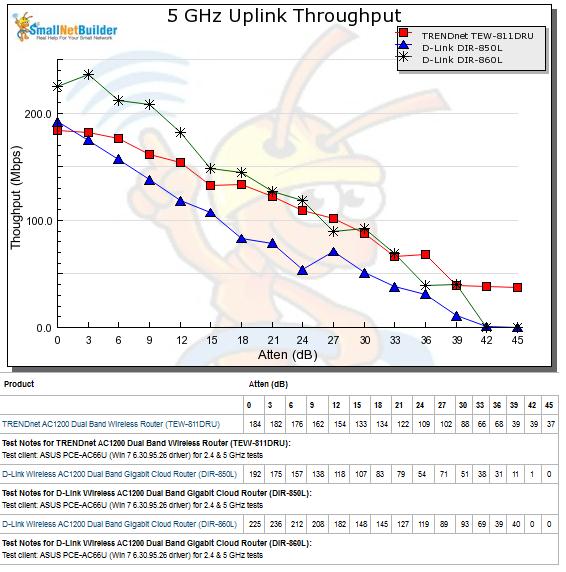 5 GHz Uplink Throughput vs. Attenuation
Closing Thoughts
If you run the Router Ranker for AC1200 class products, you'll see that for overall "Total Router" scores, the D-Link DIR-860L has grabbed the #1 spot. It also grabbed #1 rank for Routing Throughput. But if you look a Wireless Throughput, it ranks # 3, trailing behind the 850L and the EnGenius ESR1200 (yet to be reviewed). For the Wireless Range, the 860L ranked #2 behind the NETGEAR R6100.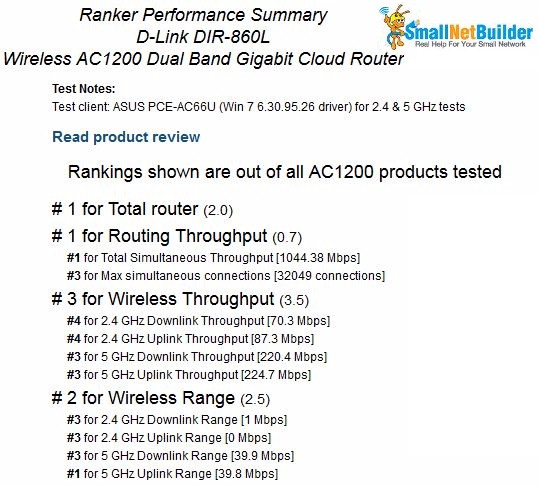 D-Link DIR-860L Router Ranking Summary
As Tim noted in the DIR-850L review, the AC1200 market is still developing. Undoubtedly, we'll see some newcomers that may shake up the router rankings. Even though the DIR-860L holds top three rankings across the Router Ranker categories, there is still plenty of room for improvement.
Since D-Link decided to offer two virtually identical AC1200 class routers, we just had to see what you would get for the extra $20 or so. It turns out that you actually get a better performing router. Imagine that!
Buy Wireless AC1200 Dual Band Gigabit Cloud Router from Amazon