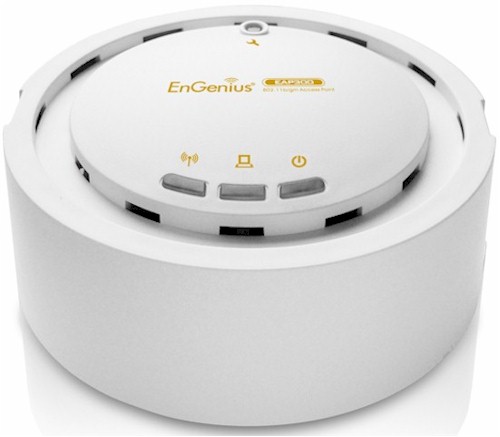 At a glance
Product
EnGenius 802.11 N Multi-Function Access Point (EAP-300) [Website]
Summary
Ceiling-mount 2.4 GHz 802.11b/g/n AP/Bridge/Repeater based on Realtek silicon.
Pros
• Four SSIDs
• Supports WDS bridging/repeating
Cons
• Disappointing wireless performance
• WPS does not work
Typical Price: $50 Buy From Amazon
Overview
EnGenius has tried to differentiate itself from the wireless product pack by generally focusing on "long-range" products, typically with higher transmit power. In the case of the EAP-300, however, it looks like EnGenius has failed in this mission.
The product is aimed at businesses who like their access points ceiling-mounted and inobtrusive. So the EAP-300 looks and mounts like a smoke detector. It can be powered by a 12v wall-wart (included) or more typically for a real business installation, by 802.3af Power over Ethernet.
The top of the device has three bright blue indicators for power, Ethernet link/activity and Wireless link/activity. These can each be disabled in the admin interface. There is also a recessed button with a little wrench icon, whose function is not explained anywhere that I could find in the documentation. But I'd assume that it at least reboots the AP and possibly resets it to factory default with a longer press.
The bottom of the device shown in Figure 1 has recessed ports for power and 10/100 Ethernet. There is a gap in the case at the top of the picture for cables to exit without making a bump in the flat mounting plane.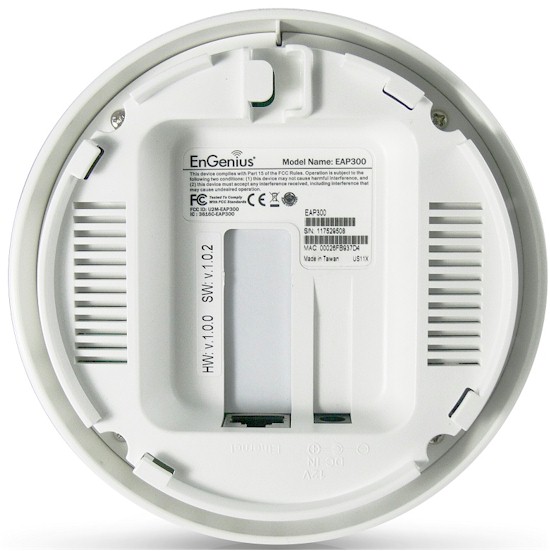 Figure 1: EAP-300 bottom view
Inside
The FCC ID photos are a bit fuzzy. But EnGenius isn't shy about providing design details in its data sheet.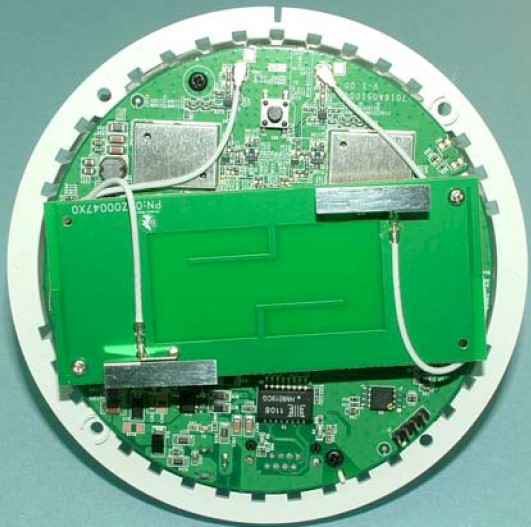 Figure 2: EAP-300 inside
Table 1 summarizes the key components, which show a design based on Realtek components. I don't run across Realtek very often in wireless products and certainly not in those advertised as high performance. So I'm surprised at EnGenius' selection.
| | EAP-300 |
| --- | --- |
| CPU | Realtek RTL8196C Wireless SoC |
| RAM | 32 MB |
| Flash | 4 MB |
| 2.4 GHz Radio | Realtek RTL8192CE |
Table 1:Component summary
Figure 3 shows an unobstructed view of the board where you can see the Realtek logos on the processor and radio devices.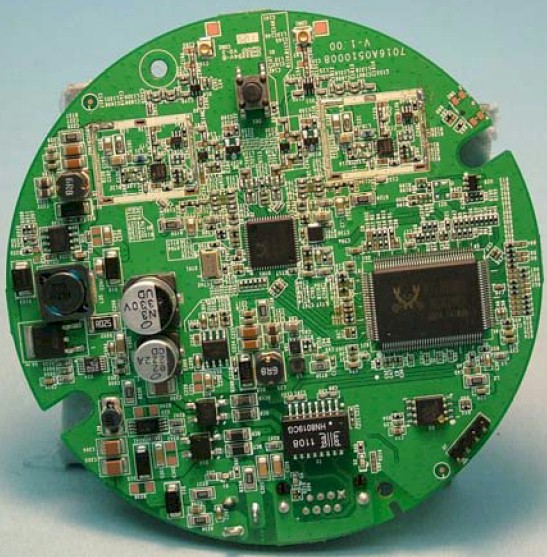 Figure 3: EAP-300 board
Features
The EAP-300 has a decent set of features, including some that will be of interest to business users. Here's a summary:
AP/WDS Bridge/WDS Repeater modes
Four SSIDs
Auto-channel setting
SSID / VLAN tagging
Traffic separation by SSID or between clients
Adjustable Transmit power (11 dBm – 29 dBm)
Wireless enable/disable scheduling
WiFi Protected Setup
WEP, WPA/WPA2 Personal and Enterprise security
MAC address filtering
802.1d Spanning Tree support
802.3af Power over Ethernet or 12V power
Dual 5 dBi internal omnidirectional antennas
Traffic graphs
HTTP/HTTPs/Telnet/SNMP admin
Figure 4 is a shot of the web admin interface so you can get an idea of the approach. If you've used an EnGenius router, the look and feel will be familiar; functional, but unpolished.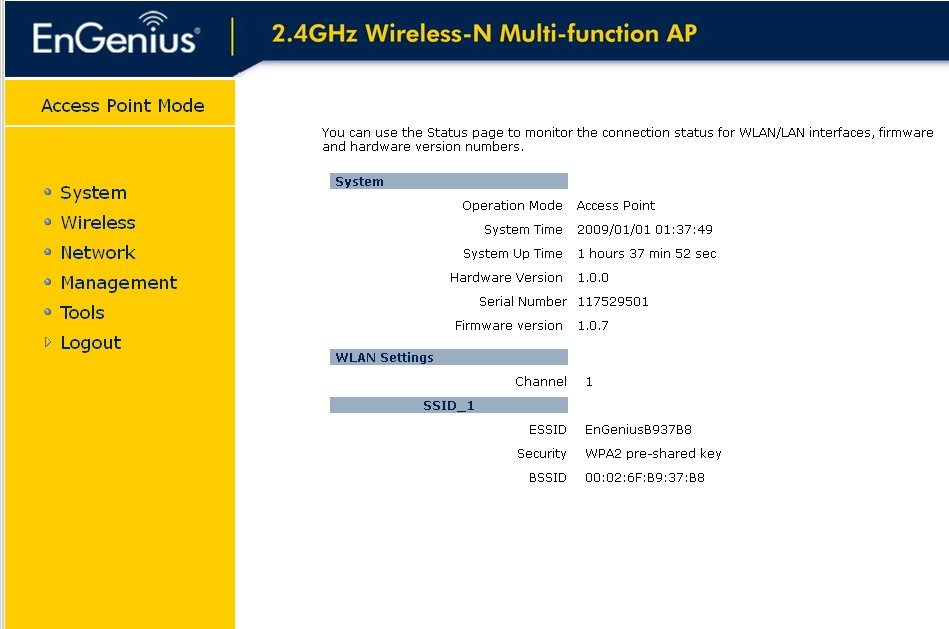 Figure 4: EAP-300 Wireless settings
Both HTTP and HTTPs connections are supported to the web admin interface. But if you just hit the AP's IP address, you don't get auto-forwarded to the secure interface; you need to specify https://.
As I said, some of the EAP-300's features will be interesting to business users. But admins used to Cisco or other Enterprise-class APs may be disappointed. Some reasons why:
You can't set maximum transmit link rate
MAC address filtering is deny only and you don't get a pick list to help build the list
No rogue AP or other wireless activity monitoring
Telnet access to a command line interface (CLI) is enabled by default and can't be disabled
No ability to disable HTTP admin or control remote access
There are traffic graphs and activity logs, but they can't be saved or emailed
Check the gallery for screenshots of key admin pages and further commentary.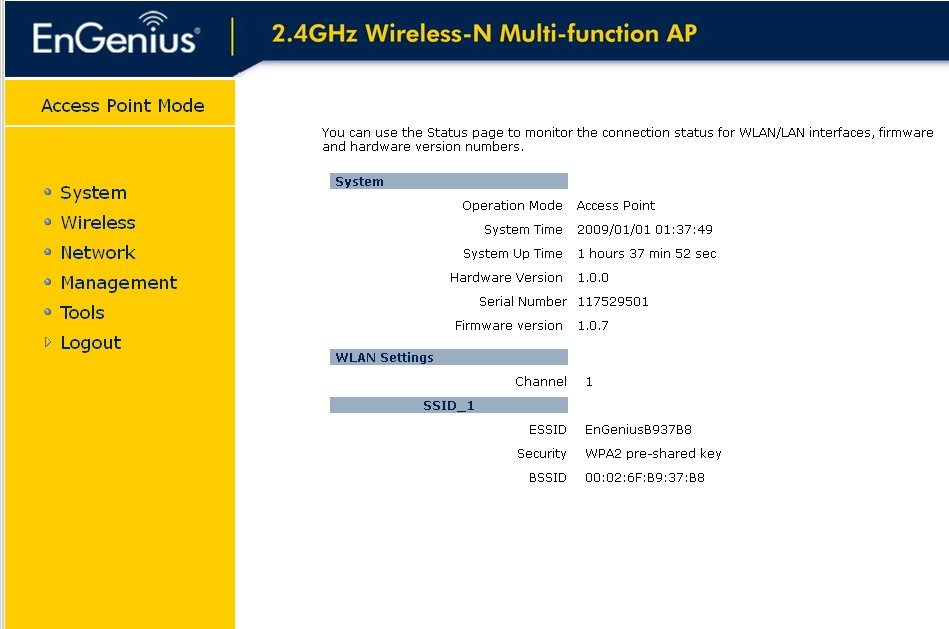 Landing page when you log in
Options for scheduling wireless access time
The log can be viewed, but not saved or emailed. There are no event alarms.
Traffic graphs for WLAN and Ethernet
Clicking the Monitor page Detail button brings up this view
Very basic wireless status information
Encryption types are WEP, WPA/PSK, WPA/RADIUS. PSK options are passphrase and hexadecimal
802.1d spanning tree control can be enabled for redundant network configurations
SNMP admin is supported as well as Telnet. Telnet is enabled by default and can't be disabled.
Here is where you shut off the LEDs
Wireless Performance
The EAP-300 is not Wi-Fi Certified, so I wasn't surprised with it did not properly default to 20 MHz bandwidth mode on power-up. Even though Wi-Fi Protected Setup (WPS) is supported, it is disabled by default. But even when I enabled it and tried to connect with my Win 7 test client, the client couldn't detect that WPS was active and start the WPS connect sequence.
So I had to manually configure the AP with WPA2/AES security before running tests using our standard wireless test process, using Channel 1. As is now our standard, I used an Intel Centrino Ultimate-N 6300 in a Lenovo x220i notebook running Win 7 Home Premium as the test client. Note that I left the AP in its default 26 dBm transmit power setting for testing.
Because the EAP-300 is not a router, you'll find it in the Wireless Charts, not the Router Charts. Since I don't test that many non-routing wireless products, the pickin's are slimmer for comparison. So I included both single and dual-band products in the comparison charts in Figures 5 and 6.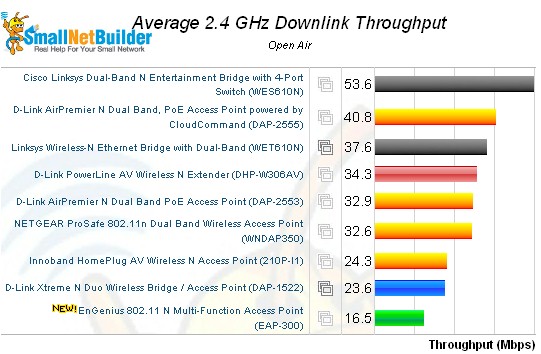 Figure 5: Wireless performance comparison – 2.4 GHz, 20 MHz mode, downlink
It's clear from both charts that the EAP-300 is not a high performer. The question is, why?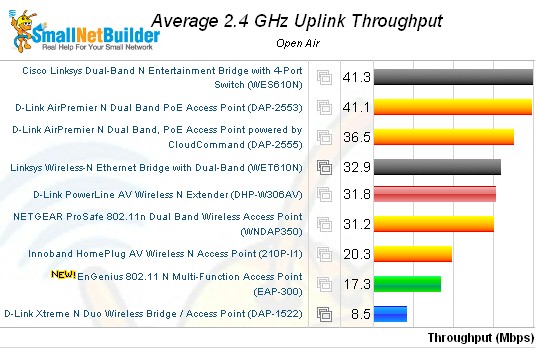 Figure 6: Wireless performance comparison – 2.4 GHz, 20 MHz mode, uplink
For the answer, you need to look no further than the IxChariot plot in Figure 7. Simply put, the EAP-300 has terrible throughput stability and poor low-signal performance. It may achieve decent throughput for awhile. But the big chunks of time where throughput drops to zero push down its average result. Even if we look at maximum throughput, the best ranking that the EAP-300 can achive is mid-chart.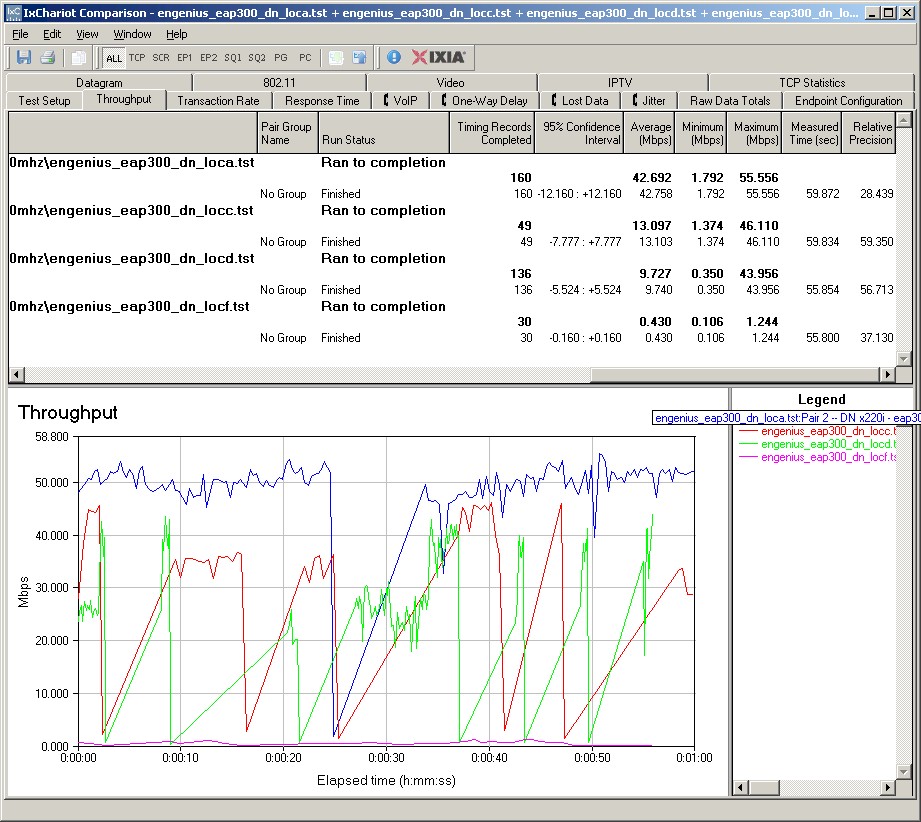 Figure 7: IxChariot plot – 2.4 GHz, 20 MHz, downlink
Curiously, the only plots that didn't show the big dropouts were for the simultaneous up/downlink tests. These turned in total throughput of 56 Mbps for 20 MHz bandwidth mode and 87 Mbps for 40 MHz, with nary a dropout.
Here are links to the other 2.4 GHz plots for your reference:
And here is the Performance Table (Figure 8), where you can see lower-than-normal throughput in the mid-level signal locations (C and D), too.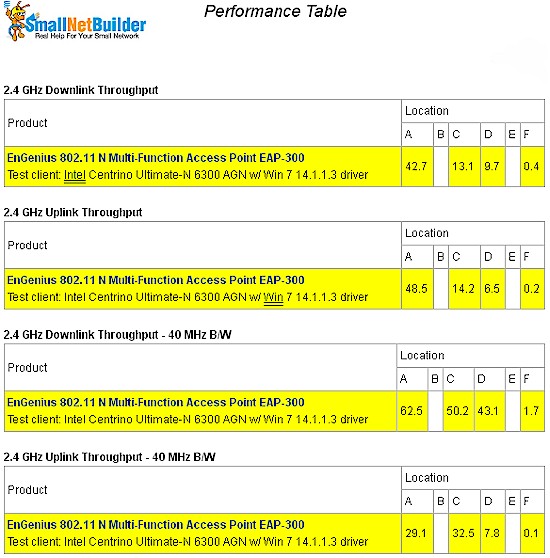 Figure 8: Wireless Performance Table
Closing Thoughts
Bottom line is that EnGenius seems to have missed the mark with the EAP-300. It can do a few tricks more than your average consumer wireless router converted to an access point and can hide in plain sight with its smoke-detector appearance. But while it may have "high power" (800 mW maximum transmit power), I don't think it will do much to extend the range of your wireless network.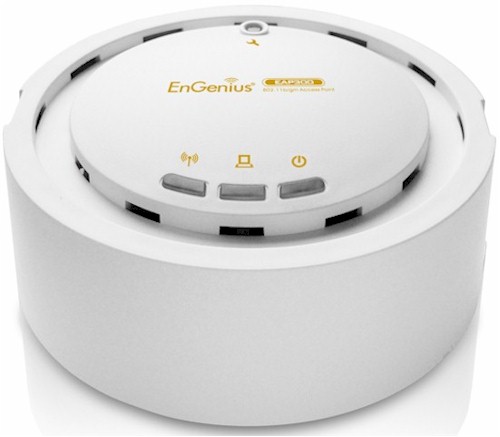 Buy 802.11 N Multi-Function Access Point from Amazon