At a glance
Product
EnGenius High-Powered, Long Range 5 GHz Wireless N300 Outdoor Client Bridge (ENH500) [Website]
Summary
N300 5 GHz only outdoor AP / bridge with built-in 13dBi panel antenna in IP55 waterproof enclosure
Pros
• Easy to configure
• Inexpensive
• Supports multiple modes
Cons
• Non-standard PoE
• Limited low-end operating temperature range
• LEDs on the rear
• Slow admin response
Typical Price: $0 Buy From Amazon
Introduction
EnGenius is known for its broad line of relatively inexpensive outdoor wireless bridges. I previously looked at the 2.4 GHz only, N300 class EnGenius ENS200 in January 2013. In this review, I'm going to cover its 5 GHz only sibling, the EnGenius ENH500.
Physically, the ENH500 is housed in a gray plastic IP55 waterproof housing measuring 3.31″ W x 10.24″ H x 2.17″ D. There are screw holes on the back for mounting the device and a mast-mount strap is included for pole mounting. The front of the device is shown below.

Front
The images below show the rear and bottom of the ENH500. Notice that the signal indicator LEDs on the rear of the device are not visible once it is mounted, so they're of questionable use. The bottom image shows the two 10/100 Ethernet ports.
It is interesting to note that the EnGenius advertises the ENH500 with a max data rate of 300 Mbps, but with only 10/100 Ethernet connections, you're going to be limited to 100 Mbps for any connection that goes from the wireless network to the wired network. We'll see in the Performance section that the 10/100 port does in fact limit maximum throughput.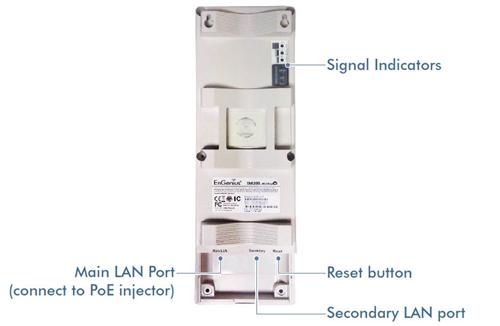 Rear
As with the ENS200, the ENH500 is powered by a proprietary Power over Ethernet (PoE) adapter, which is included. According to the ENH500 manual, "The ENH500 uses a proprietary PoE injector and will not work with standard 802.3af-compliant PoE switches." The ENH500 specs say it draws 9 W, which is easily within most PoE switches' per port PoE capability, so it seems odd EnGenius has designed these devices to work only its proprietary PoE adapter. This is probably to save cost.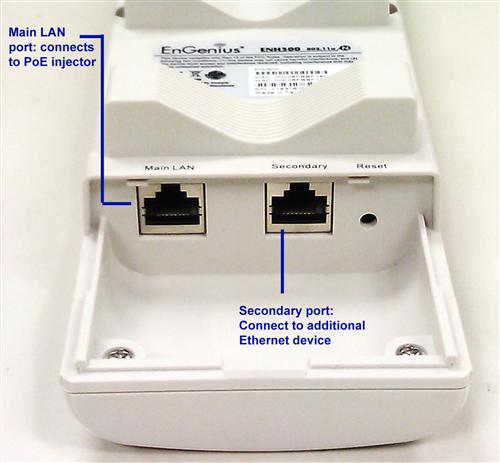 Ethernet Ports
Also like the ENS200, the ENH500 has an operating temperature range low of only -4ºF. So be advised if deploying this device in a climate where sub-zero temperatures are possible during winter months.
Inside
Inside the case is the antenna, shown in the first image…

Antenna Panel
…and the main board.

Main Board
Located on the main board of the ENH500, shown in more detail below, is an an Atheros AR9280 single-chip 2×2 MIMO 5.0 GHz radio, as well as an Atheros AR7240 wireless network processor with a 400 MHz CPU, 32 MB of RAM, and 8 MB of flash. The AR7240 is the same chip used on the ENS200.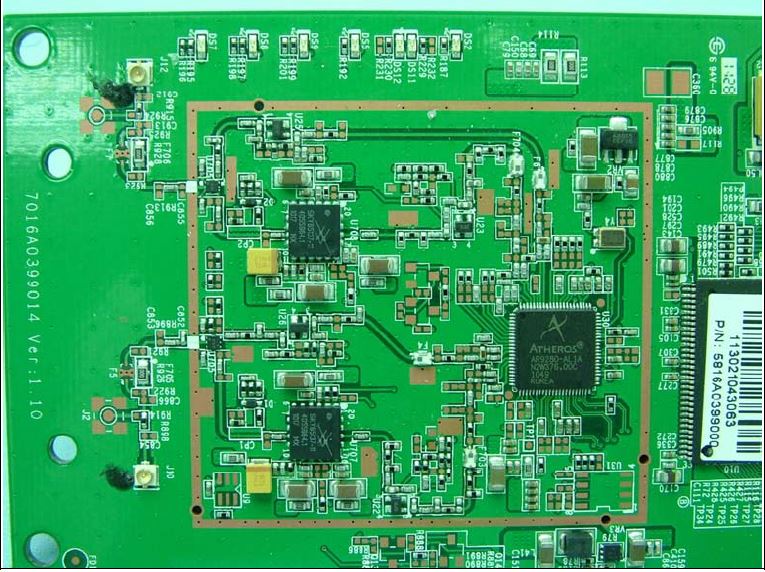 Main Board Detail
Features
The feature list below is compiled from EnGenius' ENH500 data sheet and specifications.
5.0 GHz 802.11a/n
Wireless N300 Speed = max data rate of 300 Mbps
Internal High-Gain 13 dBi Directional Antenna
600mW high power long range coverage / up to 1 mile
IP55 Waterproof Housing for Harsh Outdoor Environments
PoE and Mounting Kits Included (Peak power = 9W)
Two Fast Ethernet Ports (10/100Mbps)
Wi-Fi security: 64/128/256-bit WEP encryption, WPA/WPA2 Personal (WPA-PSK using TKIP or AES), WPA/WPA2 Enterprise encryption (WPA-EAP using TKIP), 802.1x authentication, hidden SSID and MAC address filtering
Operations Modes: Access Point, Client Bridge, Client Router and WDS. [WDS modes = Access Point, Bridge, and Station]
Can broadcast up to 4 SSIDs, each on a unique VLAN
QoS: WMM (Wireless Multimedia)
Spanning Tree Protocol supported
SNMP V1, V2c
EZ Controller (free software for centrally managing multiple APs)
Operating Temperature Range = -4°F~158°F
Configuration
The ENH500 can be configured via Telnet using its command line interface or via web-based menu. The menu appears nearly identical to the ENS200's. Configuration options are listed in a simple menu along the left side of the screen, as shown below.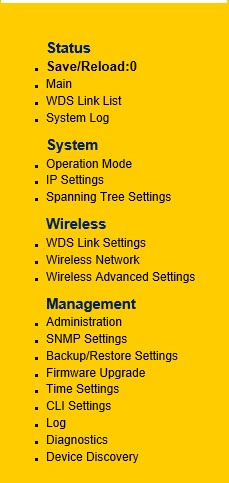 Web-based Menu
Configuration on the ENH500 via the web-based menu can be a bit slow as I noted on the ENS200. You make changes and click Apply, then click Save/Load for the new settings to become active. In the meantime, you get to stare at the screen below for up to one minute before you can perform further configuration.
Menu Delay
A new tool for managing the ENH500 is EnGenius' EZ Controller Widows-based software (screenshot below), which is a free download from the EnGenius website. The EZ Controller software provides a central tool for managing multiple EnGenius devices. This software allows you to configure multiple devices simultaneously, view traffic, upgrade firmware, upload floor plan maps, and view various realtime statistics.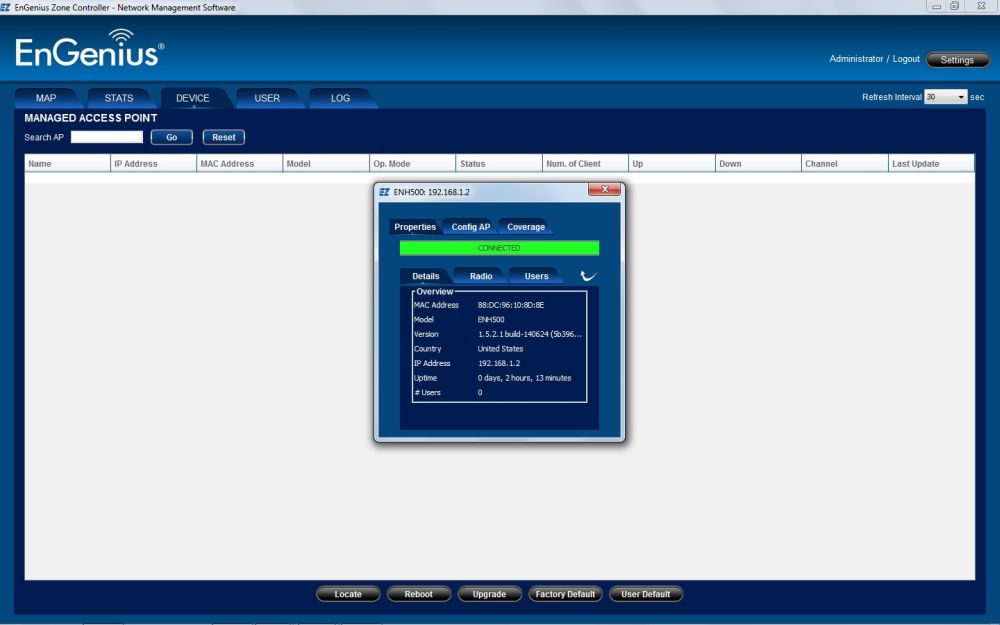 EZ Controller
As with the ENS200, I found the manual a little sparse in details and examples. However, if you poke around EnGenius' website, you can find additional useful support information.
Operation Modes
The ENH500 has multiple operating modes. Traditional operating modes are Access Point, Client Bridge (default), and Client Router. There is also WDS mode with three sub-modes. I'll describe WDS mode in the next section.
As an Access Point, the best use for the ENH500 is to direct its wireless signal at another ENH500 configured in Client Bridge or Client Router mode. The ENH500 is limited as an Access Point for end device connectivity, as only end devices that support 5 GHz will be able to connect to it. Further, the ENH500 has a directional antenna, so it will provide a narrow coverage area.
As an Access Point, the ENH500 can broadcast an 802.11a, 802.11n, or 802.11a/n signal with 20, 40 or 20/40 MHz channel bandwidth. A screenshot showing ENH500 Access Point wireless configuration options is below.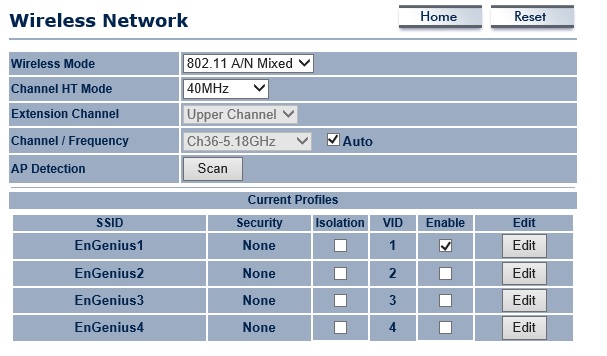 Wireless Options
In Access Point mode, up to four SSIDs can be enabled on four different VLANs. Security options are WEP, WPA, WPA2; TKIP and AES encryption and 802.1x authentication via RADIUS server.
In either Client mode, the ENH500 can pick up an SSID broadcast by another Access Point and connect it to a wired LAN. If the ENH500 is in Client Bridge mode, devices connected to the Ethernet port of the ENH500 will get an IP address from upstream network. If the ENH500 is in Client Router mode, the ENH500 will function as a gateway router with NAT, so that devices connected to the Ethernet port of the ENH500 will get an IP address from the ENH500.
To connect an ENH500 in Client mode to another Access Point, there is a useful Site Survey option to scan for available SSIDs. The Site Survey tool can also be used in other modes to detect nearby wireless networks and fine tune channel selection. Once the scan is complete, simply click on the desired network and add the necessary security parameters to complete the connection.
In the screenshot below, you can see the ENH500 is in Client Bridge mode and is connected to an SSID called MDC10, a Ubiquiti Access Point.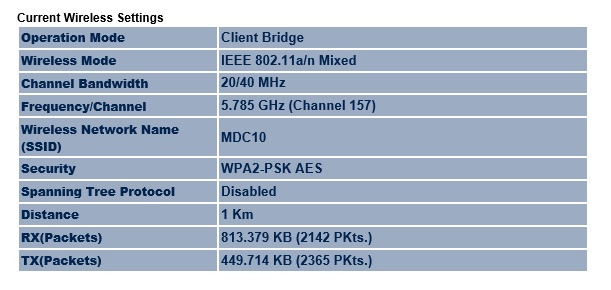 Client Bridge
Advanced wireless options on the ENH500 are the same as the ENS200. Those options include settings for data rate, transmit power, RTS/CTS thresholds, distance, and frame aggregation. Finally, wireless traffic controls exist for traffic shaping and setting incoming/outgoing traffic limits.
In Use
EnGenius targets the ENH500 as a point-to-point wireless device. In a point-to-point deployment, a pair of ENH500s could be used to connect two networks instead of pulling cable. According to EnGenius, two ENH500s in WDS Bridge mode can provide a point-to-point connection beyond 1000′.
A picture says a thousand words, and EnGenius provides three images depicting applications for the ENH500, shown below. In all three of these images, a pair of ENH500s are providing network connectivity from a main network to a remote network or network device.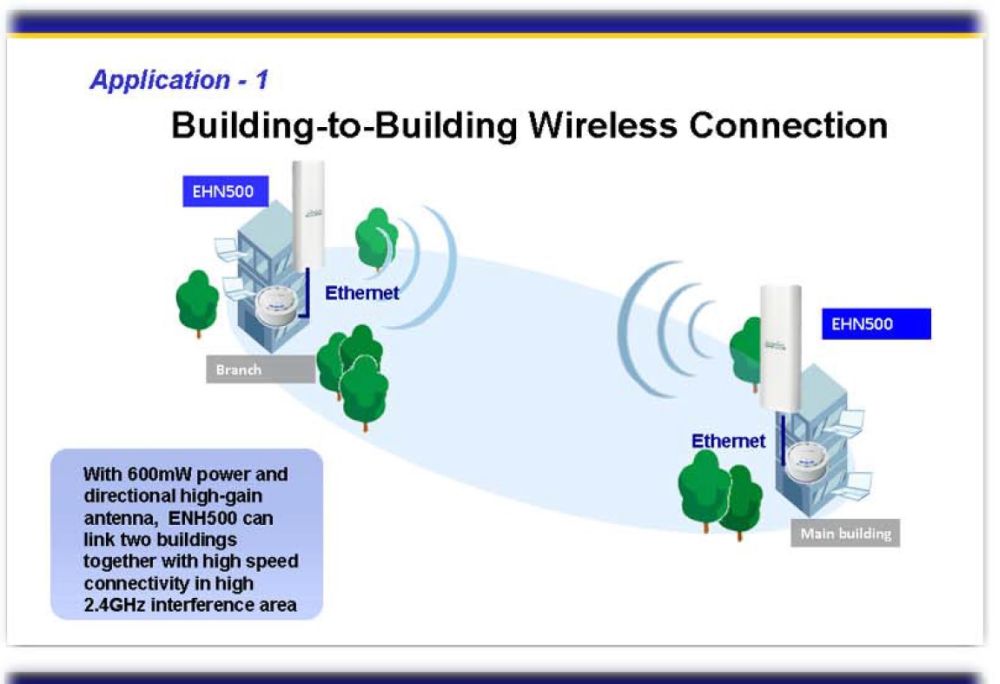 Building to Building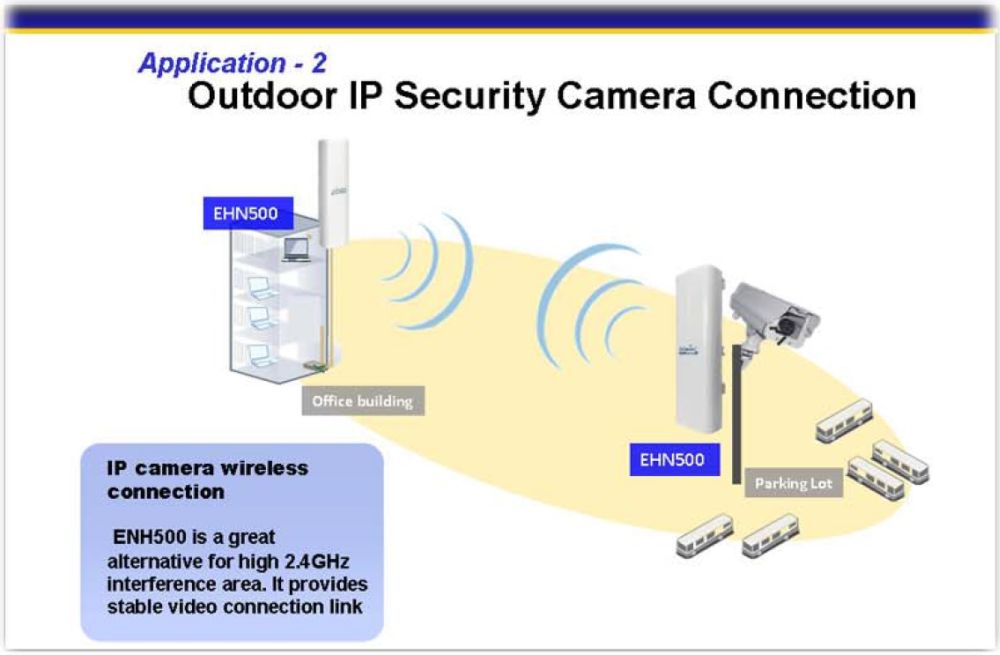 Building to IP Camera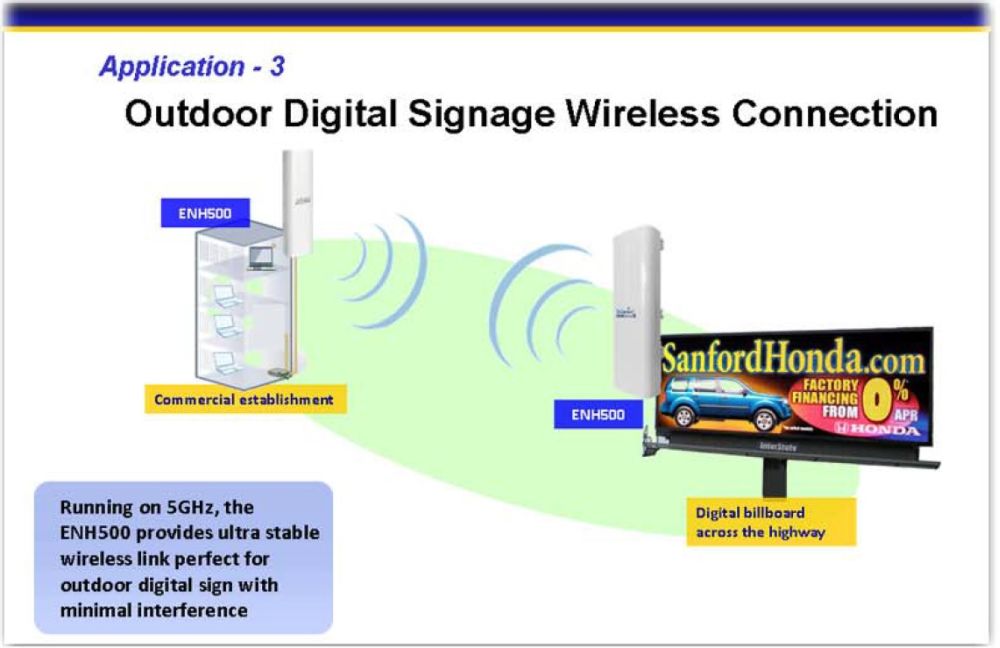 Building to IP Sign
EnGenius' support site recommends WDS mode (wireless distribution system) for point-to-point connections with the ENH500. The three WDS modes are WDS Access Point, WDS Bridge and WDS Station. The EnGenius recommended WDS mode for point-to-point connections on the ENH500 is WDS Bridge mode.
WDS Bridge mode
is easy to set up. Select Operation Mode = WDS Bridge
and enter on each ENH500 the other ENH500's MAC address.
Select a security method of WEP or AES (this sets WPA2/AES) and enter a common string (WEP key or AES passphrase) on both devices.
The
main wireless options for WDS Bridge are wireless mode (802.11a/n
mixed, 802.11n only, or 802.11a only), channel bandwidth
(20 or
40 MHz) and channel. Channel options on the ENH500
are 36, 40, 44, 48, 52, 56, 60, 64, 100,
104, 108, 112, 116, 120, 124, 128, 132, 136, 140, 149, 153, 157, 161, and 165. Note that some mid-band DFS channels are supported, which are restricted to lower transmit power levels. For best range, use channels 149-165 where allowed transmit power is highest.
Performance
I had no problem creating a point-to-point connection between two ENH500s with WDS Bridge mode. To test throughput over a wireless point-to-point connection, I put each ENH500 on an 8′ high free standing post as shown below. I connected a Windows laptop to each ENH500 and ran tests with the ENH500s at distances of 20m, 100m, and 150m.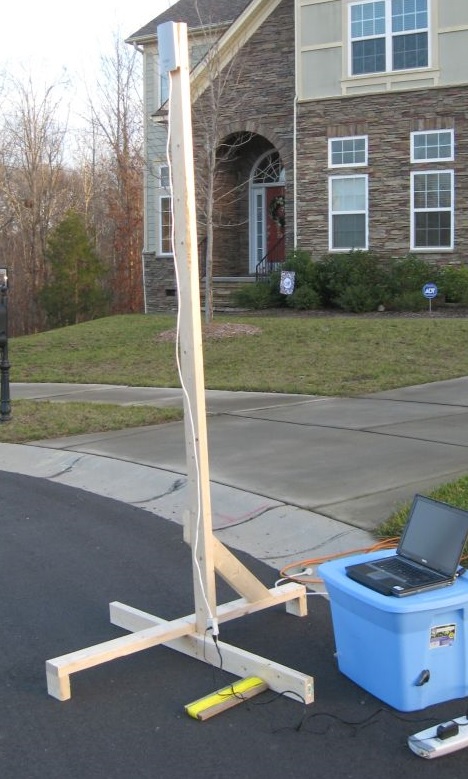 Test Setup
I used TotuSoft's LAN Speed Test client and server application to measure throughput between two ENH500s. I set the file size for throughput measurement to 100 MB. Below is the output from one of my tests.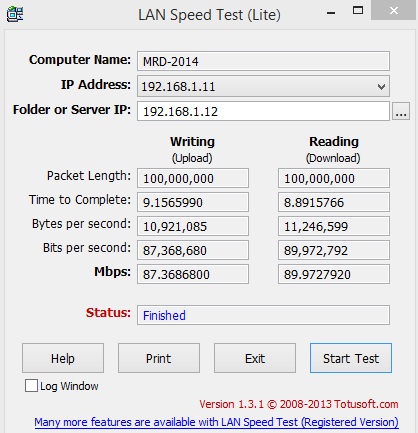 Throughput Test
Note, I measured throughput on the ENS200s last year using iperf as my throughput tool. I changed to the Totusoft tool while back as it is a more reliable tool than iperf and allows for changing the amount of data sent for each test.
The ENH500 only uses the 5 GHz
band, which is less crowded than 2.4 GHz.
Another value of the 5GHz frequency is the ability to safely
use
40 MHz channel bandwidth
for higher throughput. For my tests, I set the
wireless channel on both ENH500s to 153 per SNB's wireless test procedure.
At each distance, I measured baseline throughput with no security and channel mode set to 40 MHz. Table 1 shows the results.
| Distance (m) | Write Throughput (Mbps) | Read Throughput (Mbps) |
| --- | --- | --- |
| 20 | 88 | 89 |
| 100 | 88 | 90 |
| 150 | 88 | 89 |
Table 1: Throughput test results – 40 MHz b/w, no security
I then measured throughput with AES (WPA2/AES) security enabled and channel mode set to 20 MHz. Table 2 summarizes the results.
| Distance (m) | Write Throughput (Mbps) | Read Throughput (Mbps) |
| --- | --- | --- |
| 20 | 68 | 72 |
| 100 | 75 | 76 |
| 150 | 70 | 75 |
Table 2: Throughput test results – 20 MHz b/w, WPA2/AES
Finally, I measured throughput with AES security enabled and channel mode set to 40 MHz, which is the most likely production configuration. Table 3 shows results similar to Table 1.
| Distance (m) | Write Throughput (Mbps) | Read Throughput (Mbps) |
| --- | --- | --- |
| 20 | 88 | 88 |
| 100 | 86 | 87 |
| 150 | 87 | 89 |
Table 3: Throughput test results – 40 MHz b/w, WPA2/AES
My results with the ENS200 last year showed throughput from 11-27 Mbps with a decline in throughput as distance increased. As you can see in the tables above, throughput on the ENH500 ranges from 68-90 Mbps and remains unchanged from 20m to 150m.
Our lab tests, using our test bed and wireless test procedure provide a more complete view of throughput vs. signal level performance. Note, the ENH500 was not rotated in the test chamber, due to its directional antenna. It was tested in access point mode, so is found in the Wireless Charts.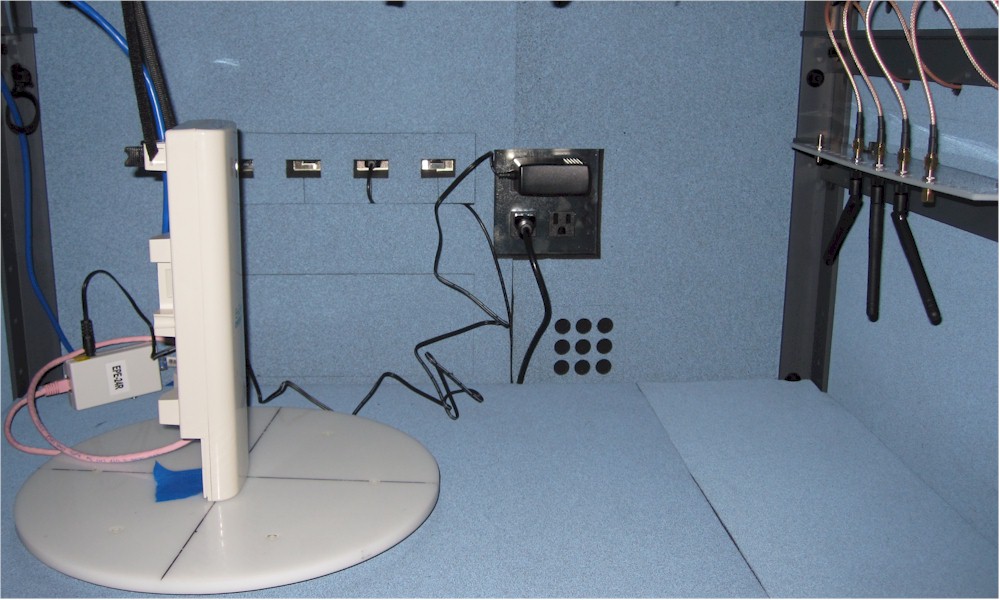 Chamber Test
For both up and downlink, you see throughput flatlined at 100 Mbps for about half the tested attenuation range.
Downlink
This is a pretty good sign the 100 Mbps Ethernet connection could limit throughput at shorter distances (high signal levels). The 80-90 Mbps open air results, however, show this shouldn't be a concern in most uses.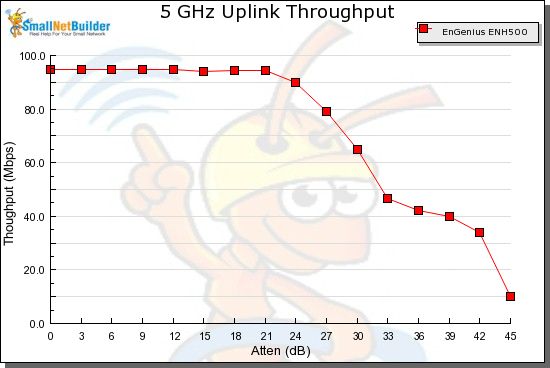 Uplink
It's rare that products make it all the way out to 45 dB attenuation in the larger new test chamber. This shows the higher gain of the ENH500's antennas plus its higher transmit power make a real difference in effective range.
Closing Thoughts
The ENH500 is a slick solution for point-to-point wireless connectivity. It uses the 5 GHz band so it won't affect or be affected by surrounding 2.4 GHz networks. According to EnGenius, two ENH500 in WDS Bridge mode can extend a point-to-point network beyond 1000 ft.
Running an Ethernet cable 150m or more can cost thousands of dollars if that cable has to be buried. It may not even be an option to run cable between two points if you don't have permission or capability to bury cable. At less than $200 with a 1 year warranty, the ENH500 is a quick and highly functional solution for extending your network where wires can't go.
Buy High-Powered, Long Range 5 GHz Wireless N300 Outdoor Client Bridge from Amazon