At a glance
Product
Ubiquiti 802.11ac Dual Radio Access Point (UAP-AC-LITE) [Website]
Summary
Inexpensive AC1200 class access point
Pros
• Many features including airtime fairness and band steering
• Relatively inexpensive
• Decent performance in multi-client load testing
Cons
• Meh performance

• Can be hard to find features in Unifi GUI
• Roaming speed not great unless signal levels are very low
Typical Price: $100 Buy From Amazon
At a glance
Product
Ubiquiti 802.11ac PRO Access Point (UAP-AC-PRO) [Website]
Summary
Inexpensive Qualcomm-based AC1750 class access point
Pros
• Many features including airtime fairness and band steering
• Relatively inexpensive
Cons
• Can be hard to find features in Unifi GUI
Typical Price: $260 Buy From Amazon
Introduction
Updated 12/4/17 – UAP-AC-Lite retested
Updated 3/21/17: Explained Wi-Fi test oddities
If you hang around the wireless part of SNBForums for long, you'll find folks describing their unfettered joy after replacing their crummy consumer Wi-Fi routers with Ubiquiti's cheap AC access points. Lee Hutchinson at Ars was so tickled he wrote this love letter, which I'm sure has sold a lot of UAP-AC-Lite and PROs for Ubiquiti.
We last looked at Ubiquiti APs back in 2013 in the form of their first 802.11ac access point, the UAP-AC and their "long range" N300 AP, aptly named the UAP-LR. Ubiquiti wasn't happy with how the UAP-AC tested, so I even retested it with "better" firmware that improved 5 GHz performance somewhat. But the upshot was that the original UAP-AC's wireless performance wasn't as good as the AC1750 class D-Link router it was compared to.
These two inexpensive APs come up so often in SNBForum discussions, particularly when folks ask if they're a better choice than consumer mesh systems and whether they'll improve performance vs. consumer routers. So I figured it was about time I got off my butt and tested them.
I'm currently persona non grata with Ubiquiti due to the not-so-glowing showing its—actually its Ubiquiti Networks subsidiary's—Amplifi mesh system made in our Mesh Mashup. So I bought the UAP-AC-Lite and AC-PRO used for this review from Amazon.
The Lite is smaller than I expected for a "pro" level access point at a little over 6" in diameter. The PRO is more like I expected for a "smoke detector" style AP at a bit under 8". As "ceiling mount" APs, antenna patterns are aimed more at the front side vs. back. So if you're expecting APs on one floor to provide good coverage to another, be sure the top side of the AP is facing the other floor you want to cover.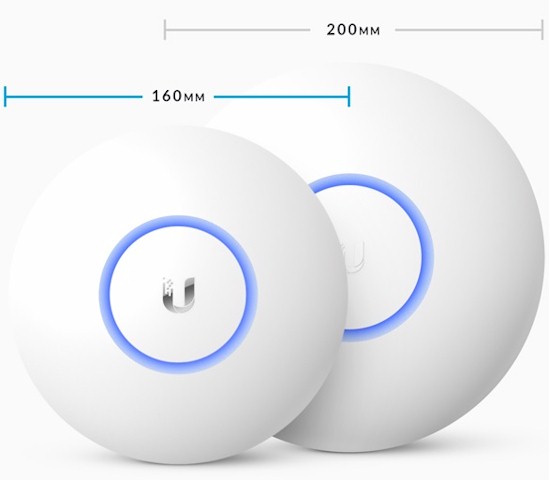 Ubiquiti UAP-AC-Lite and PRO APs size comparison
Aside from being a 2×2 AC1200 class AP, the Lite has a few other differences from its 3×3 AC1750 PRO sibling to enable its $50 lower price. It has only one Gigabit Ethernet port and uses non-standard 24v power over Ethernet. The PoE injector comes with the AP and enables single cable connection. But the lack of standard 802.3af/at support means you can't use a standard PoE switch to power it.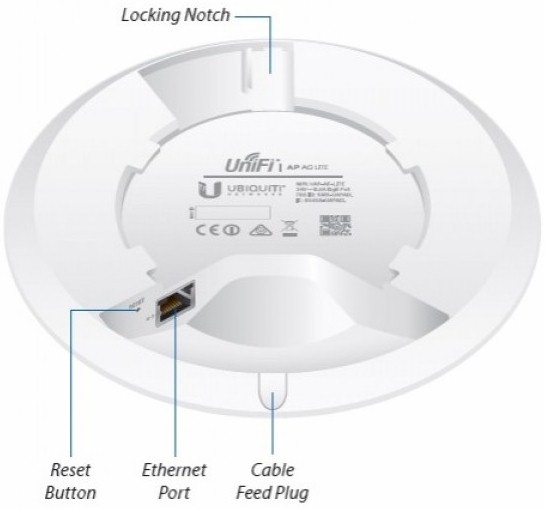 Ubiquiti UAP-AC-Lite callouts
The PRO has two switched Gigabit Ethernet ports; only the Main port supports either "passive 48V" or standard 802.3af/at PoE. The USB port is used to connect a mic/speaker accessory that effectively turns the PRO into an EDU model.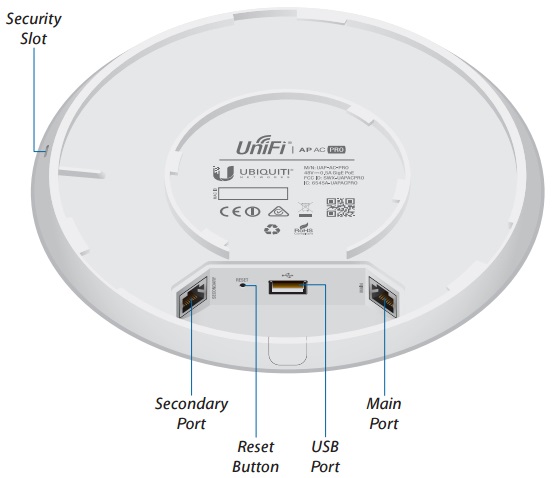 Ubiquiti UAP-AC-PRO callouts
Both models have a single LED that illuminates a ring around the Ubiquiti logo to indicate status. The LED can be turned off.
Inside
Turns out it's not that hard to make an AC1200 access point for under $100 (actually under $80). The main compromise is to use an AP SoC to supply 2.4 GHz and serve as the main CPU. Both the Lite and PRO use a Qualcomm Atheros QCA9563 3×3 802.11bgn wireless SoC. Only two RF chains are used for the Lite and three are used for the PRO. According to WikiDevi, the QCA9563 has a 32 bit MIPS 74Kc core and is clocked at 750 MHz and has been used mostly in consumer 802.11n routers.
I shot my own photos since the FCC ID photos were not clear enough for component identification. I'm glad I did because the FCC photos show heatsinks on the two radio SoCs and there are none on either sample I opened up. This also let me identify the RF front ends as coming from Anadigics; first time I've seen devices from this company.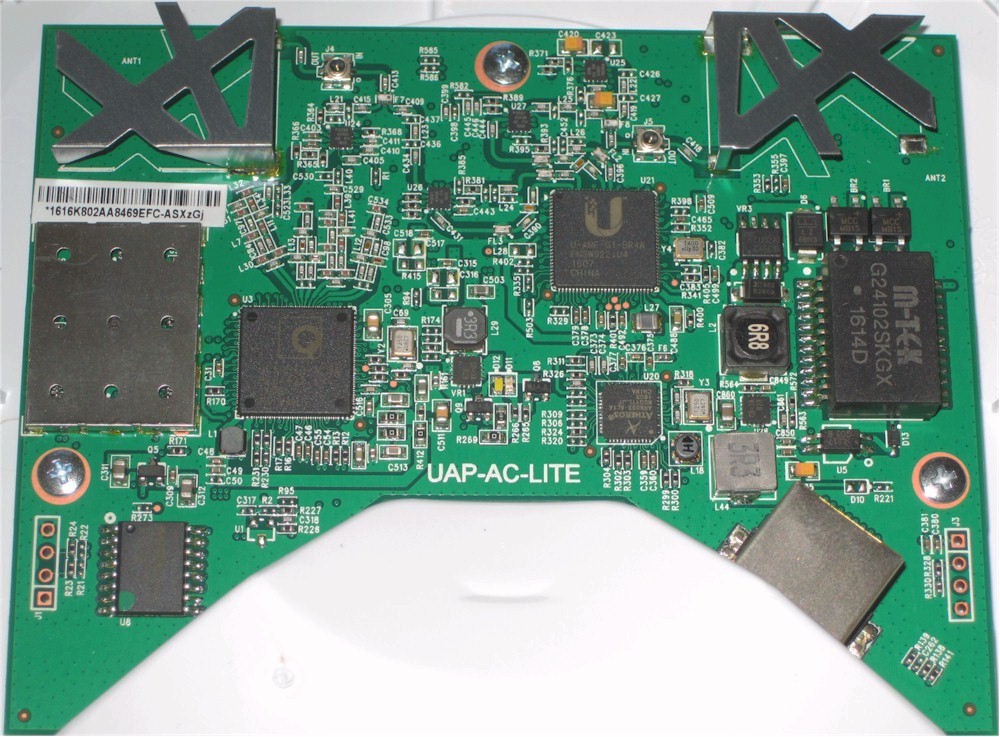 Ubiquiti UAP-AC-Lite board
The PRO board shown below uses the same antennas and has three RF chains.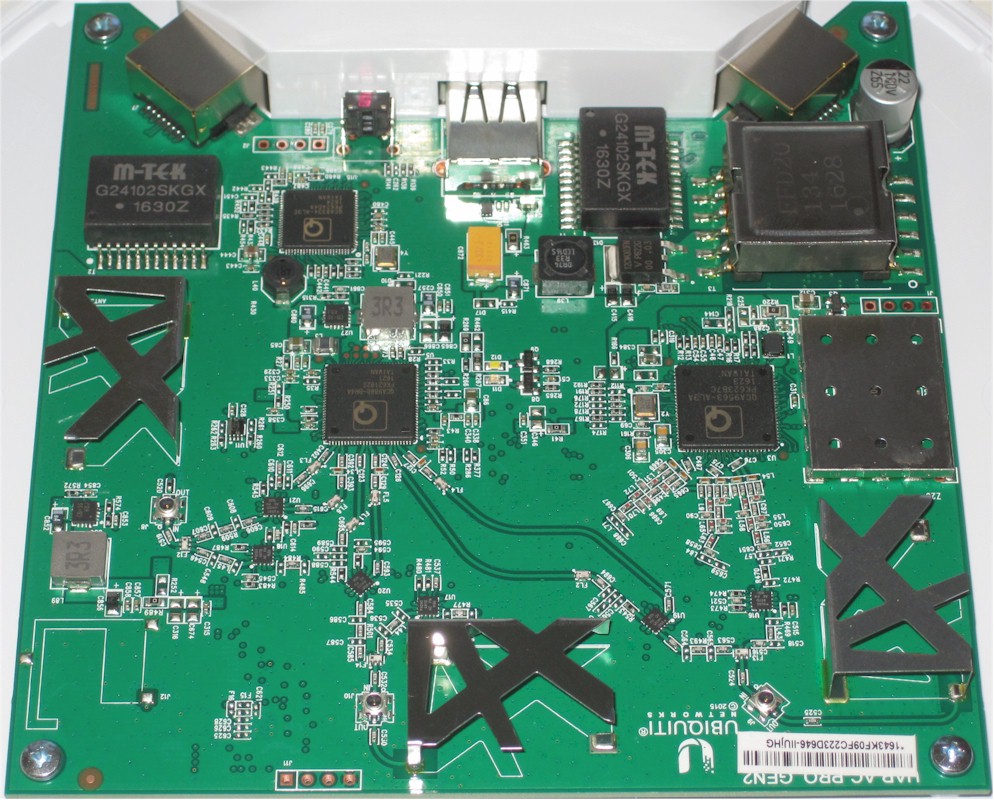 Ubiquiti UAP-AC-PRO board
For comparison, here's Ubiquiti's first pass at an AC access point, the UAP-AC. You can see why it sells for almost $300 vs. the PRO's $130.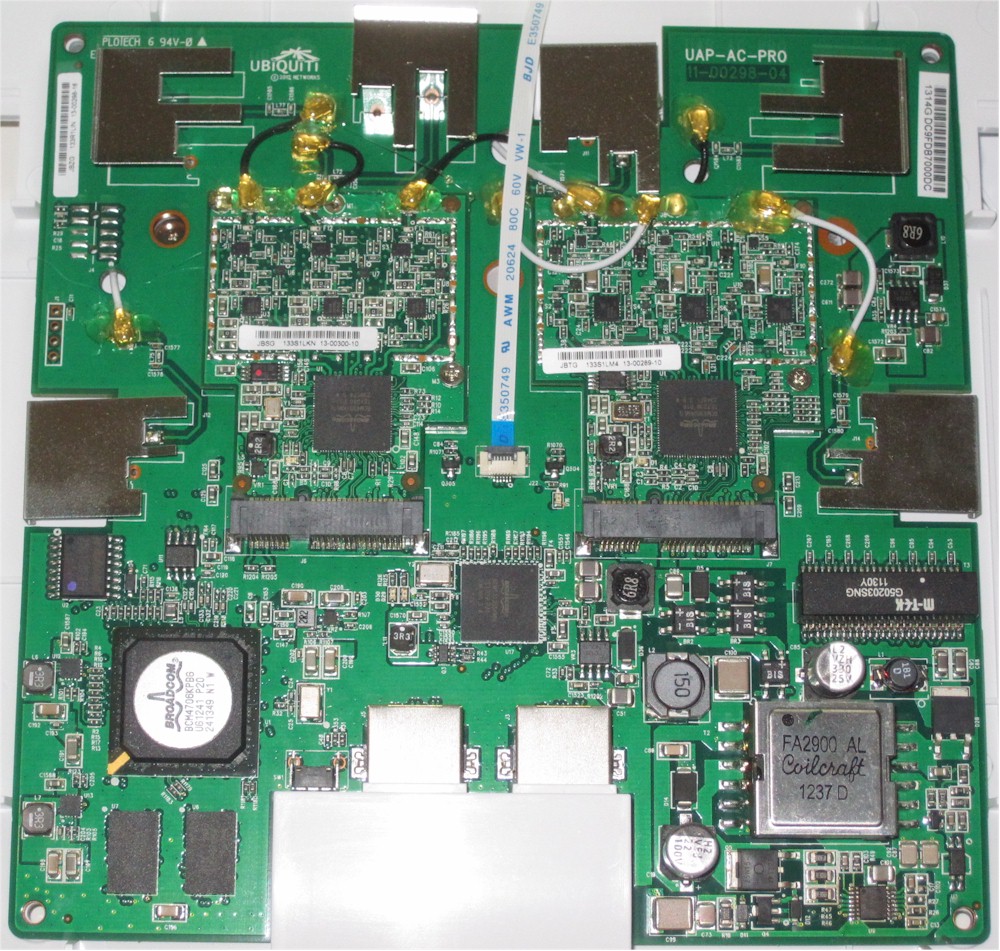 Ubiquiti UAP-AC board
The table shows the key components for the Lite, PRO and original AC. Bottom line is that neither the Lite nor PRO bear any resemblance to the original AC and differ mainly in the number of RF chains.
UAP-AC-Lite
UAP-AC-PRO
UAP-AC
CPU
QCA9563 3×3 802.11bgn wireless SoC
QCA9563 3×3 802.11bgn wireless SoC
Broadcom BCM4706
Switch
Atheros AR8033 (Ethernet PHY only)
QCA8334
Broadcom BCM53125
RAM
128 MB
128 MB
256 MB Hynix H5PS1G63JFR (x2)
Flash
16 MB
16 MB
16 MB Winbond 25Q128FVFG
2.4 GHz Radio
– In QCA9563
– Anadigics AWL9293 2.4 GHz front end (x2)
– In QCA9563
– Anadigics AWL9293 2.4 GHz front end (x3)
– BCM4331KMLG
– SiGe 2605L (x3) 2.4 GHz Hi Power WLAN power amp
5 GHz radio
– Ubiquiti U-AME-G1-BR4A
(Custom labeled Atheros AR9888?)
– Anadigics AWL9581 5 GHz front end (x2)
– QCA9880 3×3 a/b/b/n radio SoC
– Anadigics AWL9581 5 GHz front end (x3)
– Broadcom BCM4360
– Skyworks SE5003L 5 GHz, 23dBm Power Amp w/ Power Detector (x3)
Table 1: Access Point component summary and comparison
Features
Consumers are not Ubiquiti's primary target market for its UniFi products. So if you're looking for a setup experience like you get with, say eero, Luma or any multiple AP "mesh" system, you'll be disappointed and probably frustrated. Although they can run without one after they are set up, UniFi APs are primarily designed to be used with a controller. If you want to run without a controller, you'll need to disable the Uplink Connectivity Monitor when setting up your Site.
In the old days, this was primarily an exercise left to the reader and involved downloading and installing the UniFi controller on a Windows, MacOS or Debian or Ubuntu Linux system. Although you can still do that, I opted to also try out Ubiquiti's UniFi Cloud Key. To me, the $80 is well worth it for the convenience of a device that plugs into a switch port, consumes virtually no power and is always there when you need it. As managed AP controllers go, it's a steal.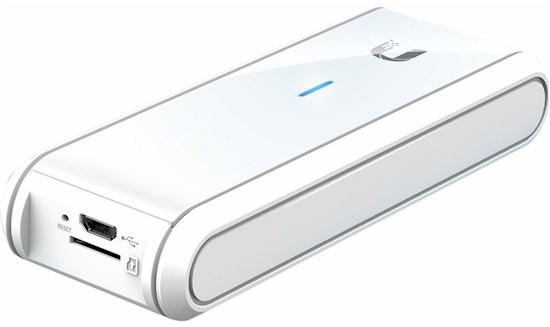 Ubiquiti UniFi Cloud Key controller
The UniFi product family has been expanded to include managed switches, security gateway / routers, VoIP phones and IP cameras. The UniFi controller, however, supports only access points and security gateways. Separate controllers must be installed to support VoIP phones and IP cameras and they can't be installed on the Cloud Key.
Note the UniFi family does not include EdgeRouters, which are part of the EdgeMAX family. If you want a router to appear in the UniFi dashboard shown below, it will need to be a UniFi Security Gateway (USG, about $120) or Security Gateway Pro4 (USG-PRO-4, about $290)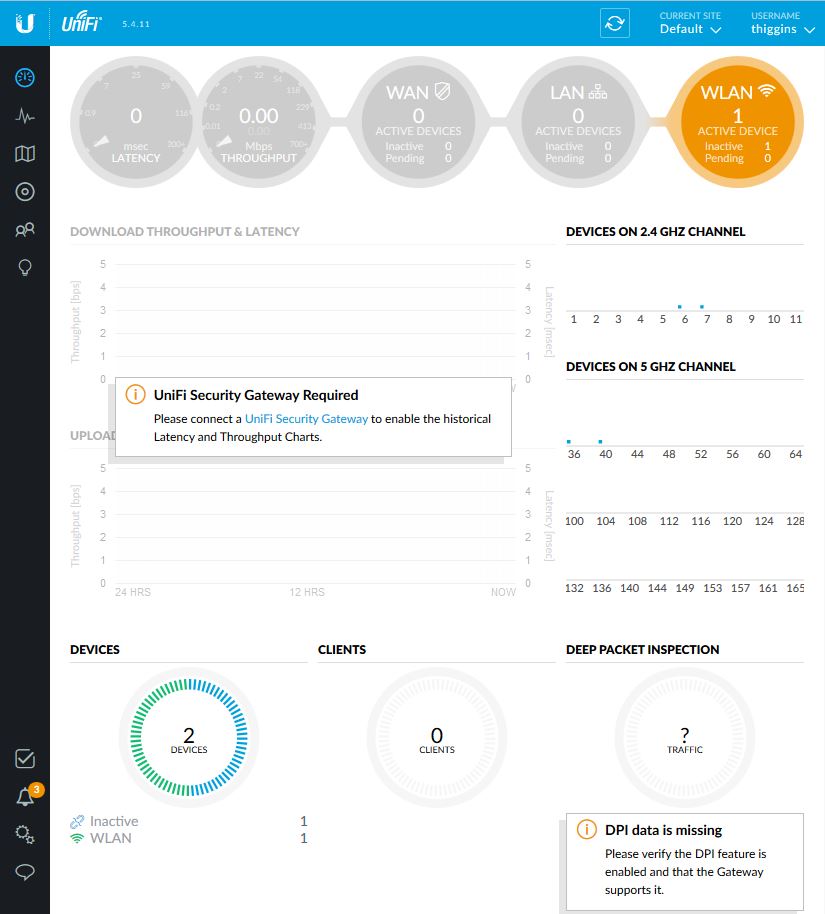 UniFi controller dashboard
Doug Reid reviewed UniFi 3.0 back in 2013 and its AP management features are carried forward into the current 5.4.11 version. Some of UniFi's features include:
Physical map view of AP locations with Google Maps integration
Guest Portal / Hotspot support
Events and alerts
Level 3 manageability
Statistics and analytics
Multi-site management
WLAN groups
New in 5.4.11 is Hotspot 2.0, which is marked as Beta. There is no Ubiquiti documentation on it, but the gist I get from Ubiquiti Community forum posts is that it's intended to support 802.11u aka Wi-Fi Certified Passpoint.
Two other features typically attributed as supported in Ubiquiti APs also bear mention. First is fast / seamless / zero handoff roaming. Support for this appears to be dead, since UAP-AC, UAP-AC-Outdoor, UAP.AC.LITE, UAP.AC.LR, UAP.AC.PRO, and UAP.AC.EDU do not support Zero Handoff Roaming. The only APs that do support it are older UAP, UAP-LR, UAP-Pro and UAP-Outdoor5. The reason is discussed in this Community thread, i.e. zero handoff (ZHO) requires all APs to be on the same channel and have signal levels above -70 dBm. This doesn't work in practical use and particularly not for dual-band 802.11ac networks.
Unifi 5.3.8 and above support an implementation of 802.11r (Fast BSS Transition) that Ubiquiti says does not require client-side support. 802.11k appears to be somewhere on Ubiquiti's roadmap, but 802.11v does not. There is also the Minimum RSSI "Advanced" radio option, which was around in UniFi 3.0. It is intended to help with roaming by encouraging devices with RSSI below the level you set to not connect to the AP. This is set for each AP.
The second feature is mesh network support. UniFi does not support mesh, at least not the self-configuring / self-managing flavor supported by consumer DWS. You can connect APs via wireless backhaul using the Wireless Uplink feature. All you need to do is power up an AP, that will be detected as Isolated as shown in the screenshot below.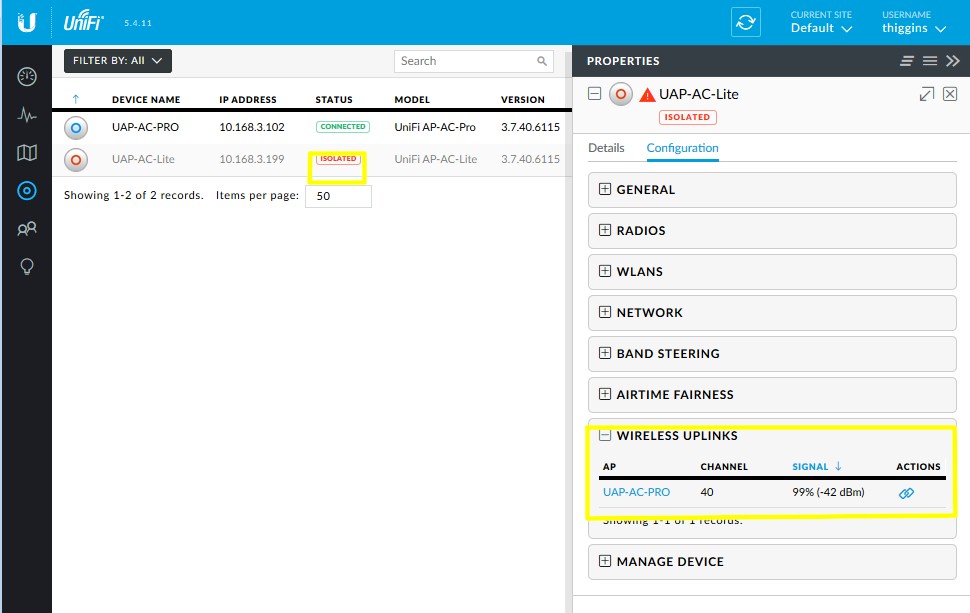 Isolated AP waiting to be connected
Just click the link icon in the Wireless Uplinks panel and the AP will be wirelessly connected. Note the signal levels shown in the screenshot below are with the two APs about 8 feet apart in the same room.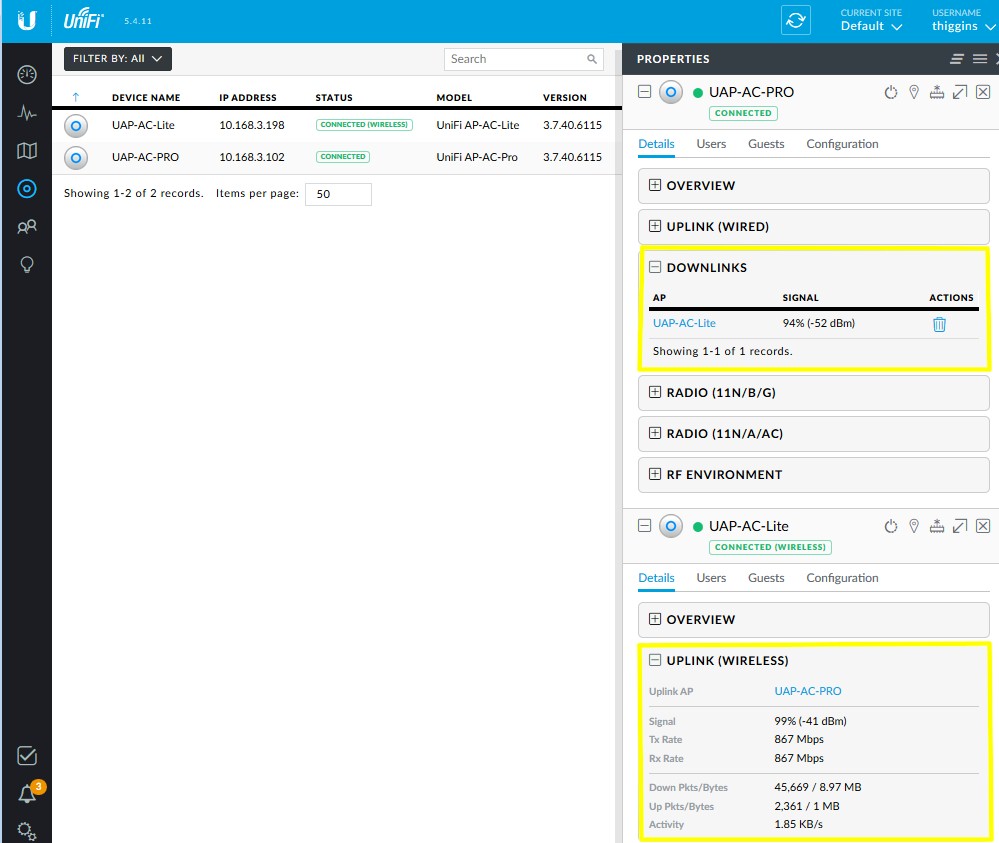 Isolated AP waiting to be connected
If you want a Ubiquiti Mesh system, you'll need to buy the just-introduced UniFi Mesh hardware. You can opt for the $99 UAP-AC-M AC Mesh (2×2 AC1200) or $199 UAP-AC-M-PRO AC Mesh PRO (3×3 AC1750) APs. Both are spec'd for indoor and outdoor use, are powered by 802.3af PoE and are controlled by the UniFi controller.
Both non-mesh and mesh APs use the wireless uplink feature to form backhaul links to Ethernet-less APs. The difference is non-mesh APs (including the AC-Lite and AC-PRO) can only make single-hop links…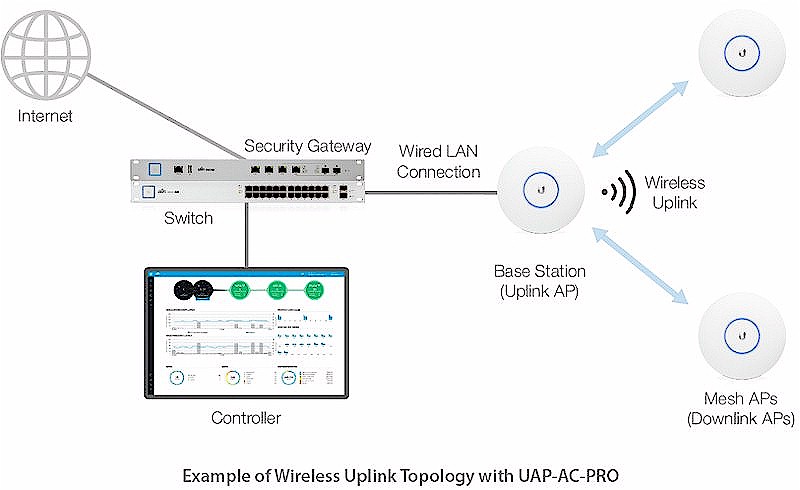 Wireless uplink – non-mesh APs
…while mesh APs can do multi-hop. This blog post has more details on UniFi Mesh.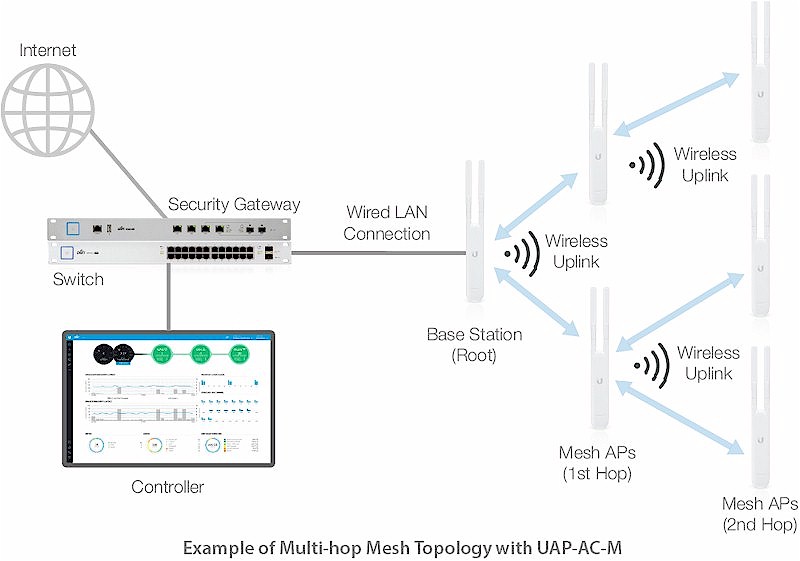 Wireless uplink – mesh APs
The latest UniFi also replaces WLAN Groups with Wireless Networks. This is where you set up your WLAN's SSID and security modes. Wireless schedules and VLANs are also set here.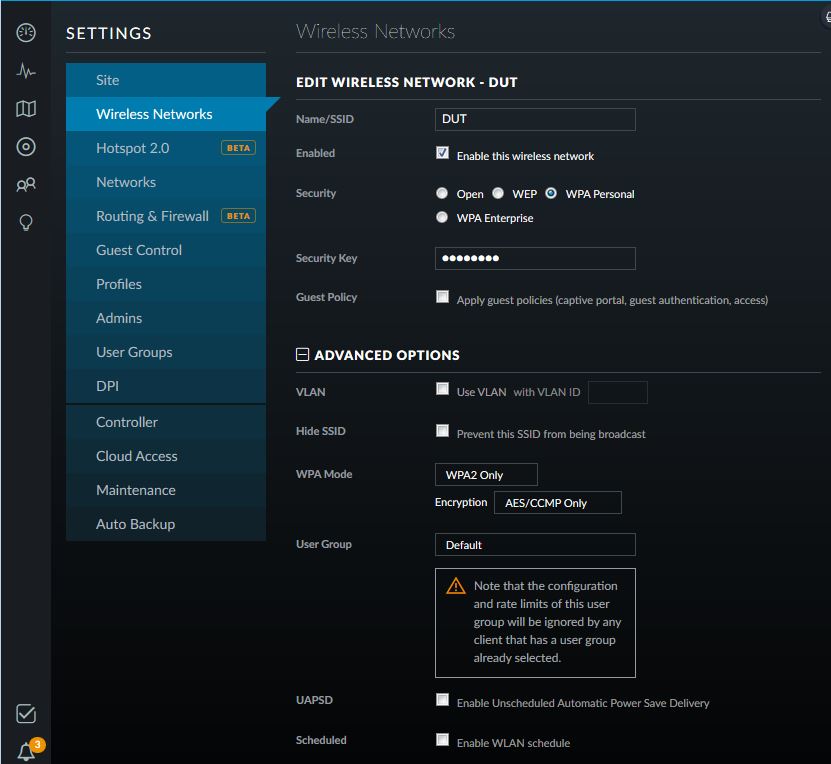 AP connected via wireless uplink
The lower part of this screen provides access to 802.11 rate and beacon controls. Note that the default 2.4 GHz settings will not allow 802.11b devices to connect.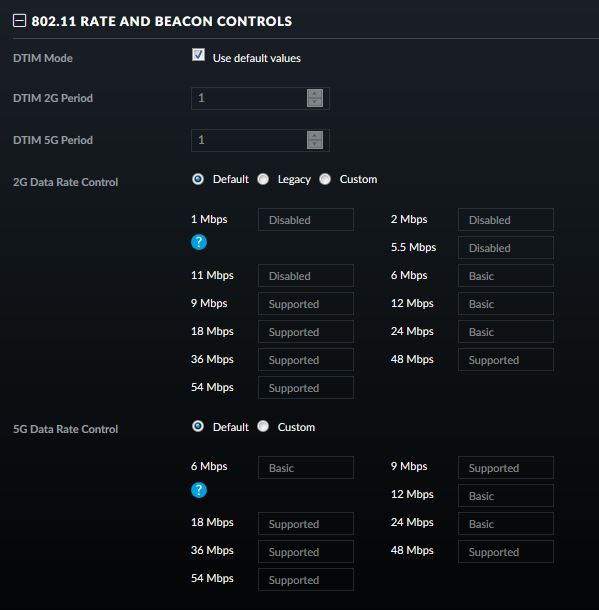 802.11 rate and beacon controls
If you want more details, read Ars' review, which takes you through UniFi's feature set in detail.
Wireless Performance
The UAP-AC-PRO is WiFi Certified; the AC-Lite is not. Both were tested using our Revision 9 Wireless Test process using 3.7.40.6115 firmware with the v5.4.11 UniFi controller running on a Cloud Key. Channel 6 and 20 MHz bandwidth mode were used on 2.4 GHz, channel 40 and 80 MHz bandwidth mode on 5 GHz.
The photo below shows the UAP-AC-Lite in the test chamber. I raised it up a bit so that the chamber antennas were ensured an optimum signal. The AC-PRO was put on the same stand, which also makes a lovely snack bowl.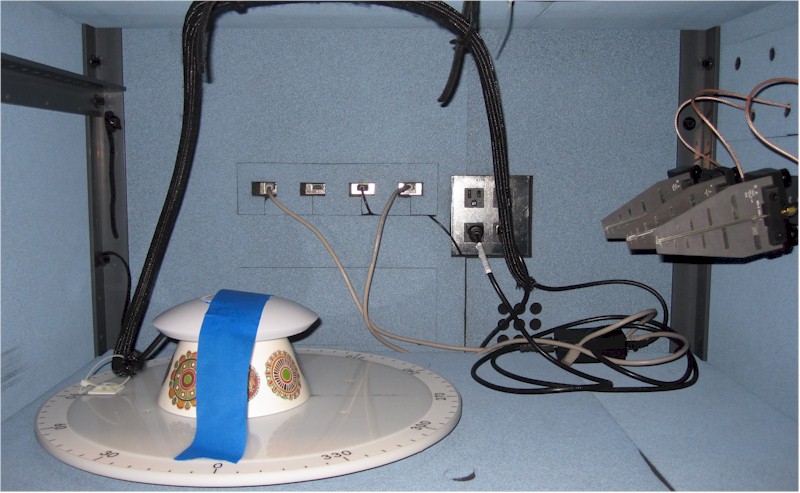 UAP-AC-Lite in test chamber
Since these are the first real access points tested with the Revision 9 process, I've compared them to a few popular distributed Wi-Fi systems (DWS) that also have AC1200 class radios, i.e. Luma, eero and NETGEAR Orbi. Keep in mind our standard test client is a 2×2 Intel Dual-Band Wireless-AC 8260 card. eero's results are from its retest with version 2.0 OS, which was supposed to improve performance.
Updated 3/21/17: Explained Wi-Fi test oddities
Investigation prompted by Ubiquiti found RF leakage between attenuators caused errors in 2.4 GHz plots shown below for Orbi, Linksys Velop and Google Wifi. The leakage affected results above 45 dB of attenuation, making results shown beyond those points invalid. The incorrect data has been removed from the Charts database for all products tested with the Version 9 process and the plots below have been corrected.
The 2.4 GHz downlink plot shows both UAPs with the limited range found with the DWS products, except for Orbi. The AC-Lite and PRO run pretty much neck-and-neck, with no advantage from the PRO's 3×3 radio vs. the Lite's 2×2.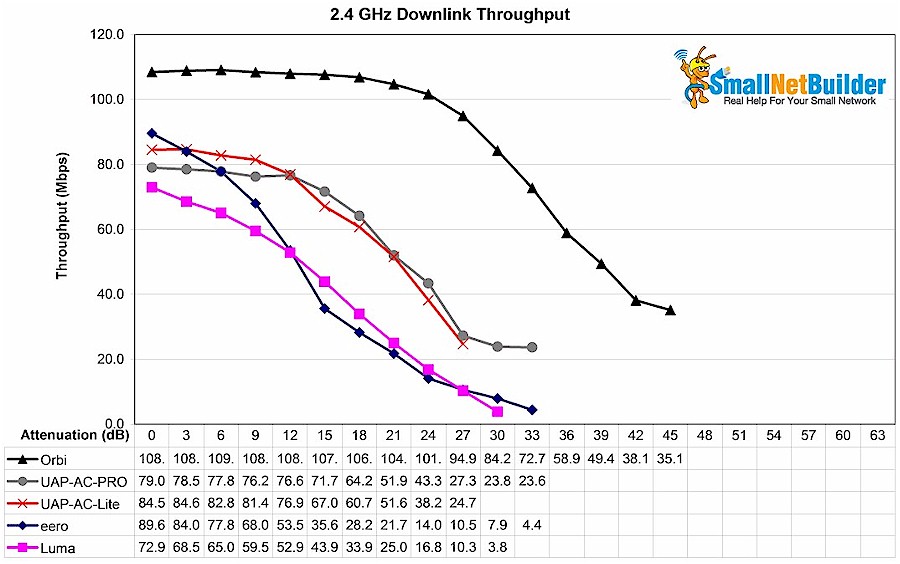 2.4 GHz Downlink Throughput vs. Attenuation
The 2.4 GHz uplink plot shows very clear separation among the five products. Orbi once again comes on top, followed by the AC-PRO, then AC-Lite. The PRO's higher performance could be due to higher receive gain from its extra RF chain. Range, however, is similar to all the DWS products except for Orbi.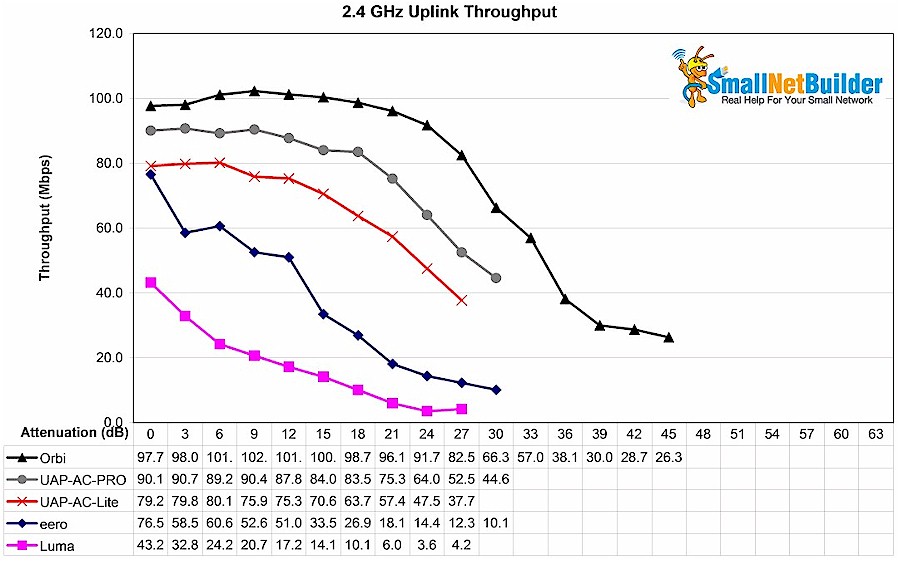 2.4 GHz Uplink Throughput vs. Attenuation
5 GHz downlink once again shows a familiar pattern; Orbi on top, followed by the UAP-ACs, then eero and Luma.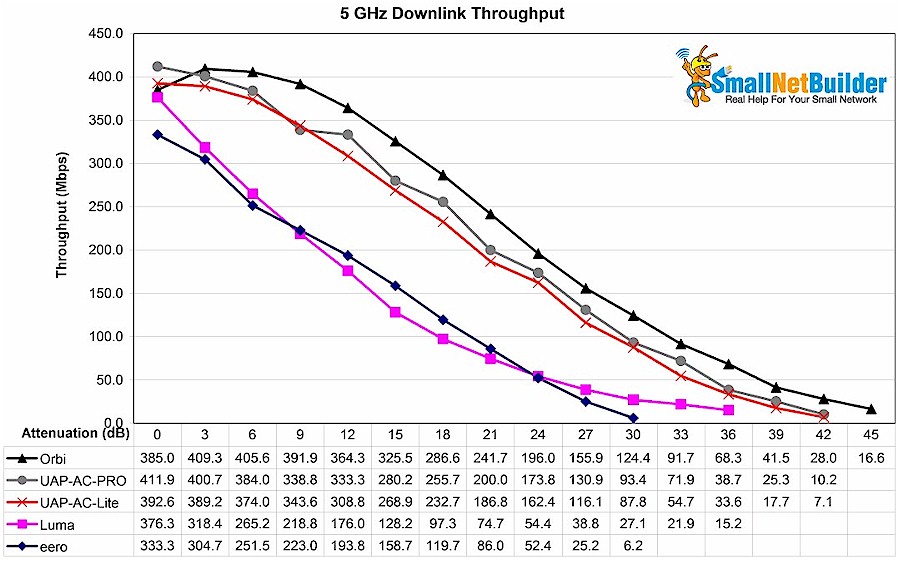 5 GHz Downlink Throughput vs. Attenuation
5 GHz uplink results are perhaps the most surprising. For some as yet unexplained reason, eero significantly bested Orbi in this benchmark. But the AC-PRO had the next best run and held on to its connection for 12 dB more attenuation then eero.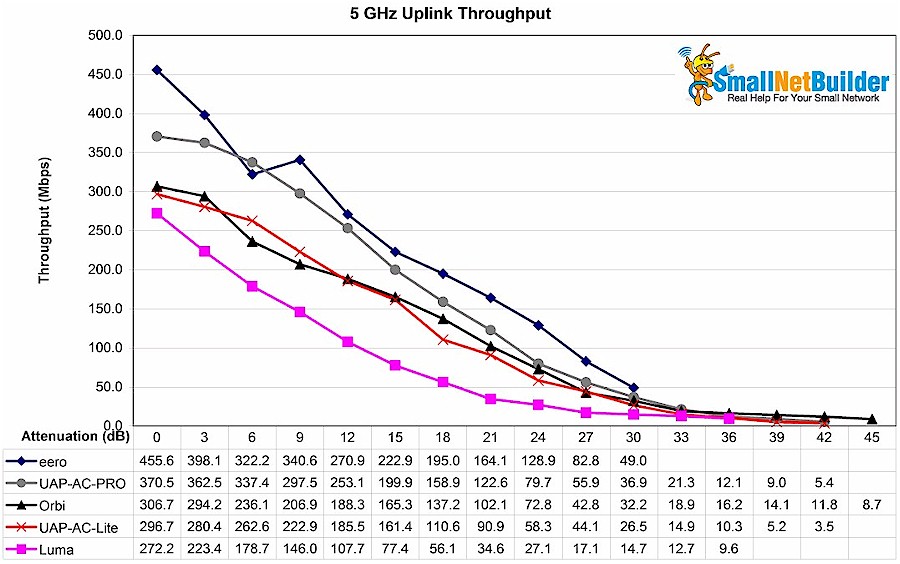 5 GHz Uplink Throughput vs. Attenuation
So how about Linksys Velop and Google WiFi? Generating another set of plots by hand was too painful. So instead, here are plots with Velop and Google WiFi along with Orbi, Luma and eero. 2.4 GHz downlink shows Velop and GWiFi more like Orbi in performance.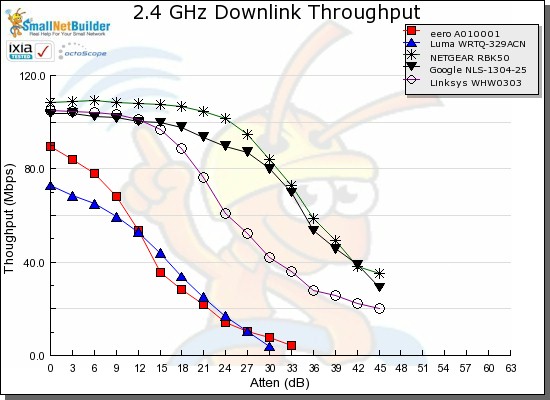 2.4 GHz Downlink Throughput vs. Attenuation
2.4 GHz uplink plot shows Orbi and GWiFi again more alike than different, but Velop falling down to track with eero and Luma.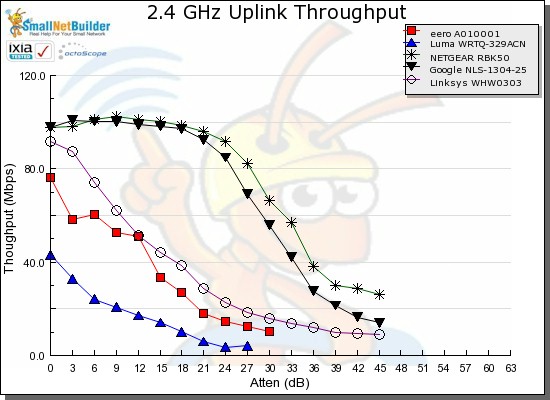 2.4 GHz Uplink Throughput vs. Attenuation
5 GHz downlink shows Orbi, Velop and GWiFi in a higher group, then eero and Luma in a lower.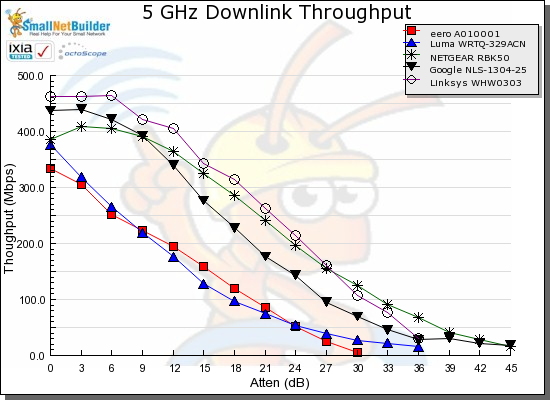 5 GHz Downlink Throughput vs. Attenuation
5 GHz uplink is a real mixed bag. eero has the highest throughput track, but disconnects earliest. GWiFi and Orbi stay connected the longest, but have lower throughput than eero.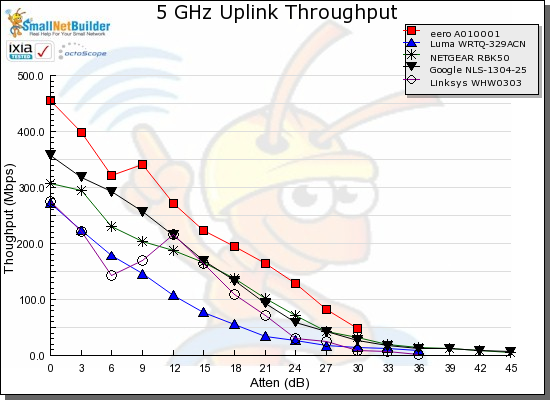 5 GHz Uplink Throughput vs. Attenuation
The point of this last exercise was to show Velop and Google WiFi are more like Orbi, which is generally better than both UAP-ACs.
Closing Thoughts
So, are you better off ditching your distributed Wi-Fi / mesh system and replacing it with a three-pack of Ubiquiti UAP-AC-Lites or PROs? For performance, if you have a NETGEAR Orbi or Google WiFi, keep it. Their client radios clearly have far and away better performance. If you have a differnent DWS, the performance gains are less clear. Generally, you'll take a step back in 2.4 GHz performance unless you have eero or Luma. For 5 GHz, you might get a moderate performance boost…or not.
Feature wise, you are again faced with a choice. If you like to be master of your Wi-Fi Universe and get off tweaking Wi-Fi minutiae, then the UniFi controller is for you. You may have to hunt around for things, but chances are the setting you're looking for will be there.
But if you're looking for UniFi to automatically guide you in placing and wirelessly connecting your second and third APs, you'd best look elsewhere. Although the UniFi controller supports "wireless uplink" to connect APs without Ethernet, the feature doesn't intelligently manage backhaul connections. You have to choose which wired AP to link to and the link is static (unless you enable automatic failover).
So, yes, Ubiquiti's UAP-AC-Lite and PRO are damn cheap AC access points with poor-to-middlin' 2.4 GHz performance and 5 GHz performance that runs with most of the AC DWS pack. Easy-to-setup and use DWS they ain't. But a relatively inexpensive way to get a decently performing multi-AP Wi-Fi network with pro-grade features, they certainly are.
Buy 802.11ac Dual Radio Access Point from Amazon
Buy 802.11ac PRO Access Point from Amazon