At a glance
Product
EnGenius Long-Range Wireless 802.11n 2.4GHz Outdoor Bridge/AP (ENS200) [Website]
Summary
Inexpensive N150 outdoor AP/bridge with internal antenna in IP65 waterproof case
Pros
• Easy to configure
• Supports WPA2/AES encrypted bridge
• Way less than $100
• AP, WDS bridge, client bridge modes
Cons
• Limited low-end operating temp range
• Unhelpful LED location
• No signal strength tools to help WDS link setup
• Slooowww admin web GUI response
• Manual missing some operation modes
Typical Price: $0 Buy From Amazon
Introduction
When the discussion in the SNB Forums turns to alternatives for outdoor wireless links, EnGenius' products usually are mentioned. Whether it's a relatively short hop between a home and detached worshop, or linking multiple buildings farther apart, EnGenius seems to get the nod.
But after many years of pointing to other people's recommendations, we figured it was high time we found out for ourselves whether we really should be recommending EnGenius outdoor bridges.
In this review, I'm going to take a look at EnGenius' relatively-new entry-level 2.4 GHz N150 outdoor bridge, the ENS200. The ENS200 is designed to allow consumers to easily connect building networks without running cables or to connect to a wireless ISP or hotspot over long distances.
The ENS200 is the entry-level model in EnGenius' line of AP/bridge and antenna combos housed in waterproof plastic casings. It is closely related to three other 2.4 GHz N150 bridge products, summarized in Table 1.

ENS200
ENH200
ENH200EXT
ENH202
Radio
Atheros AR9285
2.4 GHz N150
Atheros AR9285
2.4 GHz N150
Atheros AR9285
2.4 GHz N150
Atheros AR9283
2.4 GHz N300
Antenna
Internal 8 dBi
– Horiz beam width: 60°
– Vertical beam width: 60°
Internal 10 dBi
– Horiz beam width: 37°
– Vertical beam width: 73°
None. External via RP-SMA connector
Internal 10 dBi
– Horiz beam width: 70°
– Vertical beam width: 21°
Max. TX Power
400 mW
500 mW
500 mW
800 mW
Table 1: EnGenius 2.4 GHz outdoor bridges
The ENS200 is housed in a gray plastic IP65 waterproof enclosure measuring 3.9"W x 7.3"H x 1.1"D. The case has both screw slots for wall mounting and a curved feature for pole mounting. The figure below shows the ENS200's LEDs and dual 10/100 Ethernet connectors. The LED location is rather odd, since none of them would be visible when the device is mounted. So they would be of little use for setup or diagnostic purposes.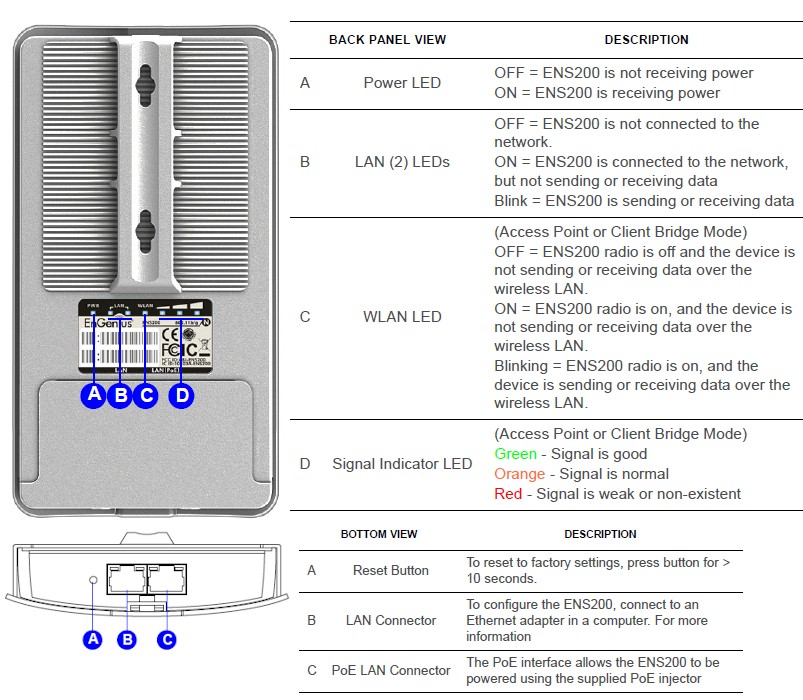 EnGenius ENS200 rear and bottom panel callouts
The ENS200 is powered by a proprietary power-over-Ethernet (PoE) connection, using an included PoE injector and power wall-wart. I wonder why EnGenius opted for a proprietary PoE connection? Although EnGenius gets points for providing the PoE injector, the device would be more flexible if it used standard 802.3af or at. That way, it could be powered with an off-the-shelf PoE injector or standard PoE-enabled switch.
In addition to the PoE injector and power supply, EnGenius includes two tie wraps for mounting the device to a pole, as well as a couple of screws for mounting to a flat surface.
Inside
Inside the case is a single main board. The antenna is the flat metal panel, shown to the left of the main board in the photo below.

ENS200 antenna and board
Located on the main board of the ENS200 is an Atheros AR9285 2.4 GHz N150 single-chip radio, an Atheros AR7240 wireless network processor with a 400 MHz CPU, 32 MB of RAM, and 8 MB of flash.
The ENS200 has two 10/100 Ethernet ports. One of the ports, labeled PoE, must be connected to the Ethernet cable coming from the provided PoE injector to power the device. That same port can be used for the LAN connection, or you can run a separate cable to the other 10/100 port.
I've put a few other pictures of the ENS200's insides in the gallery below.
View of the ENS200 with the cover removed
Close up of the assembly viewed from the antenna side

View of the ENS200 with the board and antenna separated
Top view of the directional antenna
Bottom view of the antenna
Features
I put together this feature summary based on EnGenius' ENS200 specifications.
2.4GHz 802.11b/g/n
Data rate up to 150 Mbps
Built-in directional antenna (60 degree horizontal and vertical), 8dBi gain
Operation Modes = Access Point /Client Bridge / Client Router / WDS Bridge / WDS Station/ WDS Access Point
Wireless WiFi Scheduling
Four SSIDs with VLAN assignment
Signal Strength Display
RSSI Indicator
BSSID/Preferred SSID
Security
WEP Encryption-64/128/152 bit
WPA/WPA2 Personal (WPA-PSK using TKIP or AES) for CR/CB mode only
WPA/WPA2 Enterprise (WPA-EAP using TKIP) for CR/CB mode only
QoS WMM, Traffic Shaping
MIB I, MIB II and Private MIB
SNMP V1 , V2C, V3
IP65 waterproof housing and UV coating for prolonged exposure to sunlight
PoE (Power-over-Ethernet) kit includes PoE injector and power adapter
Operating Temperature Range = -4°F~158°F
Warranty: 1 year
Note the operating temperature range with a low of -4°F. As I write this, the overnight low for Madison, WI is -7°F. I wonder how the ENS200 will perform in the northern climates during periods of cold weather?
Configuration
The ENS200 can be managed via Telnet command line or via a web GUI. SSH is not supported. The command line interface (CLI) accessible via Telnet is relatively easy to navigate. Entering help at the prompt provides a useful list of available commands.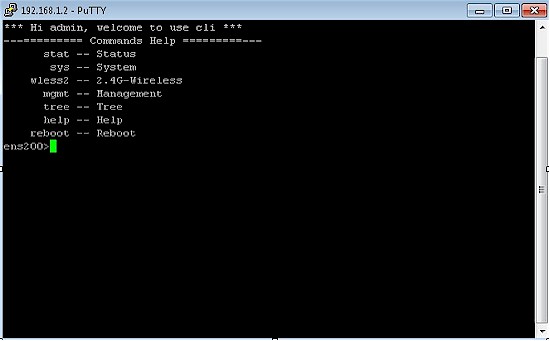 ENS200 command line
Based on the CLI displays, the ENS200 is obviously Linux based. The CLI menus look like Linux directories and the CPU info display on the ENS200 CLI looks very much like the Linux top command.
The web GUI is your point-and-click interface for configuring the ENS200. The menu structure of the ENS200 is simple, with configuration options available vertically along the left side of the GUI as shown in the screenshot below. (Note that I have cut-and-pasted the menus into a more compact two-column form. The actual menus themselves are single column.)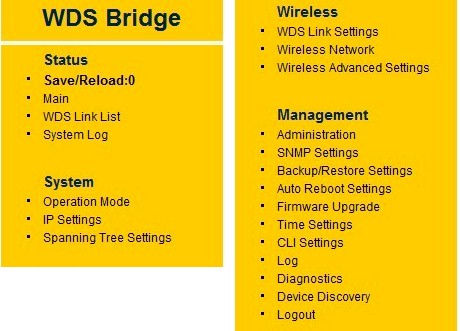 ENS200 web GUI menu
I've also listed the menu options in the table below.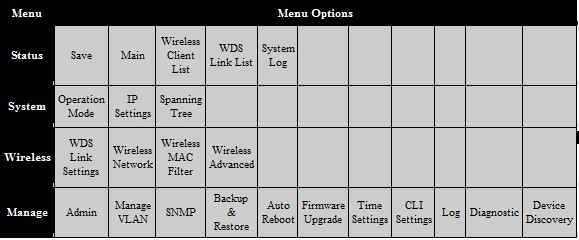 ENS200 menu tree
The menus are relatively intuitive to navigate, but configuration changes can be slow. Changing operation modes takes about 60-90 seconds for the new mode to be applied. All other changes require clicking save/reload, which also takes about 60-90 seconds. A progress bar, shown below, is displayed while the device is applying changes.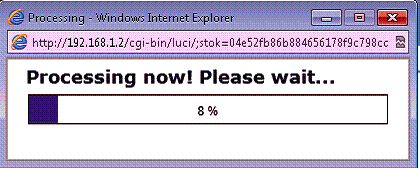 Waiting for saves
There is an 82 page manual for the ENS200. It provides a few sentences about each configuration option, but little else. There are also six operation modes (discussed next) in the ENS200, but only four modes are covered in the manual. Since the operation modes are key to the operation of the device, it would be useful to provide more detail on the intended application for all six modes. Configuration examples would be very helpful, too.
Operation Modes
To understand the EnGenius ENS200, it is helpful to review its multiple operation modes and their intended uses. The ENS200 operation modes include three WDS (Wireless Distribution System) modes plus three non-WDS modes, shown below.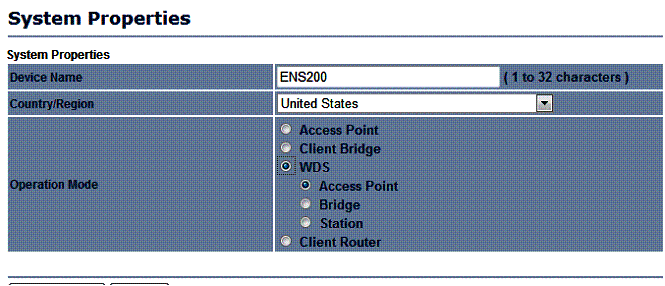 ENS200 Operation Modes
The three WDS modes are WDS Access Point, WDS Bridge and WDS Station modes. The three non-WDS modes are Access Point, Client Bridge and Client Router modes. According to the engineers at EnGenius, the ENS200 is designed for optimal functionality with the WDS modes or Client Bridge mode.
WDS Access Point mode is unique as it can be used to set up both WDS links to ENS200s in WDS Bridge or Station mode, as well as connect to client devices such as PCs. As you can see in the menu below, WDS Access mode provides all available configuration options for both WDS Link Settings as well as standard Wireless Network settings.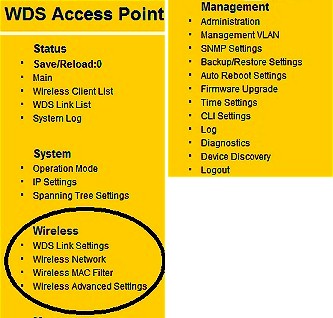 ENS200 WDS Access Point mode menu
WDS Bridge mode is proprietary to the Atheros chipset, meaning that the ENS200 will only connect to other devices utilizing Atheros chipsets that support this mode. The reason this is "proprietary" is that the WDS specification doesn't include encryption support. So manufacturers have had to implement their own approaches.
EnGenius' WDS Bridge mode connection is secured via MAC address and optional WEP or WPA2-AES encryption. This mode is useful for setting up secure point-to-point wireless connections between ENS200s.
In WDS Station mode, the ENS200 can connect to another ENS200 in WDS Access Point mode using standard wireless security options including WEP, WPA, and WPA-2. EnGenius recommends using WDS Access Point to WDS Station mode for optimal point-to-point throughput, which I'll cover later.
In standard Access Point mode, the ENS200 functions as a traditional wireless Access Point. However, it is important to remember the ENS200 has a directional antenna. Thus, the ENS200 doesn't create a 360 degree wireless coverage area. Rather, it creates a horizontal and vertical 60 degree coverage area.
Client Bridge mode is one of the key target uses for the ENS200. In this mode, the ENS200 can be used as CPE (Customer Premise Equipment) to connect to an 802.11 wireless signal, such as one provided by an ISP (Internet Service Provider) or a WiFi hotspot. In Client Bridge mode, the ENS200 can pick up a wireless signal from a long distance and deliver a wired Ethernet connection to a home or business network. No WDS is involved.
Finally, Client Router mode is very similar to Client Bridge mode with one difference. In Client Router mode, the ENS200 will connect to a wireless signal, perform network address translation (NAT) and act as a gateway router for devices connected to its wired LAN interface. However, EnGenius notes that the ENS200's router features are limited. Router options are available to configure only while in Client Router mode. I circled the available router configuration options in the screenshot below.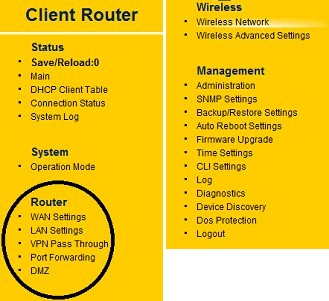 ENS200 Client Router settings
In Use
Basic wireless options on the ENS200's 802.11b/g/n radio are b only, g only, n only, b/g mixed, or b/g/n mixed. Channel mode options include 20, 20/40, and 40 MHz. Note that the 40 MHz only mode does not conform to 802.11n specs. All 802.11n products are supposed to fall back to or stay in 20 MHz mode when an interfering network is detected.
Wireless channel selection can be set to auto or any one of channels 1-11. A screenshot of the basic wireless option configuration page is below.

ENS200 Basic Wireless settings
Advanced wireless options include settings for data rate, transmit power, RTS/CTS thresholds, distance, and frame aggregation. Finally, wireless traffic controls exist for traffic shaping and setting incoming/outgoing traffic limits.

ENS200 Advanced Wireless settings
From the LAN side, the ENS200 can be configured with a static IP address or to get an IP via DHCP. It also supports Spanning Tree Protocol, a technology that prevents network loops. When in traditional Access Point mode or WDS Access Point mode, the ENS200 can broadcast up to four SSIDs associated with VLANs 1-4.
Wireless security options include WEP, WPA, WPA2, and WPA-mixed. WPA and WPA2 authentication can be configured with a PSK (pre-shared key) or to connect to a RADIUS server. MAC-based security can also be configured to allow or deny a list of manually configured MAC addresses.
The ENS200 has a nice status screen presenting information about the device, its network settings, and current wireless settings. Below is a screen shot of the status screen from an ENS200 configured in Access Point mode.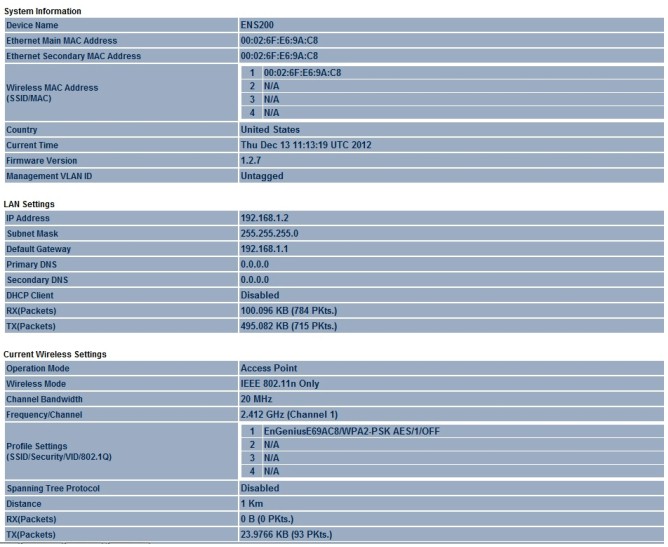 ENS200 Status screen
Test Setup
EnGenius sent us two ENS200s to test. I started by playing with point-to-point connections using WDS Bridge mode. To get the connection working, which EnGenius calls a WDS Link, I put both devices in WDS Bridge mode and entered the MAC address of the other device in each. Note that SSID is not specified when creating a WDS link because WDS is MAC address based. Once I applied my configuration, the link came right up.
The shot below shows WPA2/AES security selected and the MAC address of the far-end device.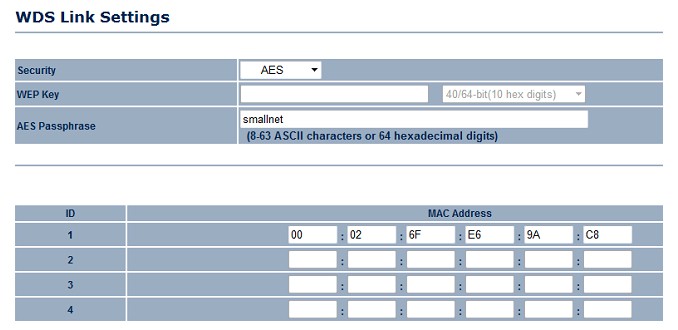 WDS Link settings
The screenshot below shows my active point-to-point connection (WDS link).

WDS Link status
A challenge in setting up a WDS Link is it doesn't have a tool to help you align the link and optimize signal strength. An option is to temporarily put a device into WDS Station mode and use the Site Survey tool, discussed below, to detect available wireless networks and their signal strength.
I also tested Client Bridge mode. This mode is useful to pick up a wireless signal, perhaps from a longer distance away and connect the ENS200 to a router to share that Internet connection in a local network. EnGenius gives the example of using this mode in RV parks, campgrounds and marinas to access an available public Wi-Fi hotspot.
I set my ENS200 to Client Bridge and then configured it with a WPA2/AES key to access a wireless network broadcast by a Cisco WAP321 Access Point. After clicking save to change modes and to set the WPA2 key, the ENS200 connected to the WAP321. In the screenshot below, you can see the ENS200 is connected to a wireless network with SSID "MDC9."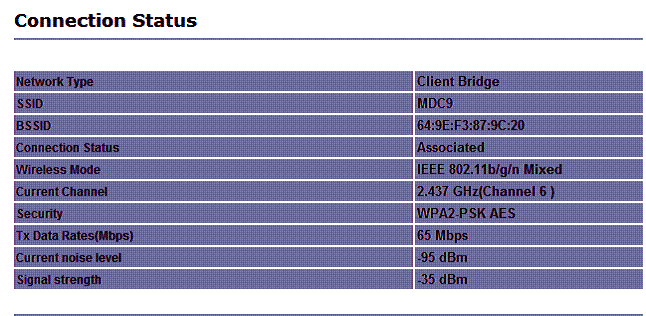 Client bridge link status
The Connection Status screen above is a useful tool for displaying the current status of the wireless network. This screen automatically refreshes on 5-15 second intervals and displays important information such as Tx Data Rate, Noise Level, and Signal strength. As you can see in the above display, the above connection is solid with a 65 Mbps data rate, -95dBm noise level, and a -35dBm signal strength. This screen is available only in Client Bridge, Client Router and WDS Station mode. It would be nice if there were an equivalent tool for WDS Bridge mode for tuning a WDS link.
Another tool for creating a clear connection is the Site Survey/Scan tool, which is available in all modes but WDS Bridge mode. The Site Survey tool in the Wireless Network menu, shown below, displays all detectable SSIDs, their associated channel and signal level, 802.11 type, and security setting. This tool has to be manually refreshed, but is useful for determining which channel has the fewest SSIDs and least interference.

Site survey tool
I also tested a point-to-point connection with WDS Access Point and WDS Station modes based on EnGenius' recommendation that this is the optimal configuration for maximum point-to-point throughput.
WDS Access Point mode allows you to broadcast an SSID using common wireless security options including WEP, WPA, and WPA2. Simultaneously, a WDS link can be set up using the same options available in WDS Bridge mode.
I'll discuss my performance measurements of this configuration next, but one thing to mention first. While measuring throughput over a point-to-point connection between WDS Access Point and WDS Station modes at various distances, I also checked to see if my laptop could connect to the ENS200 in WDS Access Point mode. I was impressed my laptop picked up the wireless signal coming from the ENS200 in WDS Access Point mode 100 meters away!
Performance
I focused on measuring throughput between two ENS200s over varying distances on a clear day. To ensure clear line of sight, I constructed a pair of 8′ high free-standing posts and mounted the ENS200s at the top of each post as shown below.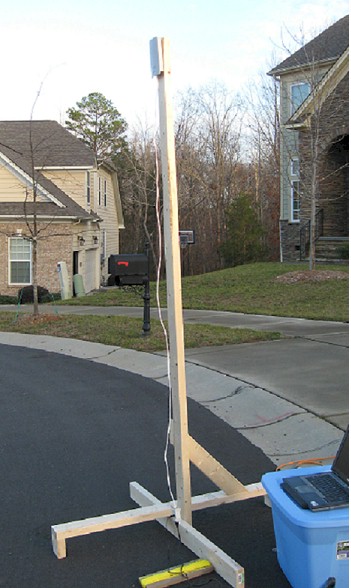 Test stand
I configured the two ENS200s per EnGenius' recommendations, with one in WDS Access Point mode and the other in WDS Station mode. I gave both devices a static IP address, set the Access Point to 802.11n only and set up WPA2 security with AES encryption.
I used the Site Survey tool to scan for surrounding SSIDs, channels in use and signal level of each detected wireless network in my test area. The ENS200 detected quite a few different networks, but they were far enough away to safely use the 40 MHz channel mode. Further, the detected SSIDs on channel 6 had the weakest signal strength, so I used channel 6 even though it is a commonly-used channel.
Transmit power can also be tweaked in the Wireless Advanced Settings menu shown below. For my outdoor tests, I left it at the default setting of 20 dBm. (The maximum transmit power on the ENS200 is 26 dBm. Each 3 dB increment doubles or halves power.) At the maximum transmit power setting, EnGenius reports that two ENS200s can establish a point-to-point connection up to 1 kilometer apart.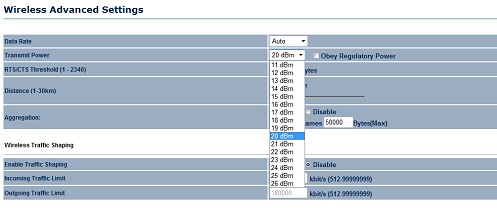 Transmit power setting
To test throughput, I used iperf with default TCP settings and a TCP window size of 8 KB. I ran iperf on two PCs running 64-bit Windows 7 with their software firewall disabled. I repeated each of my tests three times in each direction and averaged the results.
Jperf is Java based software that provides a graphical output of iperf throughput measurements. Below is a jperf display of throughput between ENS200s 50 meters apart. The drop in throughput between 45 and 50 seconds is possibly due to a temporary interference in wireless signal, something hard to avoid in a residential area.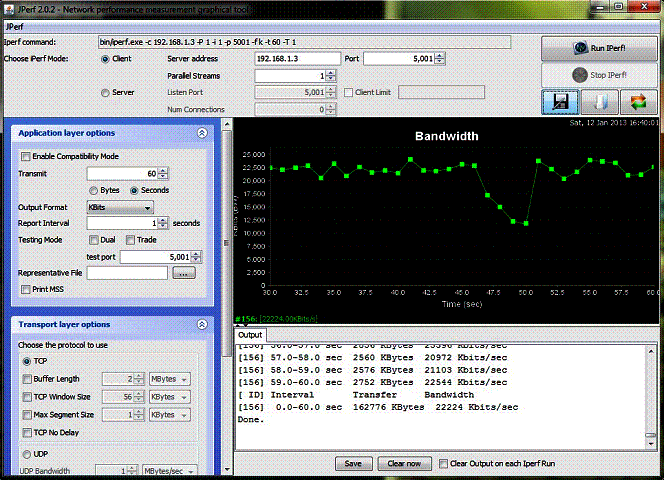 50m test results
Below is a jperf display of throughput between ENS200s 100 meters apart. Notice the consistent throughput at each interval.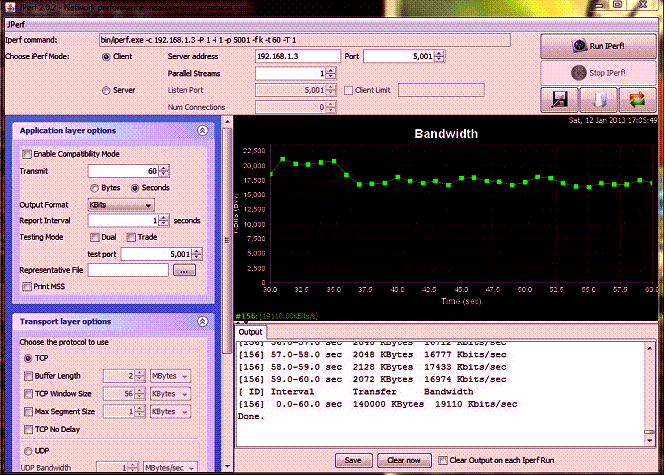 100m test results
Below is a jperf display of throughput between ENS200s 150 meters apart, again showing very consistent throughput.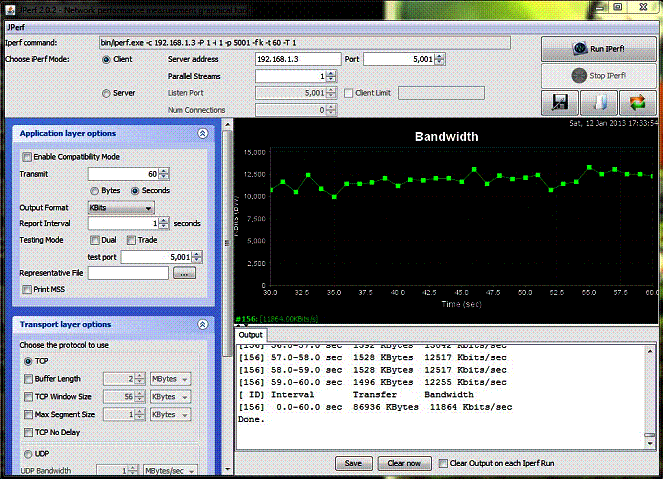 150m test results
Before completing this review, I shared my findings with EnGenius, and they were surprised my readings were not as high as theirs. As summarized in the table below, my measured throughput using iperf was between 11.5 Mbps and 26.9 Mbps, while EnGenius said they measured the ENS200's throughput up to 60 Mbps!
You'll notice in the far right column I also added measurements for file copies that I performed at the 20m and 100m distances. For these measurements, I copied a 783 MB file across the ENS200 wireless network and calculated throughput based on file size and time to complete the copy.
| Distance (m) | Uplink (Mbps) | Downlink (Mbps) | File Copy (Mbps) |
| --- | --- | --- | --- |
| 20 | 24.1 | 26.9 | 78.3 |
| 50 | 21.7 | 24.1 | |
| 100 | 18.9 | 19.4 | 62.0 |
| 150 | 13.2 | 11.5 | |
Throughput test summary
There are a few take-aways from these measurements and discrepancies. One, the jperf graphs show pretty stable and consistent throughput at each distance from 50 meters up to 150 meters. Two, my file copy results of 78.3 Mbps and 62.0 Mpbs, and EnGenius' report of 60 Mbps, indicates that iperf likely understates the ENS200's real-world application throughput. In fact, I was able to copy a file at approximately 62 Mbps over a 100 meter wireless connection. That is impressive real-world wireless performance!
To further quantify how much iperf might be understating the ENS200's actual throughput, I ran another check in my lab. I set the two ENS200's about three feet apart and configured them in WDS Bridge mode with WPA2-AES encryption. I turned the power down to the lowest setting of 11 dBm to avoid receiver overload, set the radio to 802.11n and used a channel mode of 20 MHz, which resulted in a 65 Mbps link rate.
I repeated my jperf tests with its default values that include a TCP window size of 8KB and measured throughput of 14.4 Mbps for both upload and download. I ran a few more tests at different TCP window sizes and maxed my indoor throughput at 30.3 Mbps with a TCP window size of 200KB. So next time, I'll be using the larger iperf TCP window size for testing.
As a last performance note, I also tested the ENS200s at 50 meters apart with a few trees (no leaves, though) between them. Performance was essentially the same as measured in my 50 meter clear line-of-sight tests above.
Closing Thoughts
Current street price for the ENS200 runs $60 – $65. So a pair of these devices for a point-to-point solution will run you $120 – $130.
In my experience with enterprise networks, it typically costs anywhere from $100-$200 per wired Ethernet connection from the data closet to a workspace inside a building. Running cable outside a building is significantly more expensive, since it involves more expensive weather resistant cable, plus labor and equipment to bury or suspend that cable between two endpoints. If the distance exceeds 100 meters, fiber optic cable will usually have to be used, which adds even greater expense.
There is an expense to installing a pair of ENS200's outside, too, since you still have to run a cable from the ENS200 back to the LAN on each end. In many cases, though, installing the ENS200 could be a DIY project or relatively inexpensive task for a cabling contractor. The bottom line is a pair of ENS200s will likely be a significantly less expensive solution to connect two buildings than running cable between them.
EnGenius states the ENS200 is targeted at businesses for the point-to-point application, but I can see residential applications as well. At $120 per point-to-point network, two or more adjacent houses in a neighborhood might connect their networks and share an Internet connection. If two neighbors were to connect their networks with a pair of ENS200s and share a single $50 Internet connection, they could be saving money in less than three months! (Ed. note: They also would likely be violating their ISP's Terms of Service and, if caught, both end up with no service.)
EnGenius' ENS200 provides a simple inexpensive, easy to set up solution to wirelessly and securely connect two points up to 1 kilometer apart or enable long range connections to an 802.11 wireless ISP or hot spot. So after years of indirectly recommending EnGenius wireless bridges, we can finally provide a personally-verified thumbs-up!
Buy Long-Range Wireless 802.11n 2.4GHz Outdoor Bridge/AP from Amazon