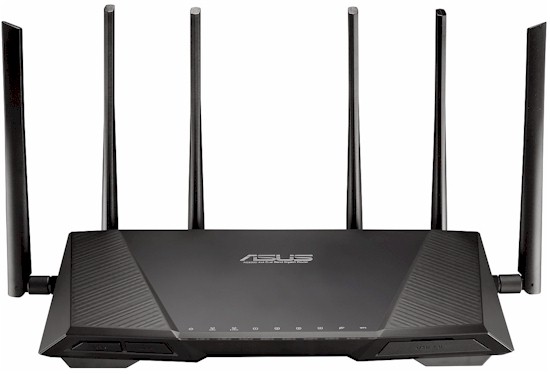 At a glance
Product
ASUS Tri-Band Wireless Gigabit Router (RT-AC3200) [Website]
Summary
AC3200 class router based on Broadcom Xtreme with Gigabit Ethernet ports and USB 2.0 / 3.0 storage and printer sharing
Pros
• High storage throughput
• New bandwidth monitoring features
• OpenVPN and PPTP servers
Cons
• Smart Connect changes connections too often, causing disconnects
• Very poor documentation
Typical Price: $125 Buy From Amazon
Introduction
Updated: 2/15/15: Added internal pictures and component info
It has taken ASUS quite awhile to bring its answer to NETGEAR's R8000 X6 Nighthawk and Linksys' EA9200 Tri-Band Smart Wi-Fi Router AC3200 class routers to market. But it's finally here, so let's see if the wait for ASUS fans has been worth it.
Like other AC3200 routers, the RT-AC3200 uses Broadcom's XStream "tri-band" architecture. Deep-dive AC3200 technical details are in MU-MIMO vs. XStream: The Coming Battle For Wi-Fi Airtime. But the short story is AC3200's key feature is its potential to squeeze higher total throughput out of multiple 5 GHz devices. XStream doesn't bring range improvement to the party and maximum link rates are the same as AC1900 class, i.e. 600 Mbps in 2.4 GHz and 1300 Mbps in 5 GHz (with devices that support those rates, of course).
You might mistake the AC3200 for ASUS' RT-AC87U 4×4 router. In fact, the AC3200 looks virtually identical to the AC87U with two extra antennas tacked onto the left and right back corners. The photo below shows the AC87 has significantly fewer cooling vents than the AC3200. There are no vents on the router top cover, only on the bottom and sides.
Note the two mounting screw slots at the bottom of the photo. This puts the back panel connectors toward the ceiling if you choose to wall-mount it. Note also that the AC3200's back ridge and front feet are taller than the AC87's —about a quarter inch by my measure —raising the router's bottom higher for better air intake.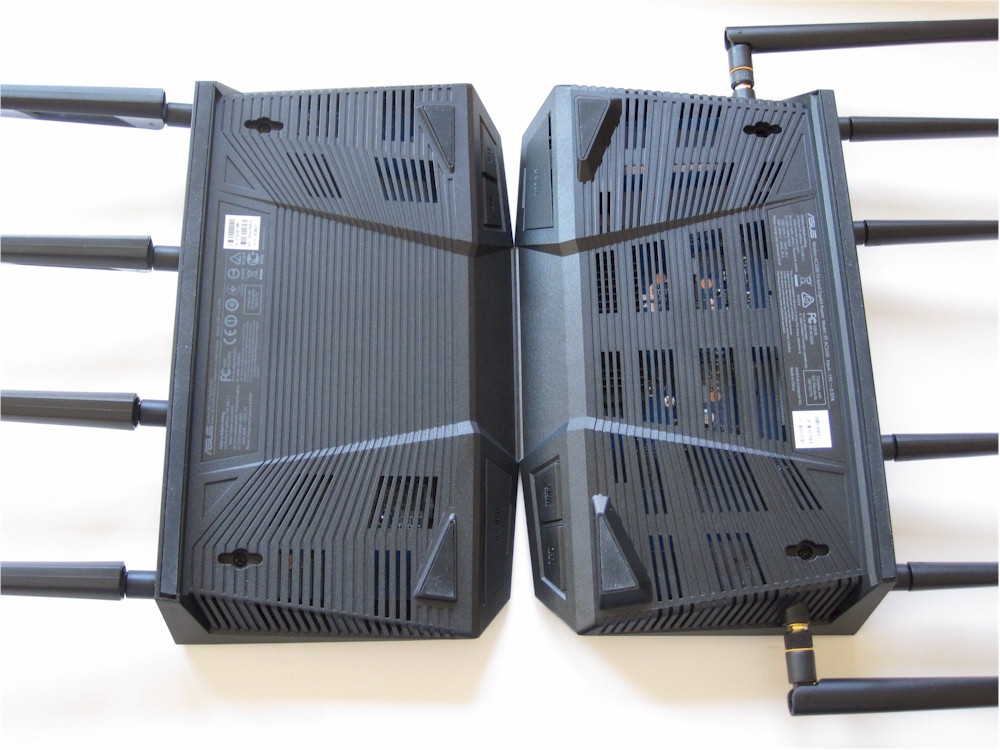 RT-AC87U (left) and RT-AC3200 (right) bottoms
ASUS kept the soft blue LED placement and the front panel's undercut styling from the AC87. Unless the router is sitting above you, you'll find yourself picking it up to clearly see the lights or operate the LED and Wi-Fi on/off switches. The tiny Wi-Fi Protected Setup (WPS) switch is again on the back panel.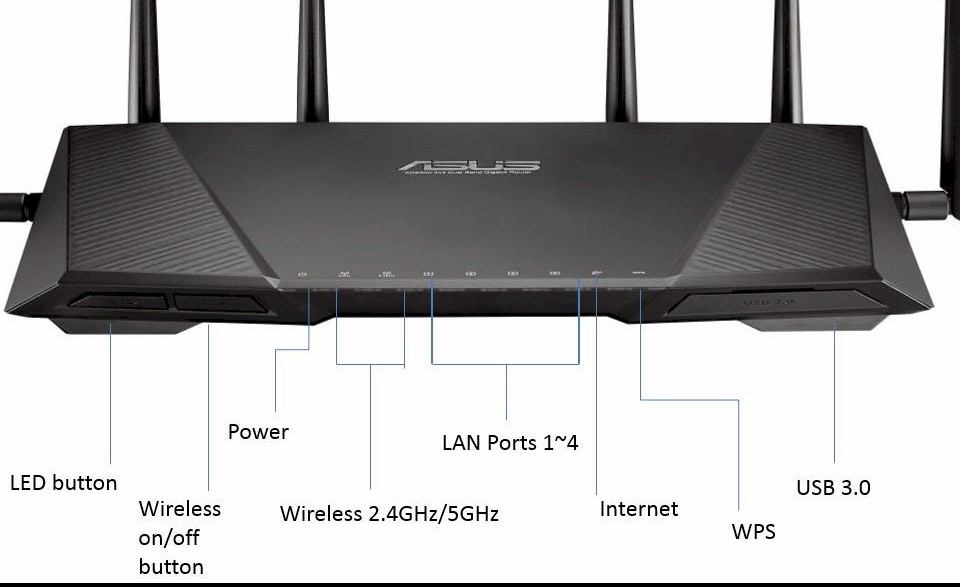 RT-AC3200 front panel callouts
All Ethernet ports are Gigabit and there's a USB 2.0 port on the back and awkwardly placed and easy-to-miss USB 3.0 port on the front under a tethered-rubber flap.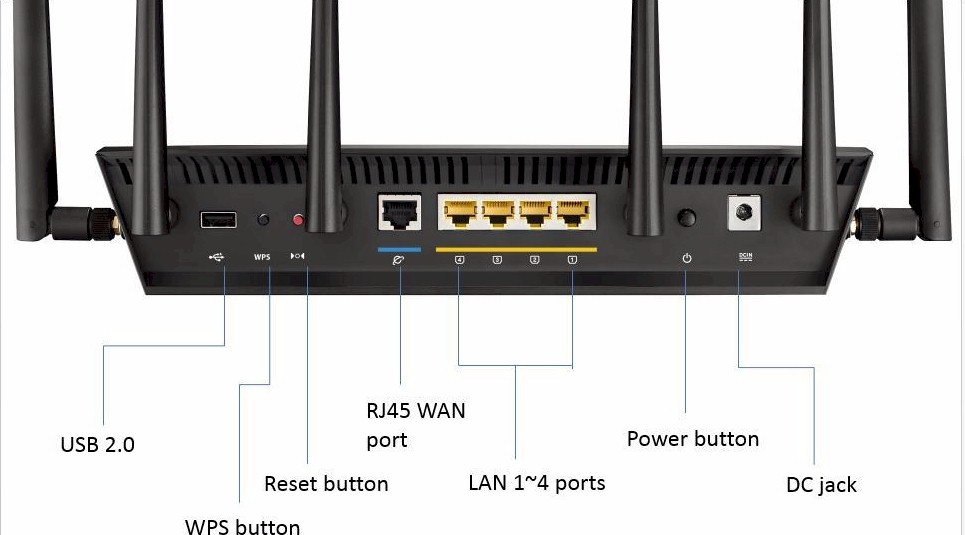 RT-AC3200 rear panel callouts
Inside
Updated: 2/15/15
ASUS' FCC confidentiality request doesn't expire until late May and no one else has posted internal pictures yet, so I'll have to open it up for a look at some point. Not that there is much mystery about what I'll find inside, since all AC3200 class products use the same basic Broadcom Xstream architecture. The expected key component list is in Table 1.
Popping open the AC3200 reveals two bi-level heatsinks perched atop the 2.4 GHz / 5 GHz-1 radio on the left and CPU and 5 GHz-2 radio on the right. Note the antenna connections if you like to play with antennas to try to optimize performance.
RT-AC3200 inside view
Removing the heatsinks and prying off the RF can tops reveals the view below. The key components are the same as in all other AC3200 routers to date and summarized in Table 1.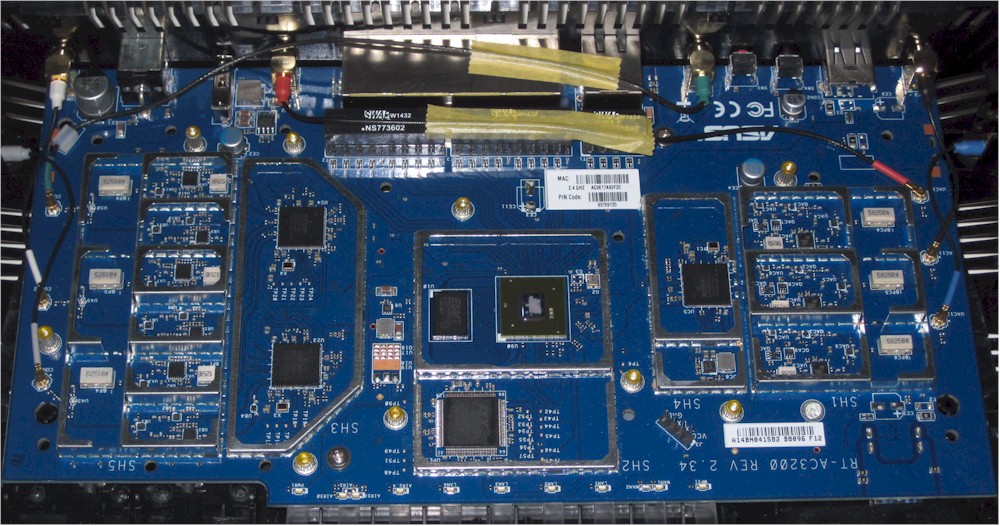 RT-AC3200 board
I was finally able to eyeball the exact 2.4 and 5 GHz power amplifiers used in the RT-AC3200 and I think it's a safe bet they're the same in the Linksys EA9200 and NETGEAR R8000. The flash device must be on the bottom of the board, so the 128 MB is a guess, based on the AC3200 designs. The PLX PEX8603 PCIe switch must get fairly toasty; it had a heatsink below it on the other side of the board that can be seen through the case slots.
ASUS RT-AC3200
CPU
Broadcom BCM4709A
Switch
in BCM4709A
RAM
256 MB ESMT M15F2G16128A
Flash
128 MB ?
2.4 GHz Radio
– Broadcom BCM43602
– Richwave RTC6649E 2.4 GHz power amp (x3)
5 GHz radio
– Broadcom BCM43602
– Skyworks 5003L1 5 GHz Power Amps (x3)
NOTE: There are two 5 GHz radios.
PCIe
PLX Technology PEX8603 3-lane, 3-port PCIe switch
Table 1: Component summary
Features
The last big change to the ASUSwrt router OS was the addition of the AiProtect and Adaptive QoS features with the release of the RT-AC87U. That review has screenshots and summaries of the features if you aren't familiar with them. Documentation of both features and features in general remains woefully inadequate in the AC3200 User Guide.
The Reviewer's Guide ASUS sent for the AC3200 doesn't shed much additional light on these features, either. But I'll pass along this write-up from that guide:
AiProtection with Trend Micro puts you in full control of internet access for each device, based on its MAC address. You can block or allow internet access based on a schedule, and assign a security level and parental controls for each device. The Trend Micro software uses a robust three-pronged approach to security -Prevention, Protection and Mitigation – that gives you state-of-the-art protections from cyber threats, hackers and malware at all times. The software safeguards security parameters like password strength; and ensures that the gateway and internal devices are not threatened by system and application vulnerabilities. It will even raise an alert when an infected device is detected.

Router security scan: scans your router for any security vulnerabilities and recommends options for improving protection.

Malicious site blocking: restricts access to known malicious websites in the Trend Micro database for always-up-to-date protection.

Infected device detection and blocking: prevents infected devices from communicating personal information and/or infected status to external parties.

Vulnerability protection: protects the router against common internet-based attacks and exploits.

Web and app filters: Keyword and URL filters to block access to unwanted websites and apps.

Time scheduling: schedule time limits for specific guest accounts and devices.
A quick scan through the AiProtection screens showed most remain the same. The only obvious difference I found was the renaming of Router Weakness Scan to Router Security Assessment on the AiProtection Network Protection tab. For testing AiProtection, ASUS provided links to websites for testing Malicious site, Vulnerability and infected device protection features. I didn't test any of these because I didn't have a machine (real or virtual) that I was prepared to sacrifice. I asked ASUS for details on what each of these features actually protects against and will include it here if I receive it,.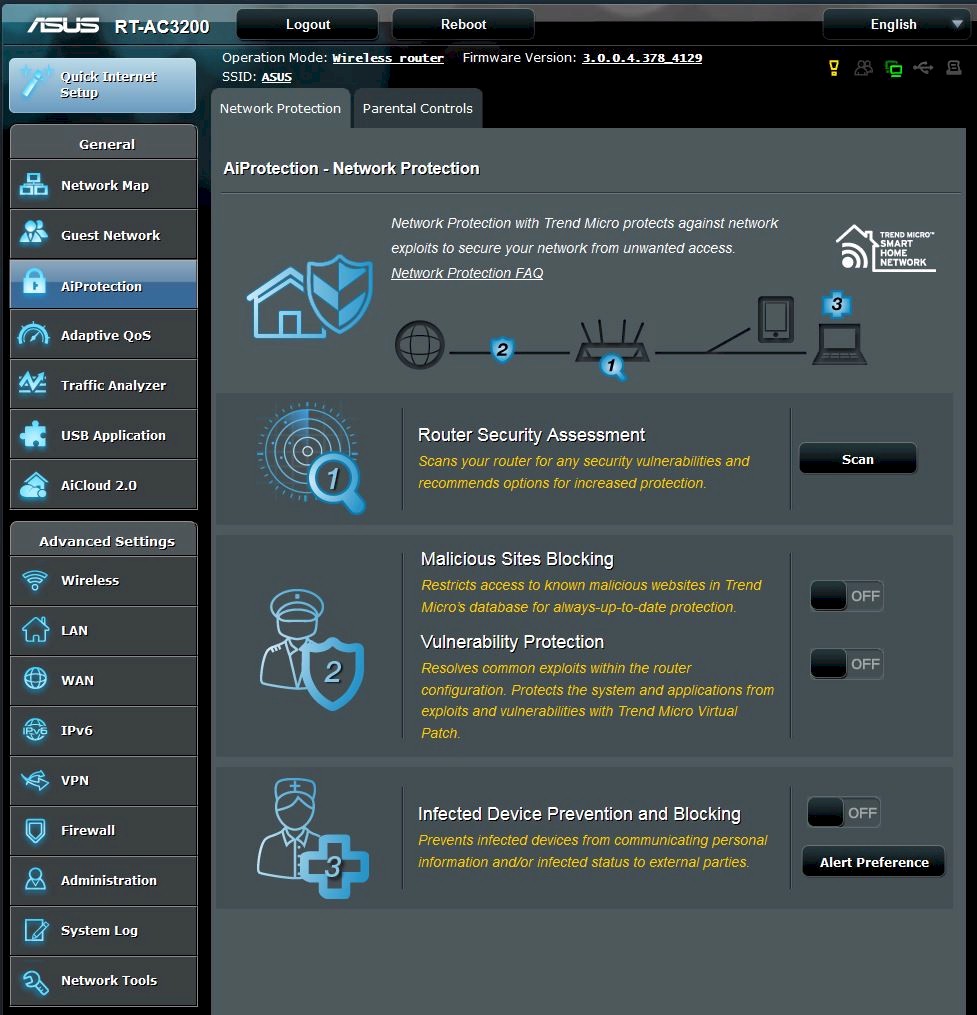 AiProtection Network Protection screen
The bigger difference is the promotion of the Traffic Monitor from the Adaptive QoS screen to its own Traffic Analyzer screen. This new feature comes disabled by default, but with the sample data shown below so that the screen isn't "boring" according to ASUS. So, no, you aren't being hacked by someone named Jieming.
The feature is pretty spiffy, letting you dig into bandwidth use by client and application. The Statistic screen shown below can show total bandwidth or just up or downlink, with daily, weekly and monthly time scales. However, the only way to clear data is by resetting the router to factory defaults. And you can't change sample interval because it's "related to database design", again according to ASUS.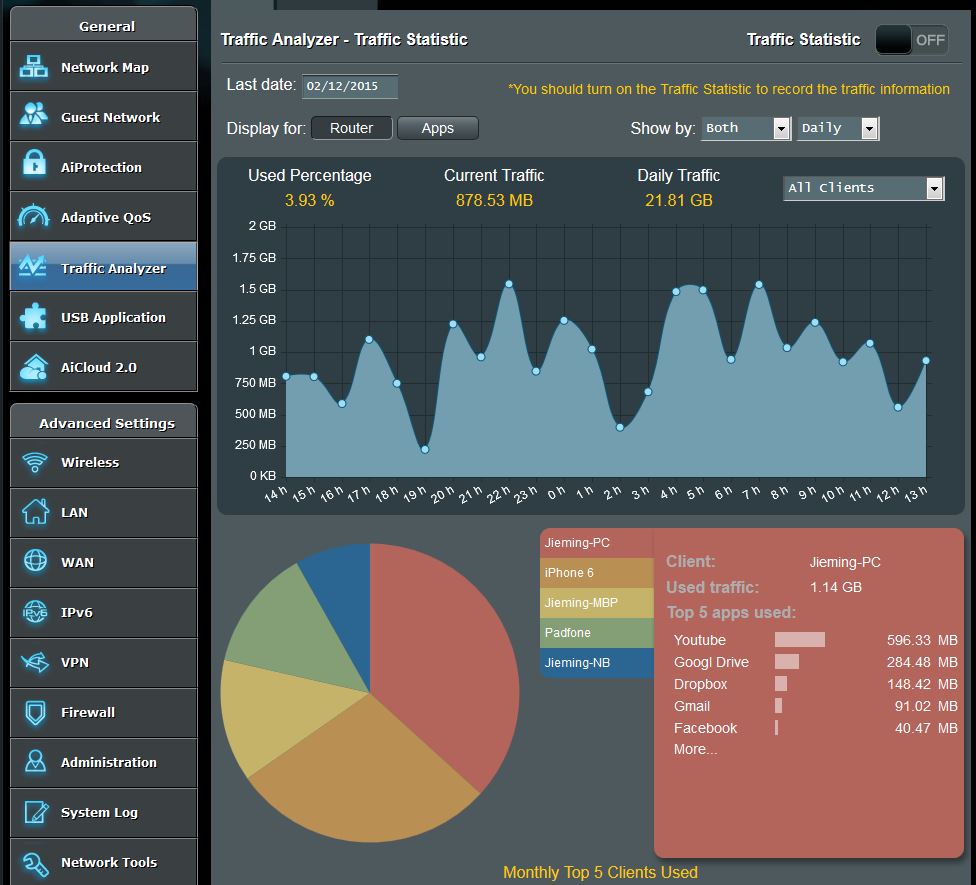 Traffic Analyzer Statistics screen
The Traffic Monitor tab provides a picture of real-time bandwidth use or can be switched to look at daily or Last 24 hour stored data views. Again, you can't change anything here, not even disable it.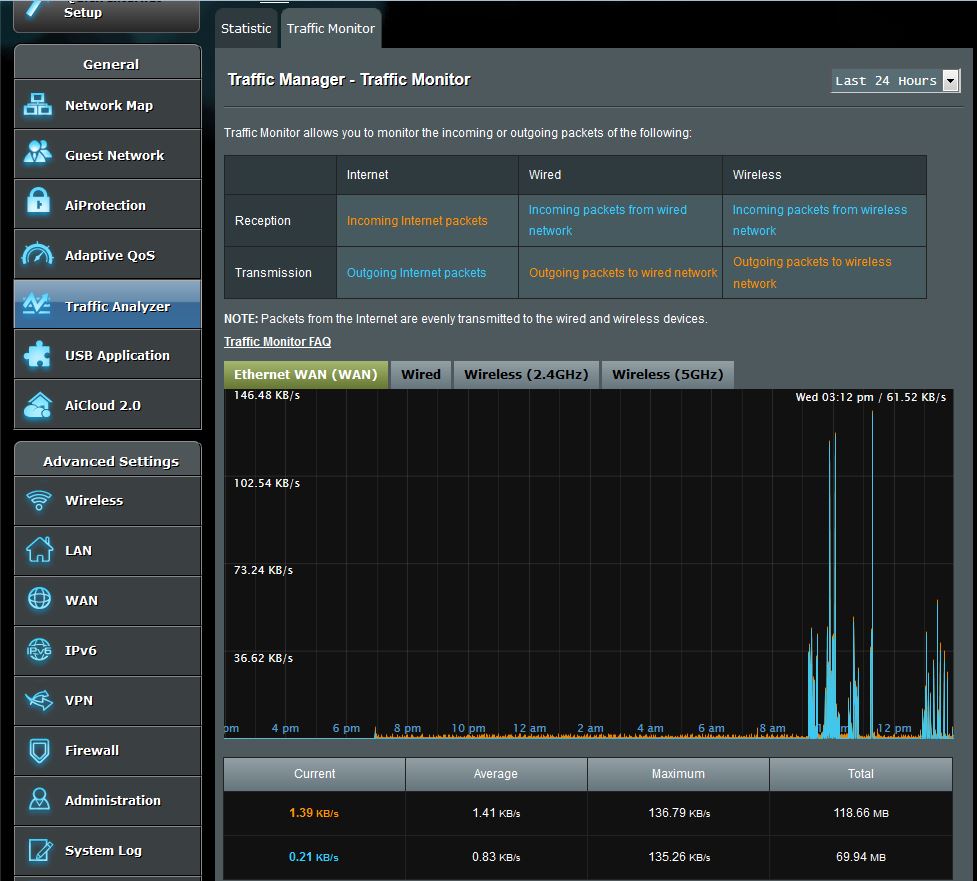 Traffic Analyzer Monitor screen
Other than these changes, ASUSwrt appears to be the same as found on the RT-AC87. So go check that review for more feature information.

Wireless Features
For wireless features, the biggest change comes from having to handle two 5 GHz radios. The setup wizard lets you keep the default Tri-band Smart Connect mode, or switch to Standard setup to manage the three radios separately.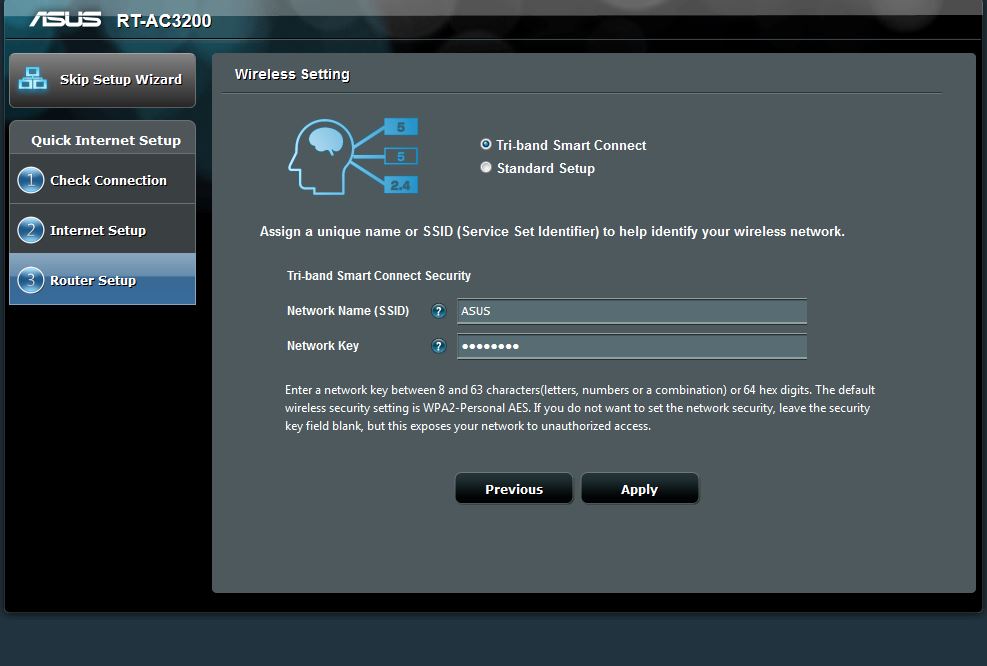 Setup Wizard wireless choice
The Wireless > General screen looks like this with Smart Connect enabled. The only things you can change are SSID, Hide SSID and security related settings (from Authentication Method on down). You probably want to change the single SSID from its default if you didn't already do it during the Setup Wizard.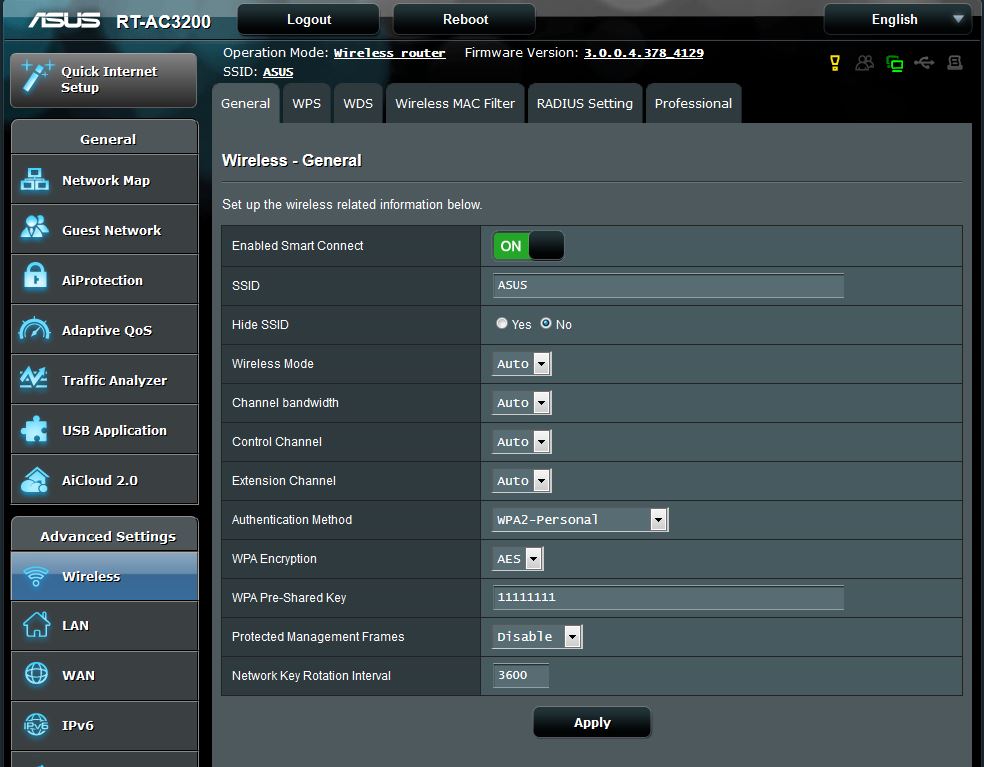 Wireless Settings – Smart Connect enabled
I was surprised to find WDS bridging enabled, even with Smart Connect enabled. The RT-AC3200 is the only of the three AC3200 routers to support WDS.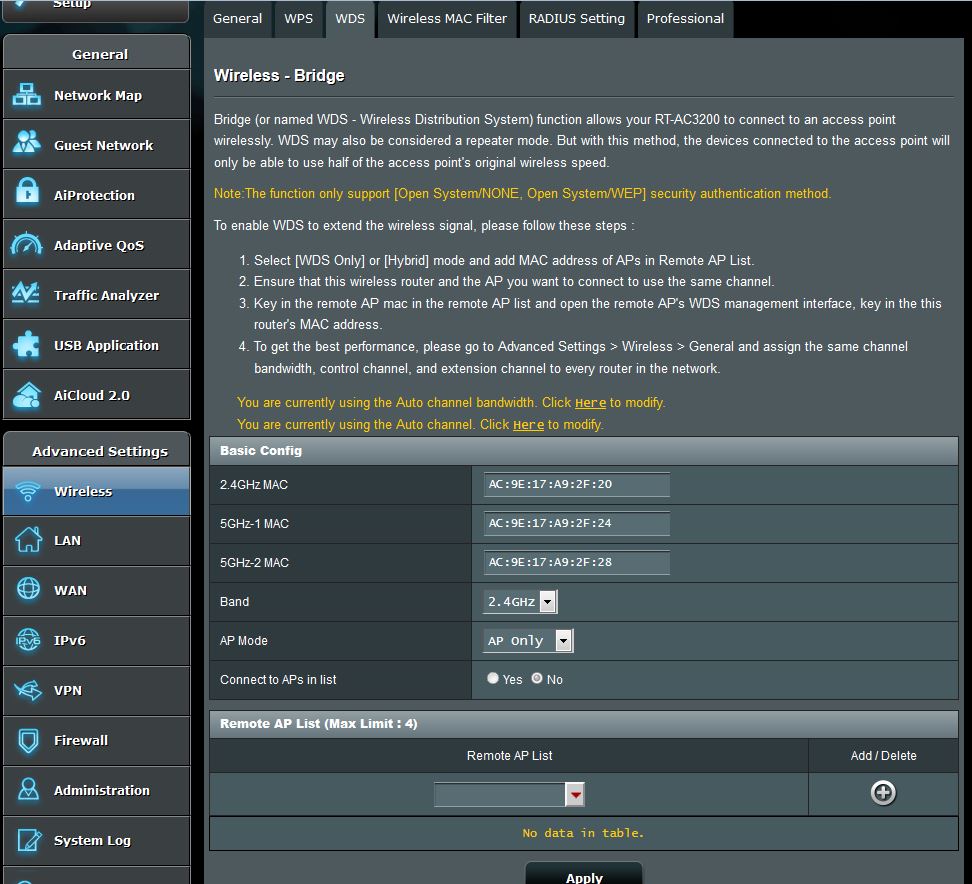 Wireless Settings – WDS
Wireless features continue to be one of ASUS' advantages vs. its competitors, at least for those who insist on being able to tweak everything. I was also surprised to see Wireless > Professional settings enabled for each radio with Smart Connect enabled.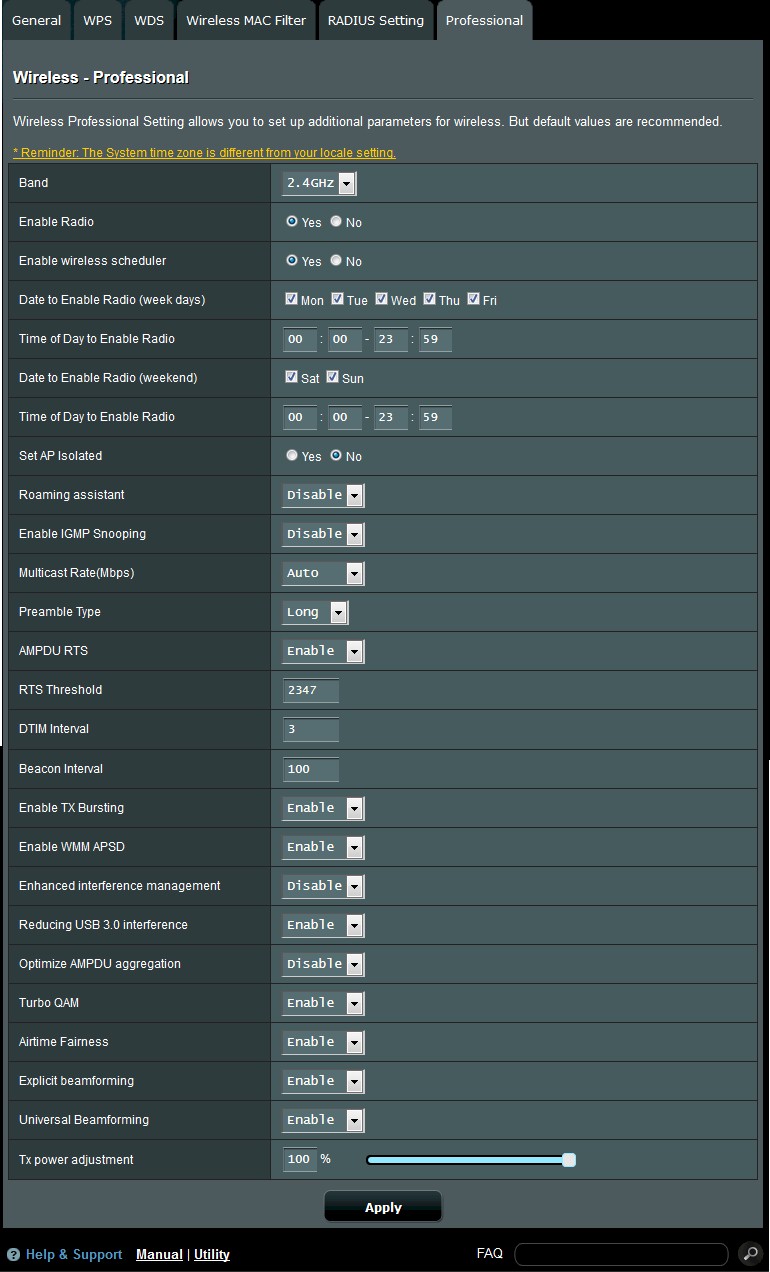 Wireless Settings – Professional
If you disable Smart Connect, the standard controls appear for each radio. Like other AC3200 designs, each 5 GHz radio is limited to a subset of channels. 5GHz-1 supports only channels 36, 40, 44 and 48 and 5GHz-2 supports only channels 149, 153, 157 and 161. This is due to the filtering and other design tweaks required to keep the two radios from overloading each other. ASUS also includes channel 165, although it isn't of much use in 802.11ac's 80 MHz wide channel world.
Wireless Guest networks are supported for all three radios, with three profiles per radio with the settings shown below. Once again per-radio guest networks appear to be enabled, even with Smart Connect engaged.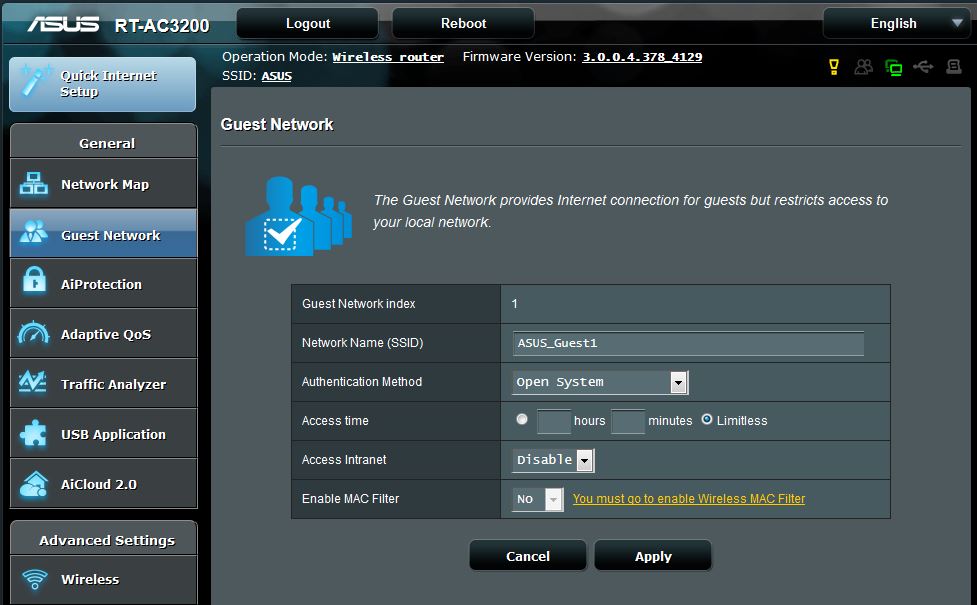 Guest Network settings
Storage Performance
Broadcom's XStream architecture is supposed to have superior storage sharing throughput. With wireless duties handed off to dedicated processors (and RAM) in each wireless radio, all the main BCM4709 processor has to do for wireless is shuttle Ethernet packets to and from the radios. This should leave it plenty of processing power for storage and internet sharing.
Now that we have storage performance benchmarks in the Router Charts, generating comparative tables is a snap. The summary below shows all AC3200 routers we've tested with our standard procedure with USB 3.0 connections and both drive formats. I'm concentrating on USB 3.0 because these routers should be capable of storage throughput in excess of what USB 2.0 can support.

Storage Performance Comparison – USB 3.0
ASUS seems to have overcome its problems with getting good USB 3.0 storage performance, to take the lead spot with 56 MB/s NTFS writes and 87 MB/s reads with USB 3.0. Note I had to disable the Reducing USB 3.0 interference setting in the 2.4 GHz wireless "Professional" settings that is enabled by default to get these results. It looks like ASUS reaps the benefit of some Broadcom storage driver tweaking to beat NETGEAR's R8000, which had held the lead. I still don't know why Linksys' EA9200 results are so low; they never got back to me with an explanation.
Routing Performance
Routing throughput was measured using our standard router test process with the router loaded with 3.0.0.4.378_4120 firmware. Table 2 summarizes the results and includes the NETGEAR R8000 for comparison. Maximum simultaneous connections hit our test process limit, which lately seems to have moved higher. For ranking purposes, we consider anything over 30,000 connections to be equal.
| Test Description | ASUS RT-AC3200 | NETGEAR R8000 |
| --- | --- | --- |
| WAN – LAN | 725.9 Mbps | 806.4 Mbps |
| LAN – WAN | 790.3 Mbps | 782.1 Mbps |
| Total Simultaneous | 1417.6 Mbps | 1391.8 Mbps |
| Maximum Simultaneous Connections | 45,672 | 34, 083 |
| Firmware Version | 3.0.0.4.378_4120 | 1.0.0.90 |
Table 2: Routing throughput
The IxChariot unidirectional composite plot for the RT-AC3200 shows typical cyclical variation between mid 700s Mbps and peak speeds near 950 Mbps for both directions. The higher uplink throughput is consistent from product to product and likely a test method artifact.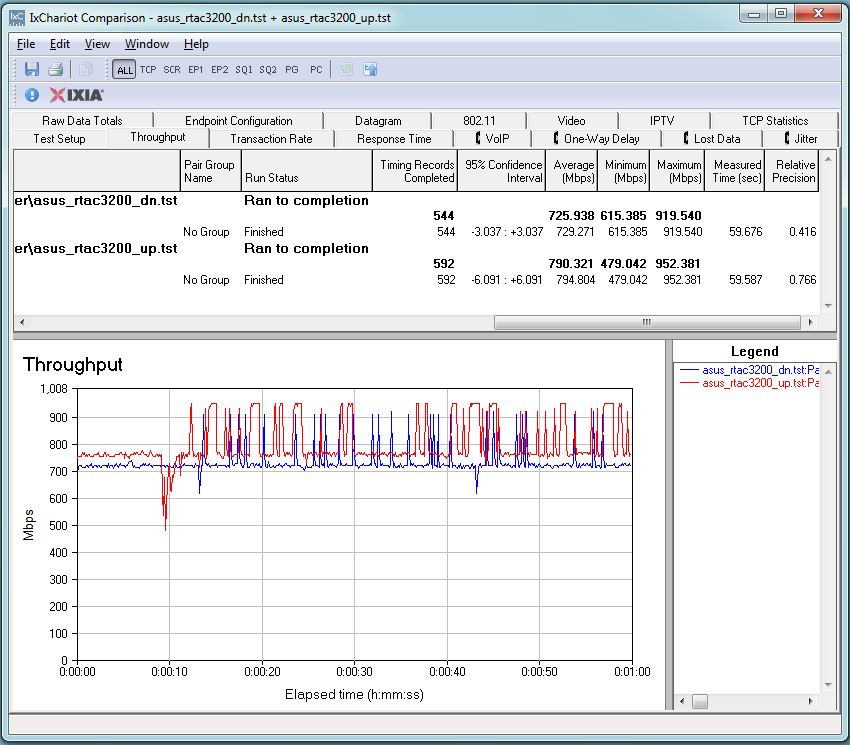 ASUS RT-AC3200 routing throughput unidirectional summary
The RT-AC3200 simultaneous up/downlink benchmark plot shows the usual battling at the beginning, due to IxChariot's Nagle's algorithm implementation. Once that settles down, the throughput battle continues with higher uplink vs. downlink throughput.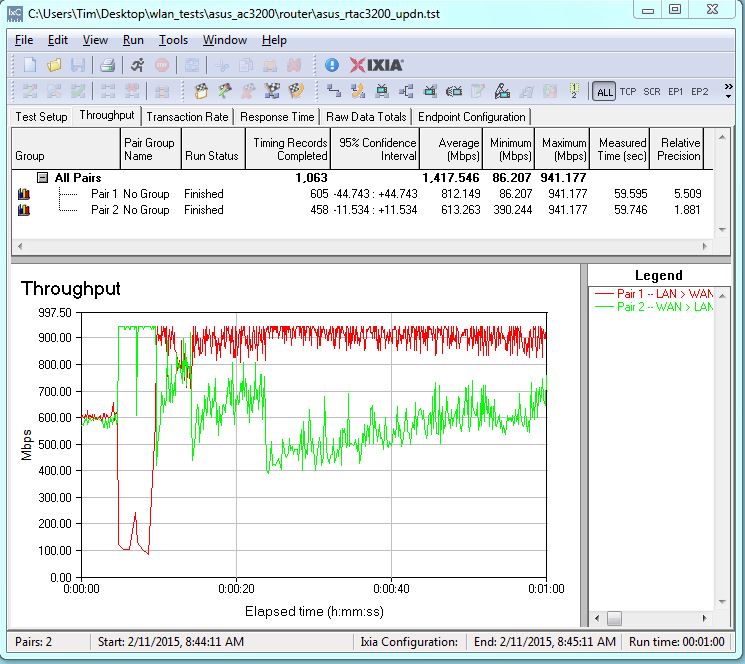 ASUS RT-AC3200 routing throughput bidirectional summary
I also measured routing throughput with the LAN > Switch Control > NAT Acceleration setting disabled. Its default has changed from enabled to Auto, so that users don't have to manually disable NAT Acceleration when they enable Adaptive QoS.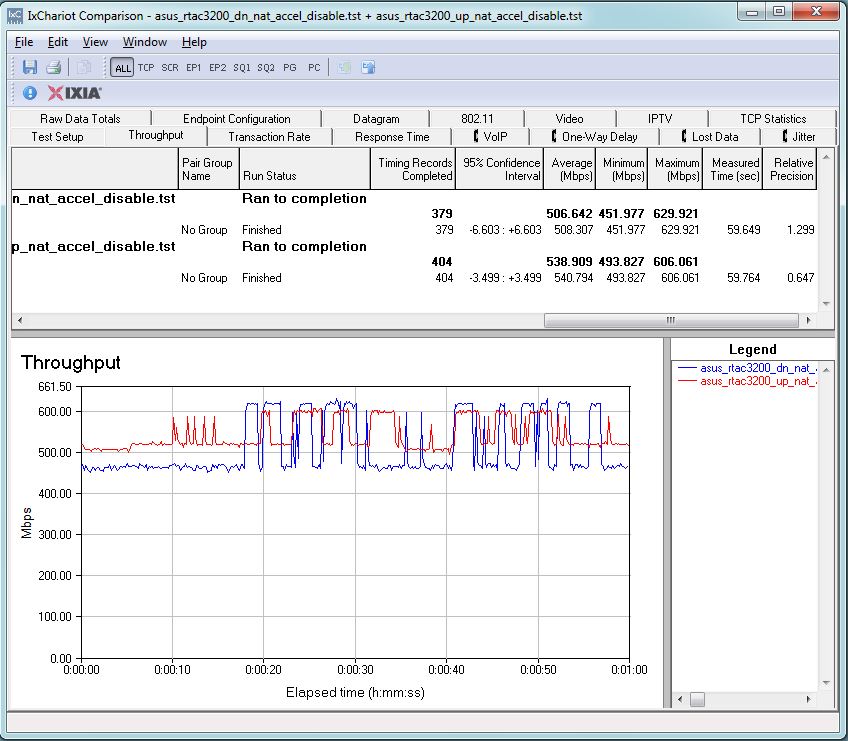 ASUS RT-AC3200 routing throughput unidirectional summary – NAT acceleration disabled
Uni and bi directional throughput drops below 600 Mbps with NAT Acceleration disabled, which still should be plenty for most users.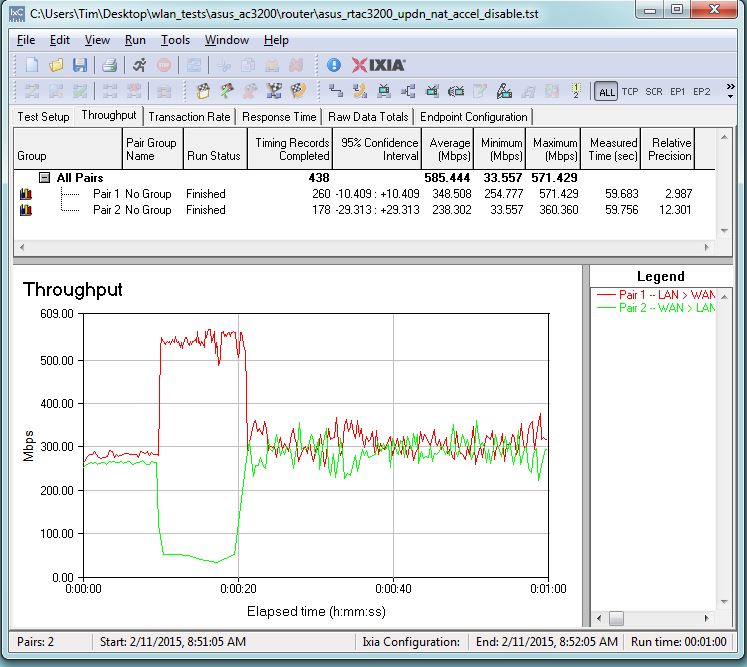 ASUS RT-AC3200 routing throughput bidirectional summary – NAT acceleration disabled
Wireless Performance
The RT-AC3200 is Wi-Fi Certified. It was tested using the Revision 8 Wireless test process with 3.0.0.4.378_4120 firmware loaded. The router comes with WPS enabled, but I did not test it.
The router defaults to Smart Connect mode, which presents a single SSID and channel selection and bandwidth modes set to auto. Turning off Smart Connect leaves the same SSID for all three radios, channel selection to auto and 20/40 MHz bandwidth mode on the 2.4 GHz radio and 20/40/80 MHz bandwidth mode on both 5 GHz radios.
For performance testing, the router was first reset to factory defaults, Smart Connect disabled and unique SSIDs assigned to each radio. The 2.4 GHz radio was set to Channel 6 and 20 MHz only bandwidth mode. The 5 GHz-1 radio was disabled and the 5 GHz-2 radio was left in 20/40/80 MHz channel width to enable 802.11ac link rates. Throughput tests were run on the 5 GHz -2 radio since it is the only one that supports our standard Channel 153 test channel. The NETGEAR R7000 bridge mode standard test client was connected using WPA2/AES encryption.
Our standard practice is to center the router under test's antennas on the turntable, both front-to-back and side-to-side in the chamber. This method is intended to keep maximum distance between the router under test and chamber antennas. The photo below shows the RT-AC3200 in the test chamber in its starting test position.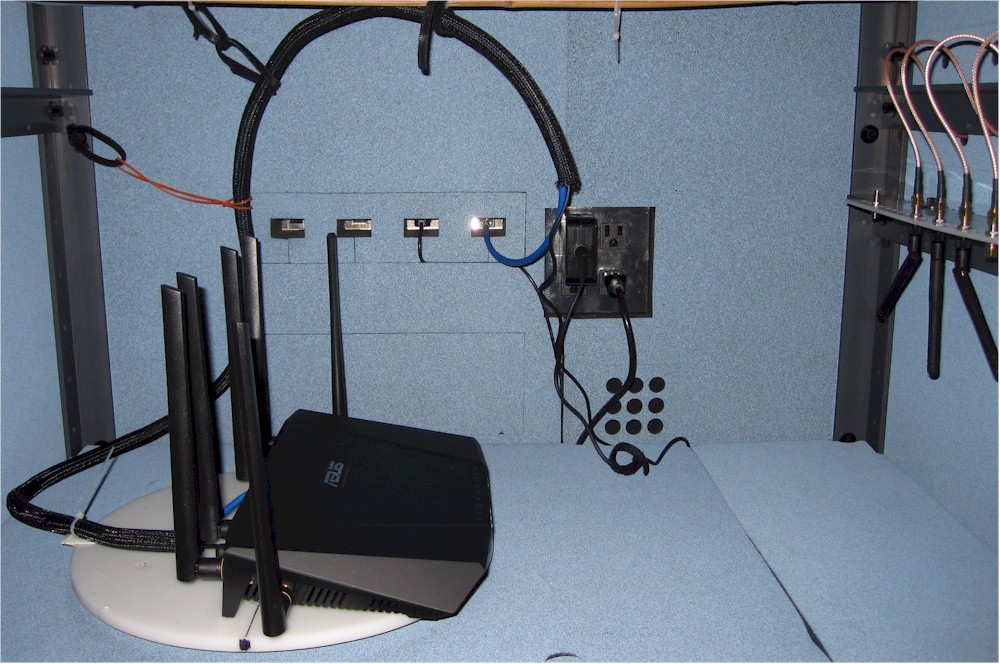 RT-AC3200 in test chamber
The Benchmark Summary below shows the average of all wireless throughput measurements made over the tested attenuation range.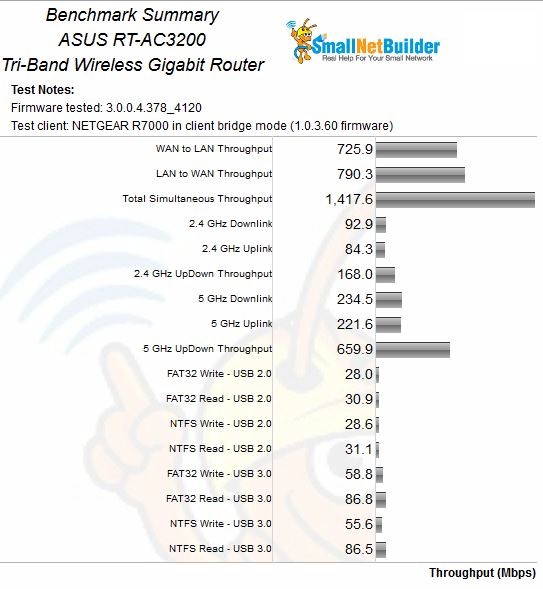 ASUS RT-AC3200 Benchmark Summary
We'll put these results in perspective when we look at throughput vs. attenuation profiles next.
The other two AC3200 class routers, NETGEAR's R8000 and Linksys' EA9200 were included in the throughput vs. attenuation profile plots. So the throughput vs. attenuation plots are easy to read.
2.4 GHz downlink performance is very similar. The Linksys has a slight advantage with strong signals but drops below the ASUS and NETGEAR from 27 dB on. The ASUS maintained its connection all the way to our 63 dB test limit.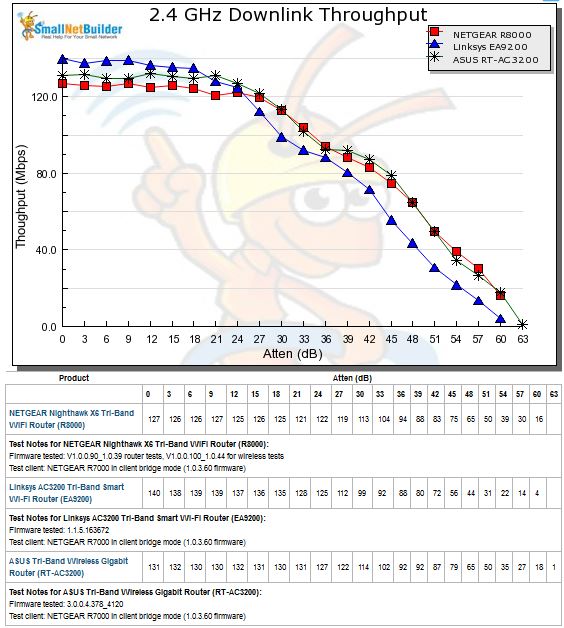 2.4 GHz Downlink Throughput vs. Attenuation
2.4 GHz uplink plot is essentially the same for all three products, except for the 0 dB level, where the ASUS jumps above the other two at 148 Mbps.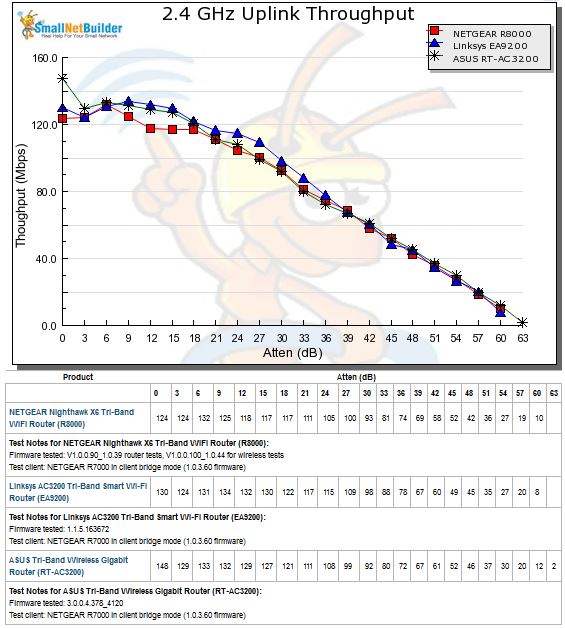 2.4 GHz Uplink Throughput vs. Attenuation
Performance spreads out in the 5 GHz downlink profile with the ASUS maintaining higher throughput than NETGEAR over most of the test range. The Linksys EA9200 falls far below both other products and disconnects first, indicating more limited range.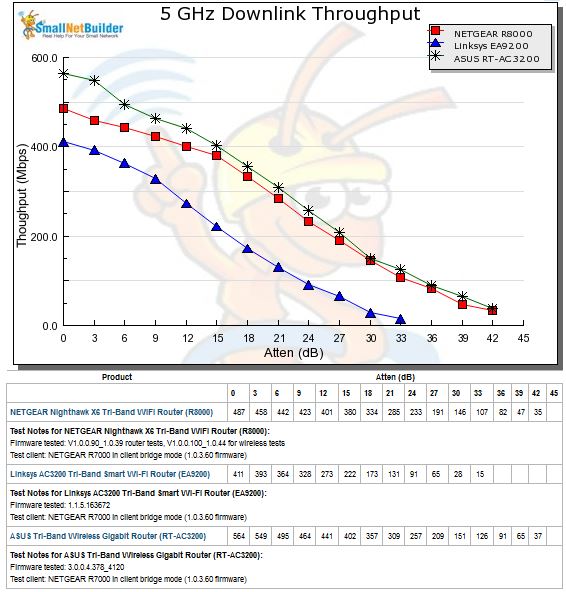 5 GHz Downlink Throughput vs. Attenuation
A similar pattern is seen for 5 GHz uplink, but with wider spread between the ASUS and NETGEAR. The Linksys EA9200 once again turns in the lowest performance of the three.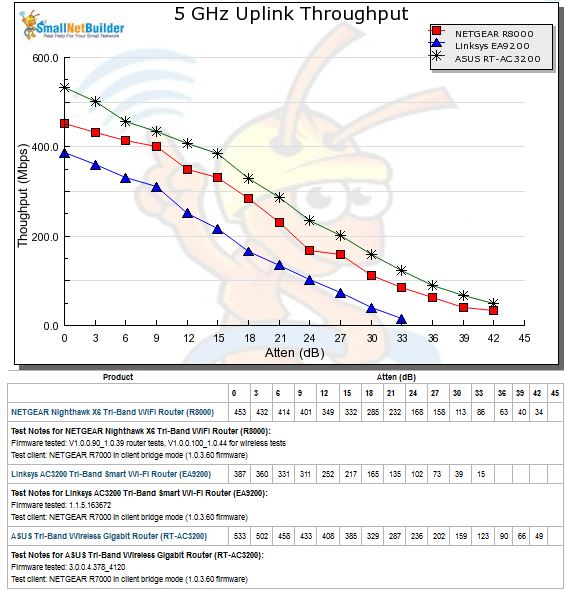 5 GHz Uplink Throughput vs. Attenuation
In all, there isn't much wireless performance difference among the three routers in 2.4 GHz, but in 5 GHz, the ASUS appears to be the superior performer.
Smart Connect
ASUS routers are known for having lots of features. They also expose more controls for users to twiddle than other vendors, sometimes to not so good effect. With its implementation of Broadcom's Smart Connect, ASUS may finally have gone too far in exposing controls that other companies have not.
The screenshot below shows an extensive array of Smart Connect Rules at their default settings. ASUS is also the first AC3200 router to implement 2.4 / 5 GHz band steering, which means it can move clients between bands.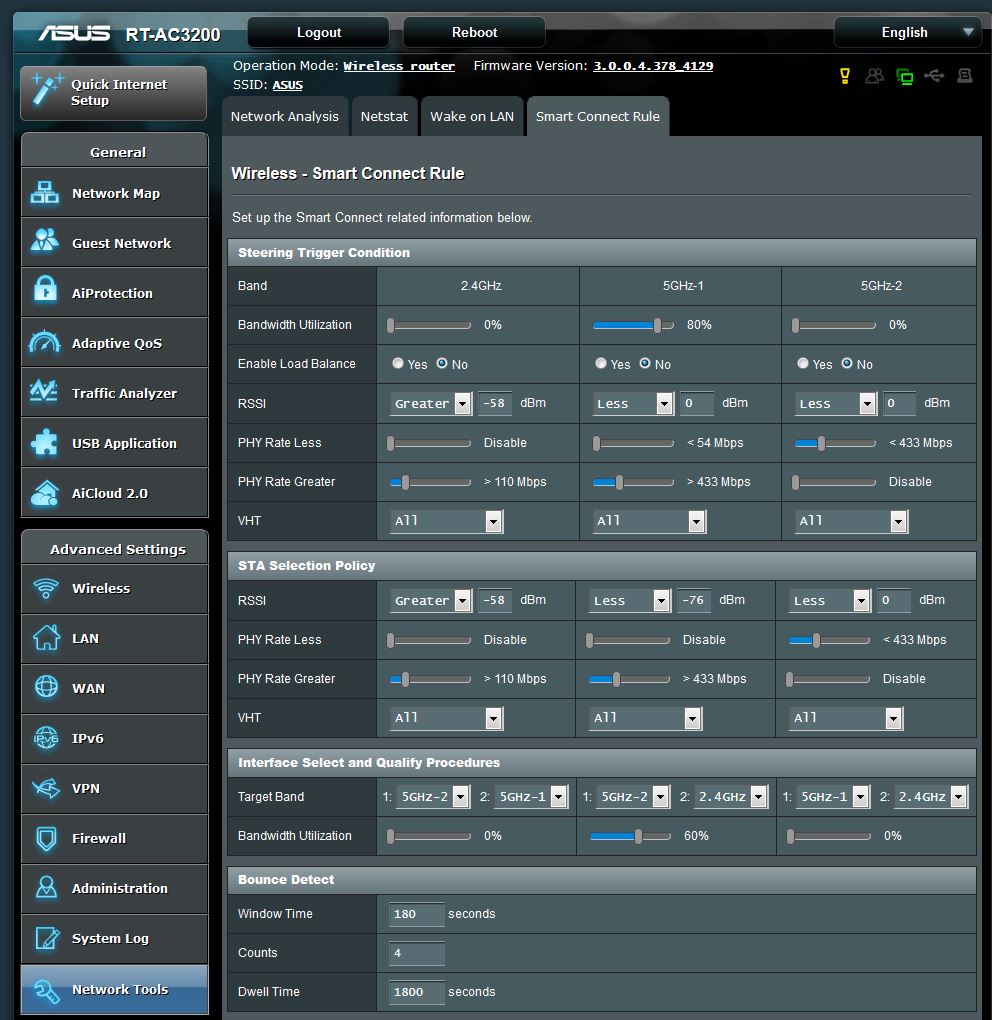 ASUS RT-AC3200 Smart Connect Rule page
The upshot of all this is that some users are reporting frequent disconnects and in many cases, disabling Smart Connect and manually assigning devices. I got to experience ASUS' Smart Connect disconnects while testing the feature. I used the same devices summarized in the table below used for NETGEAR R8000 and Linksys EA9200 Smart Connect testing.
| Device | Type | Client ID |
| --- | --- | --- |
| Moto X smartphone | 1×1 AC | android-d4c097 |
| NETGEAR R7000 in client bridge mode | 3×3 AC | WLANTEST-STA |
| Laptop with NETGEAR A6200 USB adapter | 2×2 AC | x220i |
| iPad 2nd gen | 1×1 N | SNB – iPad 2 |
| iPod Touch 5th gen | 1×1 N | Tim-Touch-G5 |
Table 3: Smart Connect Test devices
For Smart Connect testing, the RT-AC3200 was located in the wireless testbed upper test chamber with the door open. The bridge mode R7000 was in the lower chamber with the door closed. This allowed using the testbed programmable attenuators to control the signal and therefore the link rate of the R7000. I set 20 dB of attenuation so that the R7000 throughput wouldn't dominate the other AC devices. All other devices were located within 6 feet of the RT-AC3200, outside the test chamber and all received a nice, strong signal.
I found the RT-AC3200's band-steering was indeed dynamic, in fact, too much so. The Smart Connect test runs a minute and a half and it took multiple tries to complete a test run without a client disconnect. The table below shows four test runs and client connections for each. Note that there were no other networks active during testing (aside from beaconing) and devices were not physically moved between tests.
| Device | Type | Network Map ID | 1 | 2 | 3 | 4 |
| --- | --- | --- | --- | --- | --- | --- |
| Moto X smartphone | 1×1 AC | android-d4c097 | 5G-1 | 5G-1 | 2G | 5G-2 |
| NETGEAR R7000 in client bridge mode | 3×3 AC | WLANTEST-STA | 5G-1 | 5G-2 | 5G-2 | 5G-2 |
| Laptop with NETGEAR A6200 USB adapter | 2×2 AC | x220i | 5G-2 | 5G-2 | 2G | 5G-2 |
| iPad 2nd gen | 1×1 N | SNB – iPad 2 | 5G-1 | 5G-1 | 5G-2 | 5G-2 |
| iPod Touch 5th gen | 1×1 N | Tim-Touch-G5 | 5G-2 | 5G-1 | 5G-2 | 5G-2 |
Table 4: Smart Connect Test devices
I noticed the two Apple devices were the most frequent disconnectors, switching to other remembered networks. Once I "forgot" all the in-range stored networks on the i-devices (and other clients for good measure), the disconnects stopped and I was able to run tests to completion.
I first disabled Smart Connect and connected all clients to the 5 GHz-2 radio set to Channel 153. The IxChariot plot below shows this test yielded 138 Mbps of total throughput from the five clients.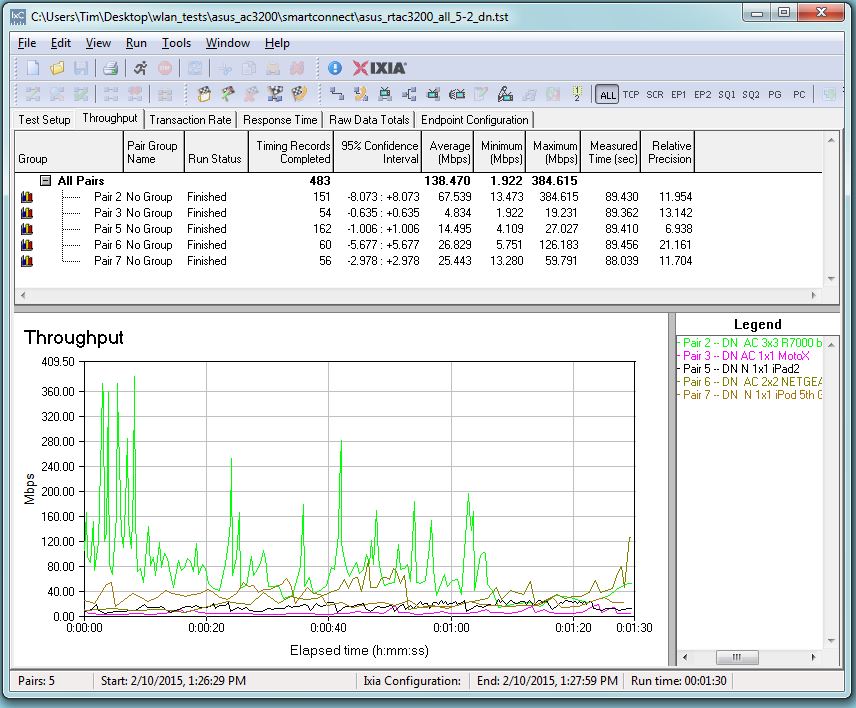 Total downlink throughput – All clients on 5GHz-2 radio
I then enabled Smart Connect with its default settings and ran another test. Client connections for this test are shown in column 3 in Table 4 above. This set of connections, with clients split between the 5GHz-2 and 2.4 GHz radios, produced 205 Mbps of total throughput, a 49% gain.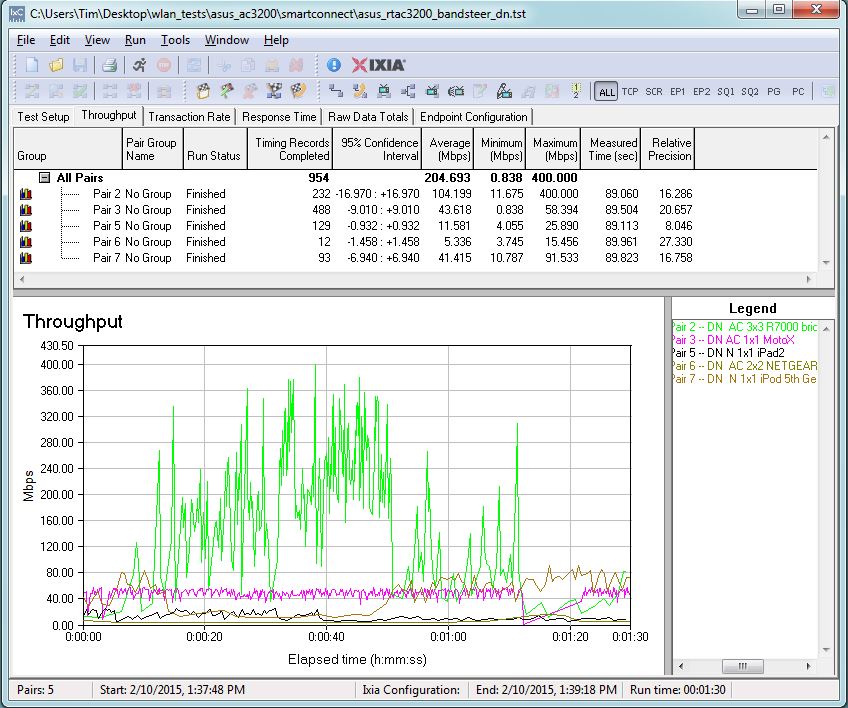 Total downlink throughput – Smart Connect run 1
I then power-cycled the router, let the clients reconnect and ran another test (connections shown in Table 4, column 5). This time all clients connected to the 5 GHz-2 radio and produced 184 Mbps total throughput, for a gain of only 33%.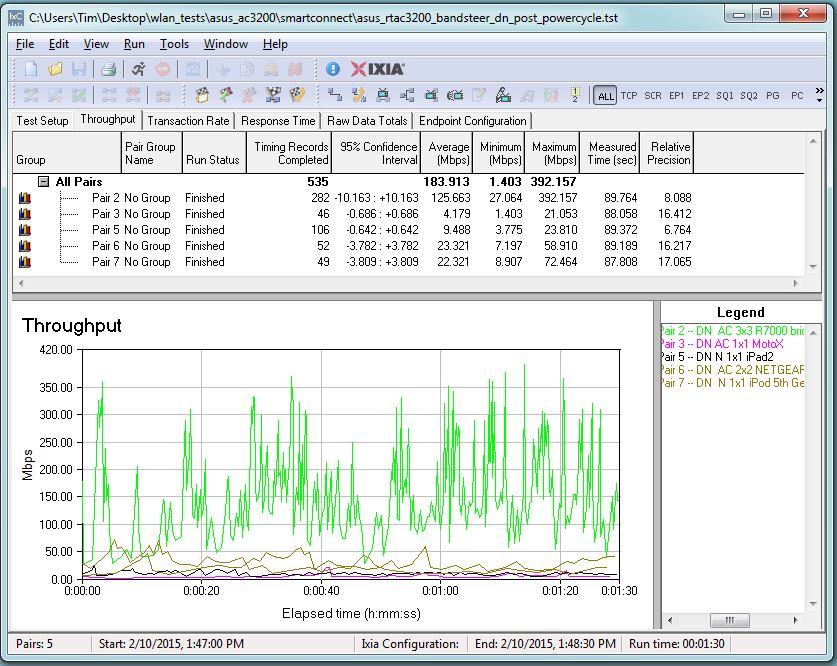 Total downlink throughput – Smart Connect run 2
Finding out how clients connected was, frankly, a pain in the butt. The only way to get this information is to click on each device's link in the Client Status table, to bring up a pop-up with the information, as shown below.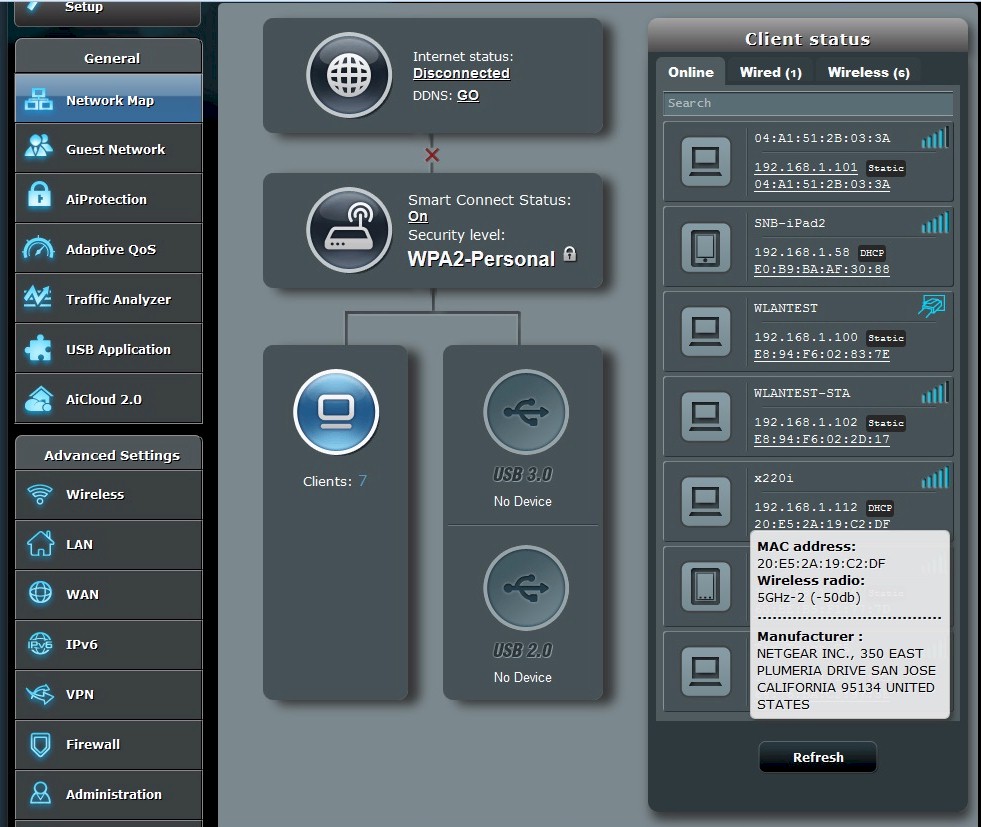 Network Map w/ Client Status popup
It would be much easier to track Smart Connection decisions if ASUS implemented a tablular presentation of device connections like NETGEAR has in the R8000 (shown below).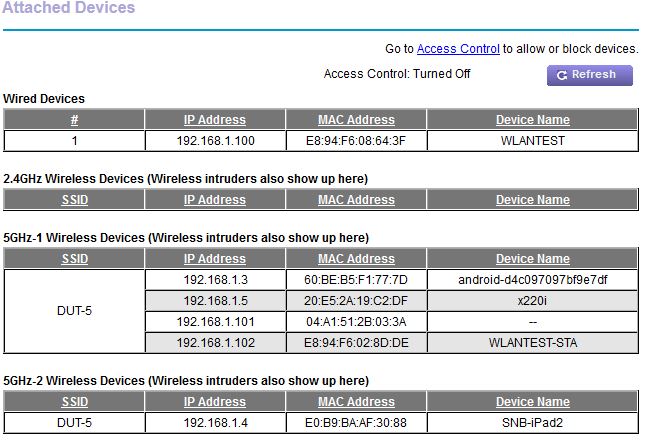 NETGEAR R8000 device connection table
So how does the RT-AC3200's Smart Connect compare to NETGEAR and Linksys'? Table 5 shows the best Smart Connect gain in two connection scenarios was 49% for the AC3200 vs. almost 3X for both other routers. A big reason for this difference, however, is that the AC3200 started with higher throughput with all five clients on one 5 GHz radio. Still, ASUS' Smart Connect produced the lowest total throughput of the three AC3200 routers while NETGEAR's R8000 produced the highest.
| Product | Without (Mbps) | With (Mbps) | % gain |
| --- | --- | --- | --- |
| ASUS RT-AC3200 | 138 | 205 | 49 |
| Linksys EA9200 | 86 | 237 | 276 |
| NETGEAR R8000 | 83 | 247 | 298 |
Table 5: Smart Connect Total Throughput gain comparison
Closing Thoughts
As has become its modus operandi, ASUS has released another work-in-progress with the RT-AC3200. Its Smart Connect implementation clearly needs work, since it did not consistently spread clients between its two 5 GHz radios to maximize throughput in our very simple test scenario and produced the lowest total throughput gain of the three AC3200 class routers tested so far.
The good news is that the RT-AC3200's wireless performance appears solid, if you disable Smart Connect and manually assign devices to radios. Still, if you have one of the top-performing AC1900 class routers in our Router Ranker, you're unlikely to gain significant range improvement by shelling out $300 for an RT-AC3200.
Our How To Buy A Wireless Router – 2015 Edition advises that AC1900 routers are the sweet spot right now. There is no benefit to be had with the current crop of first generation Quantenna-based 4×4 routers that are still waiting for their MU-MIMO enables. If you're in the mood to spend top dollar and have a busy WLAN with lots of dual-band clients, then AC3200 routers are the better bet. Just, again, don't expect them to improve range.
Right now, NETGEAR's R8000 Nighthawk X6, with its very conservative Smart Connect implementation, is still our AC3200 class recommendation. With its more comprehensive feature set and high storage throughput, the RT-AC3200 has the potential to take the lead. But you'll need to give it the usual three to six months for its bugs to be worked out by the all-too-willing ASUS Army of pay-for-the-privilege debuggers, uh, customers.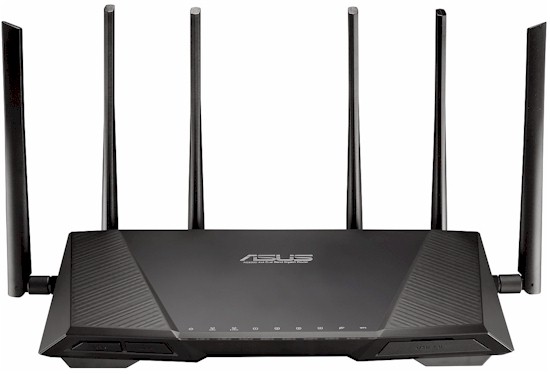 Buy Tri-Band Wireless Gigabit Router from Amazon