Introduction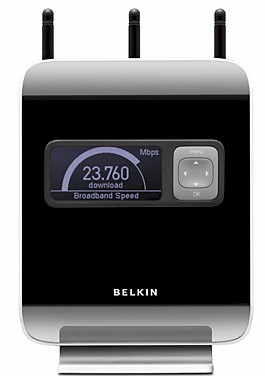 At a Glance
Product
– Belkin N1 Vision Wireless Router (F5D8232-4)
– Belkin N1 Wireless Notebook Card (F5D8011C)
Summary
Wi-Fi Certified 802.11n Draft 2.0 router and CardBus card based on Atheros XSPAN silicon.
Pros
• Gigabit switch supports Jumbo Frames
• Surprisingly bandwidth friendly to neighboring legacy WLANs
Cons
• 2.4 GHz band only
• Very basic routing feature set
Belkin created a bit of a stir when it introduced the N1 Vision Wireless Router back in July. Its vertical orientation and graphic front panel status display gave it an elegant look and style that set it apart from the ho-hum crowd. Now that the router and its Notebook Card have received Wi-Fi 802.11n Draft 2.0 certification, it's time to see if it has the performance to match its looks.
The Vision is designed to sit upright only—it has no wall-mounting slots and can't be laid flat on a desktop. The usual array of front panel status lights (Figure 1) has been replaced with a graphic display that Belkin touts as "The most advanced interactive network display".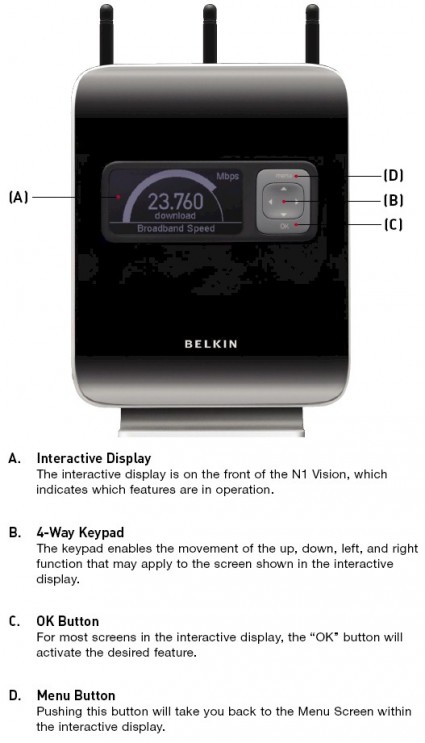 Figure 1: N1 Vision Front Panel
I didn't find the display to be that useful, however, maybe because I was turned off by the heavy pressure required by the navigation button cluster. I had to hold the router with one hand and tilt it up to see the display properly while I pressed hard to get my button-presses to register.
Granted, there are a couple of handy features accessible via the display and front-panel keypad that you otherwise would have to launch a web browser to access. You can initiate the router end of a Wi-Fi Protected Setup (WPS) session, enable / disable the radio, and enable Guest Access.
The last feature provides a second SSID, with its own security key to wireless clients whose traffic is kept separated from that on the main SSID. This feature is only available, however, when either WPA or WPA2 security is enabled.
I was also disappointed that the "Broadband Speedometers" didn't provide a peak-hold type of indication as implied in the user manual. You get only a graphic and numerical readout of current average speed. There also weren't speedometers for wireless traffic, or even switched LAN traffic, which also would have been useful.
If you're intrigued by the front-panel feature, you should check out the summary of screens in the slideshow, or view Belkin's brief Flash demo.
The rear panel layout (Figure 2) is notable by what's not there, specifically link/activity indicators on each of the auto MDI / MDI-X 10/100/1000 Ethernet ports. So there is no way to quickly tell if you have a valid link. Instead you have to navigate to the front panel Connections / Speed page and run a ping or file transfer to see if the bits are flowing.
Figure 2: N1 Vision Rear Panel
Internal details
Figure 3 is a shot of the Vision's main board, which is an Atheros XSPAN-based design. It uses an Atheros AR7141 processor, with 16 MB of RAM, 8 MB of flash and Vitesse 7385 gigabit switch. Those of you looking for a draft 11n router that supports Jumbo Frames will be happy to know that the Vision does—up to 9K. Belkin doesn't officially support this feature, however, although they told me that they would "by the end of the year".
Figure 3: Inside view
Figure 4 shows the companion N1 Wireless Notebook Card (F5D8011 V3000) board. As I described in this article, there have actually been three versions of this card. The Version 3000 card shown below uses Ralink's RT2800-series chipset that includes an RT2860 Baseband / MAC and RT2820 2.4 GHz transceiver.
Figure 4: N1 Wireless Notebook Card board
It's interesting to note that this chipset supports both 2T2R (2 Transmit, 2 Receive) and 2T3R modes, but not the 3T3R mode used by the Atheros XSPAN radio in the Vision router.
Also worthy of note is that the V3000 version is the only version that is Wi-Fi 802.11n Draft 2.0 certified. The V3000 has just started to ship, so you might have a hard time finding it. Fortunately, the version number can be found on the serial # label on the outside of the product box.
Routing Features and Performance
Belkin's routers have never had a strong feature set and neither does the Vision. I'll summarize the routing features here and you can hit the slideshow if you want to see screenshots: (Wireless features will be convered shortly.)
DHCP, Static, PPPoE, PPTP, L2TP, Telstra BigPond and Multi-PPPoE WAN types
Built-in Dynamic DNS client for DynDNS
WAN ping blocking (default enabled)
Single port and Port Range forwarding
Simple schedulable outbound port filtering
Remote management enable with single IP restriction and port setting
System and firewall logging
UPnP (default enabled)
MAC address access control for wired clients
Missing are some useful things like:
Firewall controls like SPI disable and Proxy, Java, ActiveX and Cookie blocking
IPsec, PPTP and L2TP VPN passthrough enable/disables
Triggered port forwarding
DHCP reservations
HTTPS admin access
Bandwidth control / QoS for Internet traffic
Parental controls
Syslog support and traffic logging

See the Slideshow for admin screenshots and more
As I do with Netgear, I have to take Belkin to task for its lack of innovation or even change in its routing feature set. While it's nice that Belkin is trying to make setup easy for people who don't want to futz with router setup screens, I think that Belkin needs to knock some of the features off the "missing" list above and pump up some of the features that it does provide.
My votes would be for the addition of QoS and Bandwidth controls and better access / parental control and reporting. And it certainly would be nice if the Bandwidth Speedometers and other status information available via the front panel display were also available in the Web admin GUI!
Routing Performance
I tested routing performance using our standard router tests. All tests were done with the client in DMZ to accomodate IxChariot's finickyness with SPI+NAT firewalls. The results are summarized in Table 1 below.
Test Description
Throughput
(Mbps)
WAN – LAN

106

LAN – WAN

112

Total Simultaneous

109

Maximum Simultaneous Connections
180
Firmware Version

F5D8232-4_WW_1.00.11
Table 1: Routing performance summary
The ~110 Mbps throughput isn't bad and is certainly enough for any available WAN connection. But the Vision ranks last in routing throughput among Draft 11n routers with gigabit WAN and LAN ports. But in the more important test (to at least gamers and Torrent users) of simultaneous connections, the Vision does very well with 180 supported.
Figure 5 shows a composite of WAN to LAN, LAN to WAN and simultaneous up/down IxChariot routing throughput tests. Throughput is generally well-behaved, except for the periodic large dropouts and spikes. I should note that when the router was running full-blast in these tests, the web admin interface and front panel GUI would not respond. Once the test finished, however, they came right back.
Figure 5: N1 Vision routing performance
Wireless Features
The Vision maintains its basic approach in its wireless settings. Figure 6 shows the Channel and SSID page, which keeps things simple. The router properly defaults to legacy-friendly 20 MHz channel mode and has a unique SSID that includes the last six characters of its MAC address.
Figure 6: N1 Vision Wireless Channel and SSID settings
Channel selection defaults to Channel 6, or you can set the channel of your choice or Auto mode with the Wireless Channel dropdown. The Extension Channel control has a unique feature that I haven't seen in any other draft 11n router. It is properly grayed-out in 20 MHz only Bandwidth mode and active only when the 20 MHz+40 MHz auto mode is selected. (Note the absence of a "40 MHz only" mode.) But when your Wireless Channel selection allows it, it lets you choose between two extension channels!
For example, if the Wireless Channel is set to 1, then there is only one choice, i.e. 5, for the Extension Channel, which is always four channels away from the Wireless (Primary) channel. But if the Wireless Channel is 6, then you can choose Channel 2 or 10 as the Extension.
Another handy feature is the Use as Access Point option. This saves you the hassle of moving LAN cables and disabling the DHCP server to use the Vision's wireless with an existing router. You just enable it and enter an unused IP address (and subnet mask) outside your existing router's DHCP server range. You can even use the Vision's switch ports, which will be automatically uplinked.
Figure 7 shows the Wireless Security options, which include WEP, WPA, WPA2 and a mixed WPA/WPA2 mode. Only the PSK forms of WPA/2 are supported however, which shouldn't be a big deal for the Vision's intended consumer customer.
Figure 7: N1 Vision Wireless Security settings
Two other security-related features are worth mentioning. The Guest Settings mode, which is available only when using WPA or WPA2, provides a second SSID and Pre-Shared Key that provides wireless Internet access only. This would be handy for a small office to provide secure Internet access for visitors, without worrying about them accessing network shares. The Guest connection also doesn't provide access to the router admin screens.
The second feature is the Vision's support for Wi-Fi Protected Setup (WPS). Figure 8 shows that both PIN and PBC methods are supported along with manual configuration information for clients that don't support WPS. Unfortunately, that includes Belkin's N1 Wireless Notebook Card, which I had to set up manually.
Figure 8: N1 Vision WPS settings
On the downside, there is no "Advanced" wireless screen and you won't find controls for the following:
Transmit rate
Transmit power
Base advertised rate
Client isolation (wireless-to-wireless)
WDS bridging / repeating
Frame bursting
RTS threshold / Beacon, DTM interval
Wireless Performance
I tested the Vision using our wireless test procedures, which use both open-air testing and Azimuth's ACE 400NB Channel Emulator.
I used a Belkin N1 Wireless Notebook Card (F5D8011) Version 3000, which, as noted earlier, is the only model Wi-Fi Certified for Draft 2.0 802.11n. The card was inserted into a Fujitsu P7120 Lifebook (1.2 GHz Intel Pentium M, 504 MB) notebook running WinXP Pro SP2 with all the latest updates. I used the 1.0.2.0 driver with Windows Wireless Zero Config.
The router had F5D8232-4_WW_1.00.11 firmware and I left all factory default settings in place, except as noted.
Maximum Throughput
To start, I ran some close range open-air IxChariot tests to look at maximum performance and throughput variation. This also provides baselines to check the Azimuth results against. Testing was done with the router and notebook about 10 feet apart in open air sitting in my lab with no other networks in range.
Figure 9 shows a composite IxChariot plot of wireless uplink, downlink and simultaneous up and downlink tests. Tests were made with router defaults, which as I noted, properly used the 20 MHz Channel mode. The best speed of 69 Mbps was found running uplink. Throughput is generally stable, but with some large dropouts in downlink, which depressed the average throughput result.
Figure 9: Up and downlink throughput – 2.4 GHz band, 20 MHz bandwidth
Figure 10 shows a composite of test runs with the 20 MHz+40 MHz auto mode forced. The best-case 98 Mbps throughput was again found running uplink.
Figure 10: Up and downlink throughput – 40 MHz bandwidth
Security mode throughput
The pattern of wireless security mode throughput loss in draft 11n products is pretty well established at this point. Belkin makes no apologies about the low throughput when using WEP or WPA/TKIP security and even reports a 54 Mbps link rate ("Speed") in the wireless adapter's Win XP Local Area Connection Status window in both those modes.
Figure 11, taken running uplink in 20 MHz channel mode, shows a loss of 71% and 75% for WEP and WPA-TKIP modes and about a 10% loss for WPA2.
Figure 11: Security mode throughput comparison – uplink
Figure 12 shows downlink loss for WEP 128 and WPA-TKIP around 63% and no measurable loss for WPA2. Once again, the lesson here, is to use WPA2 security or face a severe throughput hit.
Figure 12: Security mode throughput comparison – downlink
Throughput vs. Path Loss
NOTE: We don't refer to "range" in these plots, but instead use the more accurate "Path Loss". For an explanation, see the How we Test Wireless article.
Figure 13 was generated using the Compare Benchmarks tool of our Wireless Charts and shows up and downlink performance in 20 and 40 MHz channel modes. The plots show that 40 MHz mode throughput is better than 20 MHz mode both uplink and downlink at lower path losses (stronger signal level), but crosses under the 20 MHz mode lines as path loss increases.
Figure 13: Throughput vs. Path Loss
If you look at the average of these curves, as we do in the Average Throughput Wireless Charts, the Vision does pretty well, ranking in the Top 5 for all four modes.
Throughput vs. Path Loss – Product Comparison
For a product-to-product comparison, I chose four single-band draft 11n routers: the Netgear WNR854T (Marvell TopDog), Linksys WRT350N (Broadcom Intensi-fi) and D-Link DIR-655 (Atheros XSPAN).
The comparison starts out in 20 MHz mode downlink (Figure 14), with the Vision and D-Link maintaining a higher throughput than the Linksys and Netgear as path loss increases (signal level drops).
Figure 14: Throughput vs. Path Loss product comparison – Downlink, 20MHz channel
When running uplink, however (Figure 15), the D-Link's throughput still stays up longer, but the Vision drops below the DIR-655's curve. It should be noted that both the Linksys and the Netgear products stay connected longer, however.
Figure 15: Throughput vs. Path Loss product comparison – Uplink, 20MHz channel
A similar pattern is seen when switching to 40 MHz channel mode. Running downlink (Figure 16) the Vision and DIR-655 still have superior performance at lower signal levels. But note that the DIR-655 has the least throughput boost at high signal levels (low path loss) from running channel-bonded.
Figure 16: Throughput vs. Path Loss product comparison – Downlink, 40MHz channel
When running uplink with channel bonding, the Linksys WRT350N gets the least boost at high signal levels, but the DIR-655 maintains its throughput longer than the others. It does, however, abruptly disconnect significantly sooner than the other products.
Figure 17: Throughput vs. Path Loss product comparison – Uplink, 40MHz channel
Use the Wireless Charts to generate other comparisons.
Mixed STAs
The Vision's performance with a mix of draft 11n and 11g clients was similar to that of previously tested products. I set up my usual test using a second notebook with a Linksys WPC54G V3 11b/g card (Broadcom chipset). Both it and the Fujitsu notebook with F5D8011 V3000 card were associated with the Vision, which was set to its 20 MHz Channel mode, to simulate what should be its proper "out of the box" settings.
I then ran two IxChariot throughput.scr streams, alternating the STA that got on the air first. Figure 18 shows how uplink throughput was shared when the 11n pair started first, while Figure 19 shows the 11g pair starting first.
Figure 18: Mixed 11n, 11g STAs – Uplink, N starts first
The results follow the same pattern that I've seen with other draft 11n products, i.e. the 11g STA gets knocked down to 11b speeds. In this case the 11g throughput is knocked down to a little under 6 Mbps. The 11n pair also gets a throughput hit, but still manages to average around 33 Mbps when the 11g STA is on the air.
Figure 19: Mixed 11n, 11g STAs – Uplink, G starts first
Mixed performance in downlink was essentially the same as uplink.
Legacy Neighboring WLAN Tests
I decided to run my Legacy Neighbor / CCA tests, because this is the first time I've had a Ralink draft 11n client in the lab and it was mixed with an Atheros-based AP. (See this page for an explanation of CCA.) I was surprised by the results!
For this test, I configured the Vision as an AP, set to 20 MHz+40 MHz auto mode, Wireless Channel 1 and no encryption. This made Channel 1 the primary channel and Channel 5 the extension.
I then set up a second wireless LAN using a Linksys WRT54G router (original rev) and WPC54G V3 CardBus card. The WRT54G had most recent firmware and was set to its default Mixed mode and Channel 5—the extension channel. I also operated it as an AP and connected it to the same switch that the Vision was connected to.
Two IxChariot throughput.scr scripts were used to drive traffic to both 11n and 11g test pairs. I tested both uplink and downlink traffic and alternated between having the 11n and 11g WLANs start first. (If you need a diagram of the test setup, this one showing a similar test setup should give you the basic idea.) I also used the Cognio Spectrum Expert to monitor spectrum use.
Figures 20 and 21 clearly show that the Draft 11n WLAN recognizes the presence of the 11g WLAN in the Extension channel and tries to accomodate it. The Cognio spectrum display sure looked like the Vision fell back to using only the Primary channel (Channel 1) the entire time when the 11g WLAN was active. This would be a first among all of the products that I've tested.
While I've seen other draft 11n products, the D-Link DIR-655 in particular, try to not trash a neighboring 11g WLAN using its Extension channel, the Vision seems to have moved the ball a bit more toward the goal.
Figure 20: CCA Test – Downlink, N starts first
Although its implementation is by no means ideal, the Vision's algorithm seems a bit better tuned than the DIR-655 and doesn't overcompensate and kill the 11n network's throughput.
Running uplink is even better, with the Vision WLAN appearing not to flail around as much. But the 11n WLAN still gives up perhaps more throughput than it should, dropping down to 11g speed.
Figure 21: CCA Test – Uplink, N starts first
Although not shown, similar results were observed when the 11g WLAN was on the air first and the Vision WLAN started later. Throughput is far from smooth when both WLANs are on the air. But the bandwidth sharing is much more equitable than any other product that I've seen so far.
Closing Thoughts
I ended up liking the N1 Vision more than I thought I would, despite its flashy, but not-so-useful front panel display / navigation pad and first-generation routing features. What saved the day is its wireless performance.
Although it didn't turn in the fastest wireless throughput, its overall throughput vs. path loss curves rank it among the top-performing Draft 2.0 11n products that I've seen, in both 20 and 40 MHz channel bandwidth modes.
The icing on the cake, however, is that it plays well with others when you enable the 40 MHz channel mode. Not perfect by any means, but much better than any other Draft 2.0 product that I've seen to date. And don't forget that its gigabit switch does support Jumbo frames.
The main thing going against it is its price, which currently starts around $160 and goes up to over $200! Although Belkin might be trying to pay for the fancy case and front panel display, there are just too many other single-band draft 11n routers available with better feature sets, lower prices or both.

See the Slideshow for admin screenshots and more